Meatballs are always good, and pretty much always in season. Add in a pressure cooking jack of all trades, and you can make something really special. Instant Pot Porcupine Meatballs features ground beef & white rice cooked and coated in a savory tomato based sauce.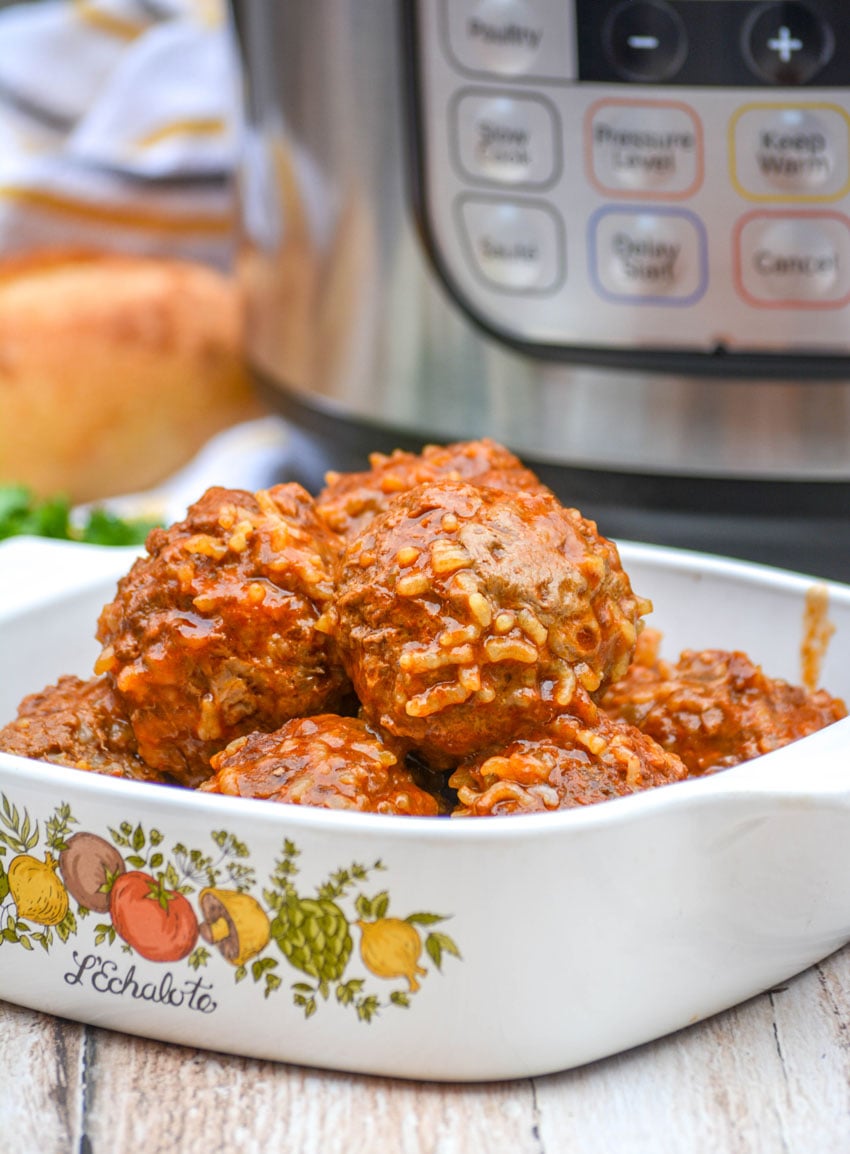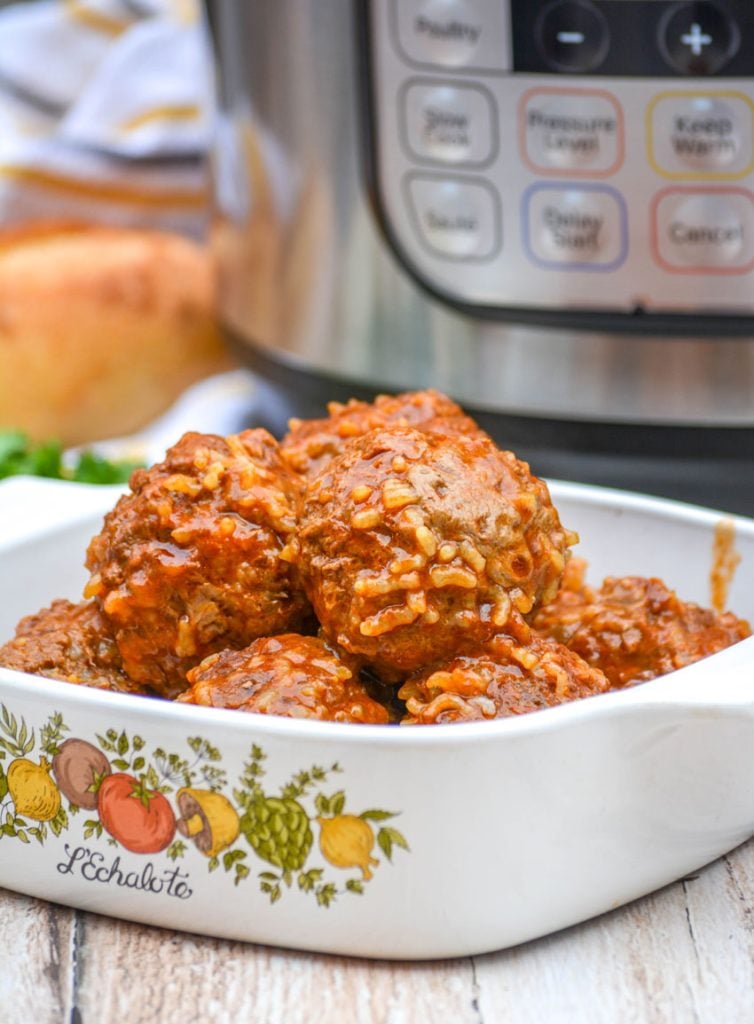 I spent a lot of time at my grandmother's house growing up. She was my babysitter while my parents were at work, or while they had things to do that kids might make impossible.
Plus, she was my grandma.
She was awesome, and I always wanted to be over there. Well always may be a bit of a stretch, I had way cooler toys at home to play with. I was never upset to find out we were headed over there though.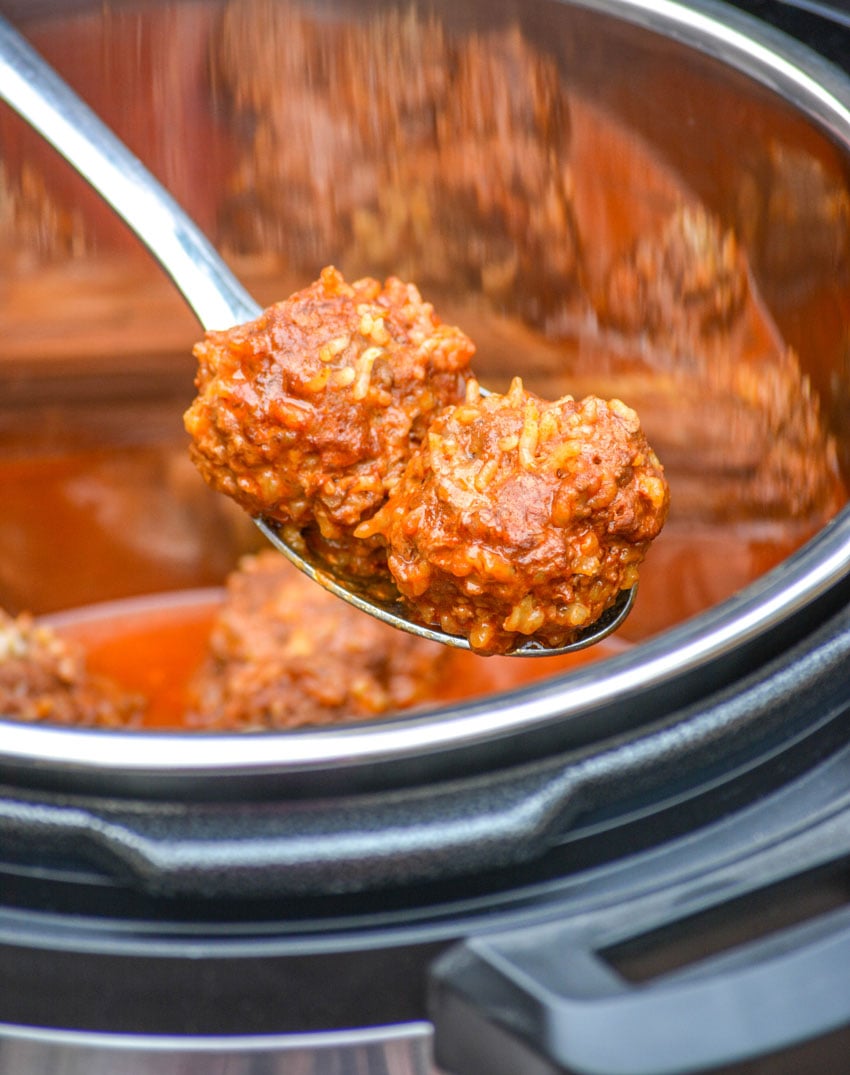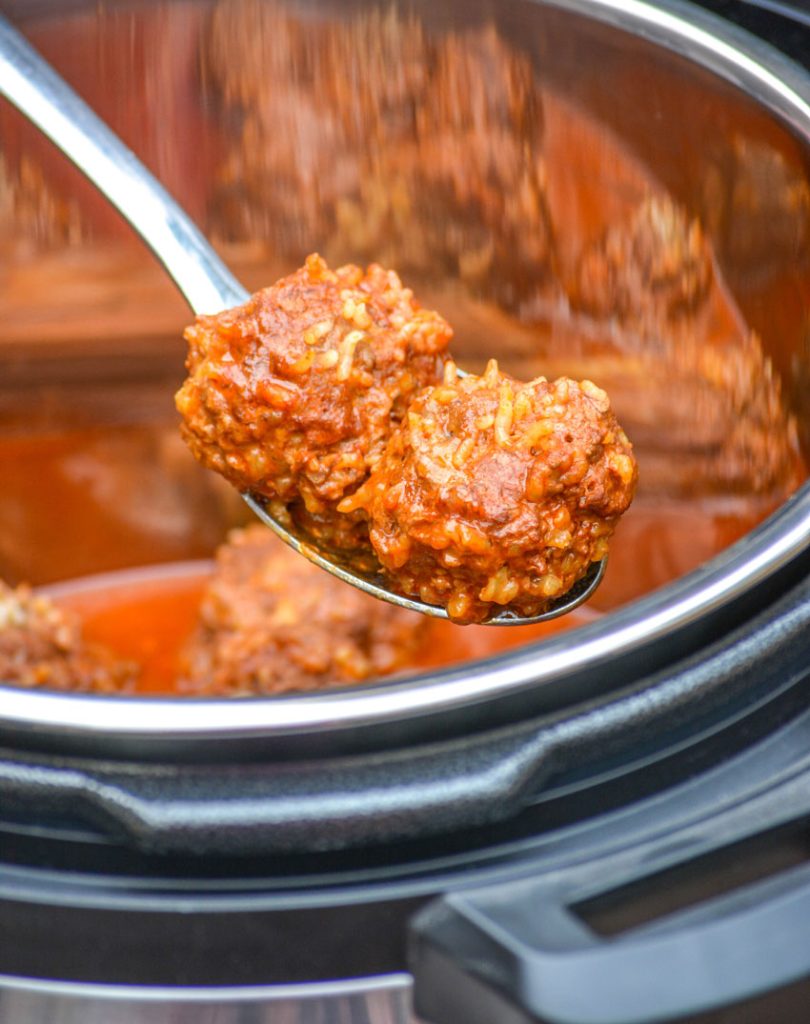 Then there was the one time my parents picked me up from her house after work, and something was notably off. I remember they kept giving each other funny looks. Back & forth. Finally, we all loaded up on the car to head home for the night.
Once safely buckled into the car, I announced I was never going back. I still remember the blank way they just kind of stared at me. Not sure what to say, not sure what was going on.
They knew something must've happened. I mean next to Mom & Dad, Grandma was my favorite person in the whole wide world.
None of the adults knew what the heck had happened. I sure wasn't saying anything. My lips were sealed, at least that night.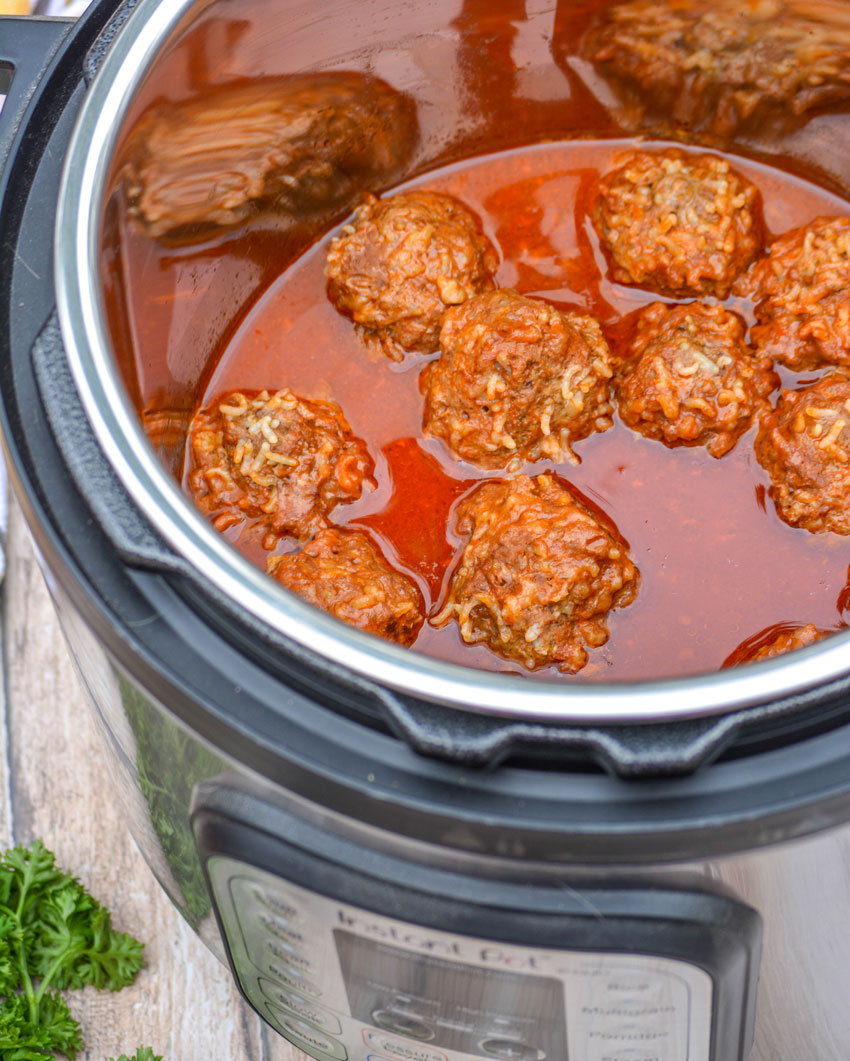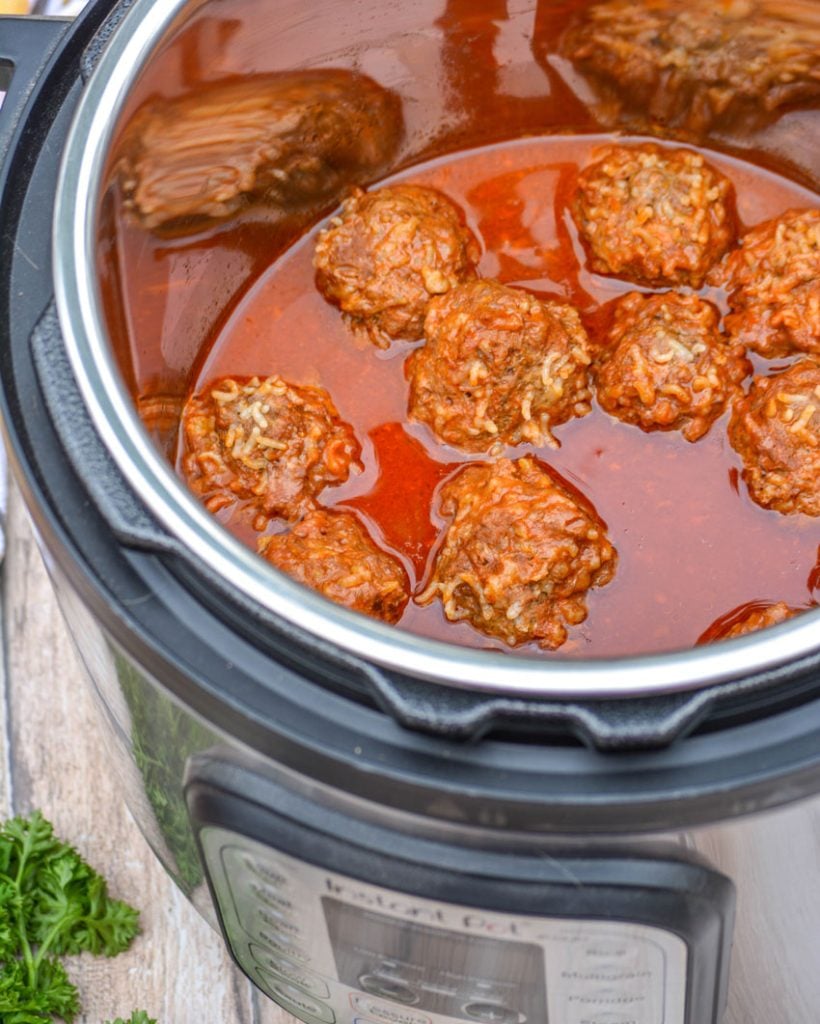 Cut to the next morning when my parents are trying to get everybody ready to head out the door, and I'm hiding. They found me under the desk in my Dad's study.
Once found, I promptly burst into huge crocodile tears. With those very real tears flowing, I told them my harrowing story.
I told them how I couldn't possibly go because my beloved grandmother was going to serve me porcupine meat for lunch. Porcupine meatballs, to be specific.
How could they expect me to eat porcupine? Grandma expected clean plates too! I just couldn't do it.
Turns out that porcupine meatballs are actually made from a blend of ground beef and white rice.
No actual porcupine meat is involved in the process. Whew, that was a relief to hear.
The story's given us many laughs and no end of amusement over the years.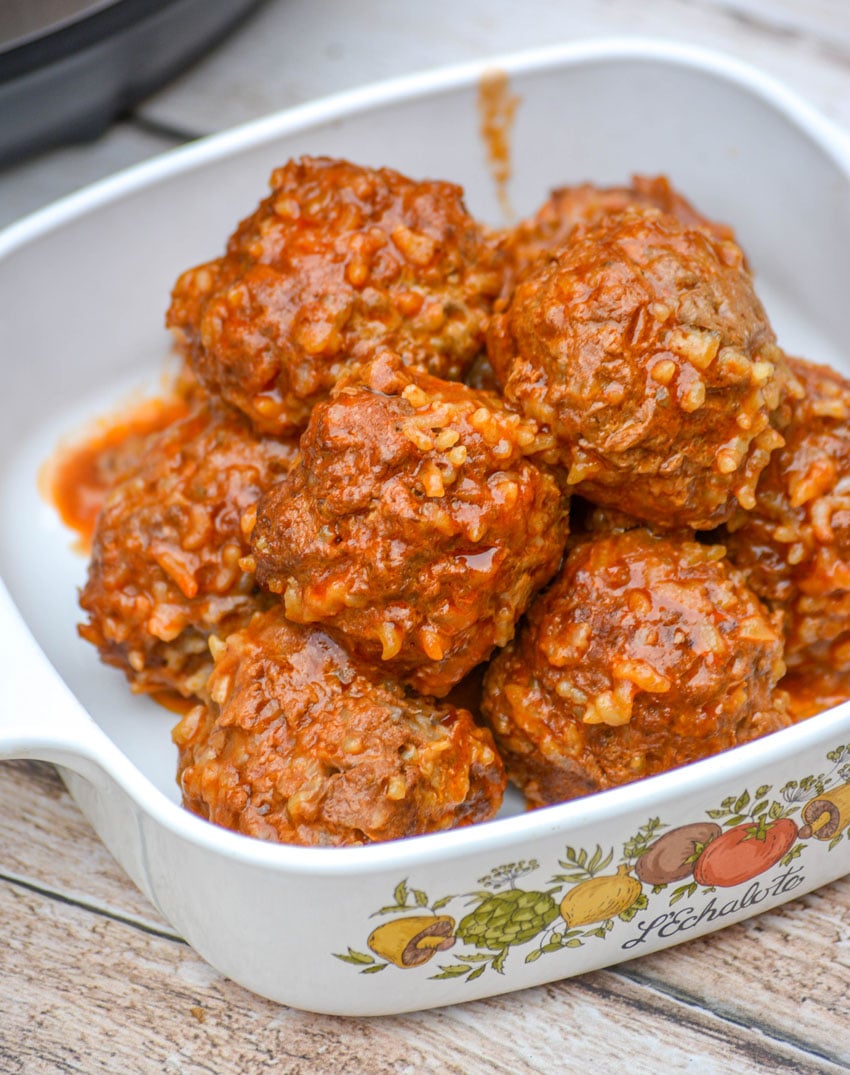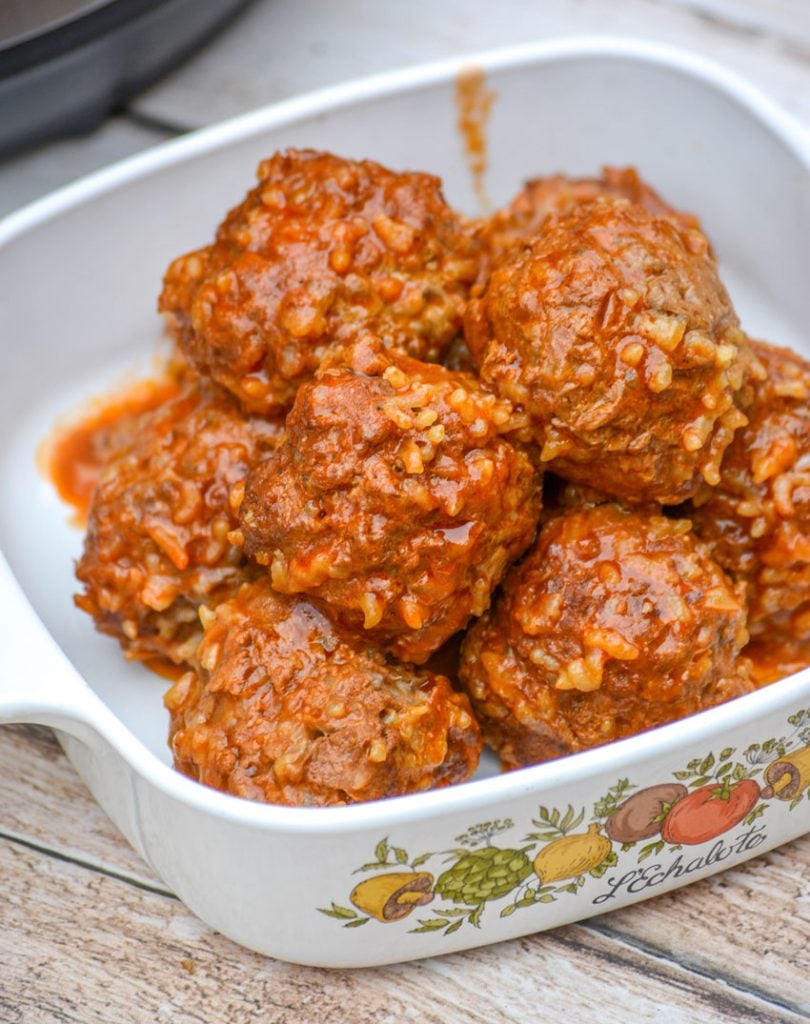 In the roughly 25 years since then, I've given my Grandma's idea an upgrade. Instead of boiling them on the stove top, we've turned these fun bites into Instant Pot Porcupine Meatballs. Just as tasty, and even easier!
As I mentioned earlier, porcupine meatballs at their heart are just ground beef based meatballs- seasoned & studded with white rice. When cooked, the white rice sticks out & stands on end like porcupine quills.
It's fun & easy, and a dinner the whole family can enjoy. Bonus points are added, for me, because the ingredient list is relatively short & sweet.
What Are Porcupine Meatballs Made Of?
ground beef
minced onion
egg
uncooked long grain rice
Worcestershire sauce
garlic powder
cream
bread crumbs
condensed tomato soup
beef broth
brown sugar
red wine vinegar
This list of ingredients is divided. The first half mixing up into savory ground meat mixture for meatballs; the other making a sweet & savory sauce they cook in.
It's easy enough for anyone to mix up which is why this is one of those meals I love to get the kids in on.
It's no real work, and mine get serious pleasure out of being able to dig their hand into a bowl of squishy ingredients and 'play' with them. All under the guise of 'cooking'.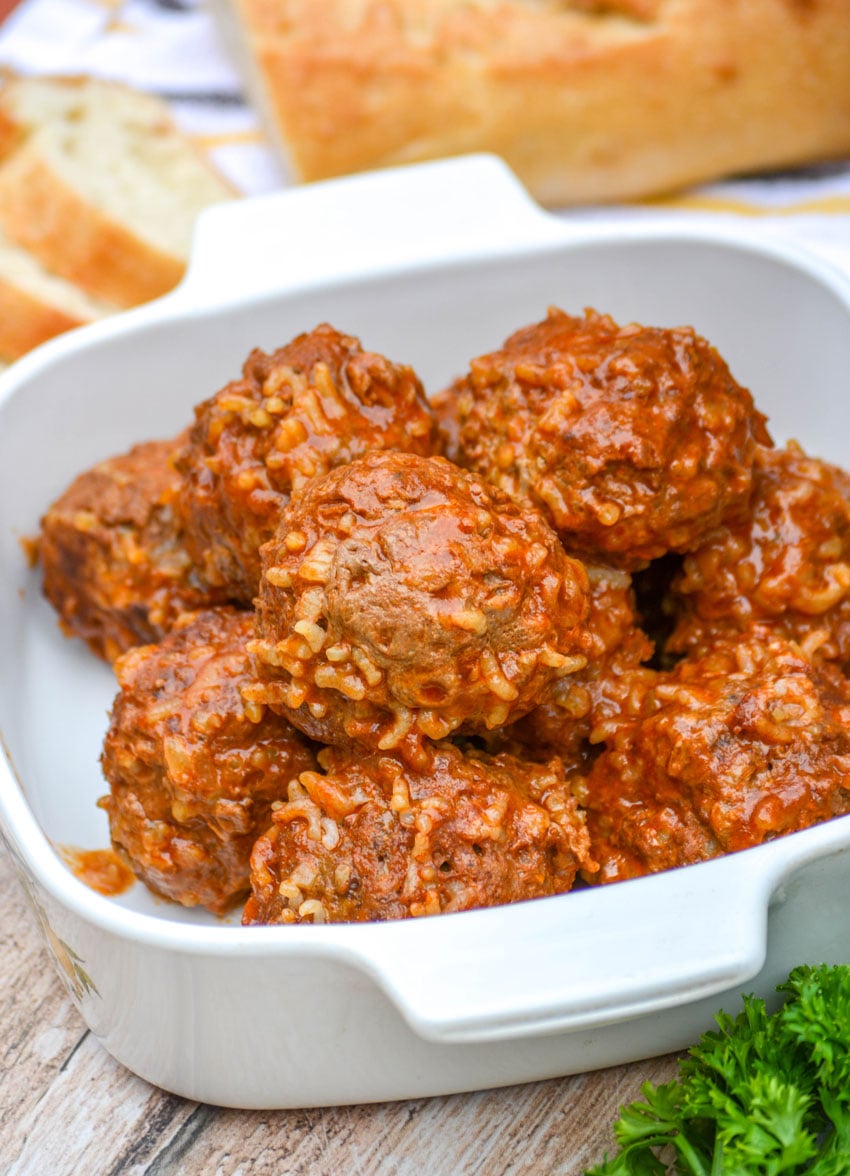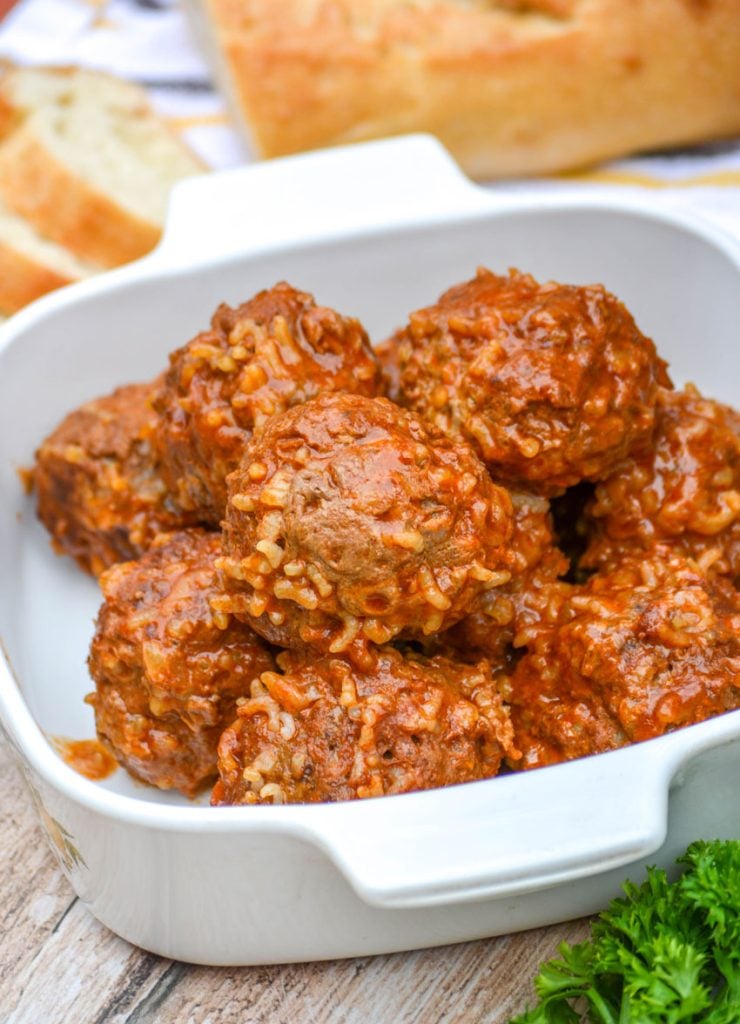 Can I Use Ground Turkey Instead?
Whether you don't have ground beef on hand, or just prefer ground turkey as a healthier option- it makes a delicious substitute. Use it in place of ground beef, as instructed in the recipe.
However, because ground turkey is leaner than ground beef- you will need to adjust the cooking time slightly.
To prevent them from being dry, reduce the cooking time to just 15 minutes.
What Can I Substitute For Condensed Tomato Soup?
If you don't have, or can't find, condensed tomato soup there are several other's that will work just as well in it's place. Depending on the soup though, it may change the flavor profile of the sauce.
Other options include:
cream of mushroom soup
condensed golden mushroom soup
condensed beefy mushroom soup
cream of onion soup
Any of these will work when added as instructed in place of the originally called for tomato soup.
How To Make Porcupine Meatballs In The Instant Pot:
Add all of the meatball ingredients to a large mixing bowl. Using your hands, squish, squeeze, and thoroughly knead the mixture together.
Using your hands, roll them into small/medium sized meatballs. Set them aside.
Add all of the sauce ingredients to the bowl of the Instant Pot. Whisk them together until they're smooth & combined.
Transfer the meatballs to the sauce filled pot, and secure the lid closed. Make sure the vent valve is also turned to the sealed position.
Cook the meatballs on manual pressure for 25 minutes.
Let the pot naturally release pressure for 15 minutes, then turn the valve to let any remaining steam fully escape.
Serve the meatballs.
See? Easy, peasy. Sweet, savory meatballs with minimal work.
The whole family gets in on the action & everyone's excited to enjoy the finished product.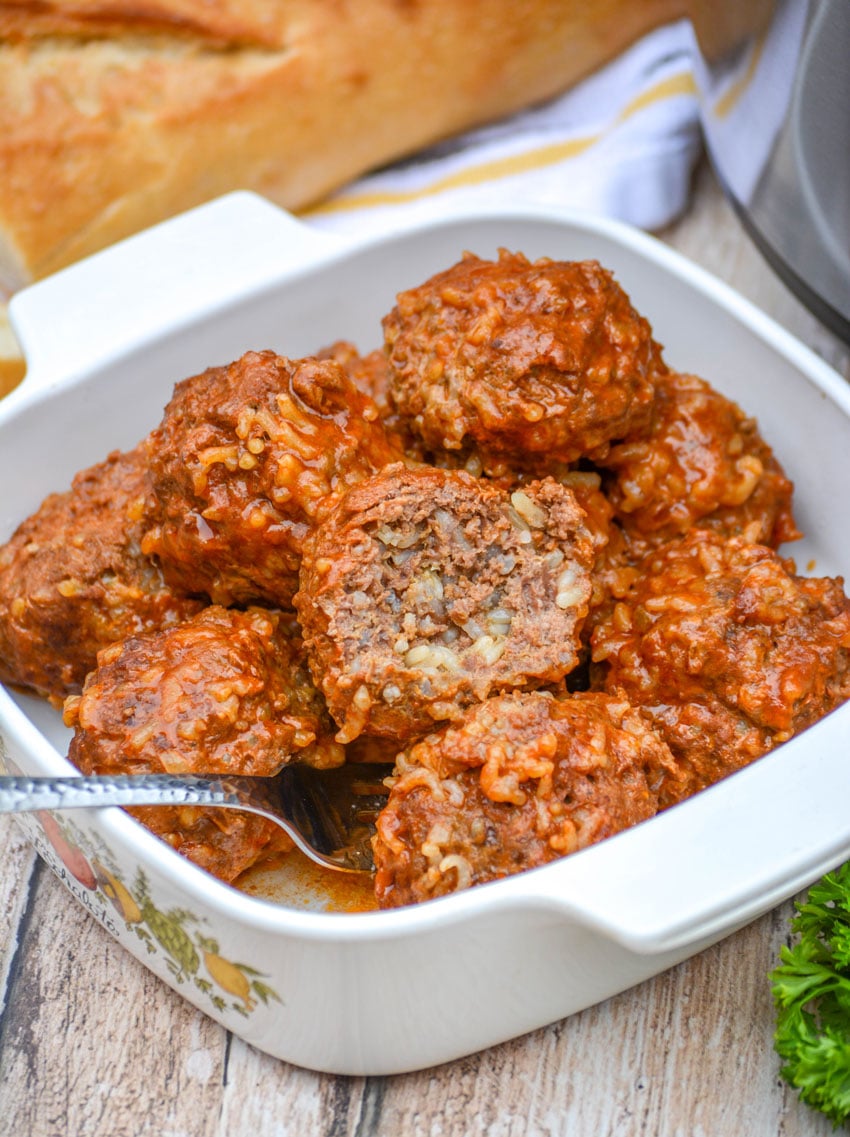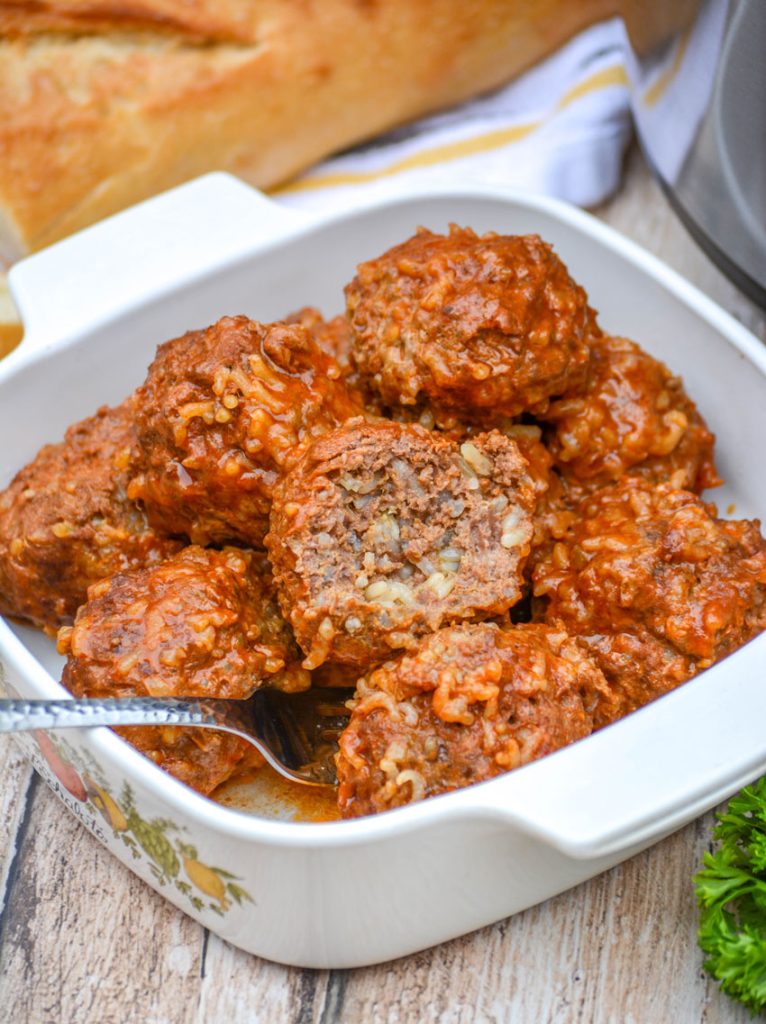 What Goes With Porcupine Meatballs?
It doesn't get any easier than these simple instant pot porcupine meatballs. Really, it doesn't.
Want to make it into a full meal? Add 1- 1 1/2 cups chopped russet potatoes to the sauce, stirring them in before adding the meatballs.
Yes, I know this is kinda combining two starches into one meal- but in this instance it's worth it. To round things out, serve it with a hunk of crusty bread & a simple side salad.
You could also serve these alongside or over a bed of creamy mashed potatoes.
Other Easy Meatball Ideas:
If you haven't heard of them before, introduce your own family to the deliciousness that is these porcupine meatballs.
Shoot, have your own bit of fun with the kids too. The youngest son thinks that 'porcupine' is his most favorite meat now- thanks to the Hubs. He gleefully told him the secret to the most delicious meatballs was real porcupine.
The story continues for another generation…
Looking for other easy recipes that use meatballs? Try one of these family favorites:
If you've tried this INSTANT POT PORCUPINE MEATBALLS, or any other recipe on my site, let me know in the comment section how it turned out, we love hearing from our readers! You can also follow along with me on PINTEREST, FACEBOOK, and INSTAGRAM to see more amazing recipes and whatever else we've got going on!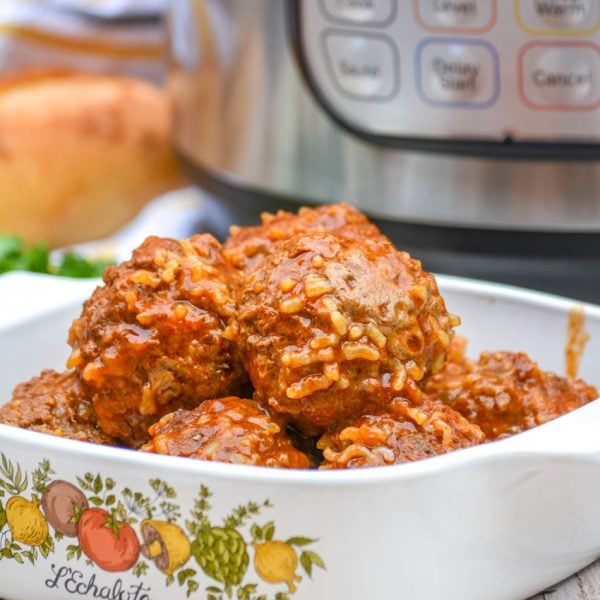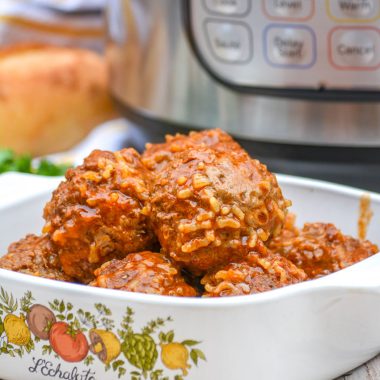 Ingredients
For The Meatballs
1

lb

ground beef

1/2

tbsp

dried minced onion

1

large

egg

1/4

cup

uncooked long grain rice

2

tsp

Worcestershire sauce

1

tsp

garlic powder

salt & pepper, to taste

2-3

tbsp

heavy cream

2

tbsp

Italian seasoned bread crumbs
For The Sauce
1

10.5 oz can

condensed tomato soup

1

can

beef broth

using the same can from the sauce

2

tsp

Worcestershire sauce

1

tsp

brown sugar

1

tsp

red wine vinegar
Instructions
To Make The Meatballs
In a large mixing bowl, combine all of the meatball ingredients. Use your hands to knead them together until it's uniform & everything's well mixed.

Using your hands, roll the meat mixture into roughly 12-14 small meatballs. Place the meatballs onto a waiting plate, and set aside.
To Make The Sauce
Add all of the sauce ingredients to the bowl of the instant pot. Whisk everything together until evenly combined. Press the sautee button to get the sauce going.

When the sauce has begun to simmer, give it a final stir & add all of the meatballs to the pot. Put the lid on the instant pot, turning to close and make sure the vent is in the sealed position. Hit the cancel button to stop the cooking.

Press the manual/pressure cook button & set it to cook for 25 minutes. When it's done cooking, let it manually pressure release (by just leaving it alone) for 15 minutes. Now turn the vent valve to open and release any remaining steam.

Open the lid & serve the meatballs.
Notes
Don't have condensed soup on hand? You can sub an 8 ounce can of tomato sauce + 2 tbsp of tomato paste. The sauce will be thinner, but just as tasty. Also, a can of V8 makes a great sub and gets more veggies in.
For a fuller meal in the instant pot, stir 1- 1 1/2 cups freshly chopped potatoes into the sauce before adding the meatballs. Serve with a simple side salad.
These can be served with toothpicks as an appetizer, or over a bed of white rice for a simple saucy meal.
recipe adapted from Simply Happy Foodie
Nutrition
Calories:
457
kcal
|
Carbohydrates:
25
g
|
Protein:
27
g
|
Fat:
28
g
|
Saturated Fat:
11
g
|
Cholesterol:
144
mg
|
Sodium:
1521
mg
|
Potassium:
1039
mg
|
Fiber:
3
g
|
Sugar:
9
g
|
Vitamin A:
925
IU
|
Vitamin C:
13.1
mg
|
Calcium:
81
mg
|
Iron:
5
mg