A meal the whole family will love, this Mac & Cheese Lasagna appeals to the kids- and the kid still in all of us. Creamy layers of shells & cheese are interspersed with a savory mixture of ground beef, sauteed onions, minced garlic, and a blend of Italian cheeses.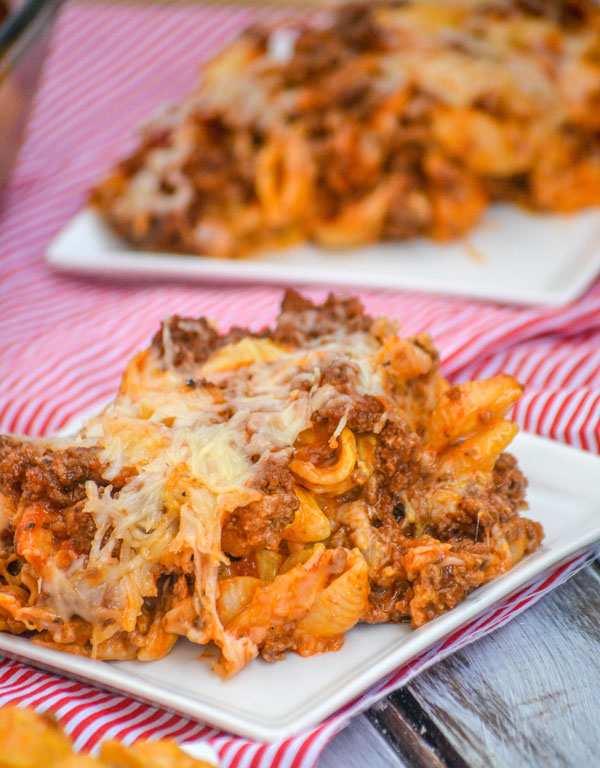 Some flavor combinations are classic. Like pasta and sauce, either of the cheesy variety or the tomato based version.
It's a match made in edible Heaven!
It also has the added advantage of being a beloved favorite of both kids and adults, alike.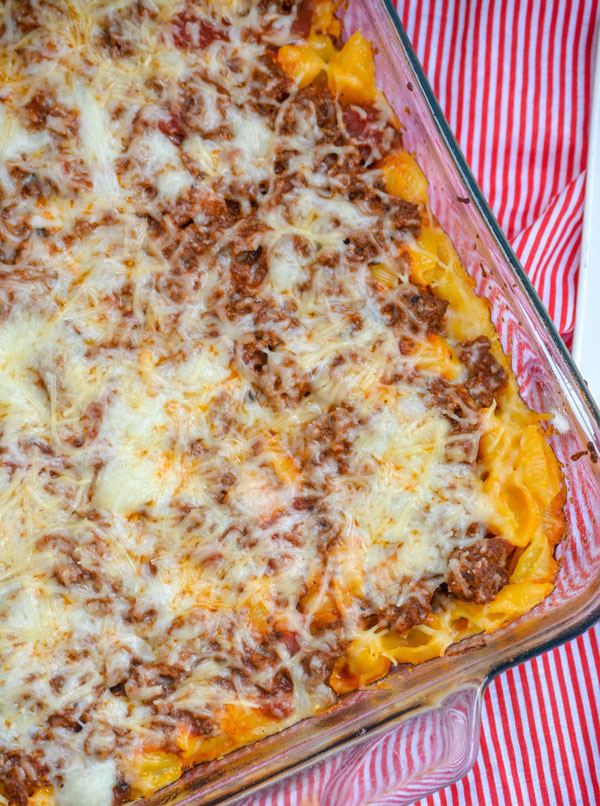 Over the years we've found some really unique ways to enjoy the two, too. Take our Mac & Cheese Pizza or Mac & Cheese Soup, for example. Or our Spaghetti Pie with Pepperoni. Slow Cooker Spaghetti & Meatballs Soup, anyone? How about Mac & Cheese Egg Rolls?
We've got oodles more, but I wasn't kidding when I said we had come up with many, many variations. Mostly because we love them so much, and y'all know I can't leave well enough alone.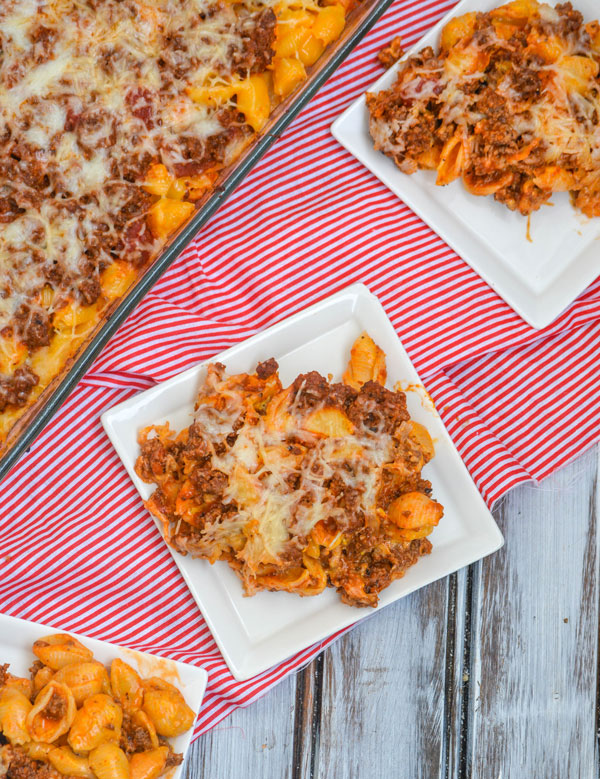 Luckily for me, it's led to some seriously tasty discoveries over the years.
One such being this Mac & Cheese Lasagna.
We all look forward to the nights it's on the menu, although probably for different reasons.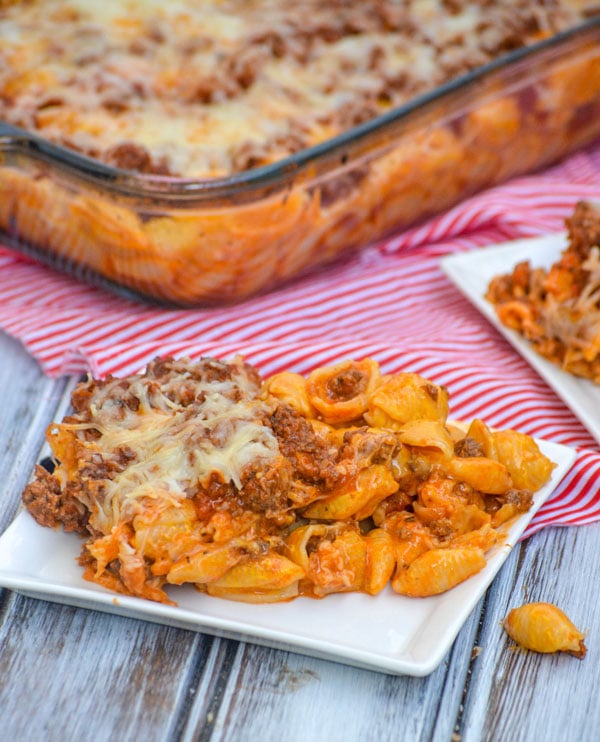 The kids love it because it has all their favorites. Also, because it's delicious.
Maybe not the prettiest dish in the world, but super uber yummy nonetheless.
Me, I love it for those reasons, and also because it's super easy to fix. Any dinner I can throw together in a pinch, that's also budget friendly, and that I know 100% nobody is going to complain about? That's a dinner that has my whole foodie-lovin', Mama heart.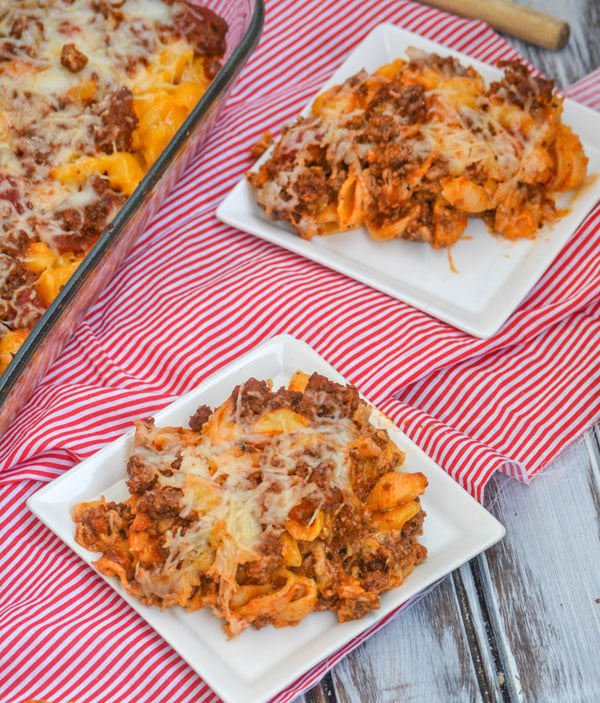 While I do tend to give myself a pat on the back for my efforts to make from scratch, homemade meals. There's no shame in my pantry game.
A quick peak any day will reveal that I am only human. You'll find jarred sauces and, of course, at least a couple boxes of mac and cheese there on the shelves.
Some nights, those things are the basis of a very basic family dinner. Usually a rushed affair on a very busy night. But other times, they come together to form a whole meal that is like kitchen magic.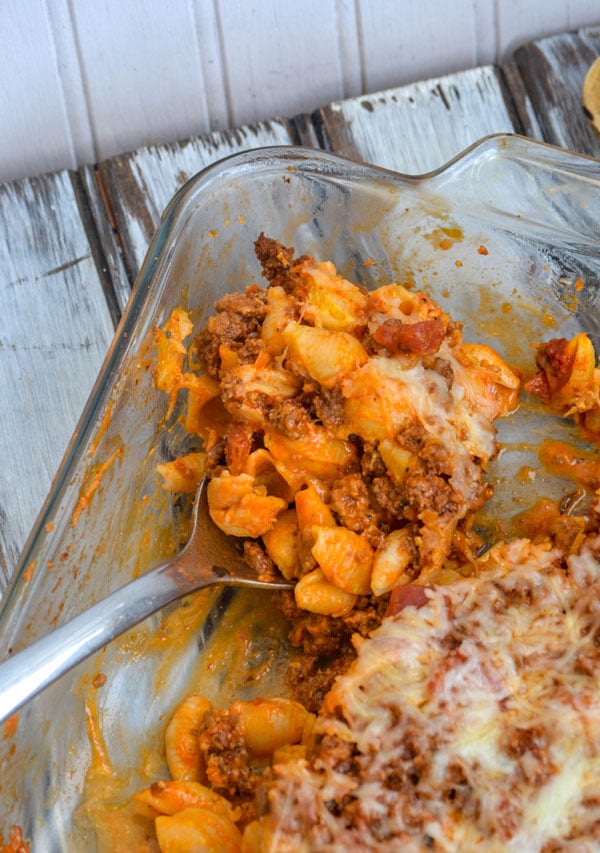 My boys certainly thought I was magical when I first served them this Mac & Cheese Lasagna.
Boxed mac and cheese takes on a whole new look in this scrumptious dinner dish.
Layers of extra creamy macaroni & cheese are topped with a savory mixture of ground beef, sauteed onions, and garlic, and a blend of shredded Italian cheeses. Baked to perfection, this fun 'lasagna' is one the whole gang can (and will) get behind.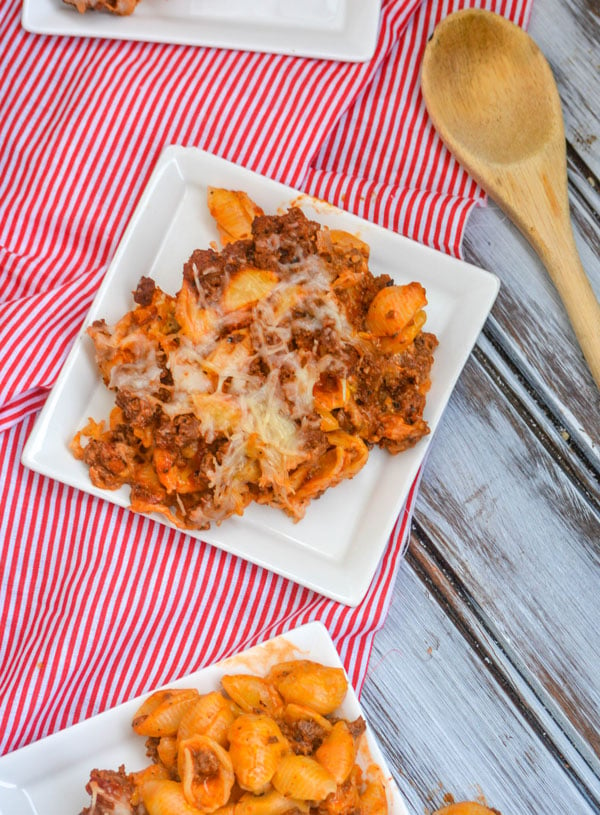 The kids will scarf their's down, beg for more, and still look at you with wide eyes, like you're some sort of culinary magician.
You'll be pretty pleased with yourself, considering this mystical feat came out of your everyday pantry!
Other fun spins on traditional mac & cheese you'll enjoy: Breakfast Mac & Cheese, Mac & Cheese Donuts, and the Grilled Mac & Cheese Sandwich.
If you've tried this MAC & CHEESE LASAGNA, or any other recipe on my site, let me know in the comment section how it turned out, we love hearing from our readers! You can also follow along with me on PINTEREST, FACEBOOK, and INSTAGRAM to see more amazing recipes and whatever else we've got going on!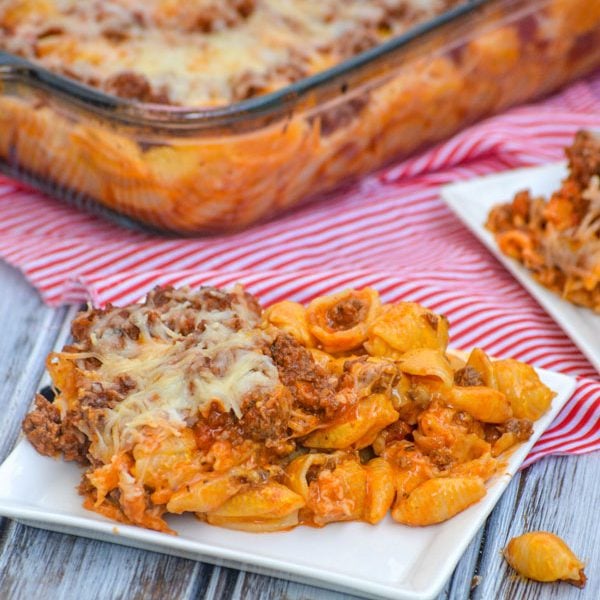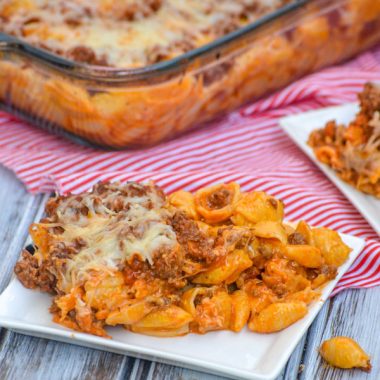 Mac & Cheese Lasagna
A yummy hybrid, this mashup of macaroni and cheese and tomato based lasagna is guaranteed to be a whole family favorite.
Print
Pin
Rate
Ingredients
1

24 oz box

macaroni shells & cheese with prepared cheese sauce

1

lb

ground beef

1/2

white onion, diced

2

cloves

minced

1 1/2-2

cups

spaghetti sauce

1

packed cup

shredded mozzarella cheese

1/4

cup

Parmesan cheese
Instructions
Prepare the mac and cheese according to package directions. Complete all steps.

While the water is boiling for the mac, in a separate skillet brown the ground beef, onions, and garlic- stirring occasionally. Drain the mixture, and set aside.

Lightly spray a 9x13" baking dish with non-stick cooking spray. Spread half of the mac evenly out over the bottom. Top with a layer of half the meat, then a layer of half the sauce, and finally half of the cheeses.

Repeat the layers, finishing with the remainder of the cheeses.

Bake the casserole at 350 degrees for 20 minutes. Let the casserole rest 2-3 minutes before scooping and serving.