Dinners made in the crock pot don't always have to be served sloppy. This slow cooker Greek chicken is healthy, delicious, and cooked so that it can be served neatly on a plate when done.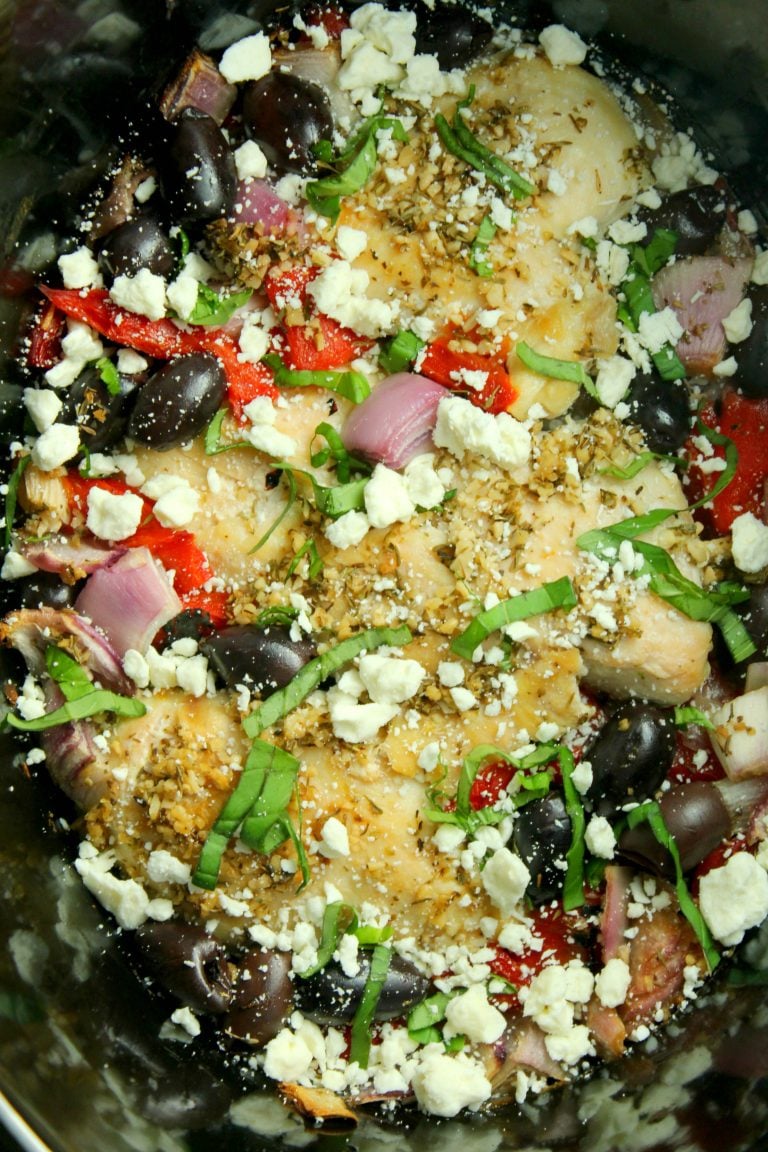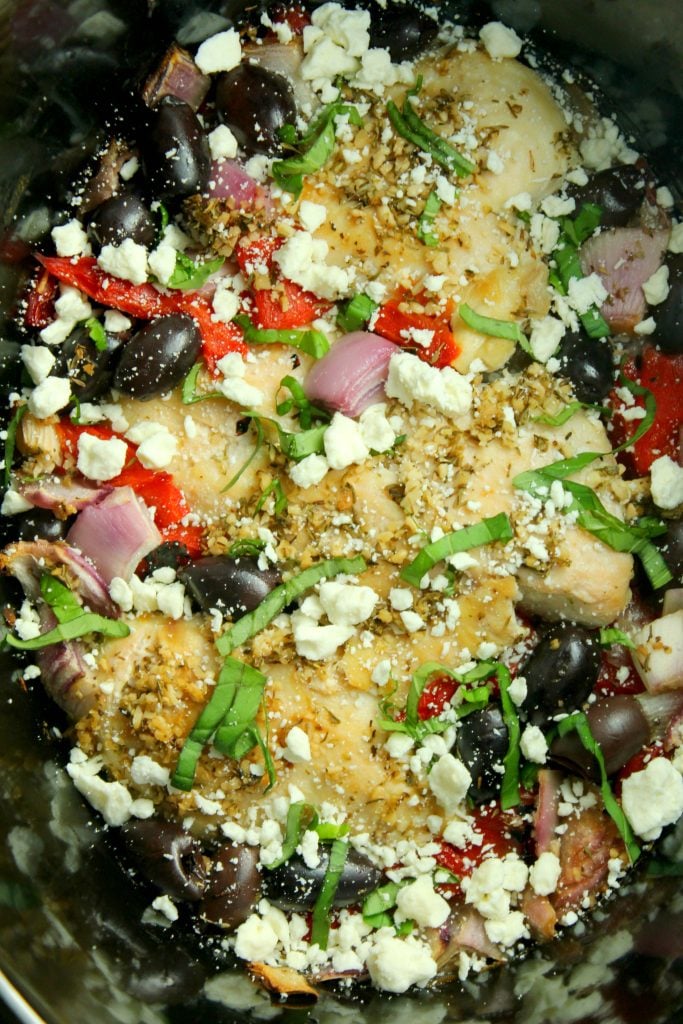 Chicken is a mainstay in my family's kitchen. I love it particularly because of how wonderfully well it takes on whatever flavor profiles I throw at it. Rarely have I found my results gone wrong.
I do tend to favor different flavors I've found. Well maybe flavors isn't the right word. Maybe flavor profiles work better.
I'd say cuisine's because I tend to migrate towards things like Asian, Greek or Mediterranean, or even French. But often the recipe is more a flavor feel, than something I can pin down with that kind of specifics.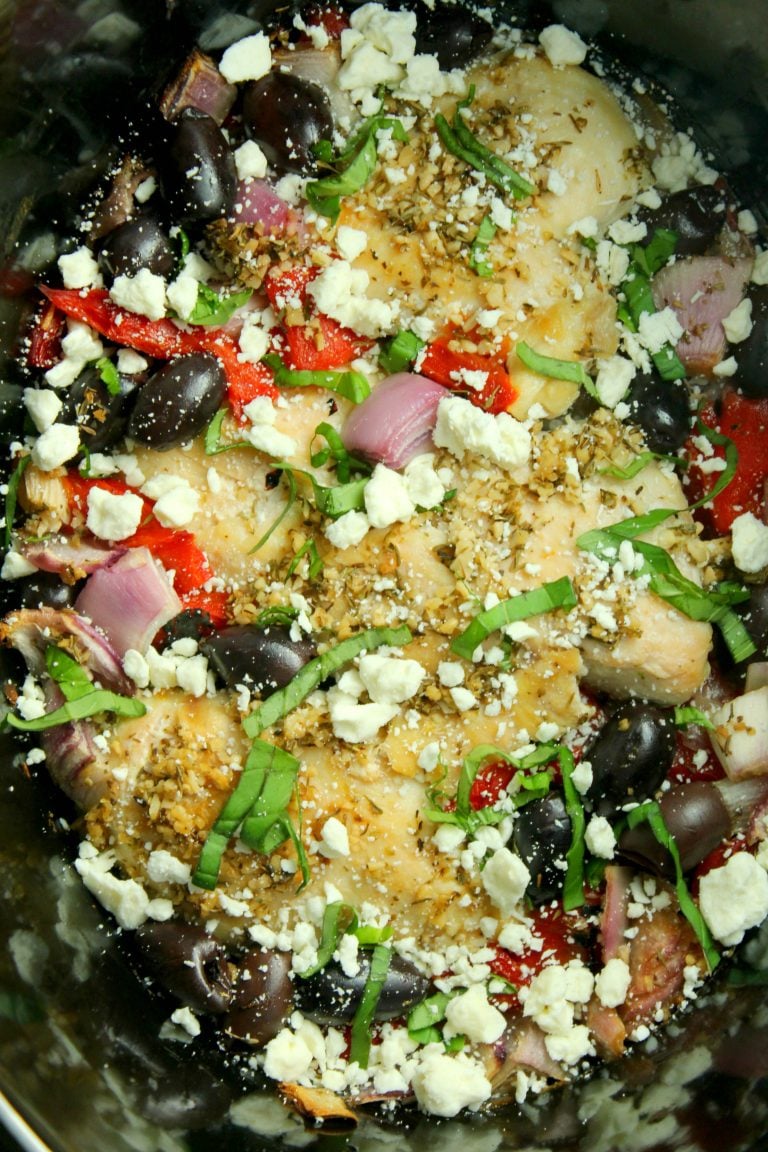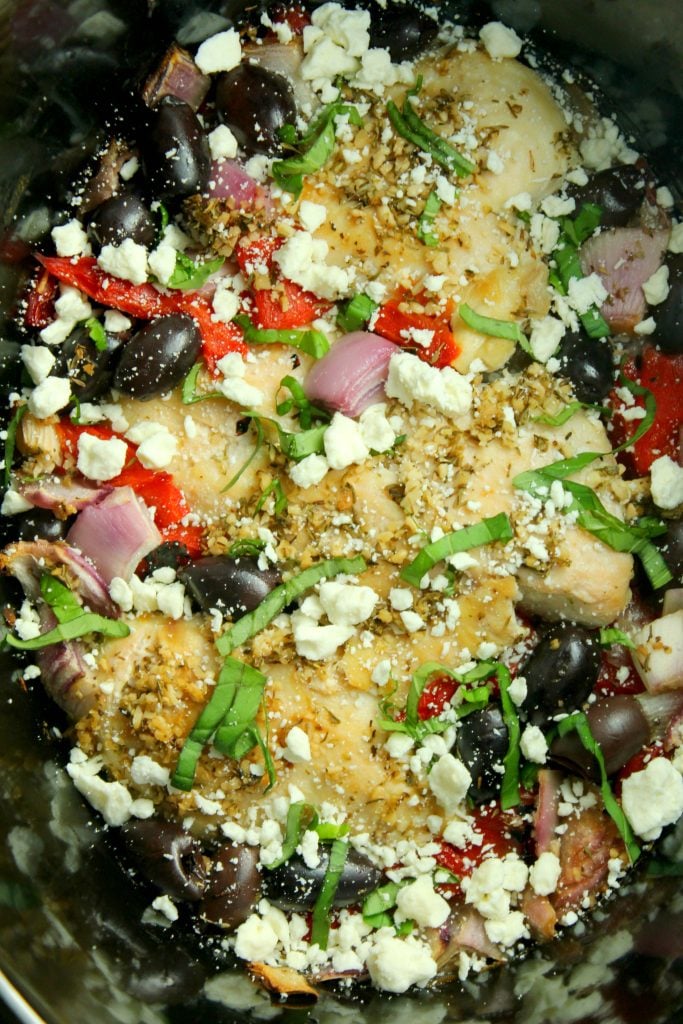 I do tend to find the chicken is a great addition to anything 'Greek', all things pegged Mediterranean. Take our Greek chicken burger sliders for example.
There's also our Greek quiche or Greek chicken kabobs with tzatziki sauce. I absolutely adore a good tzatziki sauce. I've found though, if the chicken is seasoned & cooked smartly- a sauce isn't always necessary.
I've always got chicken on hand, so it was bound to happen that I'd end up combining the two. A solid Mediterranean chicken recipe is always a must have.
Add the slow cooker to the mix, and you've got meal time magic you can feel good about with this healthy slow cooker Greek chicken.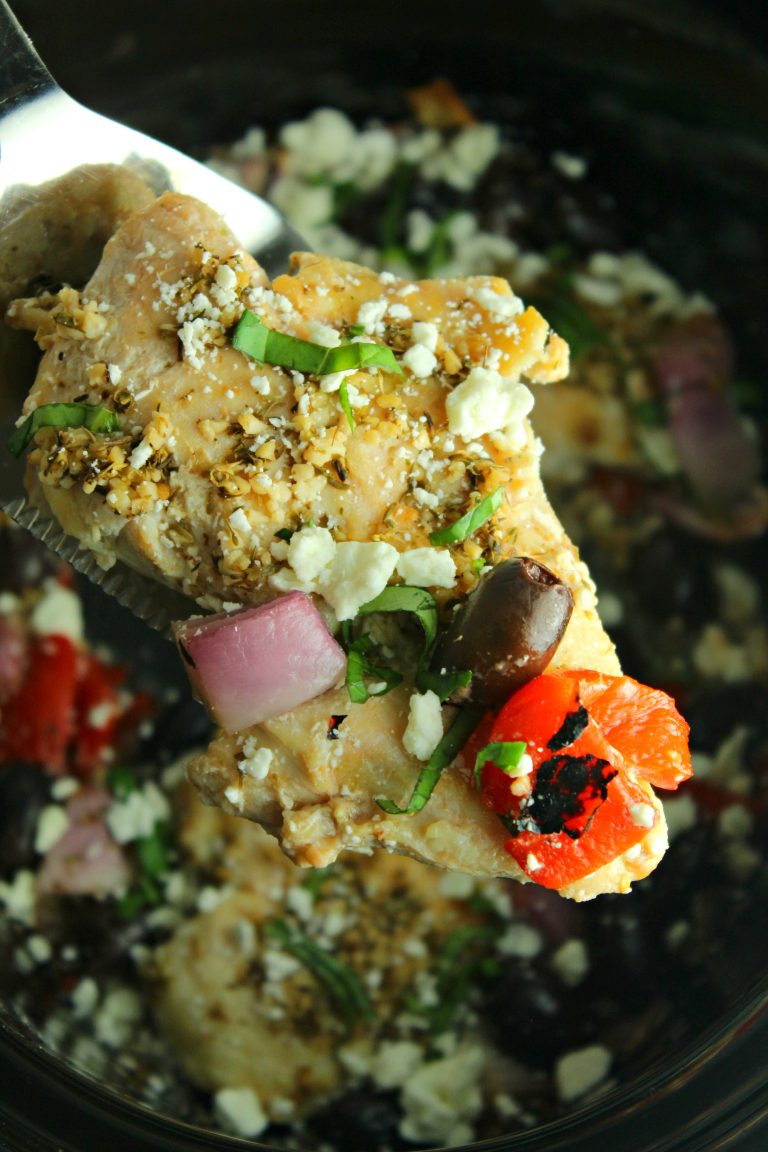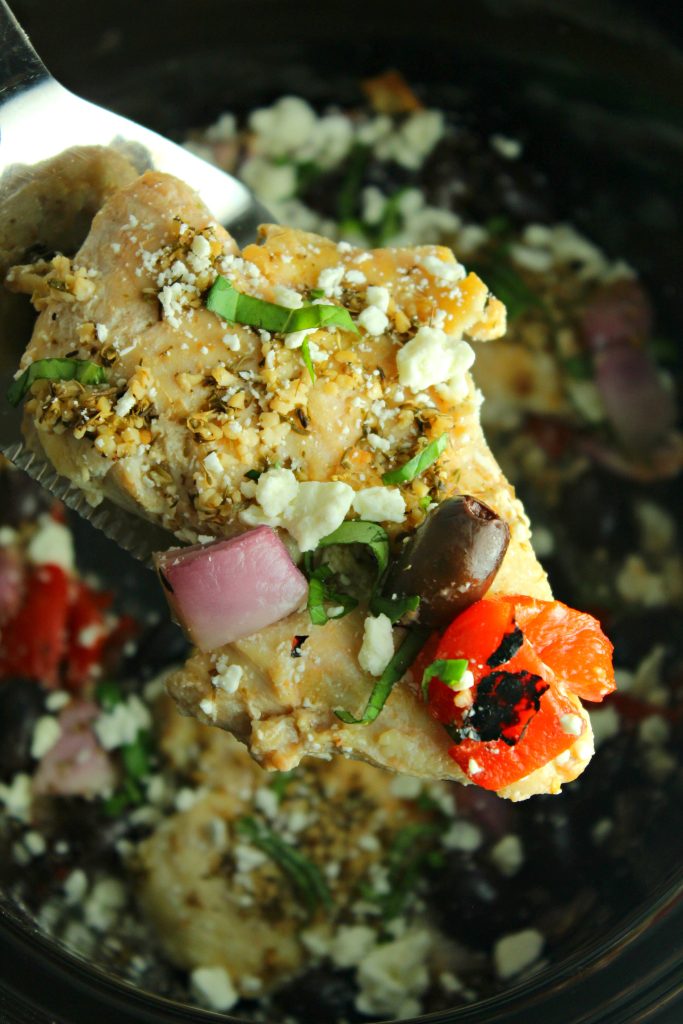 WHAT MAKES THIS SLOW COOKER CHICKEN BREASTS RECIPE WORK:
A lot of people do not like cooking with chicken breasts. If not cooked properly they can end up with a very dry, stringy texture. When cooked low & slow in the crock though, they come out unbelievably tender and moist. Like thigh meat, but with the more recently preferred white meat.
The chicken is added to a hot skillet and pan seared in olive oil before being added to the bowl of the slow cooker. Put simply, browning is better. A quick initial sear leads to more complex flavors. The light golden brown crust also prevents the chicken from falling apart when plating it.
Fresh, bright flavor from the Mediterranean blend of veggies is combined with tangy red wine vinegar, pungent garlic, dried herbs, and sweet honey resulting in a simple but delicious vinaigrette.
These slow cooker chicken breasts are my favorite way to get a Mediterranean chicken recipe on the supper table. It's one meal the whole family can agree on, even the kids. Although they may, or may not, pick and choose which veggies to enjoy.
I never hear complaints about 'normal' veggies. Think green beans & broccoli, and of course corn on the cob. Mention Mediterranean though, and it's like I'm literally speaking Greek to them.
They don't even really know what either of those words mean when applied to a flavor profile though. Which brings up another great question…
WHAT MAKES THIS A TRADITIONAL MEDITERRANEAN MEAL:
Mediterranean meals almost always feature ingredients found & grown in and around the sea of the same name.
The meals are also usually of a healthier style, both in composition & in cooking methods, reflecting popular life style choices of the region.
Olives, olives, and more olives. Olives are universal to a Mediterranean dish. Both in the dish, and as the primary source of cooking fat from the oil.
Lean cuts of meat are typical, fish or poultry often being preferred options for their high protein contents.
Red onion, roasted red peppers, & tomatoes, along with the whole olives, are a very popular Greek combination.
Garlic and fresh herbs like basil, oregano, & thyme go hand in hand with other Mediterranean flavors. And don't forget the feta cheese garnish!
While these things all make this dish a traditional 'old world' style recipe, these healthy slow cooker Greek chicken breasts have easily been adapted into a more modern meal using contemporary cooking methods.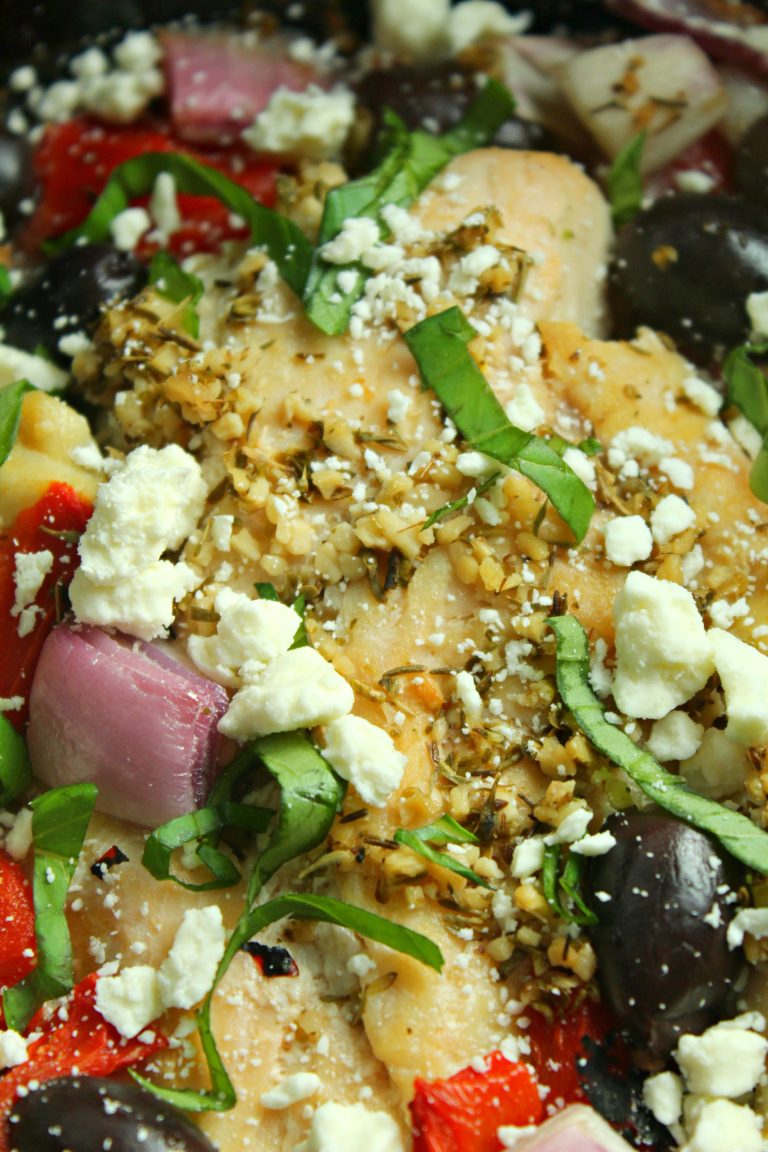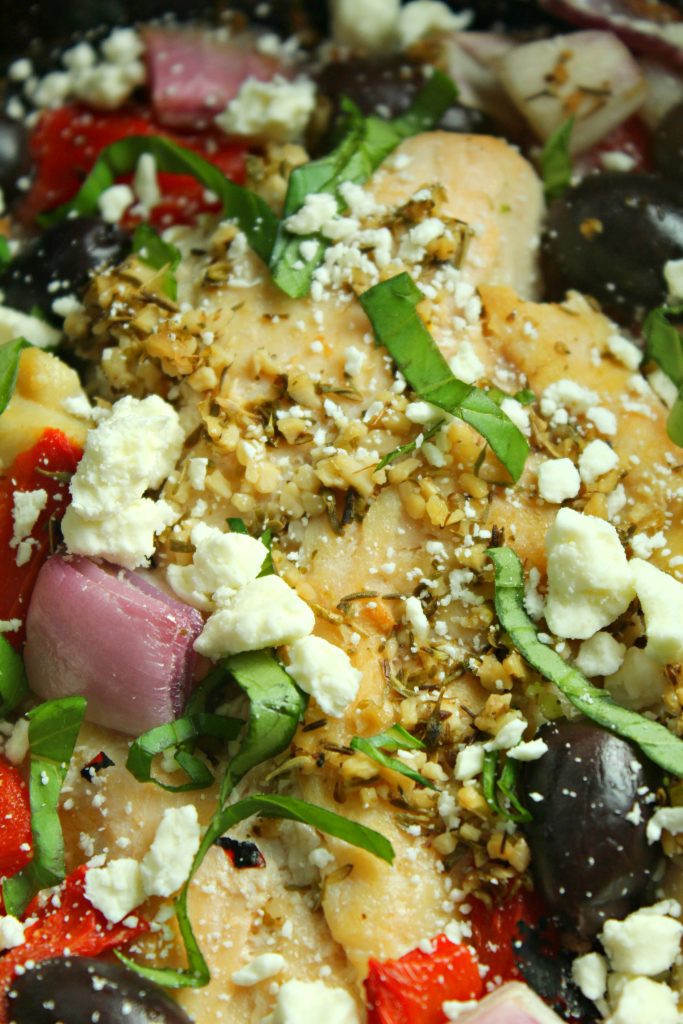 INGREDIENTS NEEDED FOR THIS GREEK CHICKEN RECIPE:
olive oil
chicken breasts
roasted red peppers
kalamata olives
red onion
red wine vinegar
garlic
honey
oregano
thyme
feta cheese
HOW TO MAKE THIS SLOW COOKER GREEK CHICKEN:
Spray the bowl of the crock with non stick cooking spray, or use a slow cooker liner.
Heat the oil in a large skillet, season each chicken breast with salt & pepper, and sear on each size until a light golden brown crust has formed.
Transfer the seared chicken to the slow cooker.
Add in the roasted red peppers, onion, and olives.
Whisk together the rest of the ingredients, except for the cheese, until smooth.
Pour the sauce evenly out over the chicken mixture in the slow cooker.
Cover & cook on high for 2 hours, or 4 on low.
Scoop and serve, garnished with fresh feta cheese.
I was really surprised to discover that authentic Greek & Mediterranean cuisine was able to be featured on my budget friendly, family recipe meal plan. I mean the proof is in the pudding, or in this case the slow cooker. Just look at this Greek chicken!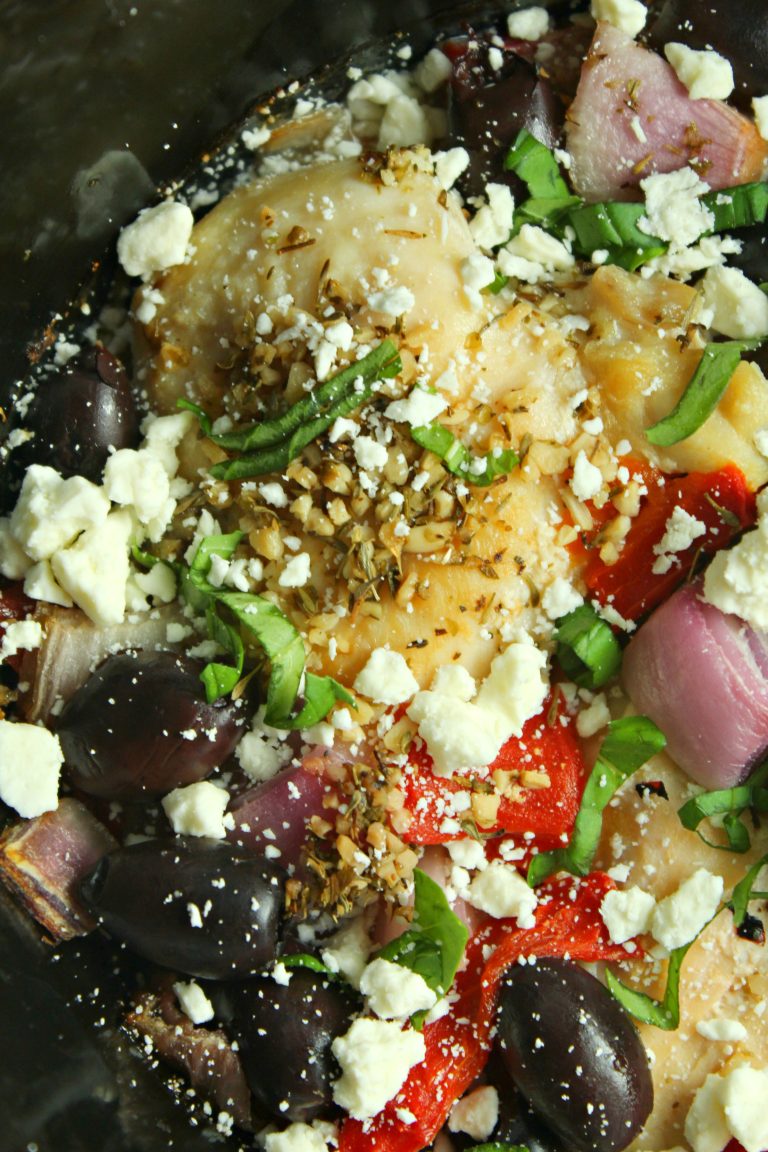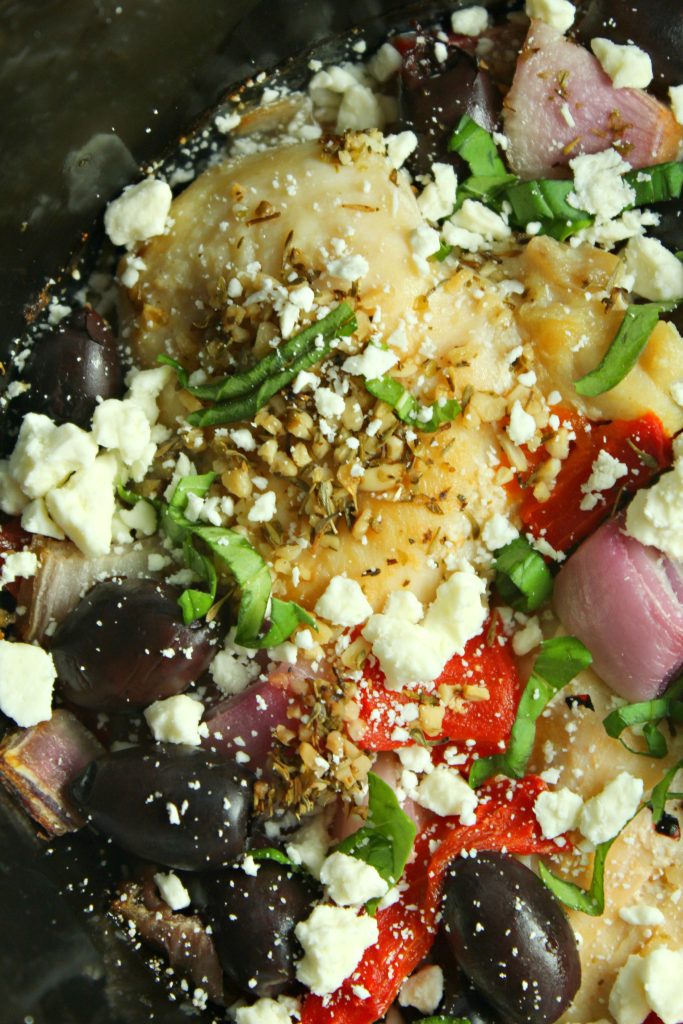 TIPS & TRICKS:
Greek chicken may seem easy, but it's all about the ingredients. Use premium ingredients when making this dish.
The recipe calls for chicken breasts, and it's one of my favorite ways to cook them- but you can also sub chicken thighs. If you decide to use thighs, make sure all the fat's cut off with kitchen shears.
This Greek chicken recipe is great as is, but if you want to take it to the next level- consider how to serve it. We love to serve this recipe as is. The pulled chicken is great on a burrito wrap. It's also great served over a bed of fluffy white rice.
You really can't go wrong with this easy Mediterranean style chicken recipe. It's easy, but it's also super tasty. It's food you can feel good about enjoying. And that matters to me.
Let your slow cooker do all the work, and prep this slow cooker Greek chicken for supper. It's super easy to throw together, and it's even easier for the family to fall in love with.
OTHER FAMILY CHICKEN RECIPES YOU CAN ENJOY:
If you've tried this SLOW COOKER GREEK CHICKEN or any other recipe on my site, let me know in the comment section how it turned out, we love hearing from our readers! You can also follow along with me on PINTEREST, FACEBOOK, and INSTAGRAM to see more amazing recipes and whatever else we've got going on!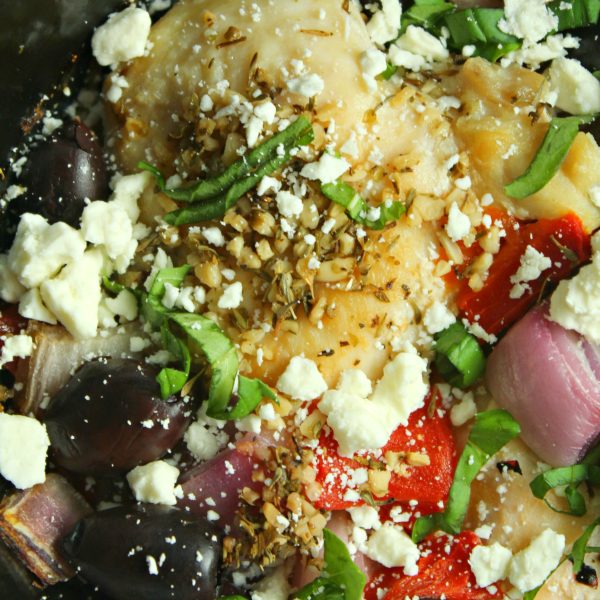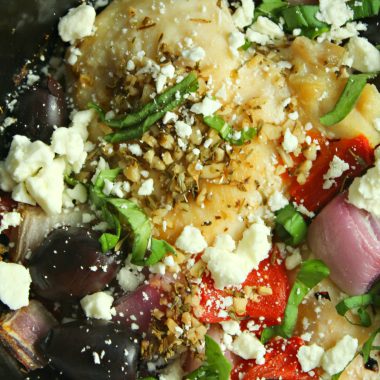 Slow Cooker Greek Chicken
A fresh new take on Greek chicken, this easy version features slow cooked chicken with a variety of fresh veggies in a simple sauce.
Print
Pin
Rate
Ingredients
1

tbsp

olive oil

2

lbs

chicken breasts

1/2

tsp

salt

1/4

tsp

ground black pepper

1 12 oz

jar

roasted red peppers

drained and chopped

1

cup

pitted Greek kalamata olives

1

red onion

chopped

3

tbsp

red wine vinegar

3

cloves

garlic

minced

1

tsp

pure honey

1

tsp

dried oregano

1

tsp

dried thyme

1/2

cup

crumbled feta cheese
Instructions
Spray the bowl of a slow cooker with cooking spray.

In a large frying pan over medium-high heat, heat olive oil and lay chicken breasts in the pan. Sprinkle with salt and pepper and sear each side of the chicken for 1-2 minutes.

Add seared chicken to slow cooker, along with roasted red peppers, olives, and chopped onion.

Whisk together remaining ingredients except feta cheese in a small bowl and pour into the slow cooker.

Cover and cook on HIGH for 2 hours (or LOW for 4 hours).

Serve and garnish with crumbled feta cheese.
Nutrition
Calories:
413
kcal
|
Carbohydrates:
8
g
|
Protein:
52
g
|
Fat:
19
g
|
Saturated Fat:
5
g
|
Cholesterol:
162
mg
|
Sodium:
1418
mg
|
Potassium:
928
mg
|
Fiber:
2
g
|
Sugar:
4
g
|
Vitamin A:
330
IU
|
Vitamin C:
9.7
mg
|
Calcium:
144
mg
|
Iron:
1.7
mg