A delicious new spin on an ancient favorite, we tossed tender boiled baby red potatoes in a homemade creamy cucumber yogurt Tzatziki sauce for an amazing new side dish. This Tzatziki Style Potato Salad is light, refreshing, and the very best way to add some extra Mediterranean flavor into your family's everyday dishes.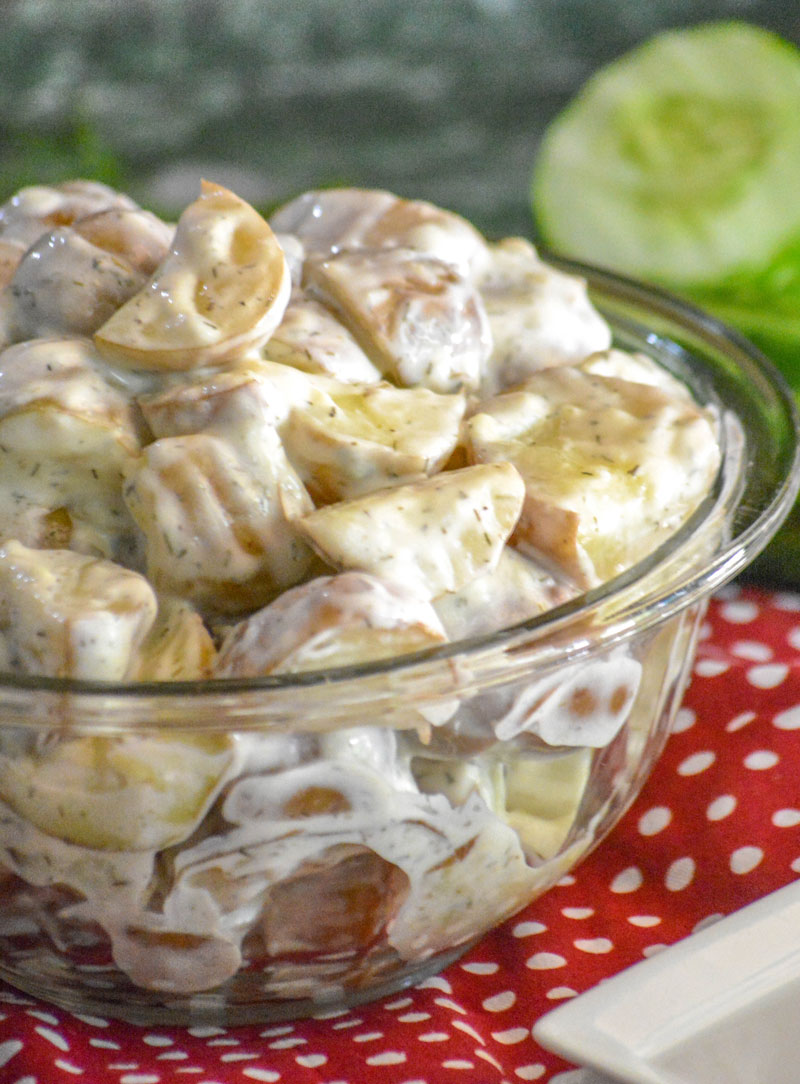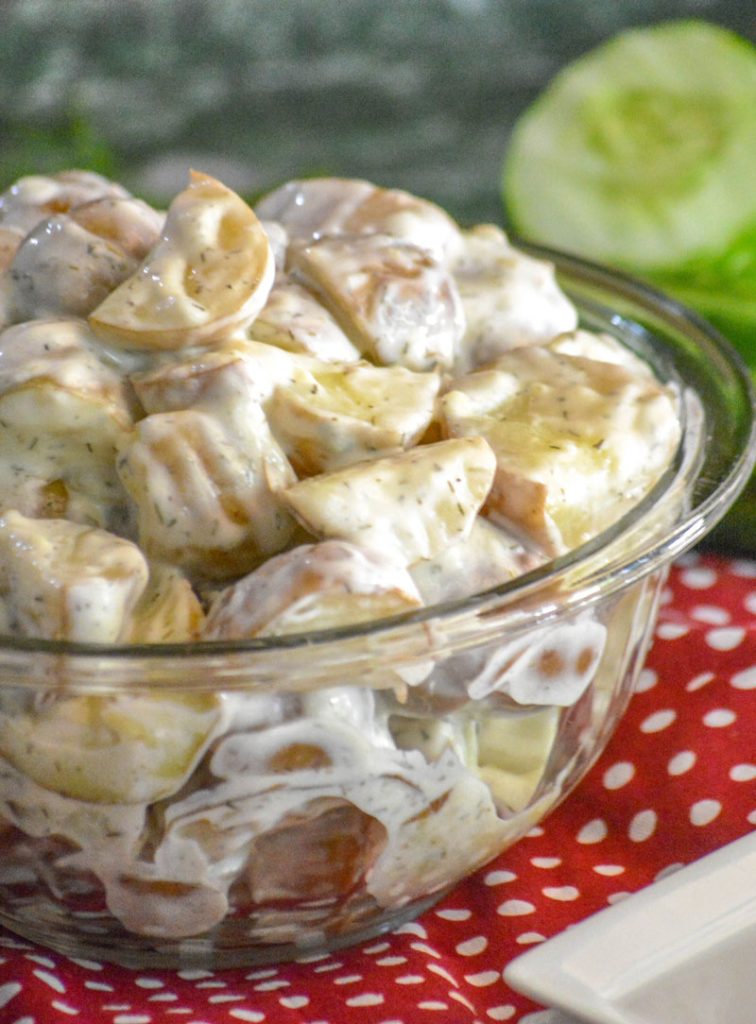 Summer's quickly coming to an end, and with it barbecue season.
Normally, that would mean the end of all the amazing side dishes I hold dear. I've never been one to hold firmly to societal norms though.
If I want a creamy pasta or potato salad, this ish is going down- whatever the weather looks like outside.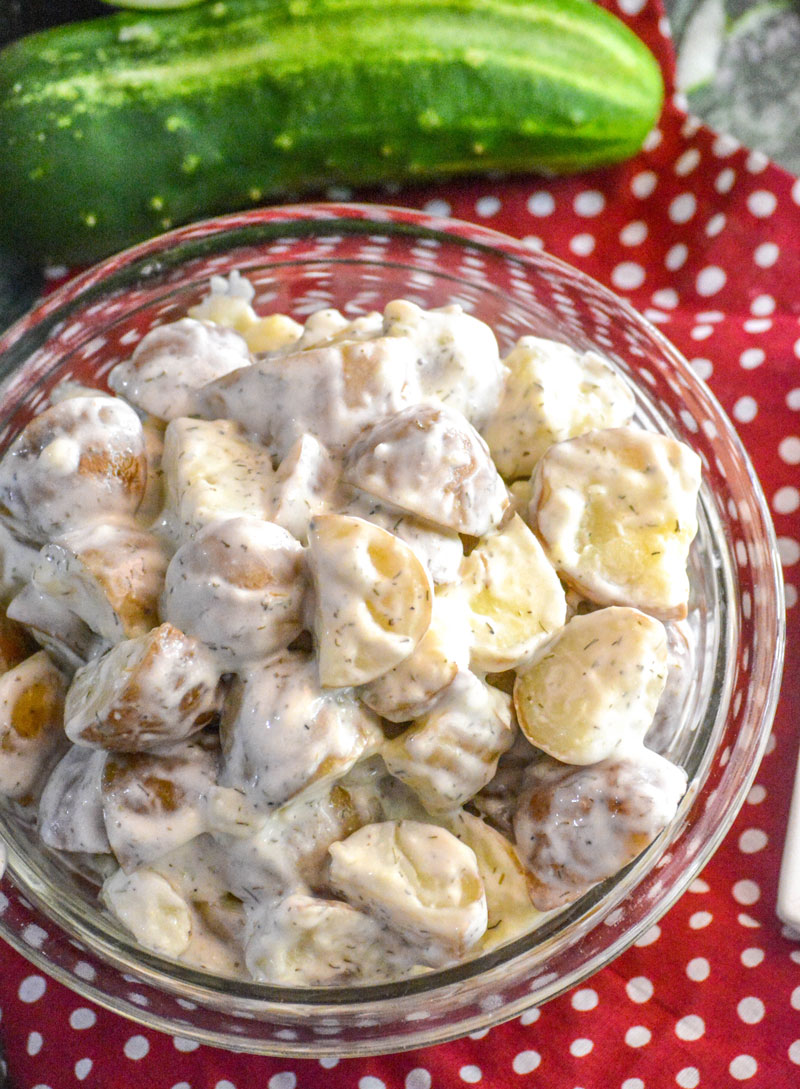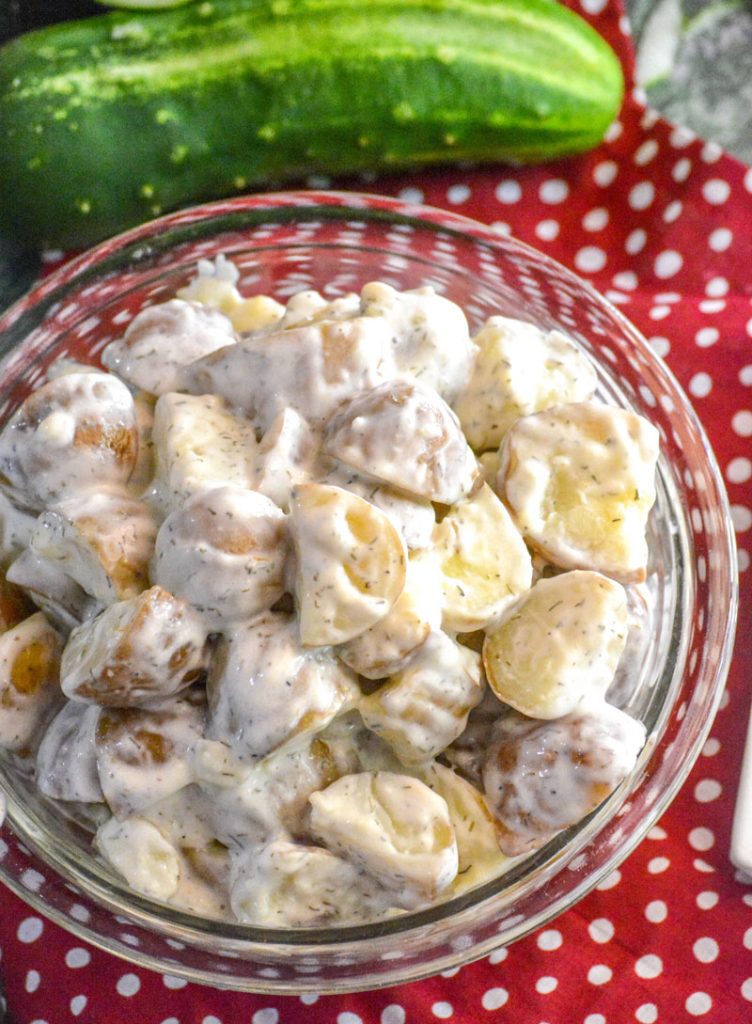 While both pasta and potato salad hold a very special place in my heart, I've got to say that at the end of the day- potato salad almost always wins out.
God forbid if there's ever a real life version of those polls where you have to pick one thing to give up for the rest of your life, and it's down to those two. That would be a serious conundrum for me. I mean sweat, stress, and panic inducing.
How am I supposed to choose??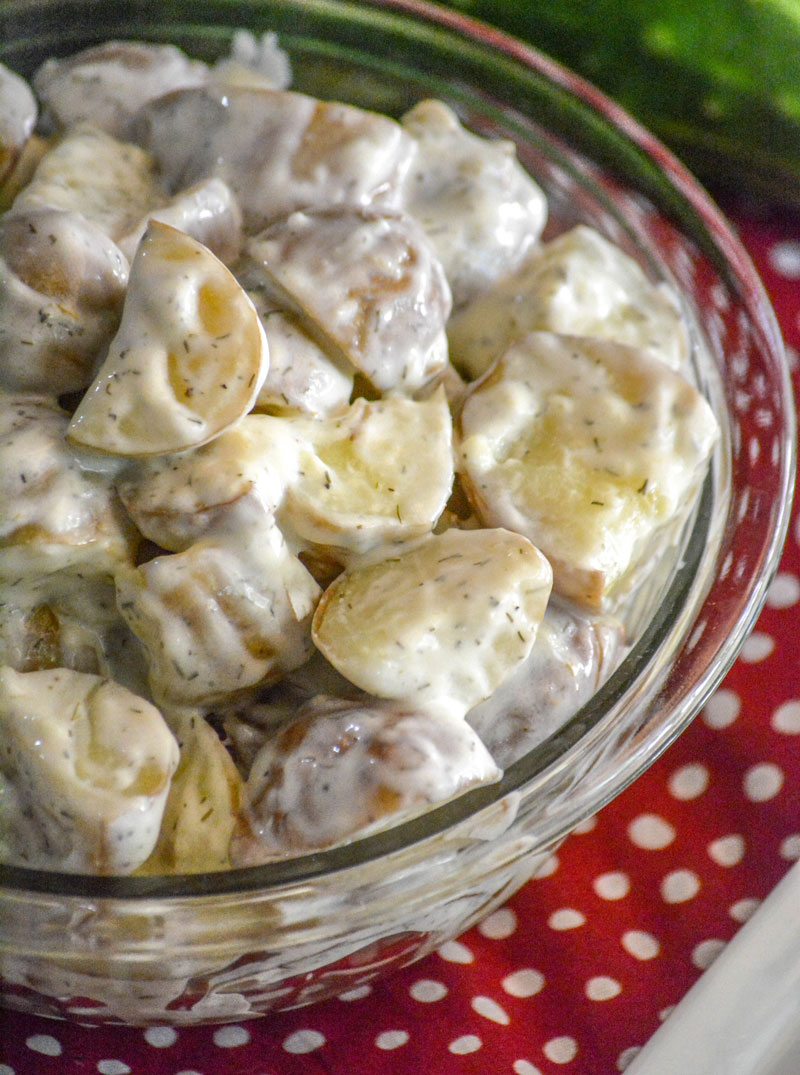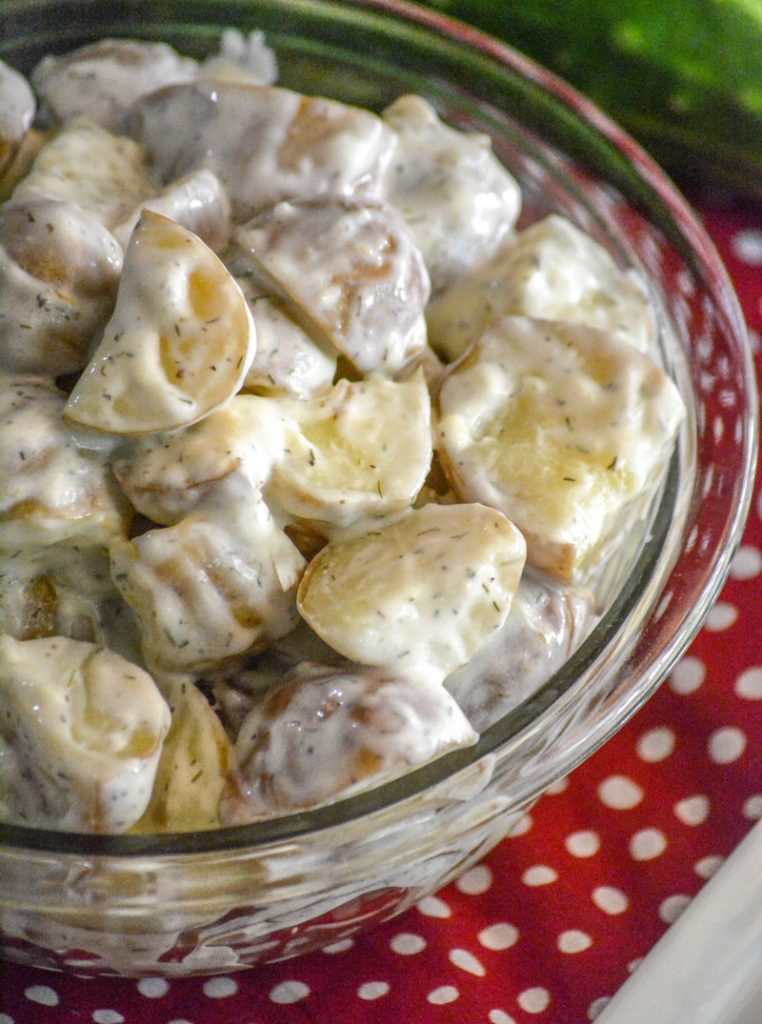 I hate to break it to my pasta salad lovin' friends & family, but it's gonna be potato salad all the way- specifically this Tzatziki Style Potato Salad.
It's so good. Like I can't tell you enough.
The flavor you crave in your favorite creamy yogurt cucumber sauce, but tossed with soft boiled potatoes that melt in your mouth with every bite. It's pure heaven.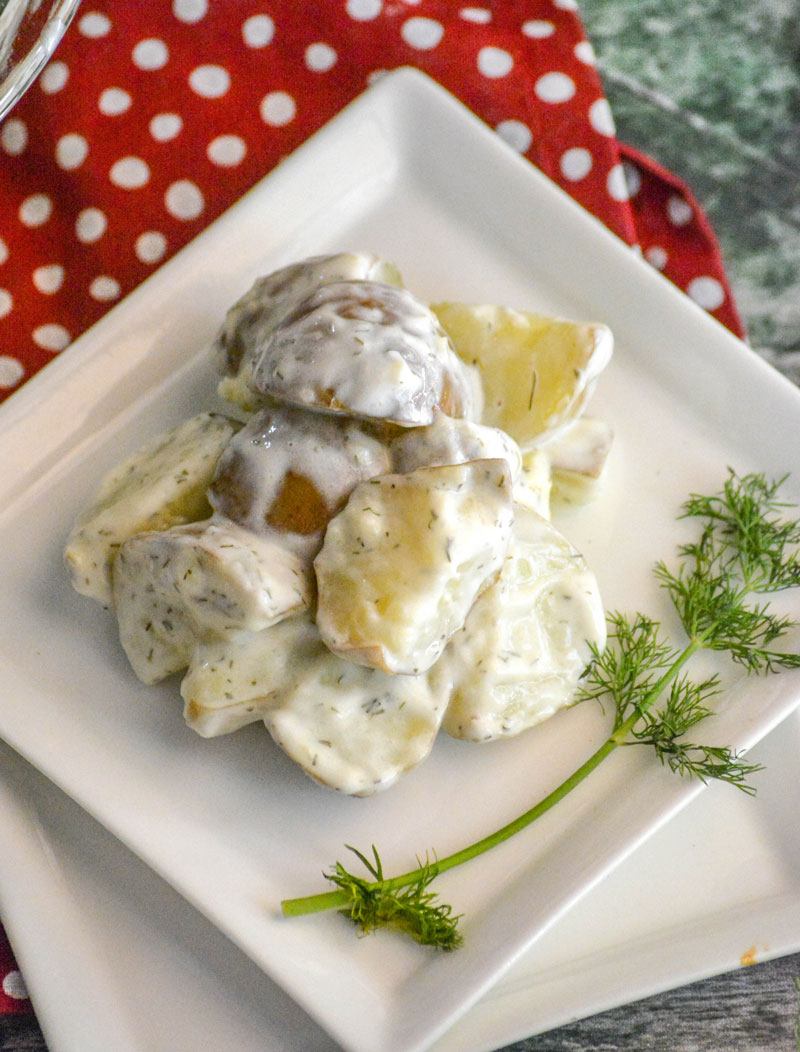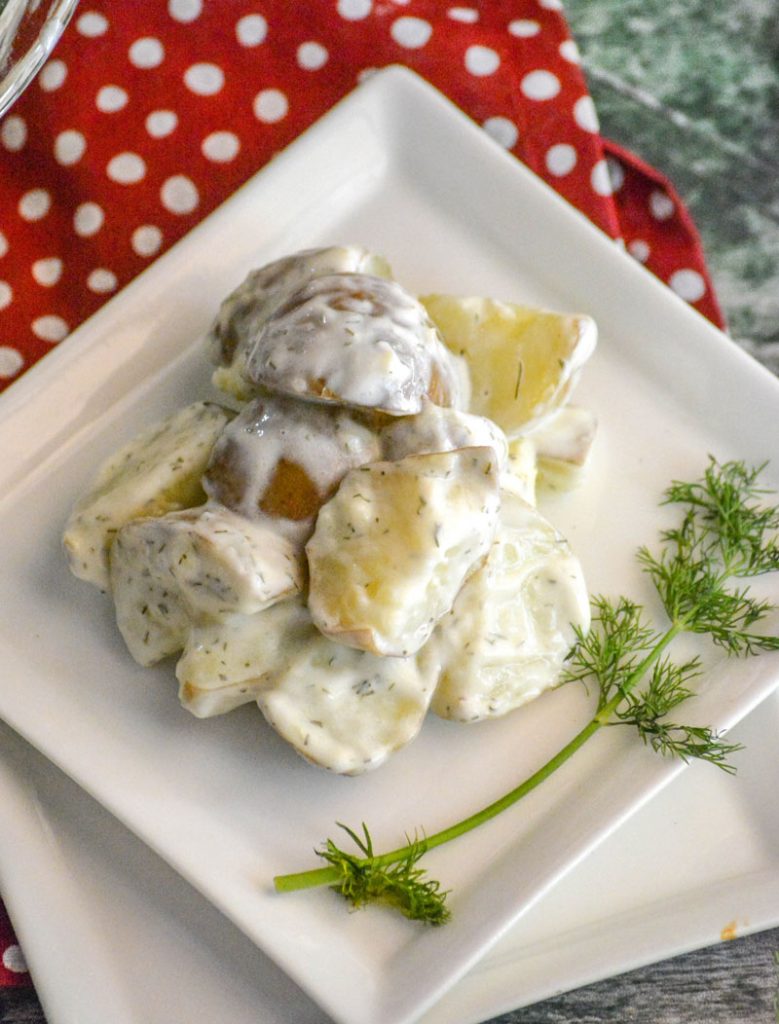 If you're still reading this, then I feel like we can pretty much agree that we love tzatziki sauce. It's amazing, I know. Do you know anything about it's history, roots, or origin though?
I didn't, but as usual was curious and did some digging. Here's what I found out.
A simple seasoned raita dip started it all. It came from when the country of India was ruled by the Persians. Basically, a long long loooooong time ago- ancient even.
The ruling class loved the traditional Indian rice dish, but it was spicy, too spicy for their delicate elite palettes. So they naturally migrated toward, and loved, the creamy yogurt sauce to cool it down a bit. They certainly do go hand in hand together.
Wherever they went, it went with them. In fact, they spread it throughout the Ottoman Empire and more of what is today's Mediterranean region, until it infamously ended up in Greece. The rest, well- it's basically history.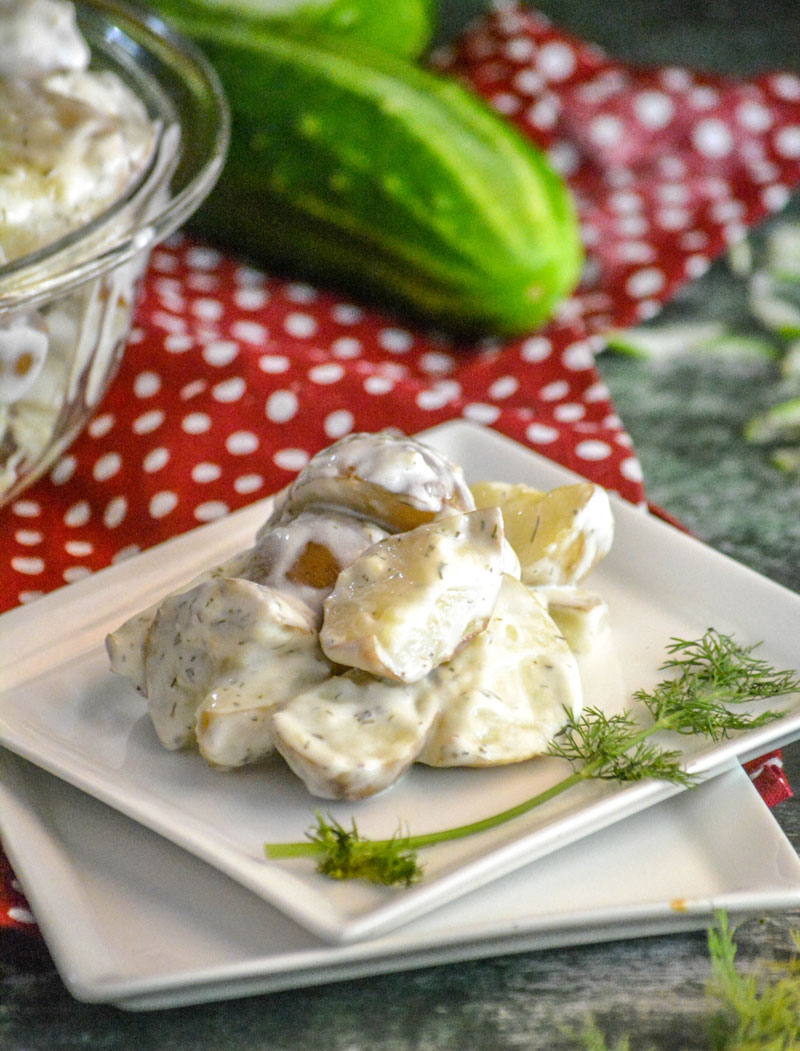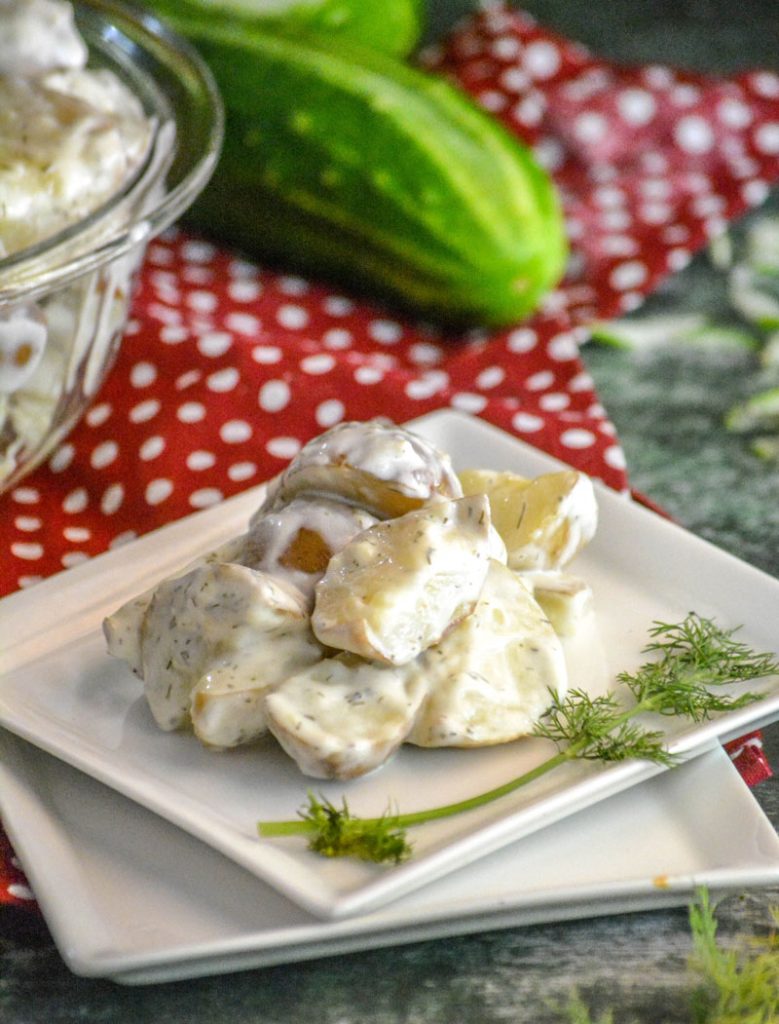 The Greeks loved this dish/dip more than all others. They managed to incorporate it into all other aspects of their culture and cuisine. They also adapted it until all of it's original Indian roots were gone, other than it's creamy cucumber and soothing yogurt aspect.
A traditional Tzatziki tends to have the following ingredients:
strained yogurt
cucumber
garlic
lemon juice
vinegar
olive oil
dill
salt & pepper
We've kept the main players the same, but given it a fun new twist by adding tender boiled potatoes and turning it into a side dish.
Our Tzatziki Style Potato Salad is creamy, cool, and totally refreshing. It's a perfect warm weather side dish, so you don't feel weighed down or yucky from a bunch of 'heavy' ingredients. It's also mostly healthy, which you can feel good about.
In the Summer we tend to serve this as is at parties & potlucks, but we still give it a fair showing in the Winter too. We love it with lamb or a juicy steak. Having gyros for dinner? Or chicken souvlaki? Then this is the side dish your dinner demands.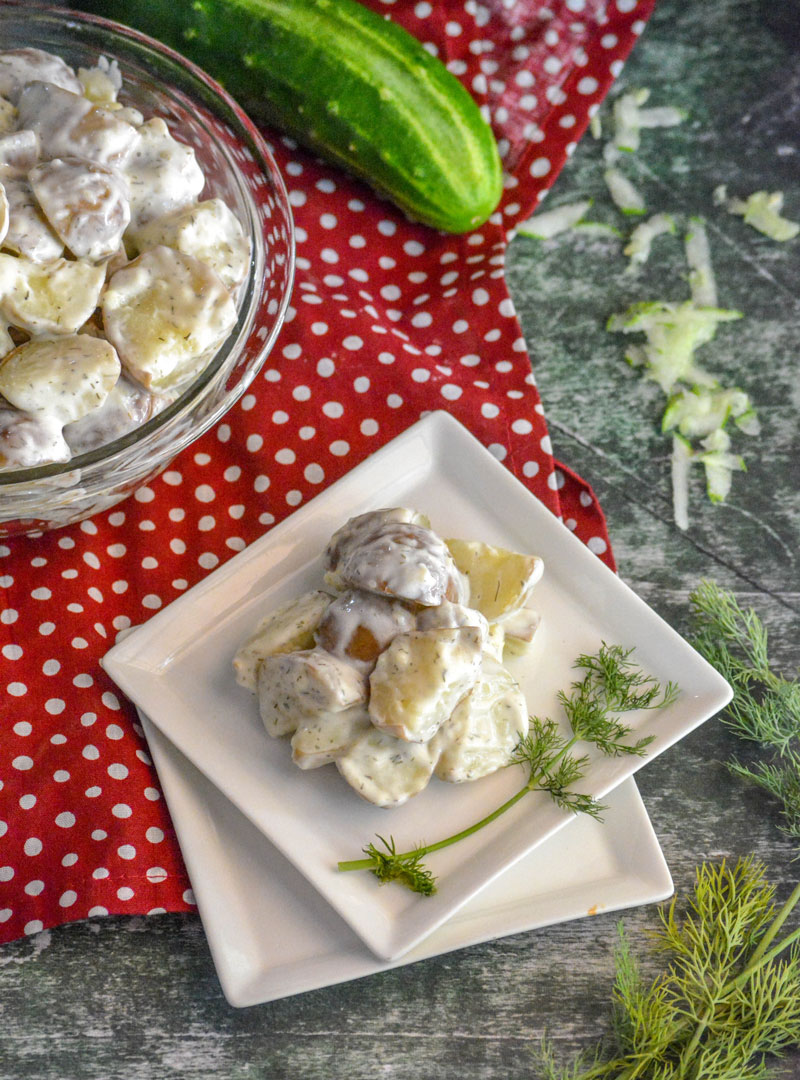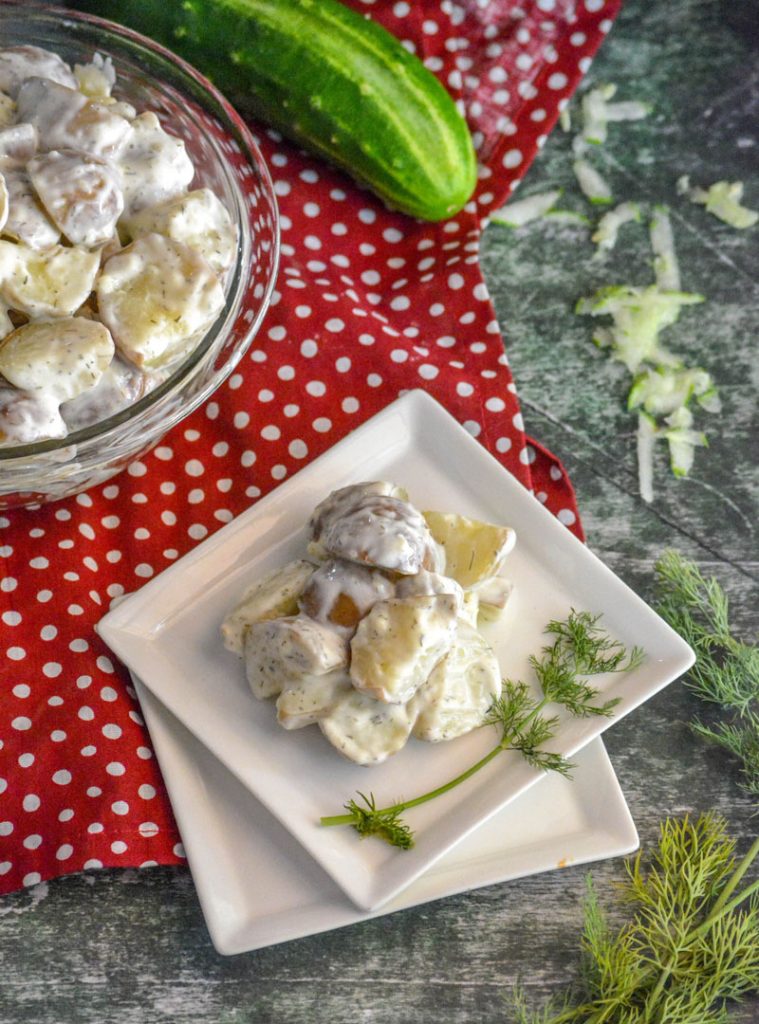 Other Recipes You Might Also Enjoy: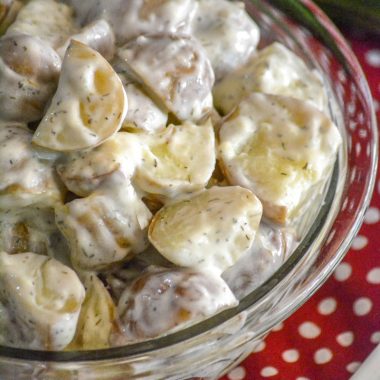 Tzatziki Style Potato Salad
Tender red potatoes are tossed in a light, healthy homemade tzatziki style sauce making for a delicious, refreshing side dish- perfect for virtually any occasion.
Print
Pin
Rate
Ingredients
4

lbs

red potatoes, washed, scrubbed, and quartered

1 3/4

cups

Greek yogurt

1/4

cup

sour cream

2

tbsp

lemon juice

1

tbsp

white wine vinegar

1

tbsp

minced fresh dill

1/2

tbsp

minced garlic

1

English cucumber, quartered lengthwise & seeds removed

salt & pepper, to taste
Instructions
Add the potatoes to a pot and cover them with cold water. Bring them to a boil over high heat, reducing to a simmer. Continue cooking the potatoes for about 20-25 more minutes, checking their doneness until they're fork tender (easily pierced, but not yet completely mushy, with no raw taste).

Drain the potatoes and leave them in the strainer to cool completely. If you're in a pinch you can run them under cold water to speed up the process. Or make them ahead of time, cool, and store int he refrigerator until ready to finish the salad.

Add the remaining ingredients, except for the cucumber, to a large mixing bowl-stirring to evenly combine the sauce.

Shred the cucumber in the bowl of a food processor with the grating attachment. Spread the shredded cucumber evenly out between several layers of paper towels and press down firmly to release excess moisture. Repeat 2-3 times.

Stir the shredded cucumber into the sauce until evenly incorporated. Add the potatoes to the mixing bowl, gently tossing to coat.

Salt and pepper again, if desired. Serve immediately, or cover and refrigerate until chilled through. Sprinkle with crumbled feta and mint leaves if you want a gourmet garnish.