An easy recipe, this version of Nanny's Garden Four Bean Salad is the perfect healthy vegetable-laden dish to bring to Summer potlucks, barbecues, or any grilling parties.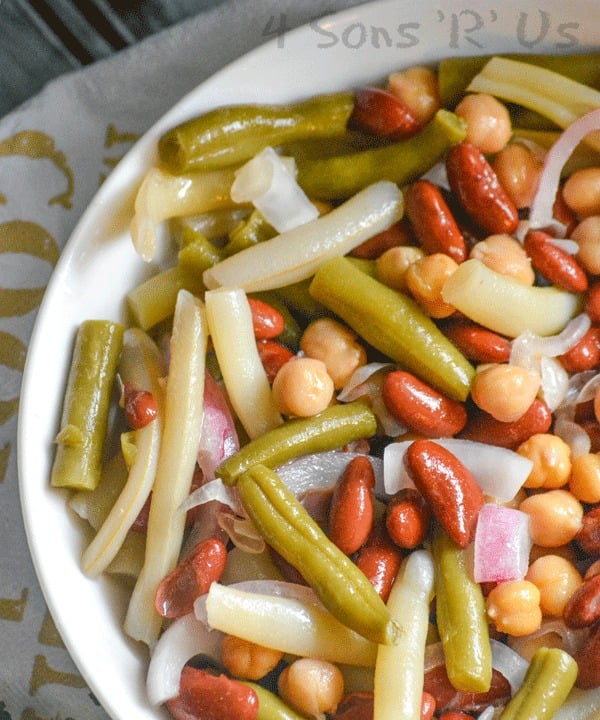 I wish I had a green thumb. Like seriously, when it comes to gardening or raising anything other than tiny humans, I officially have a black thumb.
I kid you not, and it's one of my biggest struggles. I try so hard. From orchids, to succulents, to herbs and back again. My rate of success is abysmal.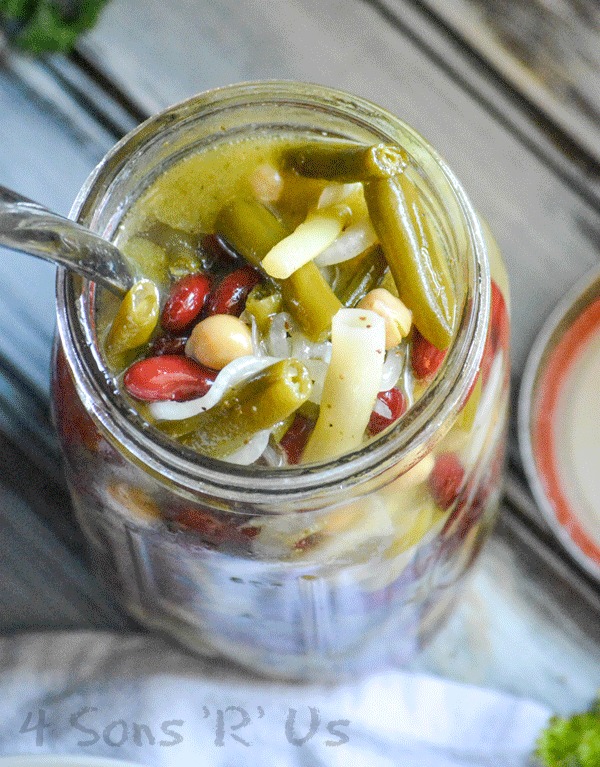 The hubs on the other hand, has most definitely inherited his mother's green thumb.
He is the sole reason there's a window garden offering a bevy of fresh herbs to choose from when it comes to cooking and plating our food.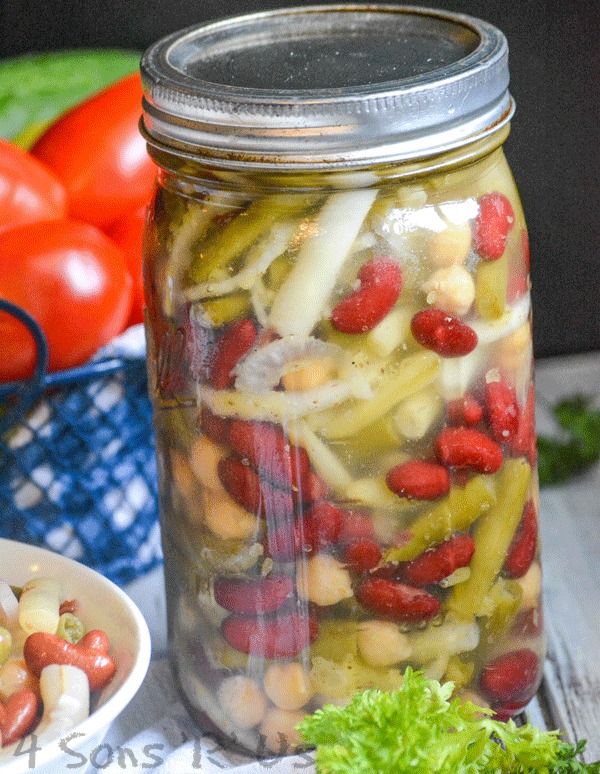 When I was little, my Grandma had a garden that took up half of her backyard- a 1/4 acre.
It didn't seem amazing to me, or even out of the ordinary, back then but looking back, I wish I would've realized how totally awesome it was.
Instead, what I do remember is sitting at the foot of her recliner while she watched her favorite soaps, snapping beans with her for supper.
I remember prepping rhubarb for her favorite pies and even ice cream.
Biting into a fresh tomato off the vine that truly did taste like the sweetest fruit.
And finally, her holding a short aluminum ladder for me, while I took a small basket up to pick tart cherries from her special tree.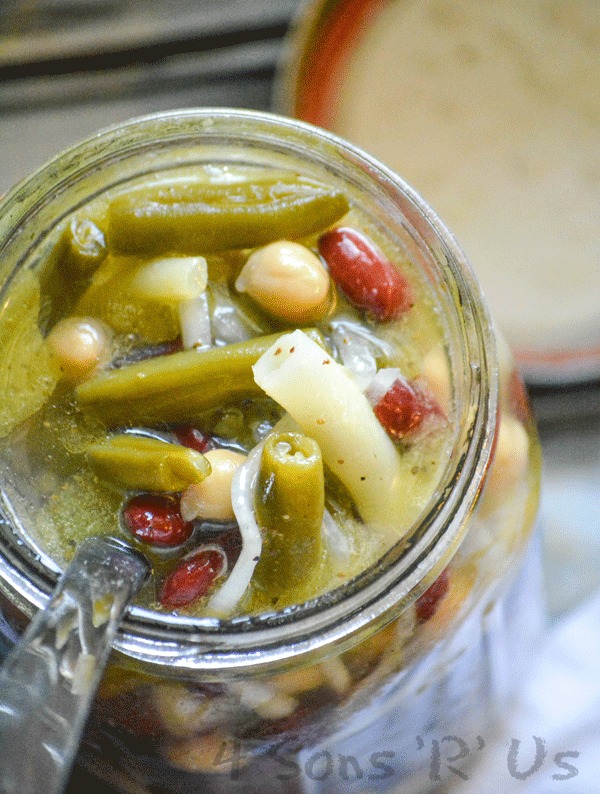 Needless to say, I have all these cherished 'garden' centric memories growing up, and yet I inherited none of it. Not a single iota. I seriously have a black thumb.
It kills me, especially now that we're moving back out into a more country-style residence.
My Mom still lives firmly in the 'burbs, and yet she has beautiful flourishing rose bushes and is able to grow gigantic container fulls of heirloom tomatoes and even onions.
How is this possible? Where did I go wrong? Somewhere along the line, it just skipped me.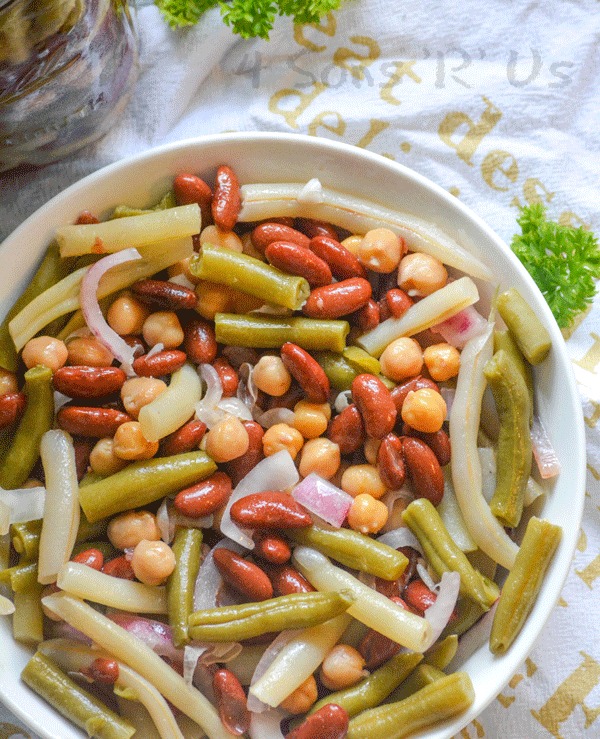 Thankfully, there's Nanny to the rescue! She grows every kind of bean known to man. She grows pretty much every kind of everything known to man, and is damn good at it. She also shares.
She's never said anything, but I'm pretty sure she shares extra knowing how much growing my own isn't my strong suit.
There's literally nothing better that comes out of her garden than Nanny's Garden Four Bean Salad.
I love that making it incorporated the best of both worlds for my kids.
I'm able to tell my stories from summers spent with my Grandma, and my kids are able to see it come to fruition with their own hands when the help their Nanny tend her own garden and harvest the beans.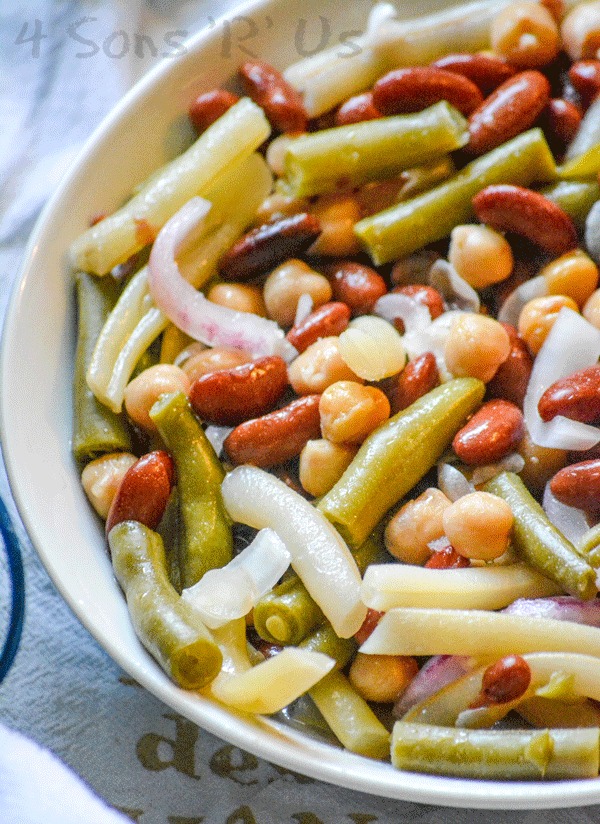 You can opt to use fresh, par boiled beans or you can use the canned one's we've suggested.
This special Nanny's Garden Four Bean Salad is where your Summer side dish game is at.
A mixture of family favorite beans and slivered onions are tossed in a sweetened vinaigrette, for a refreshing side salad that makes the perfect side dish for grilling season, including potlucks and backyard barbecues!
Other Fresh Vegetable Recipes To Try
If you've tried NANNY'S HOMEMADE FOUR BEAN SALAD, or any other recipe on the site, let me know in the comment section how it turned out, we love hearing from our readers! You can also follow along with me on PINTEREST, FACEBOOK, and INSTAGRAM to see more amazing recipes and whatever else we've got going on!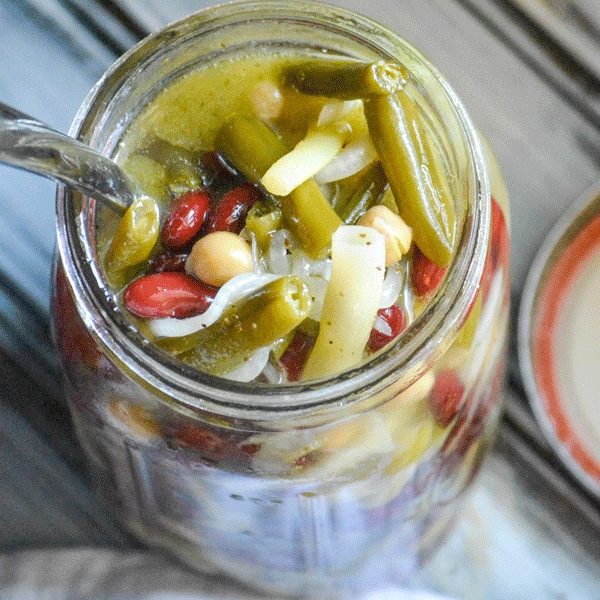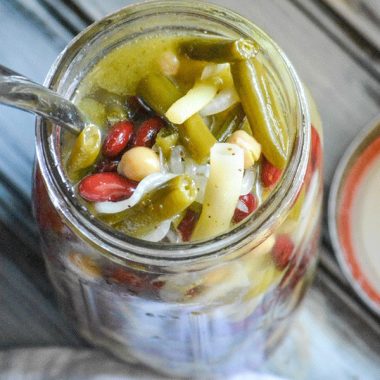 Nanny's Garden Four Bean Salad
A healthy, garden fresh bean salad this easy recipe features beans tossed in a tart vinaigrette sauce.
Print
Pin
Rate
Ingredients
1 15

oz

can green beans

drained

1

lb

wax beans

1 15

oz

can dark red kidney beans

drained & rinsed

1 15

oz

can garbanzo beans

drained & rinsed

1

white onion

sliced into thin rings and separated

3/4

cup

white sugar

2/3

cup

white vinegar

1/3

cup

canola oil

1/2

tsp

each, salt & pepper

1/2

tsp

celery seed
Instructions
In a large mixing bowl, add all of the beans and onion. Stir just until evenly mixed.

In a separate bowl, add the sugar, vinegar, oil, salt, pepper, and celery seed. Whisk until the mixture's evenly combined and smooth.

Pour the liquid evenly out over the beans, toss to coat and mix evenly. Transfer the bean salad to a tupper ware container, seal, and refrigerate for 8-12 hours before serving.