Pasta salad's are all the rage in the Summer season, and for good reason too. Shake things up a little with this lemon cucumber couscous salad. It's bright, flavorful, and a surprisingly filling healthy side dish. Serve it for a nice change of pace this barbecue season.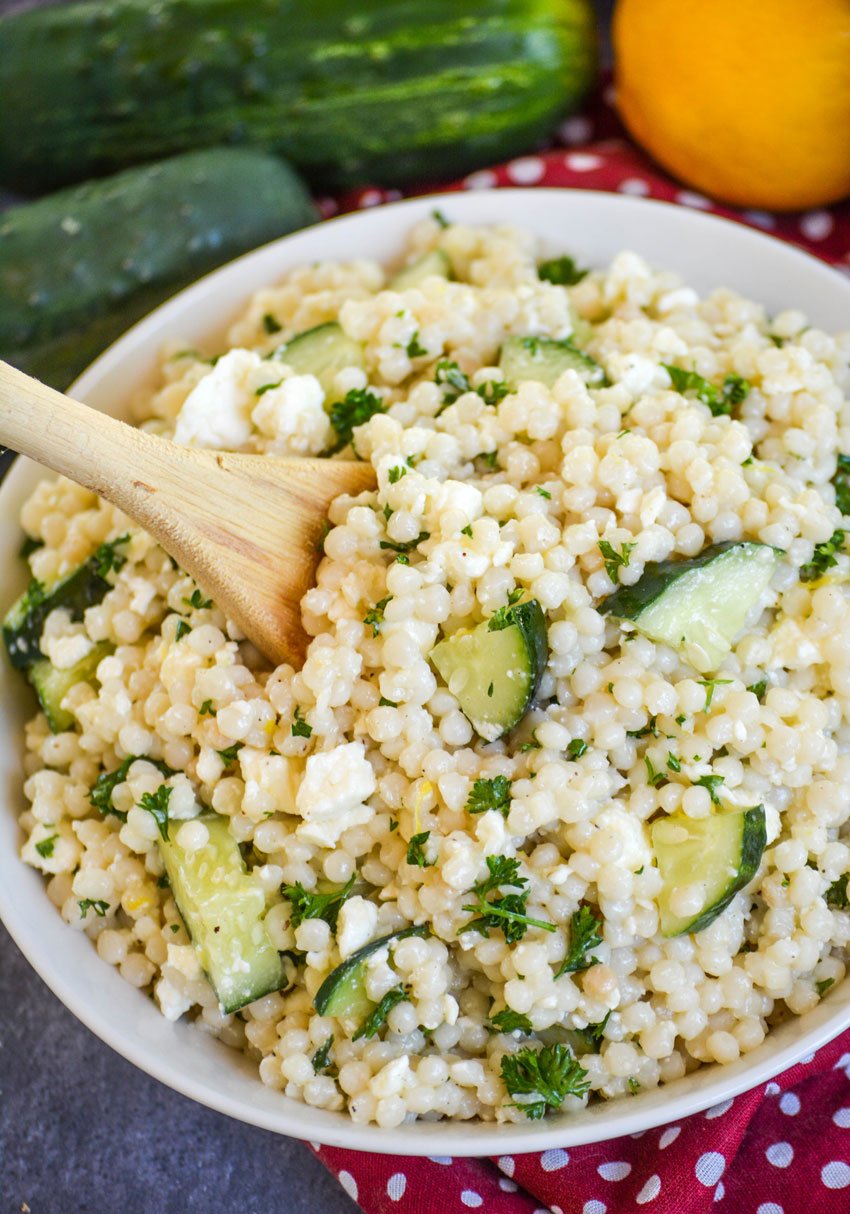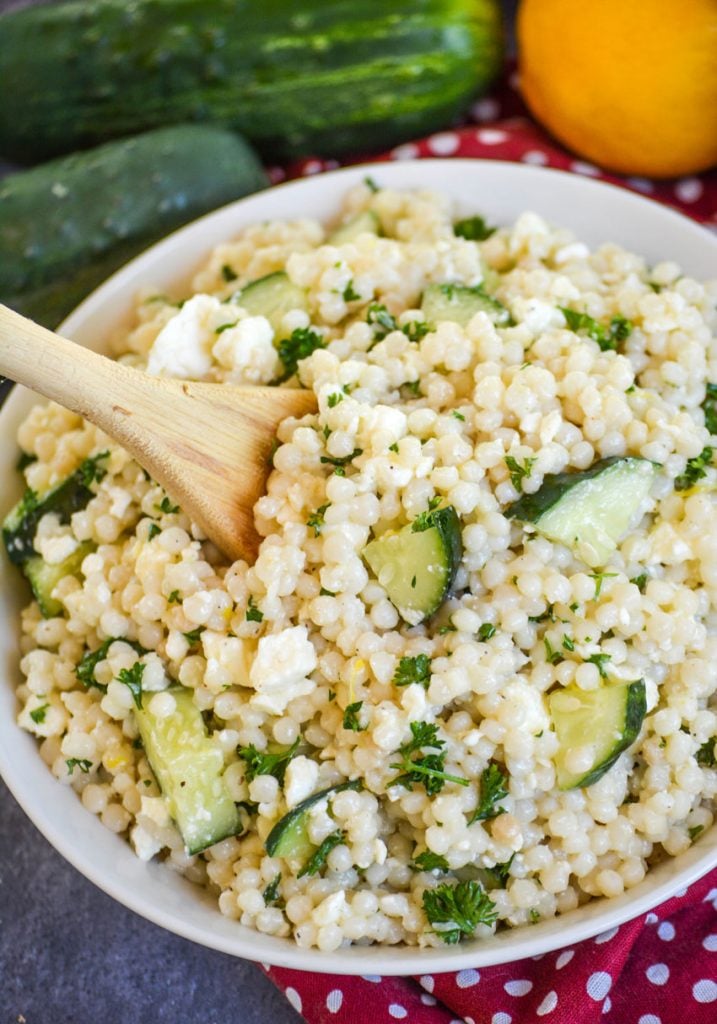 Pasta is all the rage when the warmer weather rolls around. Well pasta's pretty much in season year round, but pasta in salad is what I'm referring to. Pasta salad is a Summer staple.
For good reason too. It's perfect for parties, potlucks, even for packing in the family picnic basket. It's one of those things that travels well, whatever the occasion.
Mostly because it's a dish that offers the server (or host) some flexibility. That's incredibly important when meal planning. It's great served chilled, but it's also delicious warm. Depending on the recipe, it even holds up well in the heat. Another important detail!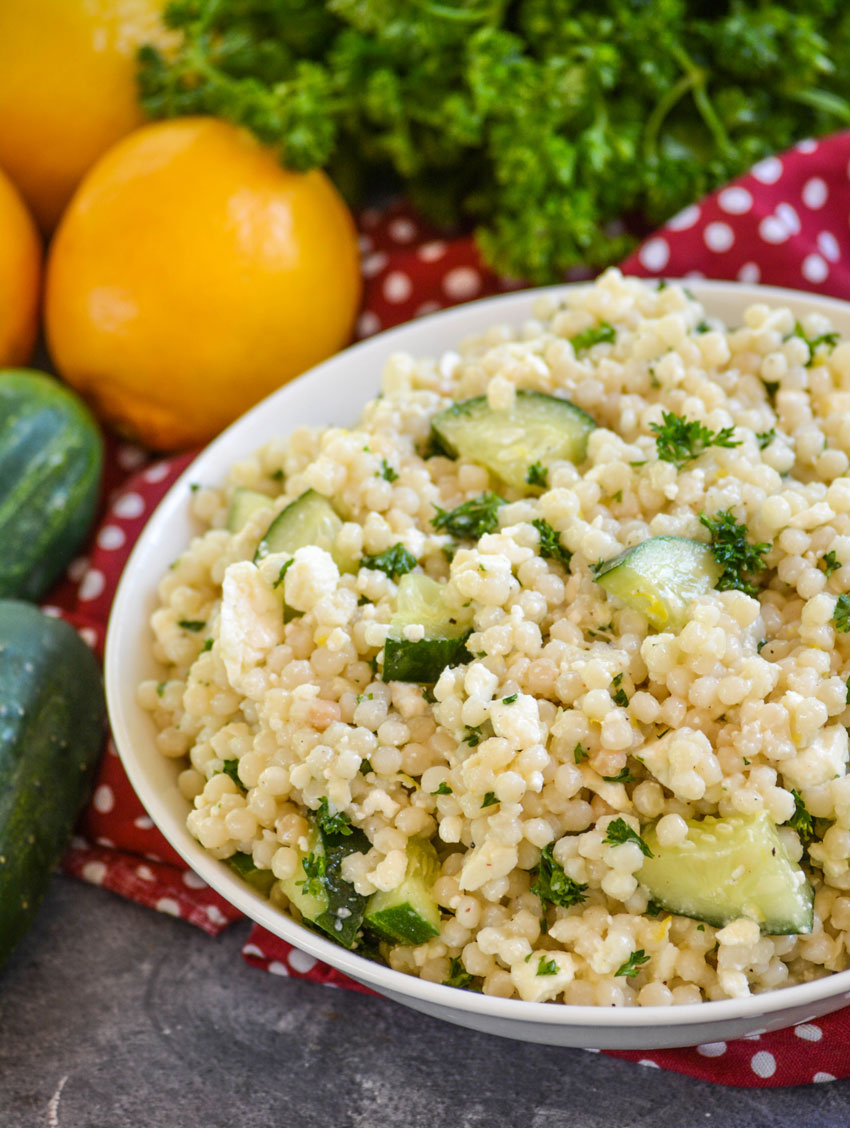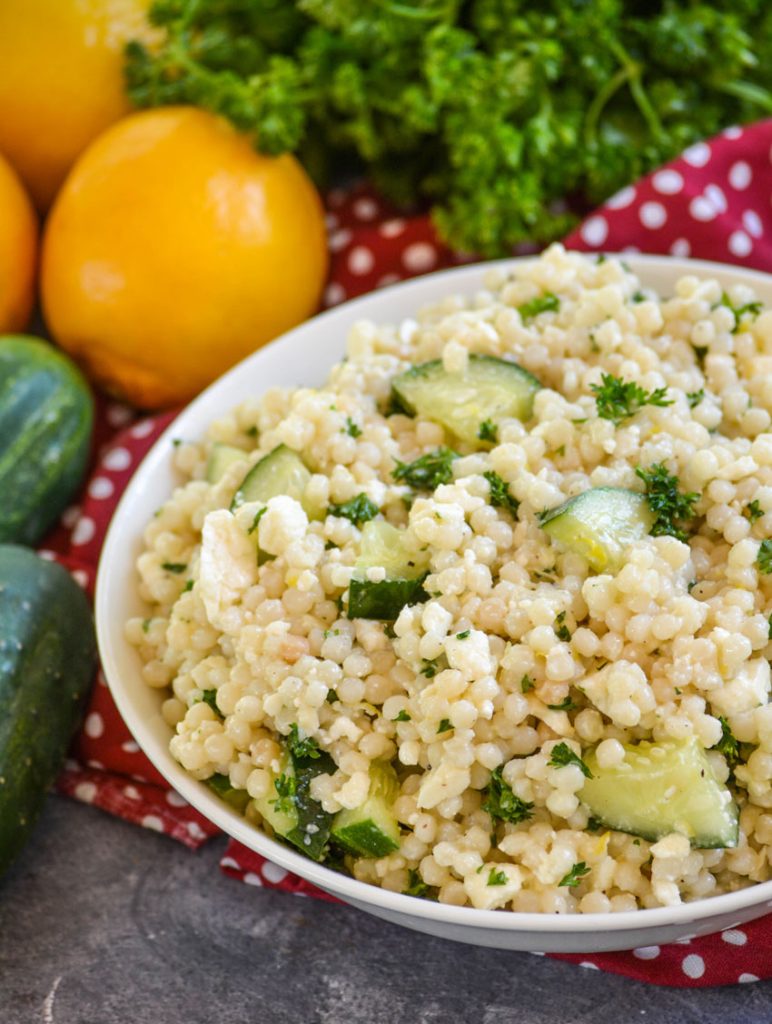 Another selling point in pasta salad's favor? It takes on flavors & flavor profiles incredibly well. Pretty much whatever you're craving, you can add some pasta to it, toss it with a delicious sauce, and it's going to make a yummy side dish.
Don't believe me? Give it a try, and see for yourself.
If you're less adventurous in the kitchen, pick one of these pasta salad variations and dig in to something a little different but totally delicious!
Creamy Italian Chicken Pasta Salad
All different, and each a little out of the box- but they're family (& fan) favs nonetheless.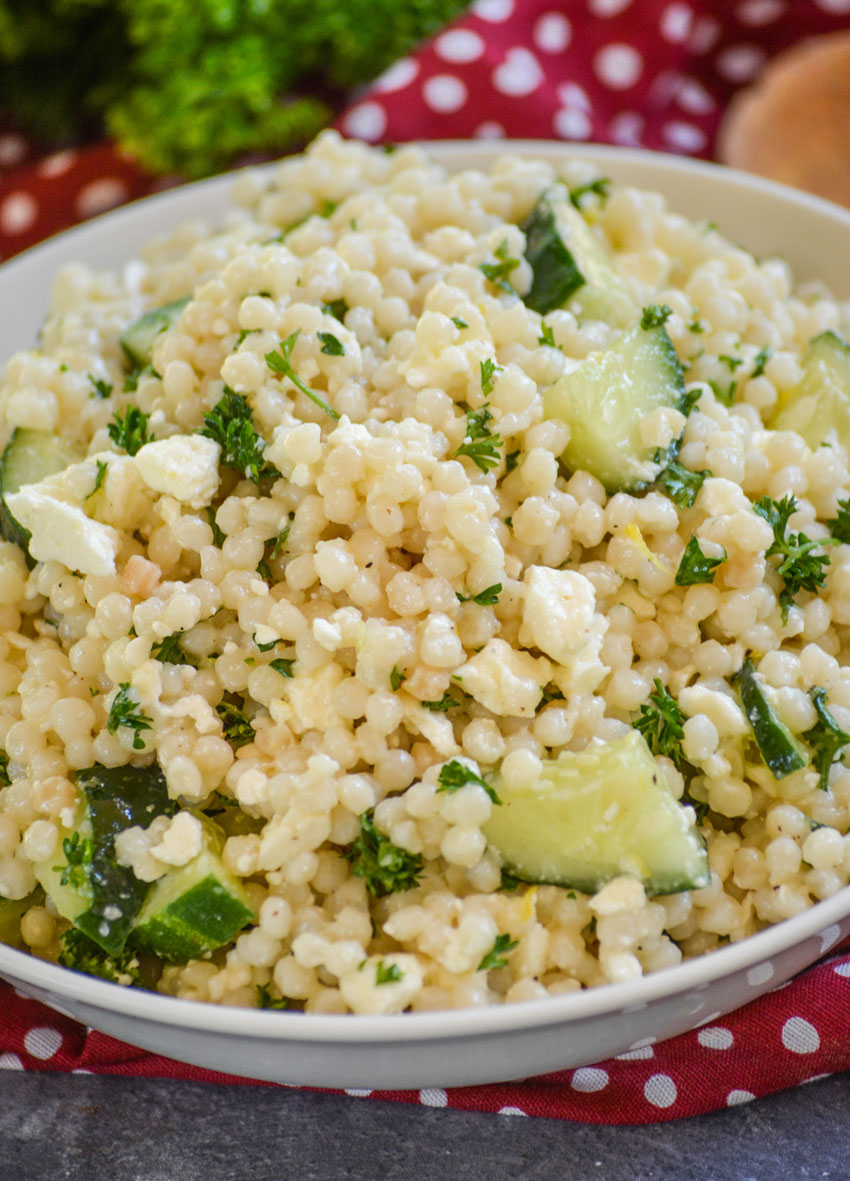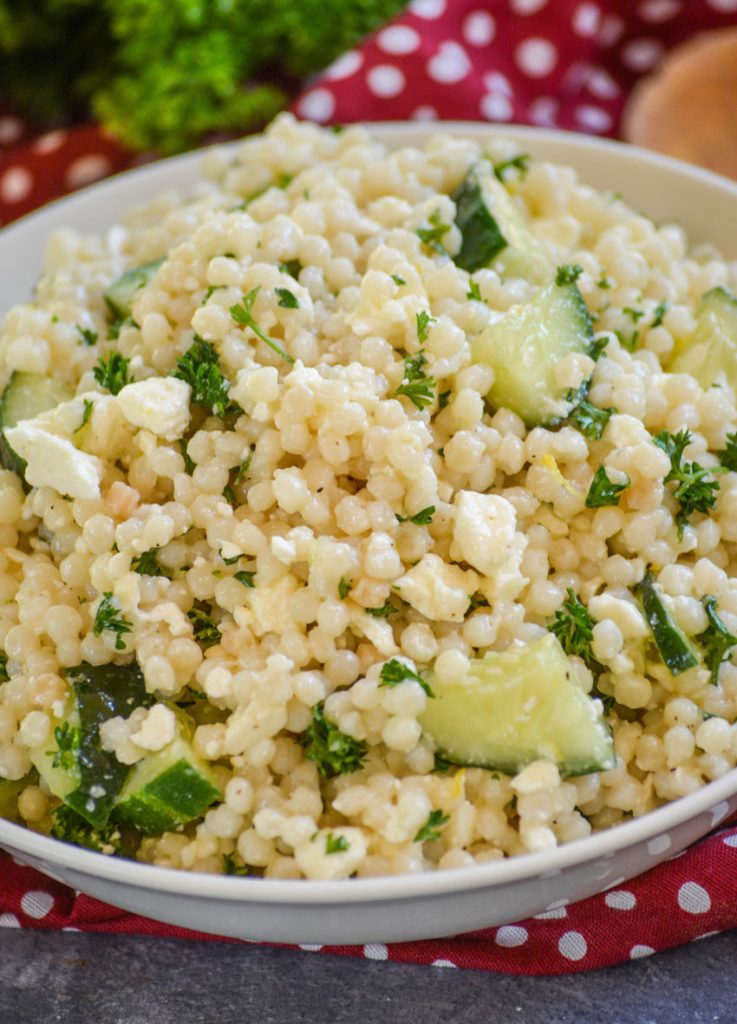 This lemon cucumber couscous salad is another out of the box Summer side salad idea. Although, when you break down what's in it- it's not as out there as it might seem.
WHAT'S IN LEMON CUCUMBER COUSCOUS SALAD?
couscous
cucumbers
parsley
lemon
olive oil
mayonnaise
lemon zest
salt & pepper
feta cheese
At first glance the ingredients may not remind you of anything, but together they have a distinct Mediterranean feel. Couscous itself is arguably Mediterranean. There's different types though, and that can lead to confusion. Which is best for what? Which is best for this couscous salad recipe?
WHAT IS THE DIFFERENCE BETWEEN ISRAELI COUSCOUS AND REGULAR COUSCOUS:
So couscous is a kind of pasta made from coarsely ground semolina (durum wheat) that's moistened, and then tossed with fine wheat flour until tiny round balls have formed.
Simple enough. And both versions have that in common, being tiny round balls of pasta. The biggest difference is in their sizes.
Traditional couscous is very small, tiny even. Also referred to as Moroccan couscous, it's roughly 3x the size of a grain of cornmeal. Kind of like quinoa, but smaller and with a lot less protein. It's similar in texture to the Italian pastina.
Israeli couscous, also known as pearl couscous, is much bigger by comparison. Literally little pearl shaped (and sized) balls of pasta. This versions size means that it's texture is closer to that of traditional pasta. I've also known people to compare it's chewiness to that of barley.
The biggest difference, other than the obvious size, though is in how the couscous is cured/stored after being made. The smaller variety is often simply dried, while the larger pearls are traditionally toasted after the granules are formed.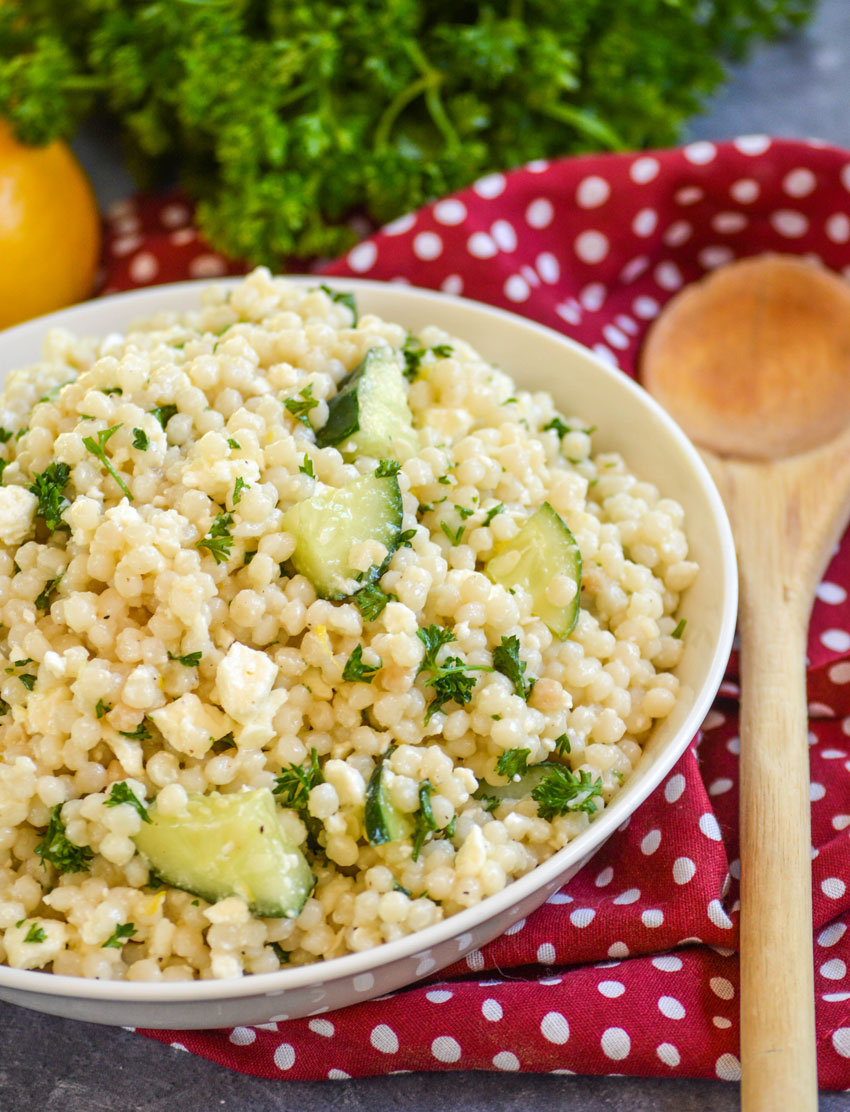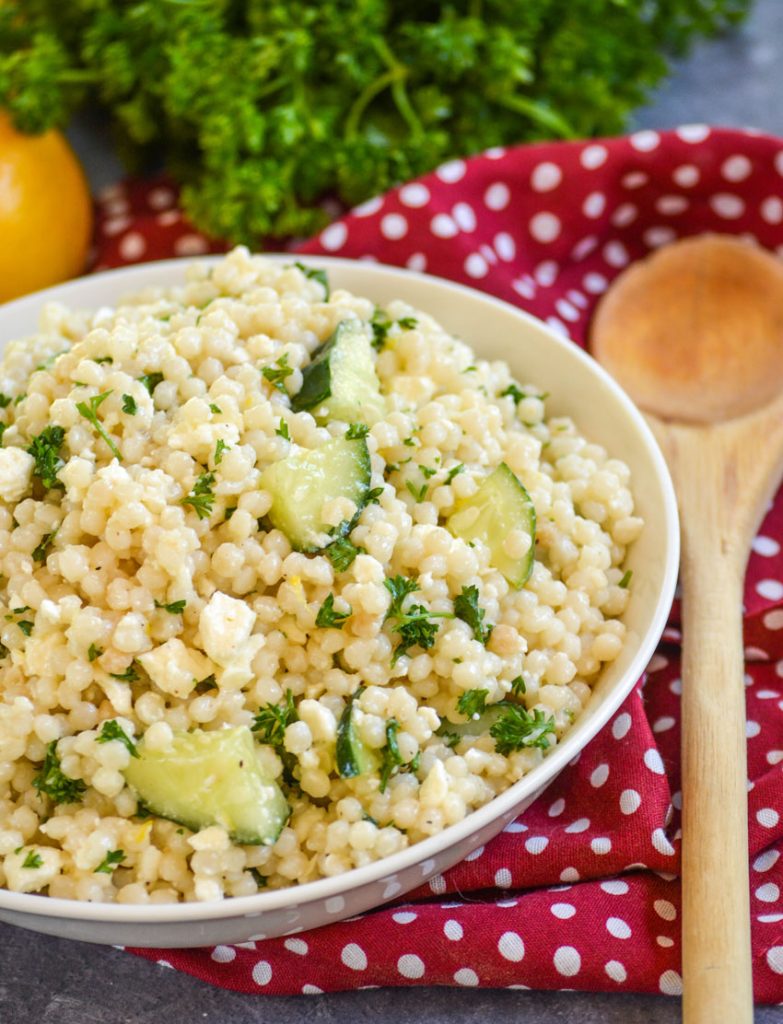 Our lemon cucumber couscous salad is a real treat. I particularly love it when things heat up outside because it's so cool. Heard the term cool as a cucumber before?
There's a reason that analogy means refreshing because, well- it's fresh! Just like this couscous salad recipe. Fresh ingredients, bright flavors- it's a win win way to beat the heat.
It's great for serving a crowd, especially with how simple yet indulgent it is. Sometimes though, I count on little short cut to help me maintain my hostess with the most-ess reputation. Thankfully, I have one for couscous, one that helps me get a leg up and whip up at least part of the recipe ahead of time.
CAN COUSCOUS BE MADE AHEAD OF TIME?
YES! That's the short answer, although there are a few things to keep in mind.
Because of their larger size pearl couscous can have a tendency to stick together when made ahead of time and allowed to get cold. To avoid this, cool the couscous completely by running it under cool water in a colander when done cooking.
Transfer the cooled and drained couscous to a large tupper ware. Drizzle with a small bit of olive oil, and stir to coat. The olive oil won't be enough to affect the recipe, but just enough to keep the pearls from sticking together when chilled.
Seal the tupper ware with a lid and store in the fridge until ready to use. The couscous can then be kept up to 2 days before using. Stir the pasta with a spoon to 'fluff' before incorporating into the recipe as written.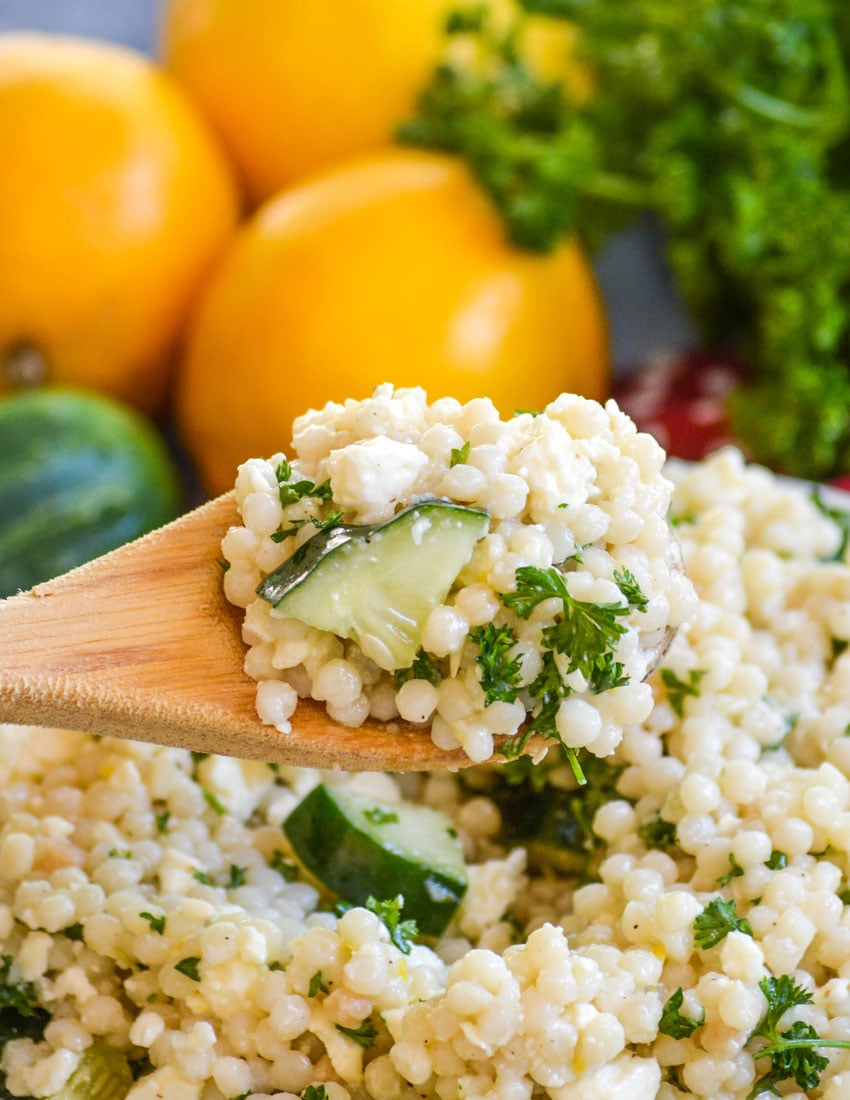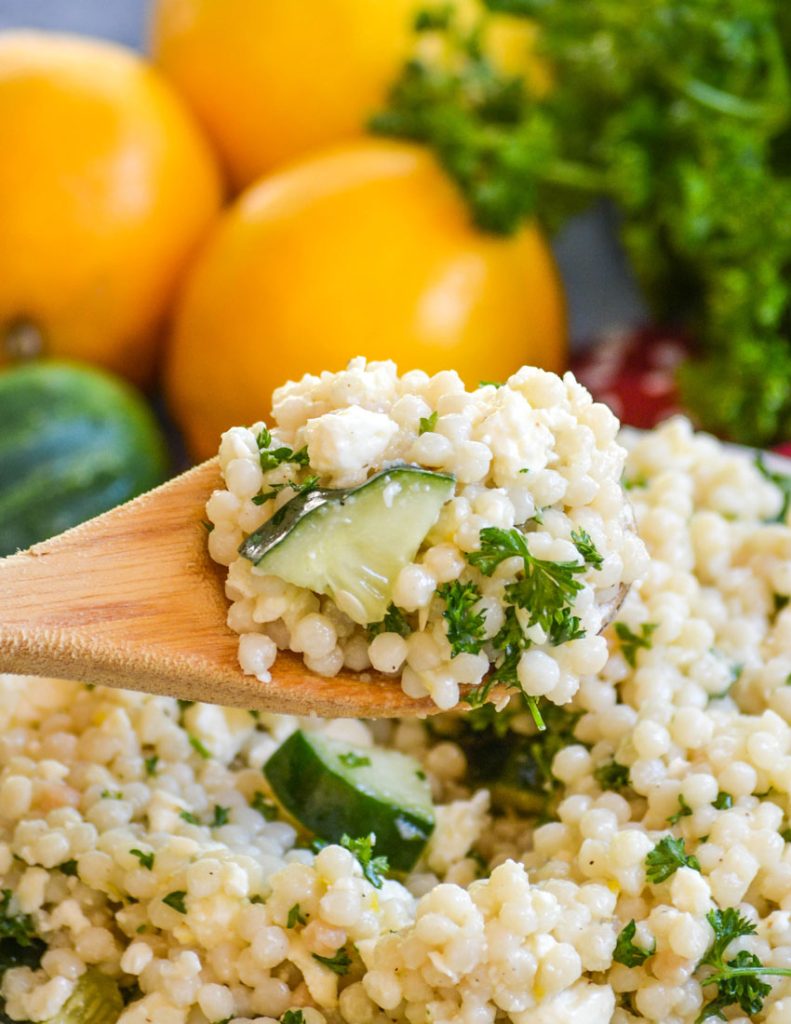 This leads us directly into another frequently asked question though…
CAN COUSCOUS BE SERVED COLD?
Again, the short answer is 100 percent yes. Couscous is delicious when served cold, especially depending on the recipe. It's also just as good when served warm.
The same can be said for this lemon cucumber couscous salad. Served warm or allowed to chill, it's a real treat. The dressing can seem intensely lemony at first too. We love lemon, so we love the tangy burst. Some people prefer a more subtle tang.
When the couscous salad is left to chill, the flavors have time to marry and the flavor will lighten up and balance out as it's absorbed by the pasta pearls. That's not the only little tidbit you might find helpful with this recipe either. Be sure to read the tips & tricks section to see if anymore apply!
TIPS & TRICKS FOR THIS LEMON CUCUMBER COUSCOUS SALAD:
Want to include more veggies in this Summer side dish? My kids love it when I stir in a can of drained, sweet peas. I on the other hand enjoy it with fresh baby spinach in the mix. Give it a try, and find a combination that works for your family.
Do you prefer a creamier dressing? When whisking the dressing together, add in a couple tablespoons of plain or garlic flavored hummus until smooth. Proceed with the recipe as written.
Don't have couscous in your pantry, but still want to make this recipe without running out to the store? Orzo & ancini de pepe pasta both make good substitutes.
Grape tomatoes & black olives are great additions for a more authentic Mediterranean feel.
While we typically serve this as a side dish, it makes a very filling but light vegetarian lunch. If you're craving meat, adding chopped rotisserie chicken fleshes it out into a more traditional meal. It's also a great way to use up leftovers!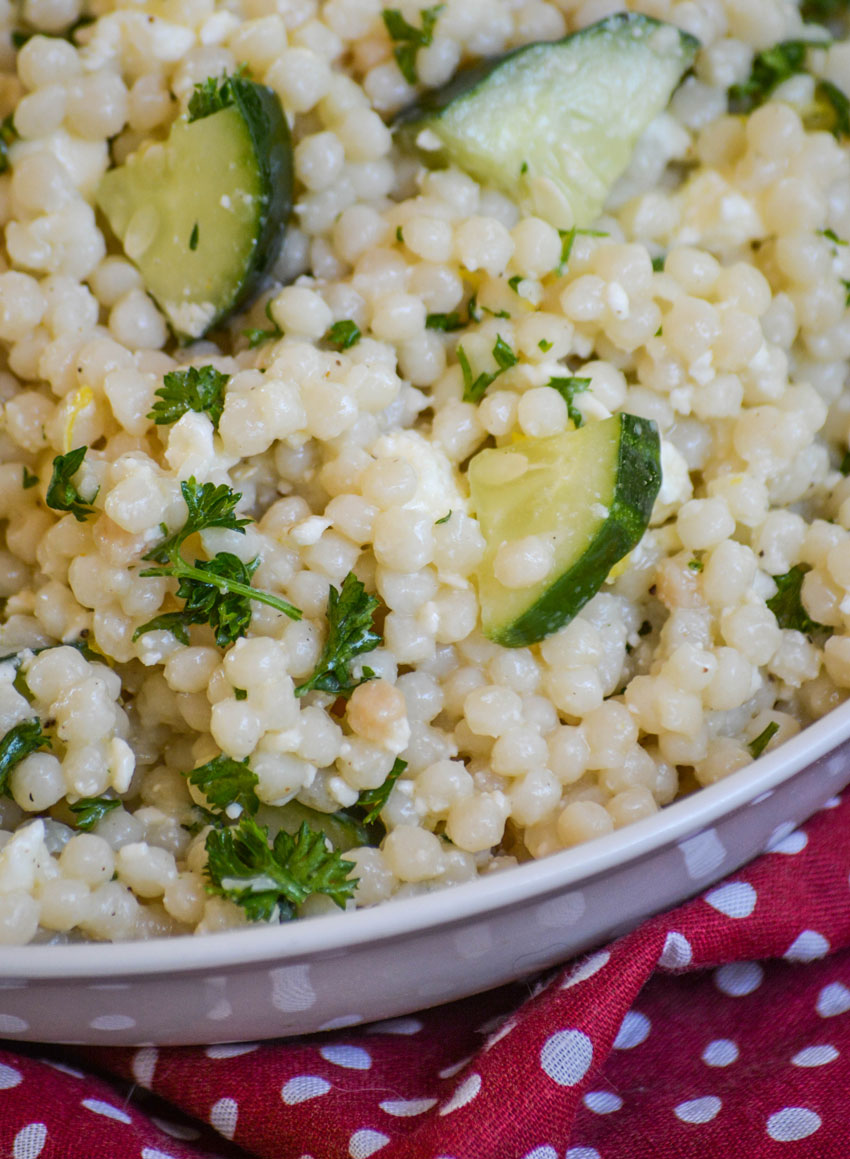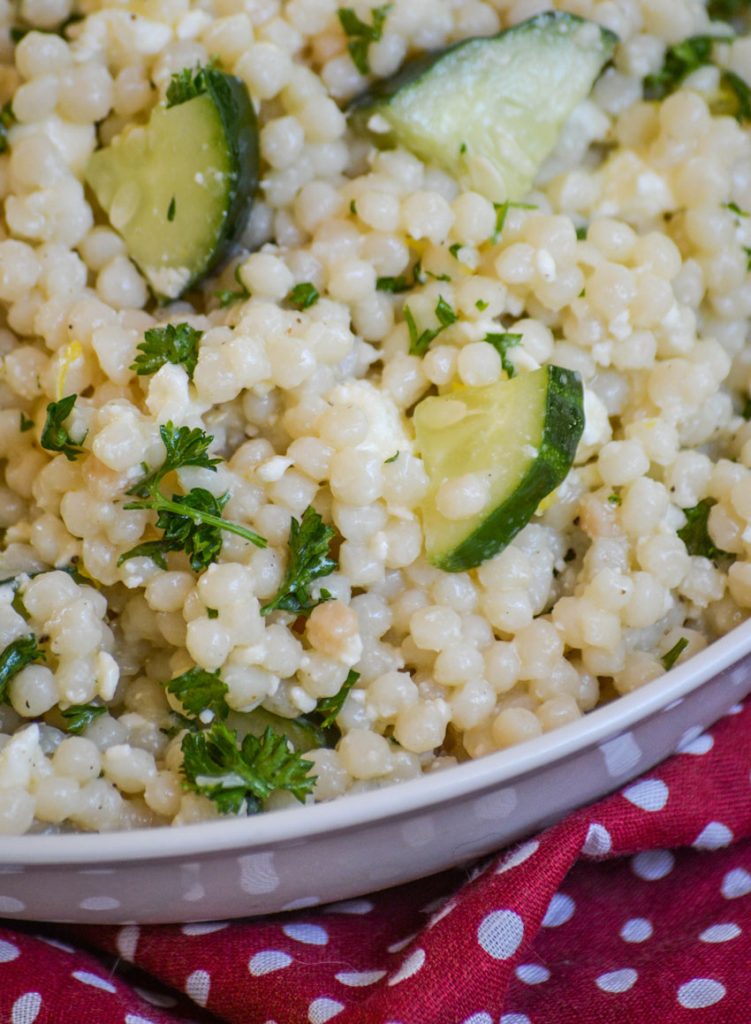 Summer side dishes don't need to be mayonnaise laden to be a hit. This lemon cucumber pasta salad recipe is the latest dish to star on the backyard barbecue stage for precisely this reason. It's fun. It's fresh, and it is simply delicious!
OTHER FRESH SIDE SALAD RECIPES TO CHECK OUT:
If you've tried this LEMON CUCUMBER COUSCOUS SALAD, or any other recipe on my site, let me know in the comment section how it turned out, we love hearing from our readers! You can also follow along with me on PINTEREST, FACEBOOK, and INSTAGRAM to see more amazing recipes and whatever else we've got going on!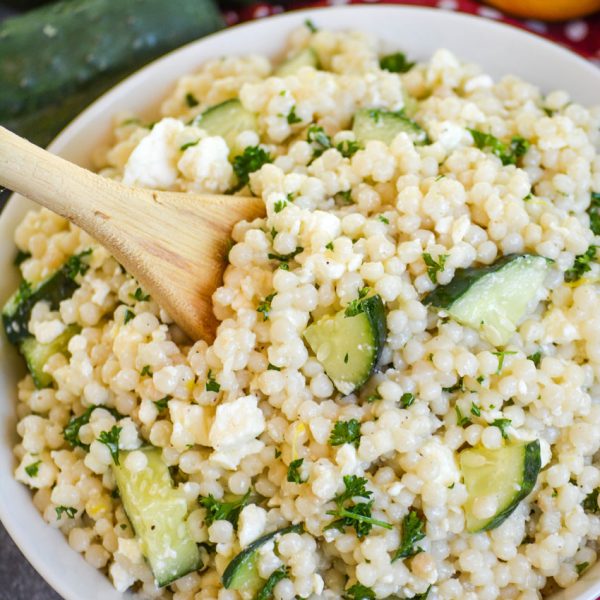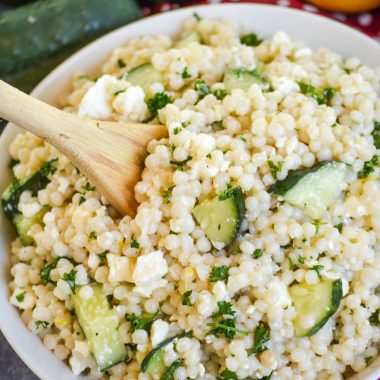 Lemon Cucumber Couscous Salad
A light, refreshing Summer salad this dish is chock full of tender Israeli pearl couscous, tangy feta cheese, fresh cucumbers & parsley tossed in a bright lemon cream sauce.
Print
Pin
Rate
Ingredients
2

cups

Israeli pearl couscous

2

medium

cucumbers

1/4

bunch

fresh parsley

washed & stems removed

1

lemon

2

tbsp

extra virgin olive oil

1

tbsp

mayonnaise

1

tsp

lemon zest

freshly grated

1/4

tsp

garlic powder

salt & pepper, to taste

6

oz

crumbled feta cheese
Instructions
Bring a pot of salted water to a rolling boil. Add the couscous, and stir. Cook for 5-7 minutes, or until it's tender but not mushy.

Pour the couscous into a strainer and run under cold water to stop the cooking process. Stir until cooled throughout, and set the couscous aside to drain.

Slice the cucumber into 1/4" coins. Quarter each coin, and add them to a large mixing bowl. Chop the parsley and add it to the bowl, along with the lemon zest & couscous. Gently toss everything to combine.

In a small bowl, whisk together the juice from the lemon, olive oil, mayo, garlic powder, salt & pepper until smooth.

Pour the dressing over the salad, and toss until everything's well coated.

Stir in the feta cheese. Taste the pasta. Season with additional salt & pepper, if desired.