You can't go wrong with bringing a side dish to any Summer Southern gathering, Grandma's simple Southern potato salad chief among them. With a simple creamy dressing, this potato side dish is the Summer staple destined to grace all the tables at your gatherings.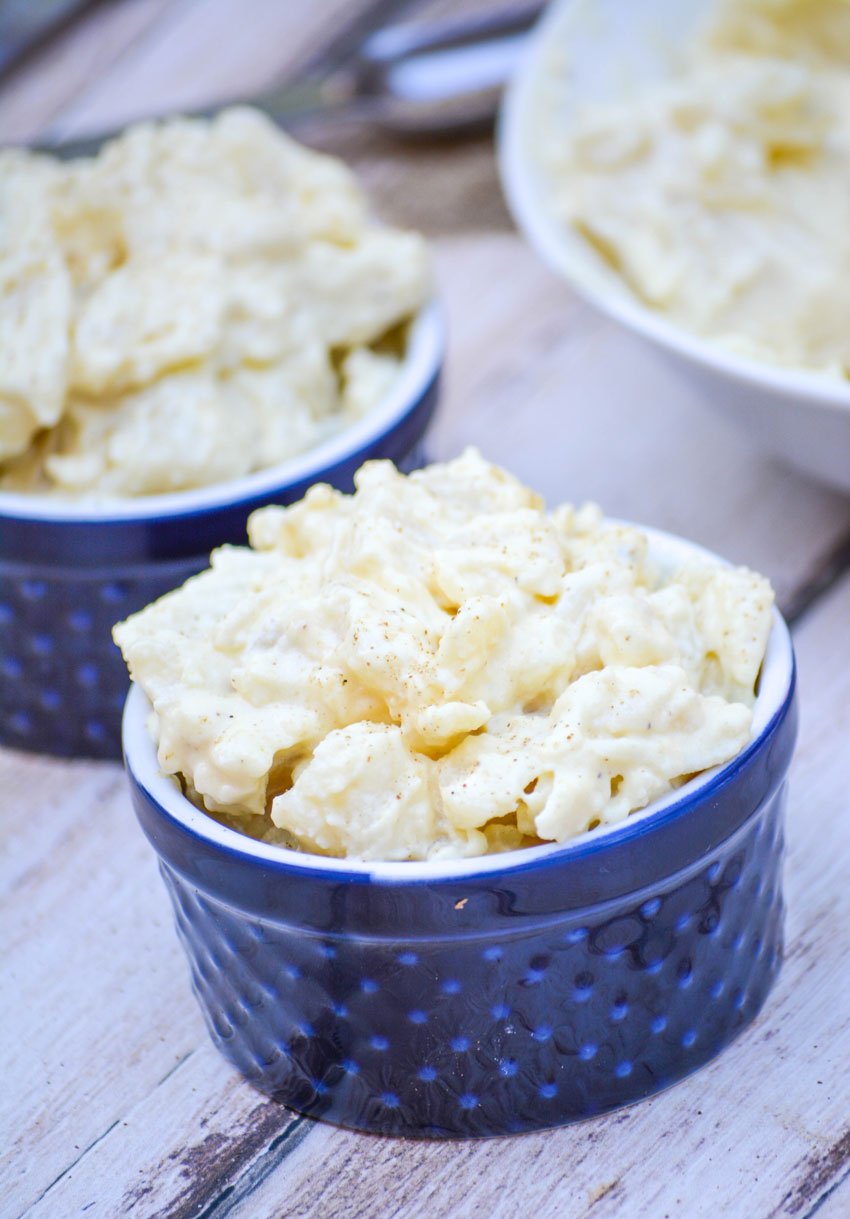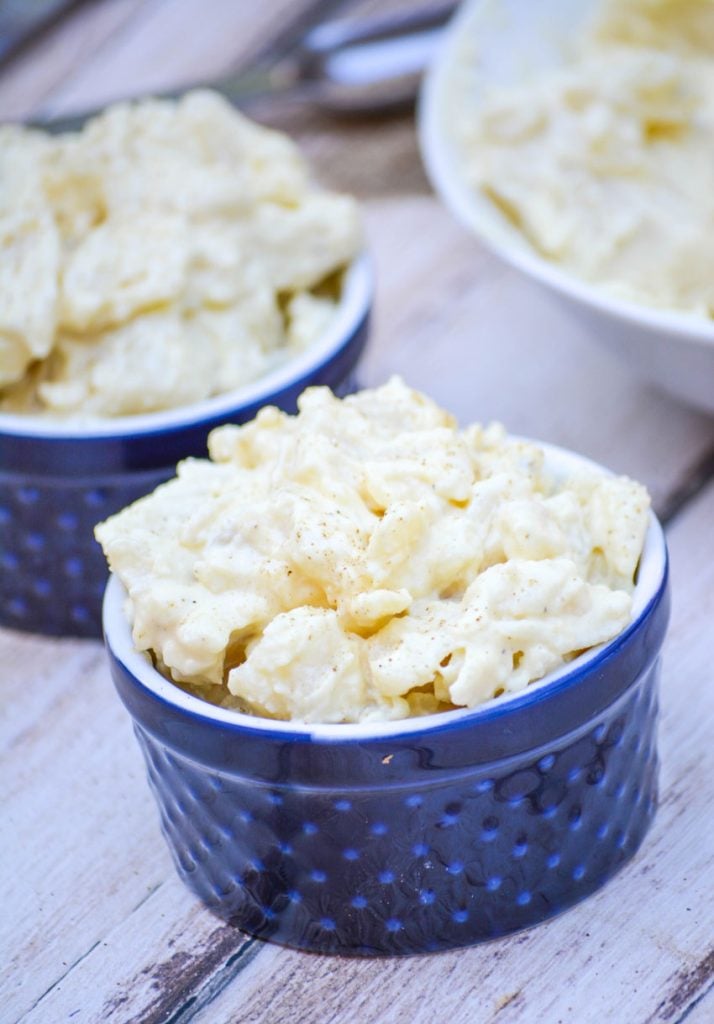 Potato salad is a Southern staple side dish. Arguably, the Southern side dish. At least if you're from around here.
Think I'm kidding? Check the food table at any backyard barbecue, any picnic basket in the Summer, or even the family supper table when hamburgers & hot dogs are on the menu. I guarantee you'll find potato salad there.
It's no surprise really, I mean it's delicious for one. Then there's the fact that there's a version of potato salad for every possible occasion, or a flavor at least. Take this loaded baked potato salad for example- it was made to be served to a hungry crowd on game day.
There's even a version for my pickle lovin' peeps- dill pickle potato salad. Who'd have thought that would be a thing? It is though, and I can tell you- it's amazing!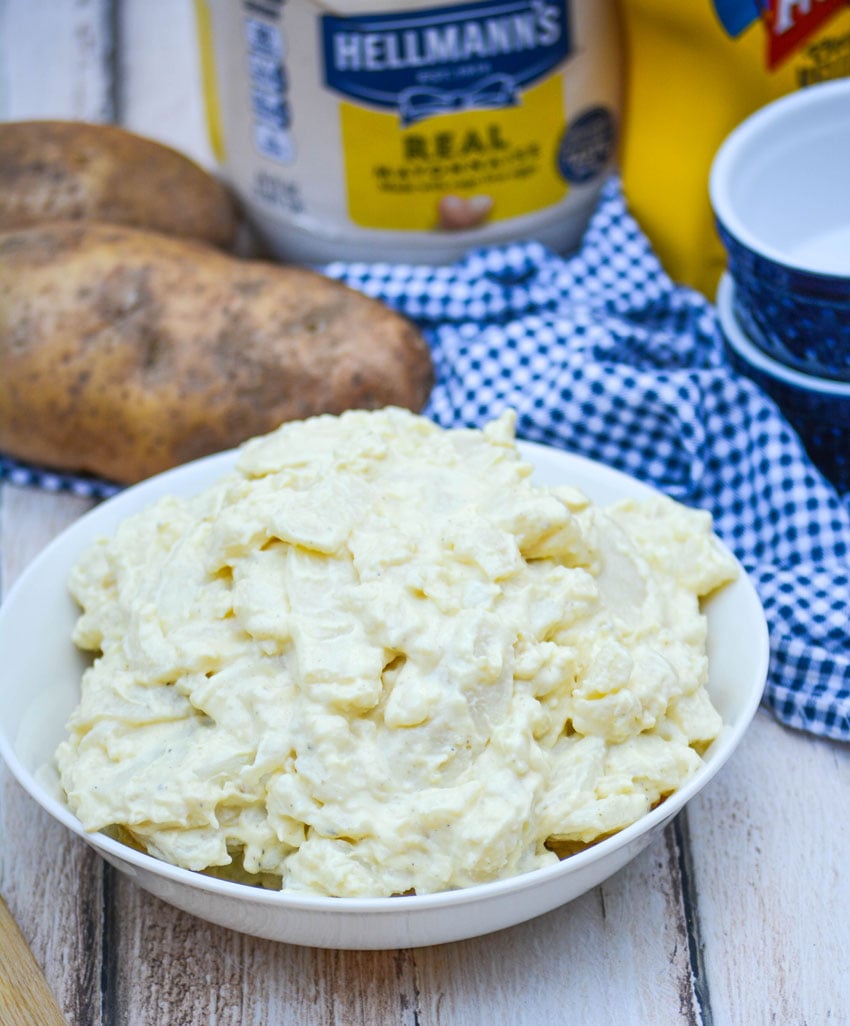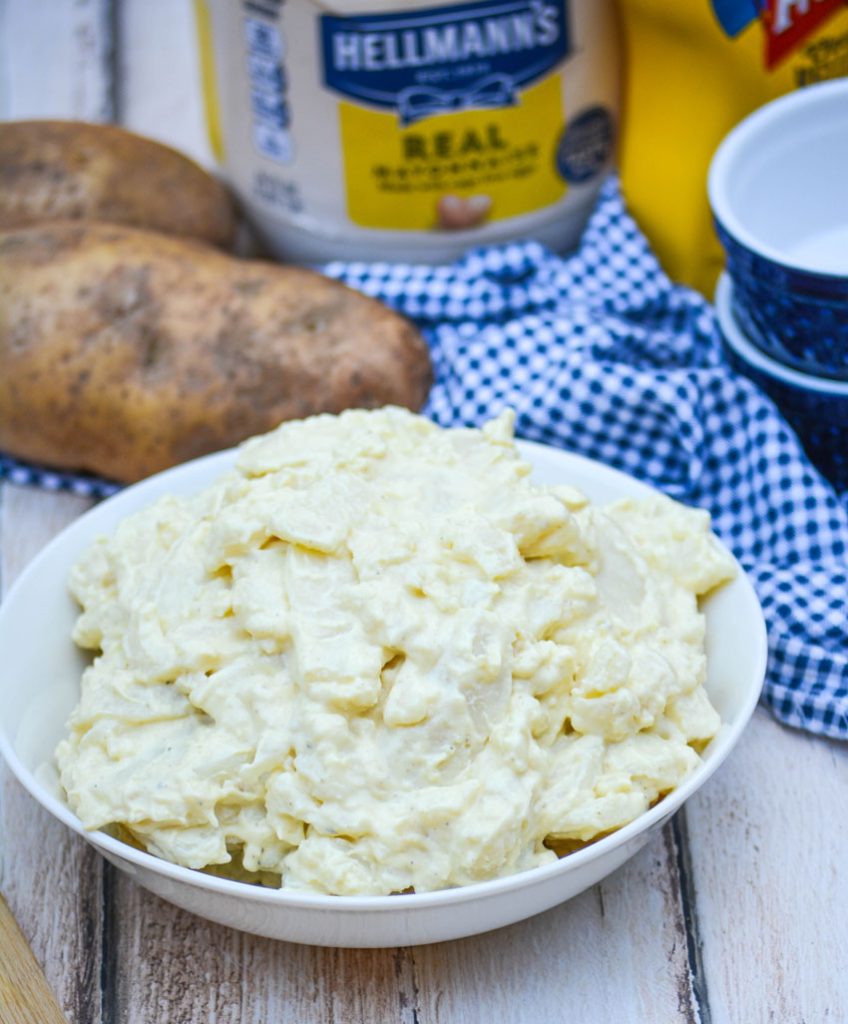 Potato salad, such a Southern thing. Or is it? Potato salad isn't native to the South. It's not even an American invention. Like most of us, it's an immigrant dish- although one that's gone through changes and evolved over the years.
WHERE DOES POTATO SALAD COME FROM?
It's widely believed that the dish originated in, or around, Germany. Potatoes were quite common, and a staple in the local diet.
Served hot, or cold, traditional German-style potato salad is pretty plain. There's not many fancy add- ins, just hearty stout fair tossed in a mustard & vinegar vinaigrette style dressing.
Check out this German style potato salad recipe for a better idea. It features the German version trifecta: vinegar, sugar, & coarse mustard.
Ok, so right about now you're probably scratching your head. If that's what potato salad was, how did it become the creamy dish we know and love today? When did mayo enter the mix?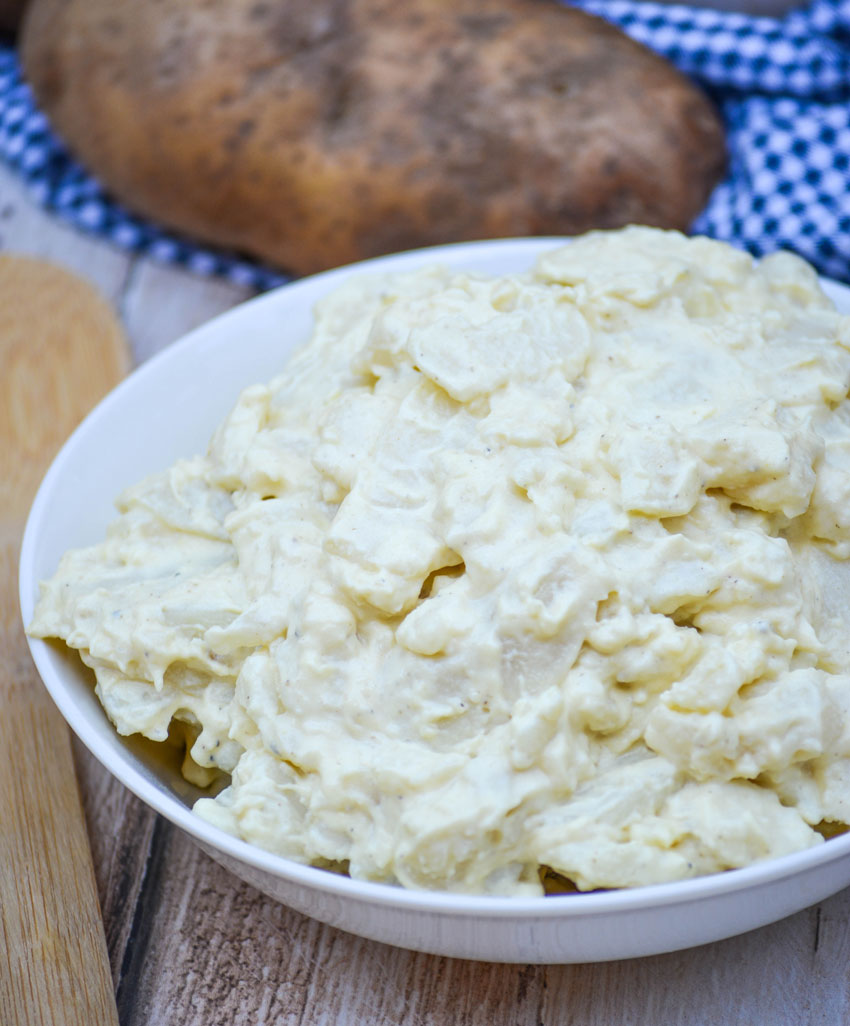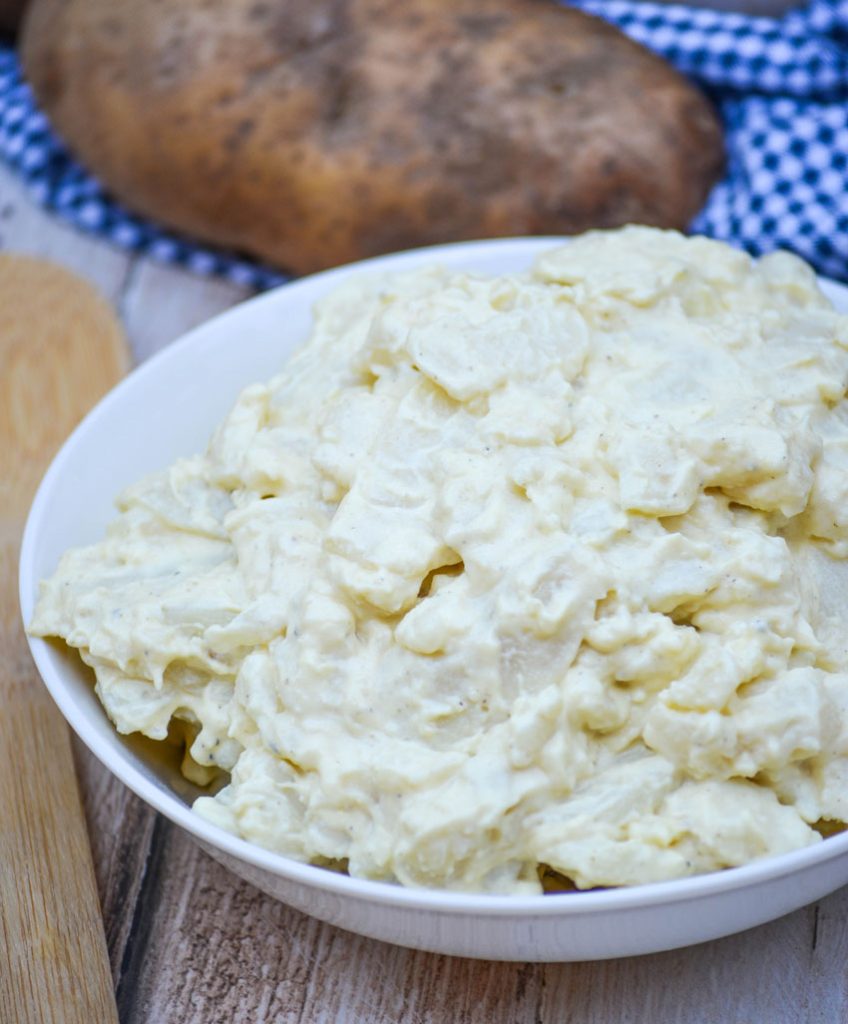 While there's no exact recipe I can pin point as 'the one', the first one to stir mayo into potato salad- it's not hard to figure out where the trend began.
In the early 1900's company's like Hellman's and Duke's took off in the South. Mayonnaise wasn't uncommon by itself, but previously wasn't a shelf stable condiment or readily available.
By the 1930's mayonnaise was everywhere, even in salads. Everyone who was anyone was looking for new ways to use it, and that included in potato salad. A genius idea, if I do say so myself, and one that's stood the test of time!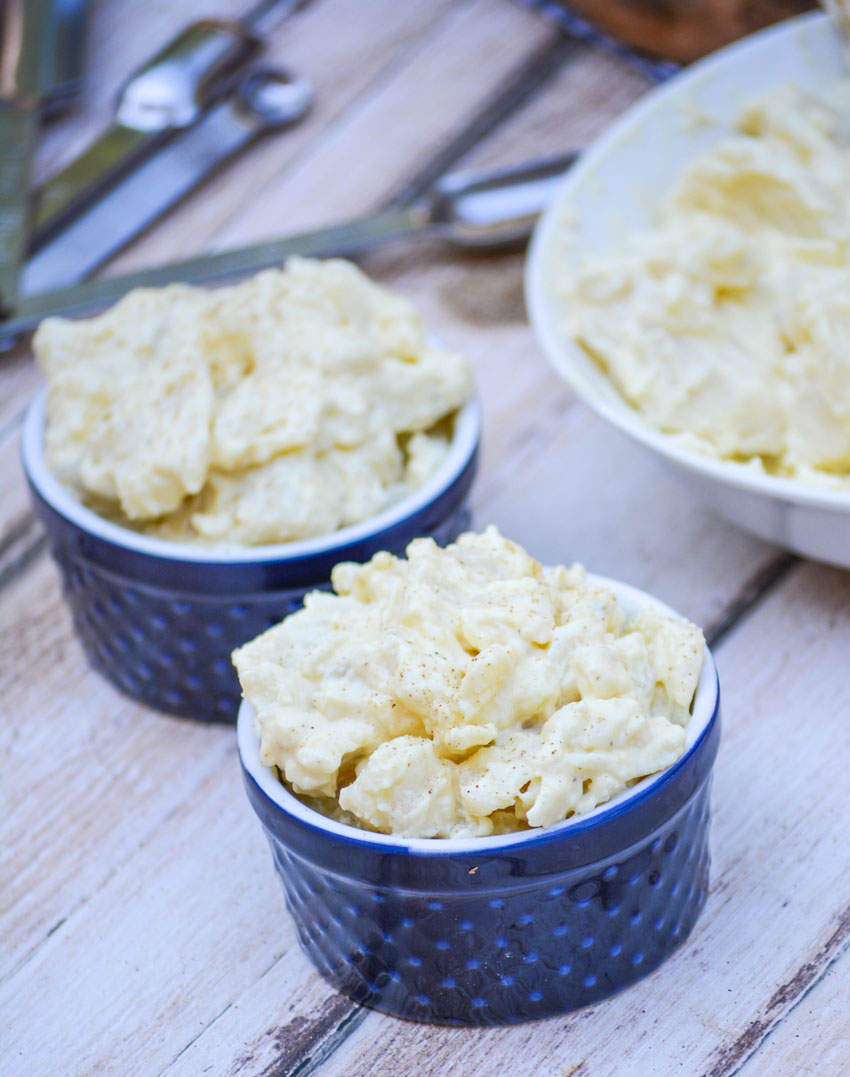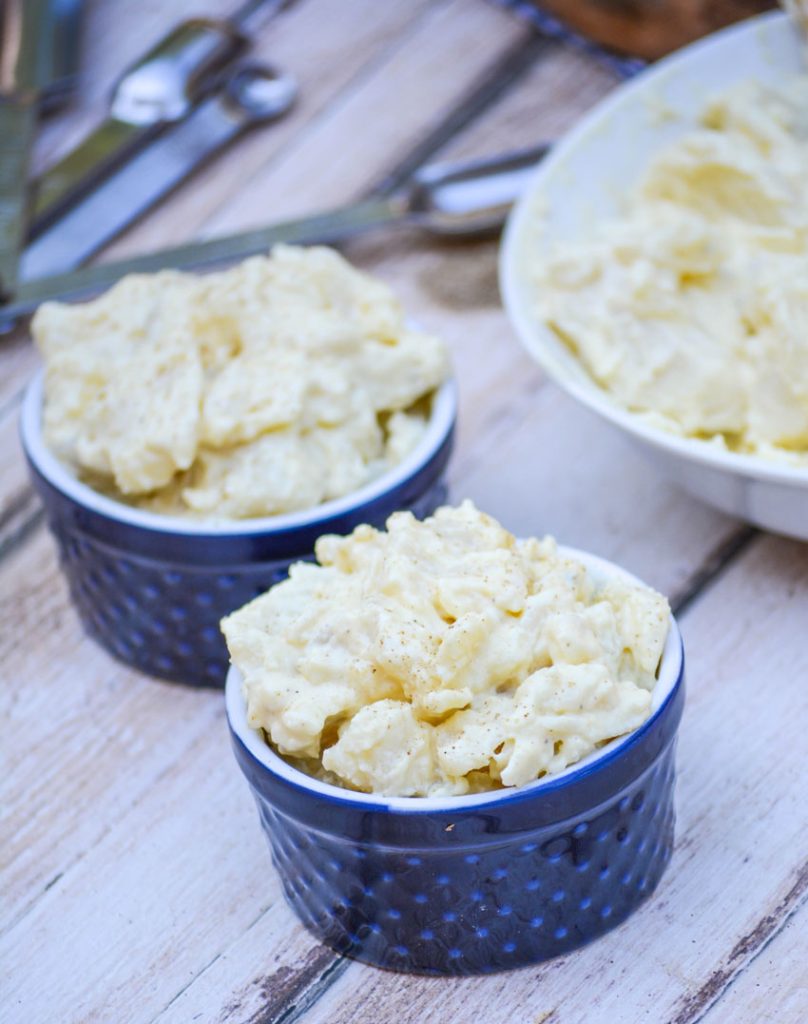 Ok, with that crash coarse out of the way- let's talk about how to make Grandma's simple Southern potato salad.
WHICH POTATOES ARE BEST FOR POTATO SALAD?
I swear by russet potatoes, but I tell you that with the warning that it's a very unpopular opinion as far as potato salad's go. Russet's are cheap, and I use them as a jack of all trades for all dishes. I've generally always got them on hand.
They do take a bit of finesse compared to other potatoes, and can go from fork tender to overcooked easily if not paying careful attention.
For a more fool proof option, or one specifically with potato salad in mind- you'll want a waxy potato variety. Think yukon gold, red potatoes, or new potatoes. Tiny fingerling potatoes also work well, and they can be fun. Sometimes even providing a nicer texture since there's a little bit of everything in each bite.
Other than potatoes, the laundry list for this simple potato salad recipe is pretty straightforward.
INGREDIENTS NEEDED FOR GRANDMA'S POTATO SALAD:
potatoes
mayonnaise
vinegar
mustard
chicken broth
celery salt
pepper
See? Simple. So simple, someone unfamiliar with Southern-style potato salad would probably be truly surprised at how well these ingredients blend together to create a truly spectacular dish. Once you've sampled it, it's no wonder it's the center piece of every potluck.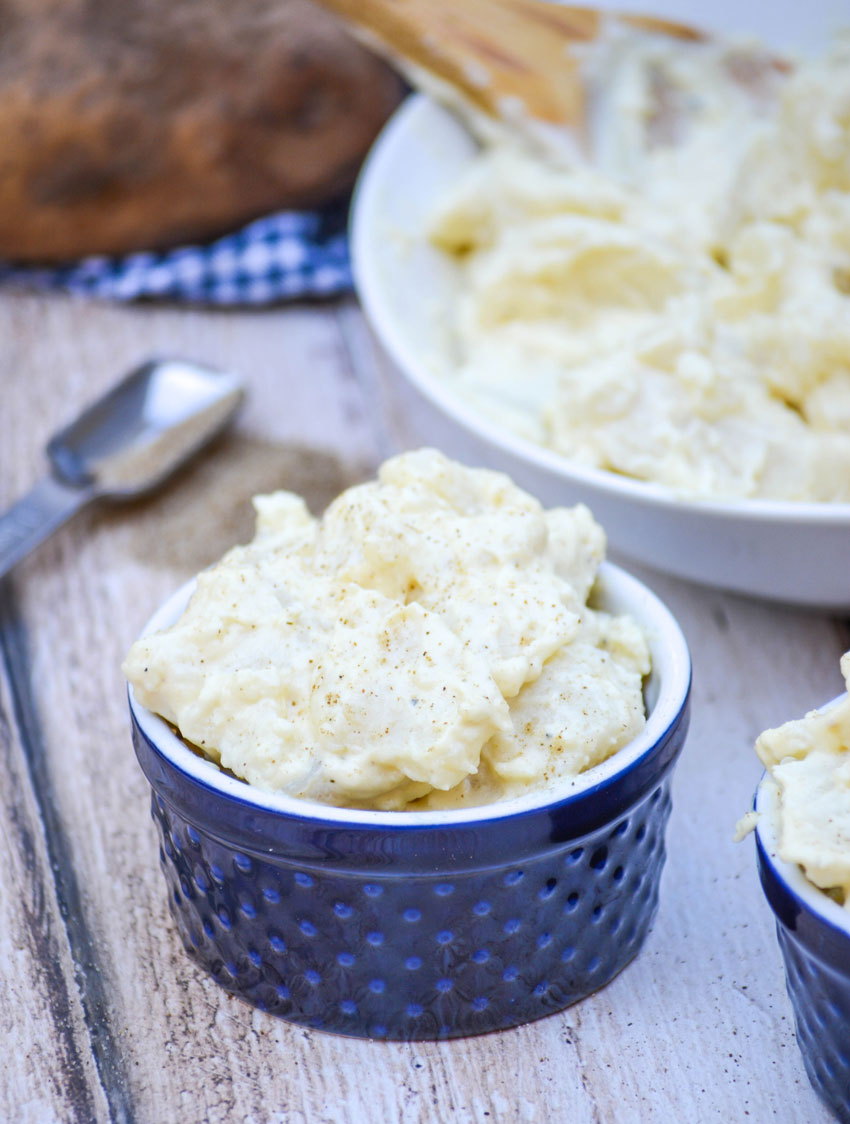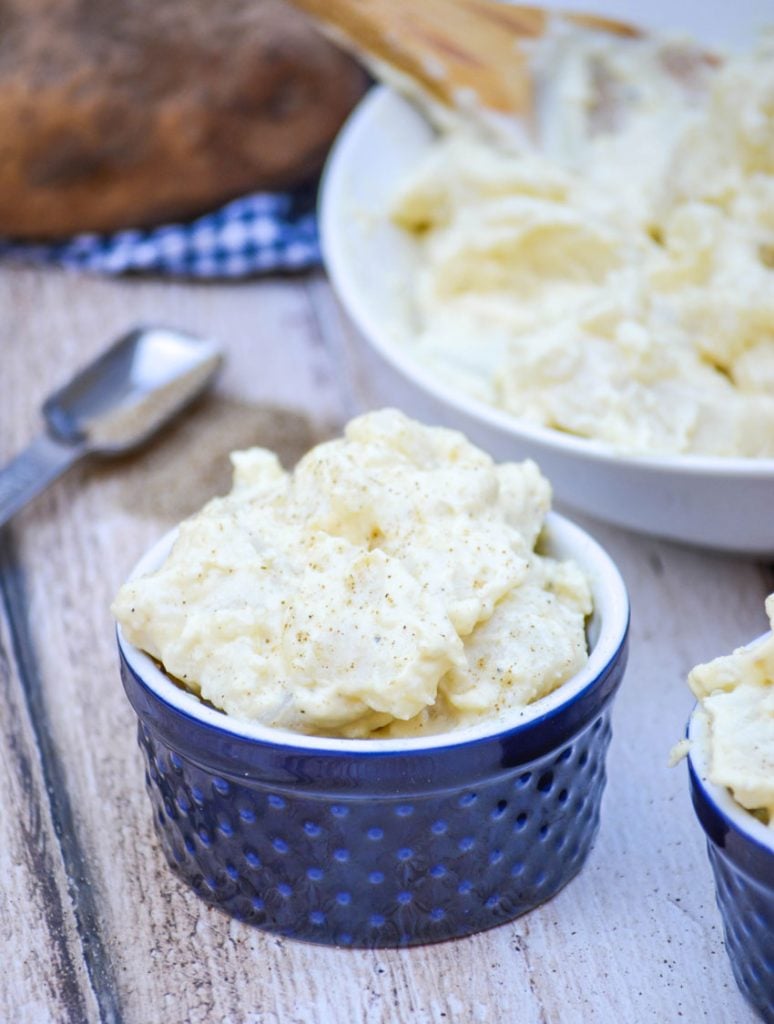 MAKING GRANDMA'S SIMPLE SOUTHERN POTATO SALAD:
The first step, obviously, is the potatoes. The peeled potatoes are added to a large pot, and it's filled with water until the potatoes are just covered. It's then brought to a boil over high heat. The potatoes are cooked until fork tender, about 10-20 minutes.
Transfer the potatoes to a strainer, and run them under cold water until the potatoes are done cooking & cool to the touch. Cut them into roughly 1/4″ sized coins, and set aside.
In a large mixing bowl, the rest of the ingredients are whisked together to form a smooth, creamy dressing. That's then poured over the cooled potatoes. Using a spatula, gently toss the potato salad to evenly combine. That's it, and depending on your preference- your potato salad's ready to be served.
IS POTATO SALAD MEANT TO BE SERVED COLD?
Not necessarily. Potato salad is great served cold, and it's my preferred way to enjoy this version. Transfer the finished salad to an airtight container, and refrigerate until chilled through before serving- roughly 2-4 hours.
You can skip this step entirely & enjoy Grandma's simple Southern potato salad straight from the mixing bowl. Just transfer it to a serving dish, and go from there. The heat though can really have the biggest determining factor in how you serve it.
Mayonnaise doesn't keep in high heat, and nobody wants to get sick from spoiled salad. Whether serving hot or cold, unless it's on a table in the air conditioning, I recommend setting the serving dish in a bowl filled with ice to prevent spoiling.
Got everything ready to give this recipe a go? Check out a couple suggestions before you dig in.
TIPS & TRICKS FOR MAKING THIS SIMPLE SOUTHERN POTATO SALAD:
Again, pick your potatoes carefully. If you're confident, and can watch them while cooking- russets will work. Otherwise, and especially for beginners, go with a waxier variety.
You do not have to peel the potatoes. We peel them purely for looks. The skin is actually full of healthy nutrients.
DO NOT try subbing miracle whip for the mayonnaise in this recipe. The two cannot be used interchangeably, and I won't be held responsible for the results if you do.
I know a lot of people like to add things to their potato salad. We don't, but if you like more texture freshly diced onions, thinly sliced celery, and roughly chopped hard boiled eggs all make tasty additions.
My mother & Grandmother swear by adding fresh, thinly sliced peeled cucumbers to this salad. If you're a fan of cucumbers, I highly recommend trying it yourself.
To really put this over the top, serve it topped with freshly cracked black pepper or a sprinkle of smoked paprika.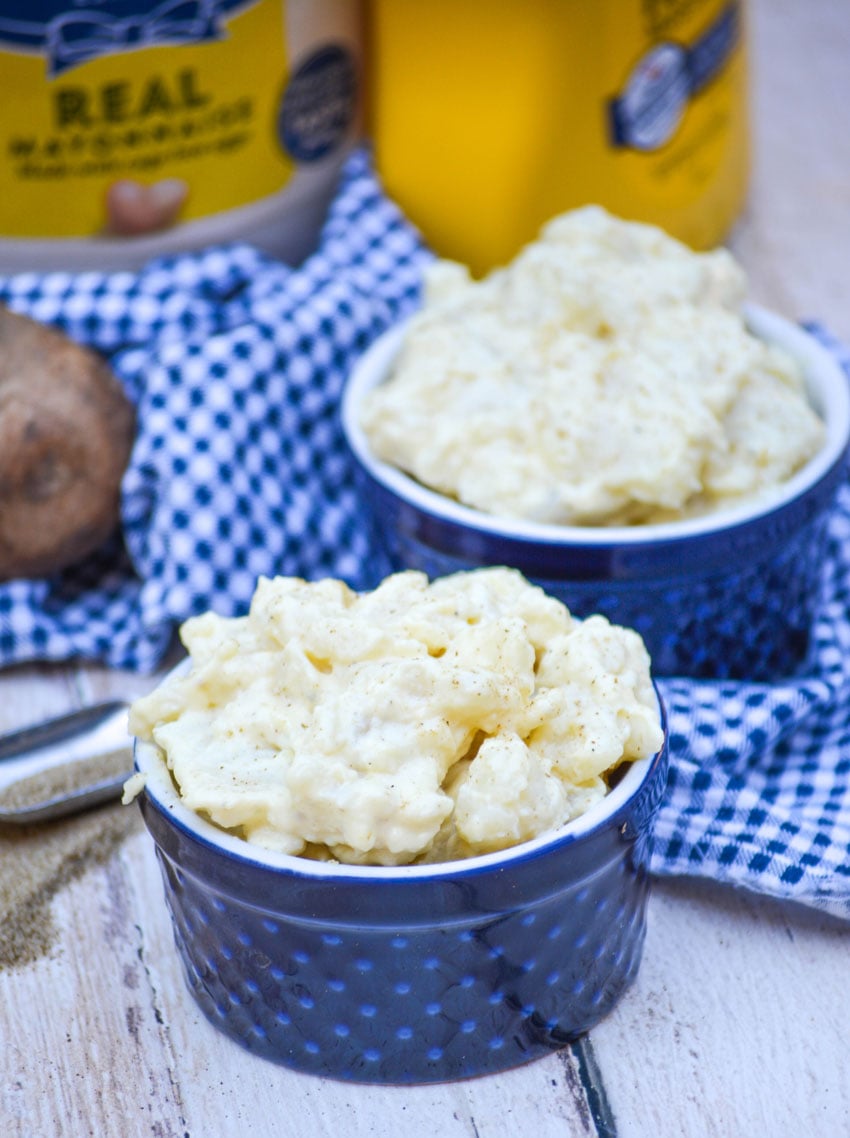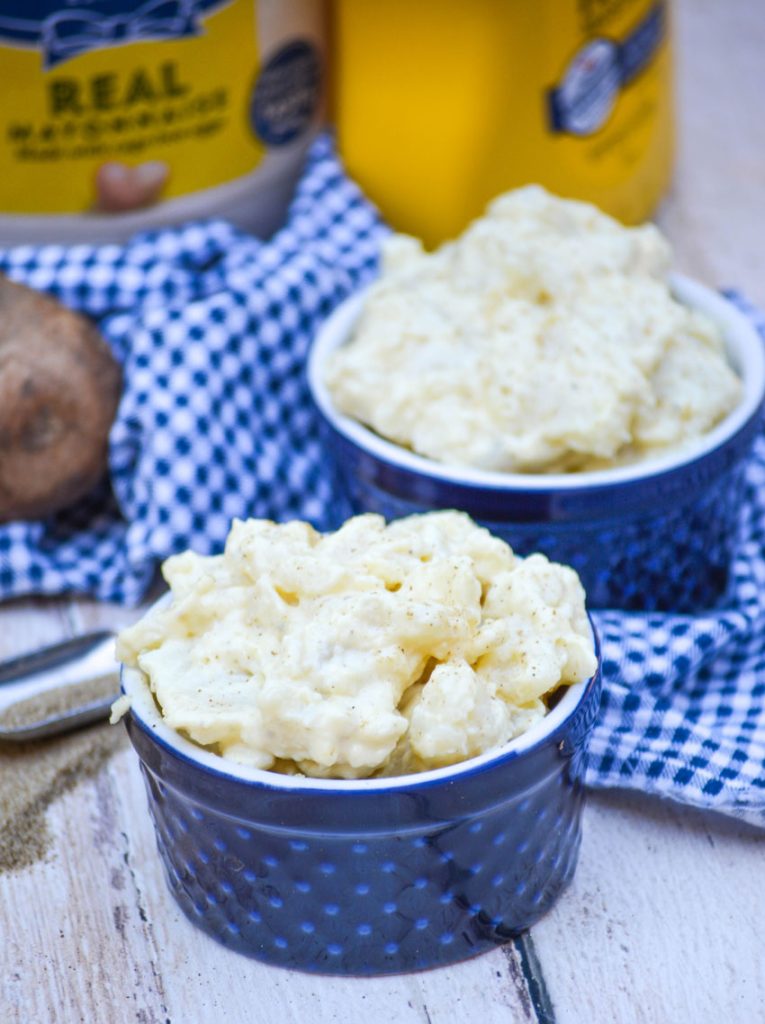 There's a reason potato salad is the token side dish of the South. It's easy to whip up, and everybody loves it. Still, every family has their very own beloved version. Still looking for yours? Take Grandma's simple Southern potato salad to your next cook out and it's guaranteed to be the hit of the party.
The party's over, and much to everyone's surprise- there happen to be some leftovers. Or maybe you purposely made a double batch because it's so good- you want to brown bag it for lunch each day.
HOW LONG CAN YOU KEEP POTATO SALAD IN THE REFRIGERATOR:
This potato salad will safely keep 4-5 days in the refrigerator. Just make sure it's stored safely in an air tight container. Because it has both mayo & vinegar in the dressing, there's a chance it may separate when stored. This is no big deal though, just gently toss the potato salad again to evenly combine before serving.
OTHER SUMMER SALADS FOR BARBECUES & PICNICS:
If you've tried this GRANDMA'S SIMPLE SOUTHERN POTATO SALAD, or any other recipe on my site, let me know in the comment section how it turned out, we love hearing from our readers! You can also follow along with me on PINTEREST, FACEBOOK, and INSTAGRAM to see more amazing recipes and whatever else we've got going on!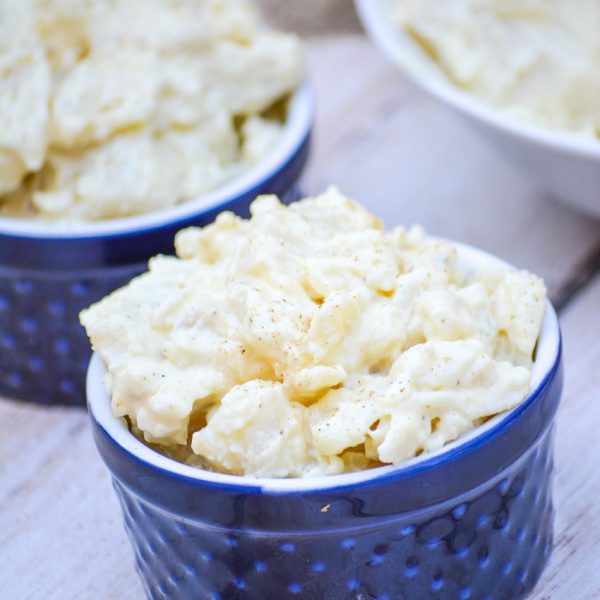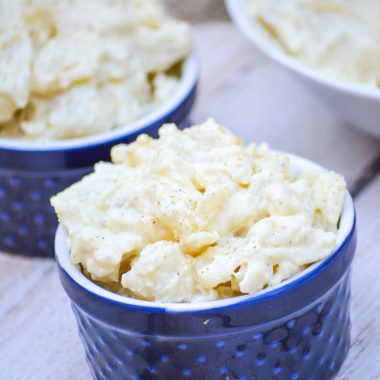 Grandma's Simple Southern Potato Salad
A creamy Southern staple, Grandma's potato salad uses traditional ingredients and is a synch to whip up. It can be made ahead of time, or in a breeze at the last minute making it perfect for potlucks, picnics, & parties.
Print
Pin
Rate
Ingredients
4 1/2-5

lbs

russet potatoes

scrubbed & peeled

2

cups

mayonnaise

1

tbsp

vinegar

1

tbsp

yellow mustard

1/4

cup

chicken broth

1 1/2

tsp

celery salt

pepper

to taste
Instructions
Add the potatoes to a large pot, and add water to cover them.

Heat on high heat, and boil the potatoes until fork tender. This can take anywhere from 10-20 minutes, depending on the size of the potato.

Transfer the cooked, but not mushy potatoes, to a colander. Run them under cold water to stop the cooking process and to cool them.

Once cool, slice the potatoes into 1/4 inch coins. Add them to a large mixing bowl.

In a separate mixing bowl, add the remaining ingredients. Whisk the dressing together until smooth.

Transfer the dressing to the bowl with the potatoes, and toss to evenly combine/coat.

Serve the potato salad as is, or cover & refrigerate to chill before serving.

Season with salt & pepper, to taste.
Nutrition
Calories:
467
kcal
|
Carbohydrates:
37
g
|
Protein:
5
g
|
Fat:
34
g
|
Saturated Fat:
5
g
|
Cholesterol:
19
mg
|
Sodium:
682
mg
|
Potassium:
865
mg
|
Fiber:
3
g
|
Sugar:
2
g
|
Vitamin A:
29
IU
|
Vitamin C:
12
mg
|
Calcium:
30
mg
|
Iron:
2
mg