Didn't think a classic potato salad could ever get better? This creamy Loaded Baked Potato Salad features off your favorite classic 'loaded' toppings, like crisp bacon, tangy cheddar, and flavorful green onions (even sour cream!), mixed right in. A hot oven staple gets a make over just in time for barbecuing season, and picnic tables all over.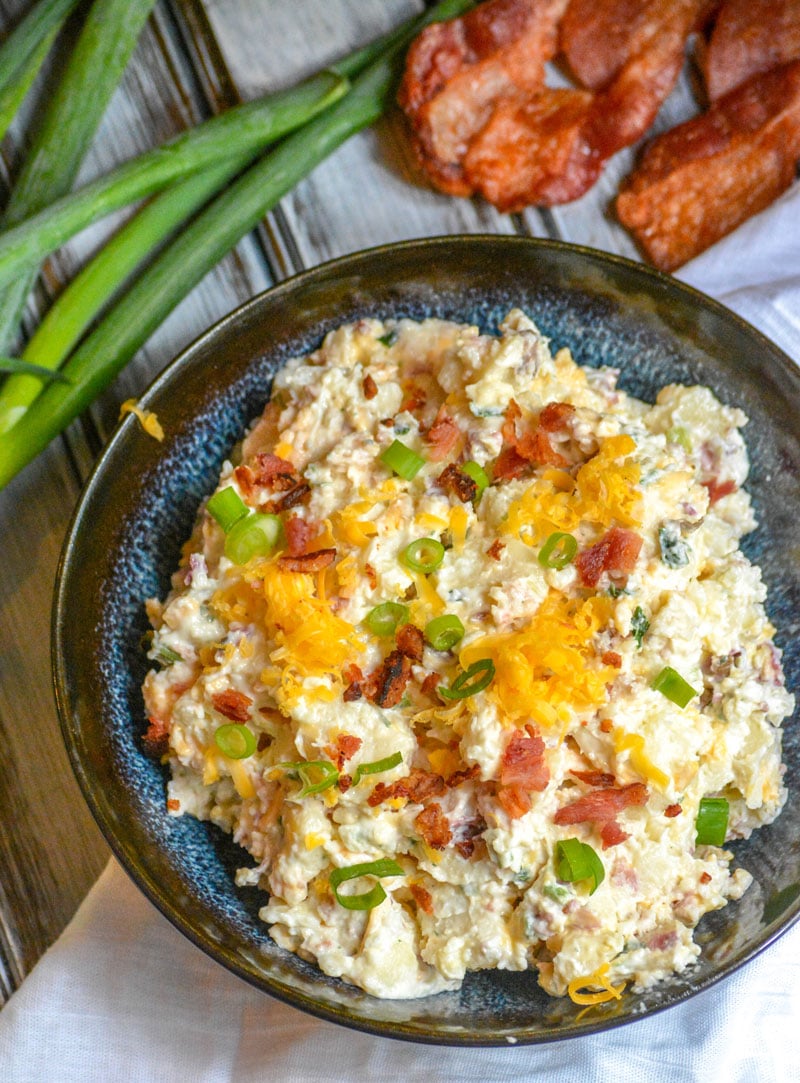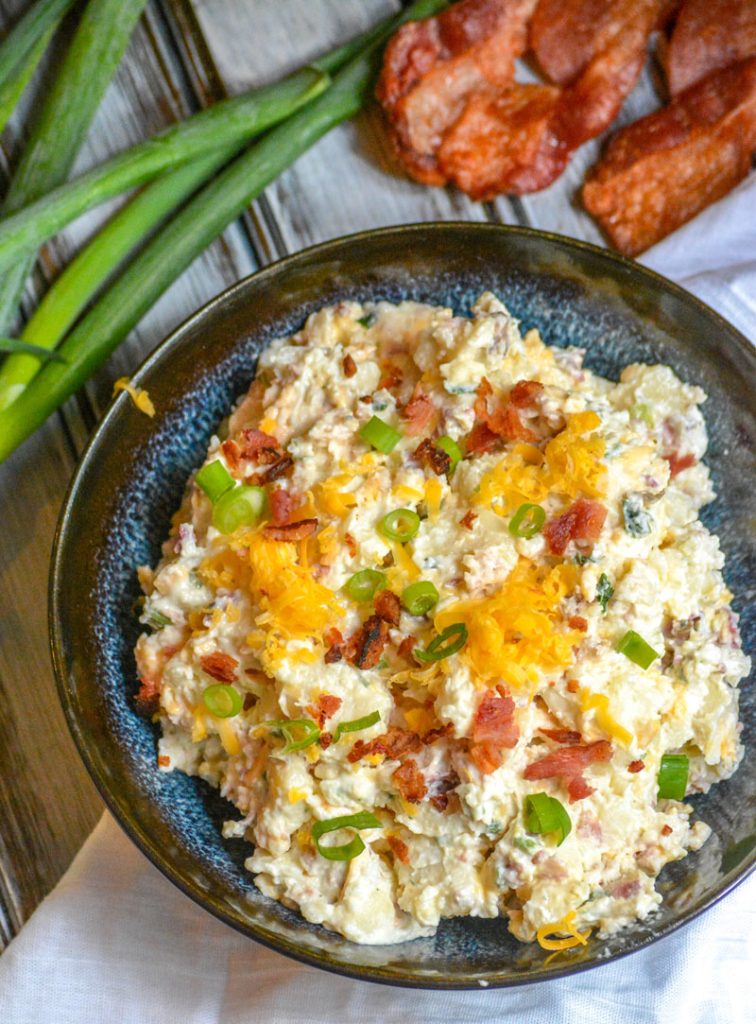 It's that time of year again. Time for hot grills, good friends, picnic foods…it's cookout time!
I discovered this potato salad last summer, when I was searching for an alternative to my go-to mustard based recipe.
I had been assigned to bring it as a dish, and I just wanted something a little different.
Most likely due to the fact that I'd already been to two cookouts in the last 24 hours and didn't want to eat the exact same thing again.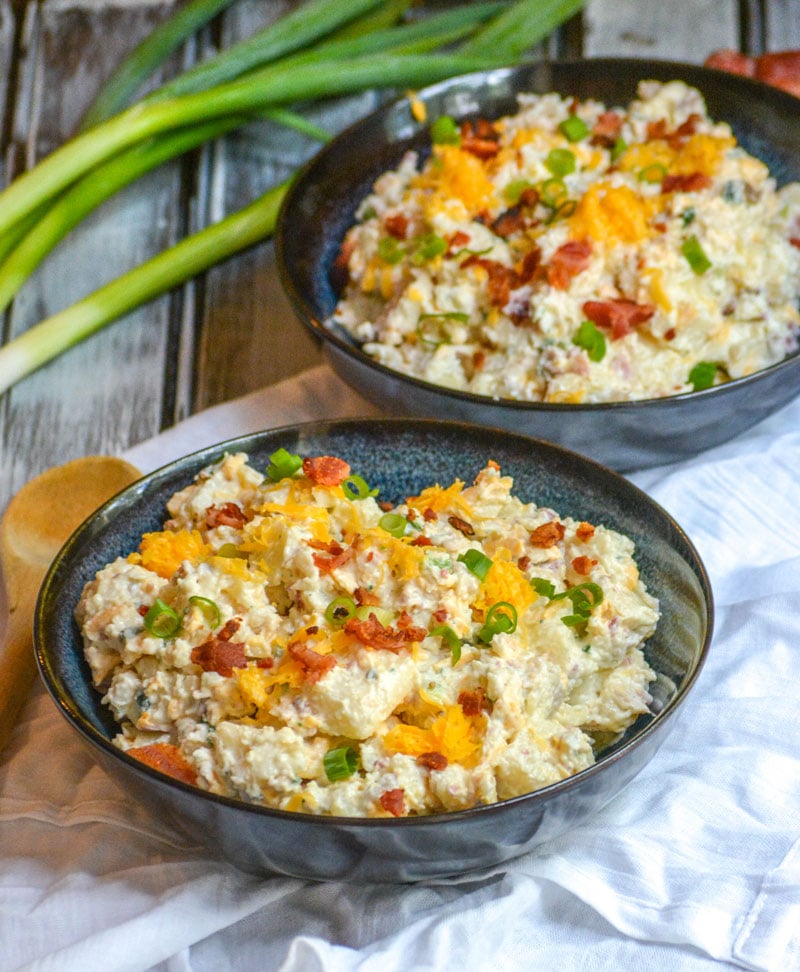 I was a bit shocked, and saddened, to discover that there is such a thing as too much potato salad.
I couldn't have asked for more from this version- it didn't disappoint!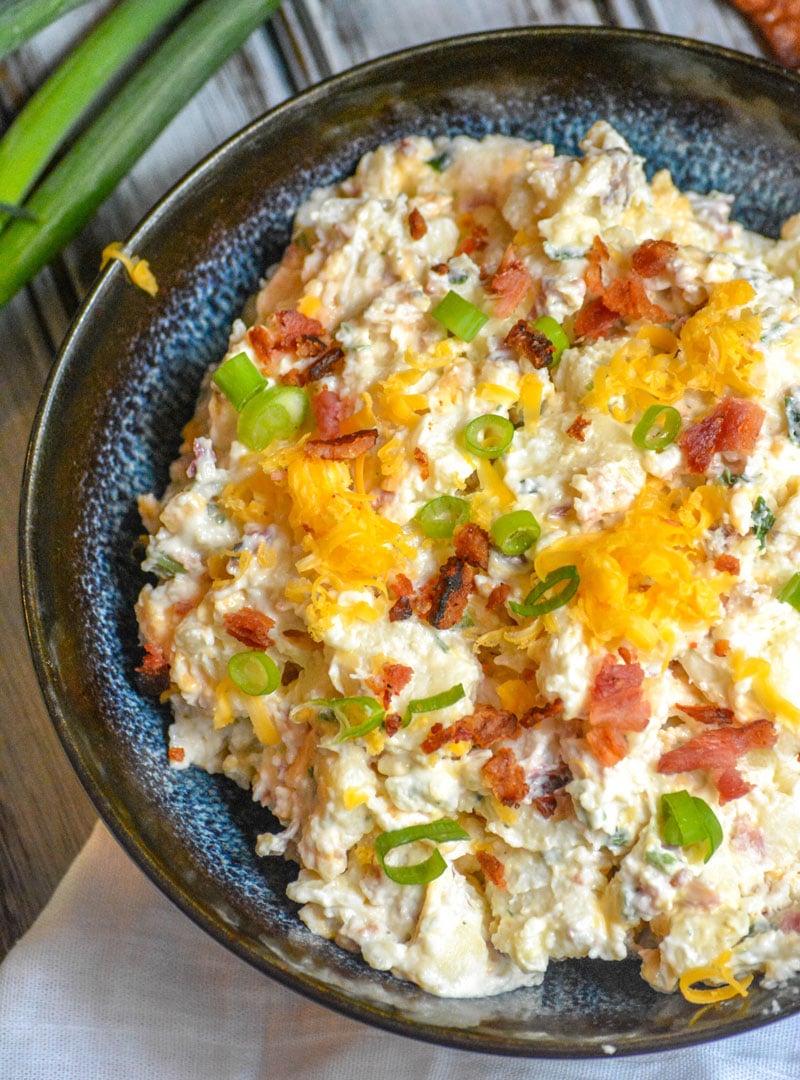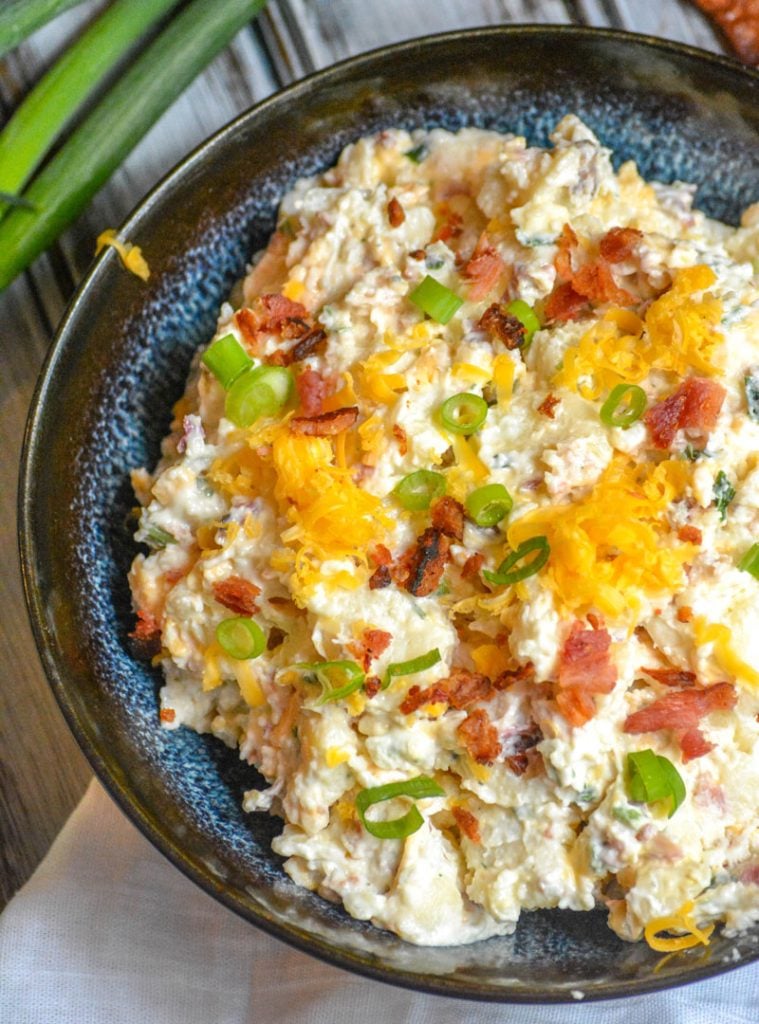 Although the recipe makes enough for roughly 4-6 people, depending on serving size, the ingredients easily doubled to make enough for a larger party.
Which makes it even better in my book, because I can easily whip up a regular batch for a weeknight meal to pair with hotdogs, burgers or the like for a simple supper or I can make a much larger portion for taking to potlucks, parties, or even on a picnic.
I was equally pleased to see that not only did my family love it, but so did everyone else. Who said change was a bad thing?
Now, as you get ready to host or attend, a cookout (or cookouts) in the coming weeks of Summer, give this Loaded Baked Potato Salad side a try.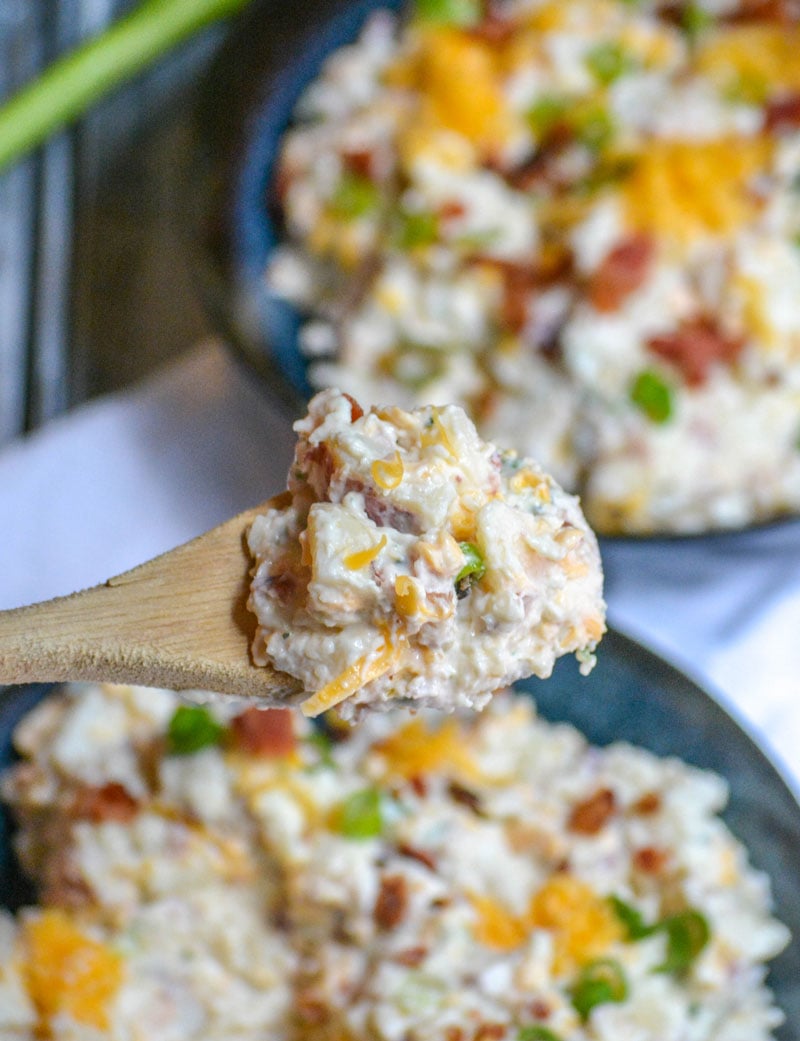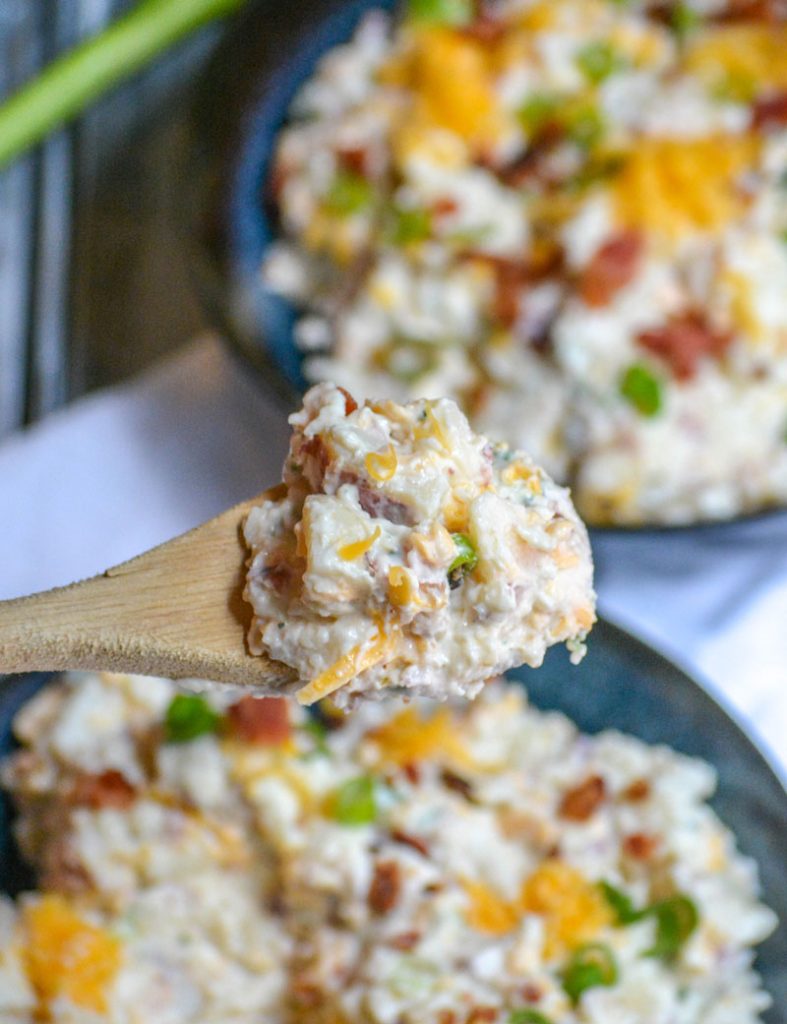 How To Make Loaded Baked Potato Salad
Mom & Grandma's potato salads probably start out the same way, with boiled potatoes mixed in a creamy mayo mixture.
That's where the similarities end here, however. First, we prepare the delectable 'mixture' ahead of time. For this recipe, you want it good and chilled before ready to use.
Mayonnaise and sour cream are whisked together until smooth. Use a large mixing bowl to avoid extra dishes you'll have to wash later!
Equal amounts of thinly sliced green onions and shredded cheddar are stirred into the mix next. Cover it, and refrigerate until plenty chilled and ready to use.
Peeled & cut russet potatoes are placed in a pot, just covered with water, and brought to a boil. Continue boiling the potatoes until they're fork tender.
This usually takes anywhere from 15-20 minutes. Make sure to begin checking at the 15 minute mark though so they don't turn to mush.
We're making potato salad today, not mashed potatoes.
Get the 'loaded' mayo mix out of the fridge, add the strained & completely cooled potatoes to the bowl. Stir just until everything's coated.
Stir again, folding in 3/4's of the crisp, crumbled bacon bits.
Transfer the mixture to a serving dish, topping with the remaining bacon and extra green onion.
You can even top with more shredded cheddar, if desired. For best results though, shred your own and skip the pre-shredded stuff.
What Else Can I Add To Baked Potato Salad?
While the sour cream, crispy bacon crumbles, cheddar cheese, and sliced green onions are all obvious choices- there are plenty of other mix ins and additions you can add to personalize your loaded baked potato salad!
Just to name a few:
chopped hard boiled eggs
sliced celery
chopped dill pickles
diced ham
lightly steamed broccoli florets
sliced black olives
Keep things traditional, or customize this potato salad recipe to make it your version of the ultimate loaded baked potato salad!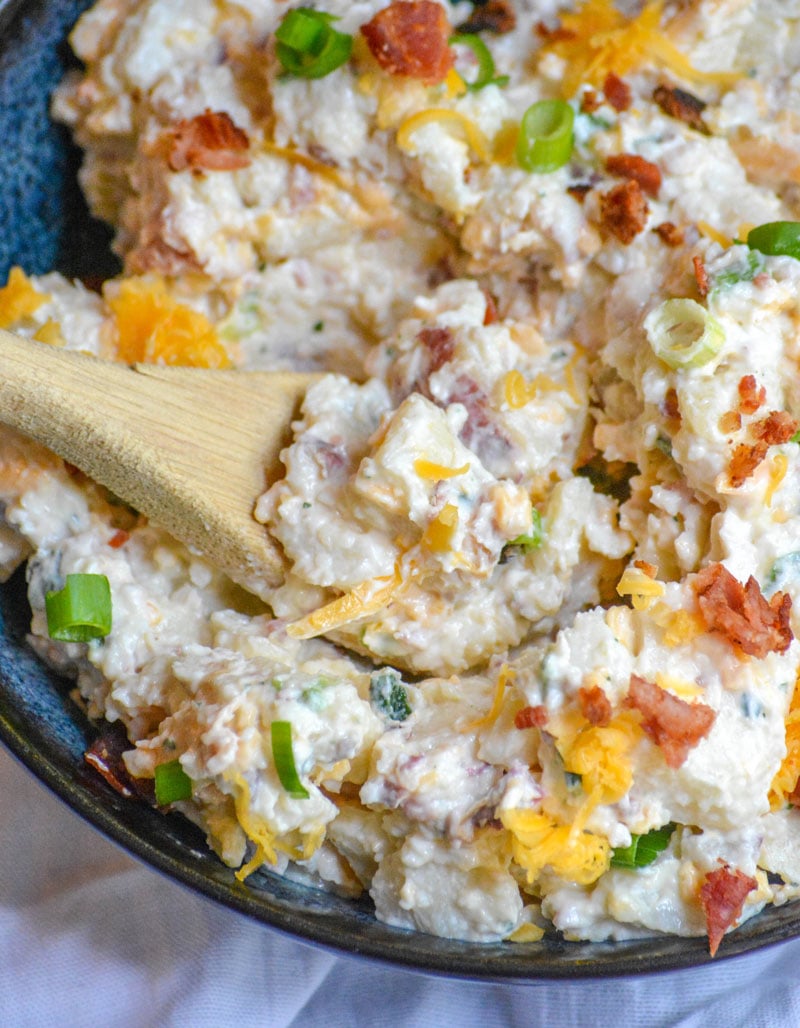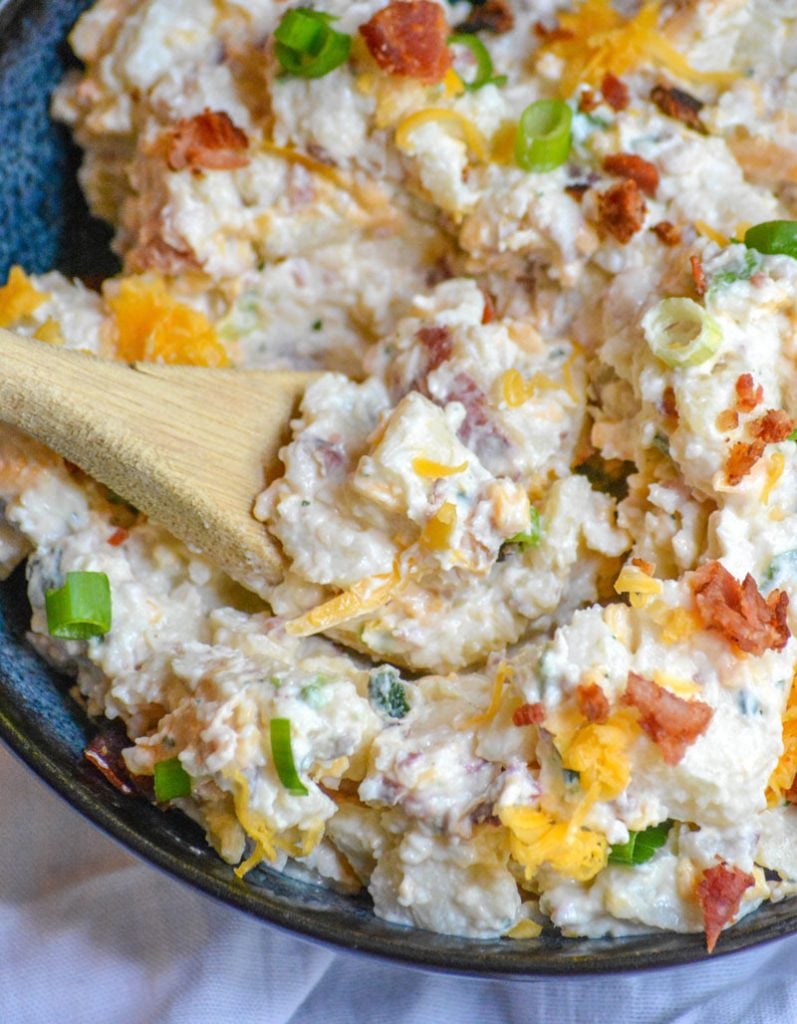 What Potatoes Are The Best For Making Potato Salad?
While we call for russet potatoes in this recipe, you may not agree that they're the best ones to use when making your potato salad. The result will depend on the consistency you prefer.
We like russets because they break down as they boil.
I have to be careful not to overboil them so they don't get mushy, but when stirred together in the potatoes salad they break apart more easily which results in an extra creamy texture our family loves.
They soak up the sauce like a sponge!
Waxy potatoes rarely need to be peeled, and retain their shape much better during the cooking process. If you prefer firmer, chunkier potatoes in your potato salad then you're going to want to skip the russets.
Instead opt for a variety like white potatoes, red potatoes, or new potatoes. Creamer and fingerling potatoes will also work.
Do I Have To Peel The Potatoes For Potato Salad?
Nope, if you prefer the texture, taste, and nutrients they provide you can absolutely leave them on and make your potato salad as instructed in the recipe.
Since the potatoes get boiled beforehand, the skins will be quite tender and not take away from the creaminess of the dish.
Sometimes I leave them on just because I'm lazy and it saves me time.
However, make sure to cut away any eyes or other impurities from the potatoes before cooking them.
Also, if your skins ever look green- you should absolutely peel them due to a potential build up of a toxin called solamine potatoes naturally produce.
Other Potato Salad Recipes You Might Also Enjoy:
It's a rich, creamy potato salad with all the tastes and textures of an actual loaded baked potato.
This Loaded Baked Potato Salad recipe is sure to be a hit at your next soiree, and I assure you that you will be asked for the recipe. Repeatedly.
If you've tried this LOADED BAKED POTATO SALAD, or any other recipe on the site, let me know in the comment section how it turned out, we love hearing from our readers! You can also follow along with me on PINTEREST, FACEBOOK, and INSTAGRAM to see more amazing recipes and whatever else we've got going on!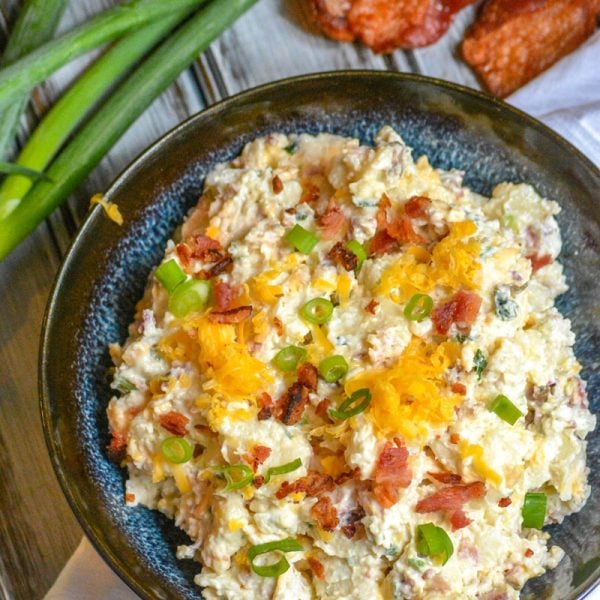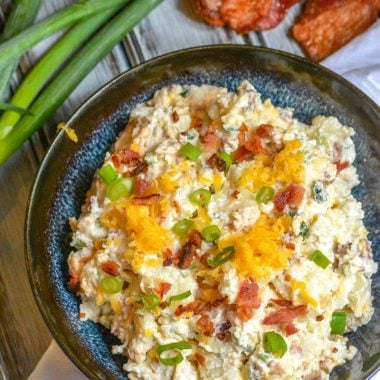 Loaded Baked Potato Salad
This creamy Loaded Baked Potato Salad features off your favorite classic 'loaded' toppings, like crisp bacon, tangy cheddar, and flavorful green onions (even sour cream!), mixed right in. A hot oven staple gets a make over just in time for barbecuing season, and picnic tables all over.
Print
Pin
Rate
Ingredients
4-5

large Russet potatoes

1/2

cup

sour cream

or Greek yogurt

1/4

cup

mayonnaise

1/2

cup

shredded cheddar cheese

1/2

cup

green onions

thinly sliced

6

strips of bacon

cooked and crumbled

salt & pepper

to taste
Instructions
In a small bowl, stir together the mayonnaise and sour cream until evenly combined.

Stir in 1/2 of the green onions (1/4 cup), the cheese, salt, and pepper.

Let this sit in the fridge to chill while you prepare the potatoes.

Wash, peel, and then cut potatoes into bite-sized pieces.

Put cut potatoes into a large pot, cover with water, and boil until just fork tender, about 15-20 minutes. Don't over boil, or potatoes with mush and become loaded mashed potatoes.

When potatoes are done, drain, and let cool.

Put potatoes in a large bowl and combine with the sour cream mixture.

Stir, or fold, in about 3/4 of the crumbled bacon.

Top with remaining green onions and crumbled bacon.

Serve chilled.
Nutrition
Calories:
219
kcal
|
Carbohydrates:
21
g
|
Protein:
6
g
|
Fat:
13
g
|
Saturated Fat:
4
g
|
Polyunsaturated Fat:
4
g
|
Monounsaturated Fat:
3
g
|
Trans Fat:
0.02
g
|
Cholesterol:
24
mg
|
Sodium:
202
mg
|
Potassium:
516
mg
|
Fiber:
2
g
|
Sugar:
1
g
|
Vitamin A:
230
IU
|
Vitamin C:
7
mg
|
Calcium:
84
mg
|
Iron:
1
mg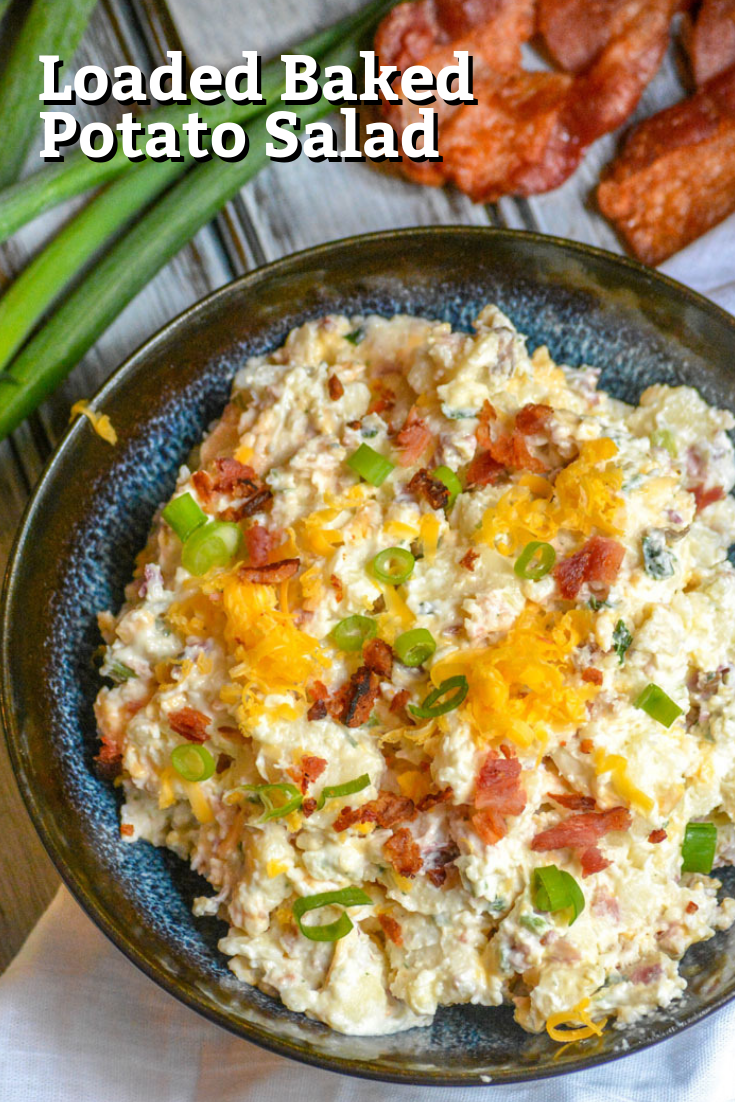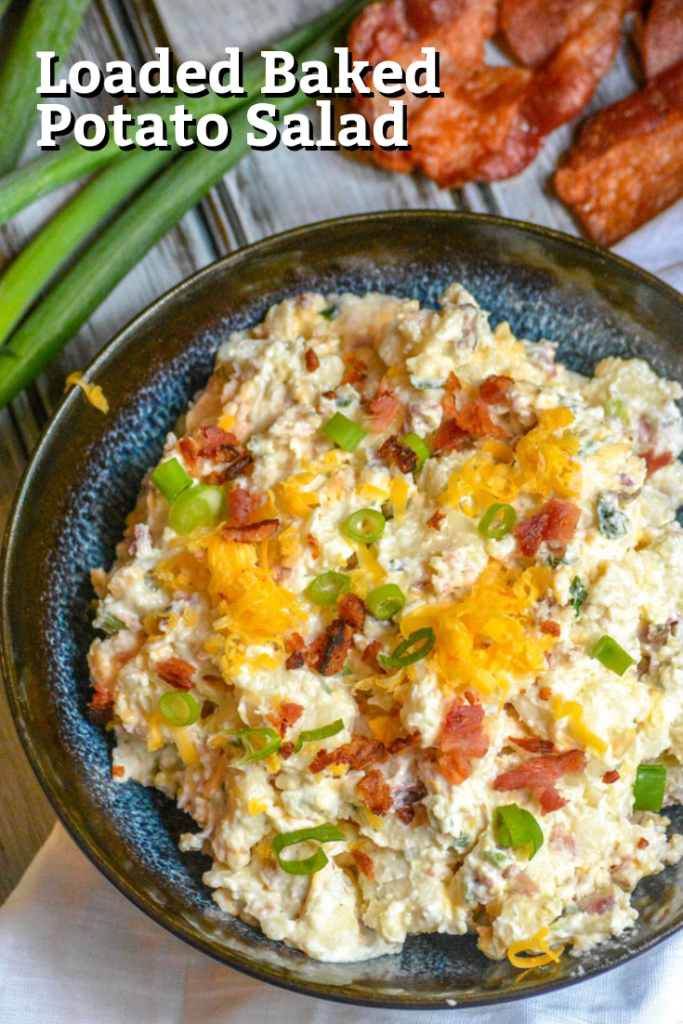 pictures & post updated 1/7/2019