Potato salad doesn't have to be traditionally creamy to be good. In fact, switching that out for a vinegar based honey mustard dressing actually makes it better for serving at barbecues & pot lucks in the Spring and Summer. This Warm Bacon Honey Mustard Potato Salad is simple enough to whip up, even at the last minute- and it's bound to be the next big thing to hit the picnic table.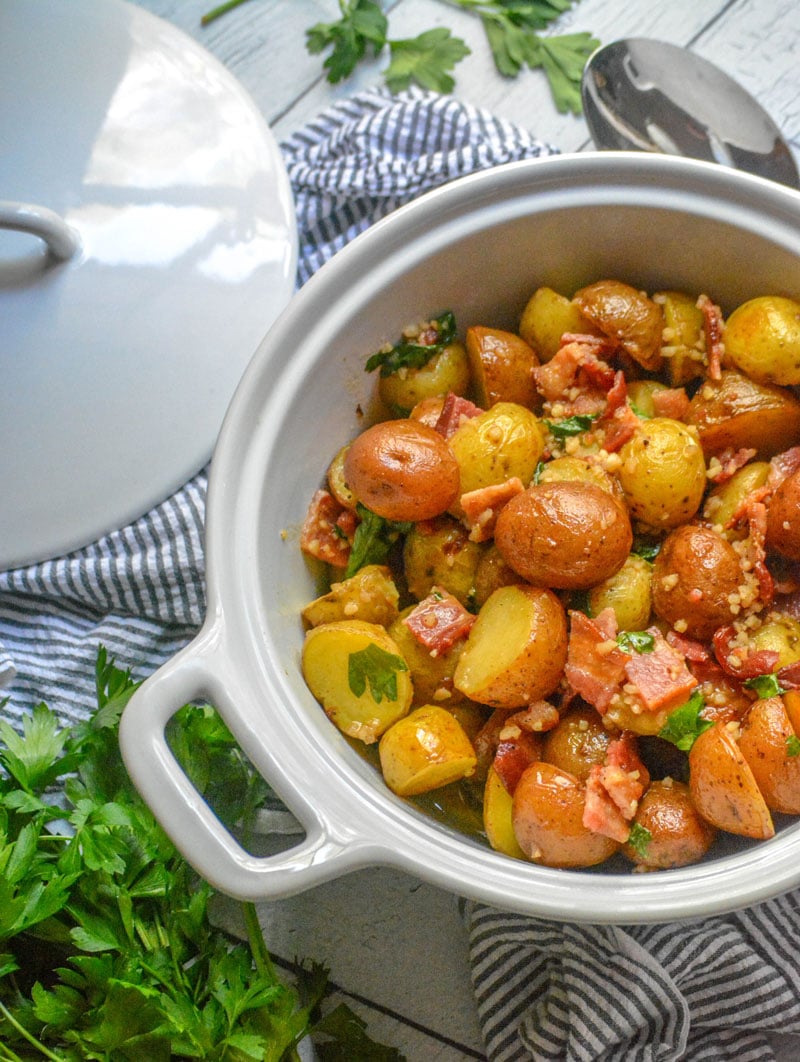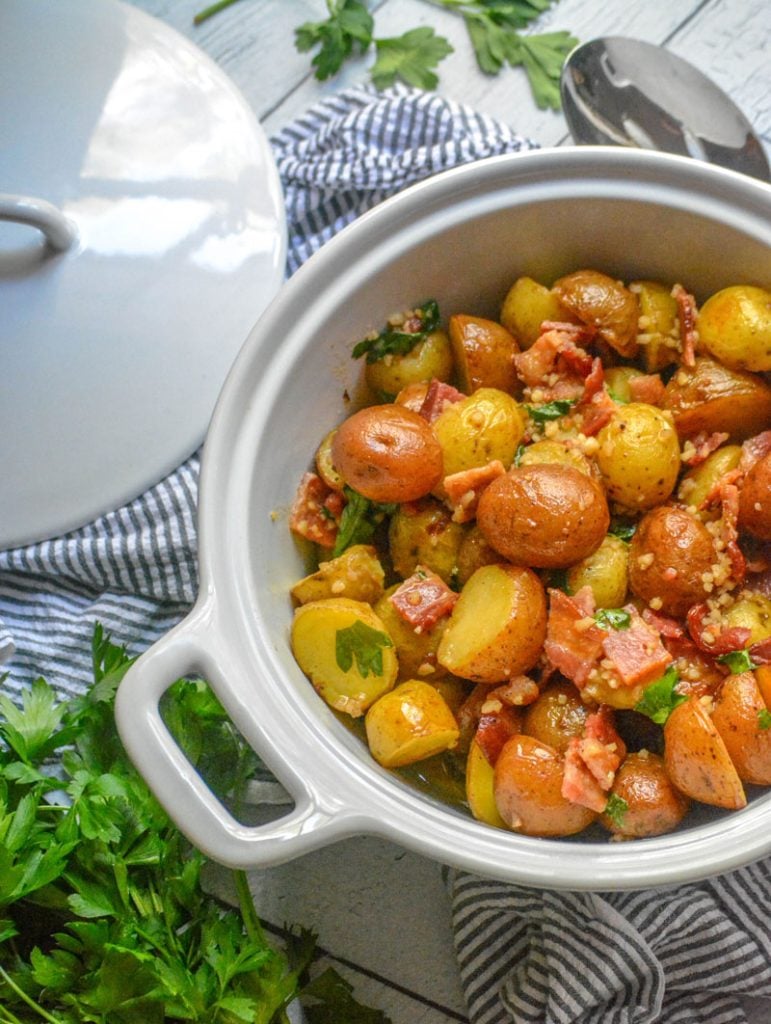 We're headed into backyard barbecue season again. It's one of my favorite times of the year. So many different dishes brought together in a single sitting. I can always find something I like.
There are always a couple of things you're guaranteed to find at any event though. Pasta salad & potato salad being the two that immediately come to mind.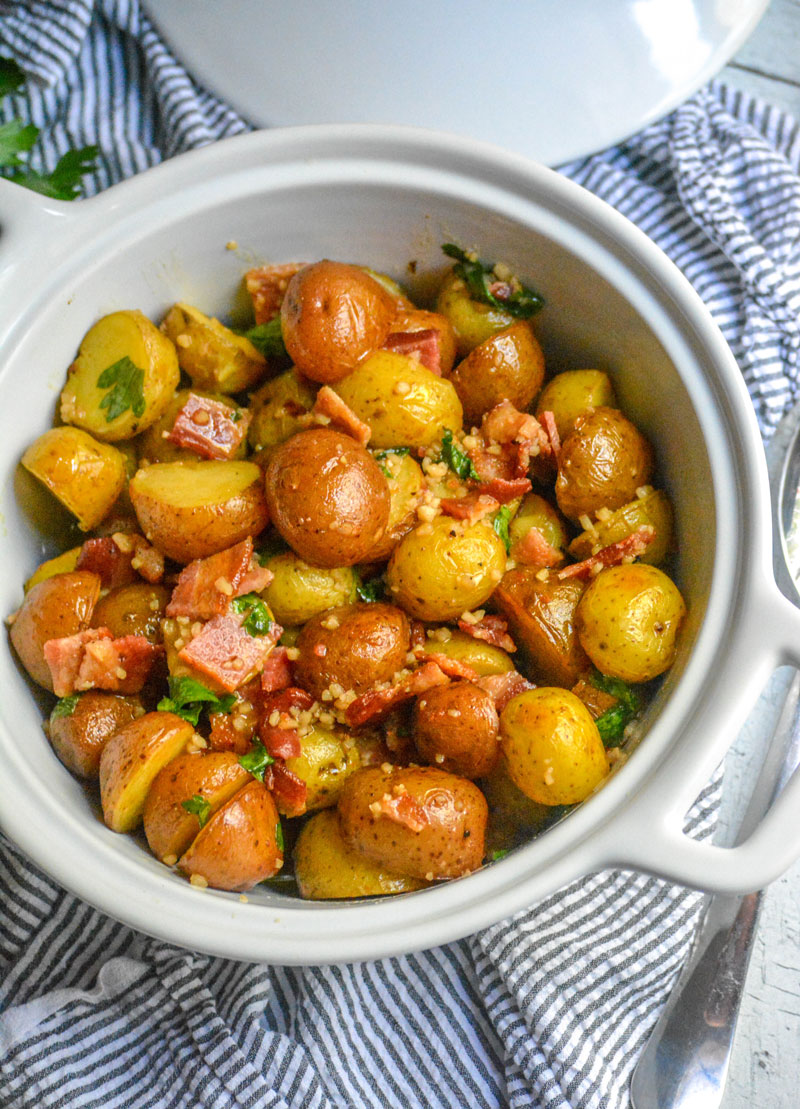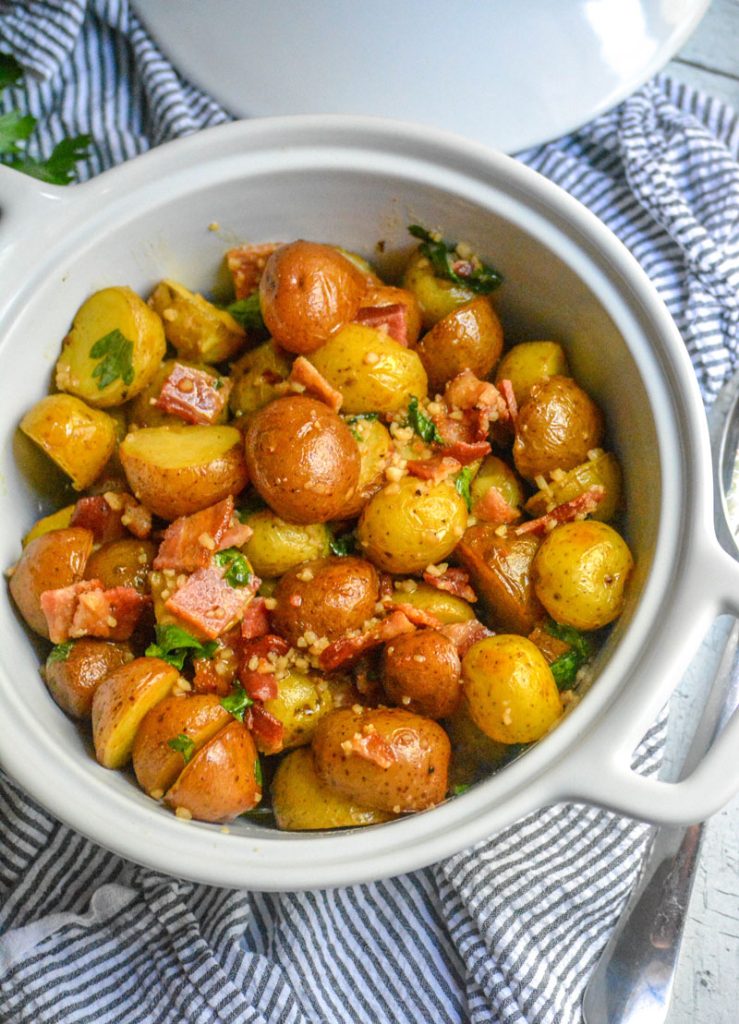 I love both, but there are a couple of problems I find with these tried & true favorites. First off, they're almost always exclusively mayonnaise based dishes. Thus, making them very similar in taste and texture. Not always mind you, but too often for me to enjoy both at the same event.
The second problem, really the biggest problem- the fact that they're both mayo-based recipes. Don't get me wrong, I love mayonnaise. Rarely will I even consider enjoying a sandwich without it. I also am a huge lover of both pasta & potato salads. In my house, or other wise air conditioned environment.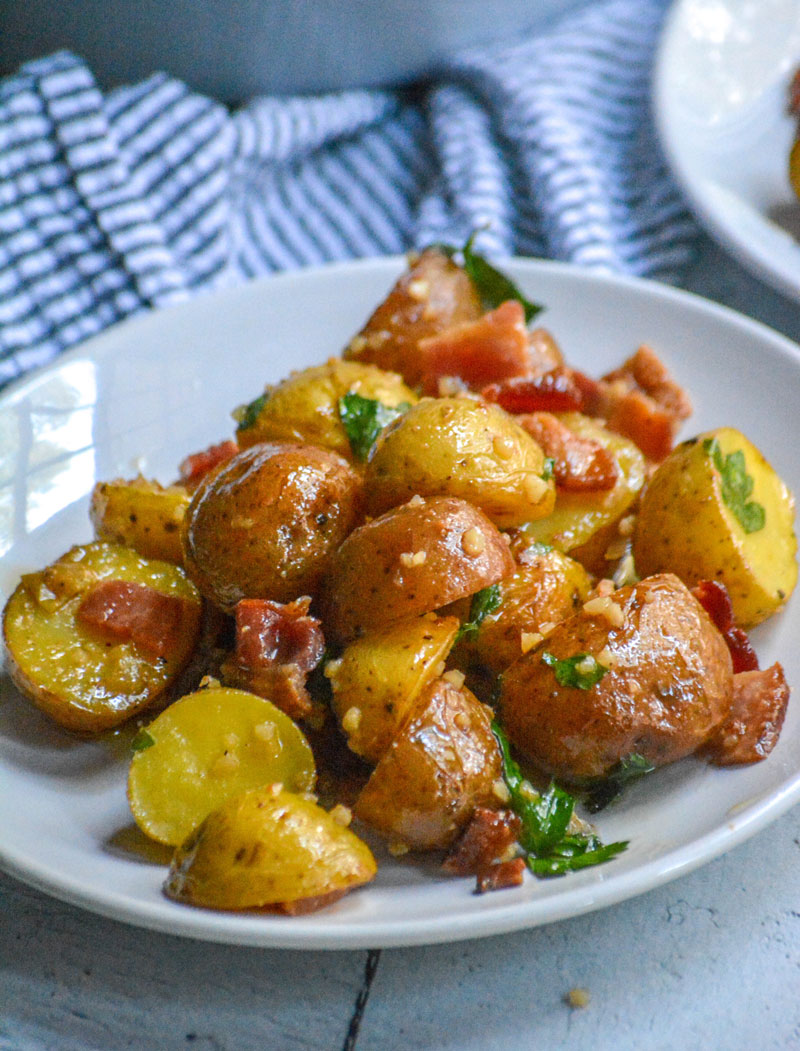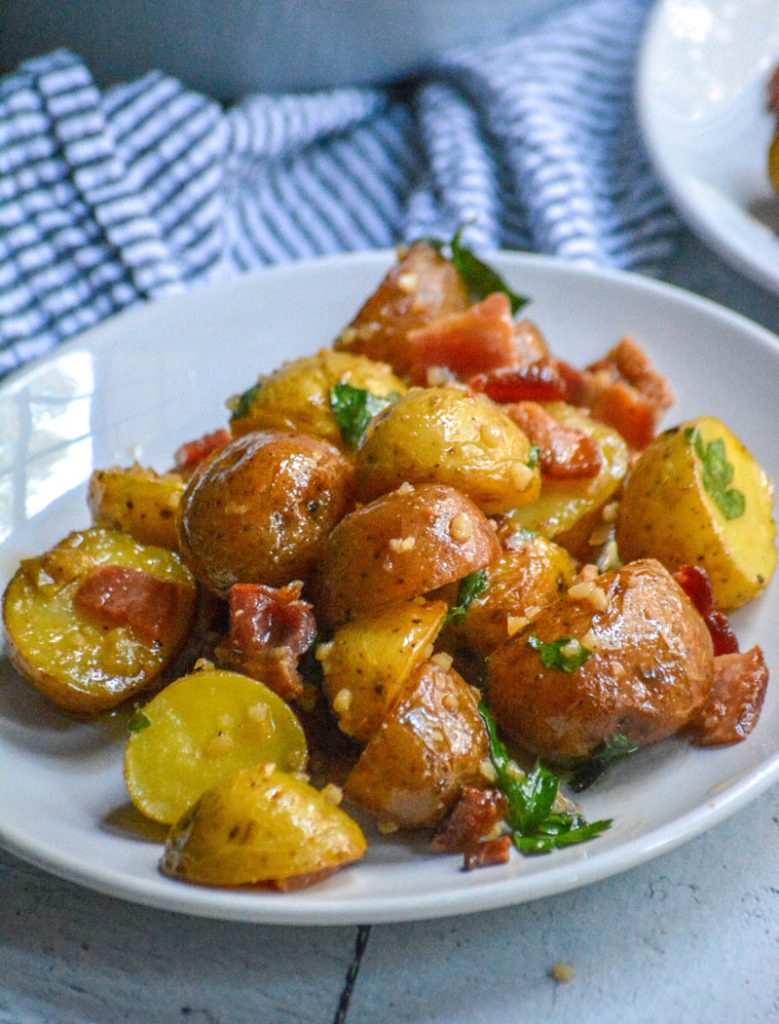 The creamy white condiment and heat do not get along. Mayonnaise is an emulsion, the result of the blending together of olive oil & raw egg yolks. Think about that for a minute, and then think about what could possibly go wrong by introducing high heat (temperatures) to the mix.
The tenuous bond that the eggs and oil share begins to break down from the prolonged exposure to heat. The mixture separates losing its texture in the process & becoming watery and translucent. Not a good look, or taste, for a chilled carbohydrate infused side dish.
Even more concerning, it's the perfect environment for bacteria to begin to rapidly grow. The risk of this, and the disaster of your dish completely coming apart can be avoided if precautions are taken. If we're hosting and choose to serve these salads, or if a guest brings them to the potluck- we settle them into larger dishes nestled in ice. This keeps them chilled. Crisis averted! But how often do you see people actually doing this? Not often enough for me.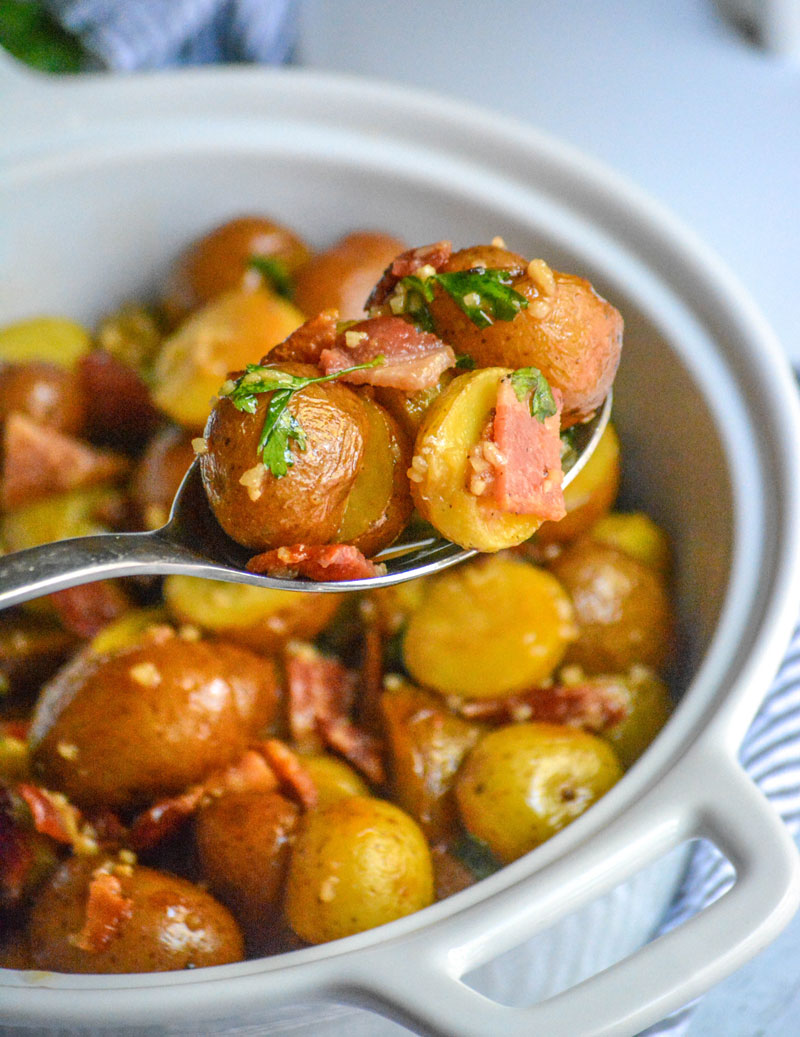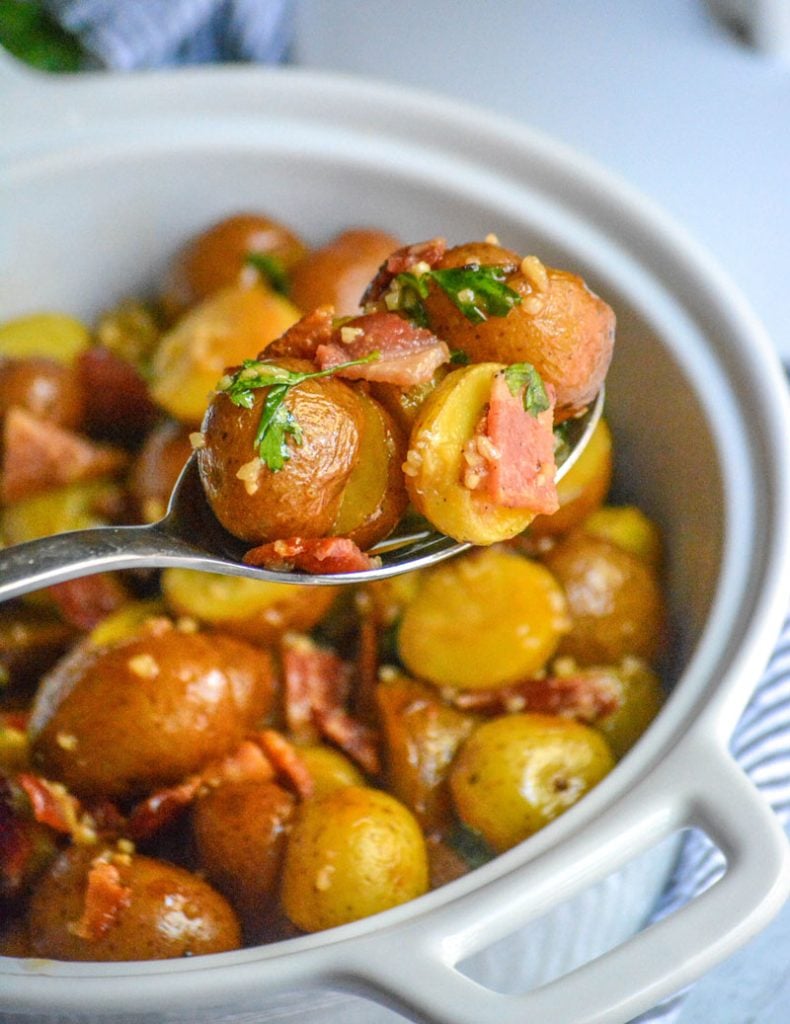 That's the whole reason I decided to come up with a new spin on these classic sides. A new mayo-less spin. One that was just as yummy, but without any second guessing. No extra steps necessary, but still full of flavor. That's how I came across the idea for a warm potato salad. Conveniently for me, the German's had already figured this out.
Now it was time to find a way to give it an Americanized make-over. There's nothing more American than adding bacon to just about everything, potato salad included. The wheels were turning, and this Warm Bacon Honey Mustard Potato Salad was underway.
Ingredients Needed For Warm Bacon Honey Mustard Potato Salad:
little potatoes
bacon
vinegar
Dijon mustard
garlic
honey
olive oil
Italian parsley
salt & pepper
For such a robust potato salad, the ingredient list is surprisingly small. All the better for me! Most of this stuff I keep on hand, and I love a recipe that doesn't require a special trek to the store.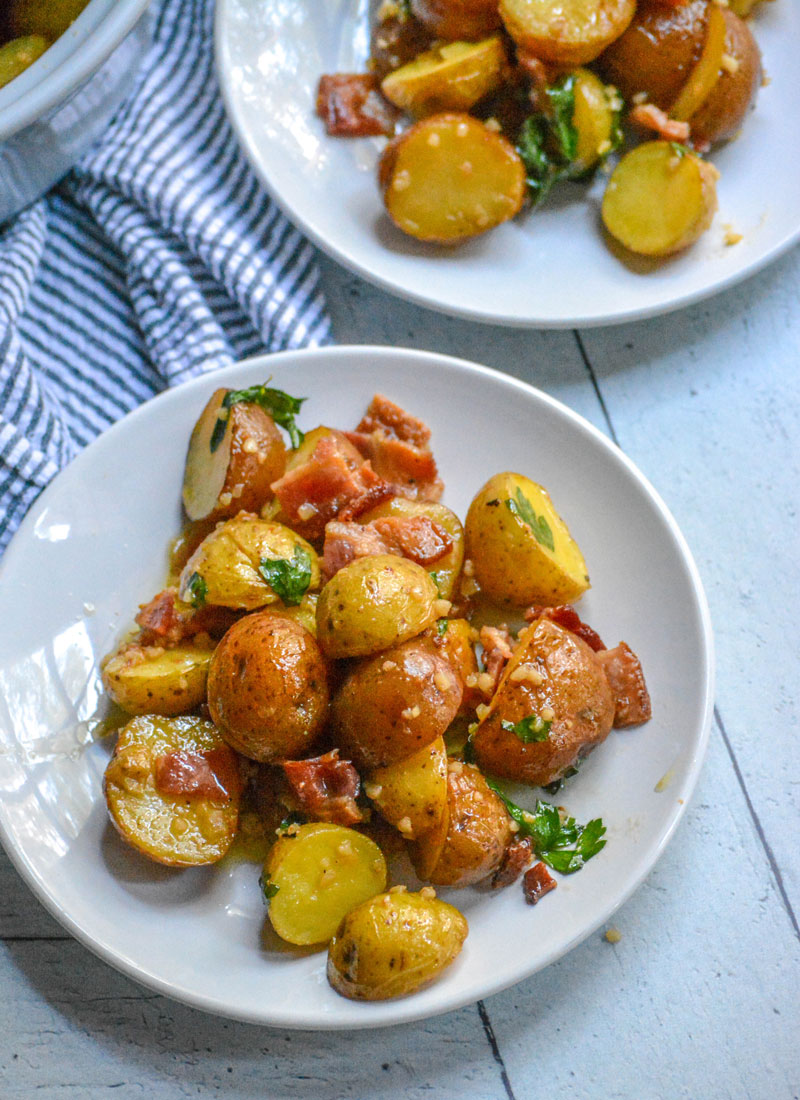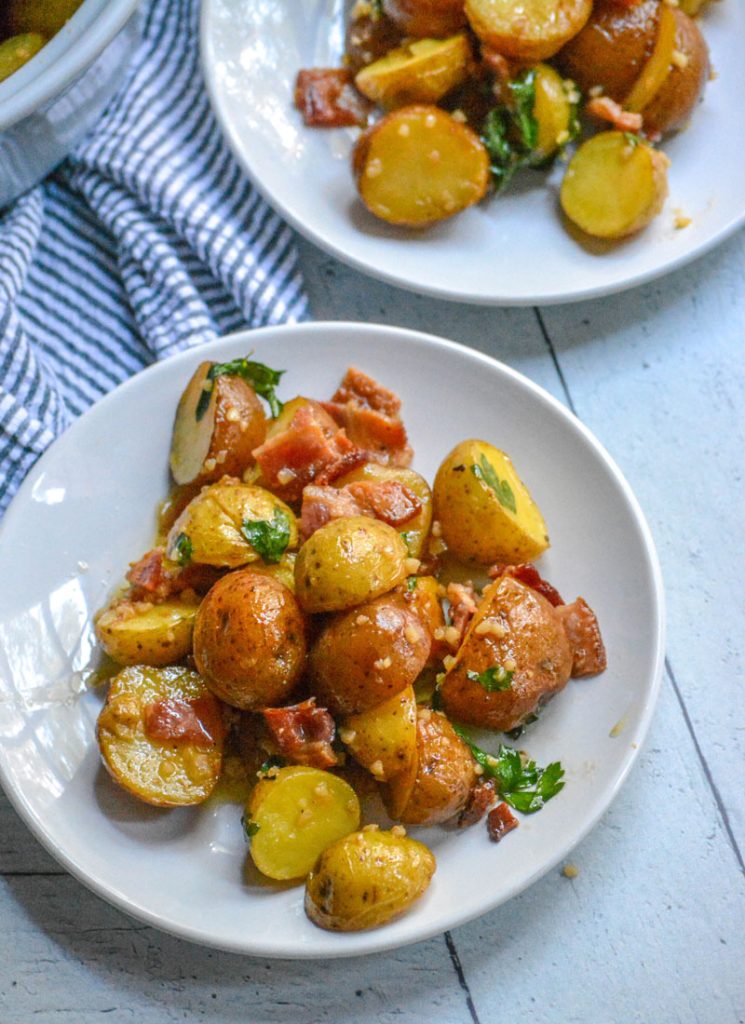 Just like it's relatively short ingredient list, this dish is easy to whip up. If you've got 30 minutes, you've got this dish.
How To Make This Warm Honey Mustard Potato Salad:
Spread several strips of bacon out on a sheet pan. Bake for 14 minutes, flipping half way through. Remove to paper towels.
Add cut potatoes, cut side down, to the bacon greased pan. Bake for 30 minutes- flipping half way through.
In a large mixing bowl, toss the potatoes, bacon & parsley to evenly combine.
In a separate bowl, whisk the vinegar, mustard, honey, garlic, olive oil, salt & pepper together until smooth.
Pour the dressing over the still warm potatoes, gently tossing to combine.
That's it, this warm potato salad's ready. My favorite part is, when it's done, it's done. There's no chilling required. Set it out and serve as is! No extra chilling time's needed. No froofing. It's ready to be scooped and enjoyed.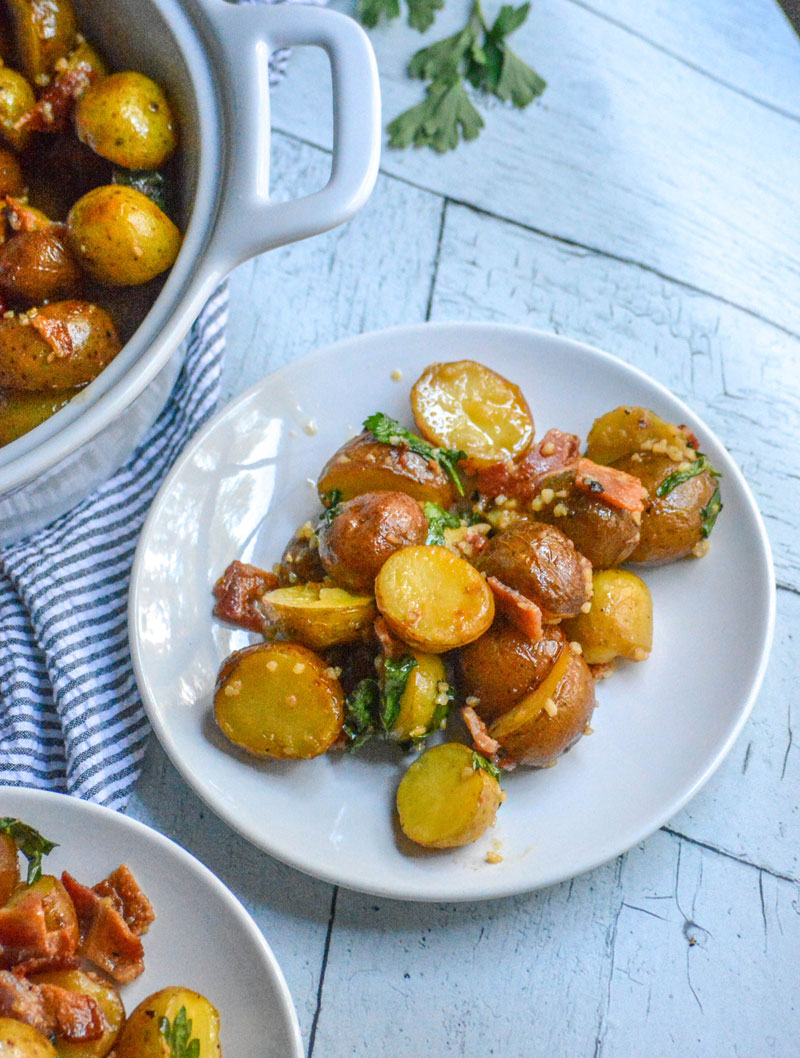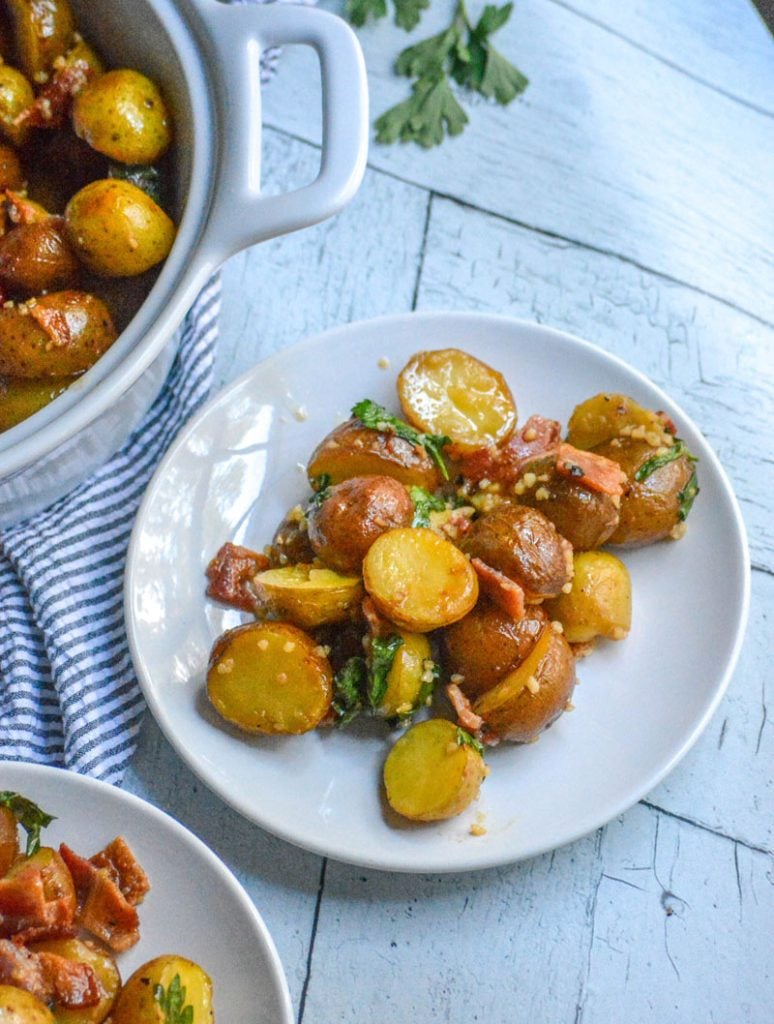 There are a couple of things you can do to make life, and this dish, even easier though. A couple of tips & tricks I've learned over the various potluck seasons. I'm happy to share them too!
Tips & Tricks:
Before putting the bacon on the pan, spread parchment paper evenly out over top. Make sure it's a big enough sheet that it comes up and over the edge of the pan. This will create a 'bowl' that will contain all the grease. When you're done, just carefully transfer the paper & all the grease to the trash. The clean, now cool pan's ready to be put away.
I love using little potatoes, specifically the little potato company's brand. You can also use new potatoes, or baby reds with equal success.
If you want to use precooked, crumbled bacon that's fine. You will need to add some olive oil to the sheet pan and toss the potatoes in it before baking.
Like a little more bite & texture in your potato salad? Stir in a 1/3 cup of diced red onion when tossing the dry ingredients together.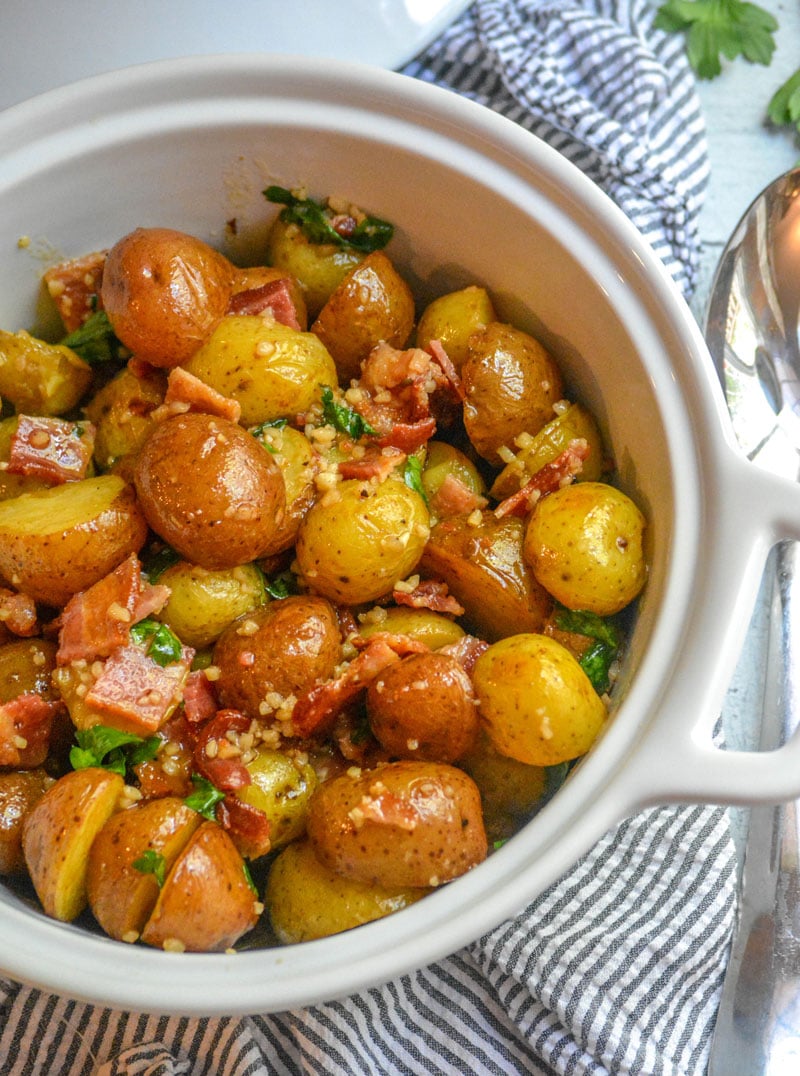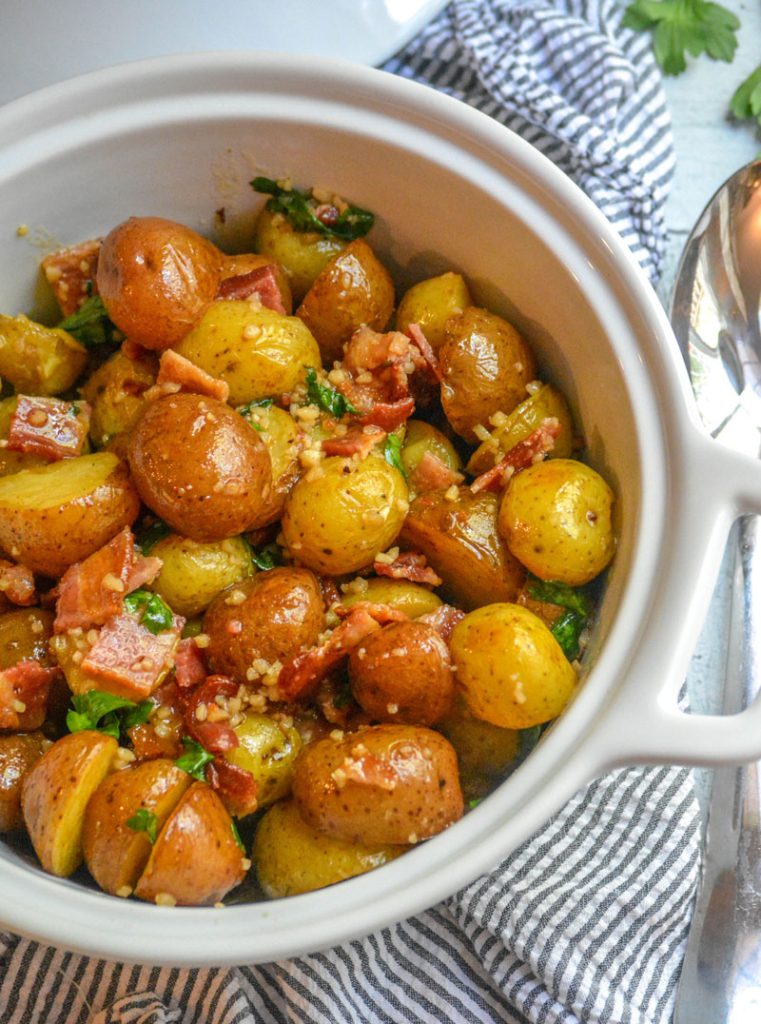 Don't shy away from the idea of a warm potato salad. It's a delicious change of pace, with a much longer shelf/table life at parties. It won't fall apart, or disappoint your guests.
Other Tasty New Ways To Do Potato Salad: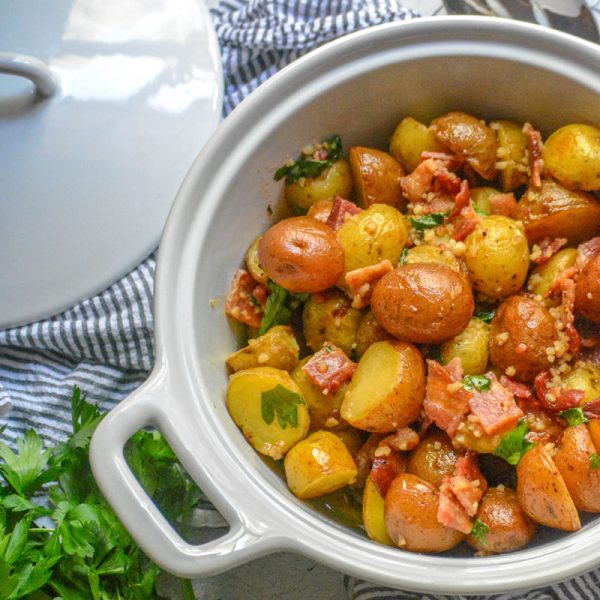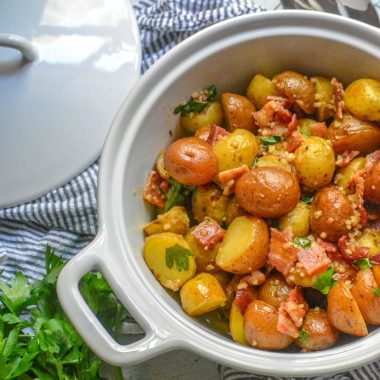 Warm Bacon Honey Mustard Potato Salad
A warm potato salad, this version features bacon & Italian parsley tossed in a tangy vinegar based homemade honey mustard dressing.
Print
Pin
Rate
Ingredients
1 1/2

lbs

little potatoes, halved

4

slices

thick cut bacon

3

tbsp

red wine vinegar

1

tsp

Dijon mustard

2

tsp

honey

3

tsp

minced garlic

1/2

cup

extra virgin olive oil

1/2

cup

fresh Italian parsley

roughly chopped

salt & pepper

to taste
Instructions
Spread the bacon out onto a sheet pan. Bake it at 375 degrees for 7 minutes. Flip the bacon and bake another 7 minutes. Transfer the bacon to layered paper towels to drain off excess grease. Roughly chop it; set aside.

Place the potatoes, cut side down, onto the bacon sheet with the bacon grease. Bake them for 15 minutes, flip and bake another 15 minutes.

Transfer the potatoes to a large mixing bowl. Add the bacon & parsley. Gently toss to evenly combine.

In a small mixing bowl, add the vinegar, mustard, honey, garlic, salt & pepper. Stir the ingredients together to combine. Pour in the olive oil, and whisk the mixture briskly so that everything combines and adheres forming the honey mustard dressing.

Pour the dressing evenly out over the potatoes, and gently toss to evenly combine.
Nutrition
Calories:
352
kcal
|
Carbohydrates:
21
g
|
Protein:
5
g
|
Fat:
28
g
|
Saturated Fat:
6
g
|
Cholesterol:
16
mg
|
Sodium:
193
mg
|
Potassium:
591
mg
|
Fiber:
2
g
|
Sugar:
3
g
|
Vitamin A:
430
IU
|
Vitamin C:
16.8
mg
|
Calcium:
21
mg
|
Iron:
1.4
mg