Skinny Buffalo Potato Salad is the new twist on the traditional Spring & Summer side dish you're gonna want in on. It's light yet creamy, and packin' some flavor. It's destined to be a star side dish at any picnics, barbecues, and even backyard patio dinners.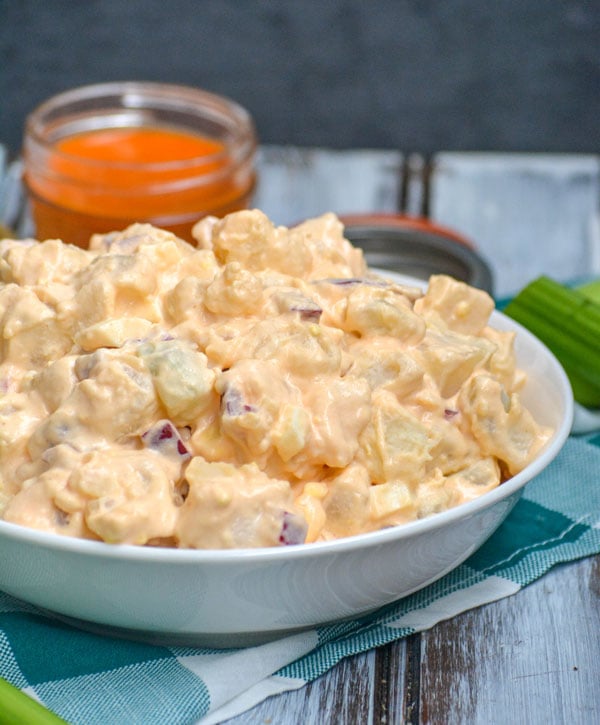 If you've followed us for any amount of time you know that I've got a thing for traditions. Every holiday has its own little nuances and little things that, come hell or high water, we are going to adhere to.
Another Easter just came to pass, and it's no exception to the 'mom is a crazy lady who is dying to make memories' rule.
For example, every year we go to a local historical park that features a variety of animals and gorgeous gardens and views. It's a big affair, complete with grandparents and aunts too.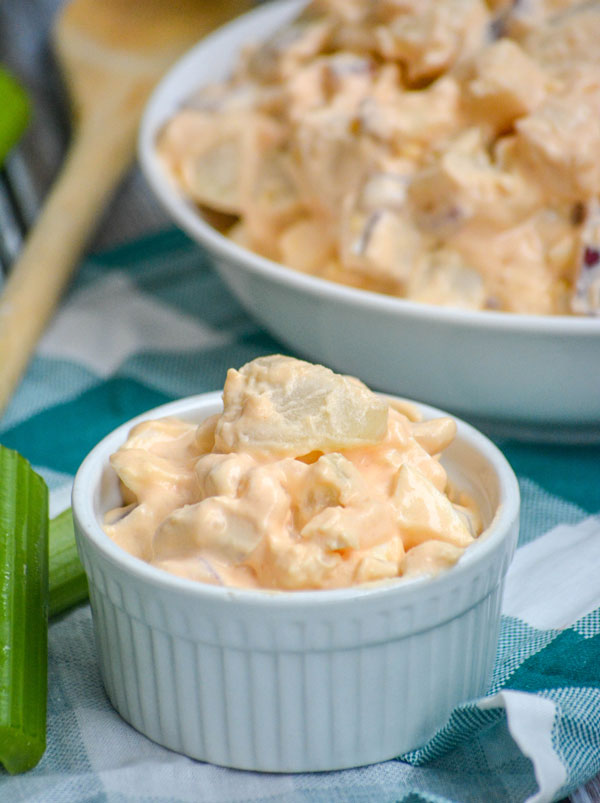 Each year we kick the whole shebang off with a picnic lunch. Really. Every year.
Sadly though, like everything else it seems, I was pretty sure the older sons had aged out of caring this year, and I purposefully didn't bring it up. I didn't want to be all emotional when it was time to argue about it and for me to finally have to force them to go by pulling the 'because I said so, and you're gonna like it dammit' card.
I mean family time is family time. Right? Non-negotiable. But, to my surprise and utter delight, when I didn't bring it up and Easter was creeping closer and closer, the older sons started to have a mild freak out.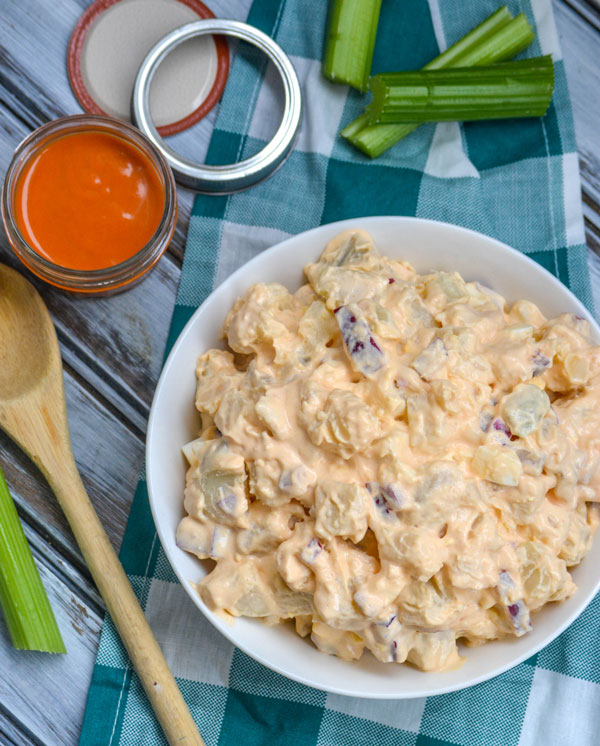 Umm, excuse me? Of course we're having an Easter picnic/park day! Duh. How could you doubt me?
I was prepared to drag you there by the scruff even if you complained the whole way there, because tradition!
But it made my heart so happy that you were that adamant about going yet again.
So, with that emotional crisis averted for all parties involved, we got back to the next most important thing. The food!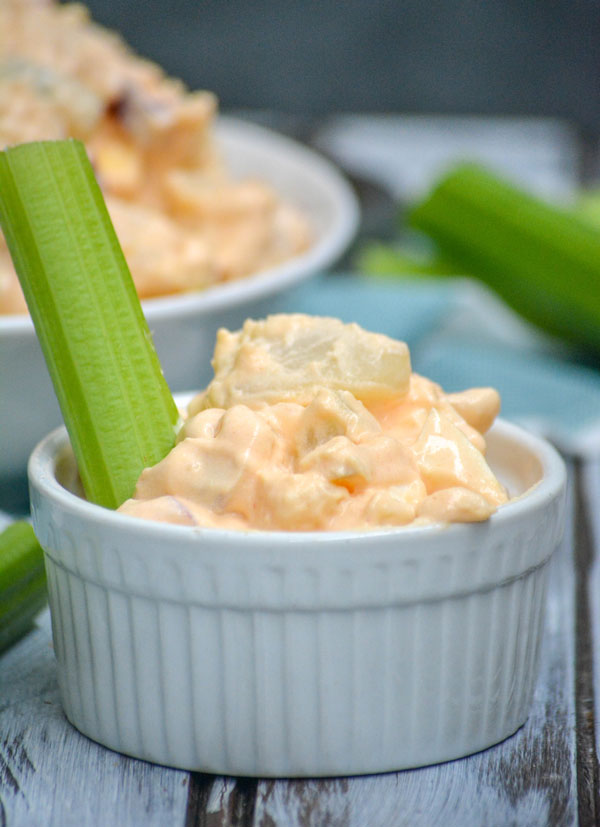 After all, that's our biggest tradition and the memories made around it one of our greatest legacies.
For us no picnic lunch, especially an Easter Sunday picnic lunch, is complete without potato salad. It's a staple. We're not even real picky on the kind as long as it has the same style base. Potatoes, something creamy like mayo, and a heaping helping of vibrant flavors.
This lightened up, buffalo style version is one of our favs. If I were a bettin' woman, I'd be willing to bet that soon it's guaranteed to be one of yours too 😉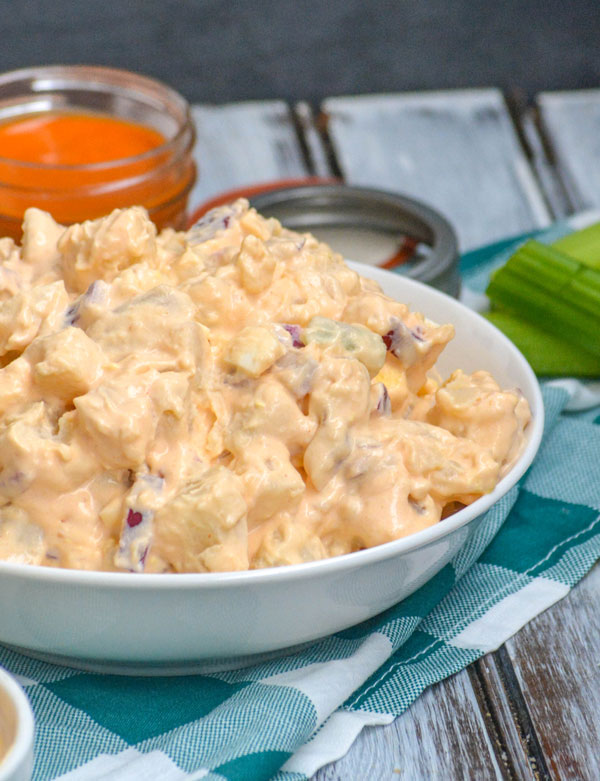 Other Versions of Potato Salad To Try:
If you've tried this CREAMY FRENCH ONION DIP, or any other recipe on the site, let me know in the comment section how it turned out, we love hearing from our readers! You can also follow along with me on PINTEREST, FACEBOOK, and INSTAGRAM to see more amazing recipes and whatever else we've got going on!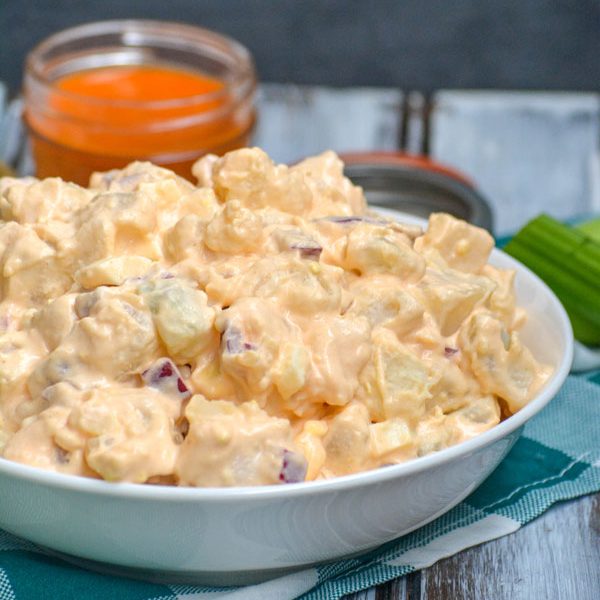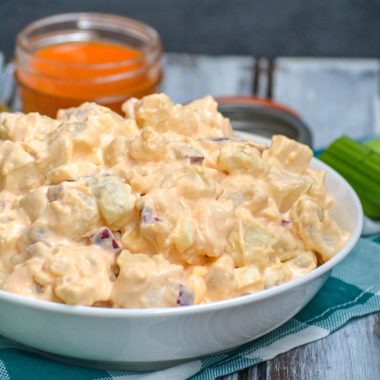 Skinny Buffalo Potato Salad
A quick & easy, creamy potato salad, this healthier Buffalo version will satisfy any Summer barbecue or picnic craving without weighing you down.
Print
Pin
Rate
Ingredients
2

lbs

red and/or russet potatoes

washed, peeled, & diced into 1/2″ cubes

heaping 1/2 cup light mayonnaise

1/2

cup

plain Greek yogurt

2-4

tbsp

buffalo wing sauce

we prefer a mild sauce

salt and pepper

to taste

1/3

cup

diced red onion

1/4

cup

diced celery

optional

2

hard boiled eggs

peeled and diced
Instructions
In a medium sized pot, add the potatoes and add water until it just covers them. Add about 1 tsp salt, and bring the water to a boil over high heat. Allow the potatoes to boil for about 10 minutes, or until fork tender. Transfer the potatoes to a colander to drain, and gently rinse with cold water for about one minute to stop the cooking process and cool them off.

In a large bowl, whisk together the mayonnaise, yogurt, buffalo sauce, and salt and pepper. Using a spatula, gently fold in the remaining ingredients, stirring just until everything is evenly incorporated.

Serve as is, or store in an airtight tupper ware, until chilled or needed, whichever comes first. This potato salad can be made up to a night ahead of time.