Breakfast doesn't get any easier, if you've got a cast iron pan, than this sweet Mixed Berry Cast Iron Pancake. Quick & easy, it makes a great start to the day on busy morning, or an easy brunch on the weekends. Either way, you can't go wrong.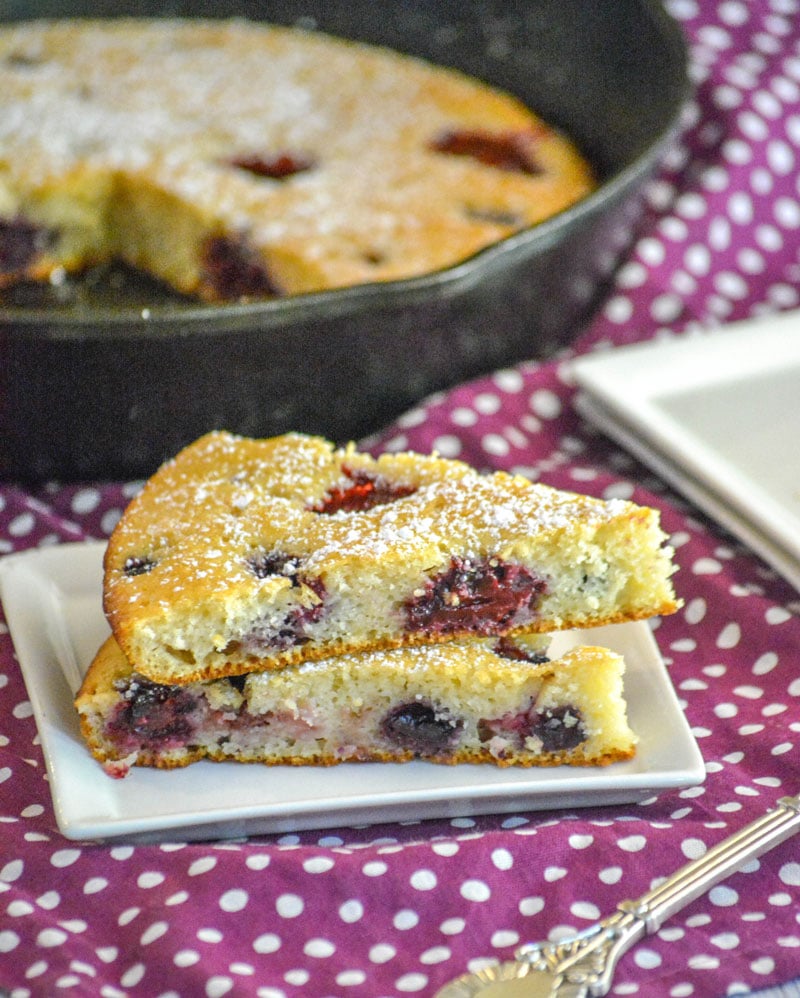 If you grew up in the South, chances are that you grew up around a kitchen full of at least one trusted cast iron skillet. I myself remember Grandma's well-seasoned one sitting on her stove top, always ready on stand-by.
I've since created my own set, some of which I've inherited from Grandma herself and others. Some pieces I've bought myself and added over the years. Each one has many uses, although some are used almost every single day in my kitchen.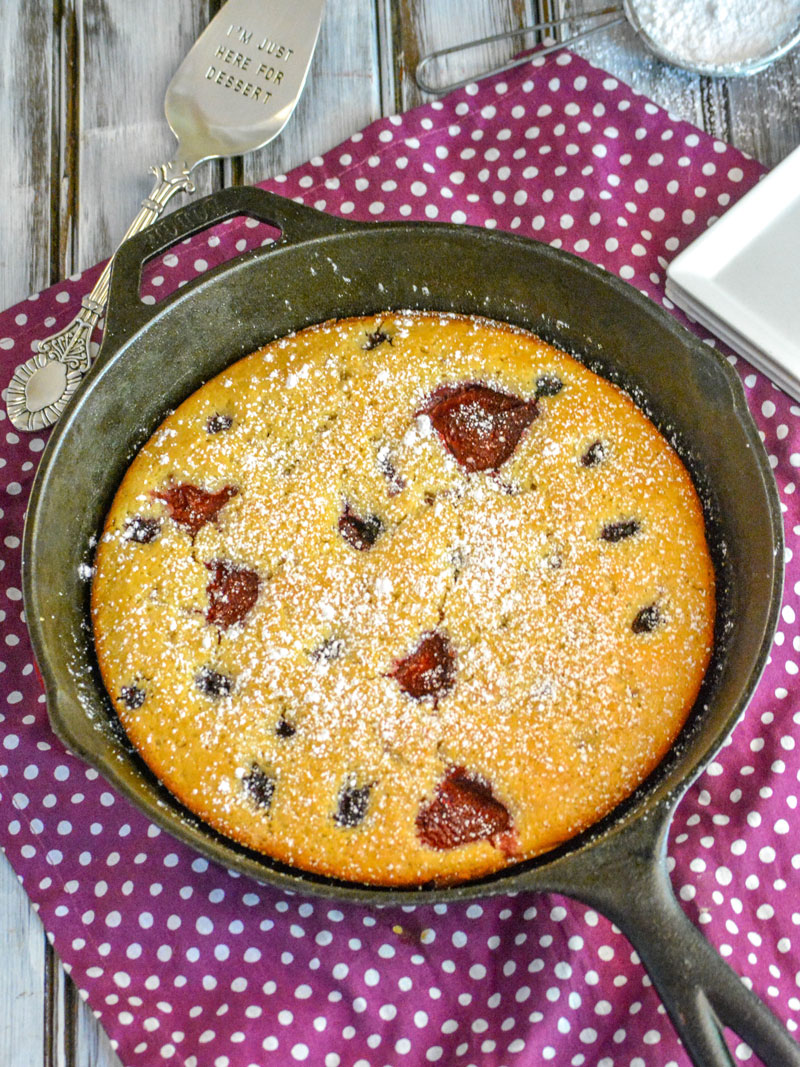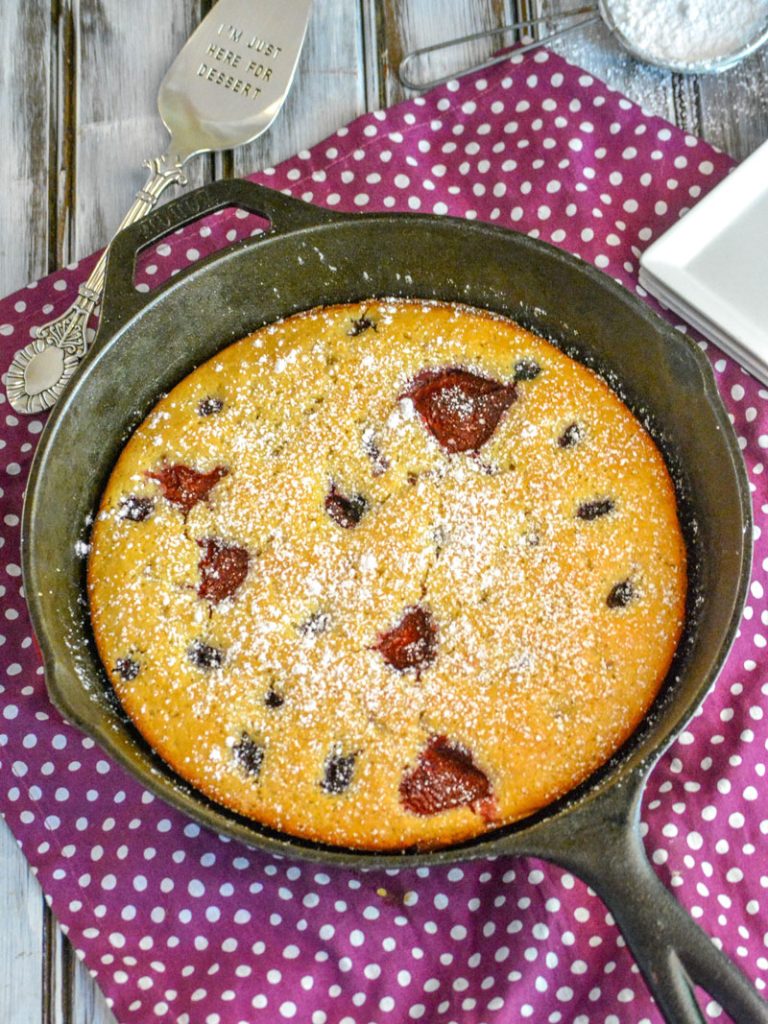 My dutch oven and my large cast iron skillet, those get used almost daily. I couldn't imagine a single day cooking without them.
Unlike most modern pans, whatever they're made of- cast iron has been proven to have been in use for thousands of years, and is safe to use over high heat including a direct flame. They're so durable, they've literally stood the test of time.
And unlike lead, ceramic, and aluminum- there's no reported stories of people getting sick from them or from anything leeching from the pan into food.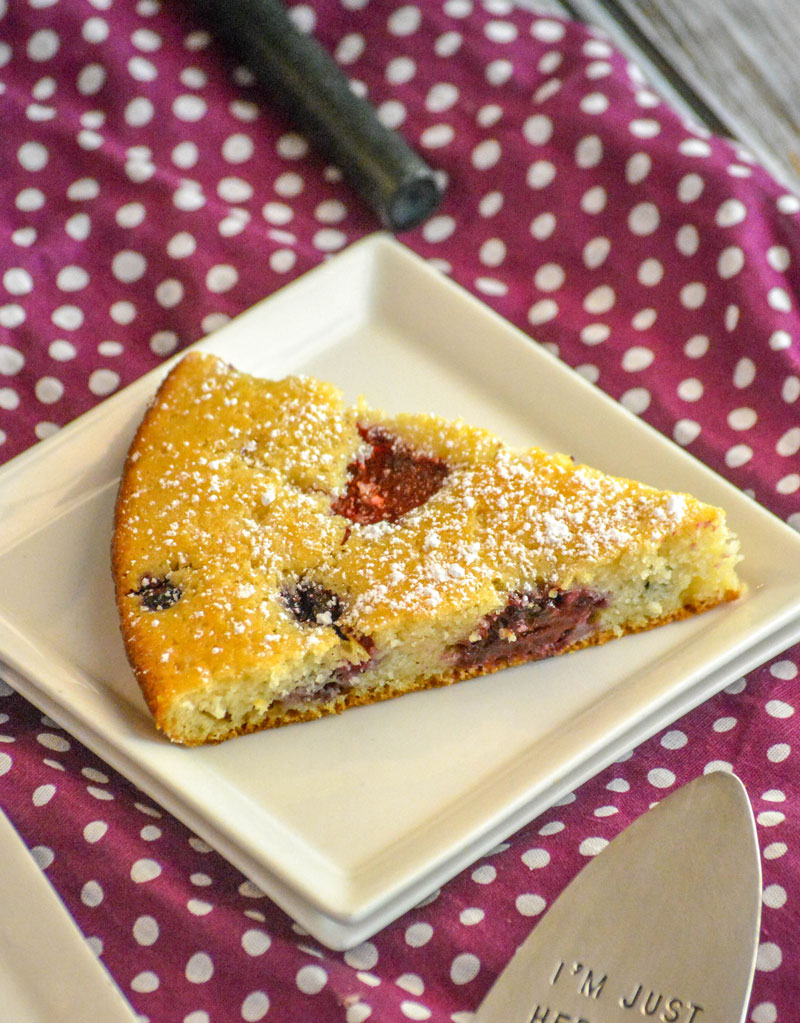 If trace amounts of iron do end up in a dish, it poses no healthy risk since it's an essential mineral the body needs anyway.
A lot of modern companies tout their product as being the best for it's new formula of non-stickness. Cast iron cookware's been doing that for years. Years! My Grandma's has been making some of the best, crispest fried chicken for at least 60 years.
The well seasoned coating it's develops acts as a beautiful barrier making it naturally non stick, all while adding flavor to any dish you fix in it. It even adds as a barrier for acidic foods.
In case you couldn't tell by now, I swear by my cast iron and just want to share that love with you- especially if you weren't already aware some of the awesome things you can do with them.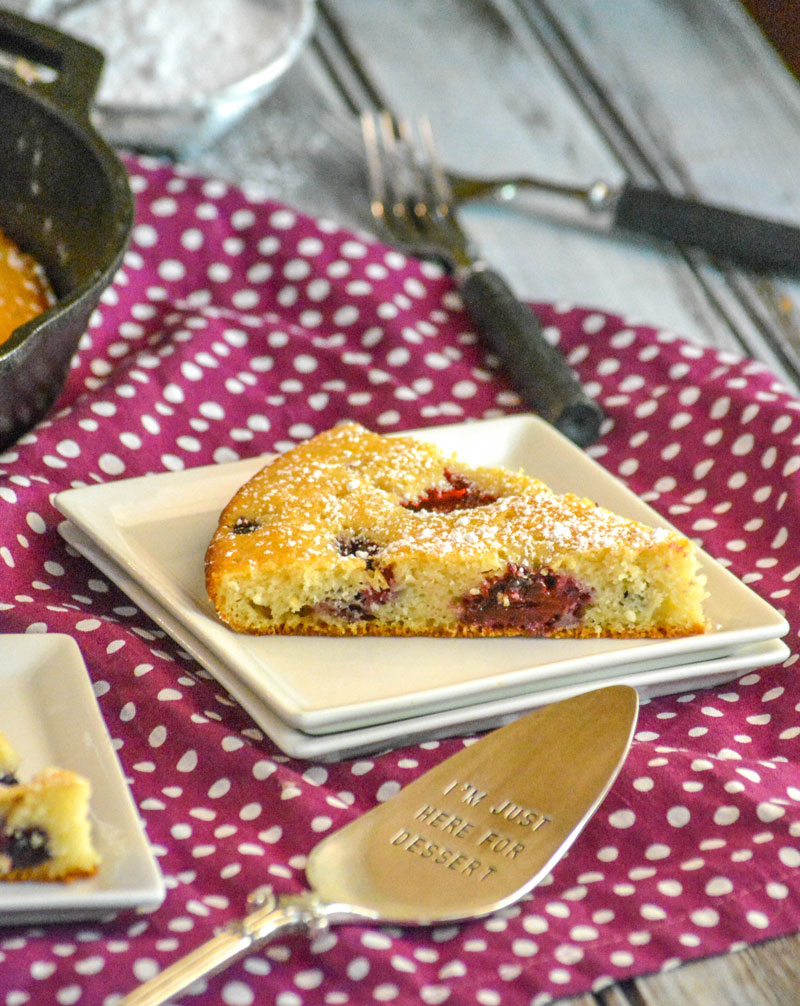 Which is why I'm so excited to share this Mixed Berry Cast Iron Pancake with all of y'all today. It's breakfast made easy, no fuss, no mess, no need to even flip this extra large flap jack.
This isn't a traditional pancake in terms of texture. It does taste pancake-like, but in terms of full disclosure it's not exactly the same. Here we went for, and achieved, a more breakfast like 'cake'- but cooked in a pan, or cast iron skillet here.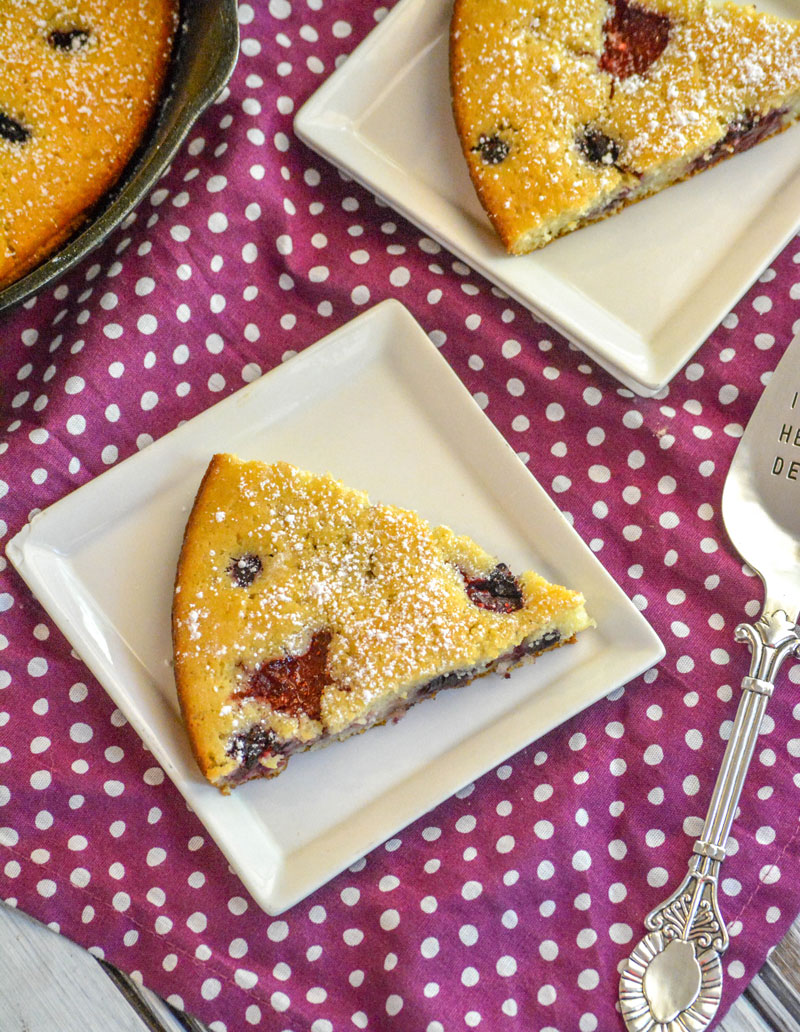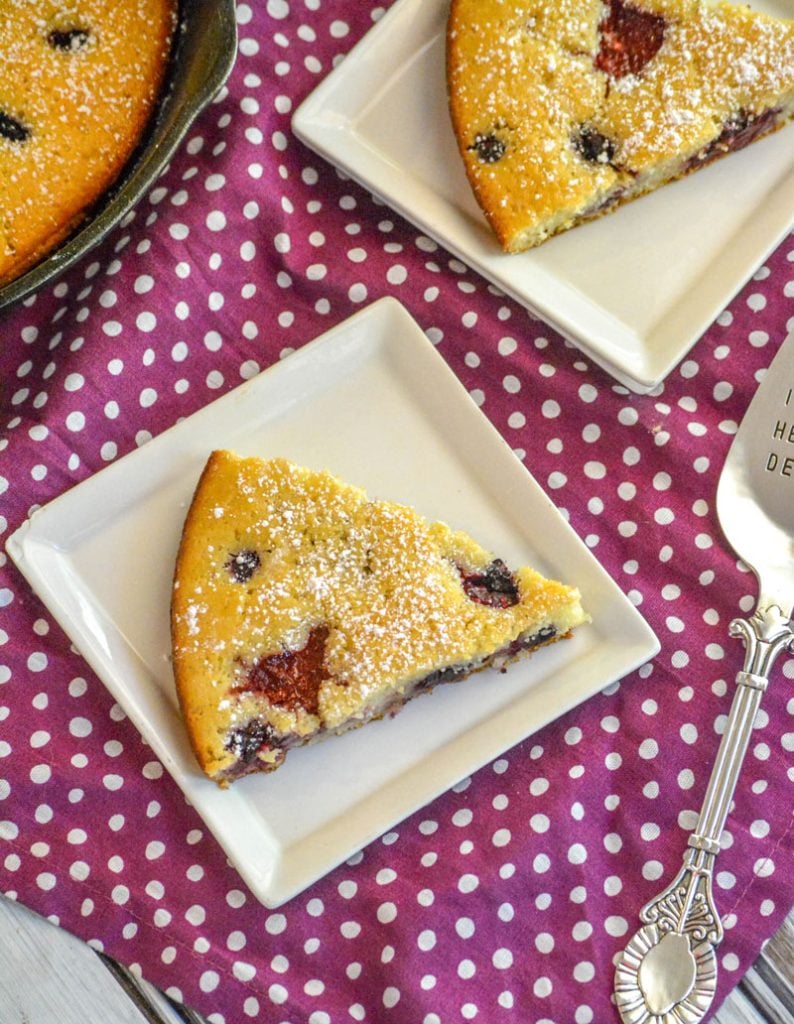 The batter bakes up into a light, fluffy breakfast cake with notes of sweet vanilla and ground cinnamon. After whipping up the batter and pouring it into the prepared skillet, it's studded with a mixture of berries, and the whole thing's baked right in your oven.
We used frozen, thawed berries here, but you can also use fresh. If using fresh, I'd suggest a bit less since they'll reduce their juices when cooked.
We opted for a true mixed berry compilation that included blueberries, raspberries, strawberries, blackberries, and even sweet dark cherries. You can stick with our combination, or use any variation of it, including only a single type.
Don't want any berries in your pancake? Leave them out completely, bake the batter as instructed, and serve them on top with a dollop of fresh whipped cream. Does breakfast even get any better than that?!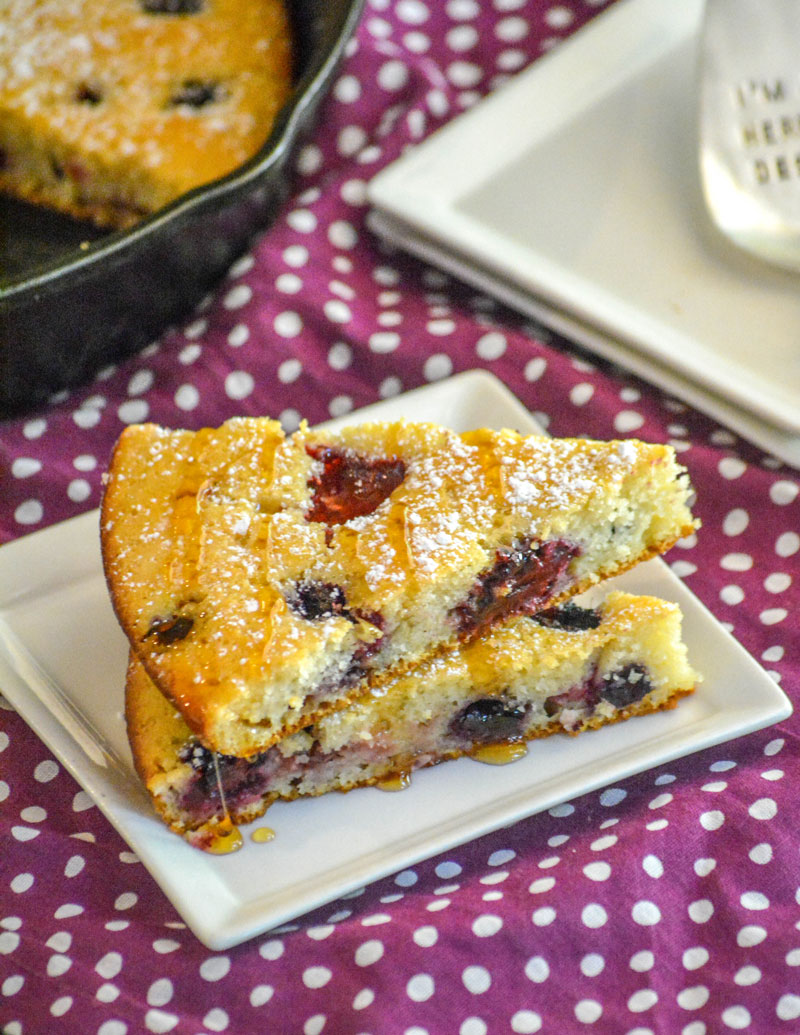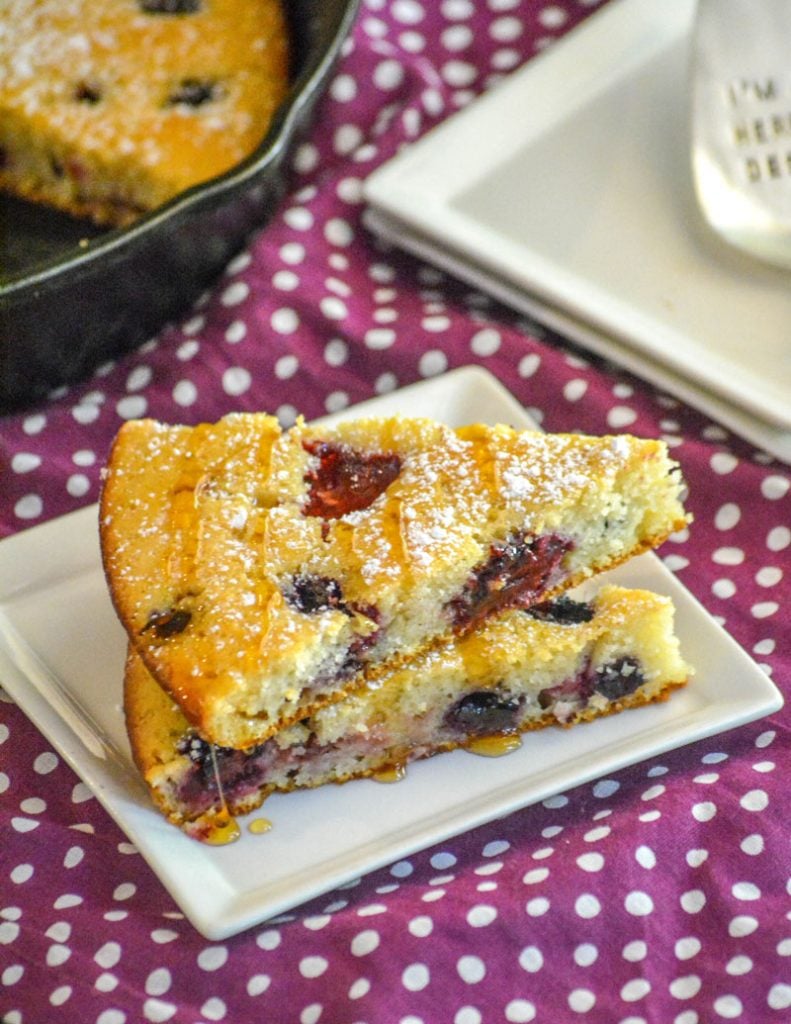 We love this Mixed Berry Cast Iron Pancake served with a drizzle of honey, but syrup would be lovely too. It's an easy breakfast, on a budget, cooked all in one pan. Perfect for brunch, or busy weekdays!
If you don't have a cast iron skillet, I highly encourage you to get one. You can also make some super yummy pan crusted pizzas in it.
If you are already the proud owner of one, then put it to work the next time you're craving a sweet treat for breakfast with this Mixed Berry Cast Iron Pancake.
Other Pancake Recipes You Might Also Enjoy: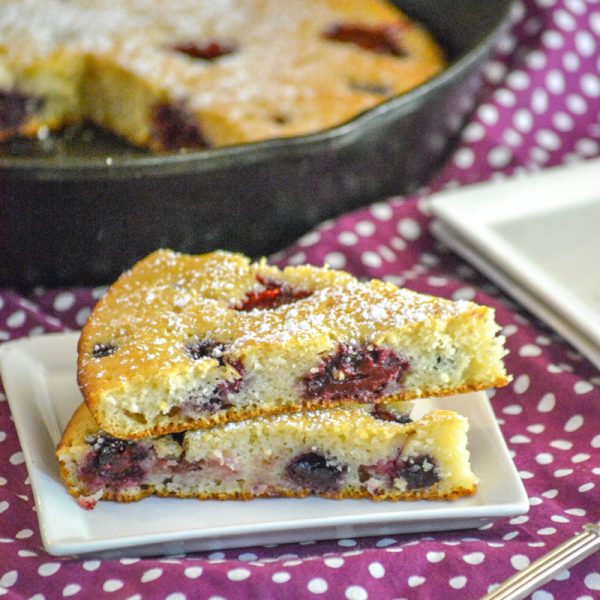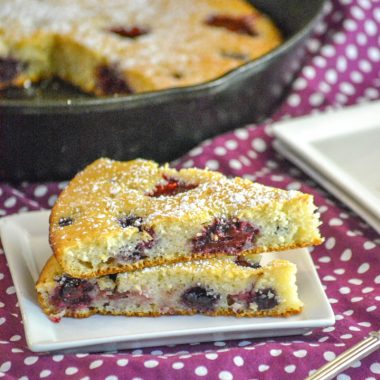 Ingredients
1

cup

flour

3

tbsp

sugar

1 1/2

tsp

baking powder

1/4

tsp

salt

1/8

tsp

ground cinnamon

1

tsp

vanilla extract

3/4

cup

whole milk, or half & half

1

large

egg, room temp

2

tbsp

butter, melted

1

tbsp

butter

1

cup

frozen mixed berries, thawed

1

tsp

sugar

powdered sugar, for dusting
Instructions
Preheat the oven to 375 degrees. Place a 10" cast iron skillet in the oven to heat.

In a medium sized mixing bowl, whisk together the flour, 3 tablespoons of sugar, baking powder, salt & cinnamon- until evenly combined.

In a separate mixing bowl, whisk together the milk, egg, melted butter, and vanilla extract- until evenly combined.

Combine the wet/dry ingredients, whisking just until combined.

Carefully remove the hot skillet. Add the last pat of butter, swirling it around to coat the skillet evenly. Pour/scrape the batter into the pan, smoothing with a spatula.

Spread the fruit evenly out over the top, sprinkling with the remaining sugar.

Return the skillet to the oven, baking 25 minutes- or until golden brown and a toothpick in the center comes out clean. Remove the cooked pancake from the oven, and let rest for 5 full minutes, to set.

Dust the cake with sifted powdered sugar. Slice, and serve with a drizzle of honey or syrup.