These delectable Double Stuffed Oreo Pancake Stacks are perfect for sharing, and for sharing a moment together. Luscious cream cheese based oreo filling is liberally spread between layers of chocolate oreo flavored fluffy pancakes.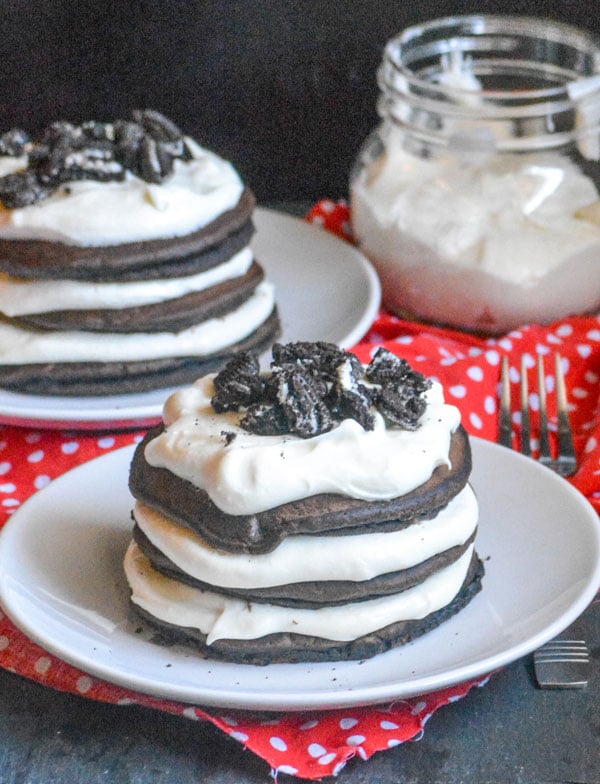 Did you and your significant other celebrate Valentine's Day this past week? Did you do something special? We'd love to hear about it in the comments.
If you're like us though, while we wanted to, it was a work week- so our real celebration together had to be saved for the weekend.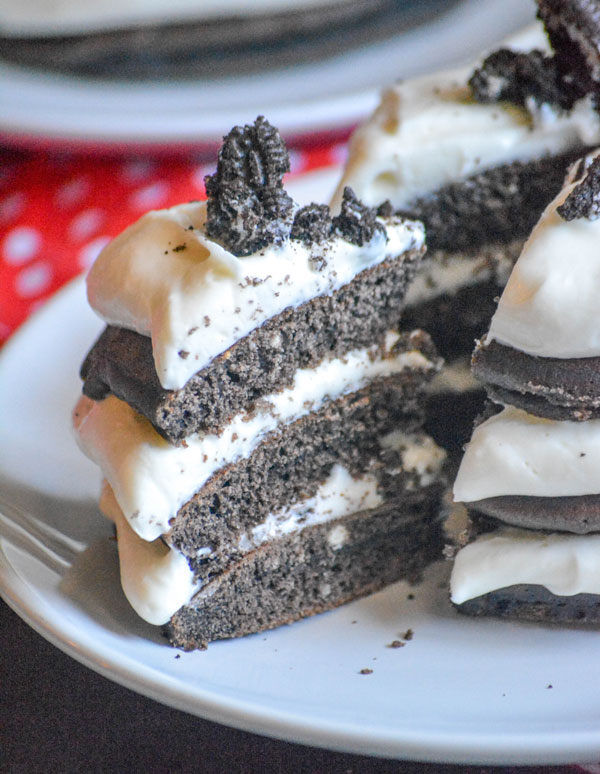 Either way, even if we can't do a little something on 'the day' the hubs and I always do a teensy something. Like we always get each other a thoughtful card, and he gets me a fresh boquet of flowers.
This year, the Hubs had to work his regular shift, and then some since his job had a deadline ironically ending on February 14th.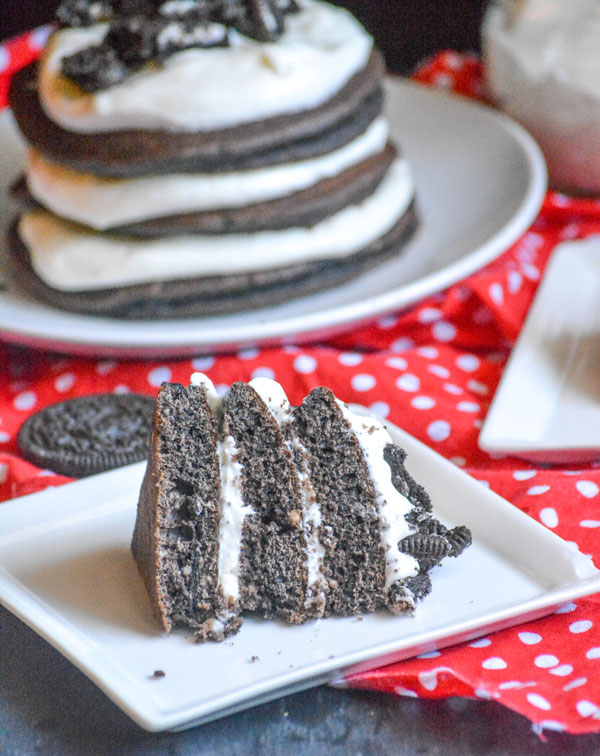 I was expecting nothing, even though he usually does get me at least a card and some fresh flowers. He knows how I love fresh flowers on my table.
I greeted him at the door, served him his plate of dinner, and was deep into a conversation on how his day went when he asked me was I upset. Why would I be upset? Oh, because it's almost midnight and he didn't have time to do anything for the special day. No, honey-I'm not upset. You're busting your butt, making money for our family.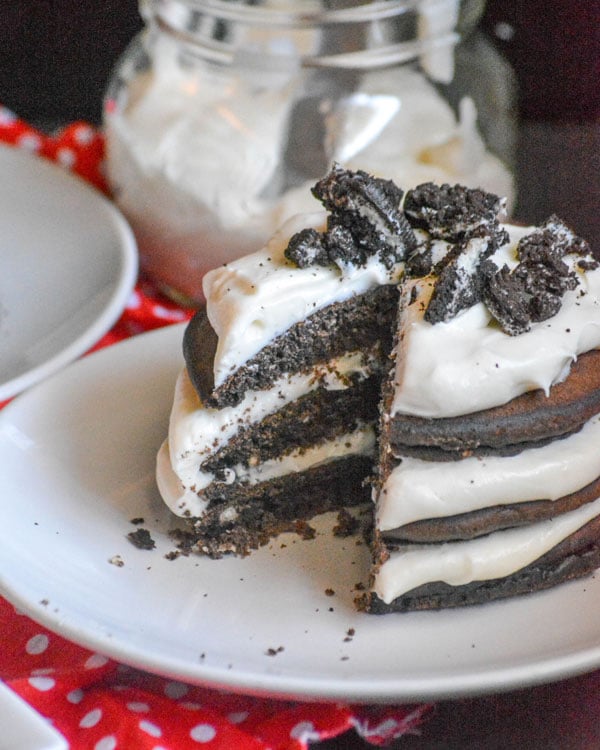 Wouldn't you know it, my husband pop right up from the table, opens the front door, and grabs a bouquet of fresh flowers, chocolates, and a card he'd been trying to hide.
Lord have mercy, I love this man.
So now that the weekend is here, it's my time to shine- in the kitchen with a special little something to show him just how much I love and appreciate him (and everything he does for us).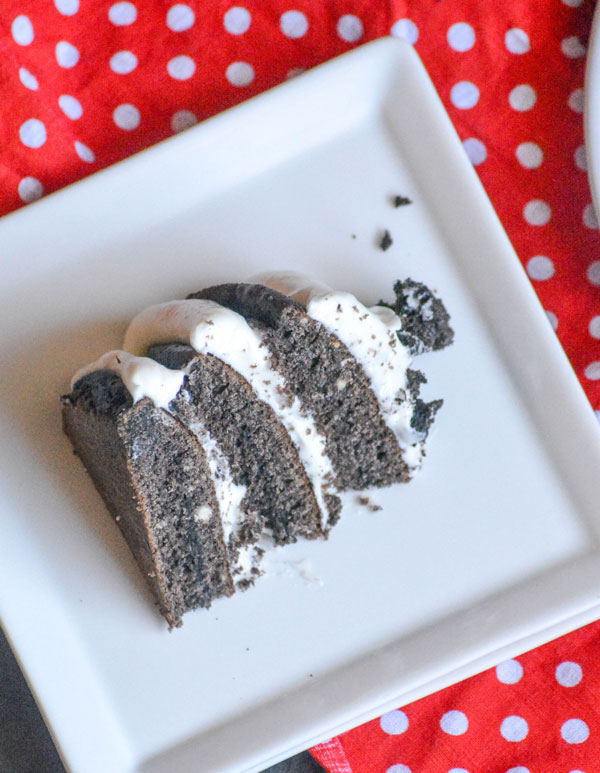 He is gonna get pampered y'all. I'm talkin' sleeping in, kids quiet, nothing on his Honey Do list, and served breakfast in bed with a heaping helpin' of our Double Stuffed Oreo Pancake Stacks to dig into.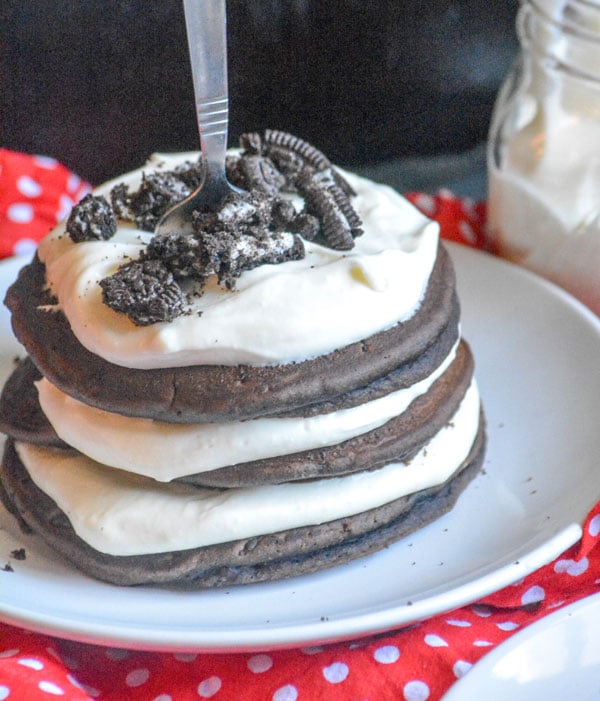 Yummy pancake stacks are always a plus, this recipe features layers of chocolaty oreo flavored pancakes alternating with creamy oreo filling. It's the ultimate in indulgence.
It's THE sweet treat meant to grace breakfast tables, brunch buffets, and even a dessert table or two.
If you've tried these DOUBLE STUFFED OREO PANCAKE STACKS, or any other recipe on my site, let me know in the comment section how it turned out, we love hearing from our readers! You can also follow along with me on PINTEREST, FACEBOOK, and INSTAGRAM to see more amazing recipes and whatever else we've got going on.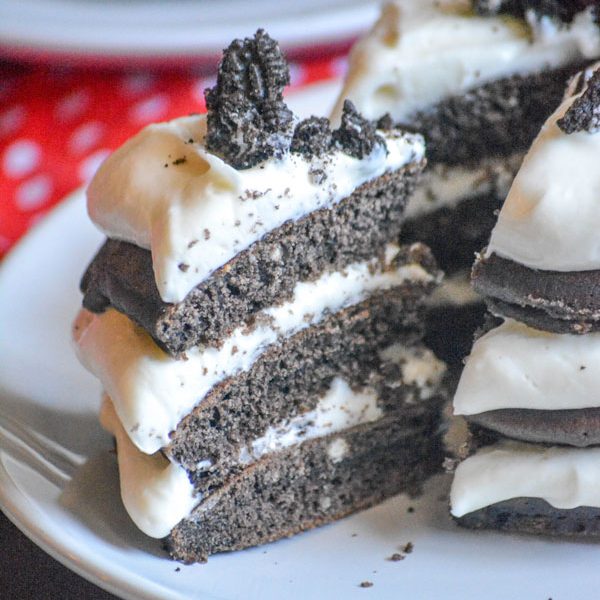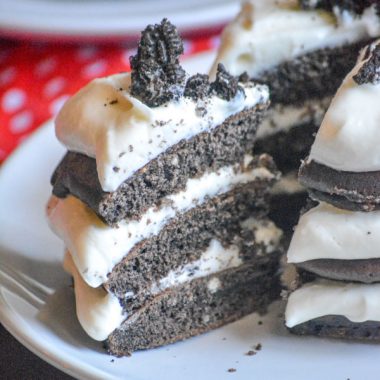 Double Stuffed Oreo Pancake Stacks
A sinfully sweet breakfast, these pancake stacks feature layers of oreo flavored cakes alternating with layers of creamy oreo filling in double stuffed portions.
Print
Pin
Rate
Ingredients
For The Oreo Pancake Batter
20

oreo cookies

1

cup

pancake mix

1

cup

of milk

1

tbsp

chocolate syrup
For The Double Stuff Stuffing
6

oz

cream cheese, softened and cubed

1

cup

sifted powdered sugar

1

tbsp

milk
Instructions
Add the oreos to the bowl of a food processor. Crush them, transfer them to a bowl, and wipe out the food processor bowl completely.

Now, add all of the double stuff stuffing ingredients to the bowl of a food processor, and blend until smooth and completely incorporated. Set aside.

Add the oreos and pancake mix to the bowl of a stand mixer. Mix just until blended together. Add the milk and syrup, mixing again just until all of the ingredients are incorporated and the mixture's smooth.

Cook the pancakes on a hot griddle, sprayed with non stick spray, and flipping when bubbled appear on top. Remove each cooked pancake to a plate. Let it cool for a minute before spreading some of the double stuff cream on top.

Continue stacking the cooked pancakes with layers of cream in between until you've reached 3-4 high. Top with additional cream and crumbled oreos. Serve immediately.
Other Pancake Recipes You Might Enjoy:
Red Velvet Pancakes with Cream Cheese Glaze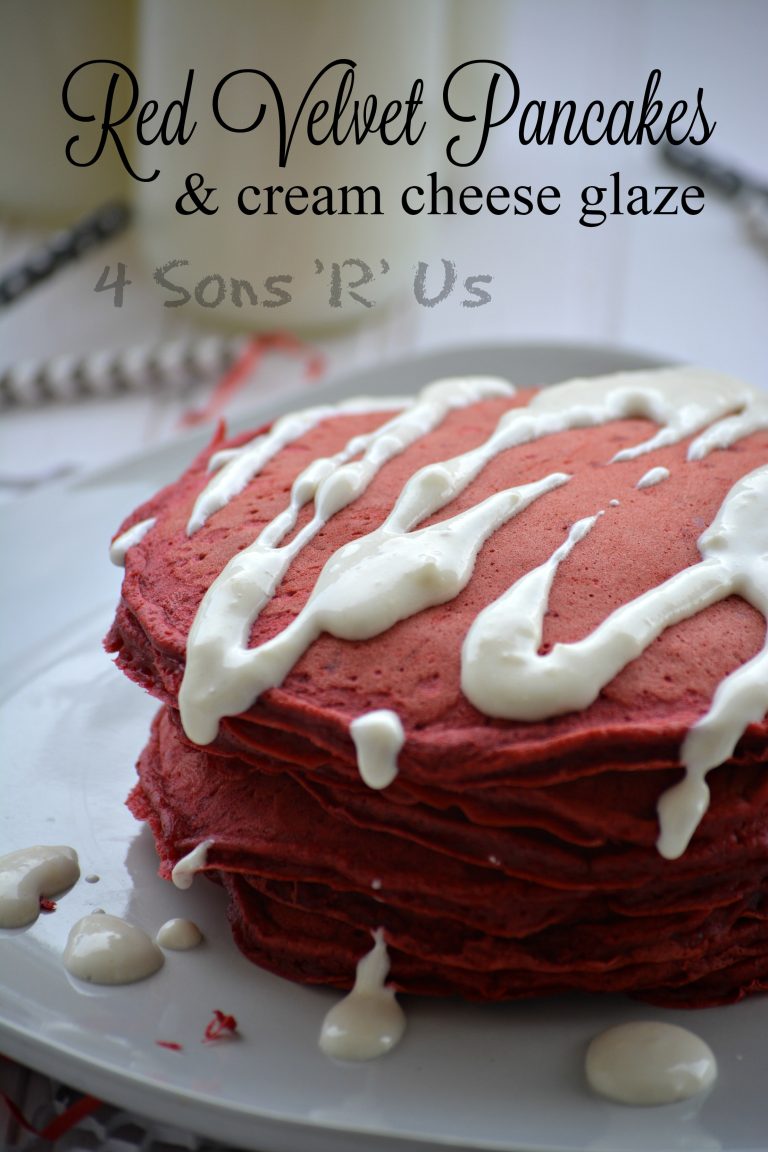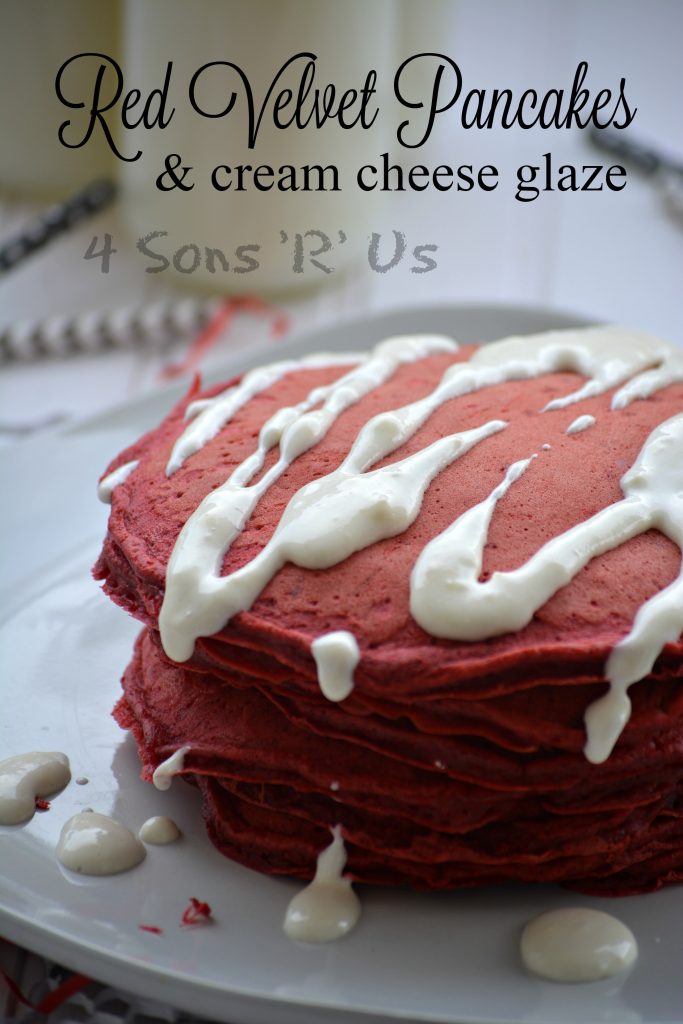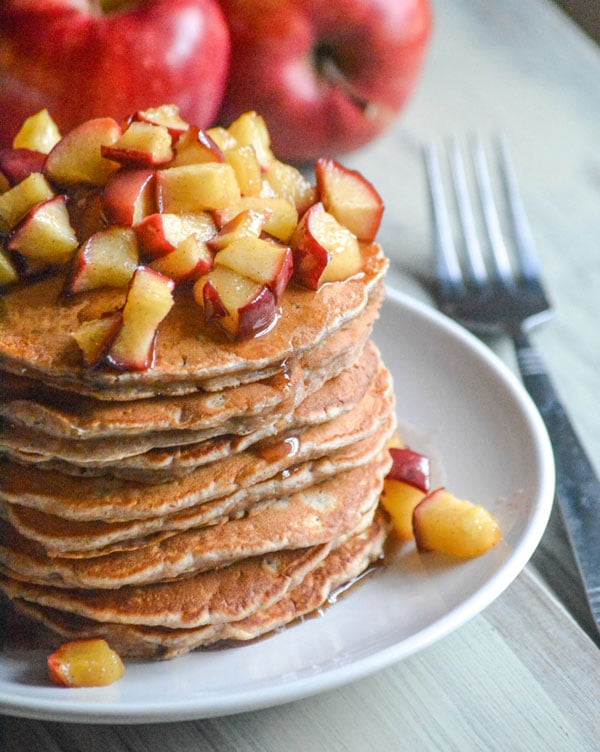 Banana Pancakes with Peanut Butter Syrup