Breakfast or Brunch doesn't have to just mean bacon and eggs. These banana pancakes with peanut butter syrup will take an otherwise ordinary family breakfast from simple to extraordinary with hardly any extra effort at all.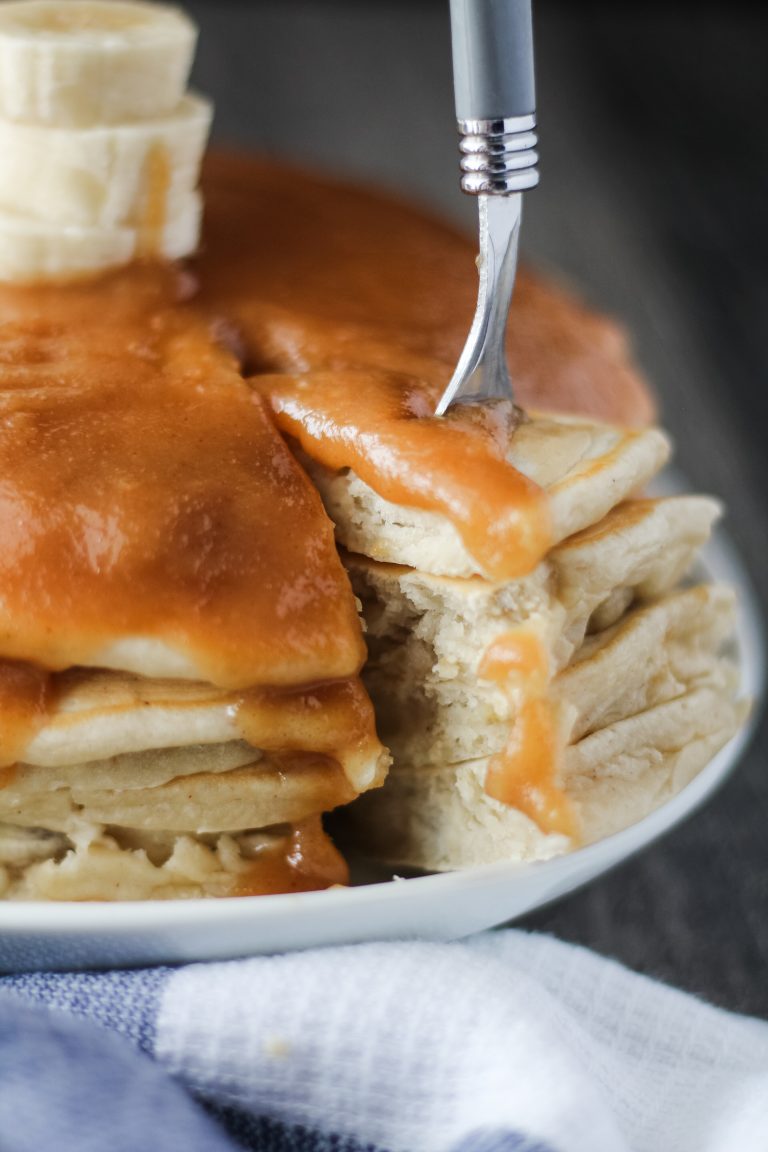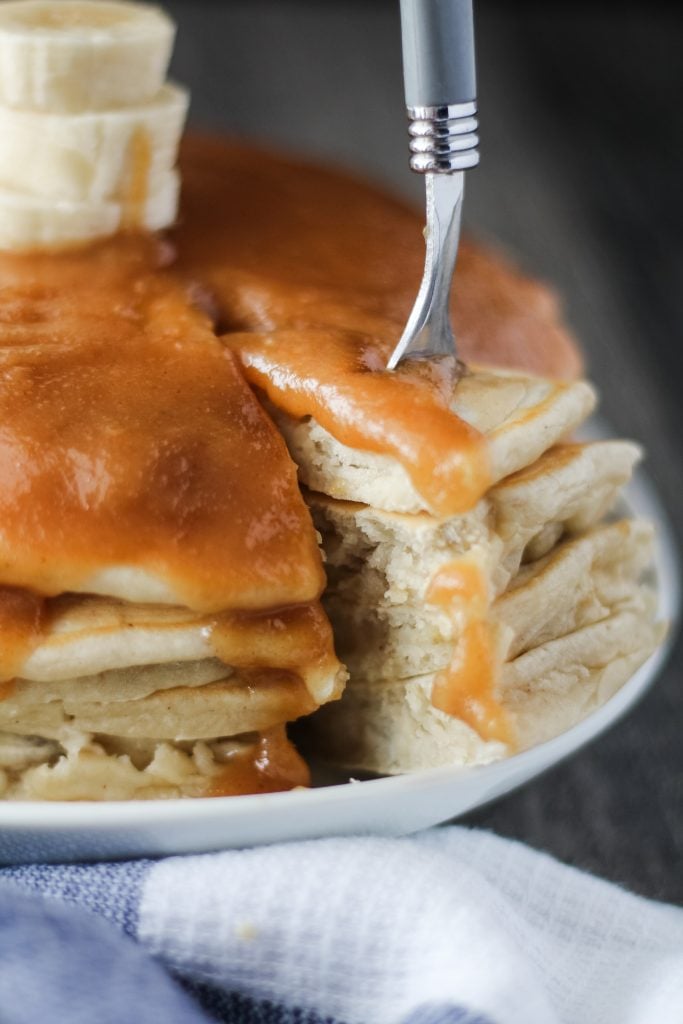 Oh my word. You guys!
This right here. These banana pancakes are breakfast pancake heaven.
Even better? They're breakfast pancake heaven topped with peanut butter sauce.
Peanut butter sauce, let's let that sink in for a minute or two.
Have you heard of Jack Johnson?
More specifically, have you heard his song 'Banana Pancakes'?
"This song is meant to keep ya
From doing what you're supposed to
Waking up too early
Maybe we can sleep in
Make you banana pancakes
Pretend like it's the weekend now"
Thanks to his catchy little tune and this tasty recipe, banana pancakes are now synonymous with relaxing indulgence on our breakfast/brunch menu.
And a fluffy stack of banana pancakes drizzled with homemade peanut butter syrup are a must for any day of serious R&R.
Or any morning where you need a breakfast that helps ease you into the day!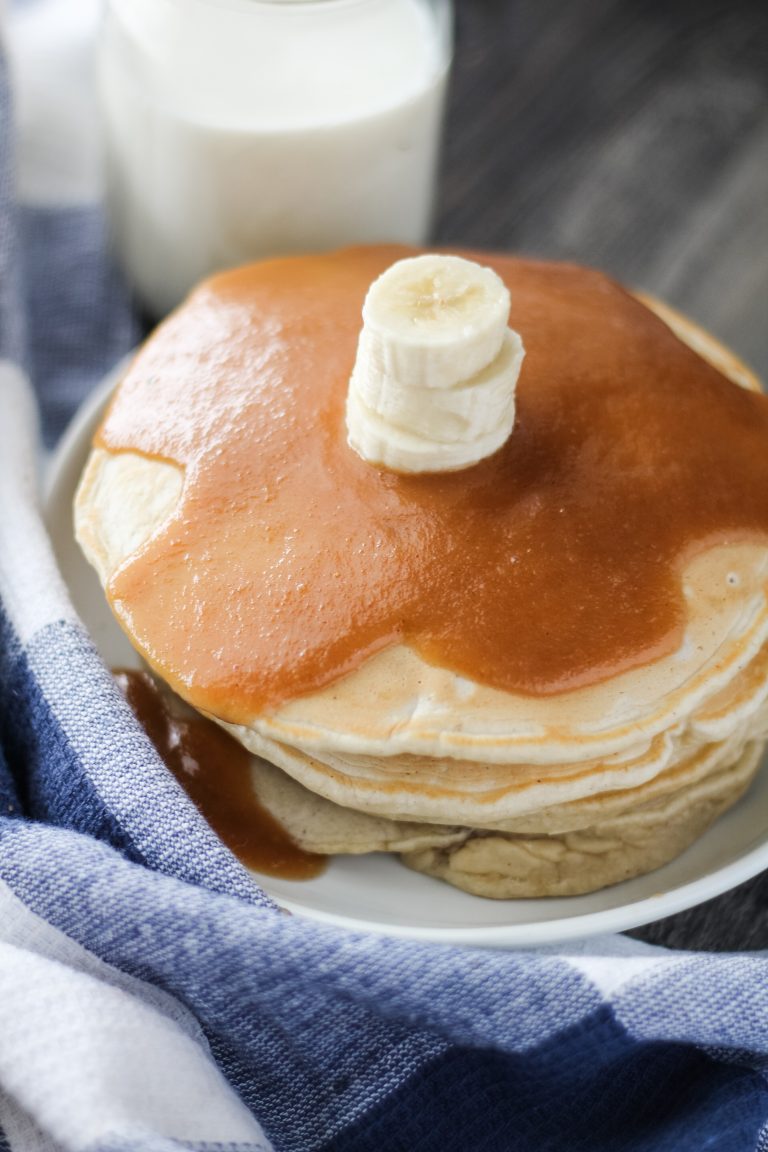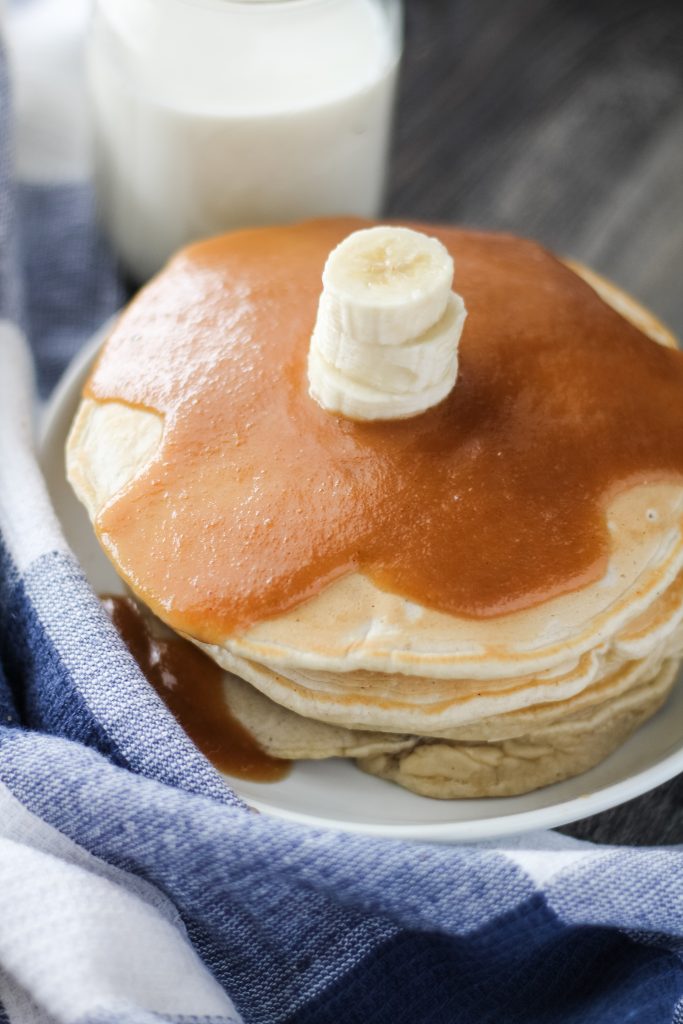 Ingredients Needed
That doesn't always seem possible though on busy week days though.
Luckily, you don't need much on hand to throw together a batch of these.
For The Banana Pancakes
flour – plain all purpose flour, nothing fancy
sugar – the white granulated kind, you can sub a sugar alternative like stevia, or turbinado, if needed- however, I can't guarantee results with any other varieties
baking powder – this is what gives helps the pancakes puff up during cooking and gives them there fluffy texture
banana – needs to be ripe, so it's easily mushed- read below on how to quickly ripen a banana in the oven
vanilla extract
milk – don't be tempted to sub half/half or cream here, your pancakes won't be fluffy or spread properly
eggs
canola oil – can sub vegetable oil, if desired
cinnamon – you can omit the cinnamon if you're not a fan
For The Peanut Butter Syrup
peanut butter – the creamy variety, any brand will work but it has to be the creamy kind
sugar – white granulated sugar
water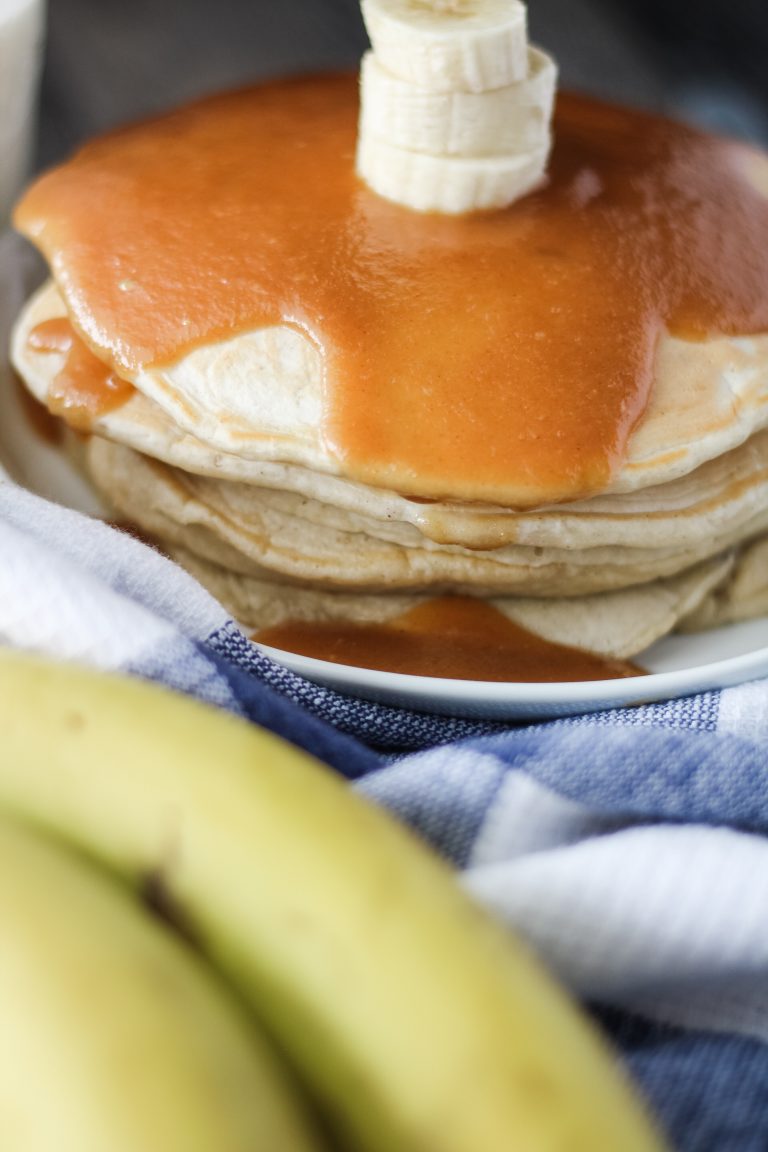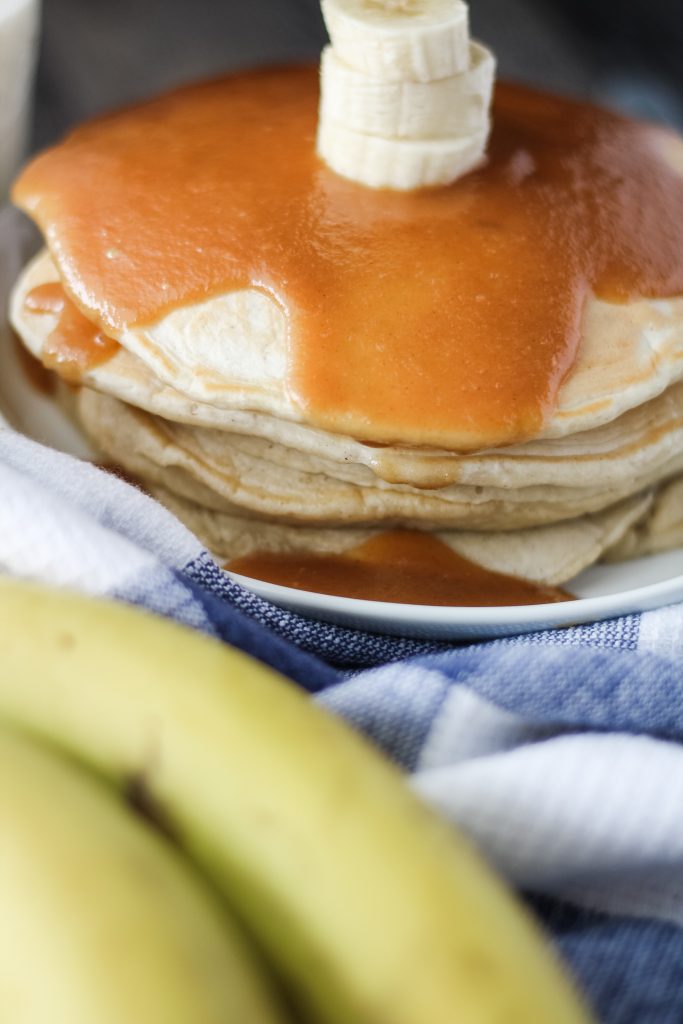 How To Make
To begin, start by mixing the pancake batter together.
In a large mixing bowl, add all of the dry ingredients together- stirring until evenly combined.
In a separate mixing bowl, add the banana and gently smash it using the back of a fork.
Add the remaining wet ingredients, and whisk everything together until evenly combined.
Pour the wet ingredients into the dry ingredient bowl, scraping down the sides with a spatula to get them all out.
Whisk together just until the batter's combined.
Don't be tempted to continue whisking because the batter's thick and lumpy. That's absolutely normal.
Overmixing will lead to flat, dense pancakes.
To cook, pour roughly 1/4 cup of batter onto a hot skillet or griddle.
Cook until bubbles begin appearing on top. This is your signal to flip.
Using a spatula, quickly get it in and under the edge and then flip the pancake over and continue cooking just until the other side is also golden brown.
Remove the cooked banana pancake to a waiting plate.
Continue cooking and stacking pancakes until all the batter's been used.
You can serve them as one big stack, or divide them into smaller personal stacks on different plates.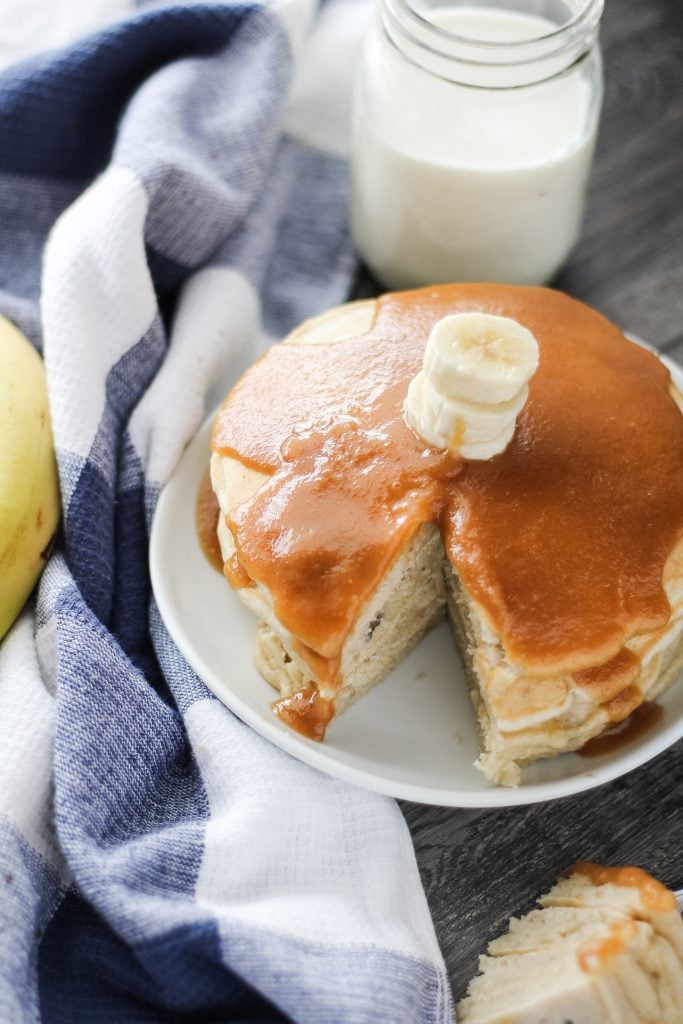 Working quickly, it's time to whip up the peanut butter syrup.
It doesn't take long, but if you're worried about your pancakes getting cold while it cooks- tent the stack in foil and set the plate in the oven.
Do not turn the oven on though.
To a small saucepan set over medium heat, add the peanut butter syrup ingredients- the peanut butter, sugar, and water.
Whisk them together, they will come together smoothly as the mixture heats up.
Bring the syrup to a boil, and then remove the skillet from heat.
Whisk again to ensure the syrup's completely smooth.
Let it cool slightly, so it's not too hot to enjoy, and then drizzle it over the pancakes.
Serve and enjoy!
These banana pancakes are bursting with fresh banana flavor with a light & fluffy texture.
It's the perfect combination, and these cook up on a hot griddle like a dream.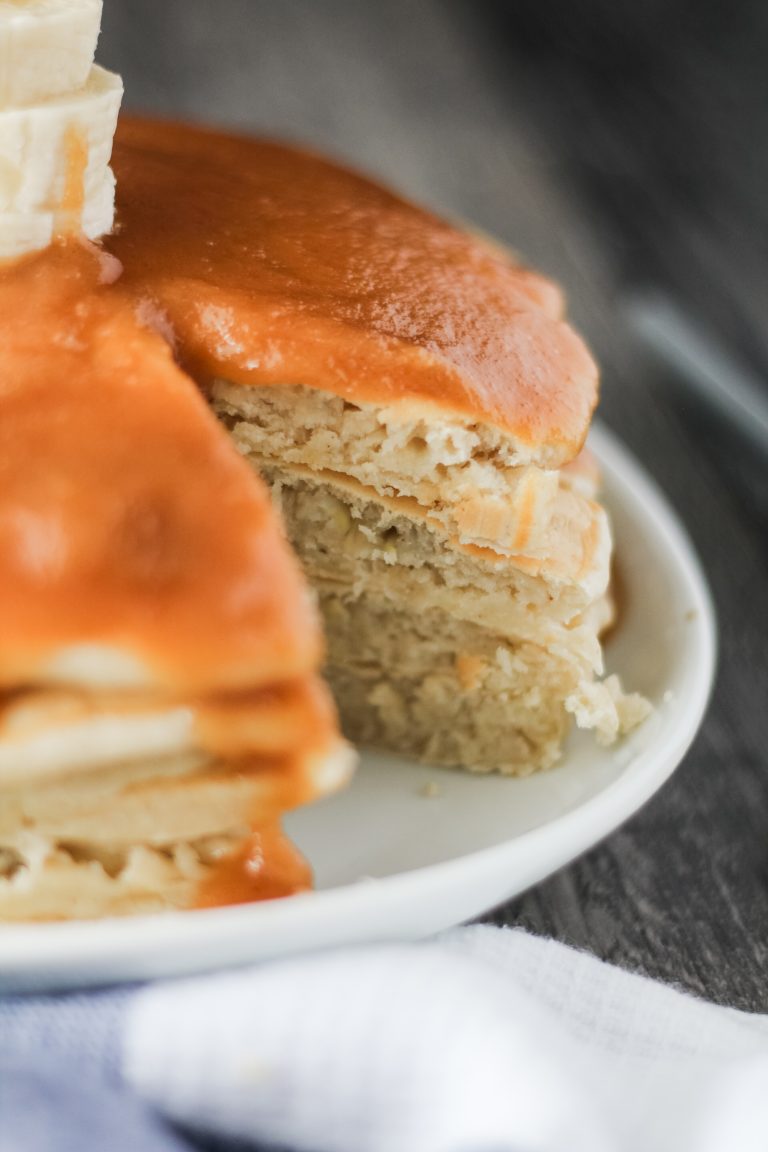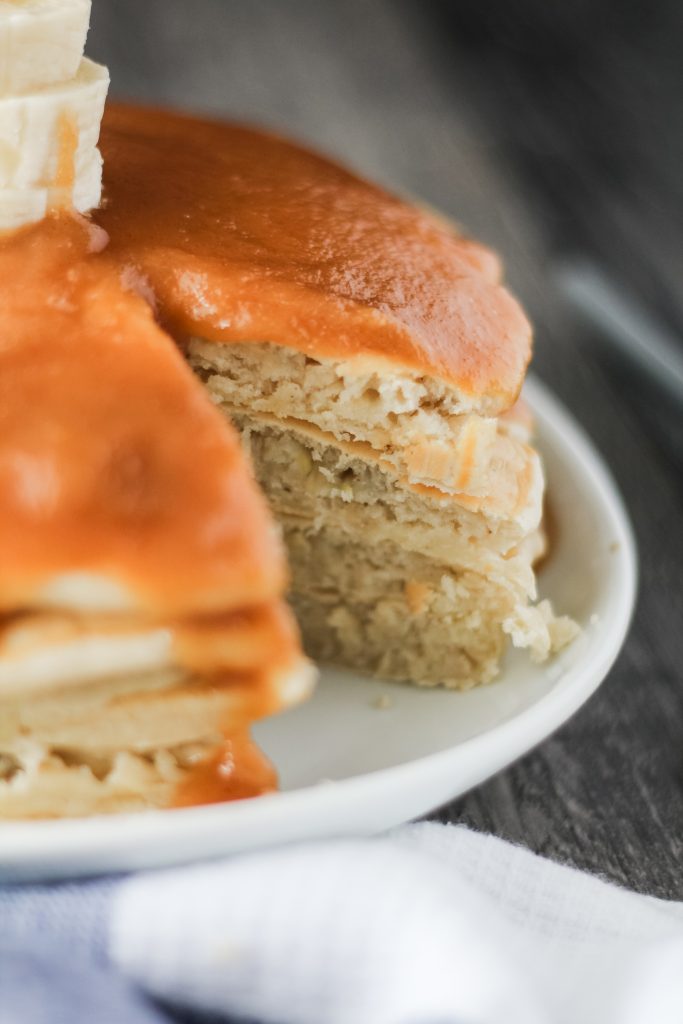 For An Elvis Style Pancake Experience
On another note, the sons call these the Elvis pancakes.
I may or may not have mentioned a few thousand times that the pb & banana sandwich was his favorite.
Along with various other random tidbits about 'The King.'
I also may or may not have an entire library of books on the man, and my three year old self may or may not have been convinced that I was fated to marry him, regardless of the tiny hiccup of him being dead and all.
So, banana pancakes WITH peanut butter. They're good grub fit for just about anybody, from the working man to The King.
If you want a more authentic 'Elvis' style pancake though, then I highly recommend the addition of bacon.
Cook several slices (4-6 depending on your love of bacon) until they're crisp, drain them on paper towels (patting if necessary yo remove excess grease), and crumble them when cool enough to safely handle.
Stir the crumbled bacon into the batter, and continue with the recipe as instructed.
That's it!
Then you can really revel in the experience, and eat like THE king.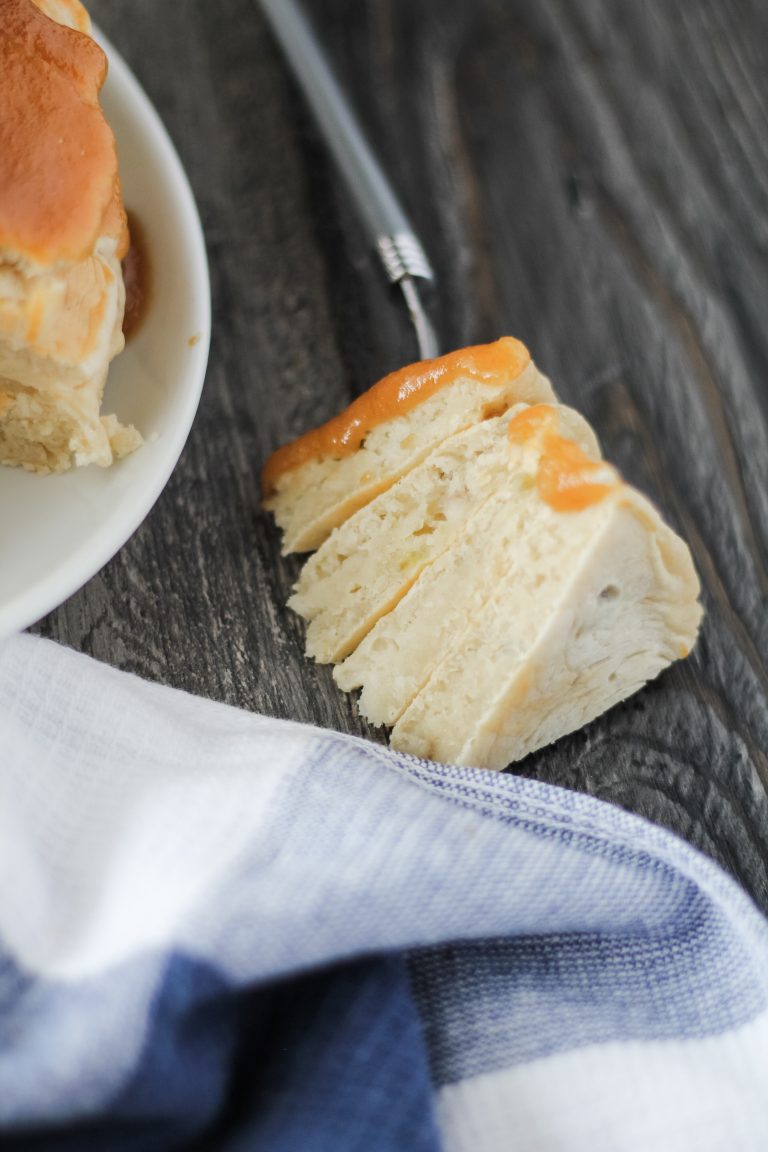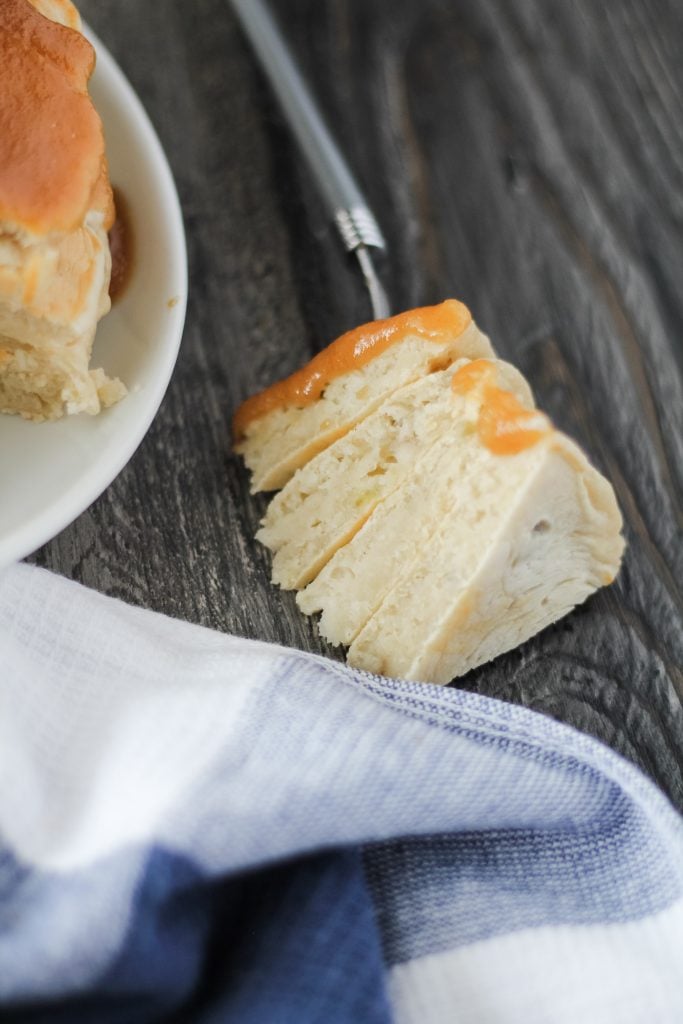 How To Quickly Ripen Bananas
There's nothing worse when I'm ready to make a batch of these, than going to my bunch of bananas and discovering that none of them are ripe enough yet.
For this recipe, the banana needs to be not just slightly ripe but actually ripe.
Meaning a tad bit mushy, preferably with some brown spots on the peel.
If you're like me though, and discover that's not the case- then I have just the trick for you!
Did you know that you can quickly ripen bananas in your oven to use in baked goods and baked recipes?
It's so easy to do, and a perfect solution at the last minute.
Line a rimmed baking sheet with parchment paper. This will keep the pan clean, making for easy clean up.
Add to the sheet the amount of bananas you need to ripen.
This recipe calls for one banana, but you may need more if you're doubling or tripling things.
Bake the banana(s) at 300 degrees, just until the peel's turned black.
Remove the pan from the oven and allow the bananas to cool completely before handling.
Naturally ripened bananas will yield a more potent banana flavor, but otherwise this trick works in a pinch.
Don't be off put if they do smell a bit funny after peeling, when you're mashing it into the pancake batter.
The smell disappears when the pancakes are cooked.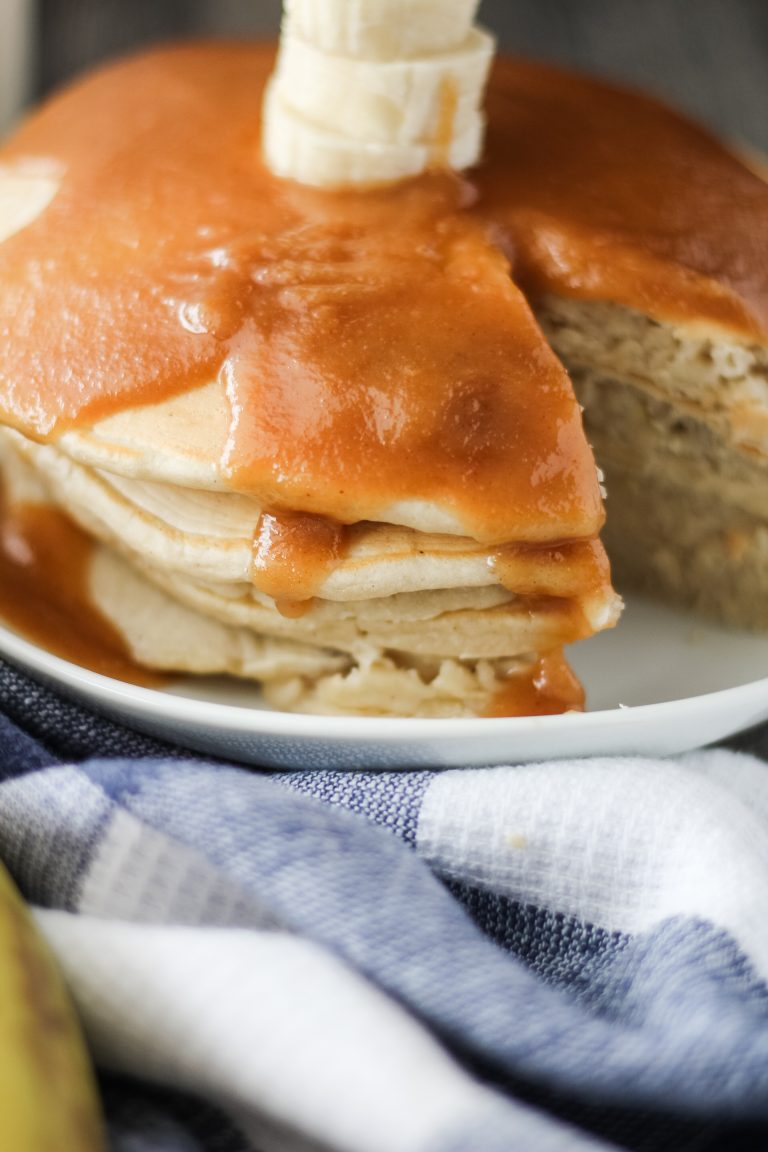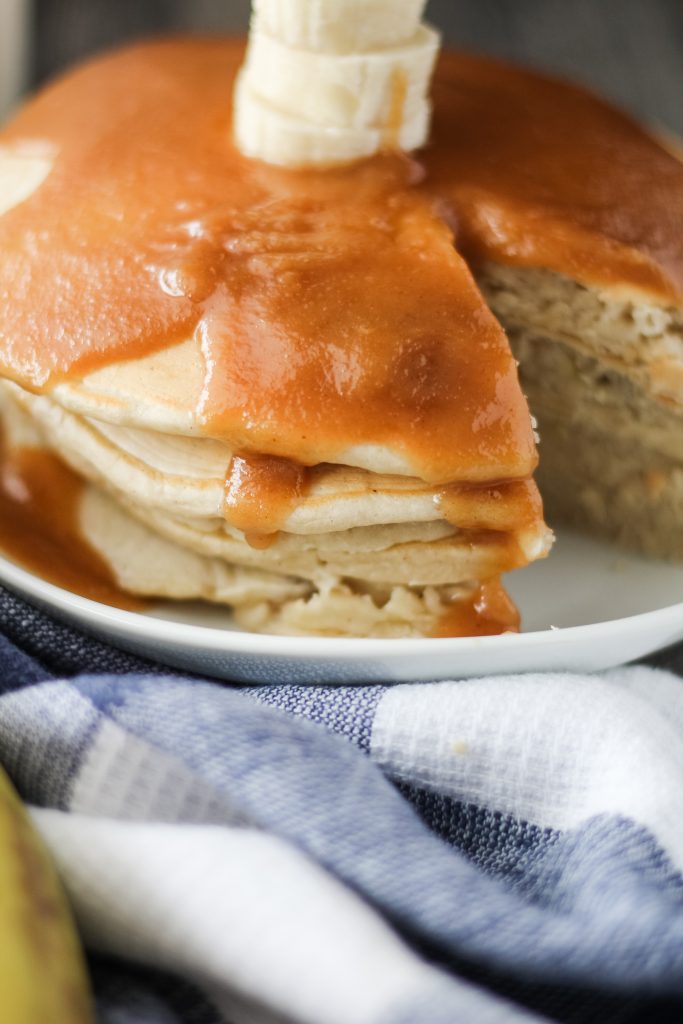 Other Pancakes Recipes You May Also Enjoy:
Whether you're actually able to spend the day relaxing or not, one thing's for sure- these sinfully delicious pancakes & simply peanut butter syrup will make it feel like you're on vacation.
Which arguably is the best way to start any day!
For other delicious ways to start your day with pancakes, check out these yummy ideas:
If you've tried these BANANA PANCAKES WITH PEANUT BUTTER SYRUP, or any other recipe on the site, let me know in the comment section how it turned out, we love hearing from our readers! You can also follow along with me on PINTEREST, FACEBOOK, and INSTAGRAM to see more amazing recipes and whatever else we've got going on!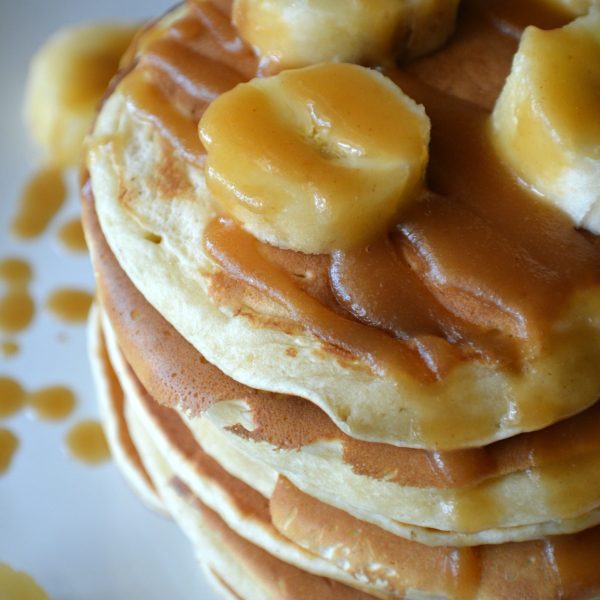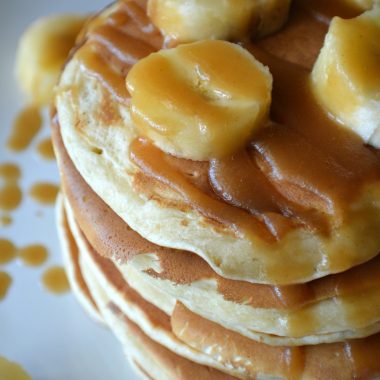 Banana Pancakes with Peanut Butter Syrup
Light & fluffy banana flavored pancakes are easily whipped up from scratch. They're topped with a delectable peanut butter flavored simple syrup & with sliced bananas for garnish. The presentation is stunning for a large brunch, but just as yummy for a simple family breakfast.
Print
Pin
Rate
Ingredients
For The Pancakes

1 3/4

cup

all purpose flour

2

tbsp

white sugar

2

tsp

baking powder

1

ripe banana

in this case those mushy black/brown spots are a plus

1

tsp

vanilla

1 1/4

cup

milk

1

egg

lightly beaten

2

tbsp

canola oil

pinch

of cinnamon

For The Peanut Butter Sauce

1/2

cup

creamy peanut butter

1/2

cup

white sugar

3/4

cup

water
Instructions
To Make The Pancakes

Combine all of the dry ingredients in a medium mixing bowl.

In a separate bowl, add the banana and wet ingredients, mashing and mixing them together until all are evenly combined.

Combine the dry and wet ingredient together in one bowl, stirring until evenly incorporated. It will be lumpy and somewhat thick.

Pour about 1/4 cup of batter into the pan/ griddle for each pancake.

Heat until bubbly on top, flip and cook until golden brown on each side.

To Make The Peanut Butter Sauce

Combine all the ingredients in a small saucepan. Heat until boiling. Let cool slightly, and drizzle the sauce over the pancakes. Top with extra banana slices, if desired.
Nutrition
Calories:
664
kcal
|
Carbohydrates:
91
g
|
Protein:
18
g
|
Fat:
27
g
|
Saturated Fat:
6
g
|
Cholesterol:
49
mg
|
Sodium:
202
mg
|
Potassium:
691
mg
|
Fiber:
4
g
|
Sugar:
42
g
|
Vitamin A:
202
IU
|
Vitamin C:
3
mg
|
Calcium:
201
mg
|
Iron:
4
mg
recipe originally published July 13, 2015