Everyone's favorite hard boiled egg appetizer meets creamy pasta salad in this fun combo of Deviled Egg Pasta Salad. It's the best dish, bound for your next barbecue- and it's epic.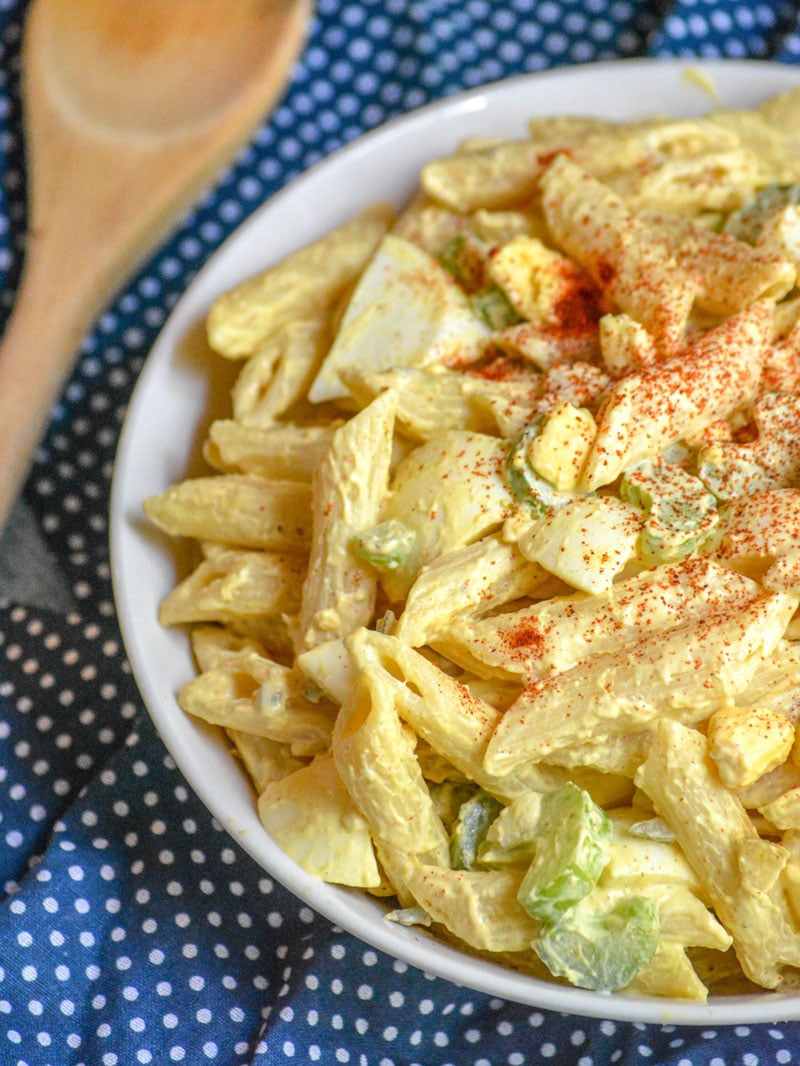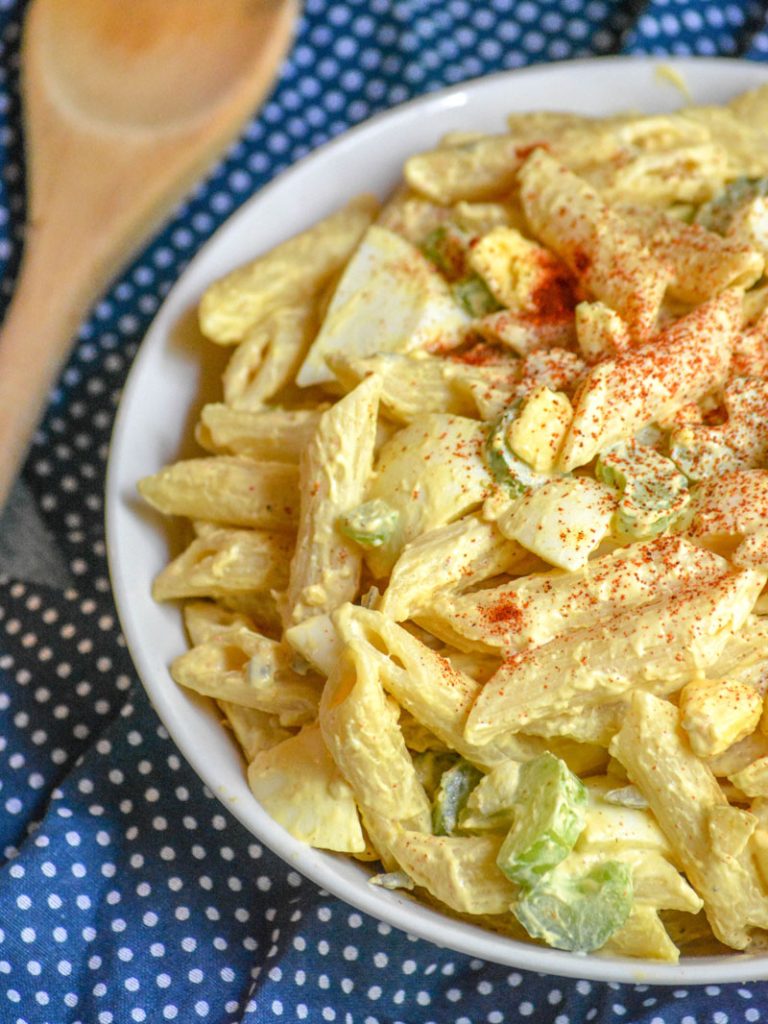 Many of our friends know, but I haven't really talked about it on here yet, that a couple months ago we started the urban farming journey with our own chickens and chicken coop.
It only seemed like a natural progression after making the leap from our tradition of Summer gardening, to year round gardening. I mean, we went from the simple tomatoes, summer squash, peppers, and rows of corn- to cabbages, broccoli, carrots, garlic bulbs, pumpkins, and potatoes.
What's adding a few chickens to the mix?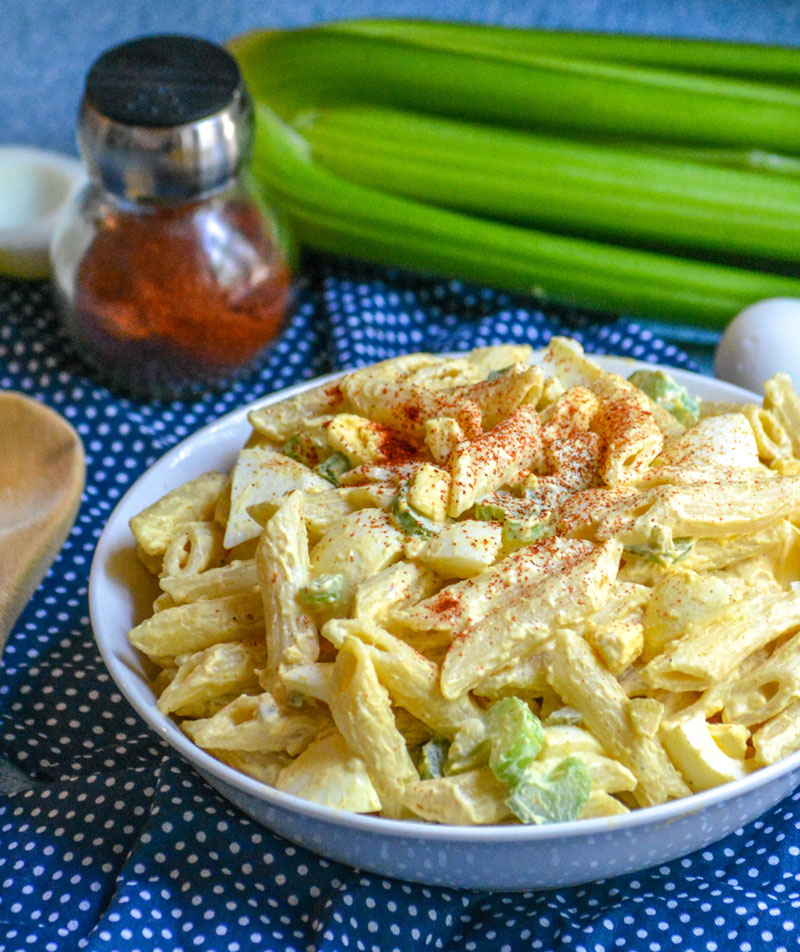 If anything, it really was a natural progression since the chickens create a natural compost. That in turn gets woven into the garden beds for nutrient rich soil, resulting in an amazing crop.
I mean, we planted seeds a month ago and I was hoping a couple of them would sprout vines and we'd get a few pumpkins by Thanksgiving.
As of counting earlier this week, we've got 20 plants that are going strong and much more rapidly than normal. Thank you composting!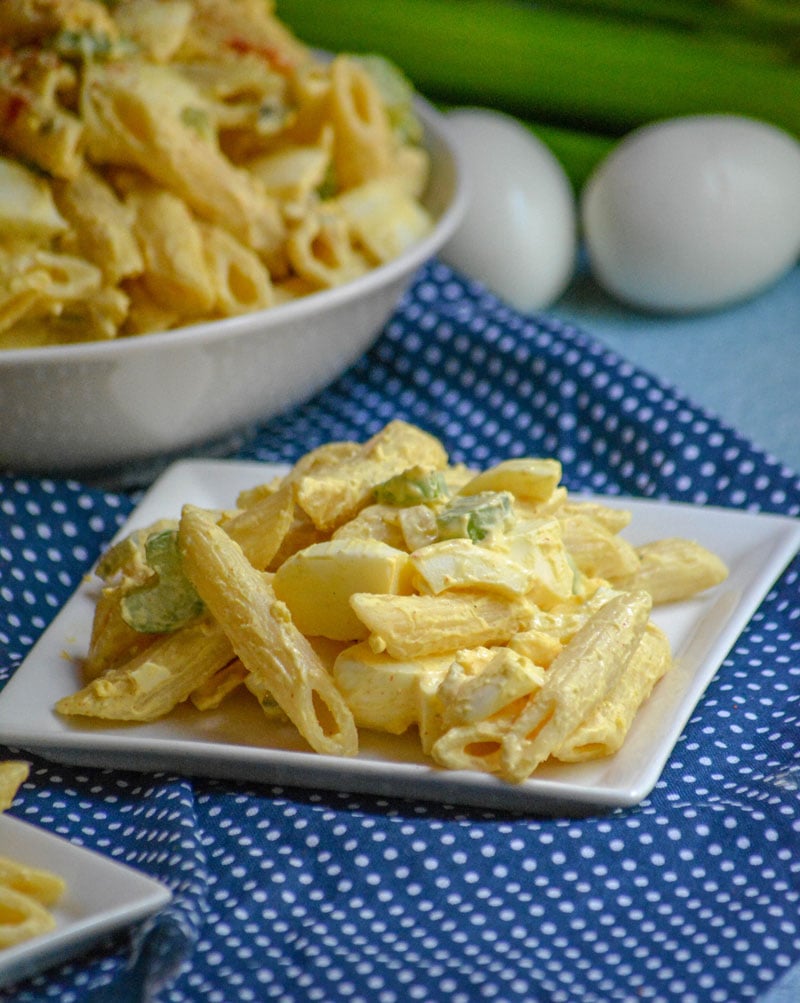 The whole endeavor has been remarkably easy, barring general maintenance and upkeep. Nothing crazier than feeding and taking care of our dog and cat.
Except now I've got fresh eggs to show for it!
My husband wakes up hangry on the weekends, heading straight to the kitchen to get started on brunch. Eggs are his # 1 staple. He must have them. It's never a good start to the day when he opens the fridge and can't find a single egg to cook.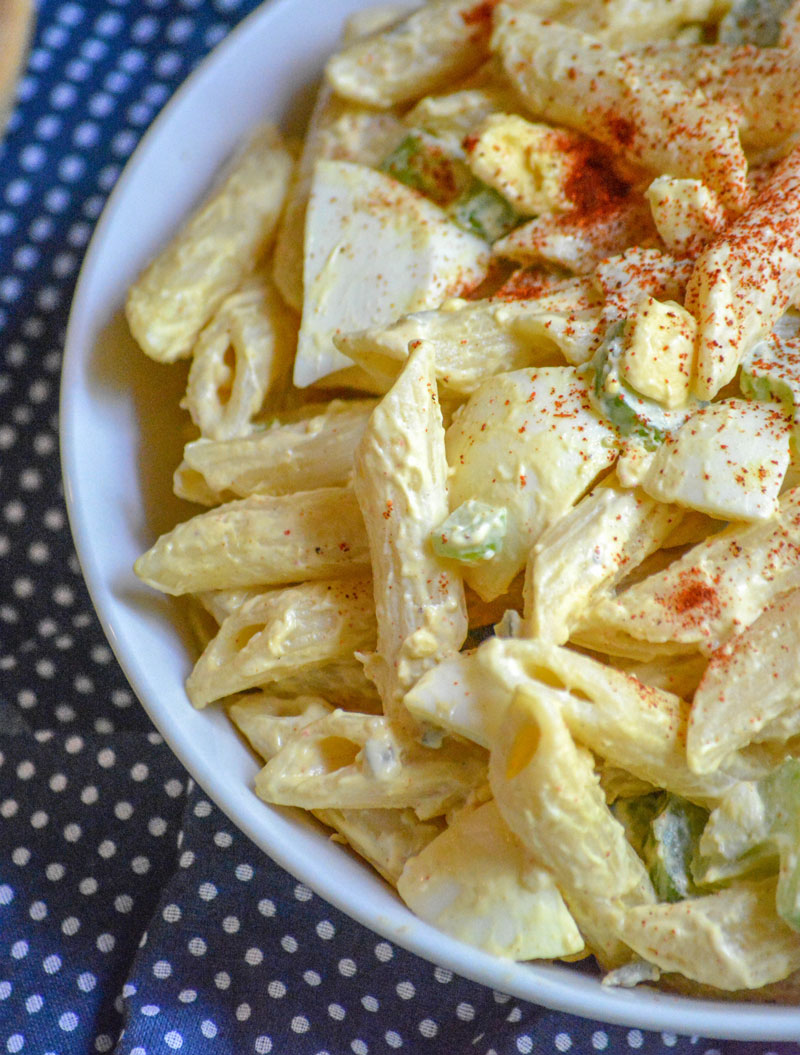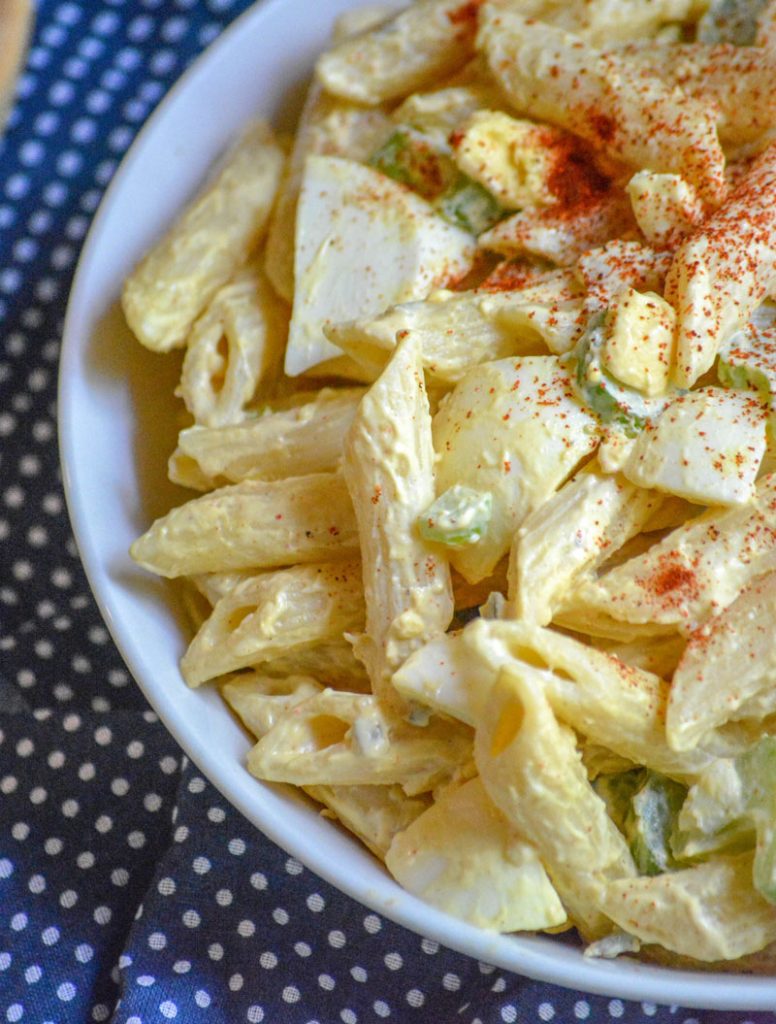 Now, he just has to walk 30 feet behind the house and reach into the coop and scoop out a couple of freshly laid eggs. Breakfast is served; crisis averted.
If you've never had farm fresh eggs, I highly suggest getting your hands on some ASAP. You won't be sorry you gave them a try, but you might be sad it took so long to discover them. They're so delicious, so much more flavorful.
You don't have to worry about making room for them in the refrigerator either. We're not alone in refrigerating our eggs, but we're one of only a handful of countries that do so. Count amongst us Japan, Australia, and most Scandinavians. We're definitely the odd countries out though, being much more squeamish about our eggs.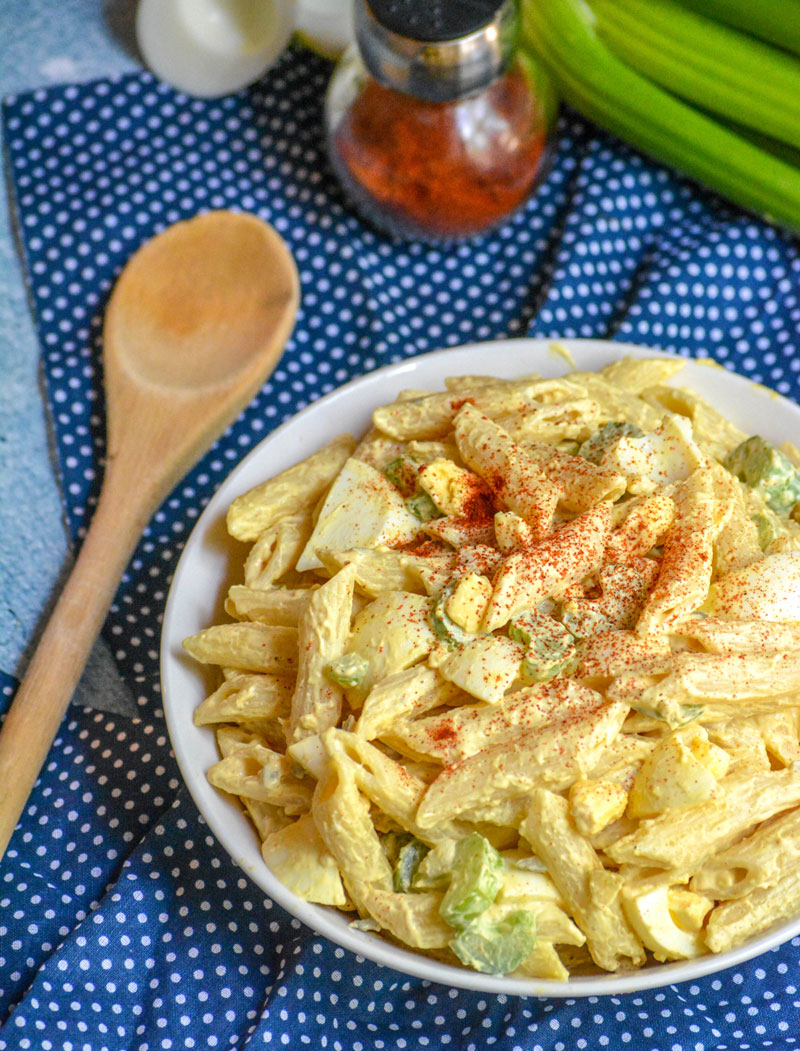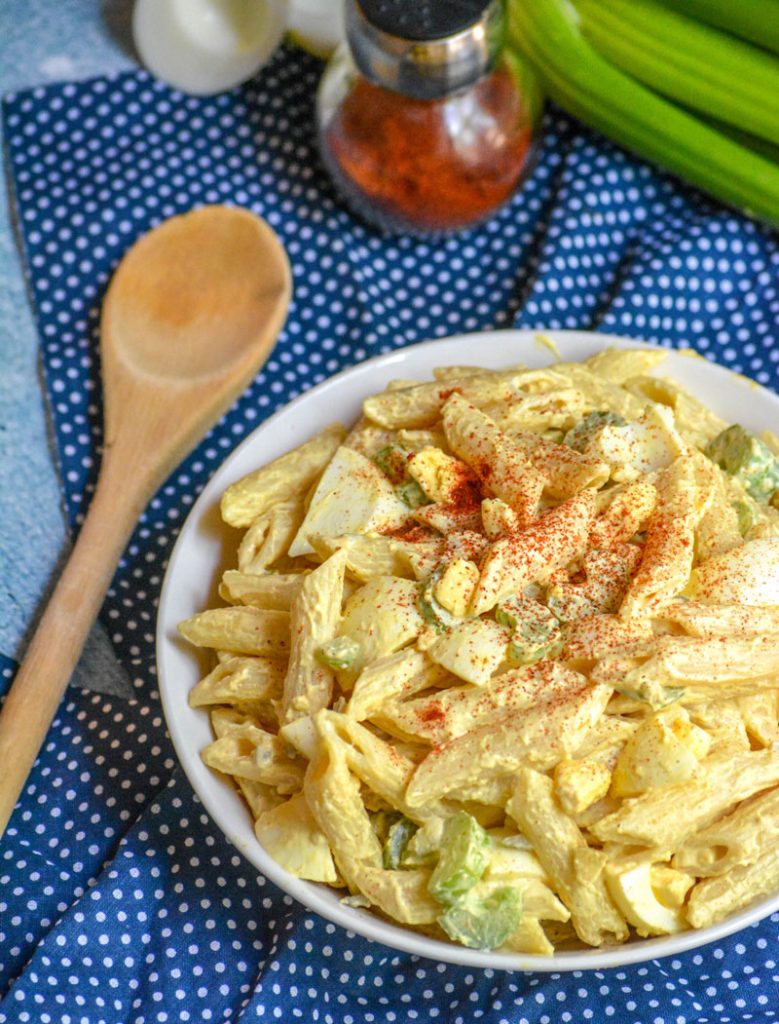 Are you wondering why we refrigerate our eggs, and other countries don't? The explanation is actually pretty simple. When eggs are laid they have a very fine film around them, one you can't really see with the naked eye- but their none the less. It protects the shells, keeping the egg from being porous- water and oxygen stays in, bad bacteria stays out.
Here where we wash and steam our eggs almost immediately after laying, to prevent contamination they have to then be refrigerated constantly until consumption. Both methods seem to result in eggs, both have their avid fans. We just happen to fall on the side where we prefer the fresh, unwashed variety.
So don't be surprised to find them just sitting out on our kitchen counter.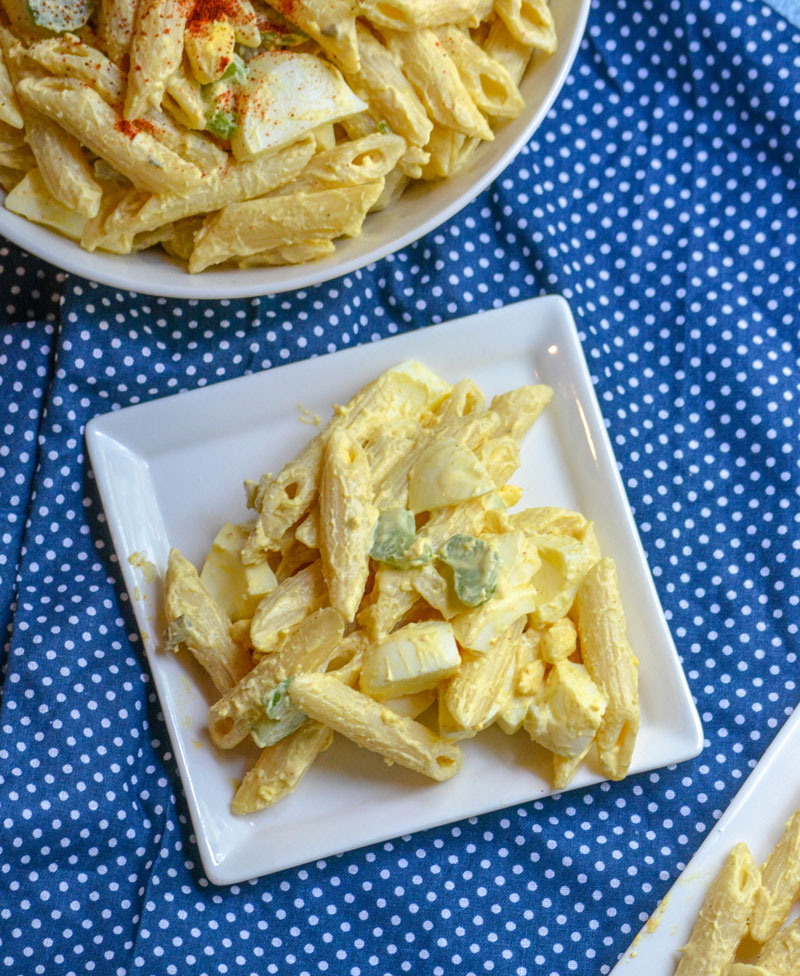 Naturally, since we've got 10 hens- it's led to making all the things egg-related. Since it's Summer, aside from the Hubs infamous breakfasts, a fair amount of it has been deviled eggs.
Never in my life did I think I could ever get tired of deviled eggs, but after enough backyard barbecues this Summer- I can firmly attest to the fact that it can actually happen!
With that in mind, I still wanted to enjoy the same delicious flavors- so in leiu of an actual deviled egg- I opted from Deviled Egg Pasta Salad instead.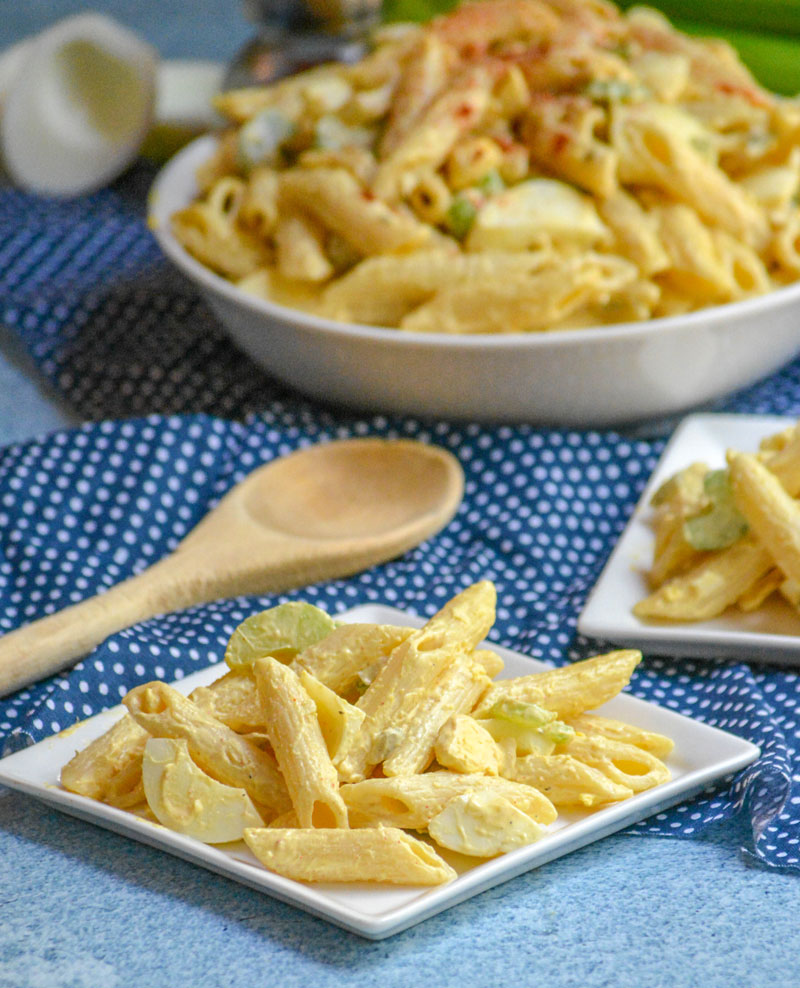 Resist the temptation to 'devil' your hard boiled eggs, and opt for this Deviled Egg Pasta Salad instead.
Cooked penne pasta is tossed into a creamy mixture of mayonnaise, sour cream, vinegar, yellow mustard, and dill pickle relish. Lightly seasoned with salt & pepper, chopped deviled eggs are tossed in for a protein packed side dish.
If you don't want to be the one always bringing the deviled eggs to the party, then this Deviled Egg Pasta Salad is the next best thing!
Other Recipe Ideas You Might Also Enjoy: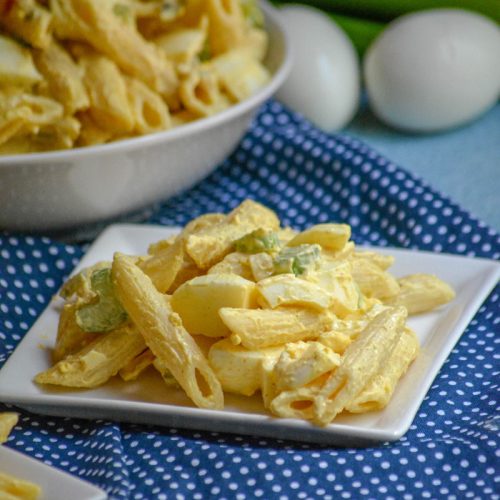 Deviled Egg Pasta Salad
A creamy hybrid- this side dish combines the best of deviled eggs with pasta salad.
Print
Pin
Rate
Ingredients
1

lb

penne pasta

1/2

cup

mayonnaise

1/4

cup

light sour cream

1

tbsp

yellow mustard

10-12

hard boiled eggs, roughly chopped

1

tbsp

vinegar

1/2

tsp

salt

1/4

tsp

black pepper

1/2

tsp

smoked paprika

1/4

cup

dill pickle relish

1/3-1/4

cup

thinly sliced celery
Instructions
Cook the pasta according to the package directions. Drain, and run under cold water until all the pasta is cool. Set aside.

Add the mayo, sour cream, salt, pepper, paprika, vinegar, mustard, relish, & celery. Whisk together until evenly combined.

Add the pasta to the bowl, gently tossing to combine until everything's evenly coated.

Fold the eggs into the pasta, cover, and refrigerate until chilled- at least two hours.