Air fryer hard boiled eggs are an easy way to make this staple recipe. There's no boiling water and you get perfectly cooked eggs, each and every time!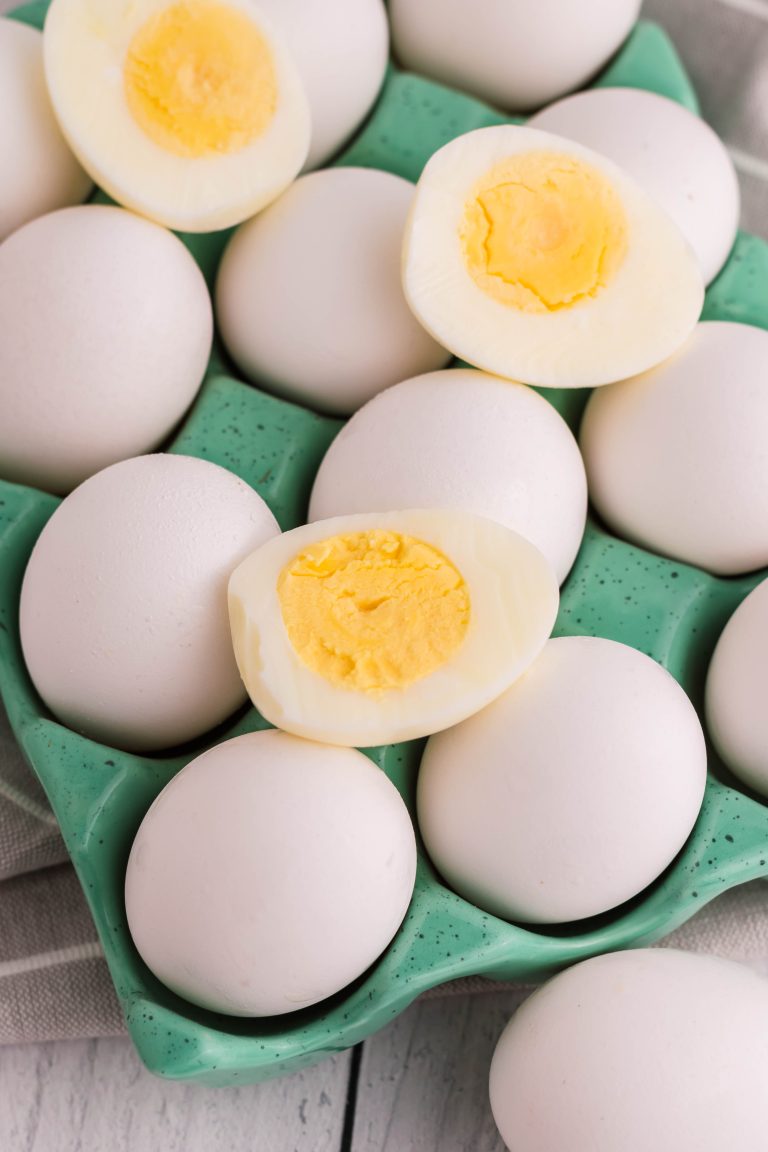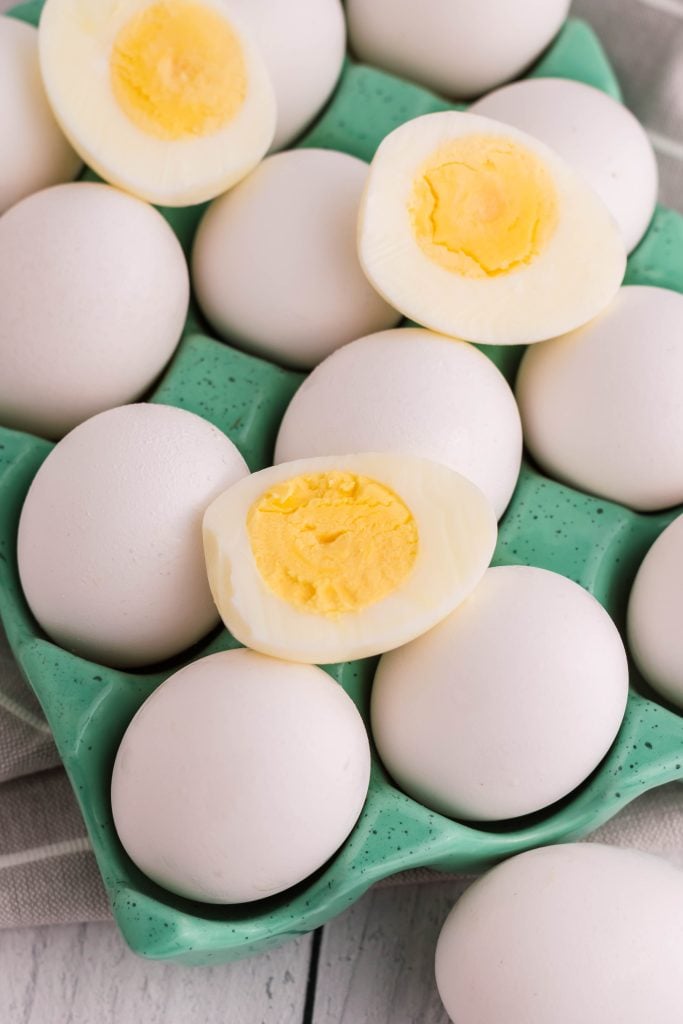 Did you know your air fryer can do more than just make incredible Air Fryer Fried Chicken and yummy veggies?
Yep! It can even make the simplest of things: hard boiled eggs.
And this egg hack is egg-zactly what you need to simplify this food even more and get perfect eggs each and every time.
There's no boiling water and hoping your eggs don't crack.
And perhaps best of all?
I love this option for my younger sons who are old enough to begin preparing their own snacks- keeps them from having to mess with boiling hot water or the gas stove!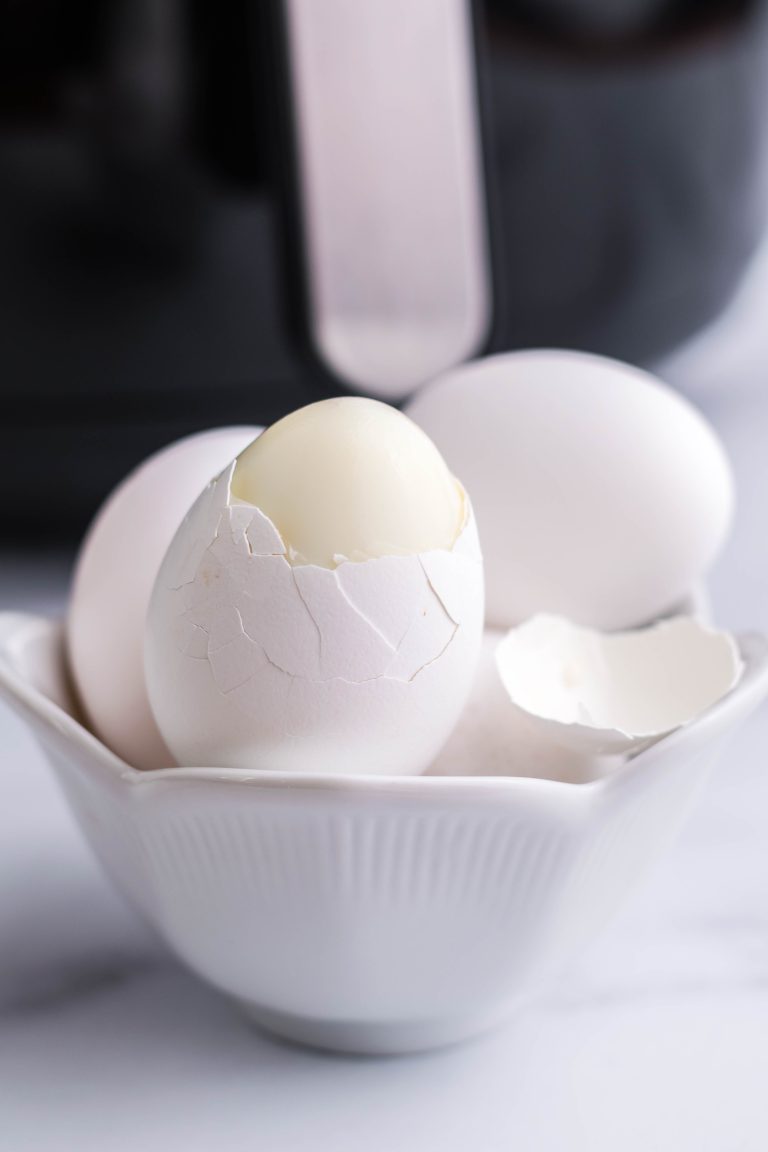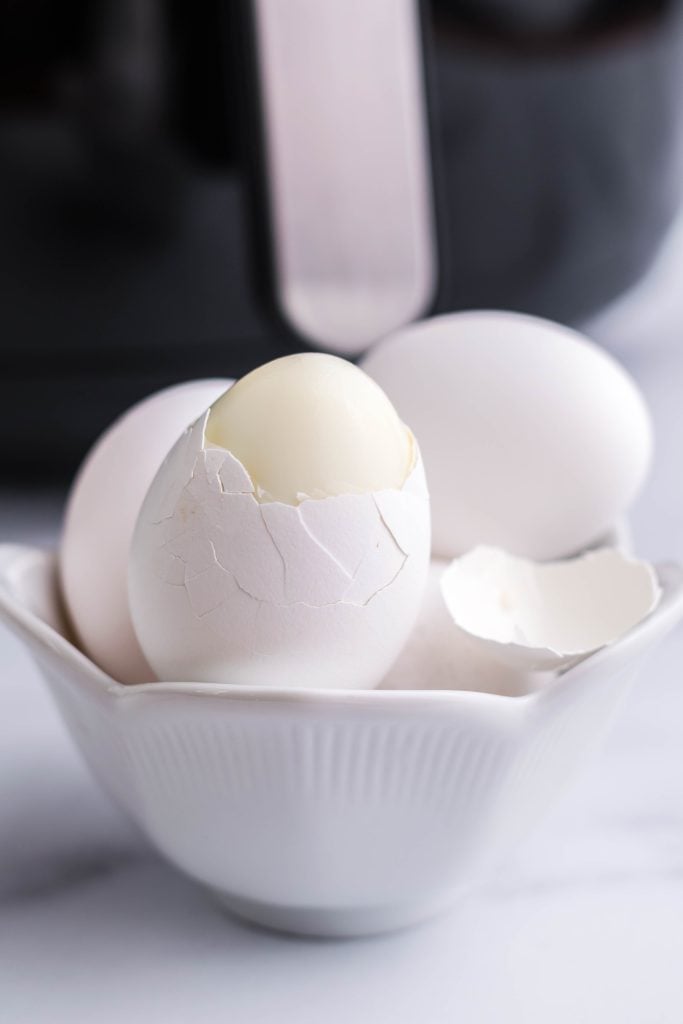 Why make hard boiled eggs in the air fryer
If you can't already tell, there are tons of reasons I love to make my hard boiled eggs in the air fryer.
But here are my reasons to make them in the air fryer:
There's no boiling water needed.
The yolks will never get the green ring.
You will never have to worry about over cooking or undercooking your eggs. They turn out perfectly each time!
It's a safer way for older kids to start making their own snacks.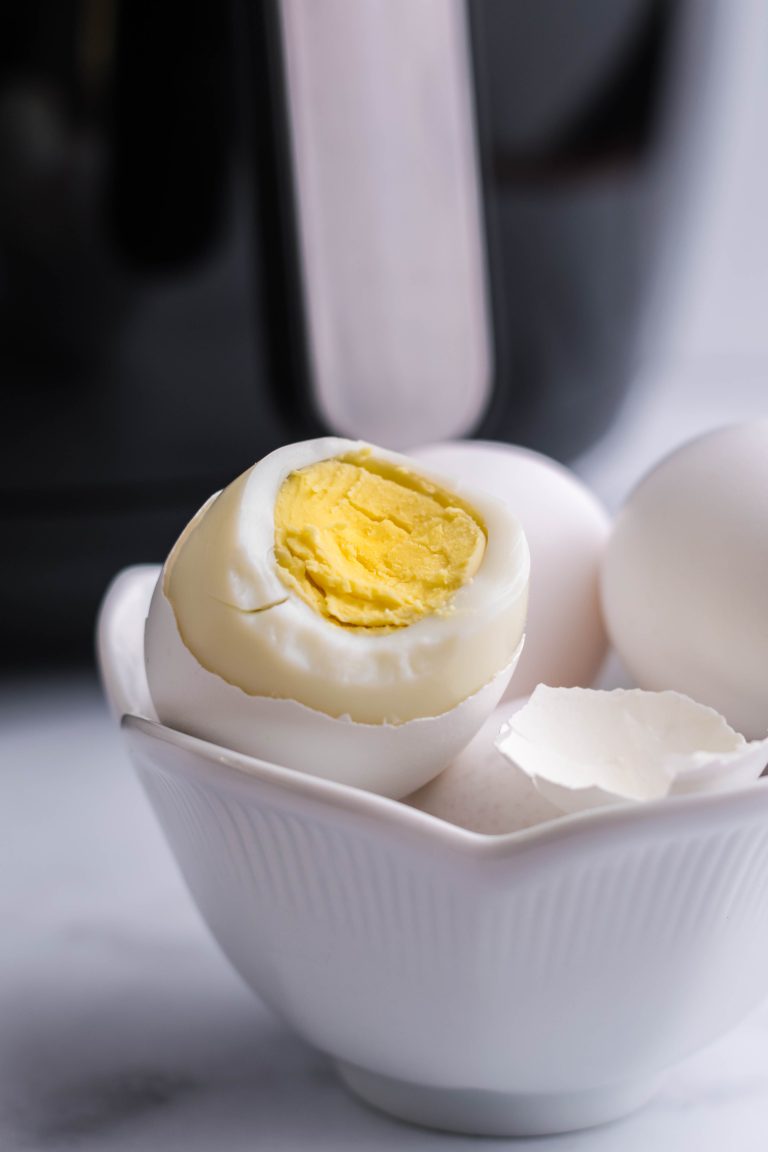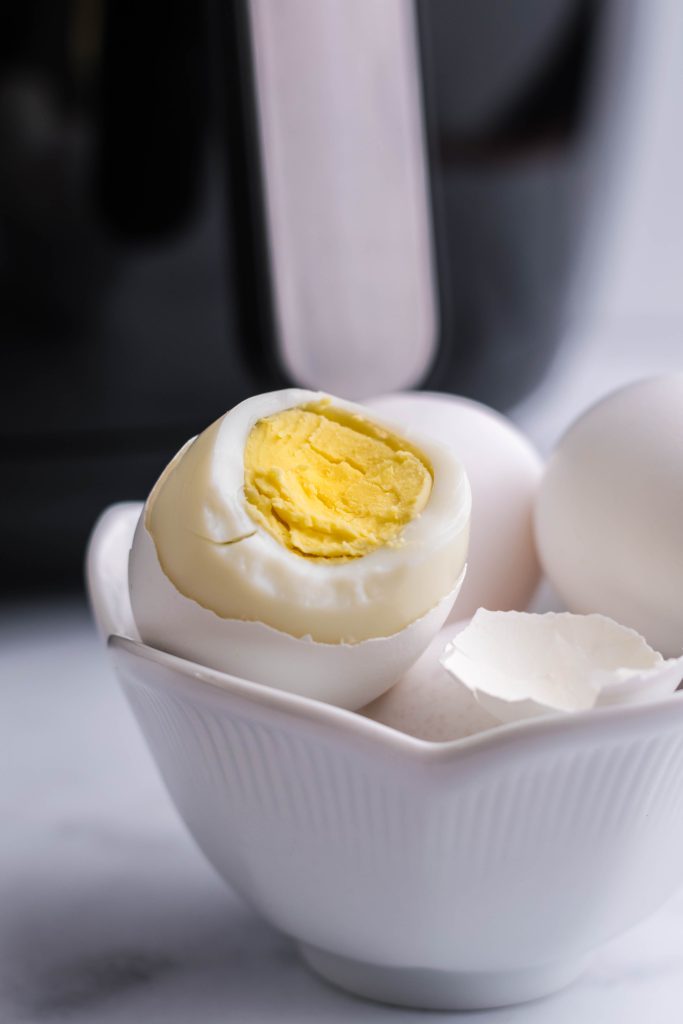 How to make
Making these eggs is incredibly simple.
To do it, just add the eggs to the basket of your fryer.
It's ok if you have to put them in the basket in two layers.
Then put the basket back in your fryer, making sure it is closed completely.
Cook your eggs at 250 degrees for 16 to 17 minutes.
When the timer beeps, let the eggs stay in the basket until they are no longer hot to the touch.
How to Peel a Hard Boiled Egg with and without an Ice Bath
Some people swear by an ice bath after boiling (or air frying eggs) before peeling, and if that's your preferred method you can absolutely do that.
If choosing to perform an ice bath for quicker cooling and peeling, let the eggs rest in ice water five full minutes, remove and dry the egg completely and then peel.
I prefer not to use the ice bath method.
My personal experience is that the warm eggs peel more flawlessly.
To peel warm eggs, I wait until the eggs are cool enough to handle but still slightly warm.
Once they are a good temperature, I gently crack one end of the egg by smushing it on a hard surface and carefully pulling the shell away from the egg before discarding the shell.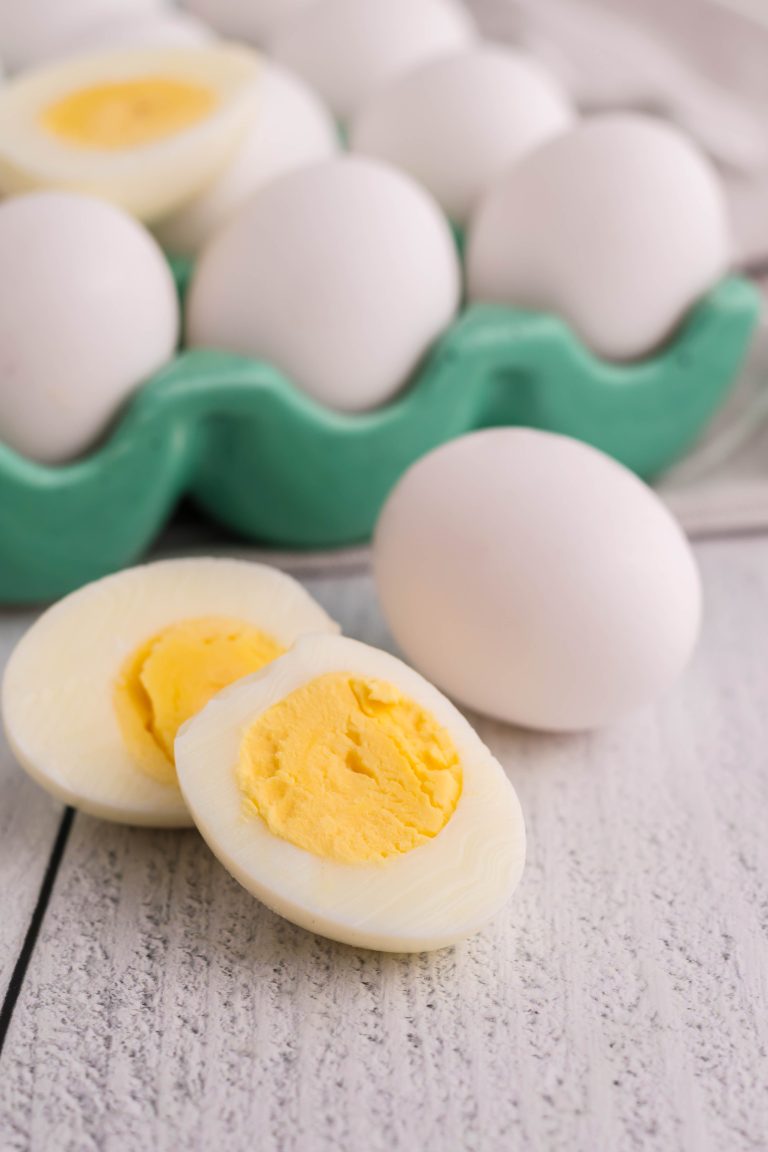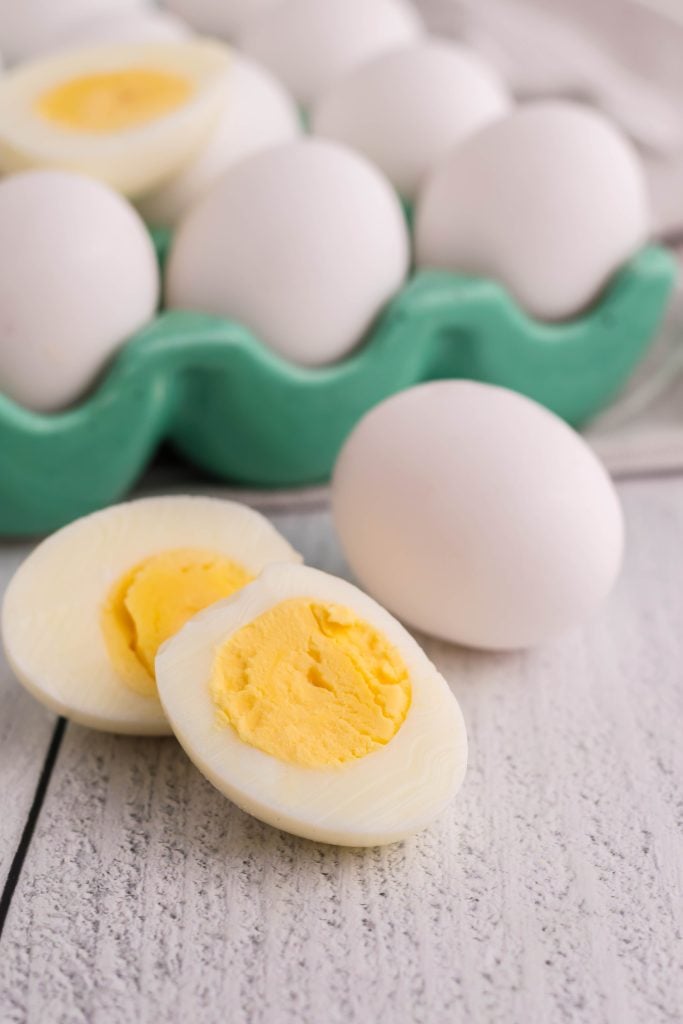 Storing and Using
You can store cooked, unpeeled hard boiled eggs in your fridge for one week.
If you do this, I like to put them in a large tupperware container or right back in the egg carton.
If you choose to peel the eggs when you make them, you can store the unpeeled eggs in a bowl of water in the fridge for a week.
Just make sure to change the water daily.
Or you could also store them in a lidded plastic container and cover the eggs with a damp paper towel prior to sealing the container.
Either way you'll have the cooked eggs ready to go and use in recipes like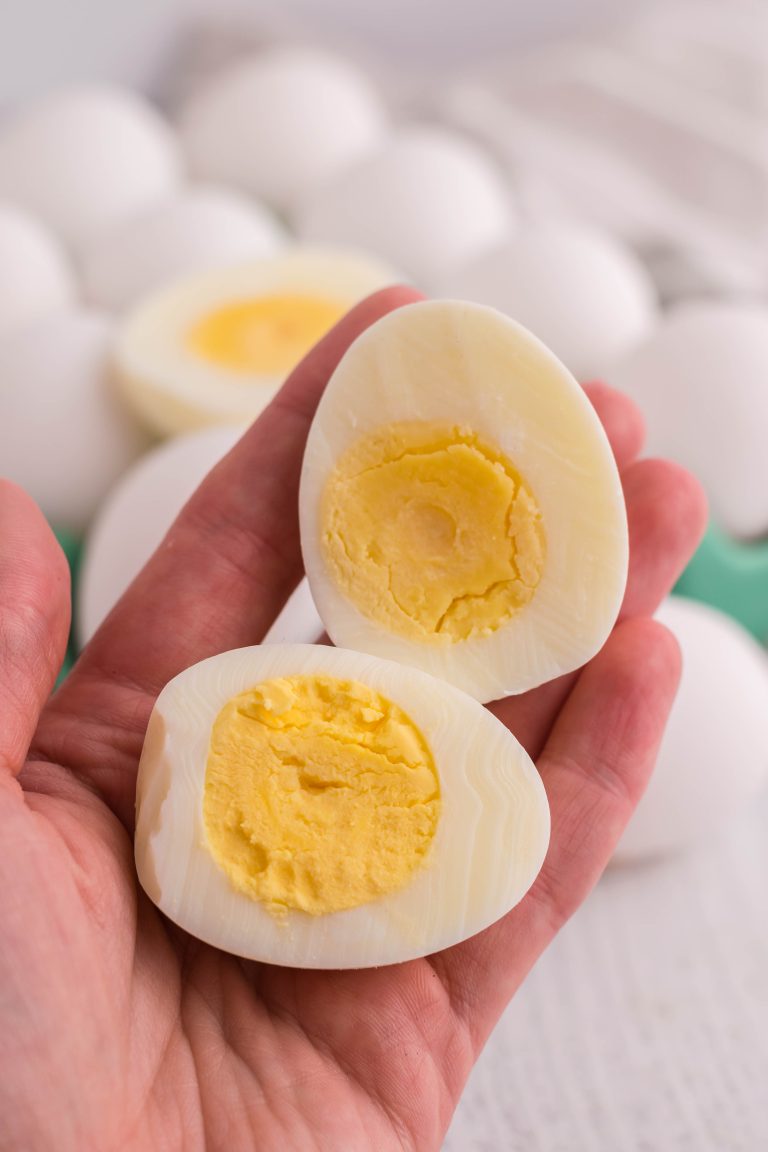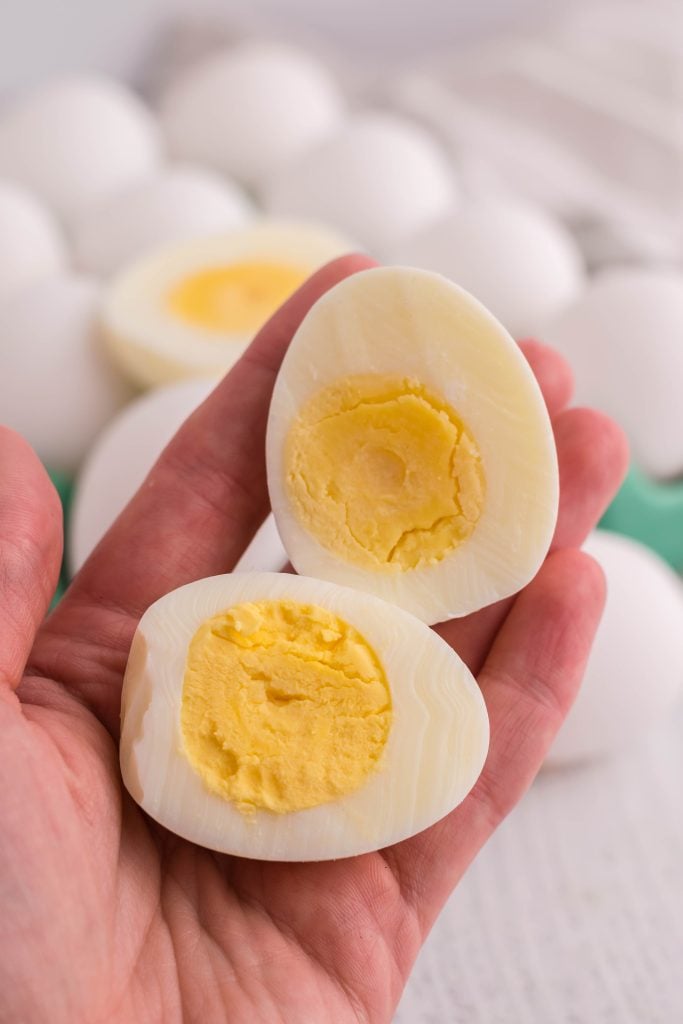 Tips and tricks
Don't be alarmed if any of the eggs have a brown spot on them, it's just from the heat but won't affect taste, texture, or appearance if going into egg salad etc
The air fryer is NOT a pressure cooker, please do not add any water to the basket. Only the eggs.
My air fryer doesn't require preheating or have that option, which is accounted for in the cook time listed.
Just like ovens, all air fryers may not cook the same.
No green/gray discoloration around the edges of the yolks from over cooking like often happens with the traditional big old pot of boiling water method.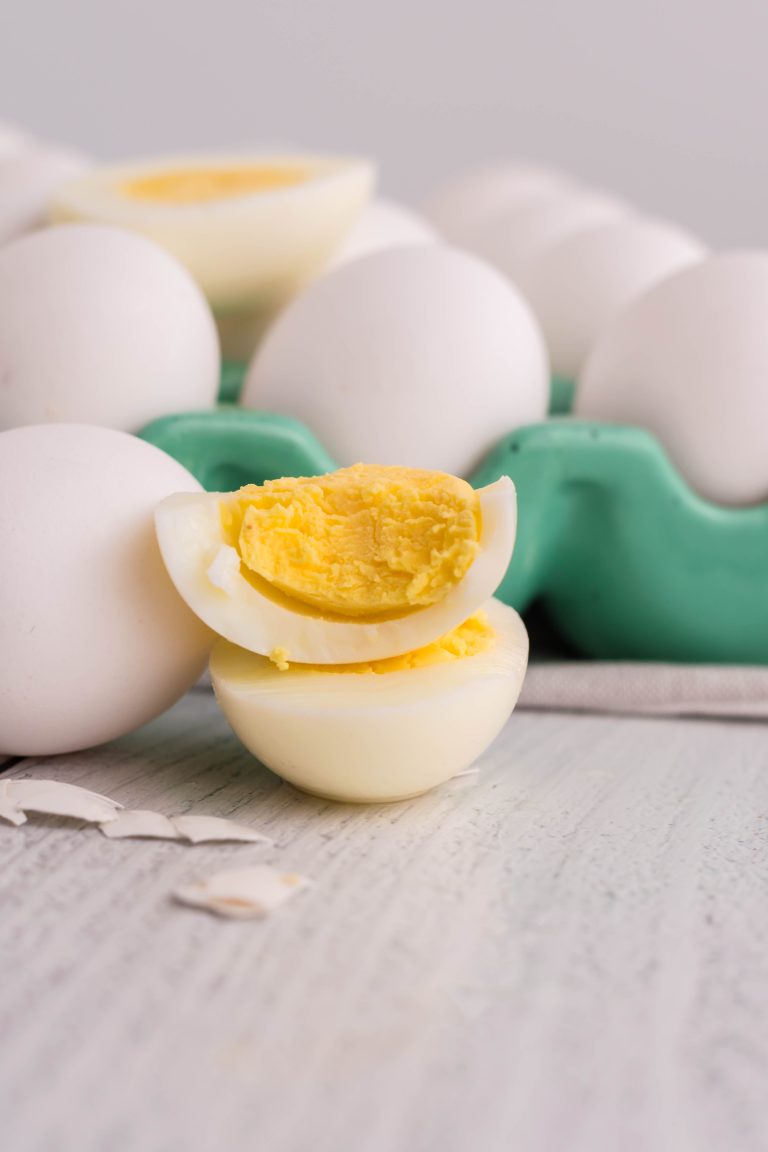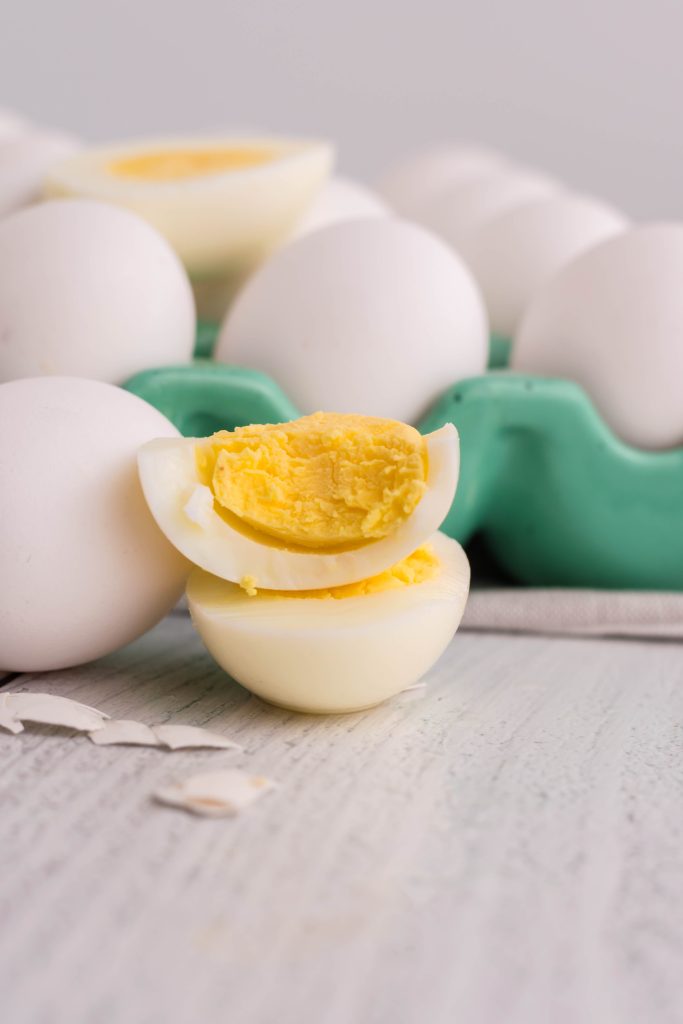 Other Easy Air Fryer Recipes
These air fryer hard boiled eggs are my favorite way to make hard cooked eggs.
Make them the next time you are making a big batch of eggs.
Looking for other easy air fryer recipes?
Try these:
If you've tried this AIR FRYER HARD BOILED EGG RECIPE, or any other recipe on my site, let me know in the comment section how it turned out, we love hearing from our readers! You can also follow along with me on PINTEREST, FACEBOOK, and INSTAGRAM to see more amazing recipes and whatever else we've got going on!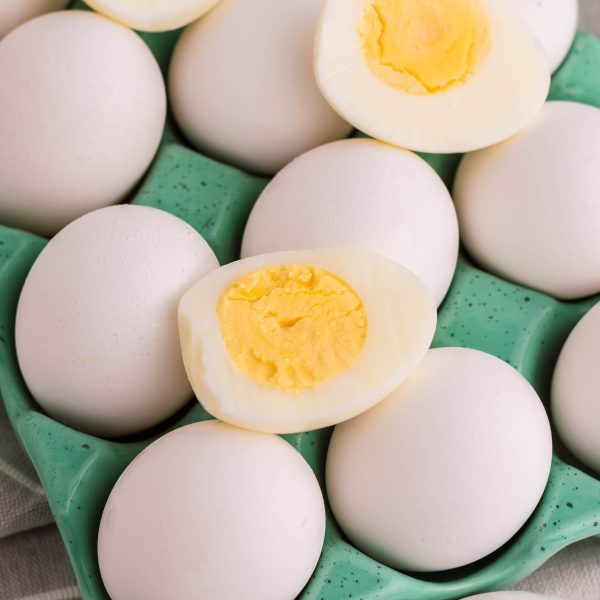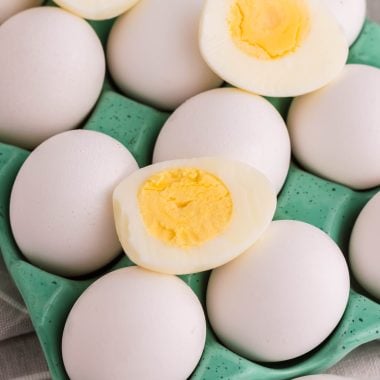 Air Fryer Hard Boiled Eggs
Air fryer hard boiled eggs are an easy way to make this staple recipe. There's no boiling water and you get perfectly cooked eggs, each and every time!
Print
Pin
Rate
Instructions
Add 1 dozen fresh eggs gently to your air fryer basket. It's ok if they form two layers.

Return the basket to the machine, and make sure it's completely secure/closed.

Set the temperature to 250 degrees, and the cook time to 16-17 minutes.

Once the timer beeps, let the eggs rest in the basket.

Allow the eggs to rest until they're still warm, but no longer hot to the touch.

Gently smush an egg on a hard surface to crack the shell, and peel discarding the shell.

Transfer the peeled eggs to a clean bowl, and continue until all the eggs haven been peeled.