Deviled egg bruschetta is a fresh, easier take on traditional deviled eggs. Deviled egg salad sits on slices of toasted baguette creating a delicious deviled egg appetizer. This bruschetta-style appetizer makes a delightful open faced finger sandwich.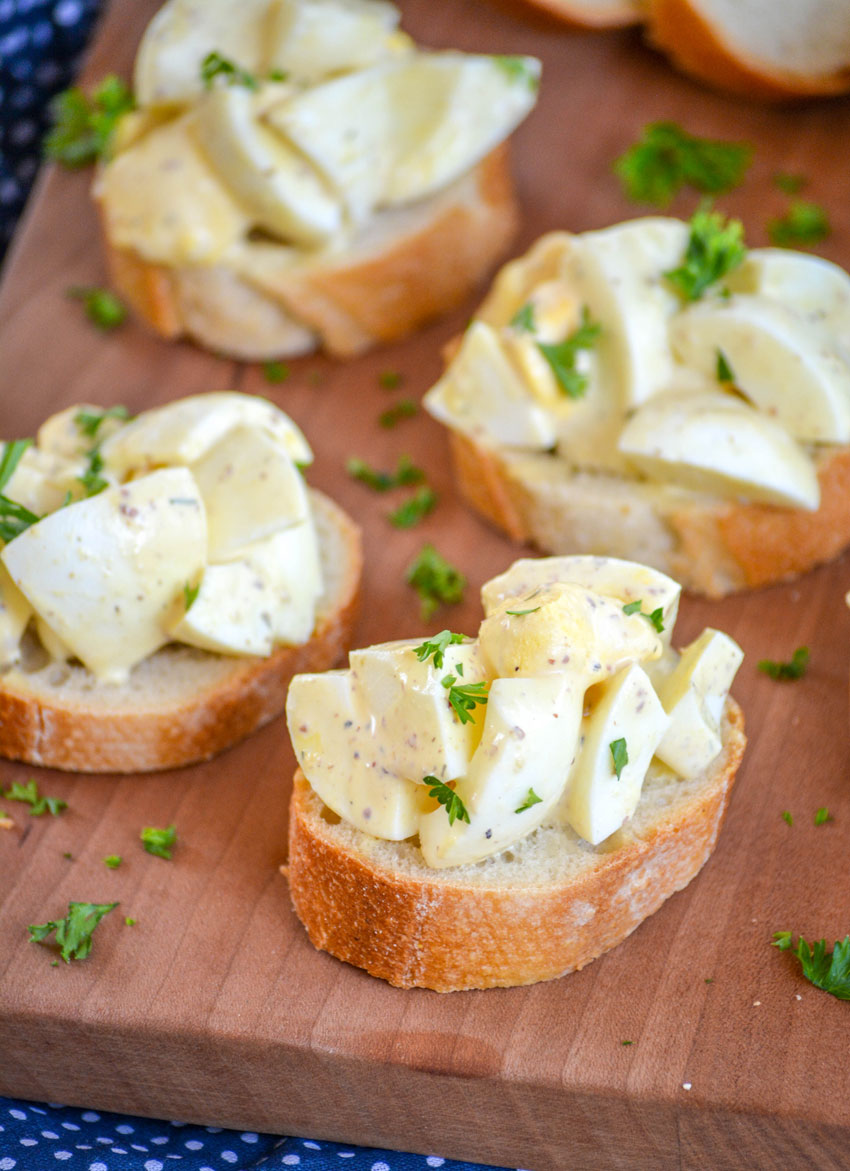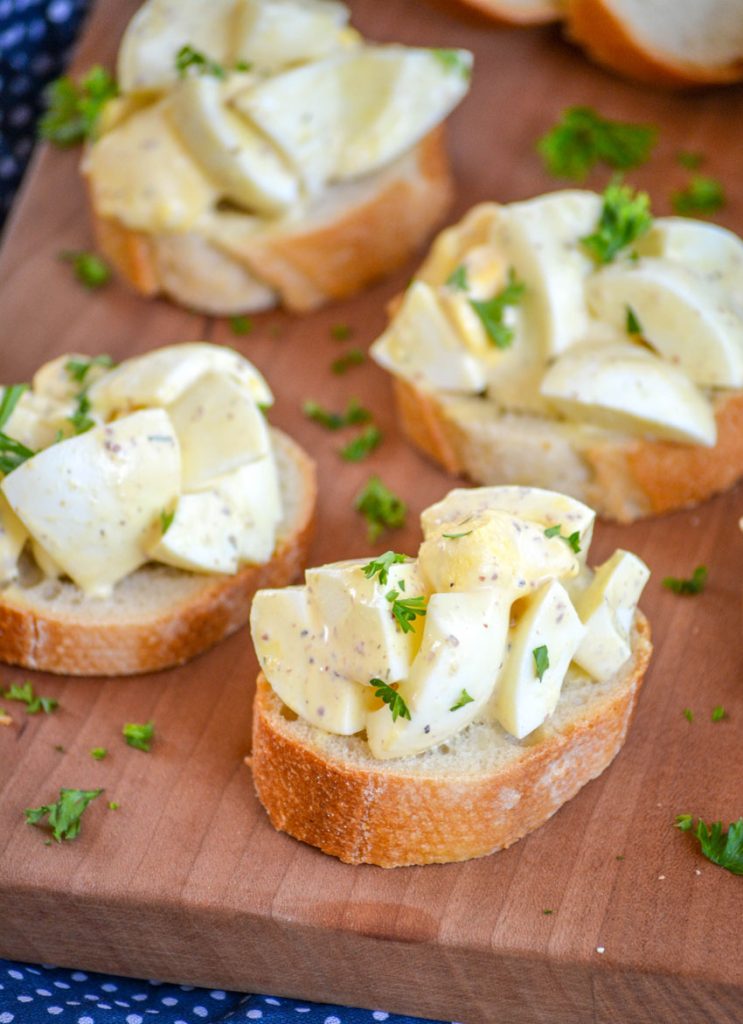 Deviled eggs are one of those appetizers. I love the flavors and textures, but I don't make them very often. Frankly, they can be kind of high maintenance. That's just not my style unless it's a really special occasion.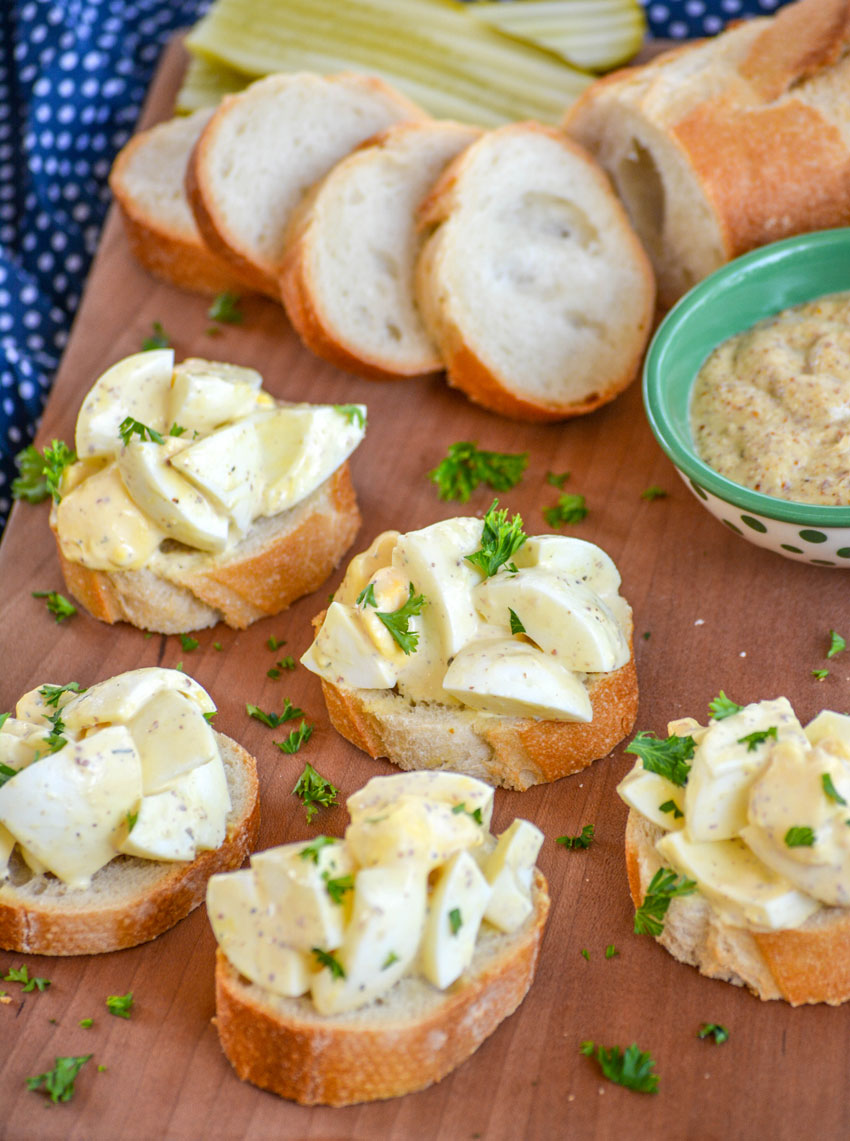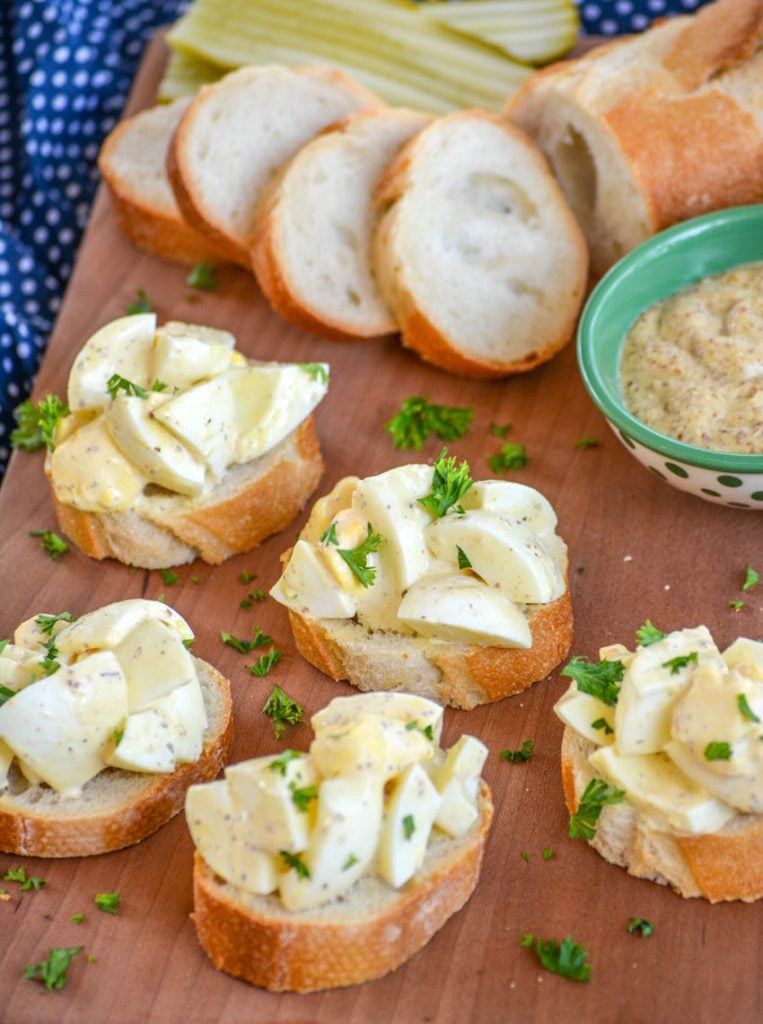 This deviled egg bruschetta is not. It keeps all the classic deviled egg flavors but makes them so much easier and faster to make. Plus, it adds a crusty slices of French baguette and that's always a win.
It's presentation creates a really pretty picture too. Simple recipes that really dress up a table? Those are also always a win in my book.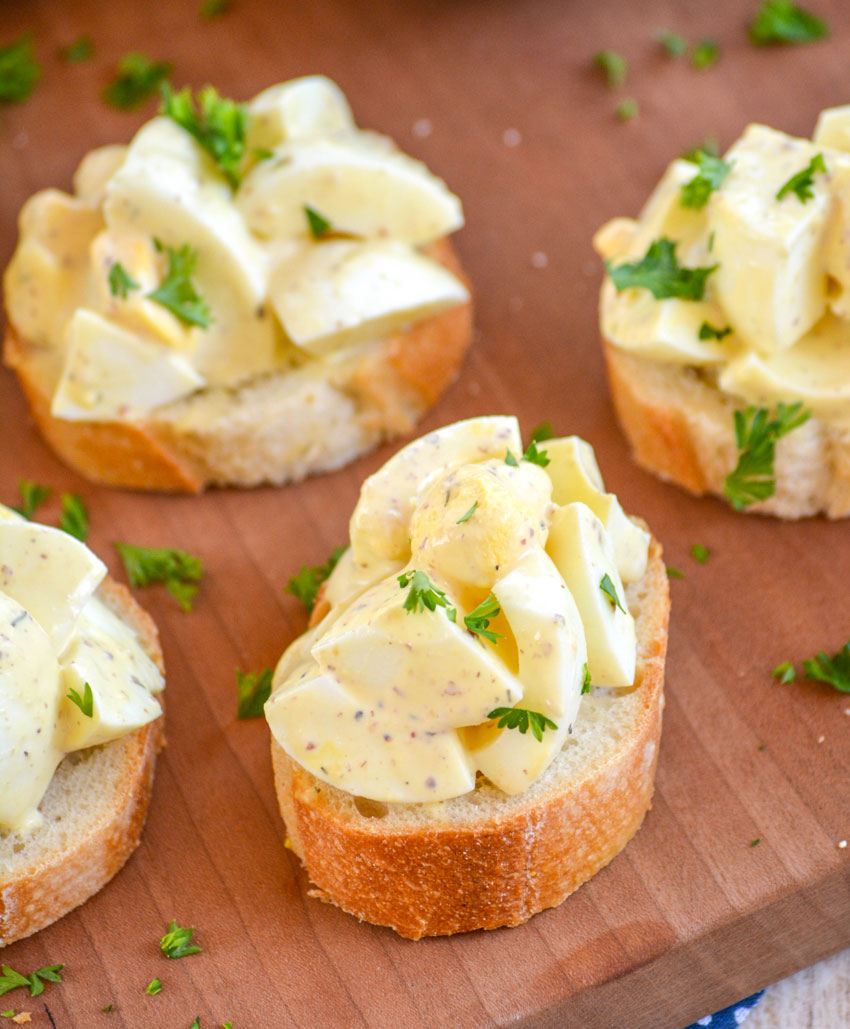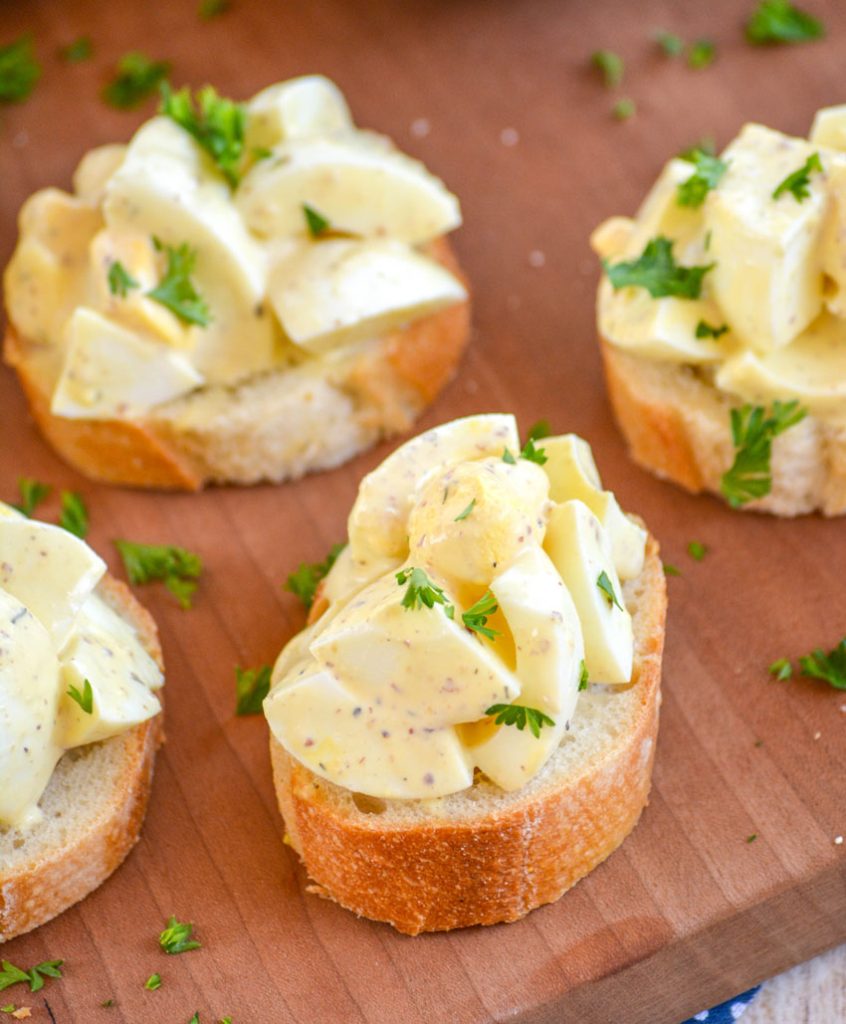 With traditional deviled eggs, you start by hard boiling the eggs. Then you have to carefully peel them, keeping the egg whites beautifully in tact. After you peel the eggs, you slice them in half and remove the yolks to make the filling. Then once you have made the filling, you stuff it via spooning or piping it into the perfect egg whites.
It feels like a lot for food that's not a fancy or fun dessert or appetizer. How many eggs do I end up chucking, or saving for egg salad, every single time because they don't peel prettily?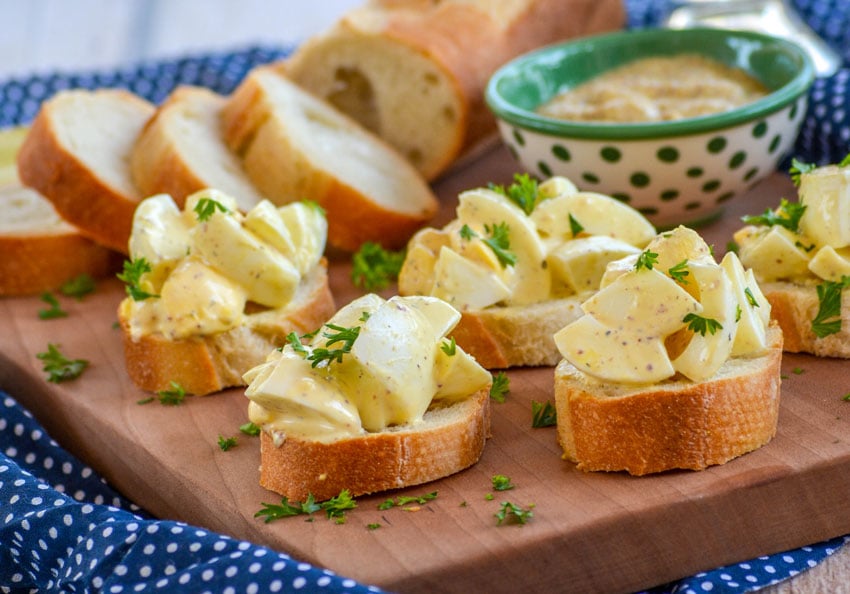 For this deviled egg bruschetta, you don't need to work quite that hard. After you hard boil your eggs, you can peel them. It's no big deal if you nick a white in the process. Because instead of using the egg whites as a serving vehicle the way you do with deviled eggs, you mix them right into the deviled egg salad and use the baguette as a vehicle. It's so much less hassle.
While this deviled egg bruschetta is less stress, it does not sacrifice on flavor. Many of the traditional deviled egg flavors are here but with a twist. Creamy mayo and smooth yet slightly tangy sour cream balance out spicy mustard. A dash of dill pickle juice provides vinegary brine. Dill replaces paprika for a flavor surprise that goes so well with spicy mustard.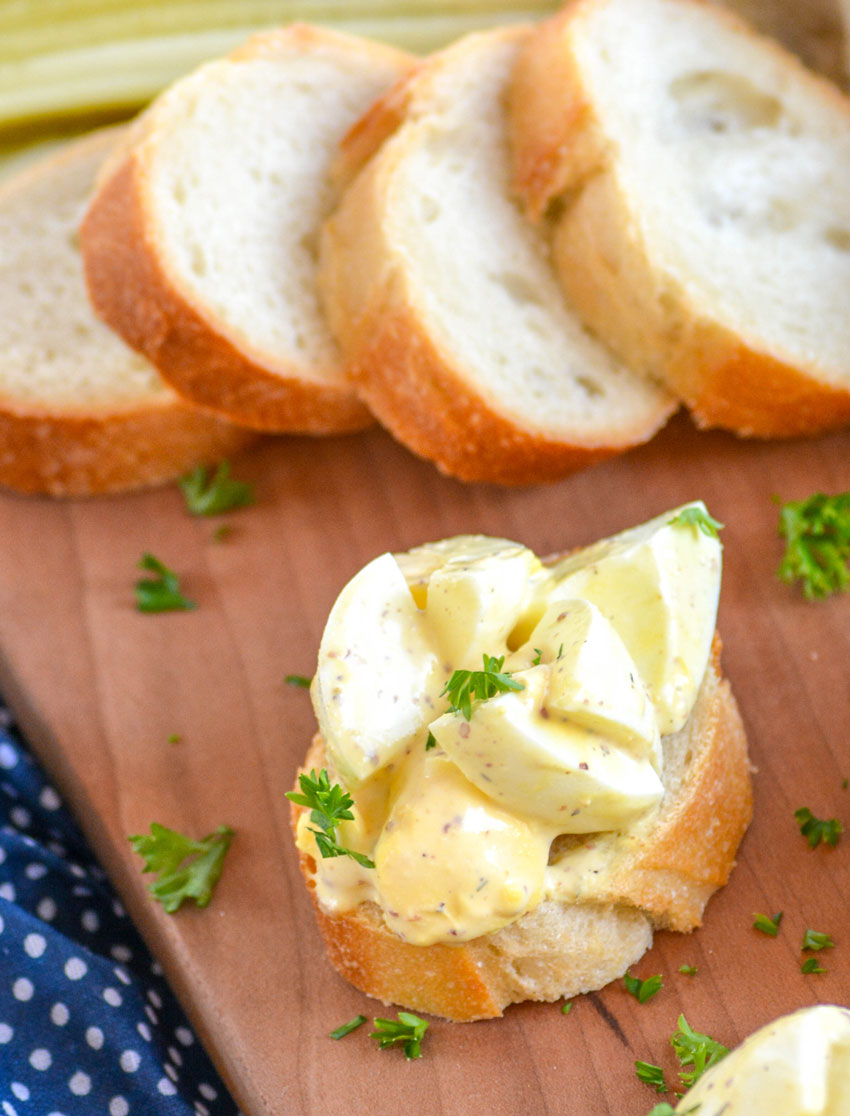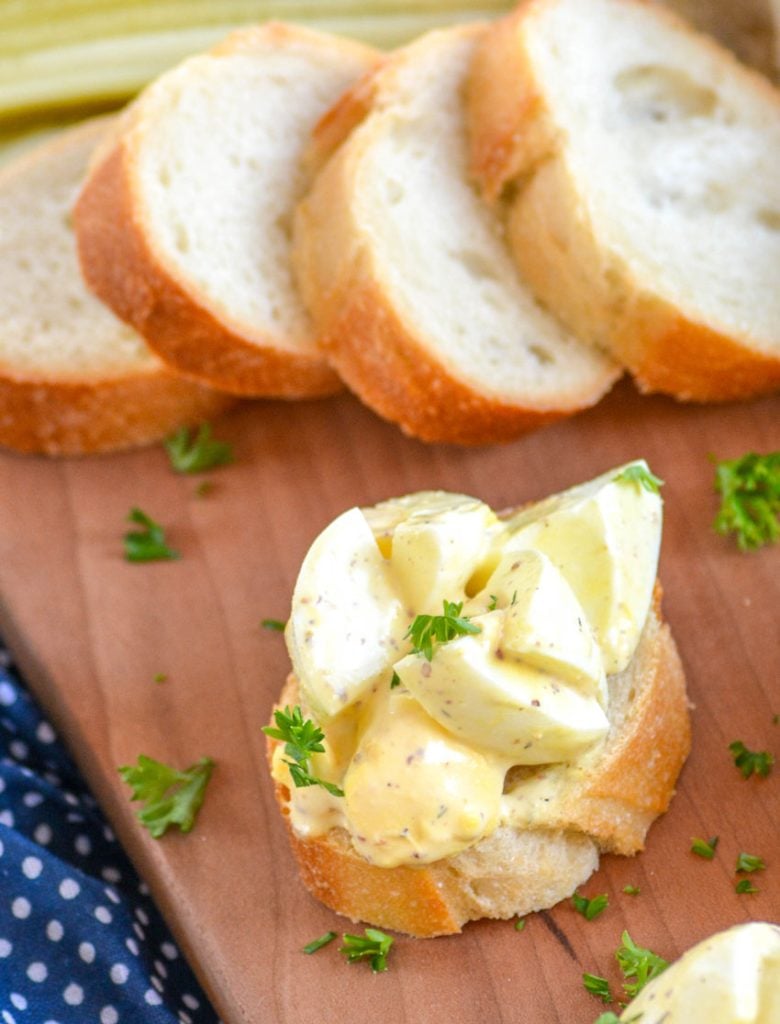 To make the deviled egg salad, just chop the hard boiled eggs. Then you can set them aside briefly while you whisk together mayo, sour cream, mustard, pickle juice, dill, and salt and pepper. After you have the dressing made, you can gently fold in the eggs and lightly toss them until evenly combined. To finish just spoon the salad onto slices of toasted baguette.
You don't have to, but if you're a deviled egg traditionalist, you can totally sprinkle these baguette bites with paprika before serving. Not necessary at all, but it does give them that 'authentic' feel.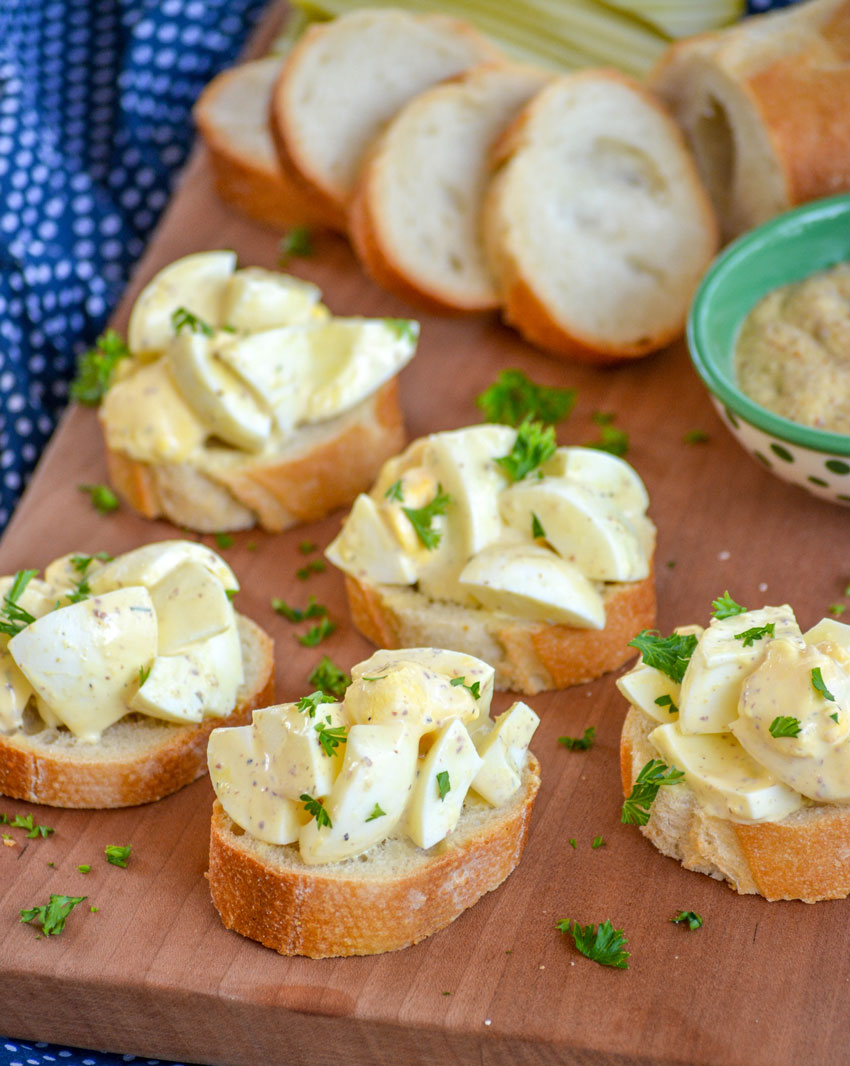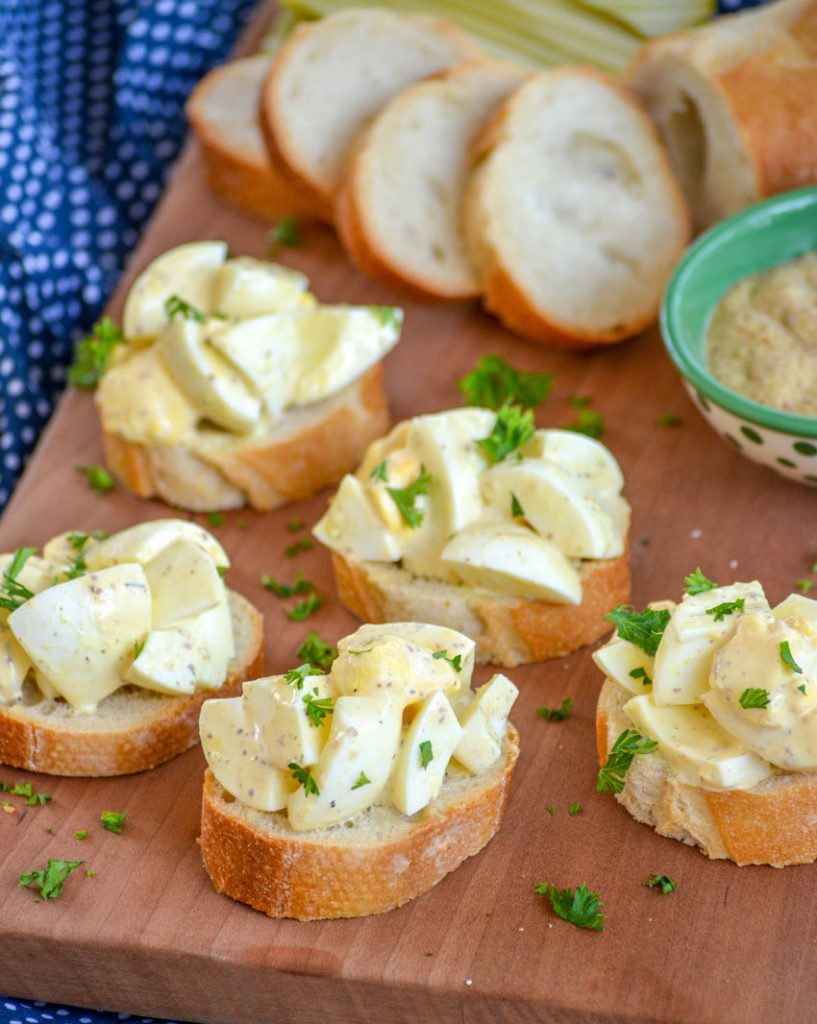 The result? This easy, elegant yet playful deviled egg bruschetta that will please your guests with its nod to classic deviled eggs.
Other Delicious Ideas For Using Hard-boiled Eggs: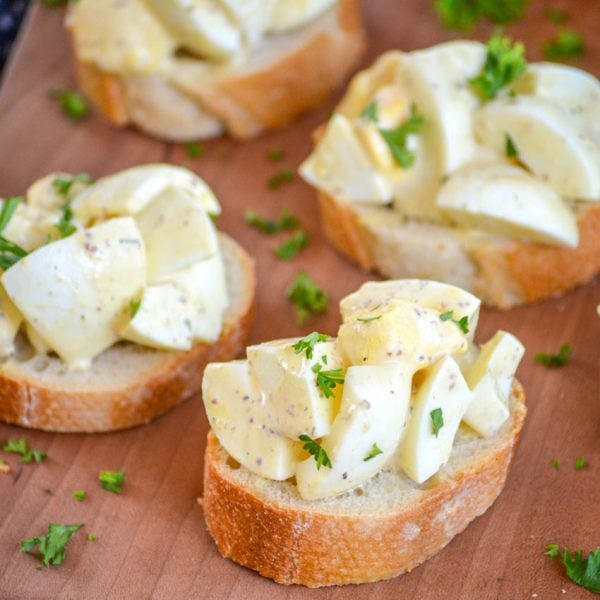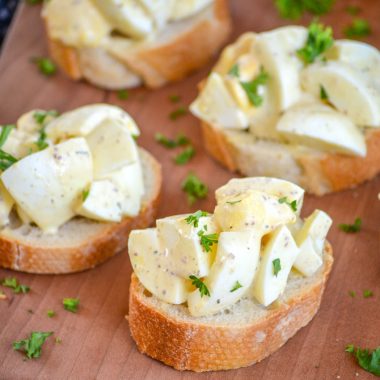 Deviled Egg Bruschetta
A new spin on deviled eggs & egg salad, this creamy version is spooned on to baguette slices and served as a delicious appetizer.
Print
Pin
Rate
Ingredients
5-6

hard boiled eggs, peeled

1

tbsp

mayonnaise

1

tbsp

sour cream

1

tbsp

spicy brown mustard

1/2

tbsp

dill pickle juice

1/2

tsp

dried dill

salt & pepper, to taste

1

fresh french baguette, thinly sliced
Instructions
Roughly chop the hard boiled eggs, and set them aside.

In a small mixing bowl, add the mayo, sour cream, mustard, pickle juice, dill, salt & pepper. Whisk together until the sauce is smooth.

Add the eggs to the bowl, and gently toss to combine. Make sure the eggs are evenly coated.

Lightly toast the baguette slices, or use as is, and serve with the deviled egg bruschetta generously scooped on top.