A quick and easy dessert, these Peanut Butter & Jelly Bars showcase a classic combo in a fun new way.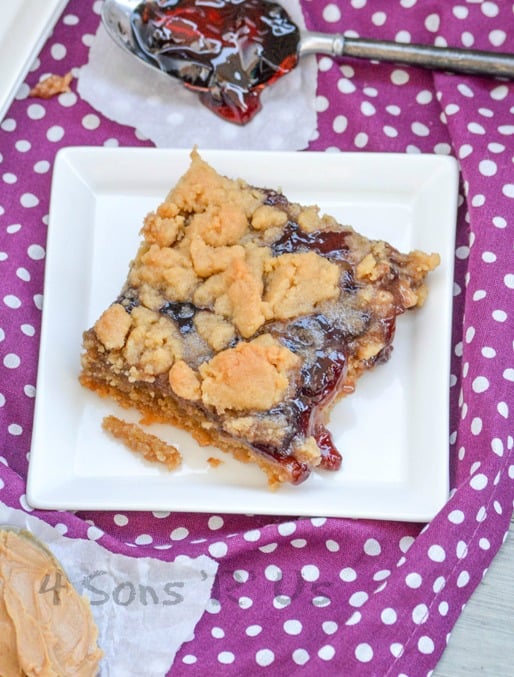 Did you ever eat so much of something growing up, that you were just done as an adult?
I can't tell you the number of things I ate so much of that I steadfastly refuse another bite in my adulthood.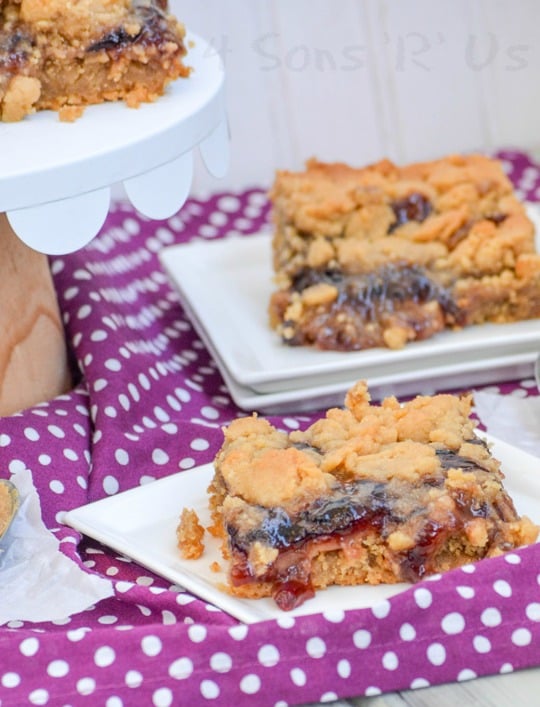 Bananas, hot dogs, sunny side up eggs, milk, and peanut butter. Just to name a few. I'm hoping there aren't others.
Geez, now I kinda feel bad. I'm always on my boys about not being picky eaters. Does this make me picky??
I mean there is a flip side, the things I wouldn't touch with a ten foot pole as a kid that are now part of my regular menu.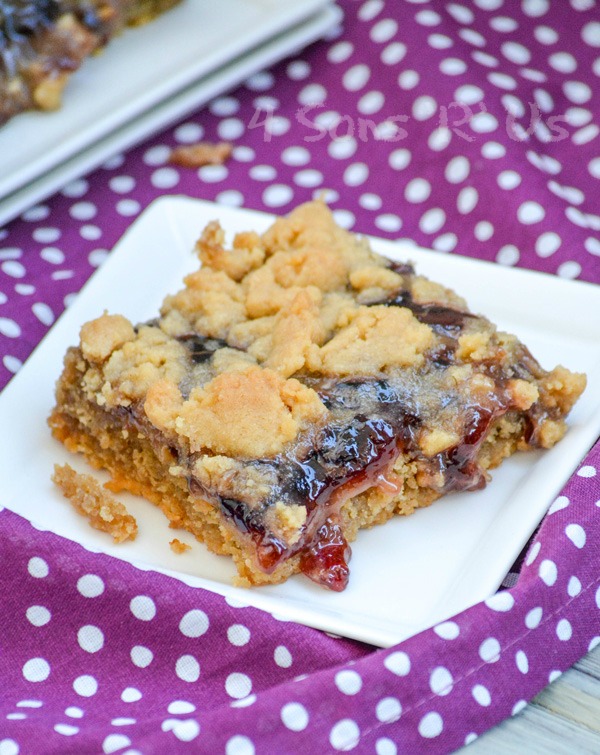 Luckily, there's many more of those.
A few that come to mind? Grits– my Mom swore they were good with cheese or butter, nope they were like little grains of death the two times I tried them.
Olives. Olives! That tangy brine I just knew was poison.
Spinach. The one (and only) time I ever outlasted my Mother at the 'you will sit at this table until you finish your dinner game'.
Blue cheese. Cheese WITH mold on it is really a thing??
I can't live without 'em, NOW.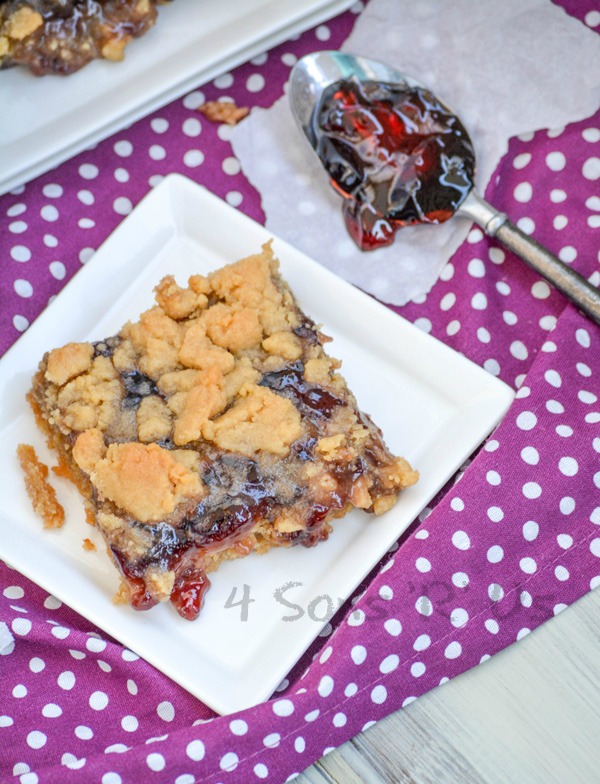 There's even a few things I hated when I was younger that I've learned are still a firm no-go for my palette. Cucumbers, scallops, most fish, rhubarb, and pretty much anything spicy.
In my quest to re-try and even take back some of these foods I overindulged in as a kid, after a 20 year hiatus, I am slowly re-introducing peanut butter.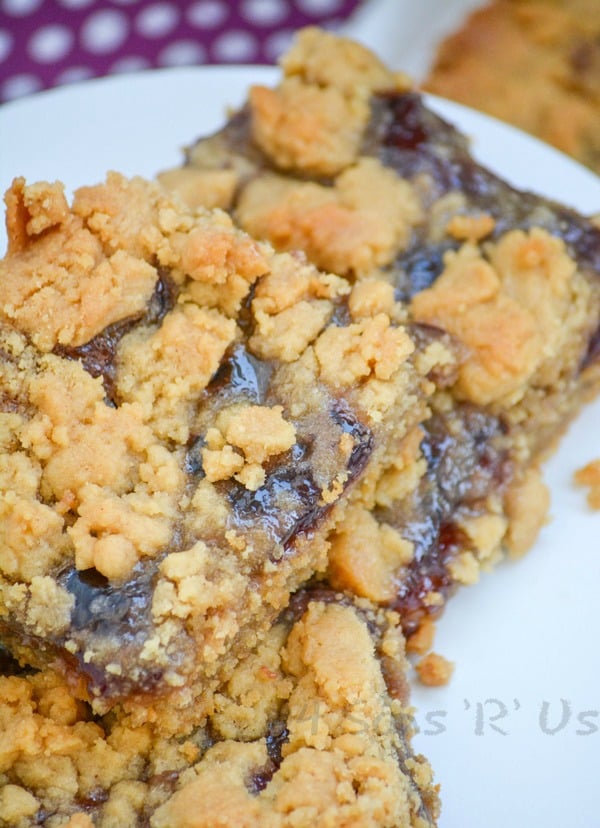 While I'm not typically a 'sweets' person, I have discovered that in the guise of a yummy dessert– I can be all about some peanut butter.
Like with these quick and easy, Peanut Butter & Jelly Bars. It's all about balance, folks.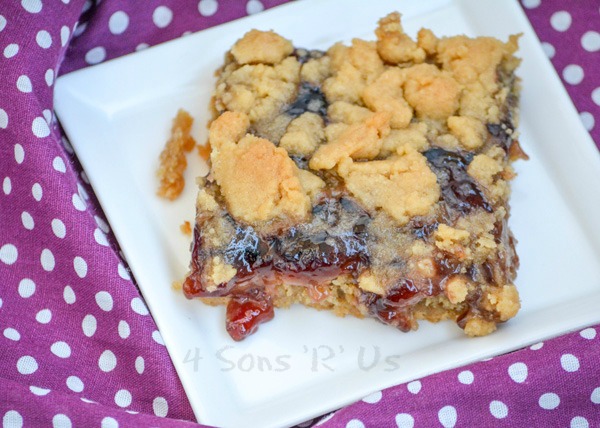 Rich and creamy peanut butter bars are slathered with thick layer of grape jelly. Dolloped with more spoonfuls of the peanut butter batter, these Peanut Butter & Jelly Bars are a yummy hybrid snack or dessert. I may have even had one for breakfast with a cup of coffee for me and a cold glass of milk for the kids.
Isn't it nice when we can all agree on something, regardless of our ages??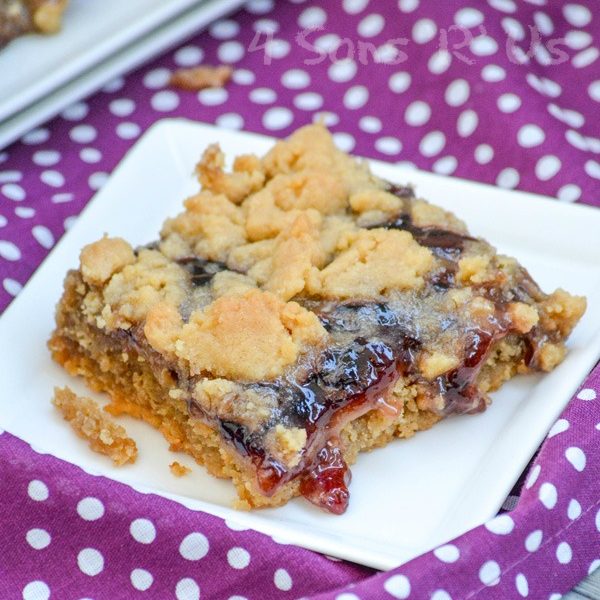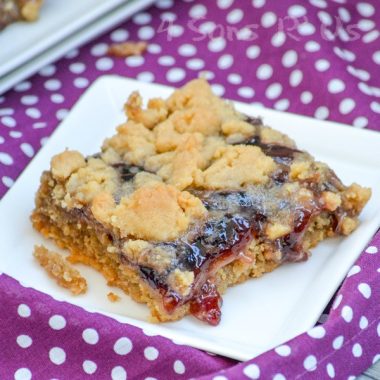 Peanut Butter & Jelly Bars
A simple dessert, that features one of your favorite childhood flavor combinations.
Print
Pin
Rate
Ingredients
1

cup

butter, softened

1 1/2

cup

sugar

1

tsp

vanilla extract

2

large

eggs, room temperature

2

cups

creamy peanut butter

3

cups

flour

1

tsp

baking powder

1 1/2

cup

grape jam/jelly
Instructions
In the bowl of a stand mixer, cream together the butter and sugar until whipped and fluffy.

Add in the eggs, extract, and peanut butter-- mixing until evenly incorporated.

Slowly add in the flour and baking powder, mixing consistently until evenly incorporated.

Lightly grease a 9x13" pan with non-stick cooking spray. Spread 2/3 of the batter evenly out over the bottom of the pan.

Using a spatula, spread the jam/jelly out over the batter leaving a half inch clean on all sides.

Using a teaspoon, drop the remaining batter/dough evenly out over top of the dish.

Bake at 350 degrees for 25-30 minutes, or until the edges are golden brown and cooked through.