Potato salad is a Southern staple, but just like your wardrobe- it's a dish that needs to be updated for the season. This Warm Mustard & Herb German Style Potato Salad is a cold weather 'must-have', seasonal side dish.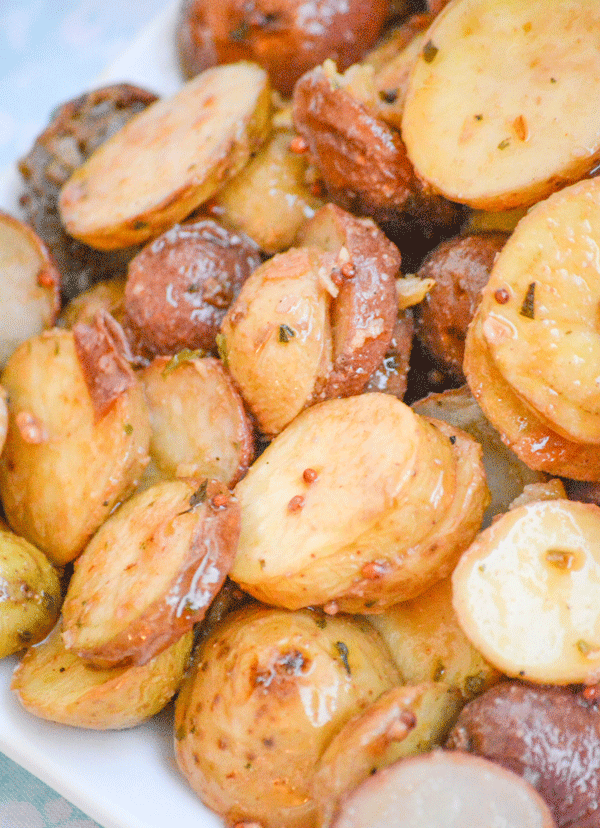 While we're under this Winter weather advisory, the subsequent storm and snowfall afterwards.
We don't necessarily stock up on, or even crave, the traditional staples.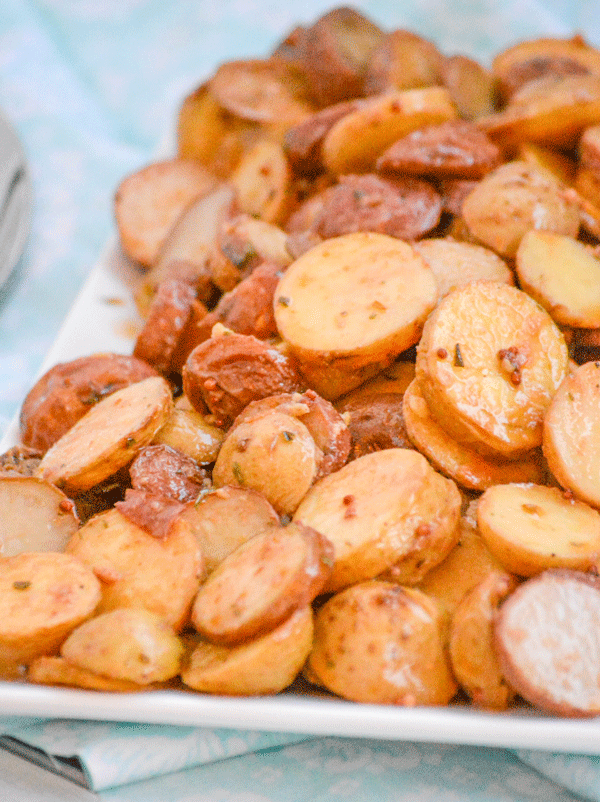 I figure if we were normal, I'd be at my stove stirring a vat of Sweet Heat Chili. Or maybe taste testing the latest batch of Nonna's Italian Chicken Noodle Soup.
Cheesy pasta like these Creamy Garlic Shells or even a Smoked Sausage & Cheesy Potato Casserole would fit the bill.
Nope, not over here. Not for this gal, LOL.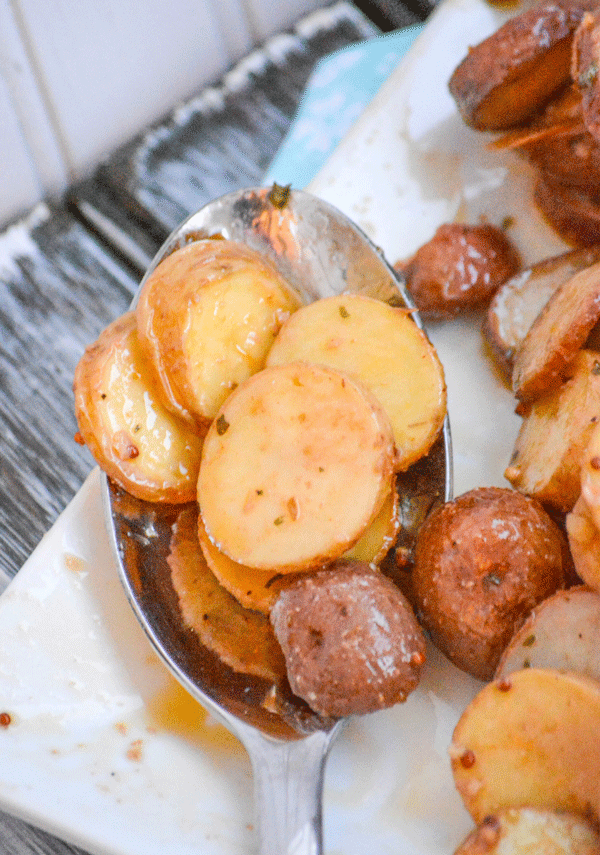 Instead, I'm making regular things like burgers, dogs- meats, ya know? My focus has been all about the sides.
Sides are important. Recently, they even feel like a lost art. Like as good as your perfect cooked, buttery steak is- a solid side dish is what will truly define the meal.
Thankfully, this Warm Mustard & Herb German Style Potato Salad delivers on all points.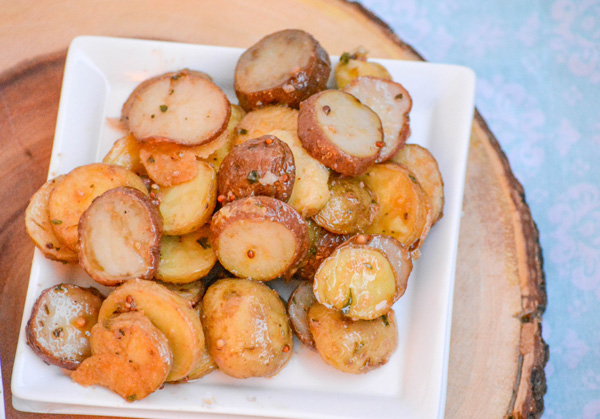 I used being snowed in as the perfect excuse to take one of my all time favorite side salads, and give it a Winter make over.
In the warmer months, my Southern heart adores a creamy mayo based potato salad. Take our Dill Pickle Potato Salad, for example.
And while that pairs great with grilled wings, grilled steak, grilled just-about-anything- it doesn't pair well with much of anything in the colder temps.
If you weren't aware already, let me bring to your attention the creamy, Southern style's polar opposite. German potato salads are warm, inviting, & just as comforting, but vinegar based.
Just as tasty, this Warm Mustard & Herb German Style Potato Salad is perfect for pairing with dishes that aren't barbecue based.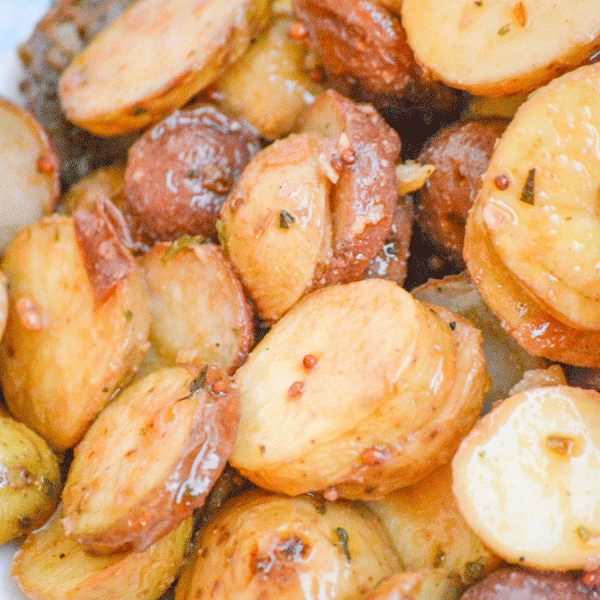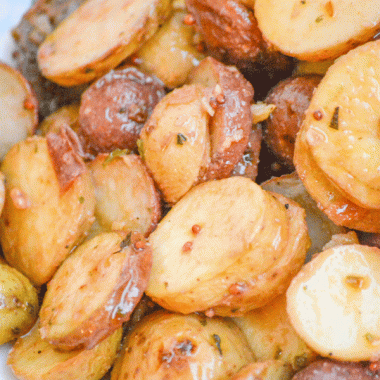 Warm Mustard & Herb German Style Potato Salad
A warm, mustard & vinegar based potato salad that's begging to be paired with your favorite seared meats.
Print
Pin
Rate
Ingredients
For the Mustard & Herb Vinaigrette
3

tsp

minced garlic

2

tsp

minced shallots

2

tbsp

stone ground mustard

1

tbsp

Dijon mustard

2

tsp

oregano

2

tsp

parsley

1/4

cup

red wine vinegar

1 1/4

cup

extra virgin olive oil

salt & pepper

to taste
For the Potatoes:
1 1/2

lbs

baby potatoes

scrubbed clean and sliced into coins

2

tbsp

olive oil

1

tsp

onion powder

1

tsp

smoked paprika

salt & pepper

to taste
Instructions
To Make The Mustard & Herb Vinaigrette
Add all of the ingredients to a food processor, using the smooth blade whip everything together until the dressing's emulsified. Set aside.
To Make The Potatoes:
To a large mixing bowl, add the potatoes. Drizzle them with oil, tossing to evenly coat. Season them with the spices, again tossing to evenly coat. Spread them out in an even layer on a baking sheet.

Bake the potatoes at 425 degrees for 30 minutes, turning and tossing them at the 15 minute mark. The potatoes should be fork tender, if not- bake them an extra 5 minutes.

Transfer the roasted potatoes to a serving dish. Pour 1/2 cup of the vinaigrette over the potatoes, gently tossing to evenly coat. Add more, to taste. Reserve the rest for an additional batch, or as a salad dressing.