Whip up a batch of this glazed strawberry bread with it's sweet cream cheese glaze, and you will instantly fall in love with how easy it is to make and also how versatile is is. Pair a slice for breakfast with your morning cup of coffee or tea to start your morning off right, or end the day with a thick slice topped with fresh whipped cream for a indulgent dessert.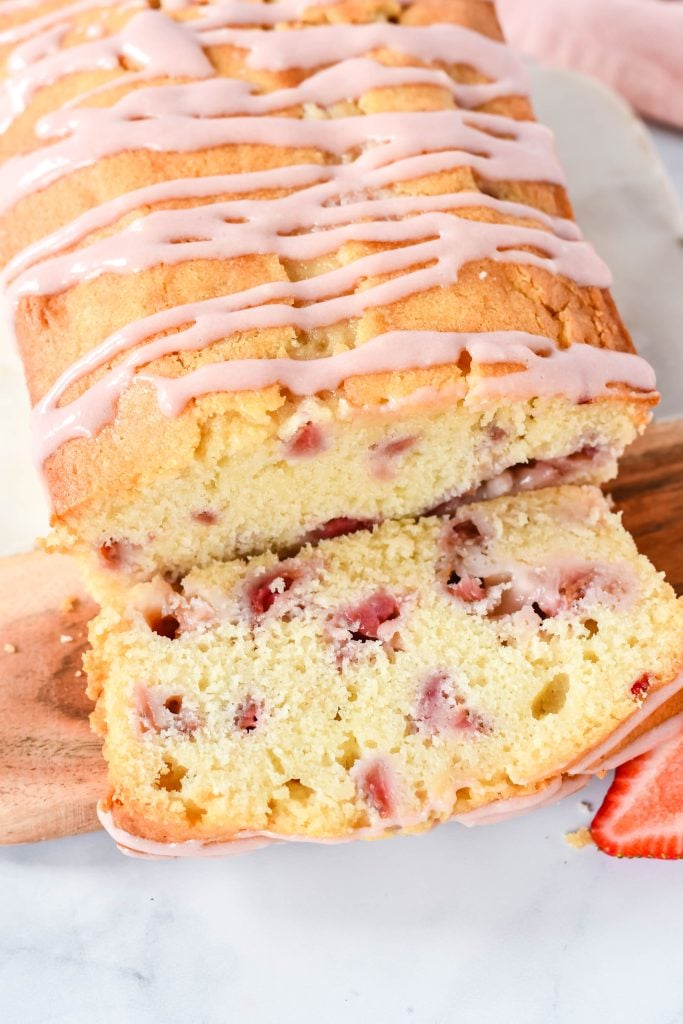 Banana bread seems to get all the glory.
Don't get me wrong, banana bread is great and my family loves our recipe.
But a batch of this simple strawberry bread had us all saying, 'banana bread what?!'
Look out kids there is a new snack food on the block and its kicking that old fashioned banana bread to the curb!
Seriously, this strawberry bread is beyond delicious. Give it a try, and discover it's delicious-ness for yourself.
You need this glazed strawberry bread in your life!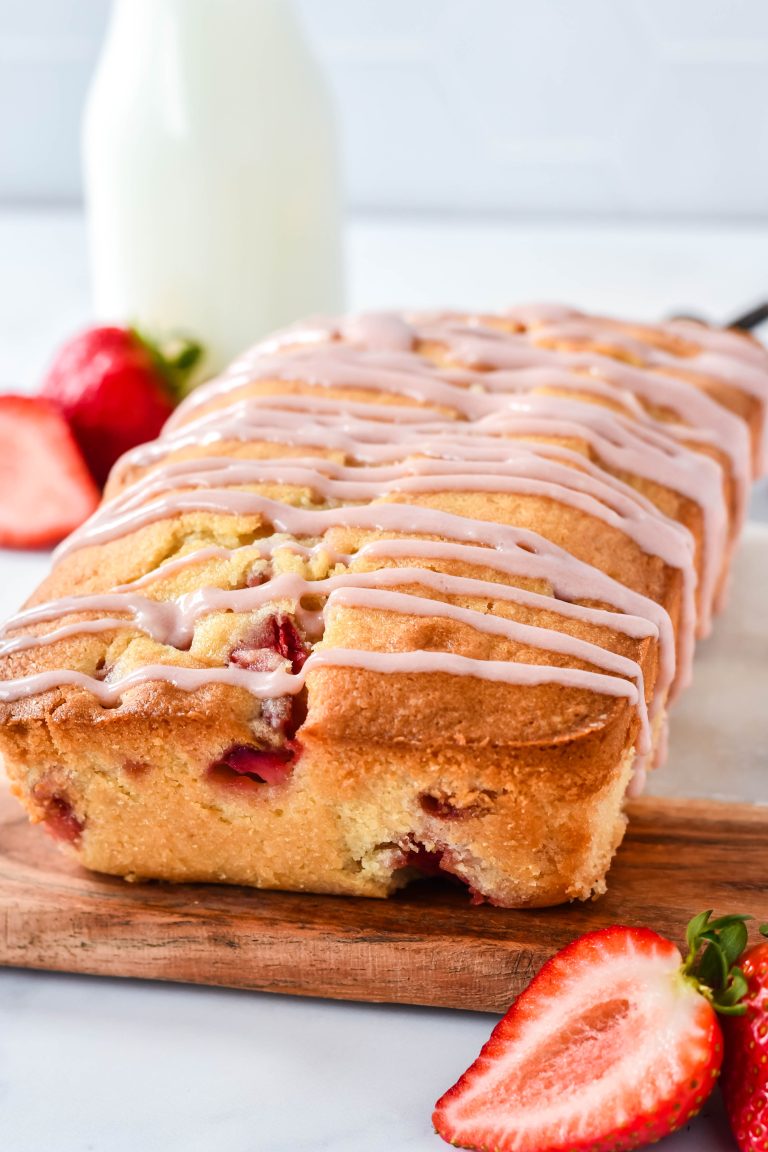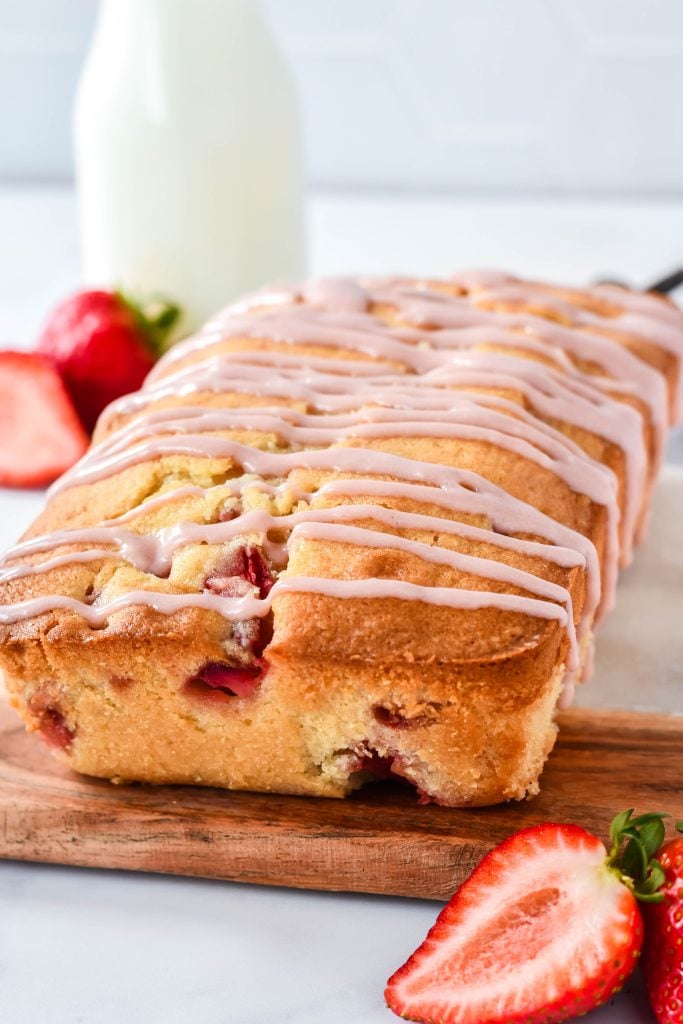 What Can I Do With Too Many Strawberries?
I have this annoying tendency to over-buy on produce.
I partially blame my kids' constantly changing likes and dislikes in this dept.
And also my inability to resist a good sale, and my bad habit of often forgetting to take my carefully thought out grocery list with me to the store.
Well, what do you do when you end up with not one, not two, but three pounds of ripened berries?
They're delicious, but they do not last long.
Sure I could've made them into coffee cake muffins, a slab pie, or even delectable healthy oat bars for breakfast.
But with that many berries on hand, those options all seemed rather boring.
I wanted something truly tasty that would work for both breakfast AND dessert.
This glazed strawberry bread pairs perfectly with any menu, morning or evening.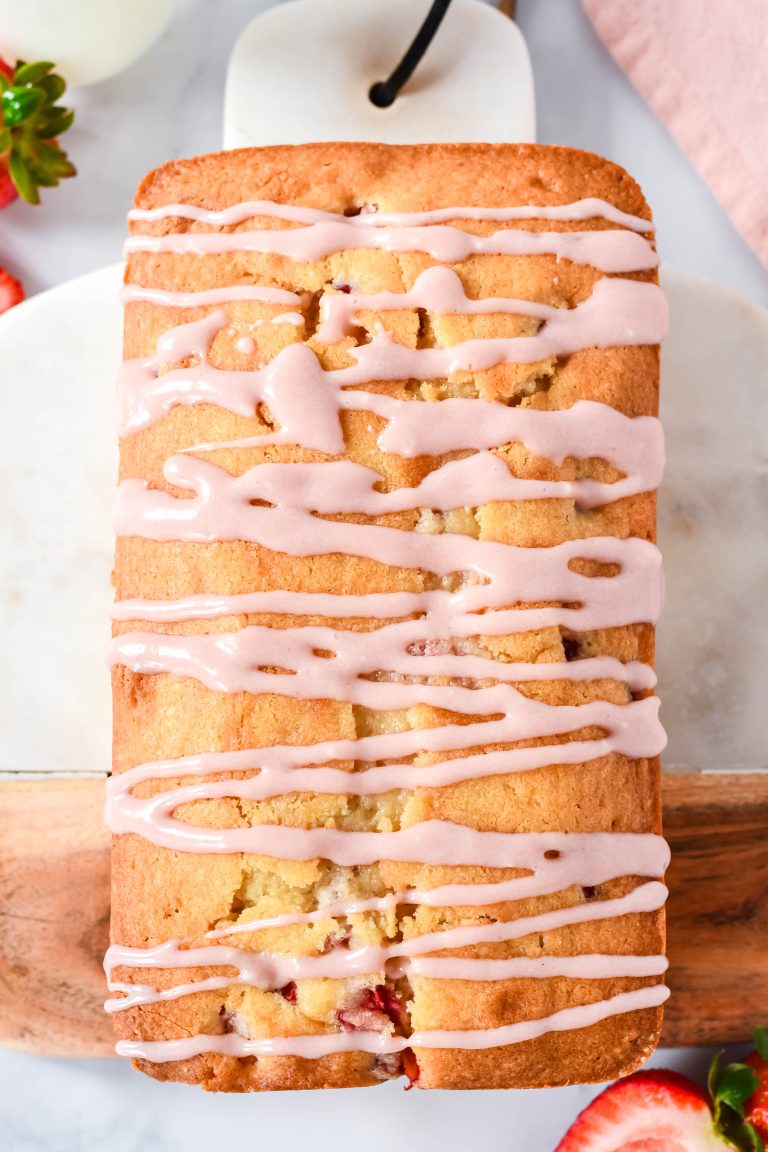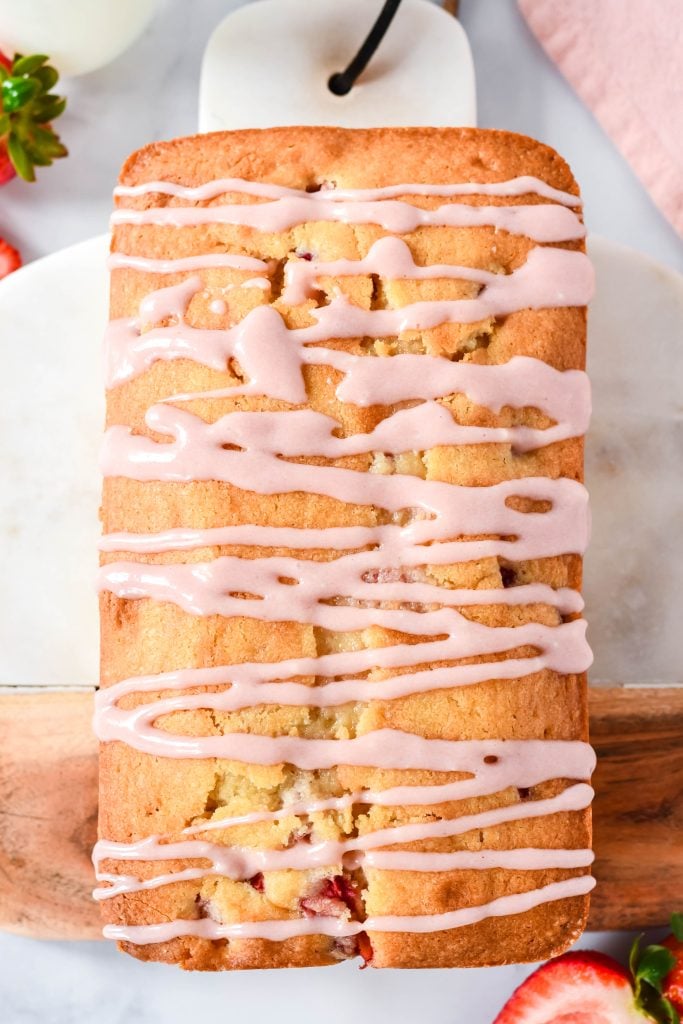 Making Glazed Strawberry Bread From Scratch
Making fresh homemade bread doesn't have to be hard. This recipe is actually very easy to follow, and the fresh fruit jazzes it up perfectly.
It uses traditional ingredients, such as- flour, butter, sugar, eggs, vanilla extract, baking powder, salt, and milk.
Coating The Berries In Flour Before Baking
Then of course the freshly chopped strawberries. Those are tossed in a mixing bowl with a bit of flour. This may seem odd, but actually serves a crucial purpose.
A light flour coating around the berries will absorb excess liquid from the berries as they bake.
This is important for two reasons.
First, it keeps the berries from sinking to the bottom of the bread and keeps them evenly distributed in the batter.
Finally, it prevents the berries juices from making the batter too soggy which would keep the glazed strawberry bread from cooking all the way through.
Soggy bread, in any form, is extremely disappointing. Nobody wants that- so make sure you don't skip this simple step!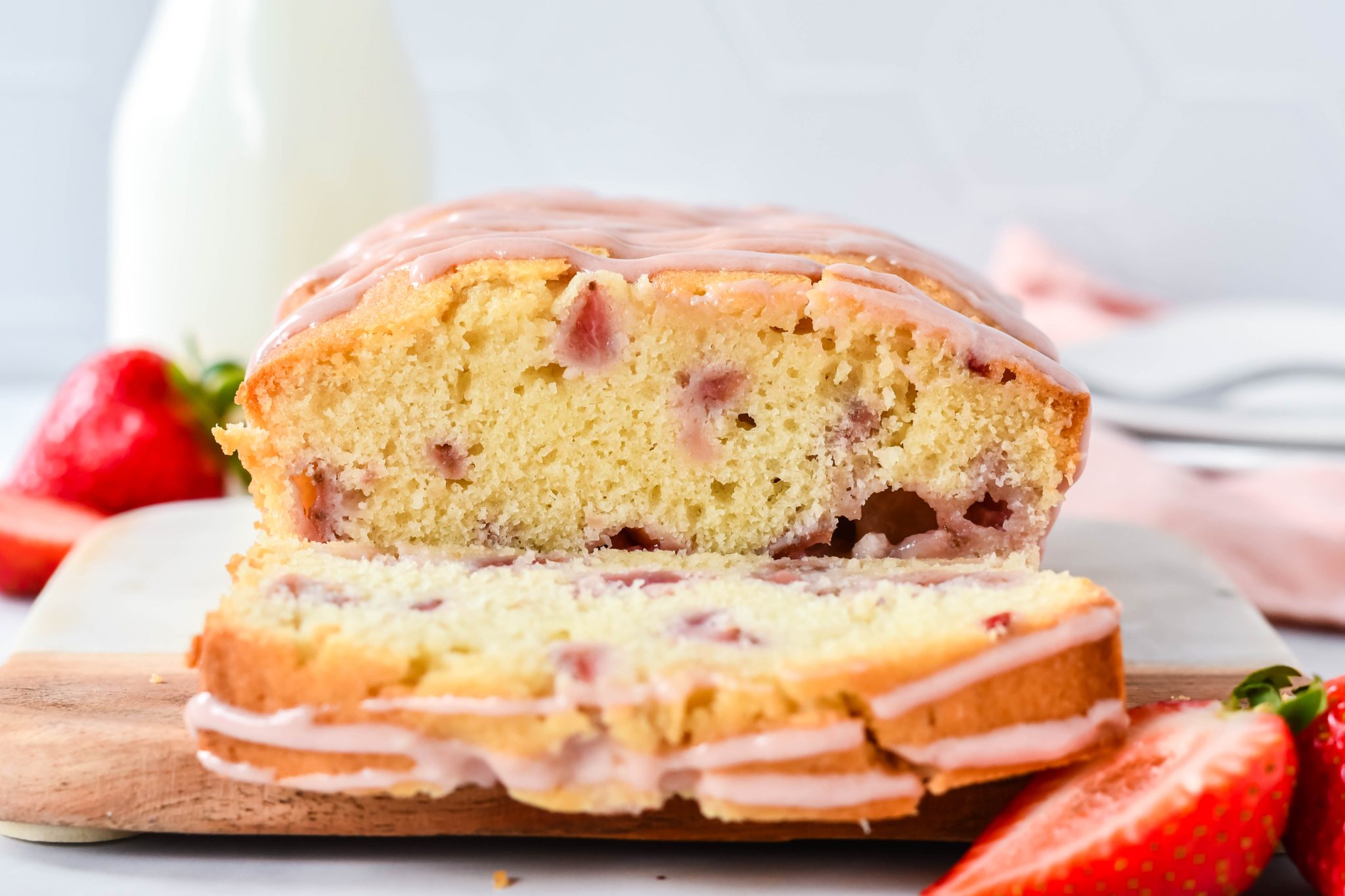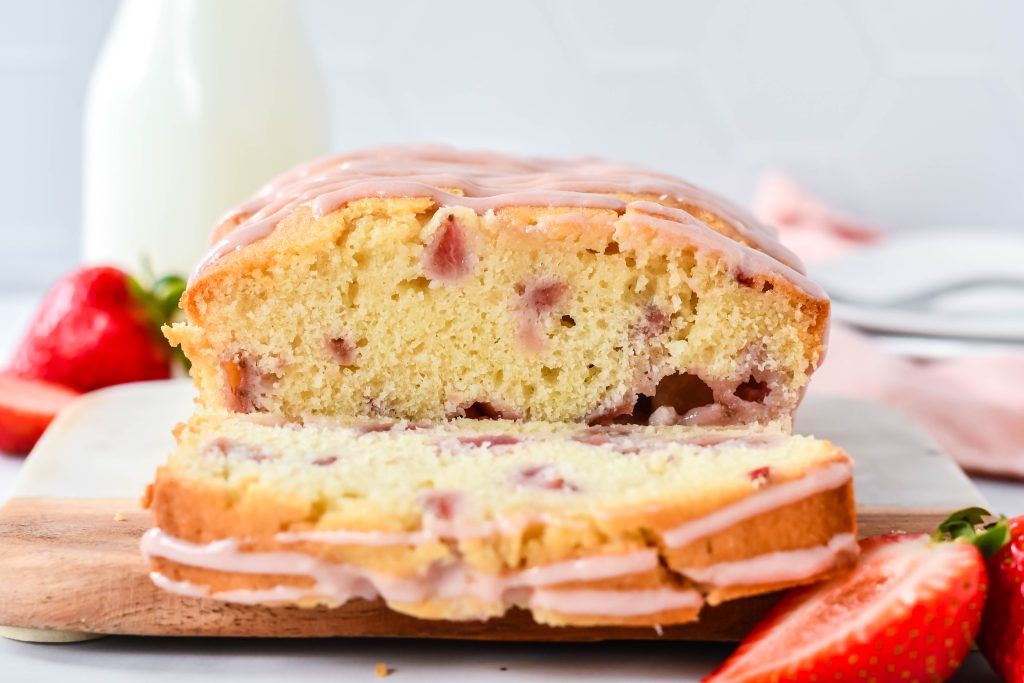 Bringing The Batter Together
Add butter and sugar to the bowl of a stand mixer. Cream them together until smooth.
Add in eggs and vanilla extract, again mixing until combined.
You will need to use a spatula to scrape the mixture down the sides of the bowl into the well to ensure it's evenly incorporated.
Add baking powder and salt, again mixing until completely incorporated.
Reduce the speed of your mixer to low, and add in flour and milk- alternating between the two, but beginning and ending with flour.
Don't be tempted to continue beating on medium speed, this will result in the flour blooming into a cloud that coats your kitchen appliances and counter like a very unwelcome powdery coating of snow.
Continue mixing just until the batter's smooth.
Using a spatula, fold in the prepared strawberries.
Preparing The Bread
Grease a 9×5″ baking dish with butter, or non stick cooking spray. I recommend using plain old fashioned butter- just like my Grandma did.
Pour the batter into the prepared baking dish.
Once all the batter's in the dish, tap it a few times squarely on the counter. This will release/pop any hidden air bubbles.
Bake the strawberry bread at 350 degrees for 45-50 minutes, or until a tooth pick inserted in the center comes out clean and smooth.
Let the bread rest in the dish for 10 minutes. Resting is important so try and be patient.
Once the 10 minutes have elapsed, transfer the strawberry bread to a wire rack to finish cooling completely.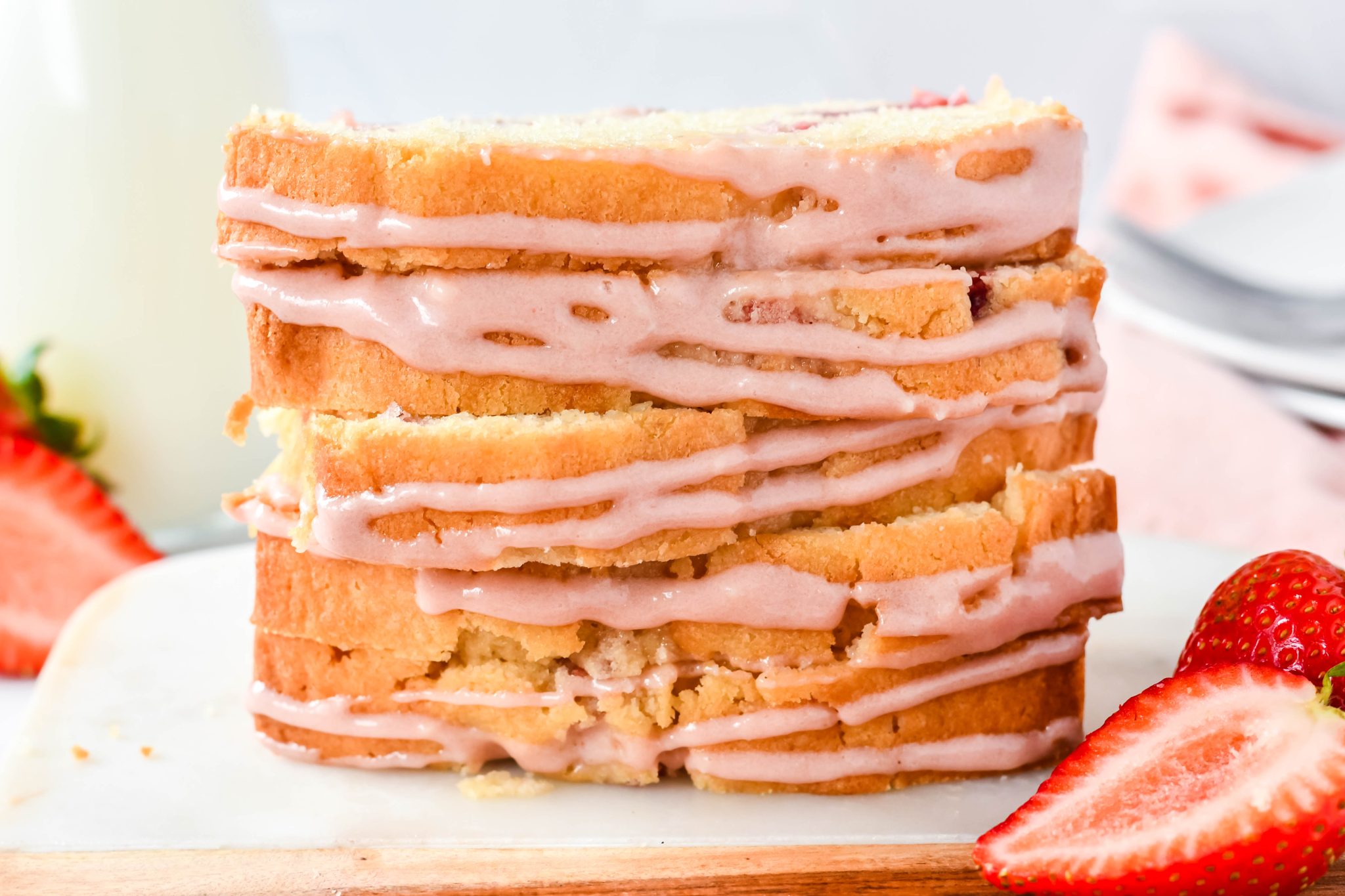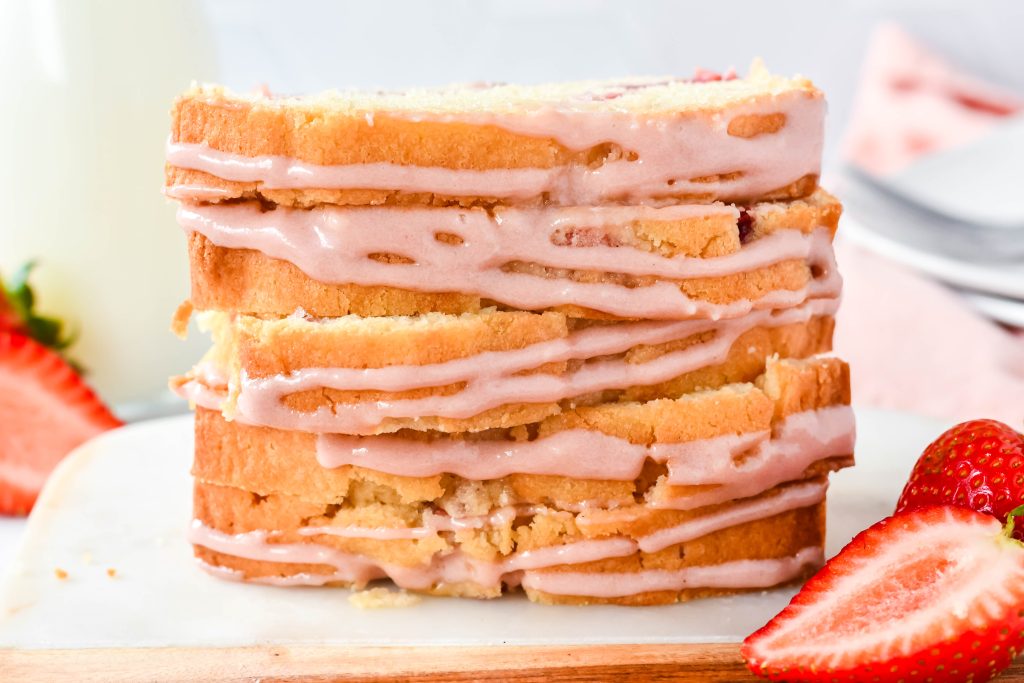 Making The Cream Cheese Glaze
This cake-like bread is delicious all by itself. You could & can absolutely serve it as is.
However, I thought I'd jazz it up a bit by adding a a little something extra. Go big or go home, right?
I ended up adding a drizzle of sweet strawberry cream cheese glaze over top, and it was the perfect thing to take it from every day fair to something special to be savored.
In a mixing bowl, add strawberry jam, softened cream cheese, and powdered sugar. Whip together until smooth and creamy.
Once the bread's completely cooled, drizzle or spread this glaze out over top.
It will take about 10 minutes for the strawberry cream cheese glaze to set.
Once it's fully set, slice and serve the glazed strawberry bread.
TIPS & TRICKS
Swap the strawberries for other berries you love, such as blackberries, blueberries, or even peaches.
I prefer using jam for the glaze, because it's smoother without any seedy bits- but preserves work just as well.
Diabetic or trying to cut down on sugar? Use your preferred sugar substitute in place of the granulated sugar.
Slices of this bread can be served for breakfast/brunch or for dessert. If serving with breakfast, pair with coffee or milk. For dessert, I highly recommend a dollop of fresh whipped cream.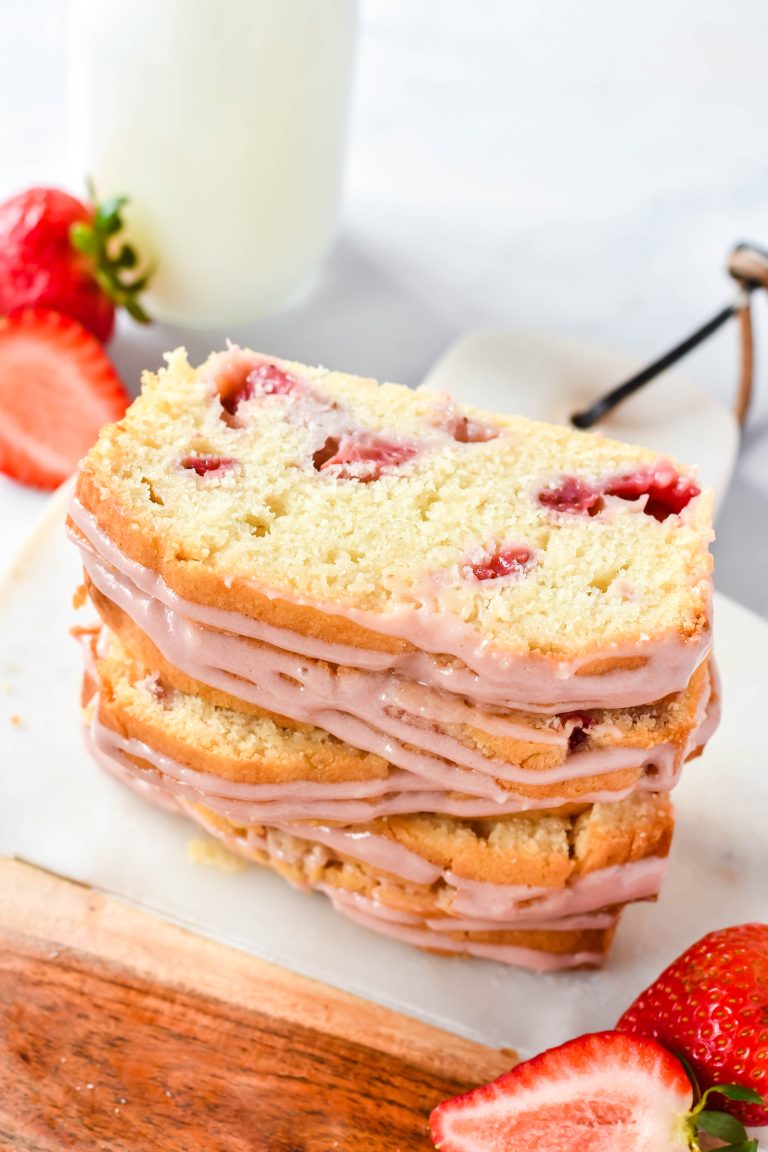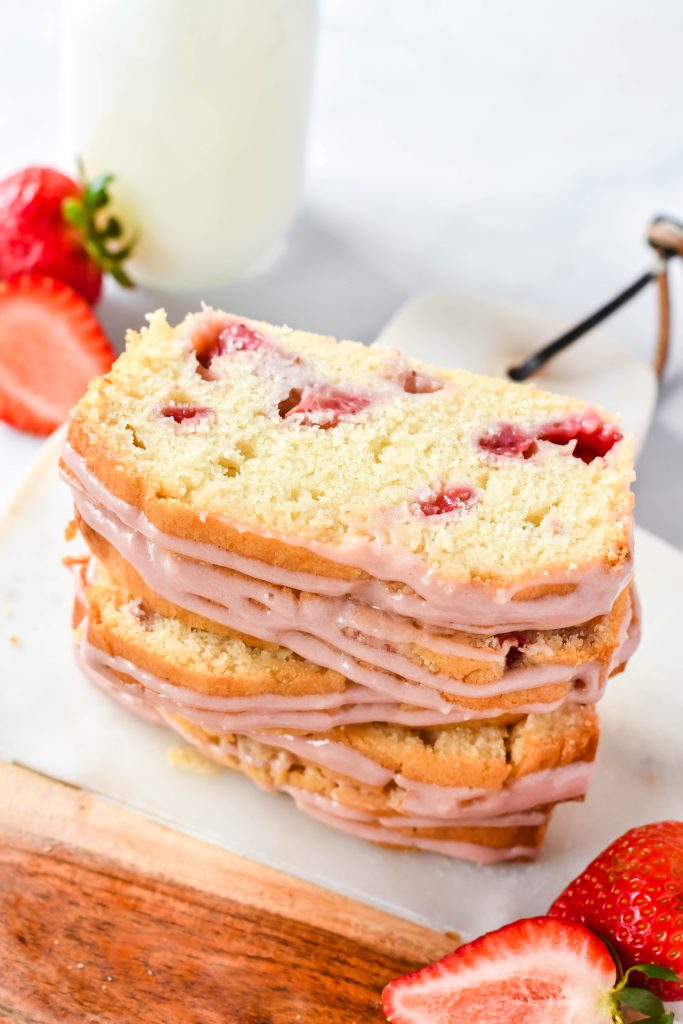 How To Store
Believe it or not, this bread actually stores very well.
I attribute it to the fact that it's not a cake, and not a true bread either. It's more like a cross between the two. Not too sweet, but perfect for serving with breakfast or dessert.
The whole loaf, minus the glaze, can be frozen once completely cooled, or you can freeze the slices. Just make sure they're sealed in ziplocking bags with excess air removed.
With this sweet glazed strawberry bread fresh strawberries meet an almost cake-like bread, finished off with a strawberry infused cream cheese glaze.
You could forgo the glaze and just spread each slice with butter or strawberry flavored cream cheese and it would be just as delicious!
Other Sweet Bread Recipes You Might Like:
If you've tried this GLAZED STRAWBERRY BREAD, or any other recipe on the site, let me know in the comment section how it turned out, we love hearing from our readers! You can also follow along with me on PINTEREST, FACEBOOK, and INSTAGRAM to see more amazing recipes and whatever else we've got going on!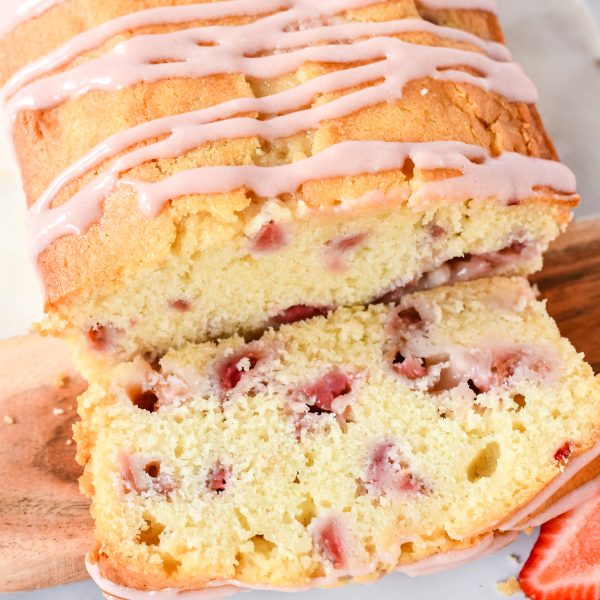 STRAWBERRY BREAD WITH A STRAWBERRY CREAM CHEESE GLAZE
Whip up a batch of this glazed strawberry bread with it's sweet cream cheese glaze, and you will instantly fall in love with how easy it is to make and also how versatile is is. Pair a slice for breakfast with your morning cup of coffee or tea to start your morning off right, or end the day with a thick slice topped with fresh whipped cream for a indulgent dessert.
Print
Pin
Rate
Ingredients
1

cup

chopped strawberries

2

Tbsp

flour

1/2

cup

butter

room temperature

1

cup

granulated sugar

2

eggs

1 1/2

tsp

vanilla

1

tsp

baking powder

1/2

tsp

kosher salt

1/2

cup

milk

1 3/4

cups

flour
For The Glaze
1/4

cup

strawberry jam or preserves

1/4

cup

2 oz cream cheese, room temperature

1/4

cup

powdered sugar
Instructions
Put the chopped strawberries in a small bowl. Add flour and stir/toss making sure they're coated well. Set aside.

In a mixer, or by hand, cream the butter and sugar together until light and fluffy, about 1-2 minutes of vigorous mixing. Next, add the eggs and vanilla mixing until fully incorporated, scraping the sides, as necessary.

Add in the baking powder and salt and mix to completely combine.

Turn the mixer to low and slowly begin adding in the flour and milk, beginning and ending with flour, but alternating between the two.

Continue mixing until batter is smooth and evenly combined.

Using a spatula, fold in the strawberries until they're fully incorporated, evenly, into the batter. Pour the batter into a greased 9×5 in. pan.

Bake at 350 degrees for 45-50 minutes, or until center is set and a toothpick or knife that's inserted into your loaf comes out clean.

Allow the bread to cool in the pan for 10 minutes and then remove from the pan and allow it to finish cooling on a wire rack.
To Make The Glaze
Beat the strawberry jam/preserves, cream cheese, and powdered sugar together until smooth. Spread over the cooled bread, allowing it to drip down the sides. Wait about 10 minutes to allow the glaze to 'set' before slicing and serving.
Nutrition
Calories:
325
kcal
|
Carbohydrates:
49
g
|
Protein:
4
g
|
Fat:
13
g
|
Saturated Fat:
7
g
|
Cholesterol:
65
mg
|
Sodium:
237
mg
|
Potassium:
128
mg
|
Fiber:
1
g
|
Sugar:
29
g
|
Vitamin A:
427
IU
|
Vitamin C:
9
mg
|
Calcium:
52
mg
|
Iron:
1
mg
originally published on 8/15/14
recipe adapted from Cookies and Cups