Is it a dessert? Is it a breakfast? You decide which applies to this dreamy Chocolate Pretzel Monkey Bread with Caramel Sauce Drizzle.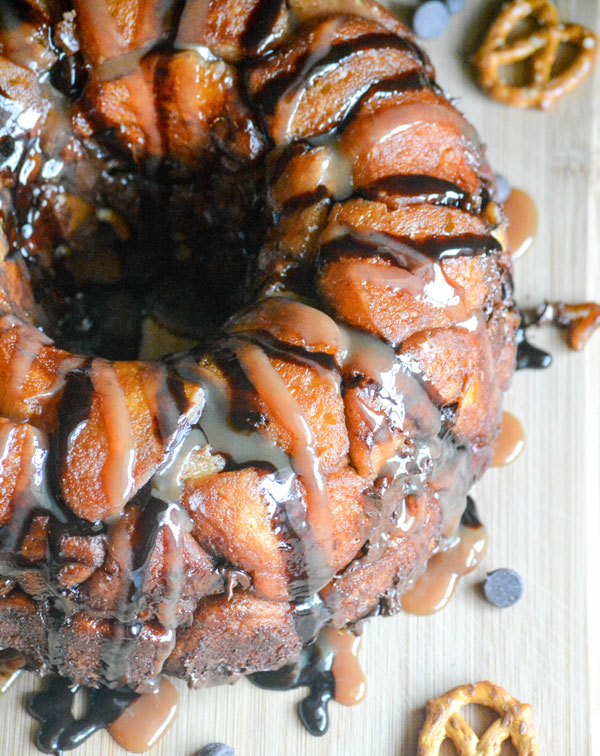 So the first day of our county's new school year is just shy of two weeks away. Depending on where you stand on the age spectrum, this could be a really great thing or a not so exciting event.
Although while the kids' & I all look forward to the end of the last school year and the start of Summer, we're all pretty ready for it to start again (and our routine) come Fall.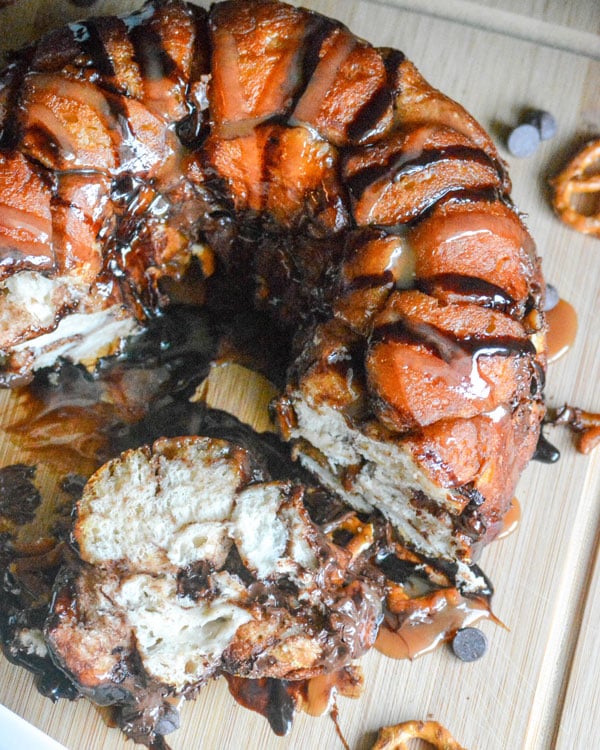 While we've thoroughly enjoyed our Summer with trips to the zoo, special movies seen in the theatre, lake days, and plenty of night's grilling s'mores around our backyard bonfire- we're ready for all the fun Autumn activities coming our way.
We try to send Summer vacation off in style each year though, stuffing in as many last minute memories as we can. My love language is obviously food, and that extends to making yummy special treats for the kids. There was no better way to bid adieu to our vacation than with a delicious, finger-lickin' dessert masquerading as breakfast.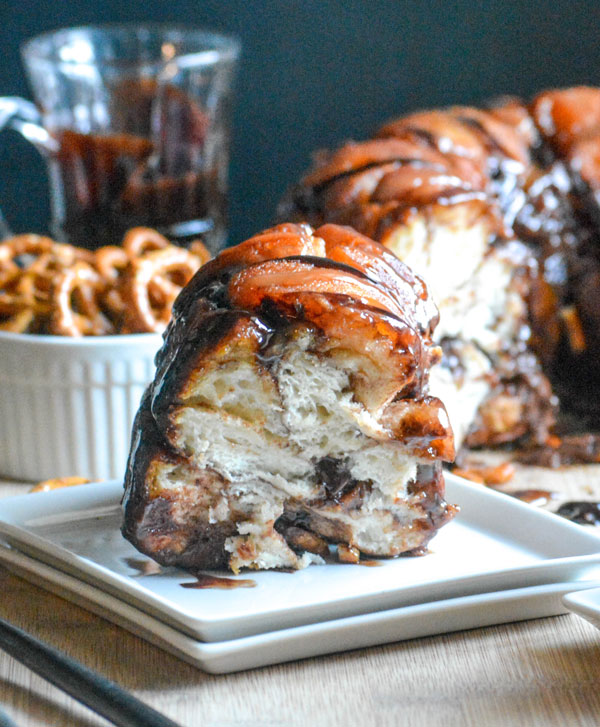 Although, only on a vacation day could I get away with calling this Chocolate Pretzel Monkey Bread with Caramel Sauce Drizzle breakfast. It's most definitely a strong contender to stay firmly in the early dessert category- too much sugar and bed time goes out the dang window y'all.
For a special treat on a special occasion though, it fits the bill perfectly.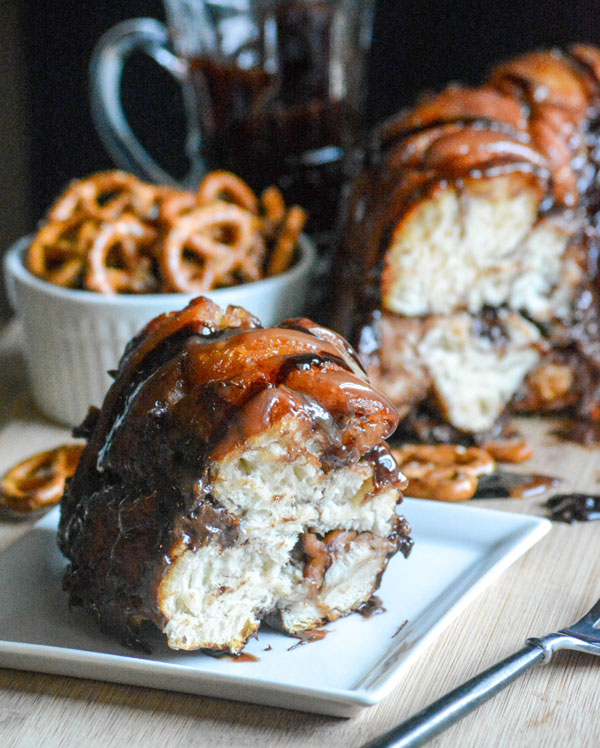 My kids don't know how good they had it. Our parent's did similar things, making edible memories and delicious traditions to look forward to, all marking different times of the year. When I was a kid though, monkey bread looked a whole lot different. Still awesome, but a whole lot simpler.
This epic Chocolate Pretzel Monkey Bread with Caramel Sauce Drizzle would've been the stuff only my wildest dreams were made of. Something I never would've imagined actually being served, like ever.
While the theories on where the name comes from, and where the dessert/breakfast (depending on who you talk to) originated from- here's what we were able to find out:
Essentially, it's a loose interpretation of a traditional Hungarian Jewish dessert called 'arany galuska'. It's made up of balls of slightly sweet, yeast-based dough typically dipped in butter and (depending on the baker) rolled in a blend of cinnamon and sugar. Piled high in a cake pan, the desserts baked at high heat and served while still warm and deliciously sticky.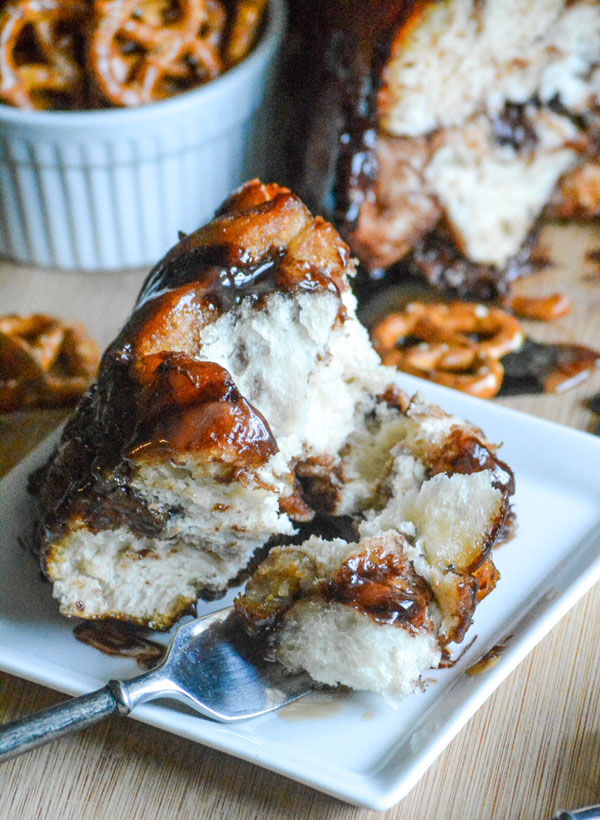 As time went on, as is typically with immigrant dishes, it became more widely spread and 'American-ized'. In the 1972, the first similar recipe was published by Betty Crocker but it wasn't for another decade before the dish really blew up, and took off in popularity. Thanks to none other than First Lady Nancy Reagan herself.
That Christmas she shared several loaves of the sweet stuff with visitors and the New York Times even ran a segment on it sharing her recipe. Natural a new dessert trend hit homes all over the country.
Since then, not only has it taken off, it's also taken on many different variations. Instead of homemade dough, we've taken to using a 'cheat' method with refrigerated biscuit dough. Homemade's great, but rarely do I have time for that. This version's intended for busy people, or beginner bakers- making it perfect for parents and a great way to get the kids helping in the kitchen.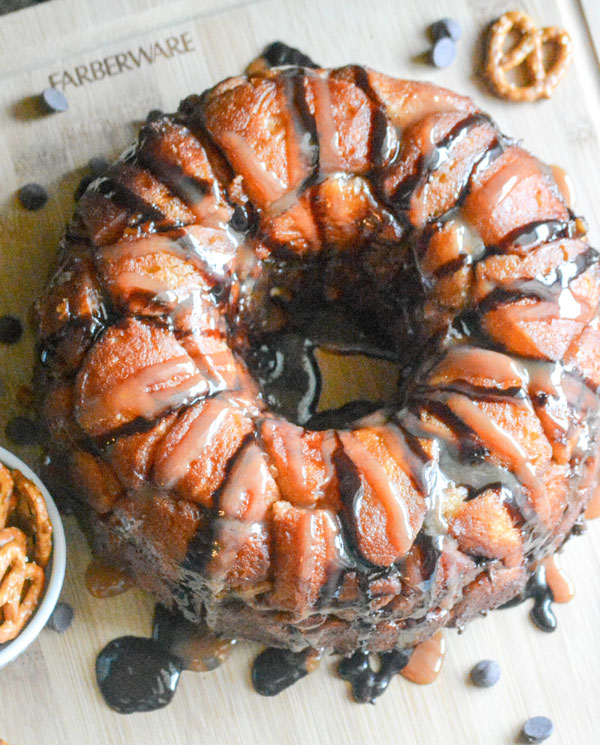 If you've got a sweet tooth, or just love a tasty pastry treat- this Chocolate Pretzel Monkey Bread with Caramel Sauce Drizzle is for you!
The refrigerated dough is separated into individual, pre-cut biscuits and cut into quarters. Shaken in a mixture of cocoa powder and granulated sugar, half the dough is layered into a bundt pan or angel food cake pan. Crushed pretzels and chocolate chips are sprinkled evenly out over top, before the whole things drizzled with melted butter.
The rest of the biscuits are added, and (obviously) sprinkled with more crushed pretzels and chocolate chips. Pretzels and chocolate were made to go together, and there's no such things as too many chocolate chips. The rest of the butter is poured evenly out over the top, and then the bread's baked at 350 degrees for 35-40 minutes.
This dish is best served, not piping hot because you don't want to burn your mouth or hands, but still pretty warm. Let it rest for a few before turning it out of the pan and onto a cutting board. We love ours topped with a luscious caramel drizzle, but you can skip that entirely and serve it, as is, or sprinkle powdered sugar out over top. You could even opt for a chocolate ganache topping, as well. The choice is totally yours, because no matter how you choose to top it- you can't go wrong with a heavenly slice of this Chocolate Pretzel Monkey Bread with Caramel Sauce Drizzle.
It's certainly one recipe the family won't soon forget!
Other Sweet Treats You Might Also Enjoy: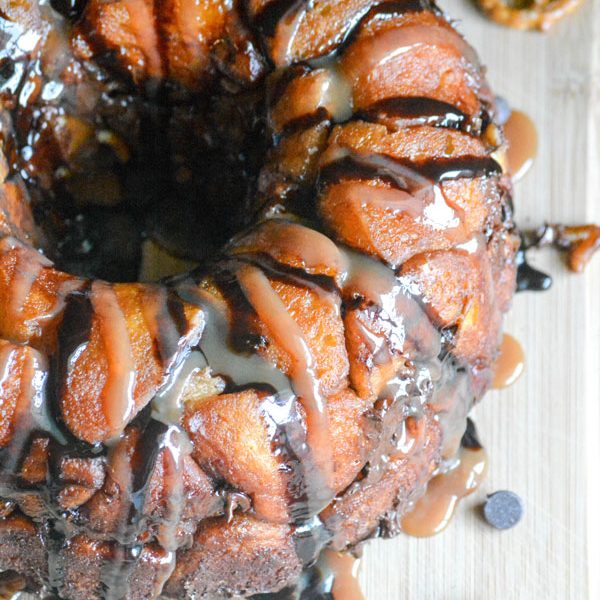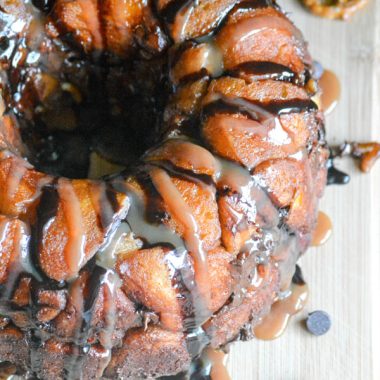 Chocolate Pretzel Monkey Bread with Caramel Sauce Drizzle
A new spin on the traditional monkey bread dessert, this sweet version is a chocolate lover's dream!
Print
Pin
Rate
Ingredients
2

large cans

refrigerated biscuit dough, NOT butter flavored or flaky layers

1/4

cup

granulated sugar

1 1/2

tbsp

unsweetened cocoa powder

1

cup

crushed pretzels, divided

1 1/2

cups

semi sweet chocolate chips, divided

1/2

cup

melted butter, divided
Instructions
Lightly spray a bundt pan or angel food cake pan with non stick cooking spray, set aside.

Open and separate all the biscuits. Using kitchen shears, or a sharp knife, cut each biscuit into 4 quarters.

Stir the sugar & cocoa powder together until evenly combined. Transfer the mixture to a large zip-locking bag. Add in the biscuit pieces, seal, and shake until the dough's all evenly coated.

Add half of the coated dough to the prepared pan, spreading out to evenly cover the bottom. It's ok if they overlap and if there are slight gaps in coverage.

Sprinkle half of the pretzels and chocolate chips evenly out over top of the dough. Drizzle half of the butter over top. Repeat, using the remainder of dough, pretzels, chips, and butter.

Bake at 350 degrees for 35-40 minutes. Remove the pan from the oven, and let rest for 5 full minutes- away from heat.

Run a butter knife gently along the outer and inner edges, to release. Lay a cutting board over the top of the pan, and carefully holding in place, flip them both over to release the monkey bread from the pan to the cutting board.

Serve as is, or top with a a caramel sauce drizzle, before slicing and serving while still warm.