A simple thirst quencher, our sweet Southern strawberry iced tea is an easy to whip up refreshing way to beat the heat. Your favorite home brewed tea is combined with a simple puree from ripe berries, sugar, and some lemon juice that create a delicious drink the whole family will love.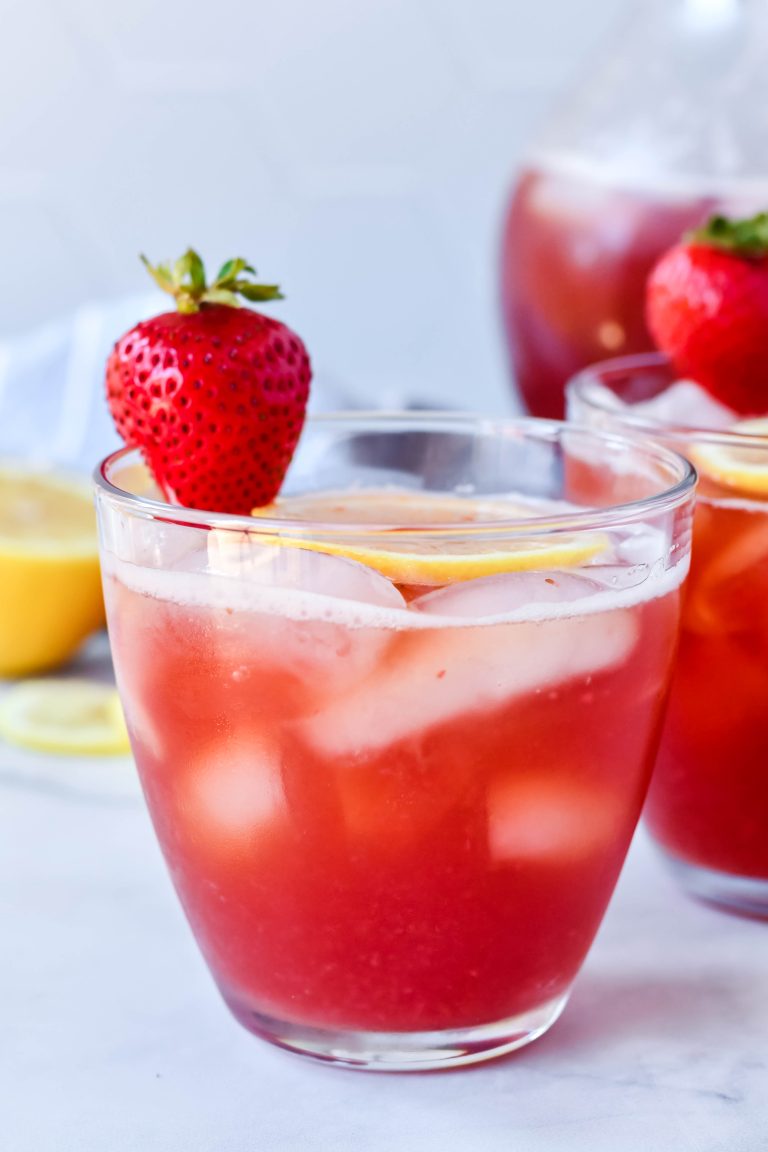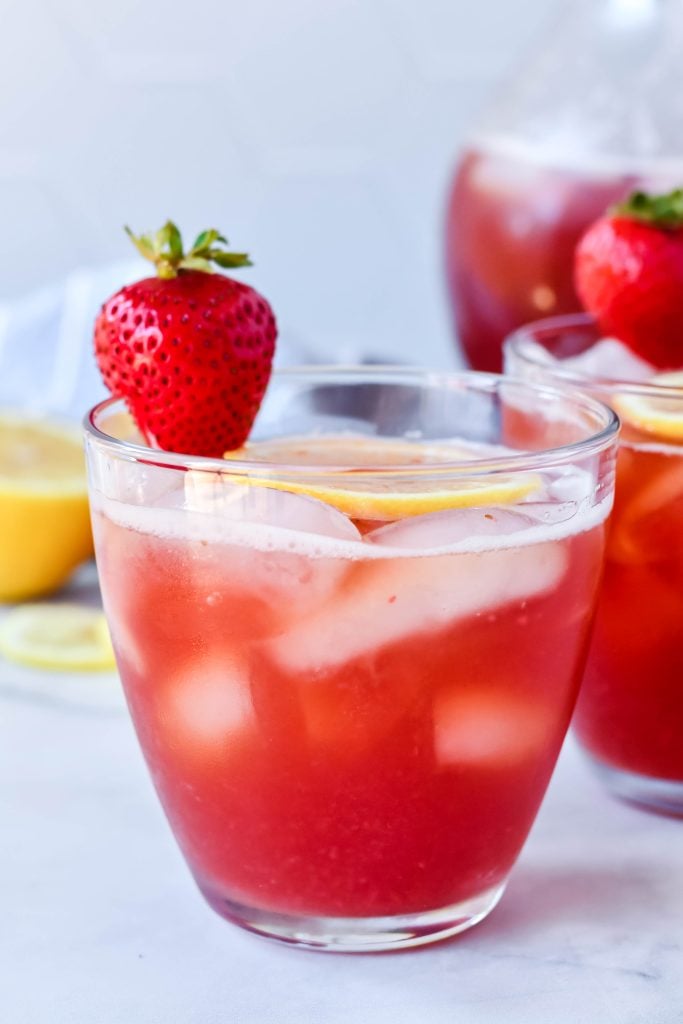 If you're in our neck of the woods right about now, you're probably seeing red. Strawberry red that is.
Local markets and grocery stores are being flooded with them.
And this year should be a particularly good haul when you take in the April showers leading to May flowers and all.
And while the prices right now, and the produce, are fantastic there's nothing quite as good as the strawberry you pick off of the vine yourself.
If you haven't already, my advice would be to find a local patch in your neck of the woods, and get in on some of the pick your own berry goodness.
It's a fun afternoon for the whole family, and we always leave with gorgeous pictures of the kids with their strawberry stained lips and fingers.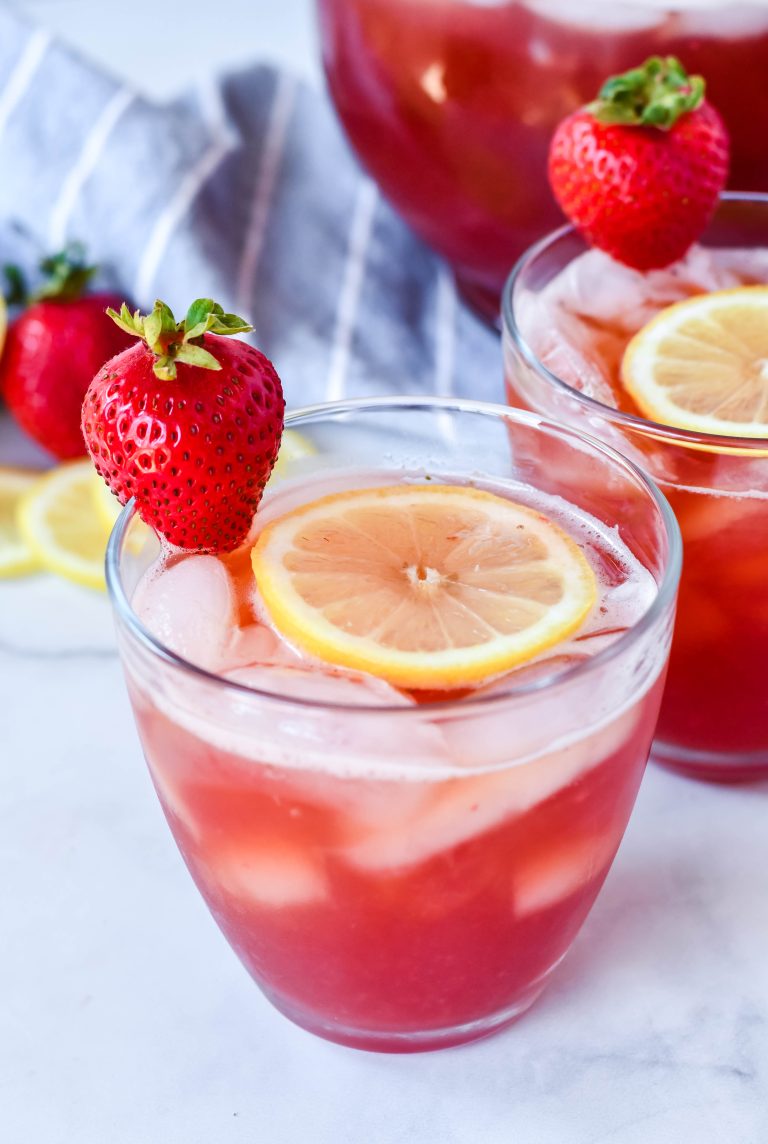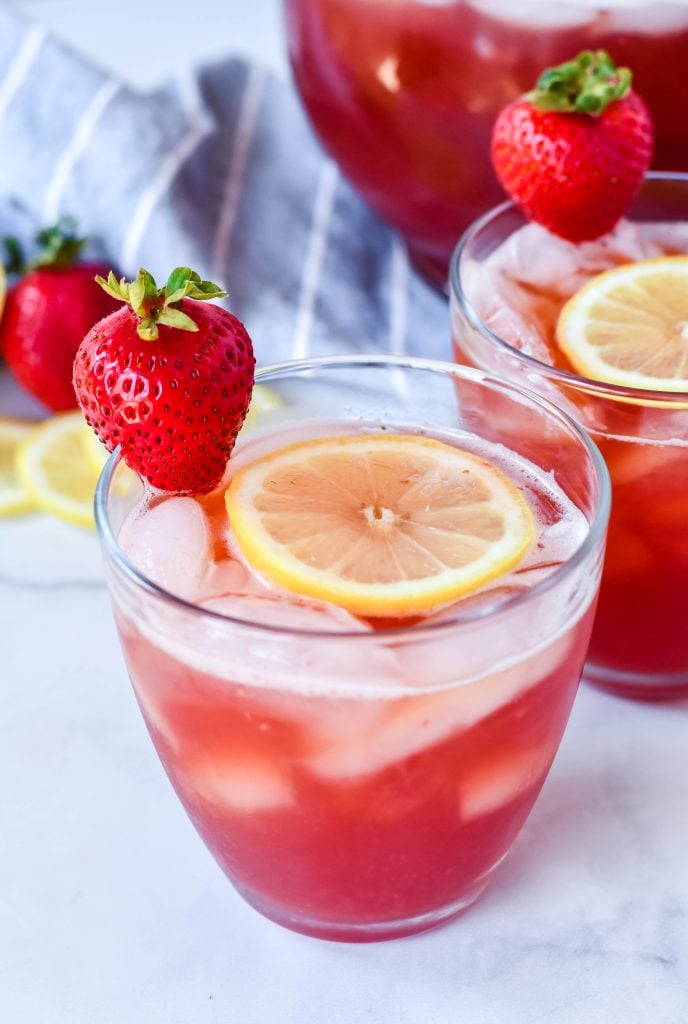 It's the perfect natural back drop.
I've got to confess though, that I can't wait another week until our patch opens for picking. So, I bought a few tubs from the store.
I'll just call it 'anticipation building' for the main event.
And one of my favorite things to make with them, and the first batch this year, is this sweet southern tea infused with all the fresh strawberry flavor.
Now, doesn't that just look like a glass full of yum.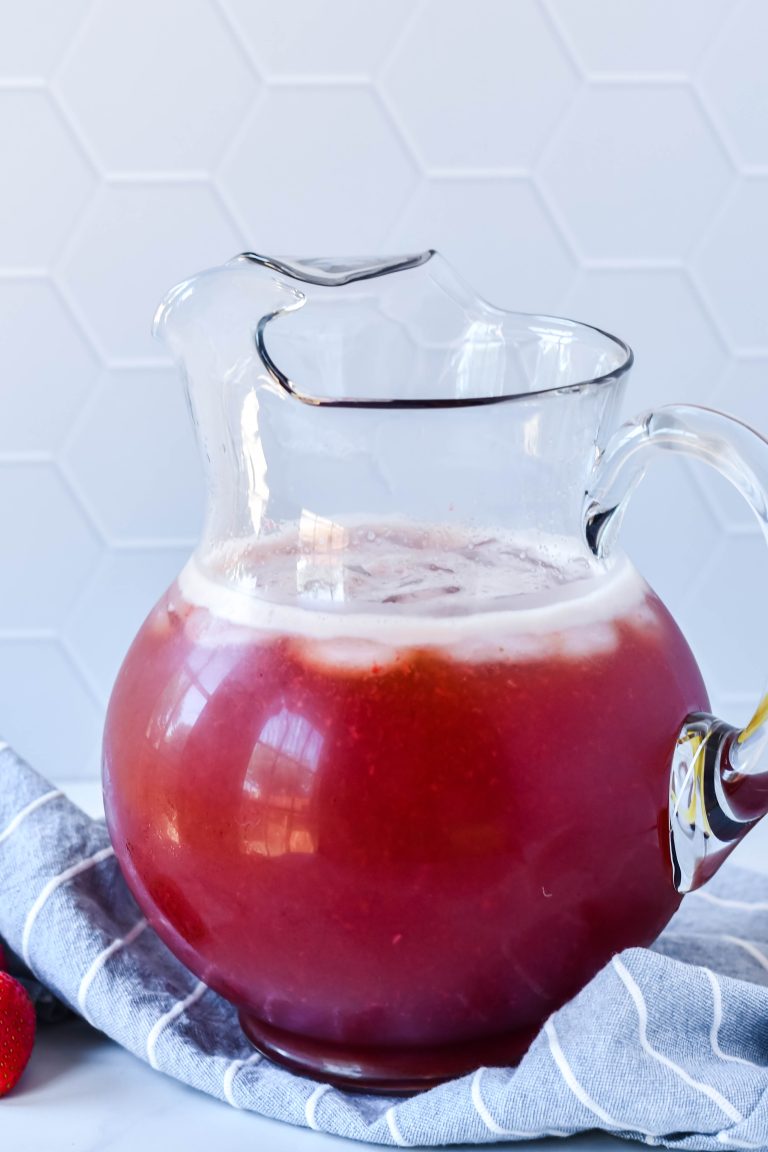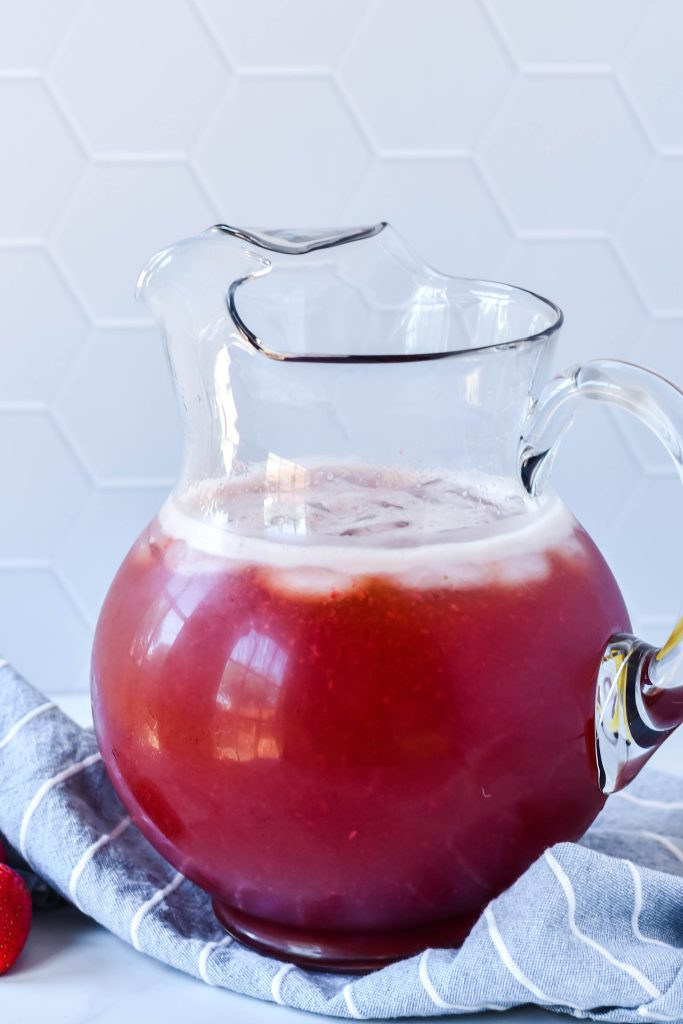 What's Strawberry Tea Good For?
Strawberry Tea is not a new concept to many of us Southerners', but there's a lot of folks who are new to the whole concept of fruit teas.
Aside from being delicious, refreshing ways to stay hydrated in the grueling Summer heat- fruit teas actually have health benefits.
They're a great way to get extra servings of fruit into your diet without really trying. Also an excellent immune boost with healthy doses of vitamin c.
Strawberry tears in particular are known for helping with cardiovascular health.
There's also some evidence they can aid in helping with high blood pressure, pain from arthritis, and even gout.
In the South, you're going to be making and enjoying your sweet tea anyway- so why not infuse it with a healthy fruity boost from fresh berries?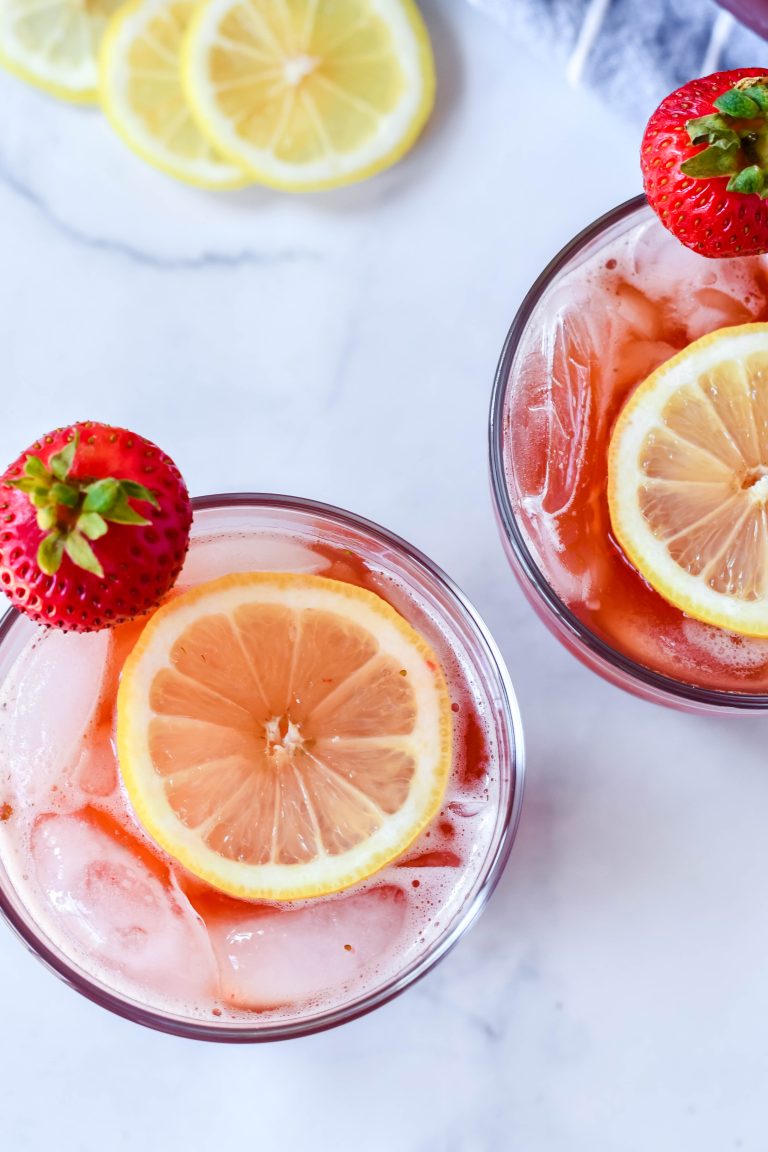 Can Strawberries Be Boiled?
So if you're familiar with fruit teas, then you know the traditional formula tends to include your brewed tea + a delicious simple fruit flavored syrup.
Take this peach tea for example.
Peaches, sugar, and water are boiled and then simmered on the stove top until an infused, thickened syrup has been made.
That's then strained & added to traditionally brewed tea.
While there's nothing wrong with that method, I don't like to boil my strawberries.
I feel like I lose too much flavor that way with this particular fruit.
Instead, we're using a cold method that our family has found works out better for this strawberry iced tea.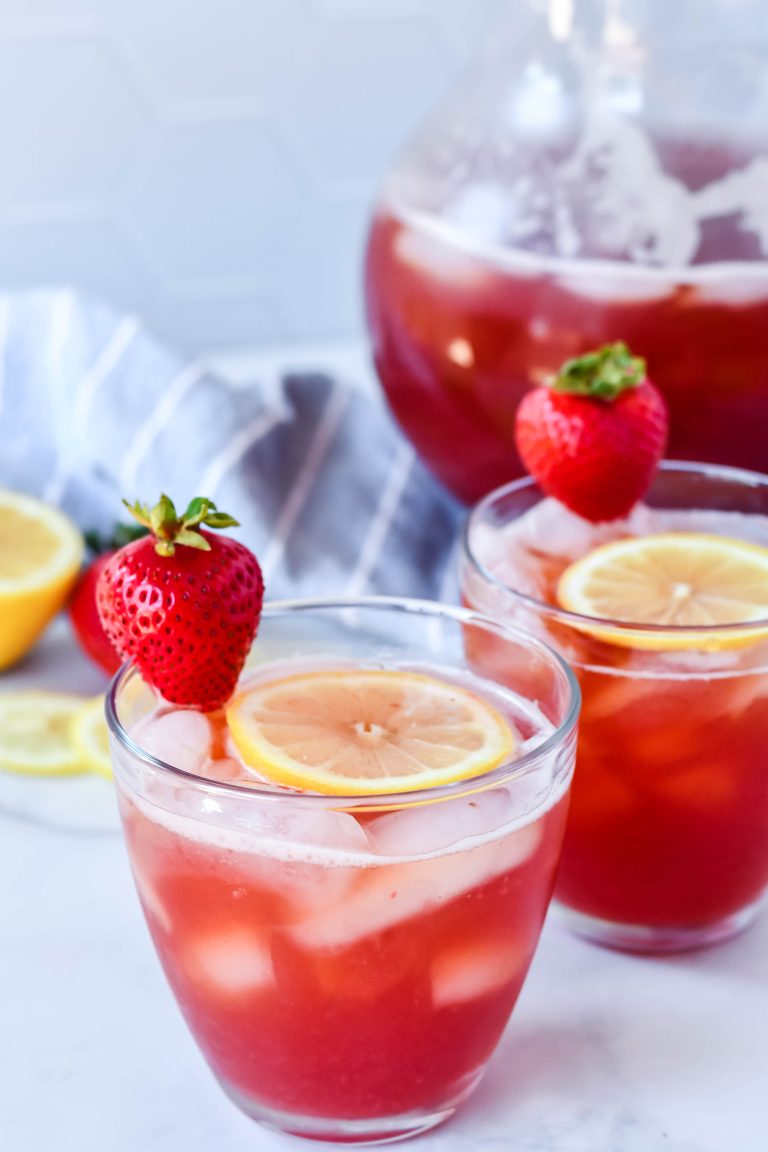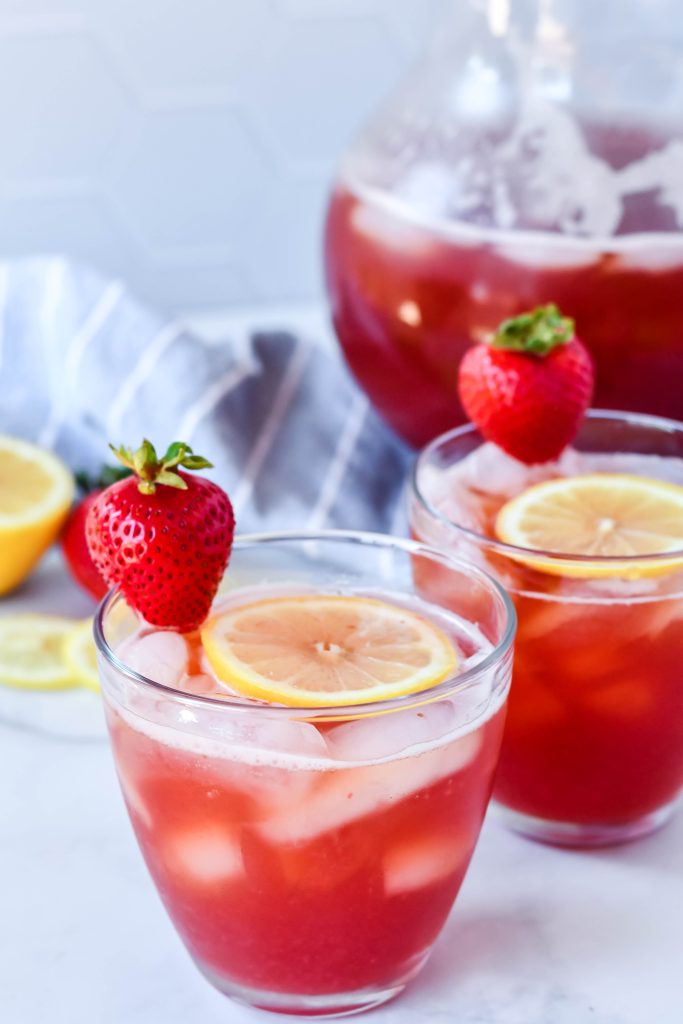 Making The Tea
This infused tea has two distinct, but equally important parts- brewing the tea, and preparing the strawberry 'syrup'.
I will explain them in two parts, but to work most efficiently- it helps to prepare the strawberries while the tea is brewing. This will lead to the best tasting tea.
Tea can get bitter if you let bags steep too long, and the strawberries will mix in and flavor best with hot tea that hasn't been allowed to sit and grow cold.
To Make The Tea
In a large pot, bring four cups of water to a rolling boil. Once the water boils, immediately remove the pot from heat.
Add the tea bags, 5 of your favorite brand, to the hot water and let them steep.
Let the tea bags steep, undisturbed, for five minutes.
Set a timer if you need too, but don't let the tea bags steep much longer. Otherwise you will end up with a very strong tea, that the strawberry mix won't be enough to sweeten.
We're trying to avoid adding even more excess sugar to the mix. Keeping things light & refreshing!
Remove the tea bags and discard.
Whisk in the sugar, until completely dissolved. Set the hot tea aside.
To Make The Strawberry Puree
Wash your ripe strawberries well. This will remove any pesticides, as well as any dirt from when they were picked.
Cut the tops off the berries to remove the leaves and the very top of the bitter hull.
You'll need to do this until you have 2 1/2 cups of prepared berries.
Add the strawberries to the bowl of a food processor with the sharp blending blade in place.
If you don't have a food processor, you can use a blender.
Frappe the berries until the mixture's smooth.
Press the strawberry puree through a fine mesh sieve to leave behind any excess pulp or seeds, while collecting all of the fresh juice.
I find it helpful to use a wooden spoon to 'press' the mixture. Set aside.
Mixing The Strawberry Sweet Tea
Add ice to a large pitcher/carafe filling it 1/2 – 3/4 of the way full.
The more ice, the more diluted the tea will be. You can always add more ice when poured in glasses if you're worried about it being too strong.
Add the strained fruit puree to the ice filled pitcher. Then pour in 1/3 cup of lemon juice- freshly squeezed or store bought both will work.
Pour the tea into the pitcher, and use a stirring spoon to mix everything together until evenly combined.
Refrigerate the strawberry sweet tea until ready to serve.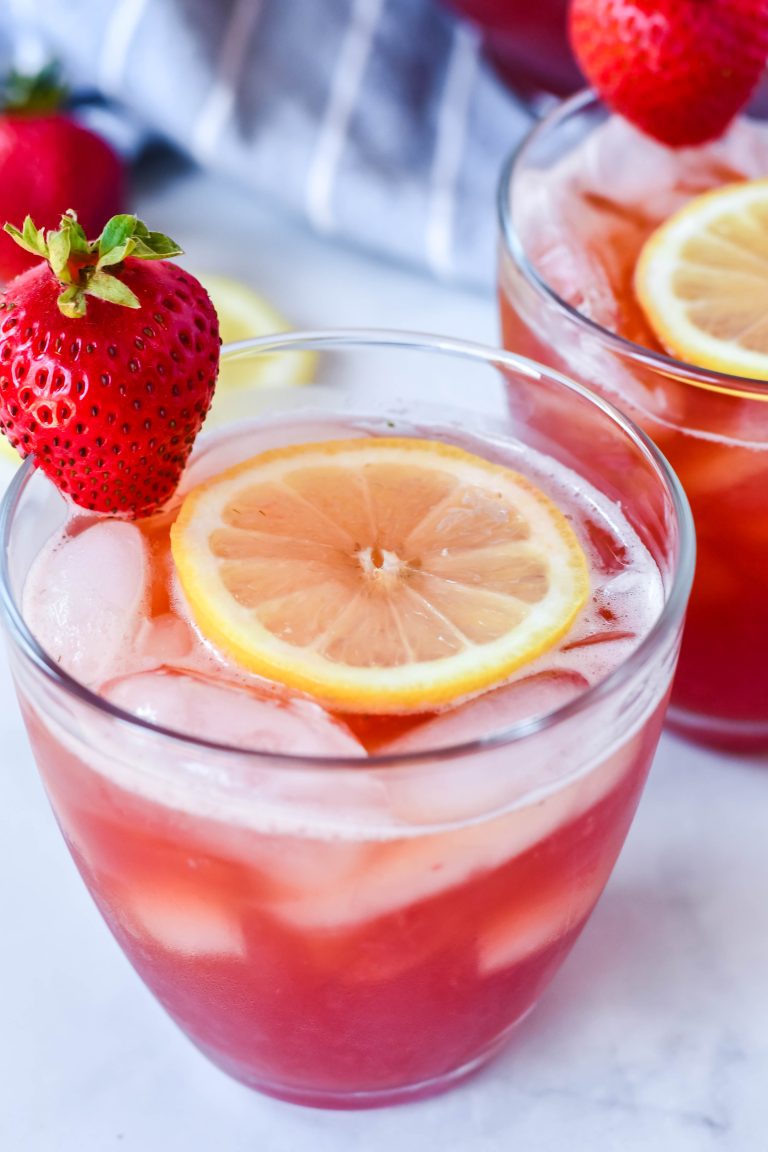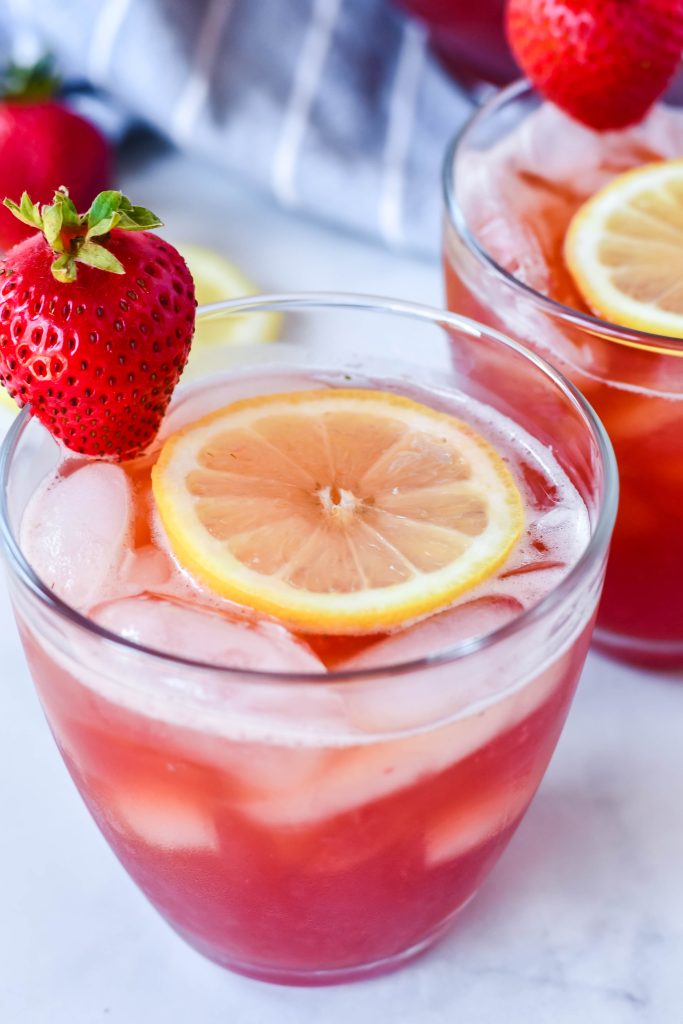 Garnishing The Tea For A Pretty Presentation
A good drink, is a good drink- but at the end of the day, it tends to always end up about the presentation.
Serve this as is for a refreshing family treat in the hot afternoon or evening, but you can easily elevate this for parties or potlucks.
To make it 'gourmet', simple add some garnish to each glass.
The options are endless, but we have a few go-to's:
fresh strawberry leaves
lemon slices, or wedges
mint leaves
basil leaves- believe it or not strawberry and basil are a very popular flavor combination
A cold glass of this is the perfect thing to enjoy on a warm Spring day.
And while it tastes all kinds of complex and you'd assume it's complicated to make, it's not.
It's so simple. The whole world should know.
Other Fruit Infused Drinks To Try
So, whether you choose to purchase or pick em, embrace that Southern drawl, get your pitcher of strawberry iced tea ready, and find a front porch with a rocking chair, or even a swing, and get to sippin ya'll!
If you've tried this STRAWBERRY ICED TEA, or any other recipe on the site, let me know in the comment section how it turned out, we love hearing from our readers! You can also follow along with me on PINTEREST, FACEBOOK, and INSTAGRAM to see more amazing recipes and whatever else we've got going on!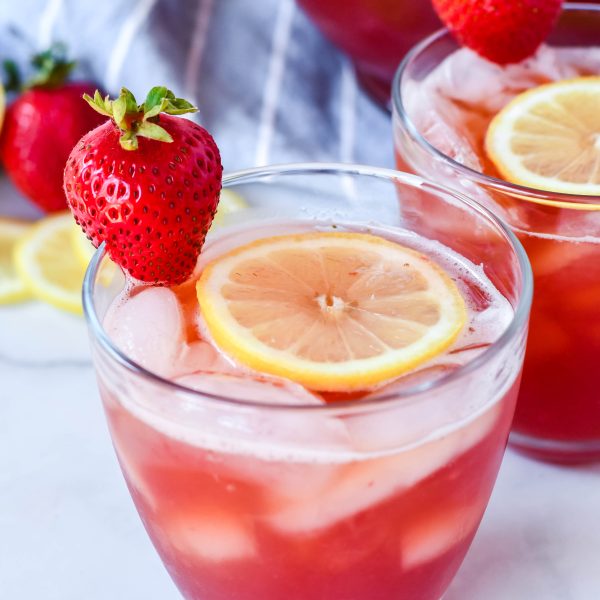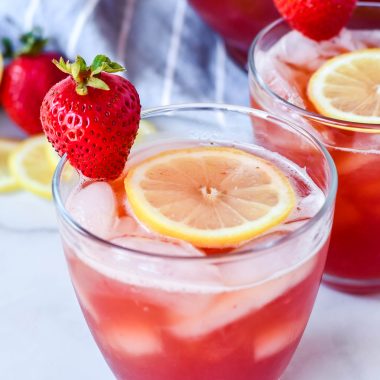 Sweet Southern Strawberry Iced Tea
A simple thirst quencher, our sweet Southern strawberry ice tea is an easy to whip up refreshing way to beat the heat. Your favorite home brewed tea is combined with a simple puree from ripe berries, sugar, and some lemon juice that create a delicious drink the whole family will love.
Print
Pin
Rate
Ingredients
2 1/2

cups

strawberries

washed

5

tea bags of your favorite tea.

1

cup

sugar

1/3

cup

lemon juice
Instructions
Start by making the tea. Bring four cups of water to a boil and then let the tea steep , for about 5 minutes, while you prepare the other ingredients. In a food processor, or in a blender, frappe' the strawberries.

You will need about 2 lemons to get 1/3 cup of lemon juice, or the stuff from the bottle works just fine.

After the tea has steeped for 5 minutes remove the tea bags.

Add the sugar to the hot tea and stir until it's completely dissolved.

Fill a pitcher or carafe up 1/2 to 3/4 of the way with ice cubes.

Pour the strawberry frapp into a mesh strainer placed over a bowl. Using a wooden spoon rub the strawberry juice through, while leaving behind as many of the seeds as possible. Pour the strained strawberry juice and the lemon juice into the pitcher.

Pour the tea in the pitcher and stir to combine everything.

Refrigerate until served.
Nutrition
Calories:
151
kcal
|
Carbohydrates:
39
g
|
Protein:
1
g
|
Fat:
1
g
|
Saturated Fat:
1
g
|
Sodium:
1
mg
|
Potassium:
106
mg
|
Fiber:
1
g
|
Sugar:
37
g
|
Vitamin C:
41
mg
|
Calcium:
10
mg
|
Iron:
1
mg
pictures & post updated 8/16/2020