Is it breakfast? Dessert? A snack? This quick and easy Peanut Butter & Jelly Banana Bread is all of the above, and it's amazing. Featuring a classic flavor combination, it's an epic treat for you and your kids. Banana bread will never be boring again.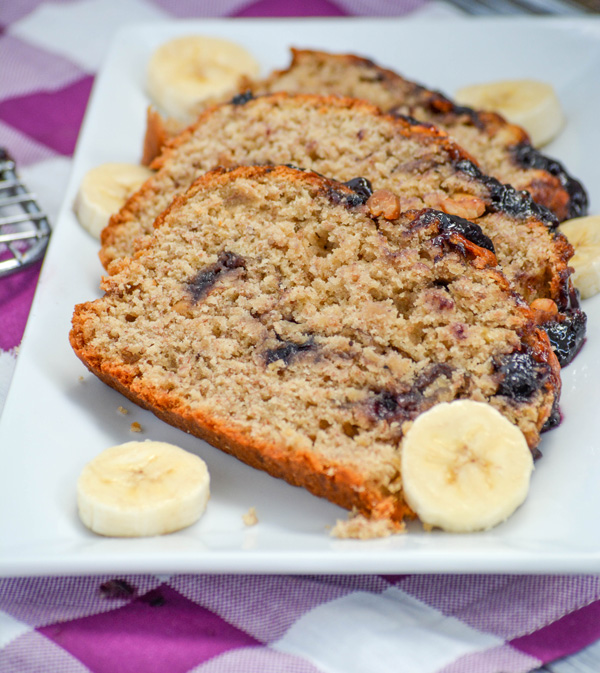 What is it with kids and peanut butter??
My boys would happily eat it in some capacity for any, and every, meal if allowed. We are fortunate that we don't have any nut allergies, because that would seriously cramp their style.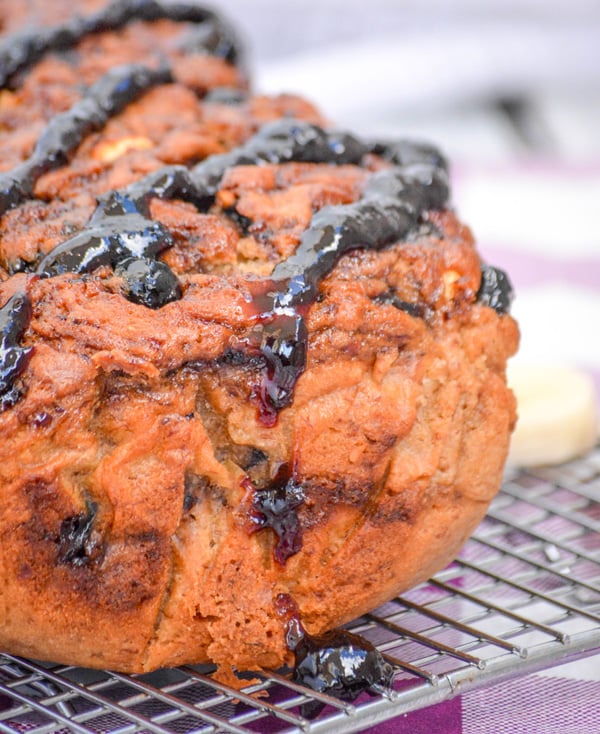 They pair it with fruit, their favorite being sliced apples. I can even get them to eat things they normally protest, like plain celery, if it's slathered in the stuff.
In a big bowl of easy over night oats for breakfast, sandwiches at lunchtime, even paired with pasta for a surprisingly yummy supper. Well it may not be all that surprising if you're into Thai food.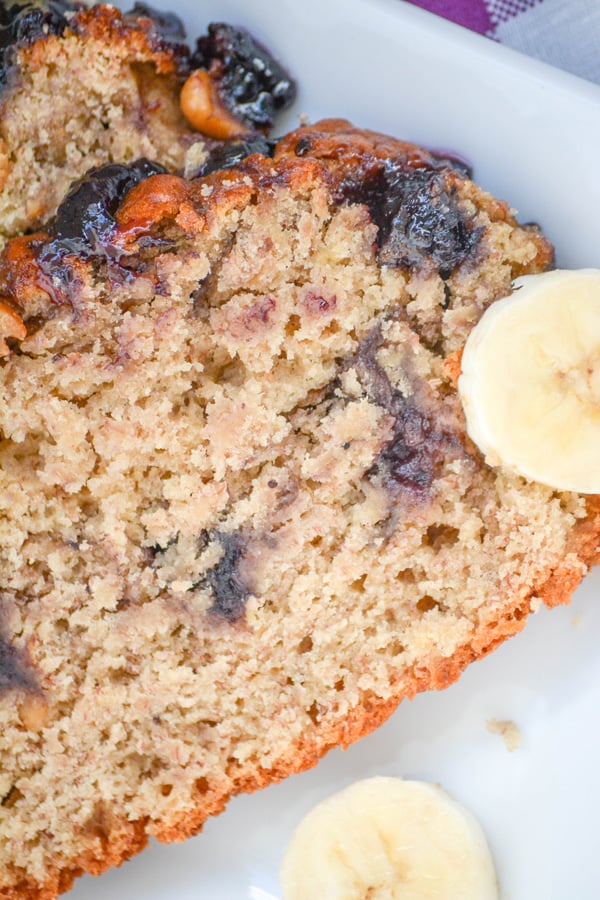 They even love it with bananas. Like LOOOOOOve it. Shout out to The King, Elvis himself for the genius little trick.
Speaking of bananas, with four growing sons whose besides demand a lot of potassium, we go through a ton. It's one thing I purposely keep on hand for snacks, and try to slip into other meals to make sure their active muscles are well fed.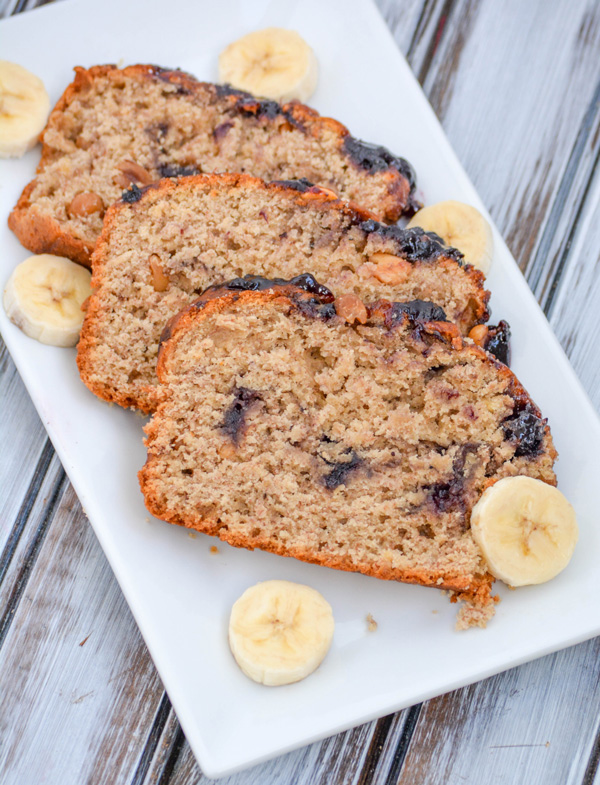 On the rare occasions when the kids haven't scarfed them down before they reach the over ripe stage– I just peel them and throw them into a ziplocking bag in the freezer.
They're easy to grab and throw in the blender with a few other fruits and veggies for a quick, nutritious breakfast or snack on the go. I've even sliced them up and dipped them in a little melted chocolate for a fun dessert that tastes like a chocolate-dipped banana pudding bite.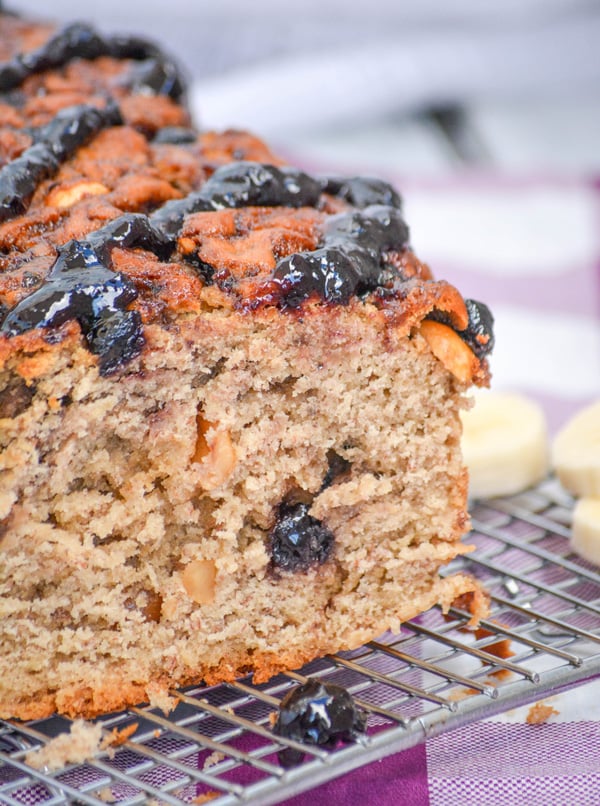 By far though, my favorite way to use them is to whip up some yummy banana bread.
It's quick. It's easy. It takes like eating dessert for breakfast and pairs perfectly with my mandatory morning cup of coffee. Or it brings a little breakfast flavor to dessert served with a cold glass of milk.
Did I mention it was simple to whip up? That means I can enjoy it on a lazy Sunday, or even have time to make it on a busy weeknight, and have leftovers to grab in the morning when we head out the door.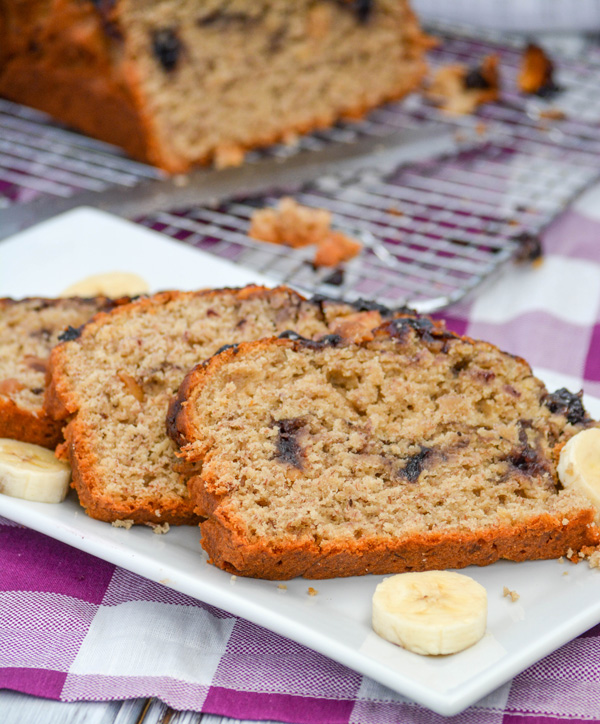 Did you know that banana bread is a great base for mixing in your favorite flavors? Remember how we began this post talking about peanut butter and my kids' particular affinity for the stuff?
Here's where I introduce you to their new favorite breakfast, dessert, snack– just please please can I have a piece Mom: Peanut Butter & Jelly Banana Bread.
Soft, moist baked banana bread meets PB & J in this epic flavor mash-up. Thick, fluffy slices are infused with peanut butter and bananas in every bite, with a gorgeous jelly swirl and studded with roasted peanuts. Every bite is a party in your mouth, and a throwback to your childhood.
Finally! Something my kids and I can all agree on eating.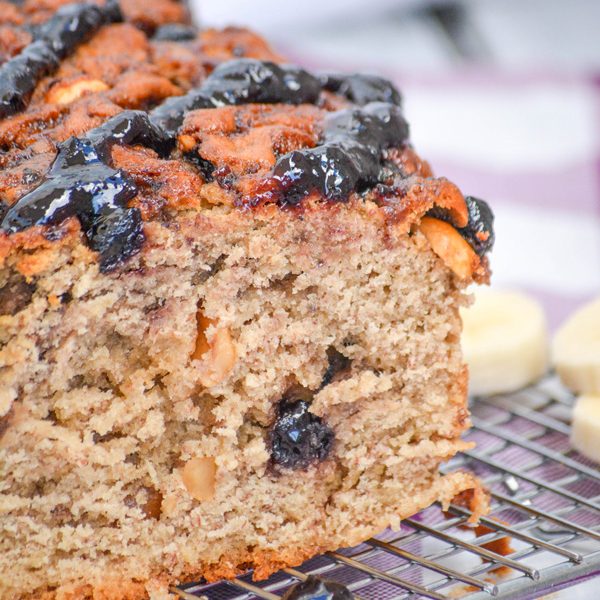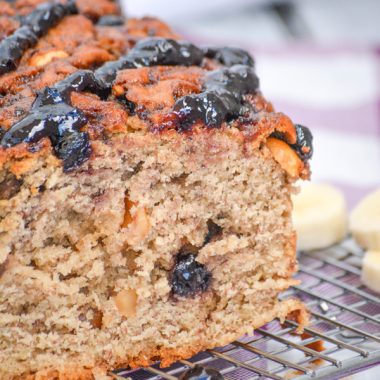 Peanut Butter & Jelly Banana Bread
A fluffy banana bread with peanut butter flavoring and a jelly swirl that's studded with roasted peanuts and topped with a jelly drizzle.
Print
Pin
Rate
Ingredients
2

cups

flour

1 1/2

tsp

baking powder

1/2

tsp

baking soda

1/2

tsp

salt

2

eggs

lightly beaten

1 1/2

cups

smashed bananas

1

cup

brown sugar

1/2

cup

creamy peanut butter

1/2

cup

canola oil

1/2

cup

roasted peanuts, chopped

1/2

cup + 2 tbsp

jam, or jelly, of your choice
Instructions
Use parchment paper to line a 9x5x3-inch loaf pan. Lightly spray the lining with nonstick cooking spray.

Add the flour, baking powder, baking soda and salt to a large mixing bowl. Whisk to evenly combine.

In the bowl of a stand mixer, beat together the eggs, banana, sugar, peanut butter and vegetable oil.

Slowly pour the flour mixture into the mixing bowl, beating just until evenly combined with the wet ingredients.

Use a spatula to fold in the peanuts.

Pour half of the batter into the prepared loaf pan. Using a quarter cup of the jelly/jam, dollop it out over the surface of the batter. Use a butter knife to swirl it, not mix, into the batter.

Pour the remaining batter evenly out over top. Dollop another quarter cup of the jelly/jam evenly out over top, again using a butter knife to swirl it into the batter.

Bake at 350 degrees for 60-70 minutes. The loaf's done when a butter knife, inserted into the center, comes out clean. Remove form the oven.

Let the hot loaf 'rest' on a cutting board, or other safe surface for five minutes. Lift it out by the parchment paper, transferring to a wire rack to cool completely.

Heat the remaining 2 tablespoons of jelly/jam in a skillet over low heat, just until melted. Drizzle the preserves out over top of the cooled banana bread. Let sit for 60 seconds before slicing and serving.
Notes
While pb & j traditionally includes grape jelly, pictured here is blueberry jam. We've also had equal success with raspberry and strawberry. Pick your favorite and go with it.
Other Recipes You Might Enjoy:
Peanut Butter & Jelly No Churn Ice Cream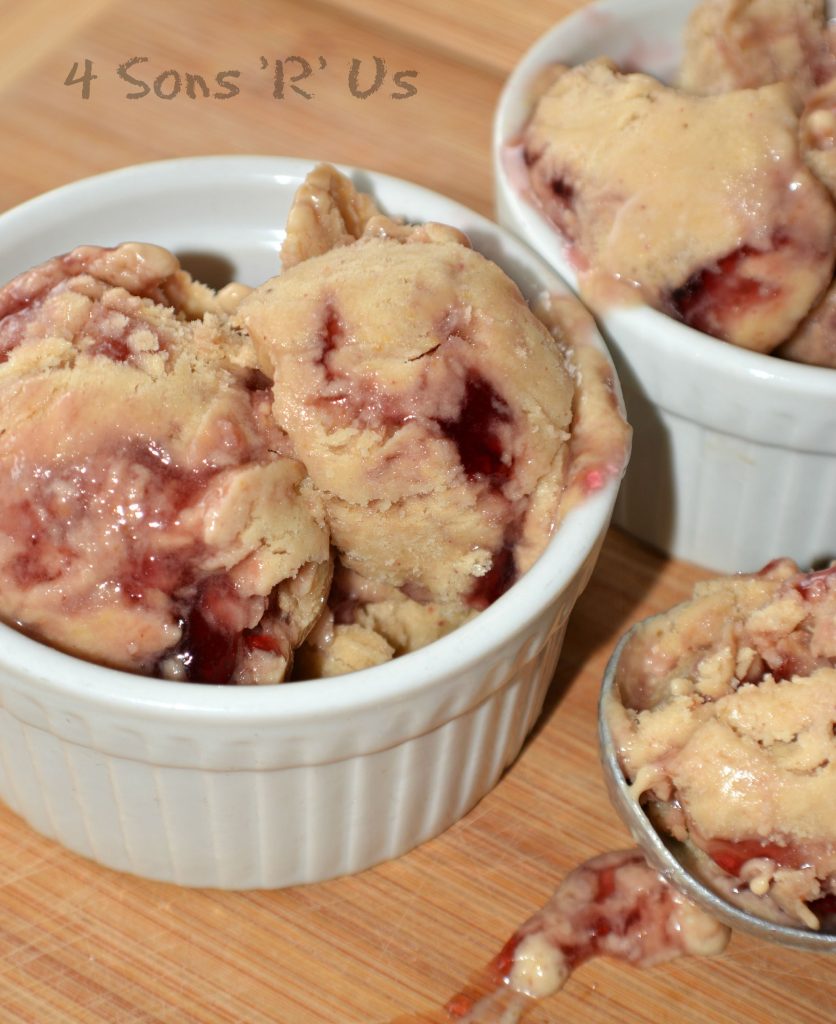 Banana Pancakes with Peanut Butter Syrup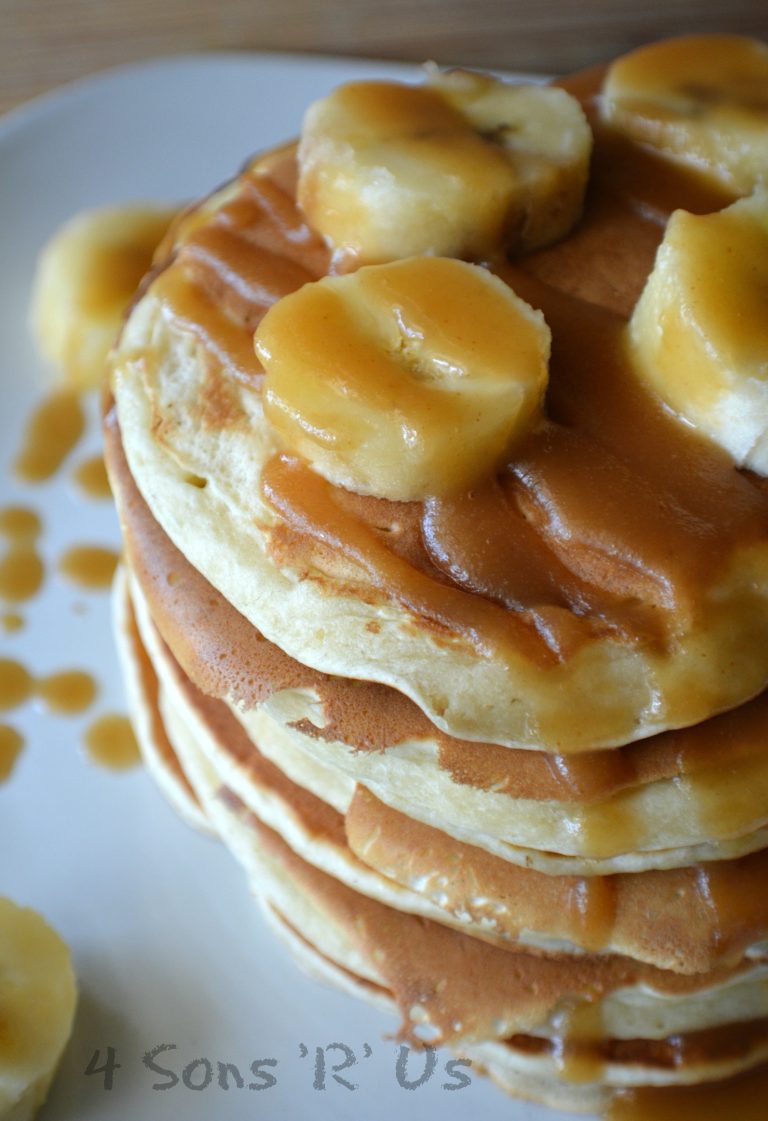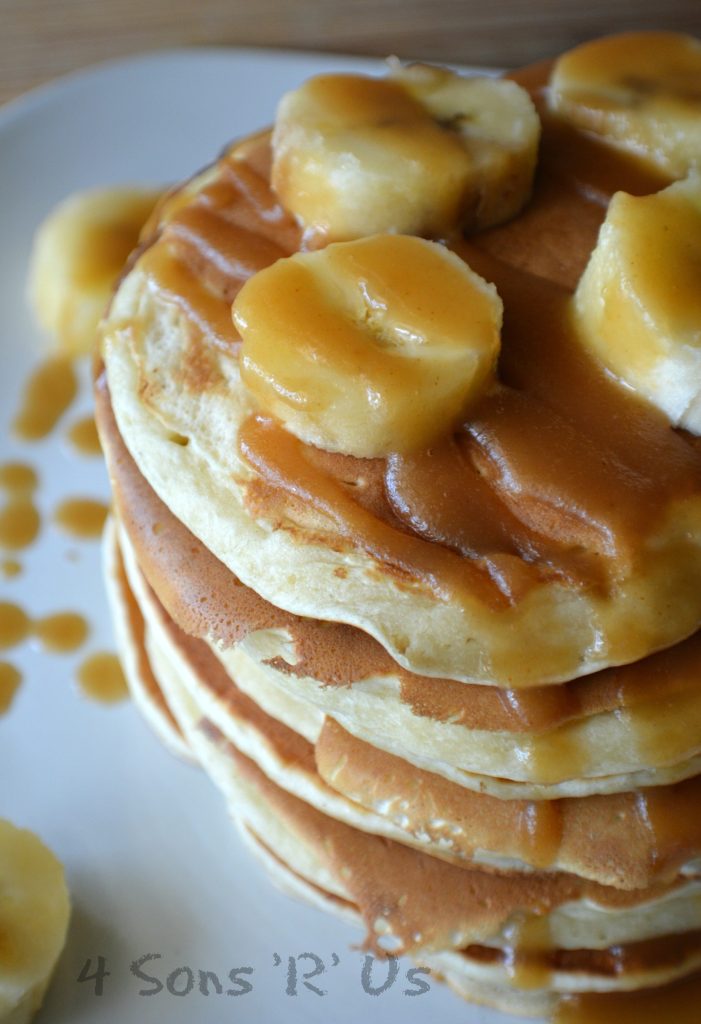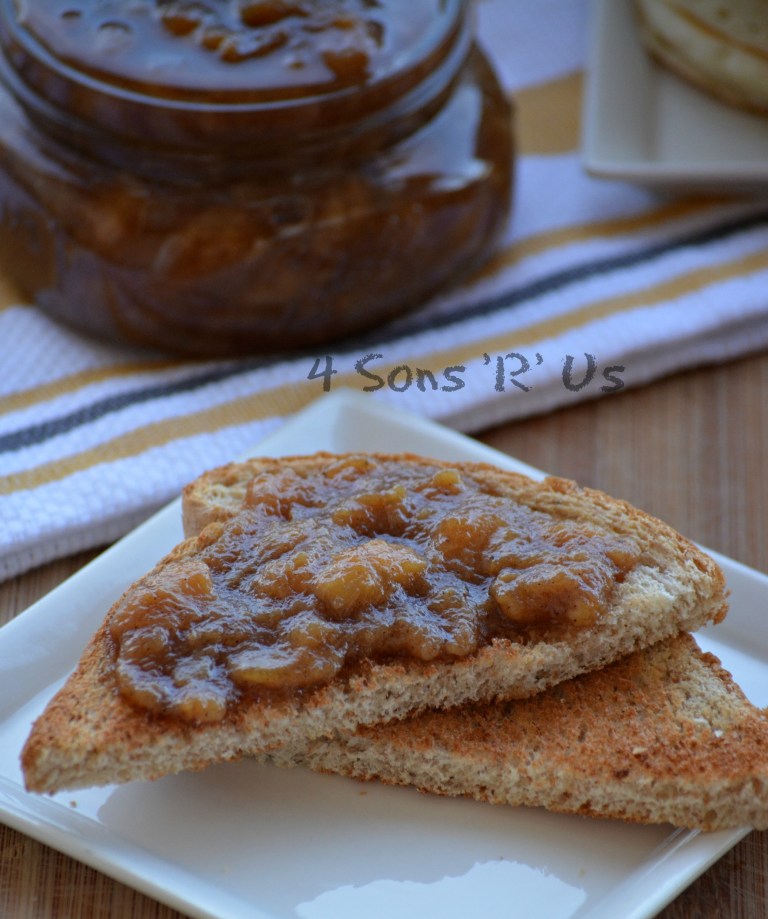 Best Ever Healthy Peanut Butter Apple Dip