Fire up your smoker, and discover a new way to revamp an old favorite with this super simple smoked corn on the cob. It's sweet, smoky, and slightly spicy in every bite courtesy of a simple honey butter sauce. This is the corn you'll be begged to bring to every backyard barbecue.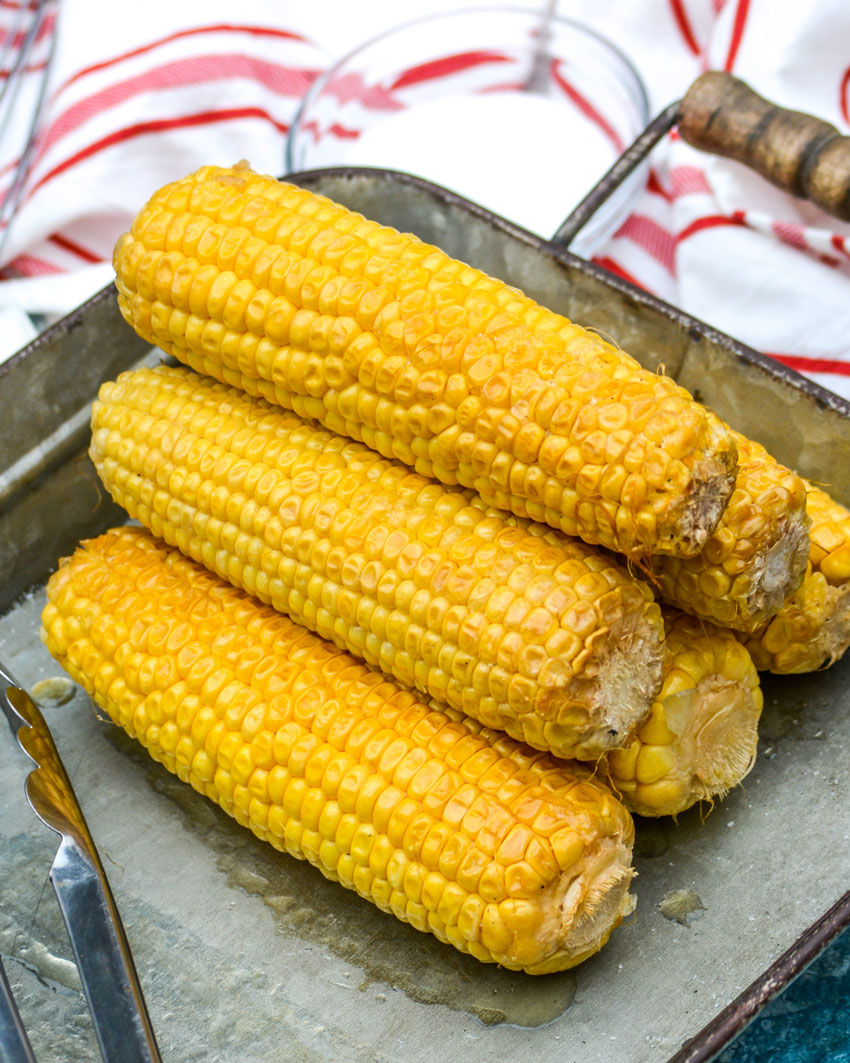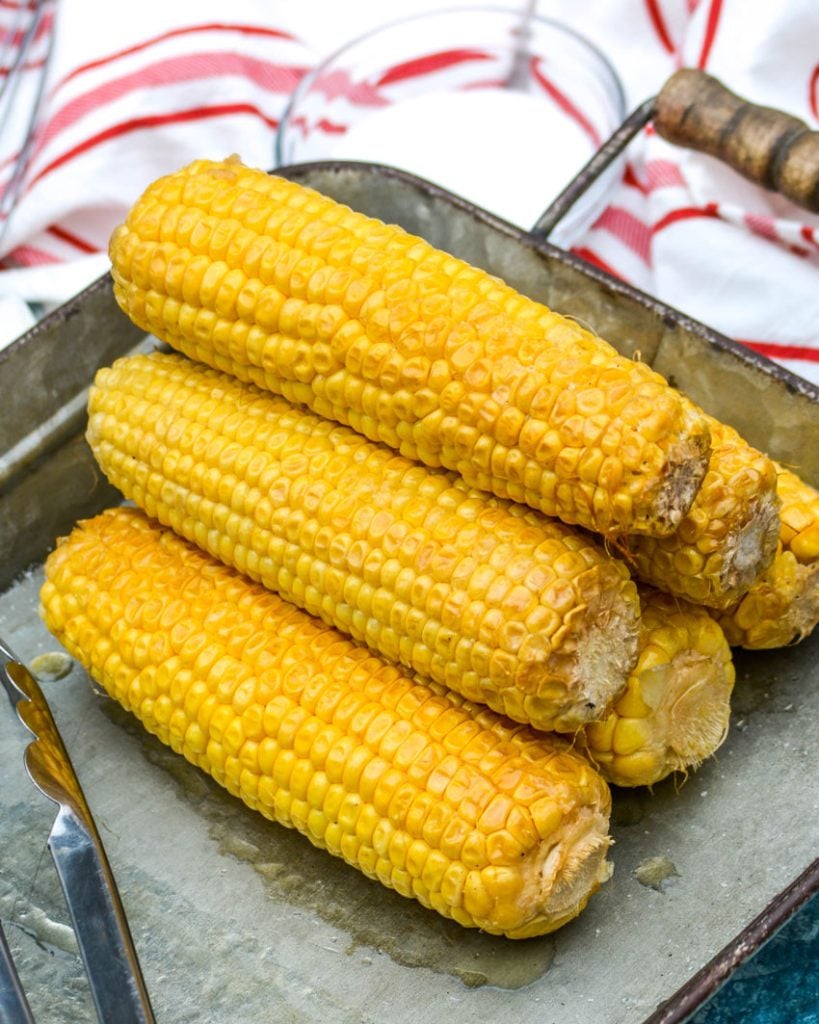 I'm not sure exactly why, but getting my family to eat their veggies seems so much easier in the warmer weather months.
Maybe it's because they seem to pair so much better with grilled and smoked entrees?
Maybe it's because the fresh veggies that are available in the Summer months just taste better than their Winter counterparts?
Either way, this time of year I can get my kids (and picky husband) to eat just about any vegetable- including the dreaded zucchini.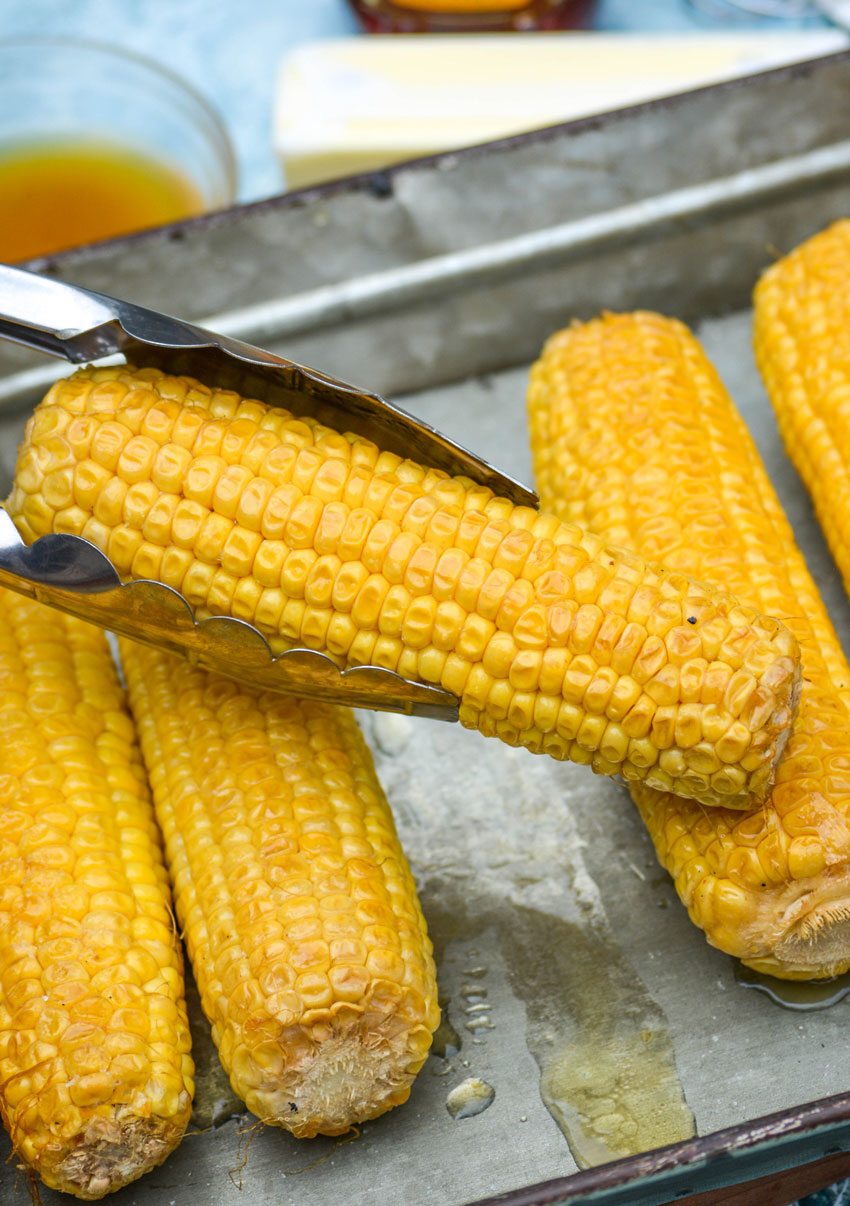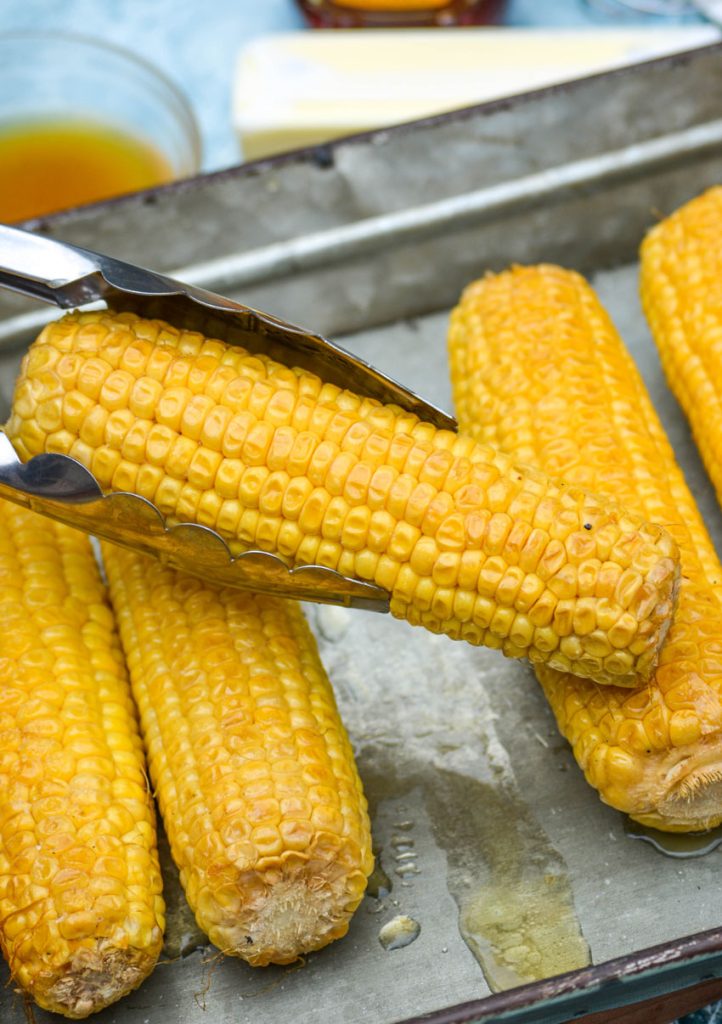 Corn is pretty much our favorite Summer vegetable ever though.
The whole family loves it, whether on the cob or the kernels cut off and used in a side dish style recipe.
And corn is so versatile too. It can be boiled, baked, roasted, smoked – you name it.
Corn on the cob can handle any cooking method you test it with.
It also takes on flavors well. Not all veggies can do this.
Which is a particular reason we love this recipe for Smoked Corn On The Cob with Honey Butter.
It's very simple, but the result is extremely flavorful with tender corn bursting with savory juices.
How To Make Honey Butter For Basting Vegetables
In a small bowl, melt a whole stick of salted butter.
A stick of butter is actually 8 tablespoons. So if you don't have a measured out stick, just make sure it's that amount.
You can melt butter over low heat in a skillet on the stove top, or in a microwave safe bowl. Whichever is easier.
Whisk three tablespoons of honey and pinch of cayenne pepper in. Mix just until smooth.
Set aside, but keep warm so that the butter doesn't solidify. We tend to cover with a damp towel, and sit near our smoker.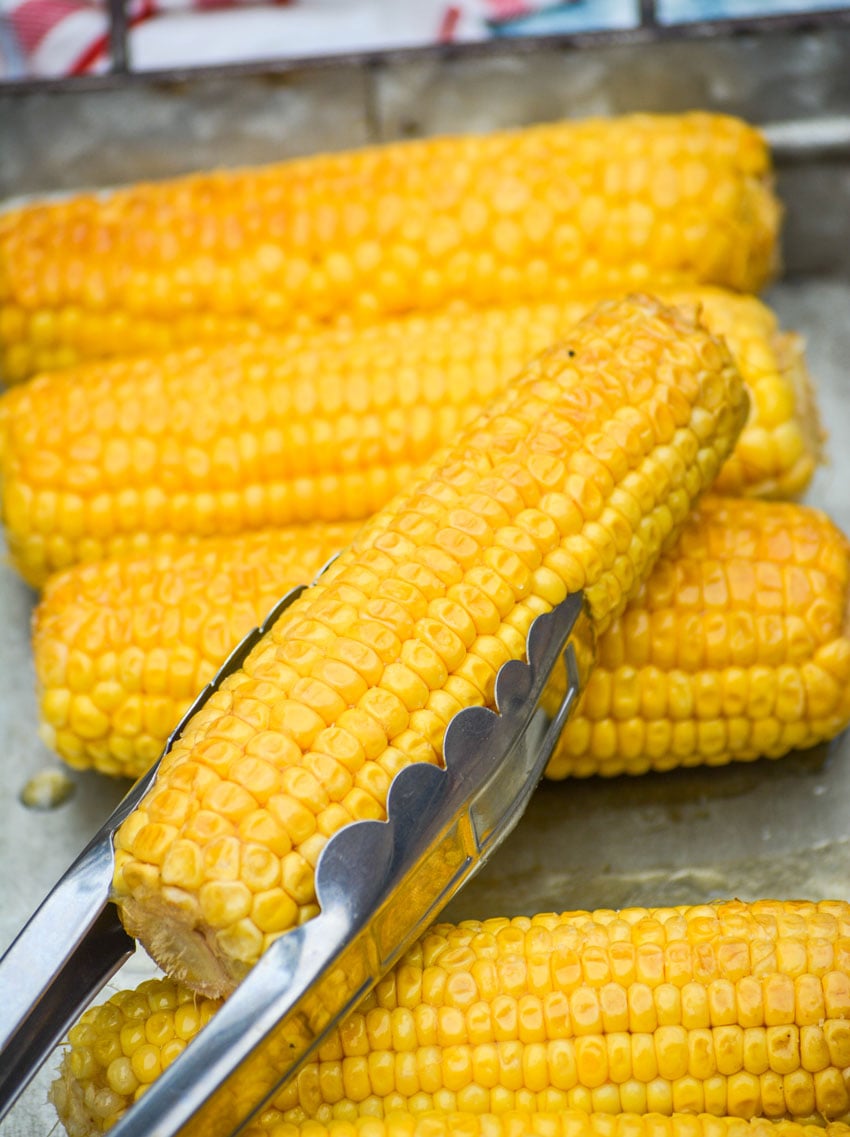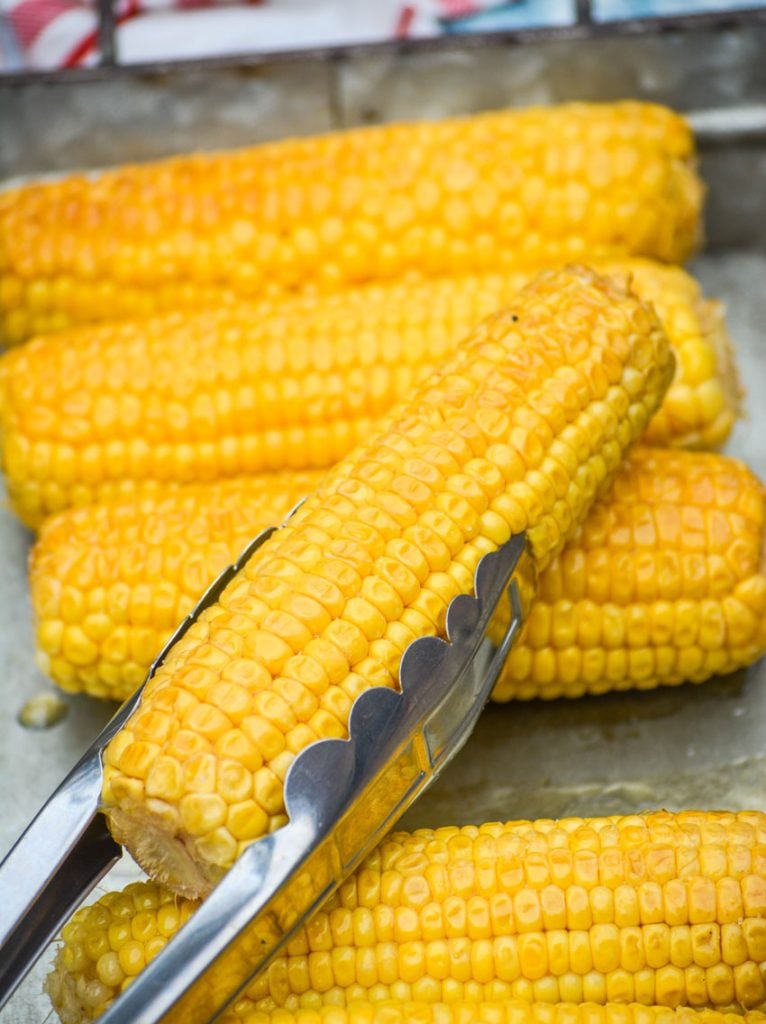 Smoking Corn On The Cob
Of all the things I put in my smoker, veggies tend to be one of my favorites.
They're easy to do, and great at absorbing that smoked flavor without being overwhelmed by it.
One of my favorite vegetables to smoke? You guessed it, corn. More specifically- corn on the cob.
I know a lot of people like to leave the husks on when grilling their corn (myself included), but it isn't necessary when smoking it.
Shuck the corn completely, carefully removing any stuck on strands of corn silk.
Pat the cleaned ears of corn dry, and set aside.
Get the honey butter mixture, and gently whisk to make sure everything's smooth and incorporated.
Using a silicone basting brush, spread this basting mixture evenly out over all sides of the prepped corn on the cob.
Roll the cobs as necessary, brushing the butter spread on as thick as necessary to ensure all the ears are well coated.
Set the prepared corn out in a single row in a disposable aluminum baking pan.
Smoke the corn at 250 degrees for 45-60 minutes, flipping the corn cobs halfway through.
That's it!
Which, again, is why I love smoked vegetables so much. Super simple, and so much flavor.
I prefer the corn as is, but the Hubs & kids still like to salt and pepper it before chowing down. Do whichever suits you.
What Kind Of Wood Chips Should I Use?
When smoking corn on the cob we like to keep things light.
I want the corn to take on the flavors I'm bathing it in, and still have just that mellow smoked hint in each bite.
To achieve this, it means I actually have to think a bit about what wood chips I'm throwing in.
I don't want to add bold varieties like hickory or mesquite. Reason being that's all you'll taste.
They will over power any other flavor profile.
When we're smoking vegetables like this we like to use a blend of apple, peach, cherry, and/or pecan.
Any amount of those works well.
We add chips at the beginning of the cooking cycle, and then freshen them up at the half way point.

Other Smoked Side Recipes To Try
If you've tried these HONEY BUTTER SMOKED CORN ON THE COB, or any other recipe on my site, let me know in the comment section how it turned out, we love hearing from our readers! You can also follow along with me on PINTEREST, FACEBOOK, and INSTAGRAM to see more amazing recipes and whatever else we've got going on!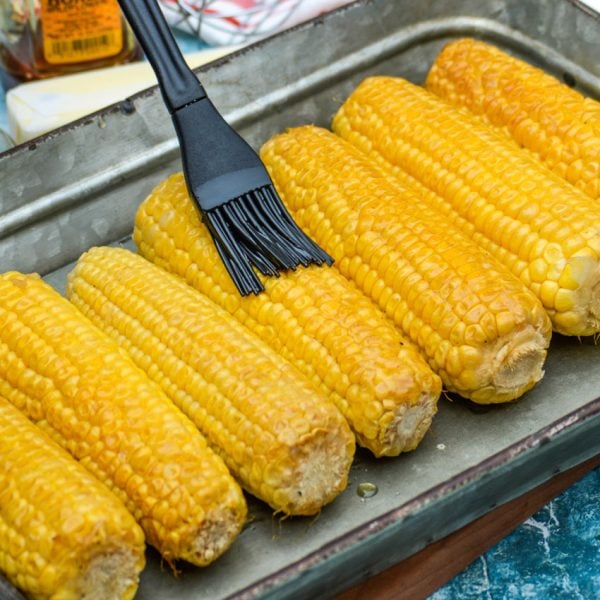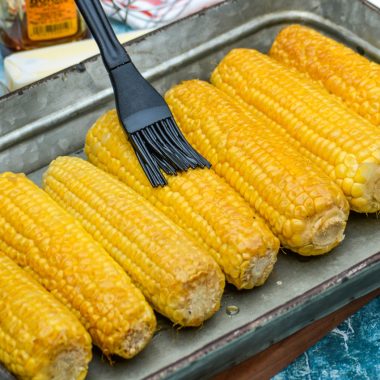 Honey Butter Smoked Corn On The Cob
There are so many delicious ways to make corn on the cob. Fire up your smoker, and discover a new way to revamp an old favorite with this super simple smoked corn on the cob. It's sweet, smoky, and slightly spicy in every bite.
Print
Pin
Rate
Ingredients
4

large

corn on the cob

shucked and washed

1

stick

salted butter

softened

3

tbsp + 2 tsp

honey

pinch

cayenne pepper
Instructions
Shuck the corn completely. That means not only removing the outer leaves, but all of the corn silk too. Rinse if necessary to remove.

Pat the cleaned ears dry.

In a small mixing bowl, whisk together the butter, honey, and cayenne pepper until smooth.

Using a silicone brush, brush the mixture onto all of the corn cobs- thoroughly. Roll the corn cob over, and again make sure you brush it thoroughly.

Repeat until all the corn is prepared.

Smoke the corn at 250 degrees for 45 minutes, to an hour, flipping halfway through.
Nutrition
Calories:
239
kcal
|
Carbohydrates:
24
g
|
Protein:
3
g
|
Fat:
17
g
|
Saturated Fat:
10
g
|
Cholesterol:
40
mg
|
Sodium:
149
mg
|
Potassium:
257
mg
|
Fiber:
2
g
|
Sugar:
12
g
|
Vitamin A:
649
IU
|
Vitamin C:
6
mg
|
Calcium:
6
mg
|
Iron:
1
mg