Ice cream cone cupcakes are a festive dessert recipe perfect for any holiday occasion. These cute cupcakes dress up store bought cake mix and make a sweet end to your Fourth of July or Summer picnic.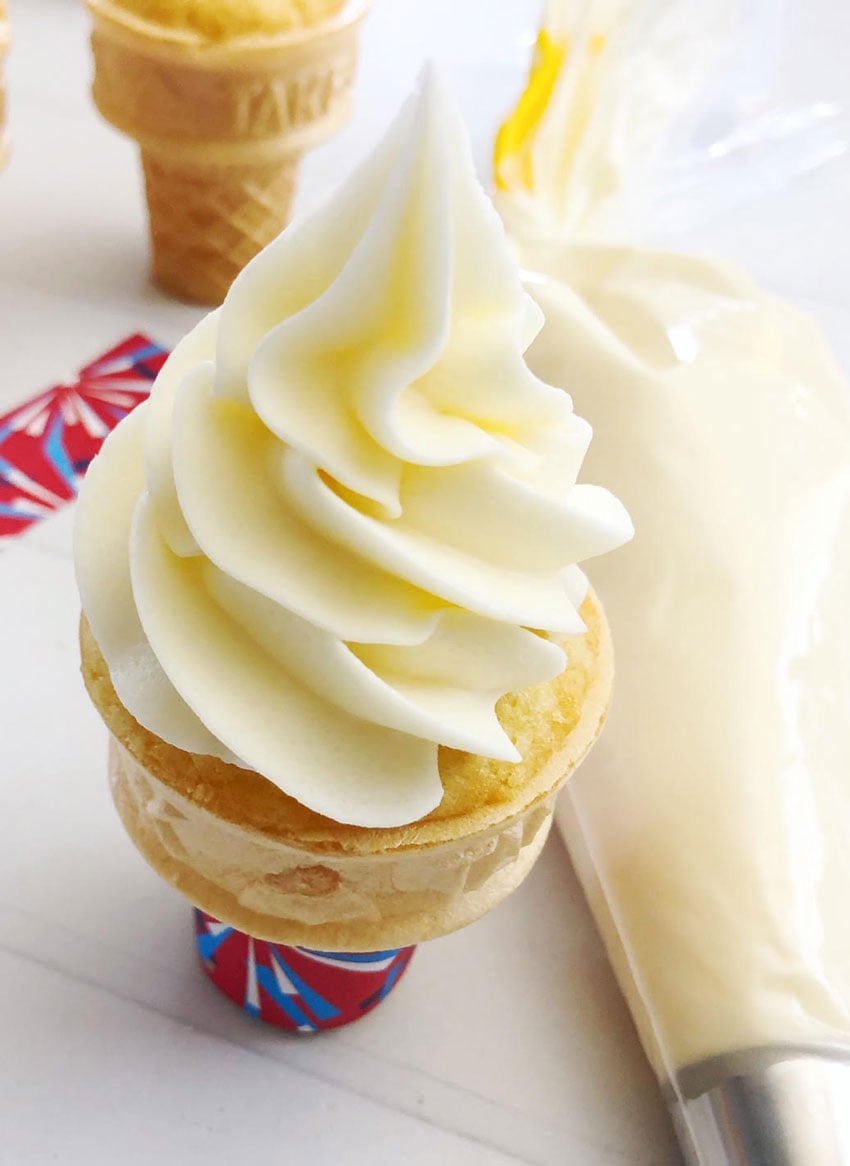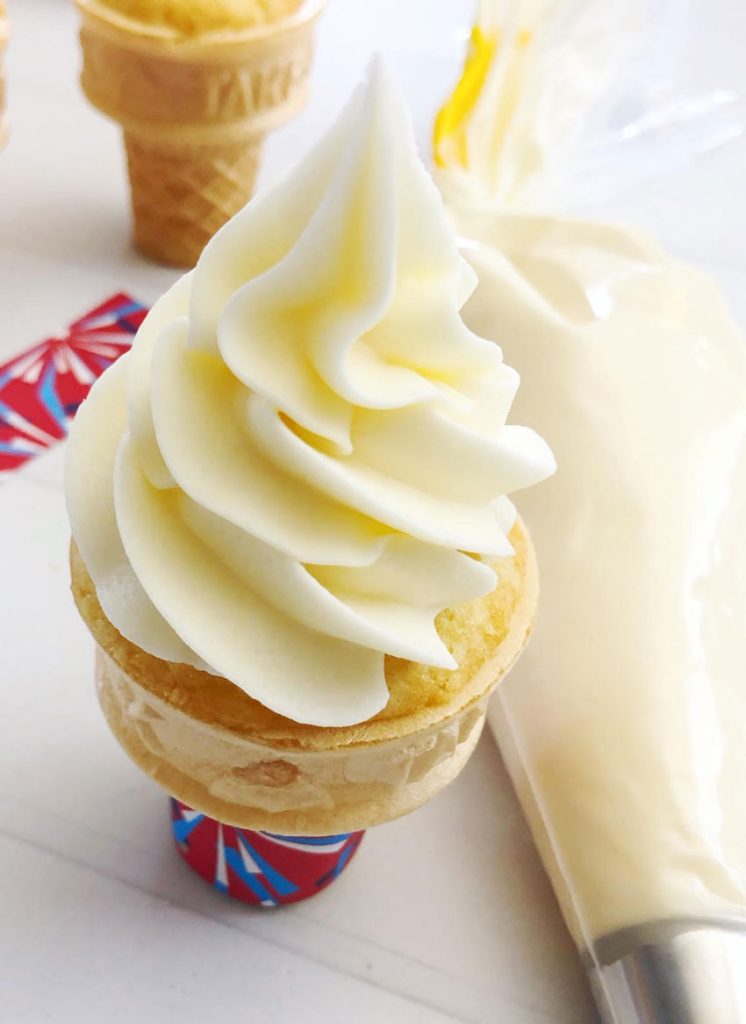 It doesn't matter what the holiday is, but I'm going to go out of my way to make it a little extra special.
Because why not?
With these adorable cupcakes decorated to look like everyone's favorite treat, it's easy to add a little extra festive touch to the summer holidays just like this red, white and blue layer cake does.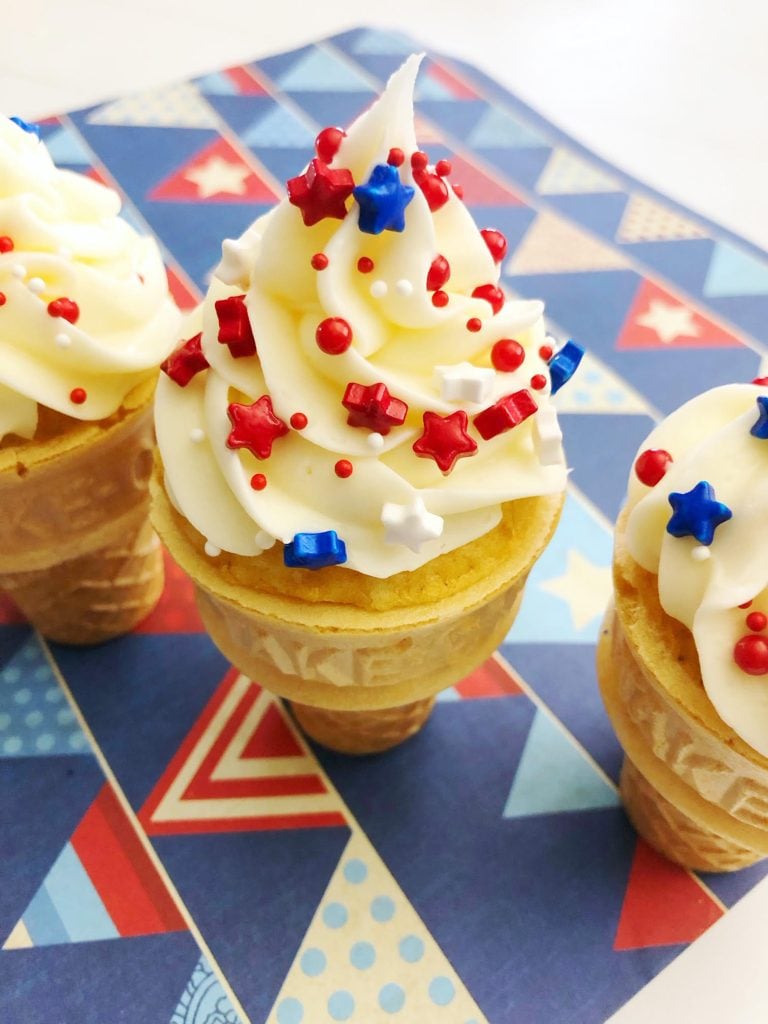 Shortcut Cupcakes with Store Bought Mix
The key to keeping this cupcake recipe a piece of cake is using box cake mix.
You can save the time you'd spend making cupcakes from scratch and use a tiny bit of the time to decorate the cones with a custom cone holder.
Also, you can use any box mix you like- making the cupcake flavor easily customizable to the crowd or for a specific occasion.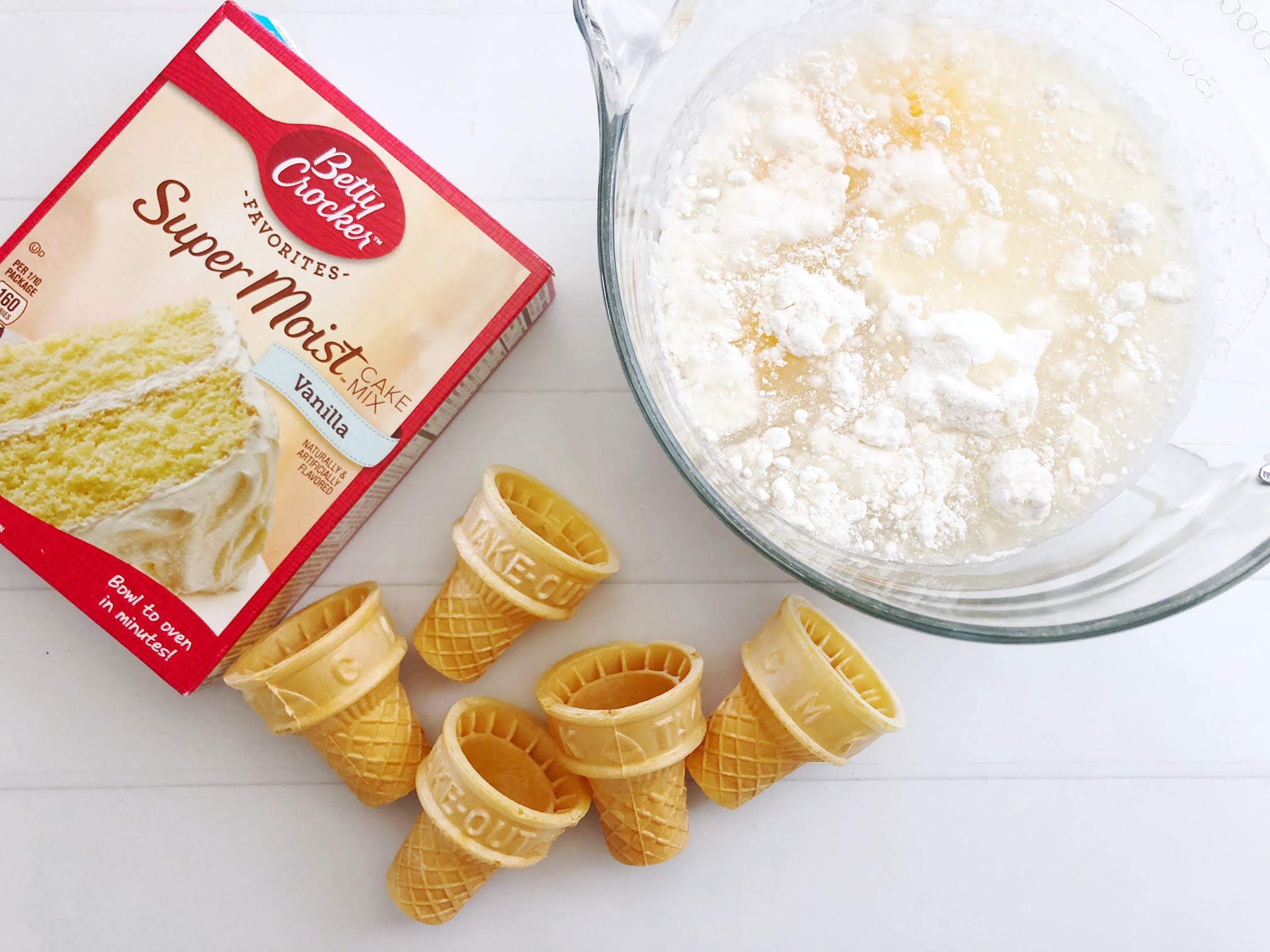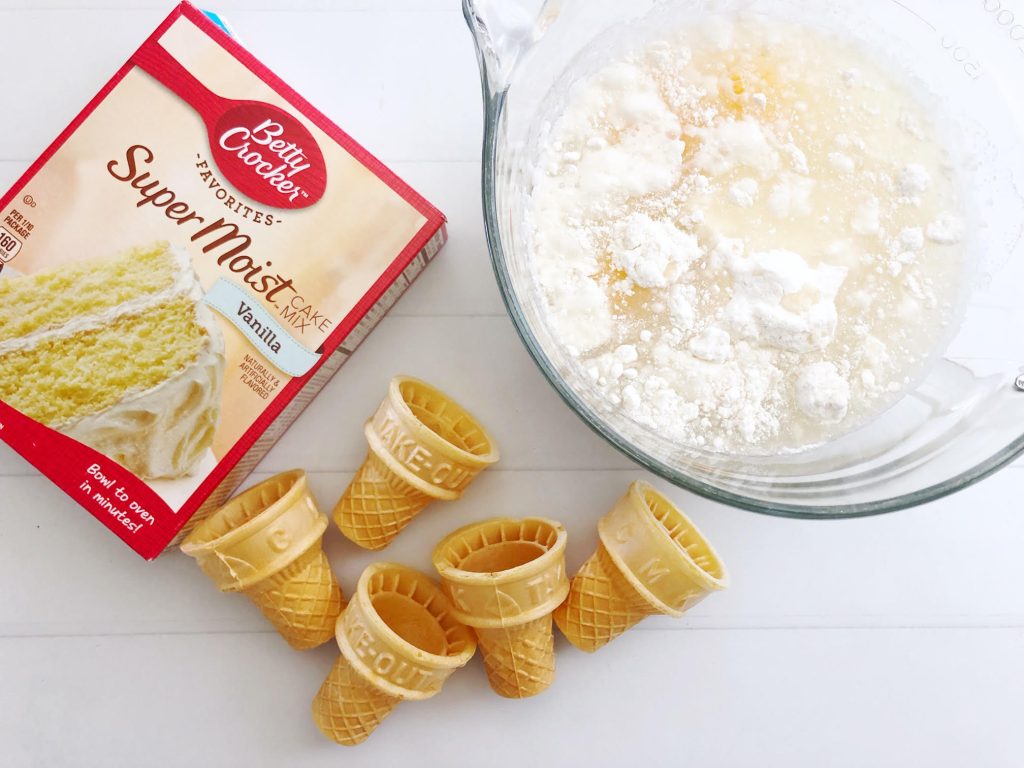 How to Make
Start by preheating the oven to 350.
While the oven is preheating, mix your cupcake batter according to the directions on the box mix.
When you've mixed the batter, you can start filling the cones up about halfway with the batter.
The batter will rise as it bakes to fill the cone.
Put each partially filled cone in a muffin tin and bake for 18-20 minutes.
When they are done, let them cool thoroughly before decorating.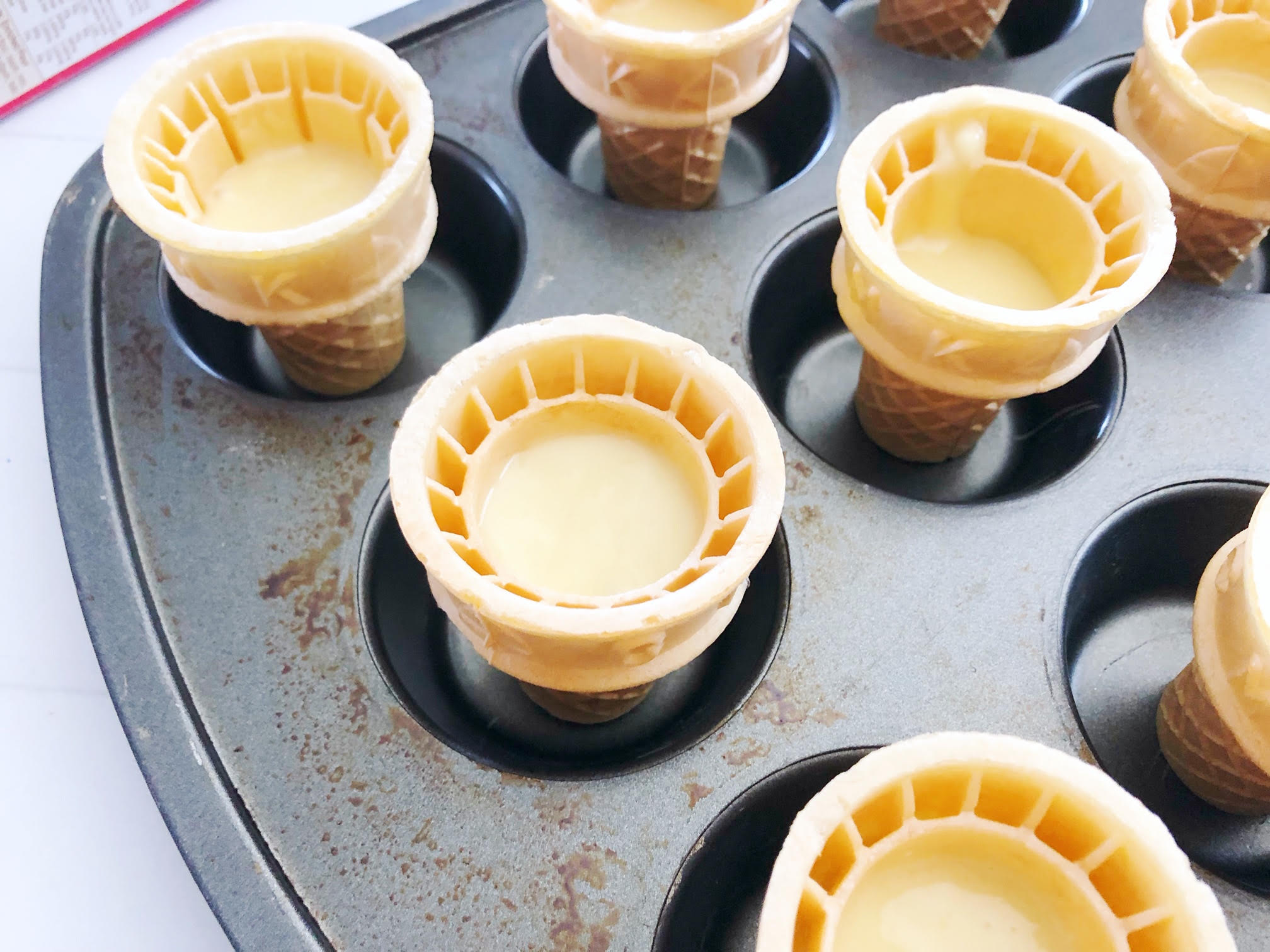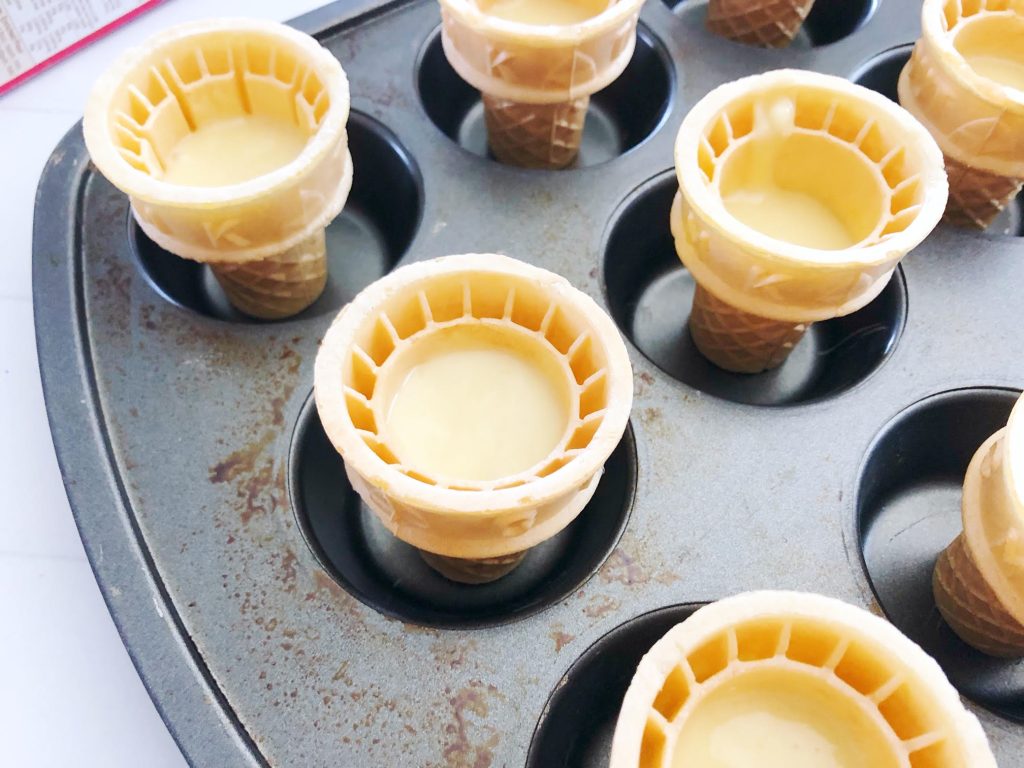 Decorating Ideas for Ice Cream Cone Cupcakes
The fun part of these cupcakes is the fact that you can dress them up for any occasion and make them look exactly like soft serve ice cream.
To make them look like an ice cream shop ice cream cone, you need a paper cone holder.
Don't buy them though! Make them yourself so you can dress them up in holiday style out of scrapbook paper.
Just measure around the cone and cut a strip of festive paper just a bit longer than the cone.
Glue it together with hot glue and slide it on the cone.
When you have the cone holders on, you can make the soft serve swirls.
For a vanilla soft serve swirl, I used vanilla icing, but you could do chocolate if that suits you too.
Just scoop your icing into a piping bag with a large star tip and pipe the icing on the cupcake to make the icing.
Then top with festive sprinkles and you're ready to enjoy the most fun cupcakes ever!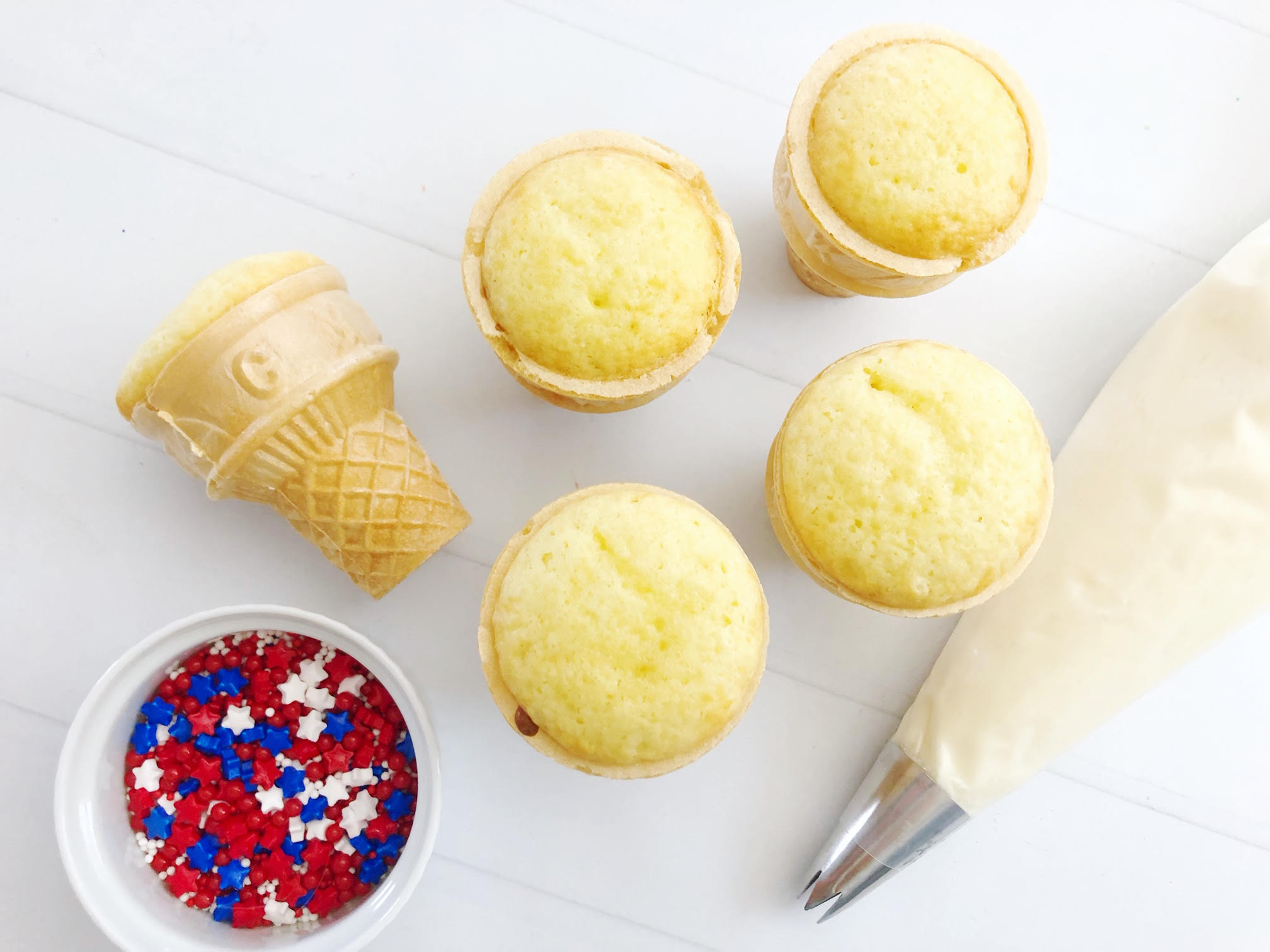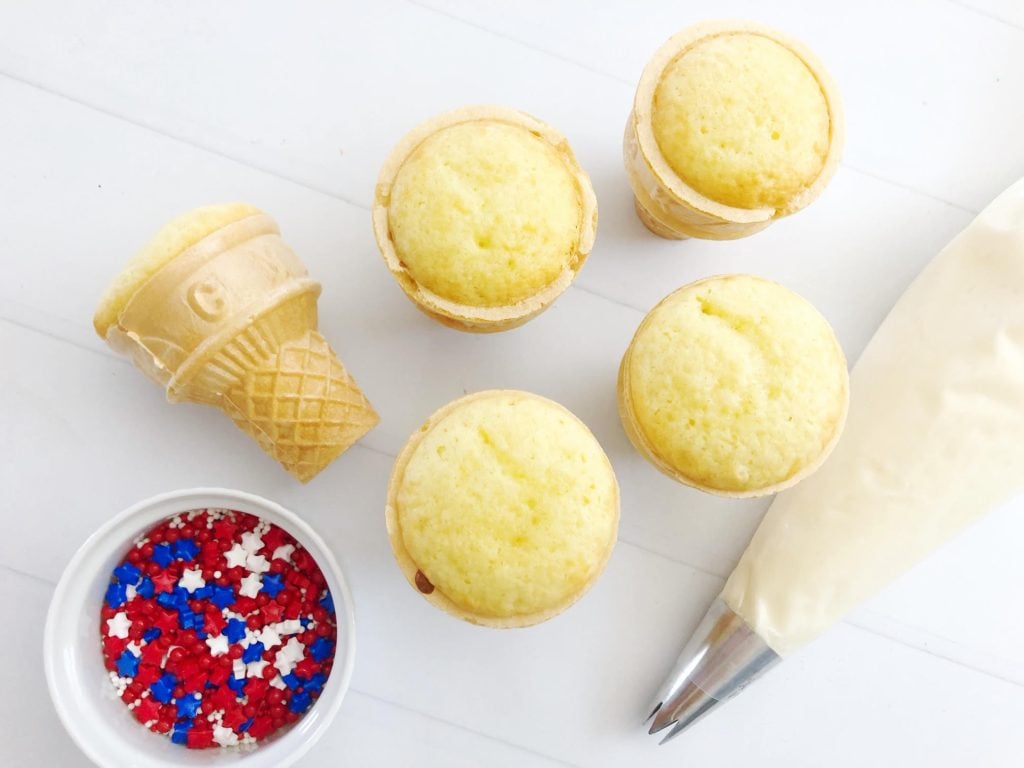 Can I make these cupcake treats ahead of time?
Yes, you can make these festive cupcakes a day or two in advance.
How long will they keep for?
The cupcakes should keep for 3-4 days carefully covered in the fridge.
They'll last on your counter for about 2 days.
Remember to cover them though, otherwise they will become hard and stale.
Tips and Tricks
Make sure not to overfill the cones with batter. If you put too much batter in the cones it will spill out the top as it bakes.
Feel free to sub out chocolate or yellow cake if you like that better.
To get the perfect swirl of frosting, make sure you use a large star tip and frost the cupcake using a circular motion.
Change the scrapbook paper and sprinkles to fit whatever holiday or theme you're making these for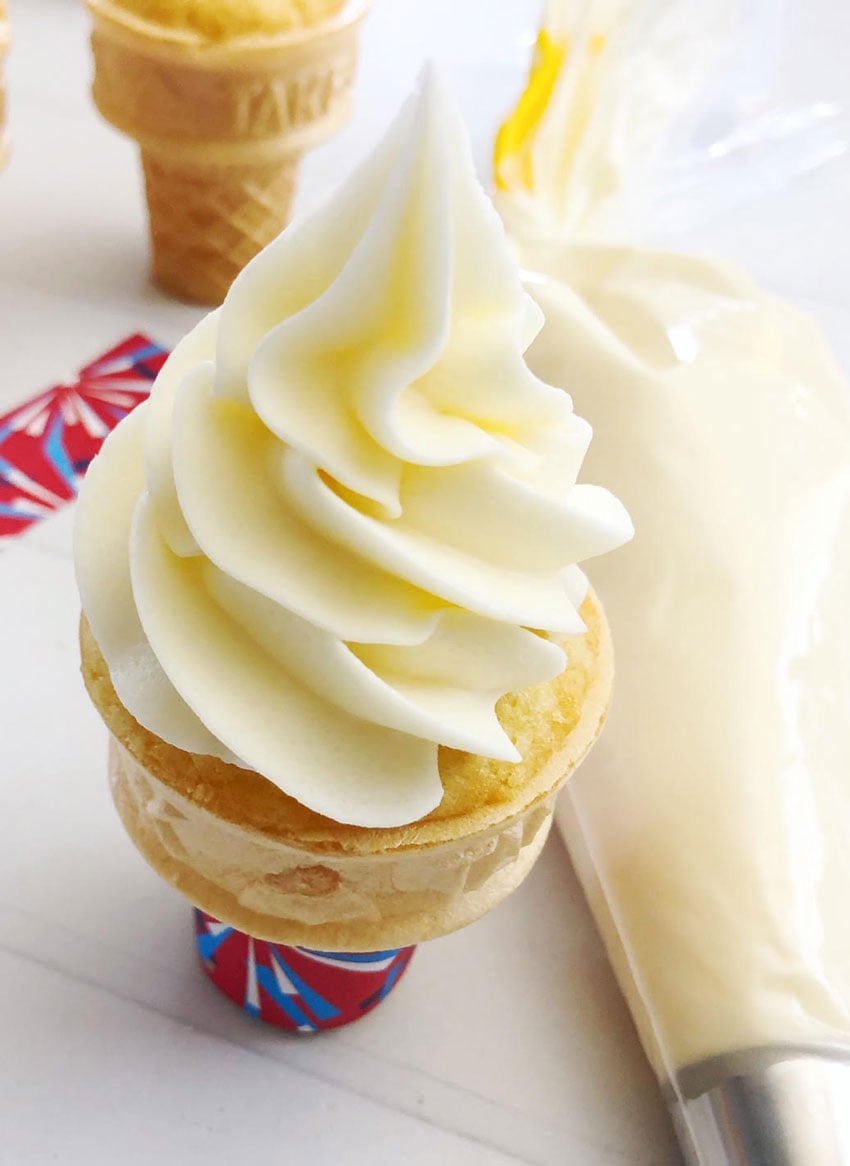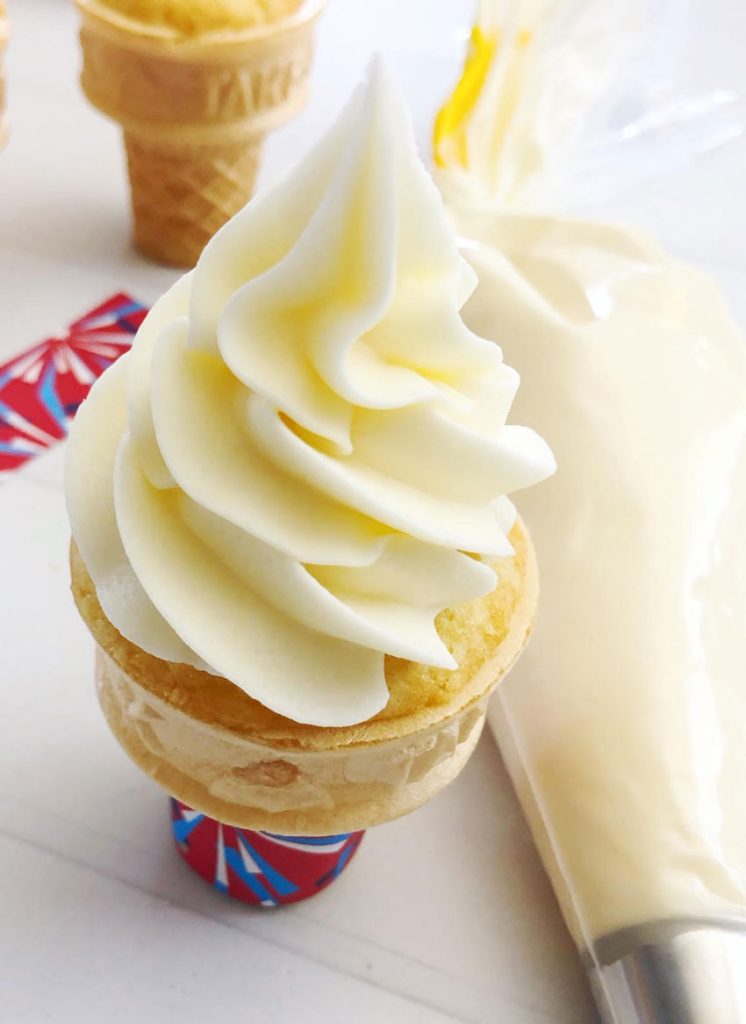 Other Fun Cupcakes You Might Love
These ice cream cone cupcakes are a fun dessert you can easily customize for any festive occasion. Make them for your next celebration and enjoy!
Looking for other fun Summer cupcake ideas? Try these:
If you've tried these ICE CREAM CONE CUPCAKES, or any other recipe on my site, let me know in the comment section how it turned out, we love hearing from our readers! You can also follow along with me on PINTEREST, FACEBOOK, and INSTAGRAM to see more amazing recipes and whatever else we've got going on!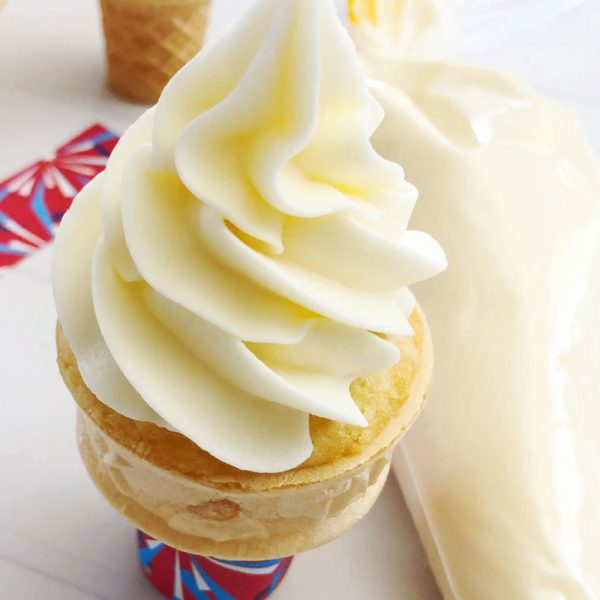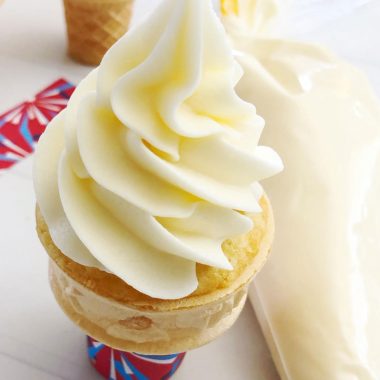 Ice Cream Cone Cupcakes
Ice cream cone cupcakes are a festive dessert recipe perfect for any holiday occasion. These cute cupcakes dress up store bought cake mix and make a sweet end to your Fourth of July or Summer picnic.
Print
Pin
Rate
Ingredients
Ice Cream Cone Cupcakes

White cake mix

calls for oil, eggs and water

Vanilla frosting

sprinkles

for these we used 4th of July themed ones

Ice cream cones

Decorating bag

Large star decorating tip

Cupcake baking pan

Scrapbook paper

Hot glue

Scissors

Ruler
Instructions
Preheat your oven to 350° and place ice cream cones in the cupcake spot on the pan.

In a large mixing bowl, Mix the cupcake mix with oil, eggs and water.

Fill your ice cream cones about 1/2 way with your cupcake batter, carefully transfer the pan to the oven and bake for 18-20 minutes.

Let your cupcakes cool and measure the cone where you would hold it.

Cut out a strip of scrapbook paper, holiday theme of course, wrap it around the cone and secure the paper together with hot glue.

Place a large star tip in a decorating bag and fill with vanilla frosting.

Frost each cupcake with the round tipped decorating bag to look like a swirl cone of ice cream.

Top with sprinkles.
Notes
Switch the sprinkles & scrapbook paper theme to makeover these fun cupcakes for whatever theme you need.