Fritters are the yummiest way to showcase the best of Southern summer produce. These Zucchini Fritters with Chili Lime Mayo are a fun, fresh savory spin on the classic fried veggie. Paired with the spicy mayo for dipping, they make a tasty appetizer, side dish, or even a light meal all by themselves.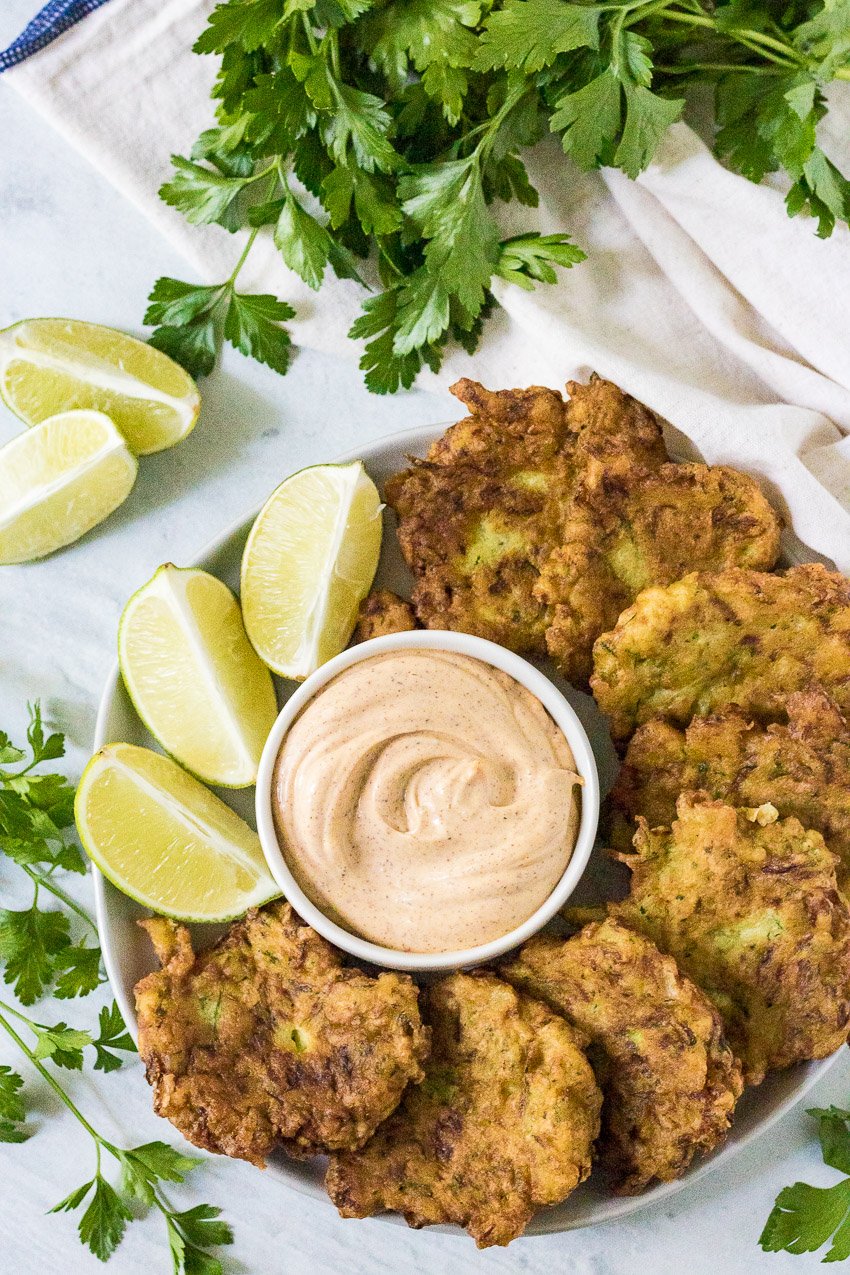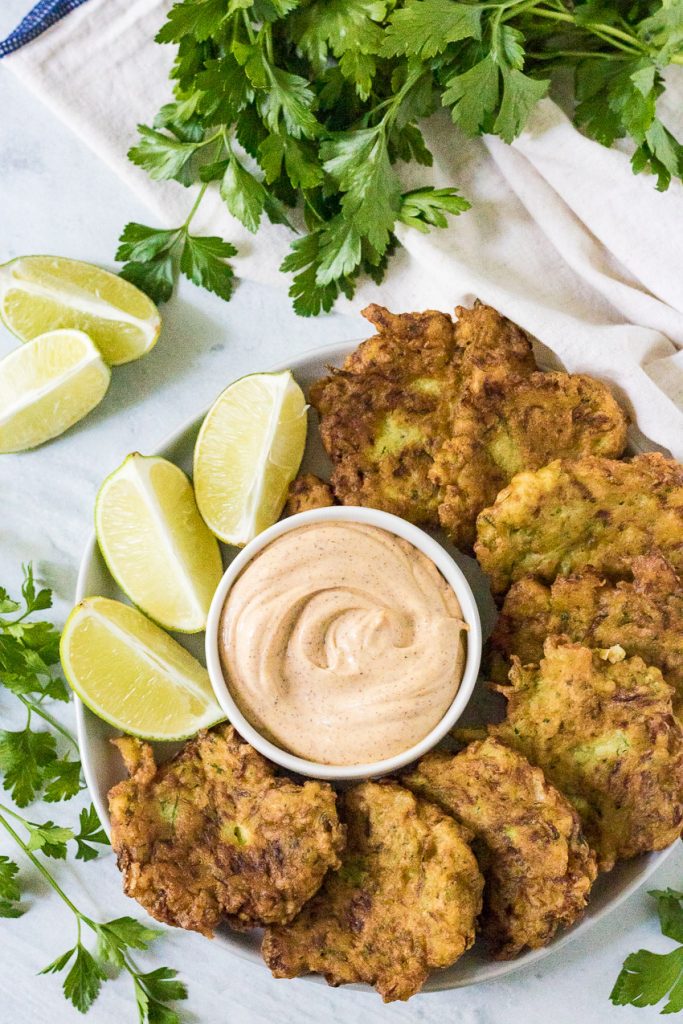 My MIL is like the plant whisperer. So, I wasn't surprised two weeks ago when bags full of summer squash started appearing on my doorstep. Seriously, these things were huge…and plentiful. But I was stuck in a rut. A zucchini rut.
When the dark green squash lands in my kitchen, it always met one of three fates:
1. Being sliced into rounds, topped with Parmesan cheese, and baked;
2. Shredded up and baked into some form of zucchini/vegetable bread; or
3. Shredded or diced and hidden in various casseroles to trick my kids (and husband?) into eating more veggies.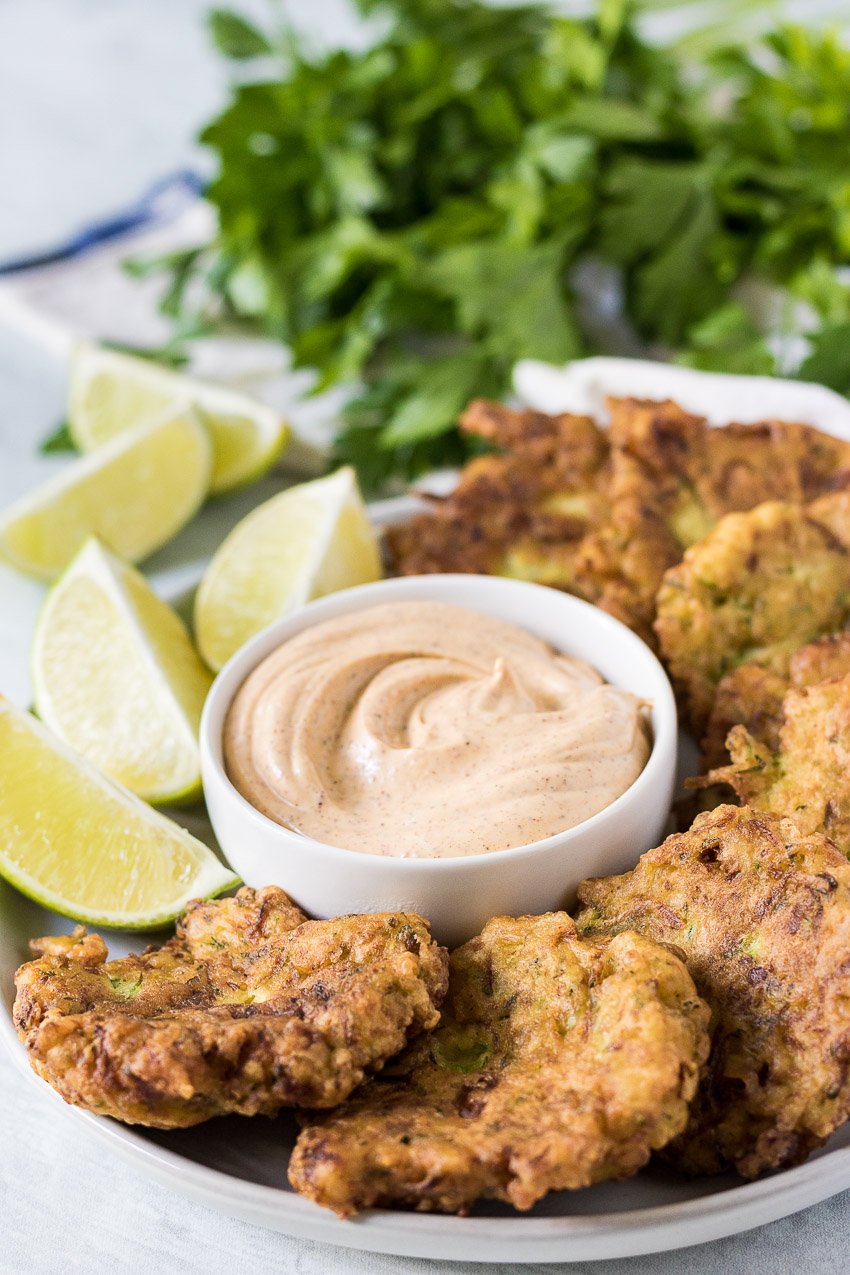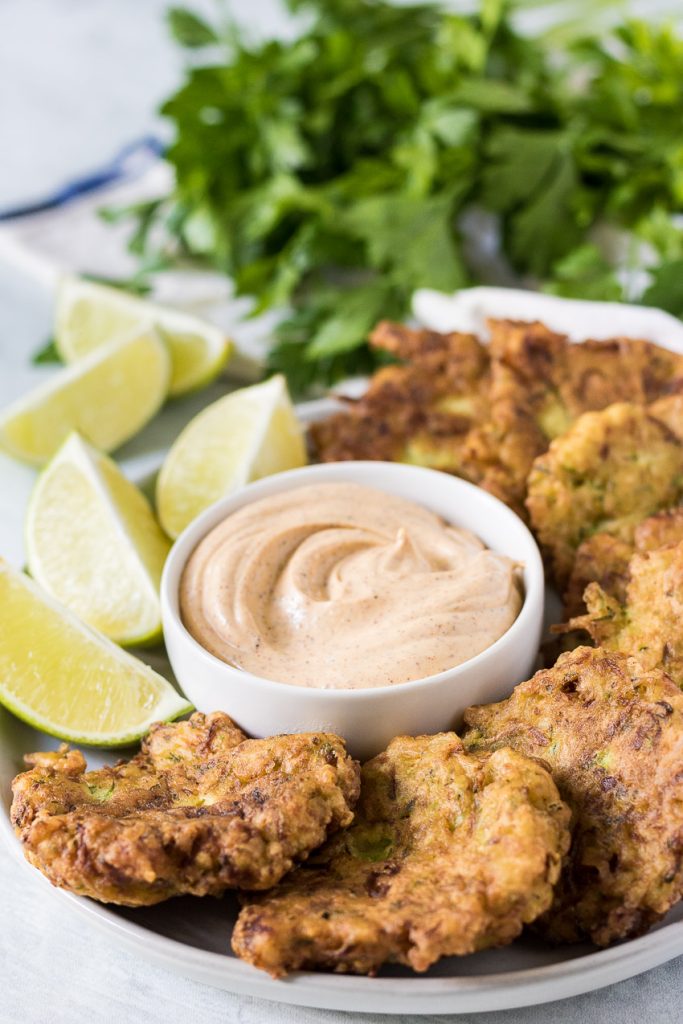 While I love all of these uses for zucchini, I knew there had to be some sort of unheard of zucchini greatness out there to help shake things up and pull us out of our rut.
I don't normally fry our veggies, but when I saw this recipe I immediately decided I was making an exception. The Hubs took one bite and couldn't believe that something so delicious could be made from just zucchini and onions.
Haven't had fritters before? This is a perfect beginner recipe.
WHERE DO FRITTERS COME FROM ANYWAY?
Growing up, I always assumed fritters were a Southern thing. Come to find out as an adult, that almost every culture & cuisine in the world has their own version. A fritter is basically something dipped in (or mixed with) batter and deep fried in oil until golden brown and crispy.
Fritters can consist of meats, veggies, even fruits. They can pretty much be whatever you dream up. Apple fritters are a common sweet variety in both the U.S. & in the U.K..
Zucchini fritters however, are in fact a very Southern thing. The regional favorite is especially popular in the Summer. Corn fritters are another popular variety here.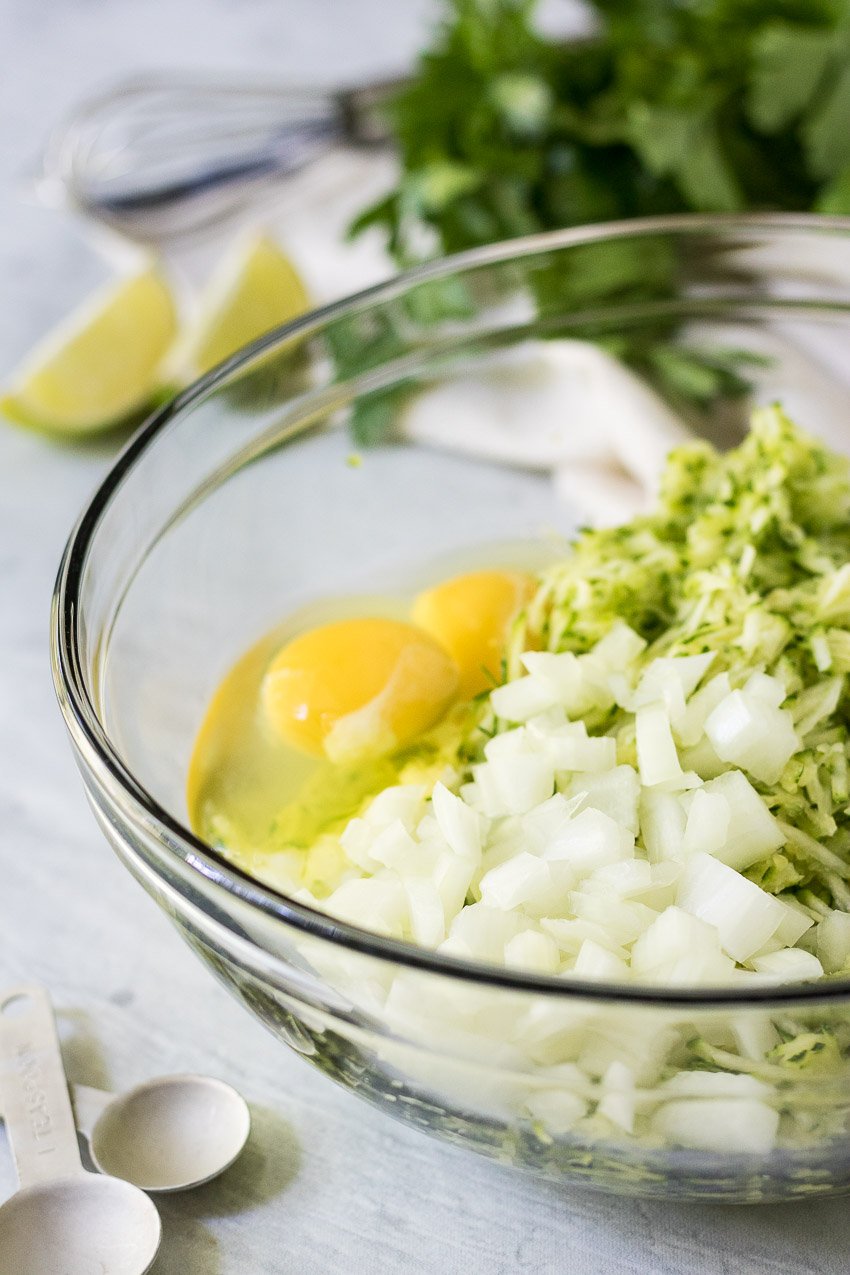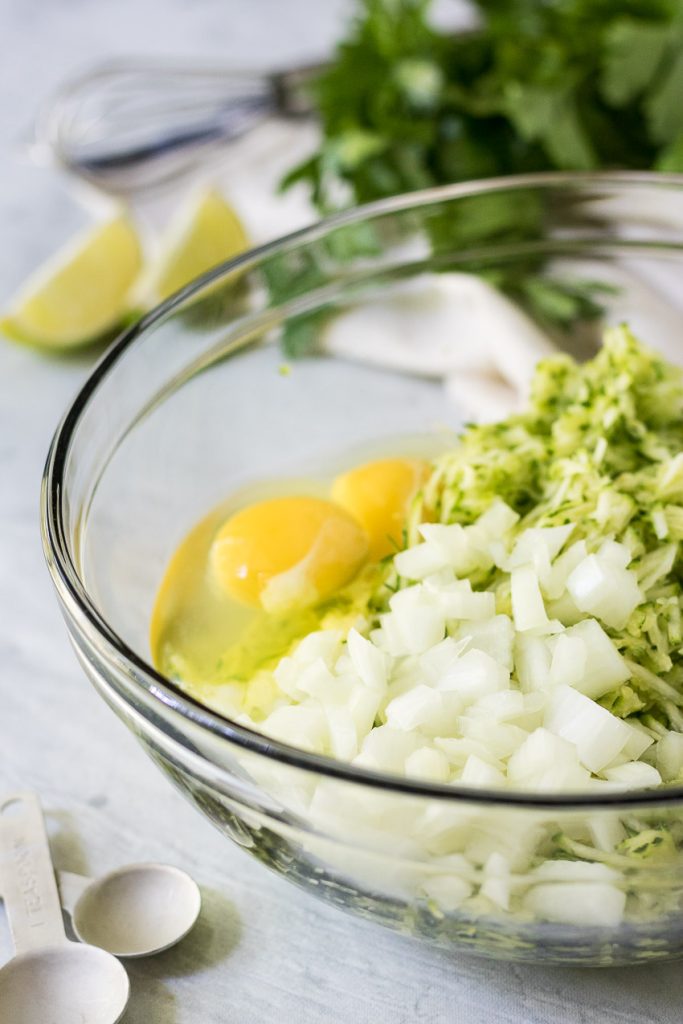 WHY ZUCCHINI AND NOT SOME OTHER VEGETABLE?
Zucchini is one of my favorite veggies to use for so many different reasons. Have you heard of zoodles? There's a reason shredded zucchini makes a perfect noodle substitute.
It cooks incredibly well without turning into a soggy mess, and it takes on virtually any flavor you throw at it. The same thing that makes it ideal for both. Unlike some other veggies, zucchini cooks evenly when fried without getting watery and weighing down the batter. It also means it's not spitting and sputtering hot oil everywhere.
Not sure what to expect taste-wise? These zucchini fritters are similar to a crispier version of potato latkes. So basically vegetable fries. I repeat, veggie fries. Who doesn't love a healthier fry? And these are even easier to whip up than you might imagine!
INGREDIENTS NEEDED TO MAKE ZUCCHINI FRITTERS WITH CHILI LIME MAYO:
zucchini
onion
eggs
flour
baking powder
chili powder
salt & pepper
cayenne pepper
mayonnaise
lime juice
That's it. I mean, I can see how at first glance it may seem like a bit of a longer list considering I'm promising a fit-for-a-beginner recipe.
It's really not though when you consider that's the entire ingredient list for the zucchini fritters AND the easy chili limp dipping sauce. It's a two-for-one deal written on a single recipe card.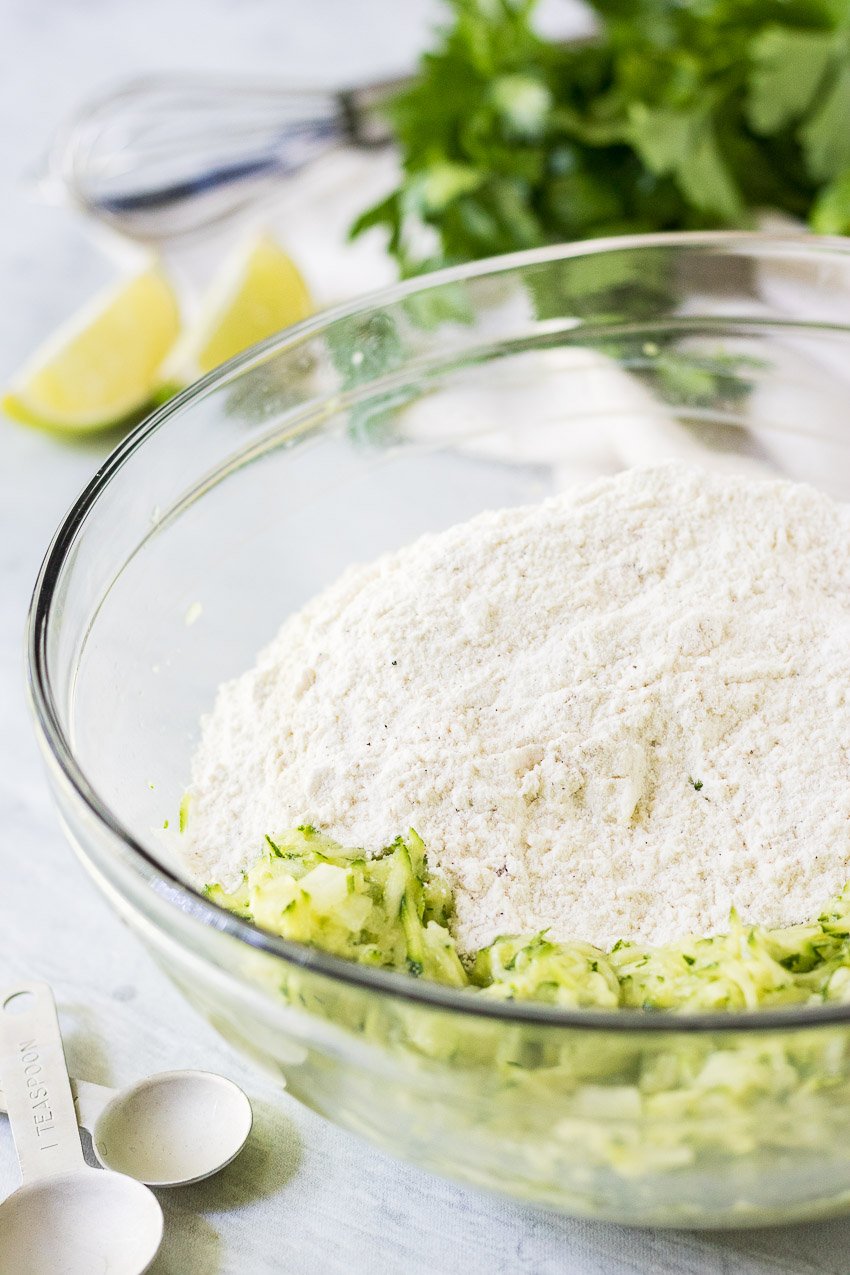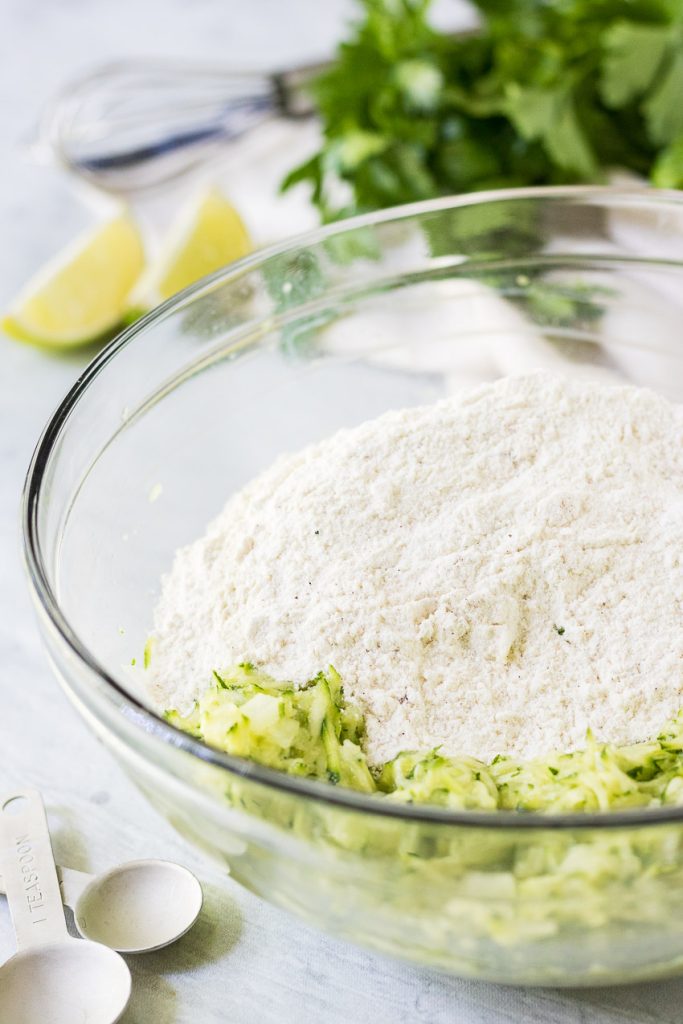 HOW TO MAKE THE ZUCCHINI FRITTER BATTER:
These zucchini fritters with chili lime mayo come together in a snap. Like, it's shockingly simple.
In a large mixing bowl, combine the grated zucchini, onion, & egg. Stir them together to evenly combine. Don't be concerned if the mix gets a little frothy. It's normal, and won't adversely affect the outcome.
In a separate mixing bowl, whisk together the dry ingredients: flour, baking powder, chili powder, salt & pepper. Add the flour mixture into the mixing bowl with the wet ingredients.
Using a spatula, fold the different ingredients together just until evenly combined. Resist the urge to keep stirring or mixing, you don't want to overdo it & toughen up the batter. Set the mixture aside, and begin prepping the oil.
HOW TO COOK ZUCCHINI FRITTERS:
Add the oil to a heavy bottomed skillet, preferably a cast iron skillet or a dutch oven. You want the oil to be 1/2 an inch thick. No more, and no less. Turn the heat to medium, and let the oil heat up.
Test the oil to see if it's ready. Use a spoon to carefully drop a tiny dollop of batter into the oil. If it bubbles right away, it's ready to go.
Drop the batter, a tablespoon at a time, into the hot oil. Use the back of the spoon to flatten the fritters slightly. Let the fritters cook, 2-3 minutes per side, flipping when they're crusty & golden brown.
When the centers are firm, use a slotted skimmer to remove the fritters from the hot oil. Transfer them onto a paper towel lined plate to rest & drain off any excess grease. Let the fritters rest, and prep the chili lime mayo.
HOW TO PREP THE CHILI LIME MAYO:
In a small mixing bowl, whisk together the mayonnaise, lime juice, & chili powder. When the mixture's smooth, it's ready to serve. You can serve it warm, as is- or you can cover & refrigerate it to chill. It's totally tasty either way, but chill time does allow for the flavors to develop further.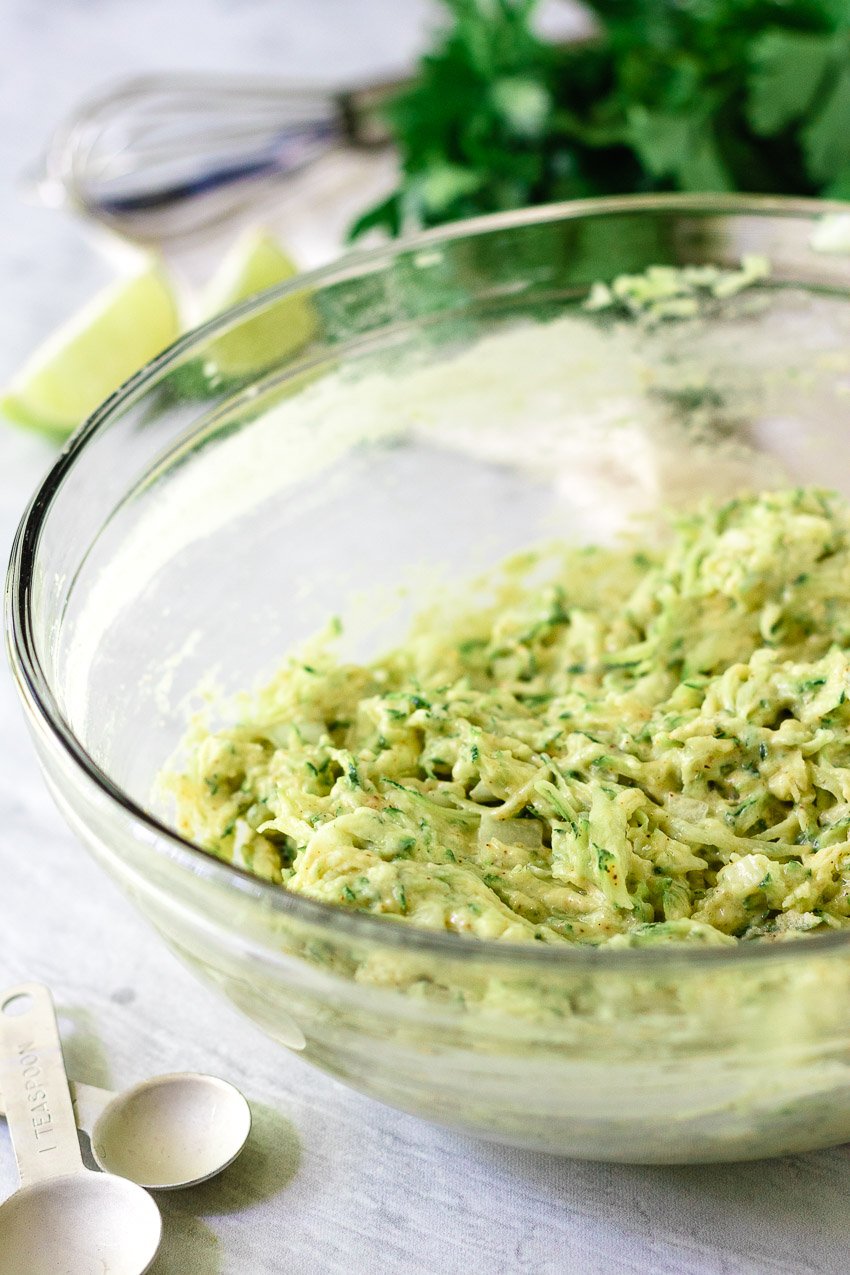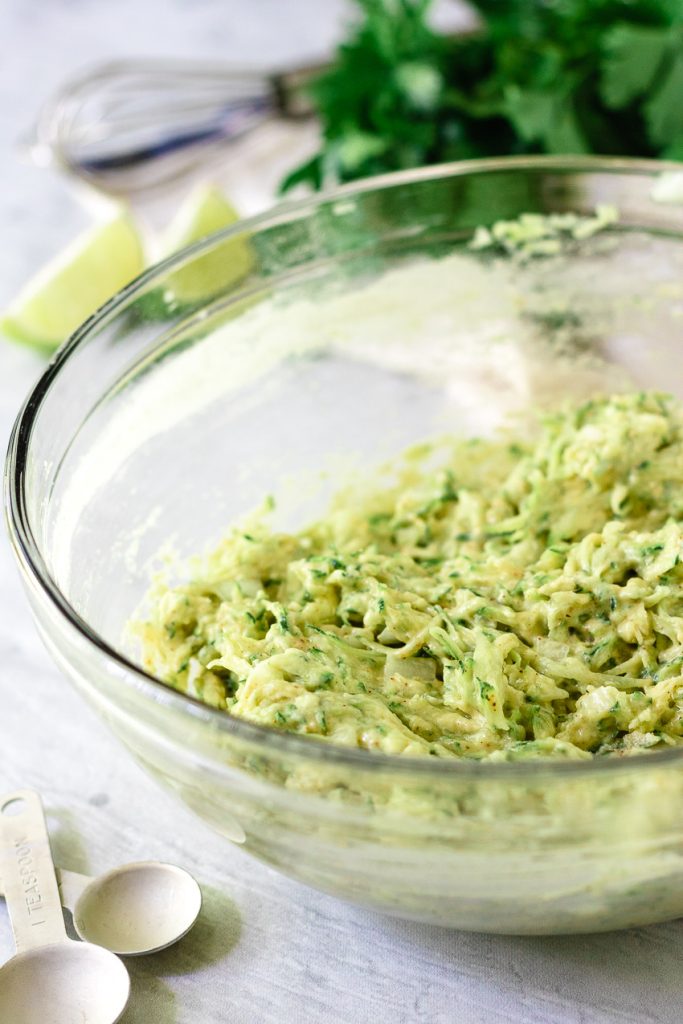 Sometimes, even a well written recipe can still run into problems. We'd like to avoid those all together.
WHY ARE MY FRITTERS SOGGY:
Nobody likes soggy fritters, they're just sad. We want crispy, french-fry like goodness. A soggy fritter is a sad fritter, so what went wrong?
It's really important to follow the measurements in the recipe. Something as simple as a scant cup of flour can really throw things off. If you're convinced your batter is too soggy, you can add in a little extra flour- but just a little.
Also, not properly draining the fried fritters can lead to a soggy result. Transfer the cooked fritter immediately to a waiting plate lined with a thick layer of paper towels. If grease seems to settle or pool on top, use a paper towel and pat gently to soak it up.
CAN FRITTERS BE MADE AHEAD OF TIME?
This question is both a yes, and a no. The fritters can absolutely be made ahead of time, but only about an hour or so. Transfer the cooked, de-greased fritters to a waiting sheet pan. You can store them in the oven, set to warm, for up to an hour.
CAN YOU REFRIGERATE FRITTER BATTER?
Absolutely! Cover the batter to seal, and it can be refrigerated for a couple of hours or overnight. This is great for making small batches of fritters. Some for dinner tonight, and enough to make a couple more the next evening.
The batter doesn't need to be warmed up before using again, but it can add an extra minute or two to the cook time for the centers to set.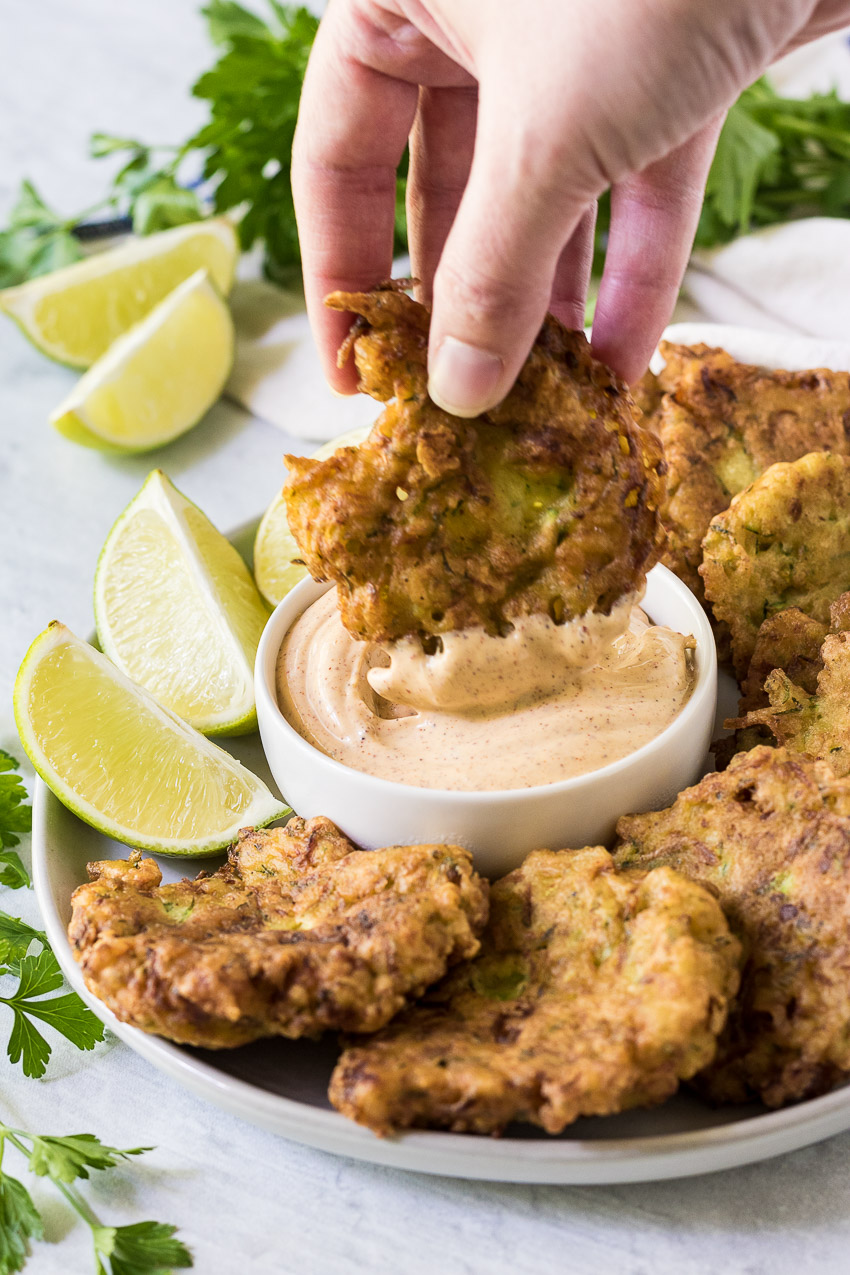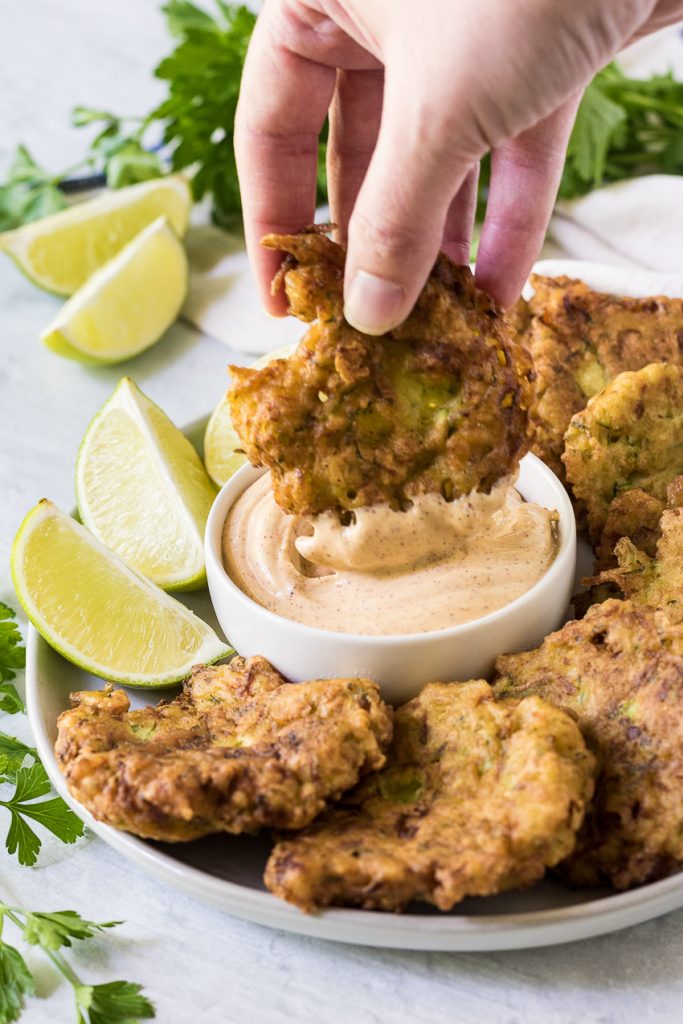 These zucchini fritters with chili lime mayo are great plain, but the spiced mayo really makes a perfectly paired dip. I highly encourage you to make it, and serve the two together. It manages to hit all the right notes, adding just the right amount of tang & spice.
We served the fritters as a side with dinner, but they would also make a great light lunch or even a crunchy appetizer.
Looking for a way to rise out of your own stagnant zucchini or side-dish rotation? Is your bounty overflowing with the green garden veggies and you need to get creative to use them all up? Whatever your reason, you can't go wrong with these. Just look at them. Gorgeous, isn't it? Even better? They taste just as great!
OTHER FRITTER RECIPES TO MAKE & ENJOY:
If you've tried these ZUCCHINI FRITTERS WITH CHILI LIME MAYO, or any other recipe on my site, let me know in the comment section how it turned out, we love hearing from our readers! You can also follow along with me on PINTEREST, FACEBOOK, and INSTAGRAM to see more amazing recipes and whatever else we've got going on!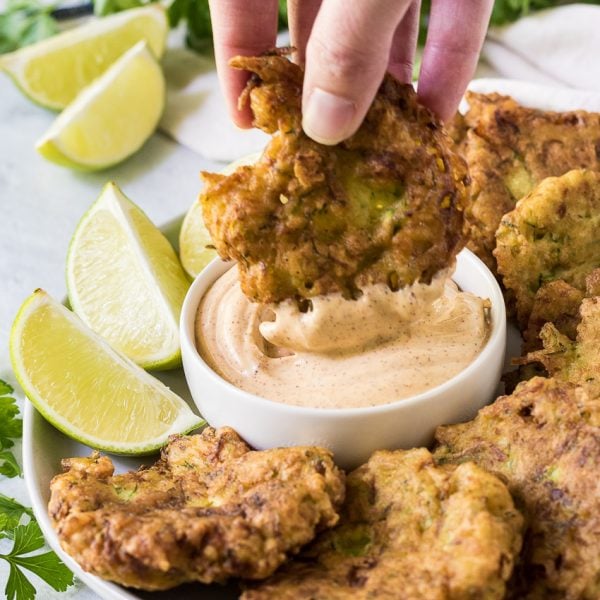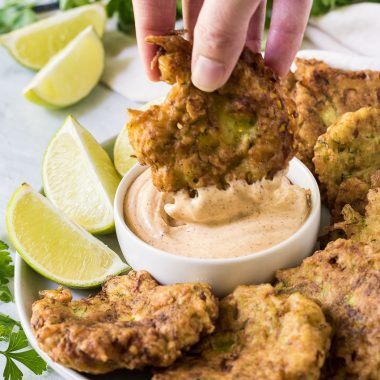 Zucchini Fritters with Chili Lime Mayo
Zuchinni is a prime Summer vegetable, and this version is one of the best ways to enjoy it- fried to golden brown fritter perfection with a savory chili lime aoili for dipping. It makes a perfect appetizer, side dish, or even an entree for the main event.
Print
Pin
Rate
Ingredients
vegetable oil for frying

3

cups

grated zucchini

1

cup

diced onion

2

eggs

1

cup

all-purpose flour

1

tsp

baking powder

1/2

tsp

chili powder

1/2

tsp

salt

1/4

tsp

pepper

pinch

of cayenne pepper

1

cup

prepared mayo

1

tbsp

lime juice

lemon will work as a substitute

1/2

tsp

chili powder
Instructions
Pour the oil in a skillet so that it is half an inch deep and turn the heat to medium.

While waiting for the oil to heat up, combine the zucchini, onion, and eggs in a large bowl. Stir the mixture to combine. It may get a little frothy, but that's ok.

In another bowl combine the dry ingredients: flour, baking powder, 1/2 tsp of chili powder, salt, and pepper and stir to combine

To finish the batter, add the dry ingredients to the zucchini mixture and fold it all together.

Once your oil is hot (dip a spoon with some batter on it into the oil to test, if the oil starts bubbling in contact with the batter, it's readyou can drop the batter a tablespoon at a time into the oil, frying for 2-3 minutes per side. If you want a more substantial fritter, form the batter into loose 'patties' and fry in oil 3-4 minutes per side.

When the centers are firm, remove them from the oil and allow the to drain on a plate lined with a paper towel.

To make the dip, simply combine the prepared mayo, lime juice, and chili powder in a small mixing bowl and stir it all up.
Nutrition
Calories:
281
kcal
|
Carbohydrates:
16
g
|
Protein:
4
g
|
Fat:
22
g
|
Saturated Fat:
4
g
|
Cholesterol:
53
mg
|
Sodium:
350
mg
|
Potassium:
251
mg
|
Fiber:
1
g
|
Sugar:
3
g
|
Vitamin A:
271
IU
|
Vitamin C:
10
mg
|
Calcium:
50
mg
|
Iron:
1
mg