Potatoes are an essential part of all of our best family brunches. With these twice baked breakfast potatoes, we've stuffed the whole cheesy sausage & egg meal into roasted spuds for a hearty meat & potatoes AM combination that looks as good as it tastes!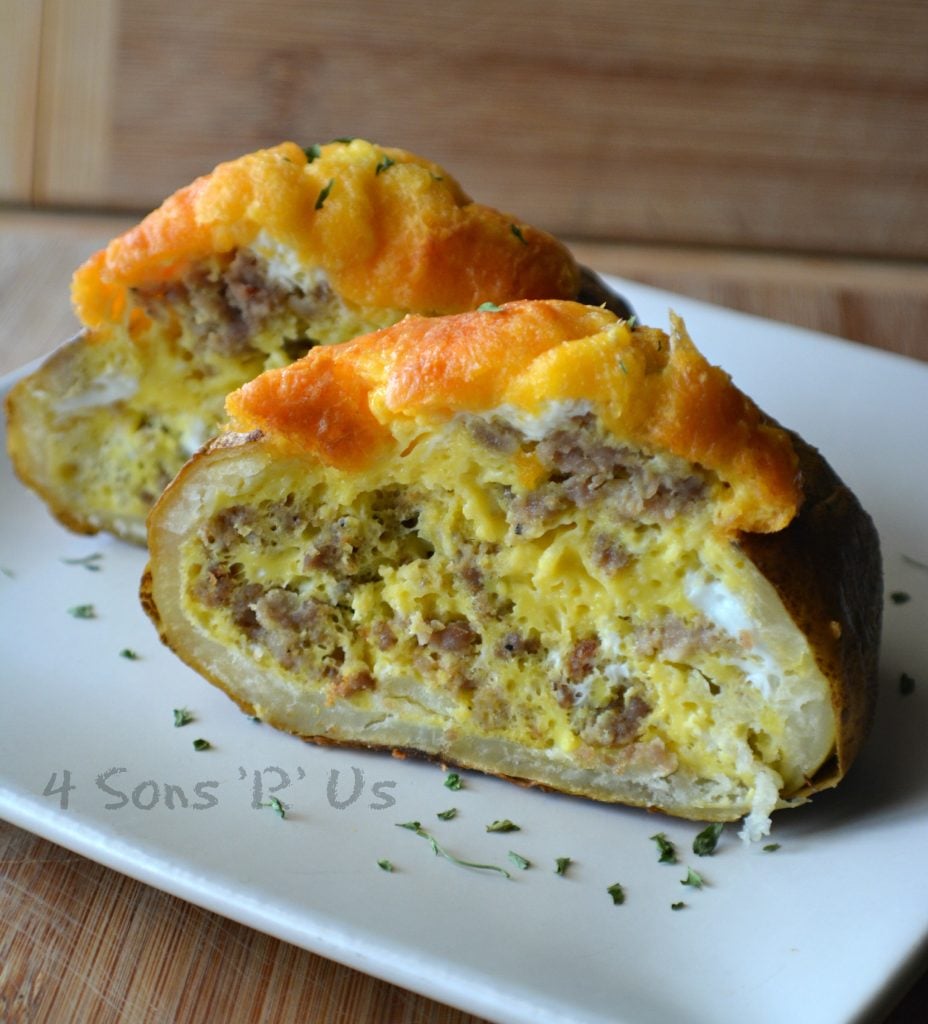 I'm sure when you think of breakfast, or brunch for that matter, there are certain foods that obviously spring to mind.
Like eggs.
Or sausage.
Or even potatoes. Home-fries anyone?
For us, as I'm sure for a lot of our readers too, these have almost become synonymous with the meal itself.
And while we usually serve them all together on the same plate, they inevitably all get mashed around together, and no bite is really complete without a forkful of all three.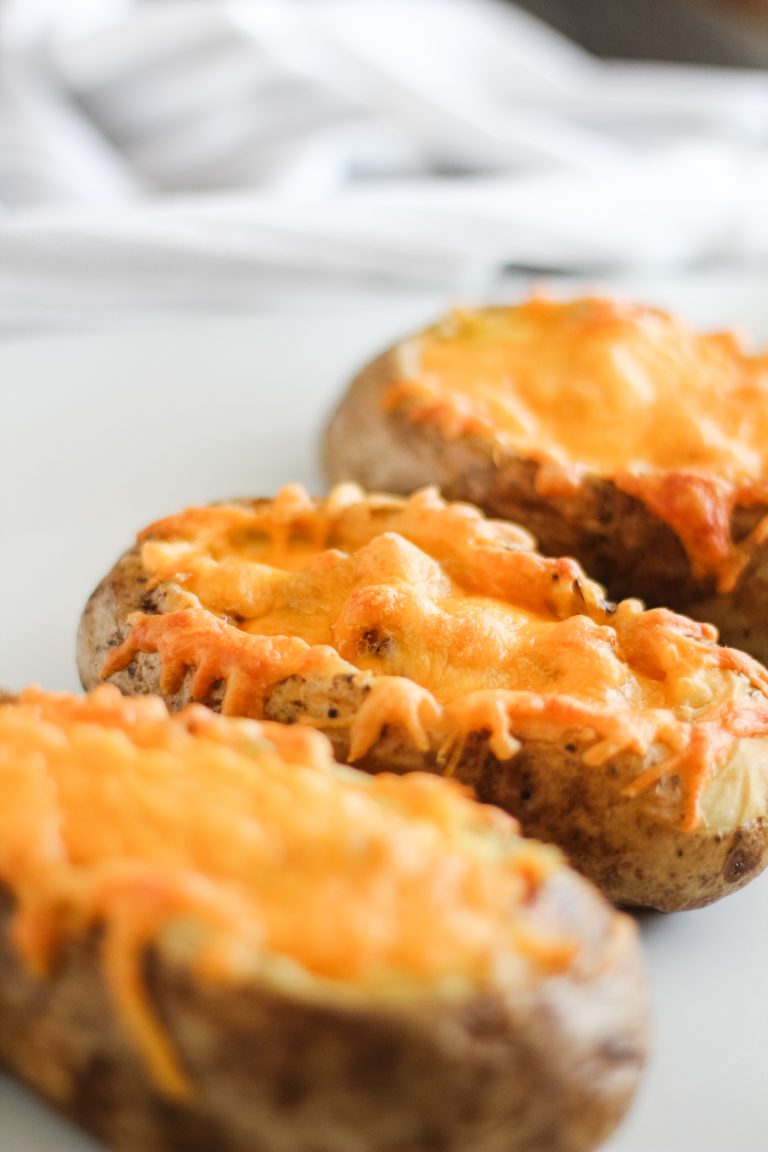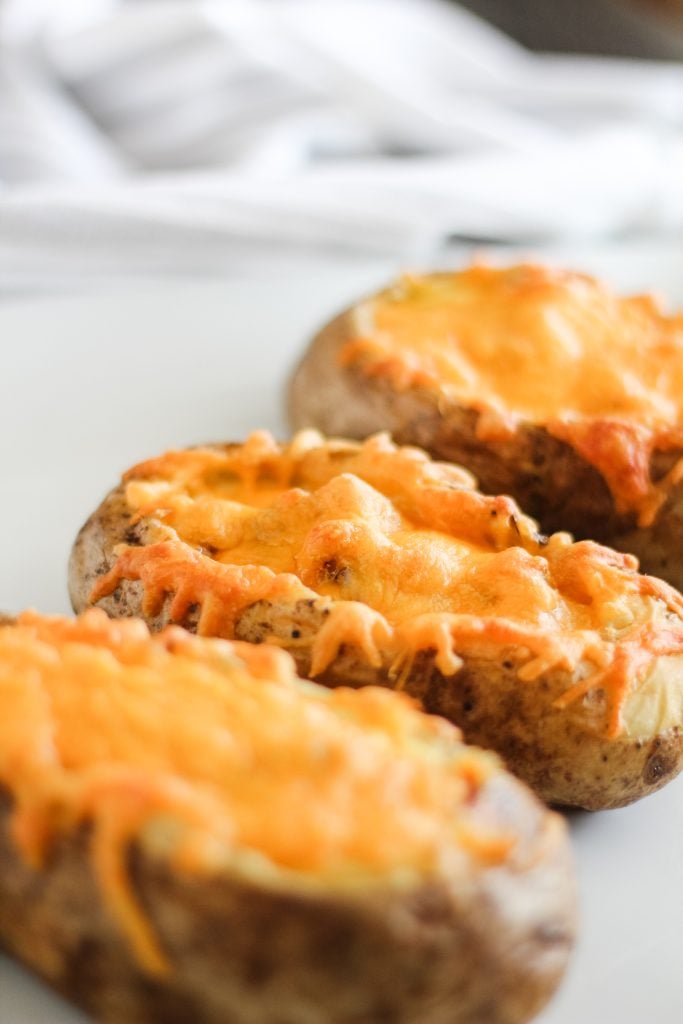 So as the innovative chef I am, heck, who am I kidding?
I mean the Mom who is sick of doing dishes by the weekend and would like to dirty up as few more as possible- I decided to skip the multiple skillets and just pot everything up together.
And these twice baked breakfast potatoes were as perfect and breakfast/brunch friendly as I imagined they'd be.
Ingredients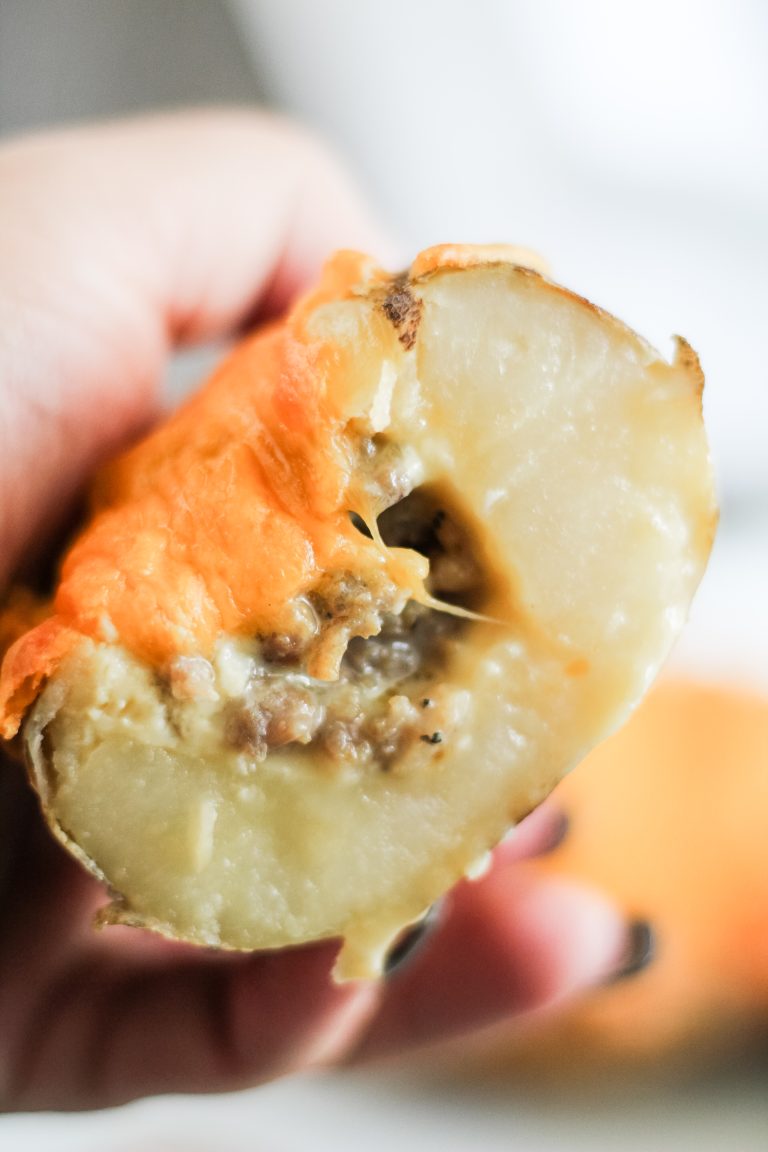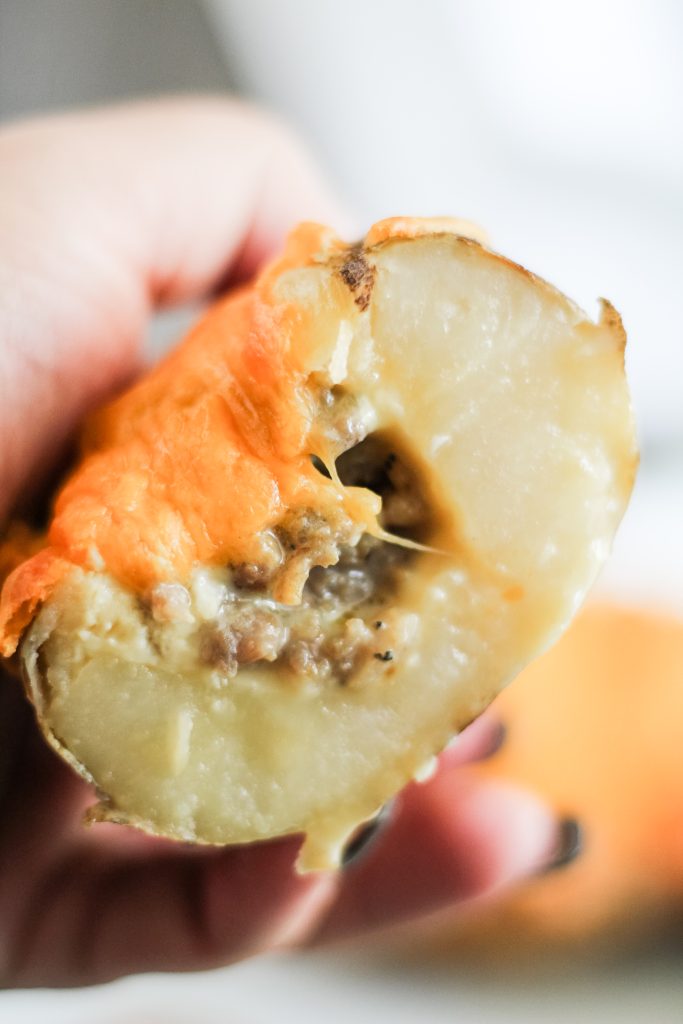 As gourmet as these stuffed potatoes may look & sound, they don't require anything fancy.
A handful of everyday ingredients are all you need.
potatoes – you'll need a variety that's meant for baking, such as russet and preferably large potatoes which are easier to hollow out and then stuff full
olive oil
Italian sausage – I used Italian sausage either the large sausages with casings removed, or you can sub a 1/2 pound of sweet Italian ground pork. Breakfast sausage will work in a pinch.
eggs
cheddar cheese – it needs to be shredded, and I recommend freshly shredded off the block for the best melting, but the pre packaged kind works too.
milk – whole milk, don't skimp on this. The thicker milk will help your eggs set and bake up nice and fluffy inside the baked potato.
parsley – chopped fresh parsley leaves make for a simple, but pretty garnish and pop of color. This is an optional ingredient.
Perfect Baked Potatoes Made In The Oven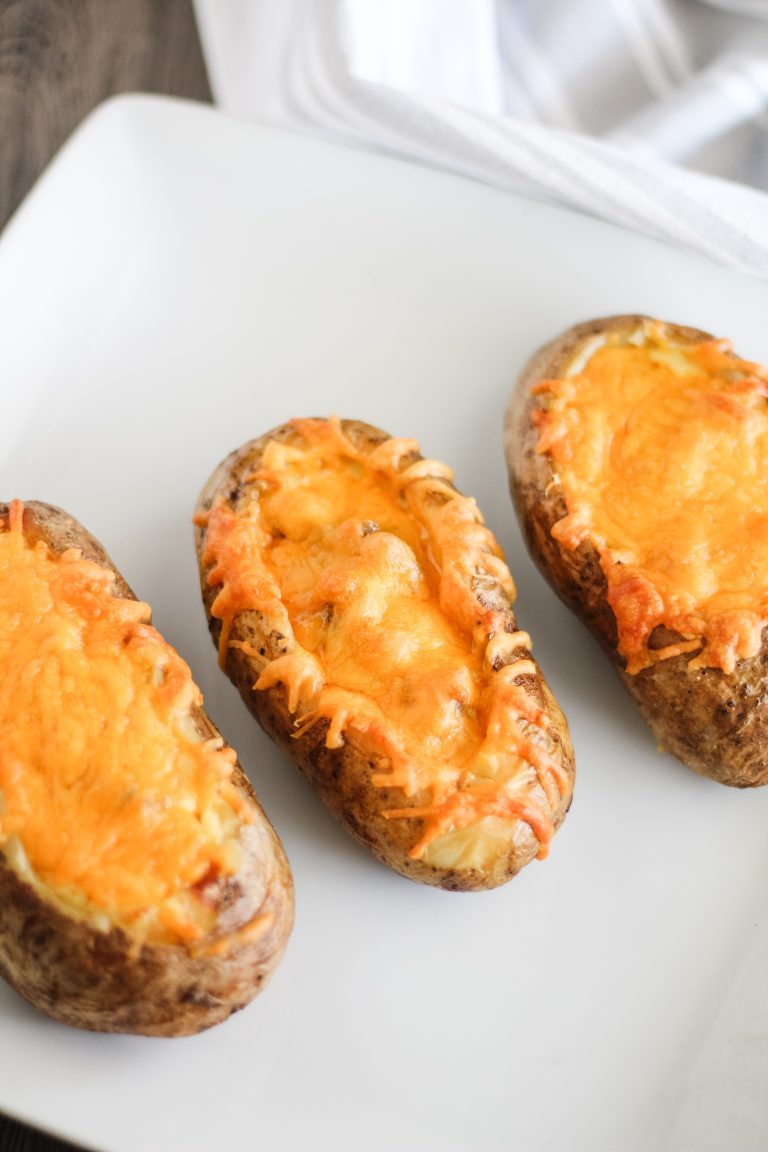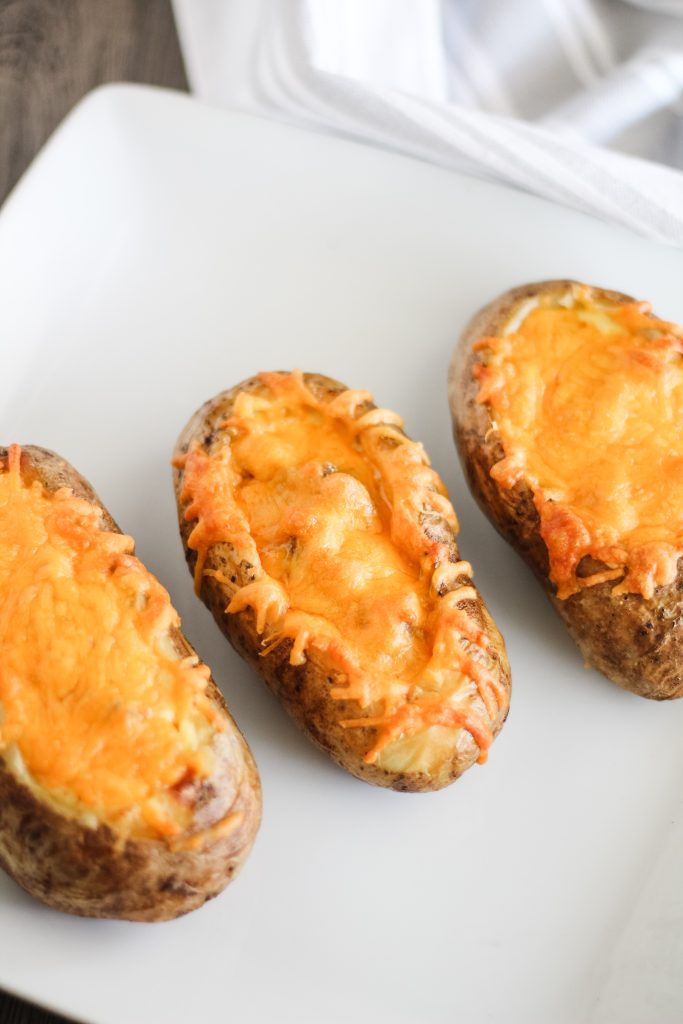 The first step in any twice baked potato recipe is making the initial 'baked potato'.
This is then hollowed out leaving a crispy shell that's stuffed with your desired delicious fillings.
While there are many methods that yield a soft baked potato, such as this crockpot recipe, I prefer going the traditional route here.
Classic, oven baked potatoes.
There are some lines even I won't cross, and messing with a classic such as this is one of them.
This is a 'no foil' version, and easy enough for any level of home cook.
Fix the rack's in your oven so there's one in the middle, and then preheat the oven to 400 degrees.
Carefully lay a sheet of aluminum foil evenly out over the bottom rack, this will collect any drippings and keep your oven clean.
Rinse & scrub each potato well, making sure to remove any dirt or debris.
Potatoes grow in the dirt, and they're often dirtier than the eye can see. Just remember you're going to be eating the skins too.
Once washed, pat each potato completely dry with paper towels.
Using a sturdy fork, pierce each potato roughly 4 times (at 1″ intervals) on each side.
Do NOT skip this step, unless you want them to explode during baking. The evenly spread pierced holes allow steam to escape during the baking process.
Rub one teaspoon of olive oil evenly out over the outside of one potato. Repeat for any other potatoes.
Sprinkle the prepped potatoes with salt & pepper.
Add the prepared spuds directly to the middle baking rack in your preheated oven, careful not to actually touch the hot metal.
Bake for 60 minutes.
When done, use tongs to carefully transfer the baked potatoes from the oven to a waiting plate.
Set them aside, and let them cool just until able to safely handle.
Making The Stuffed Potatoes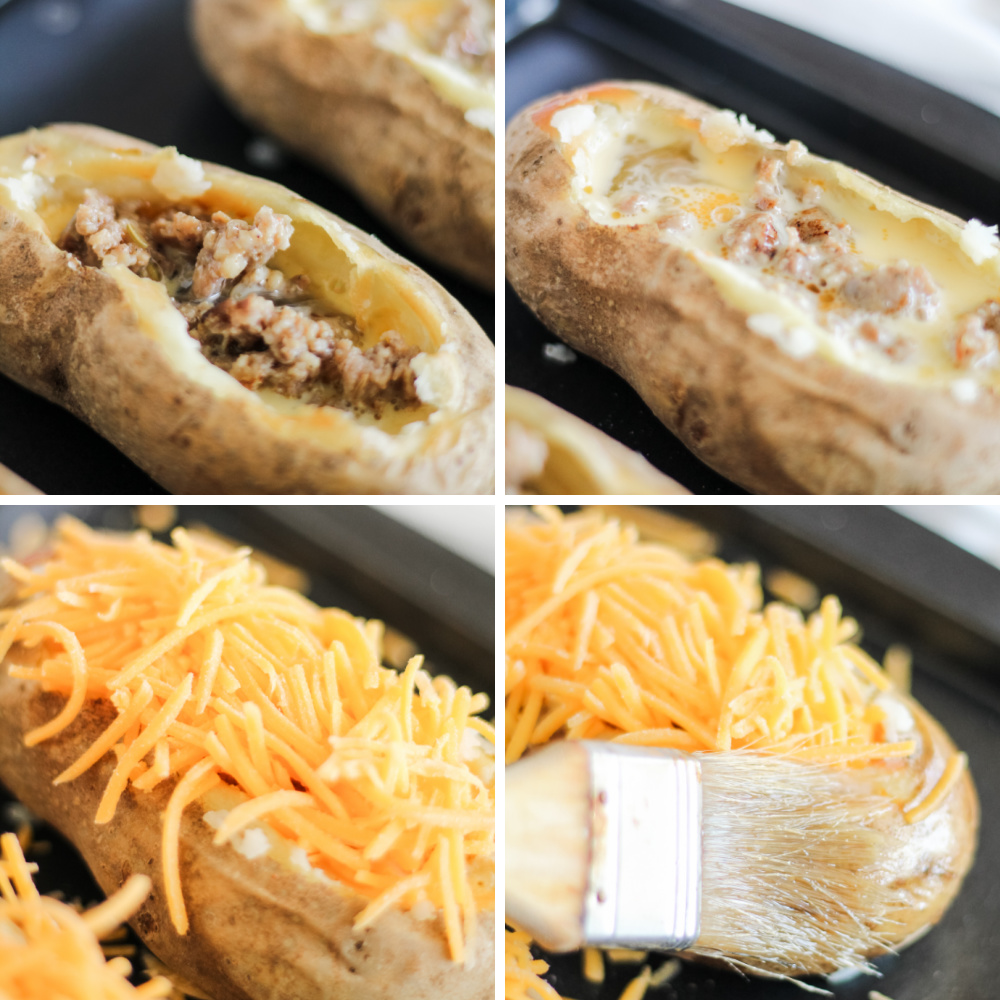 Twice baked potatoes get a rap for being pretty fancy fare, but they're actually pretty easy to make, assemble, and bake- again.
To start, slice a thin layer off the top of each potato to create an opening. Not too small, not too big.
Keep in mind you need to get a spoon in it to scoop out the insides, but with the idea we're creating/keeping a shell that you don't want too thin either.
Gently squeeze the potatoes to help release the flesh, and the scoop out the insides.
You can discard the potato insides, and keep the shell at least a 1/4″ thick.
Be careful not to create any holes in the potato so the filling won't leak out.
Add the olive oil to a large skillet set over medium high heat.
Add the sausage to the skillet and cook it, breaking it up with a sturdy spatula along the way, until all the crumbled meat is cooked through.
Brush the remaining olive oil evenly out over the skins of the hollowed potatoes, and then transfer them to a baking pan.
Drain the sausage, and divide it evenly between the hollowed potato shells.
Crack the eggs into a mixing bowl, pour in the milk, and whisk until well beaten. Then pour the egg mixture evenly into the hollowed potatoes, over the sausage.
Make sure you leave just a teensy bit of space at the top of the potatoes when filling with the egg mixture.
This will give the eggs room to 'fluff' and expand during baking without running over and making a mess.
Spread the shredded cheese evenly out over the potatoes.
Bake the potatoes at 350 degrees for 20-25 minutes, or until a toothpick inserted in the center comes out clean and the cheesy topping is melted and golden brown.
Remove the twice baked breakfast potatoes from the oven and allow them to rest for 2-3 minutes.
Sprinkle with the chopped parsley leaves, if using, and serve.
What Tastes Good With Baked Potatoes?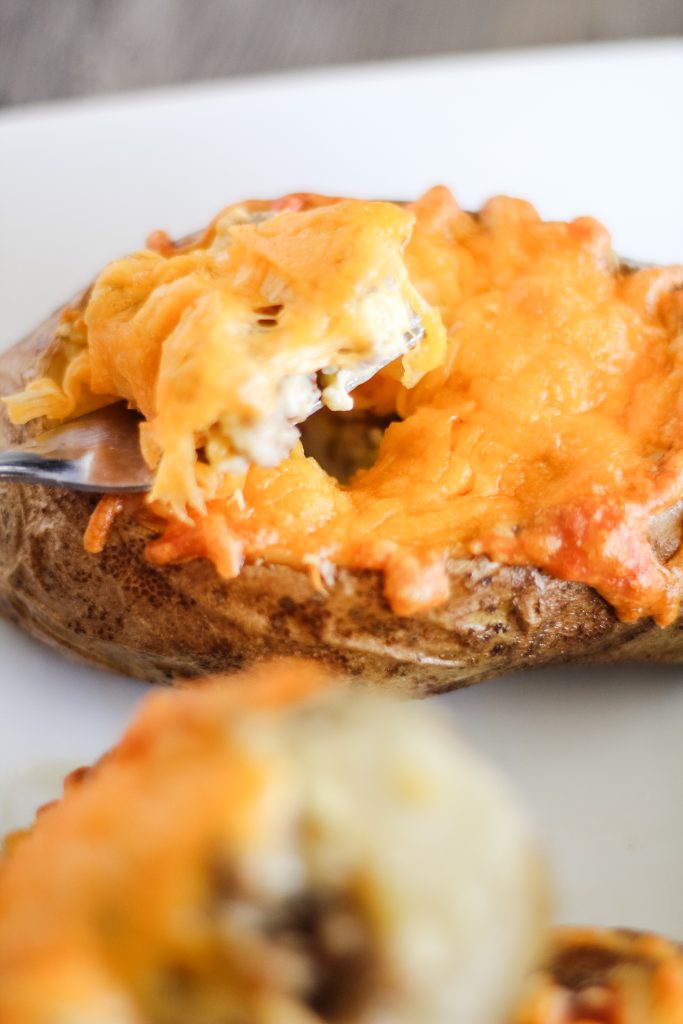 While these breakfast potatoes are good all by themselves, we do enjoy pairing them with dippable options.
Our favorites include:
sour cream
hot sauce
ketchup
melted butter
syrup
yogurt
Can These Be Made Ahead Of Time?
If you're really on the ball, you can assemble these ahead of time.
The night before, in fact.
Cook and assemble everything according to the recipe, but instead of baking them a second time cover them with foil or cling wrap.
Transfer the pan to your refrigerator and in the morning, remove the foil or cling wrap, pop it in the oven, and bake as instructed.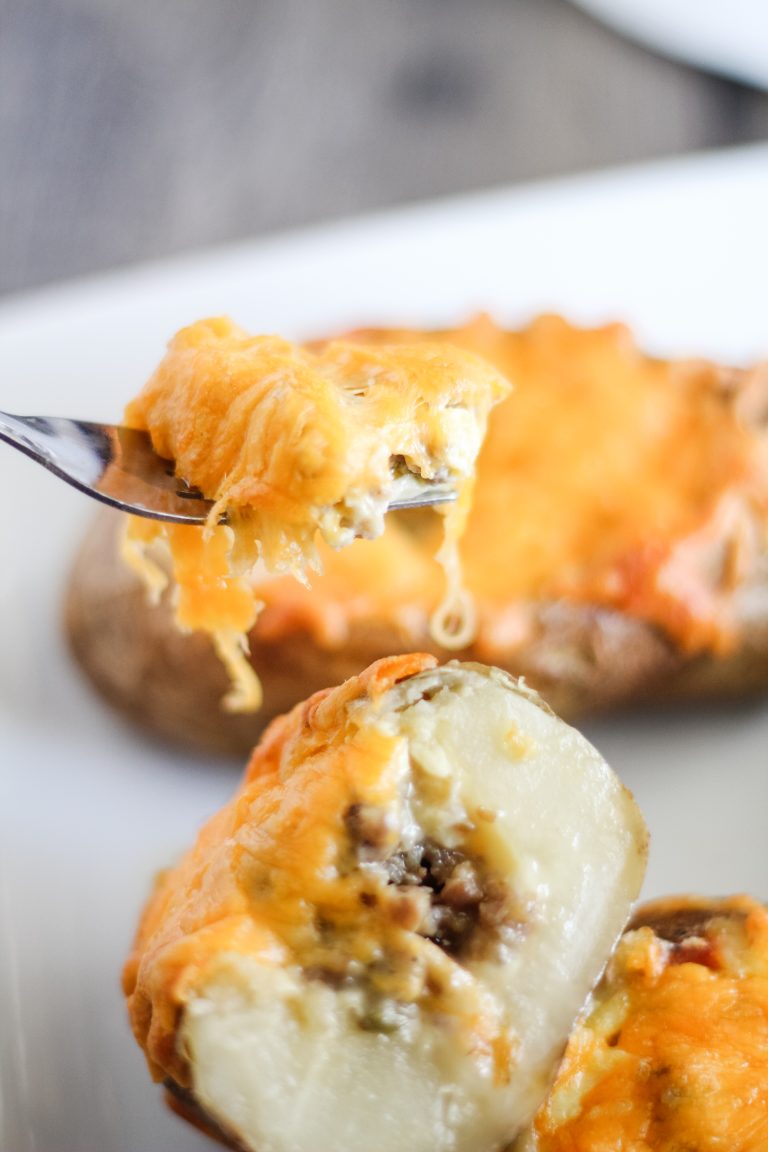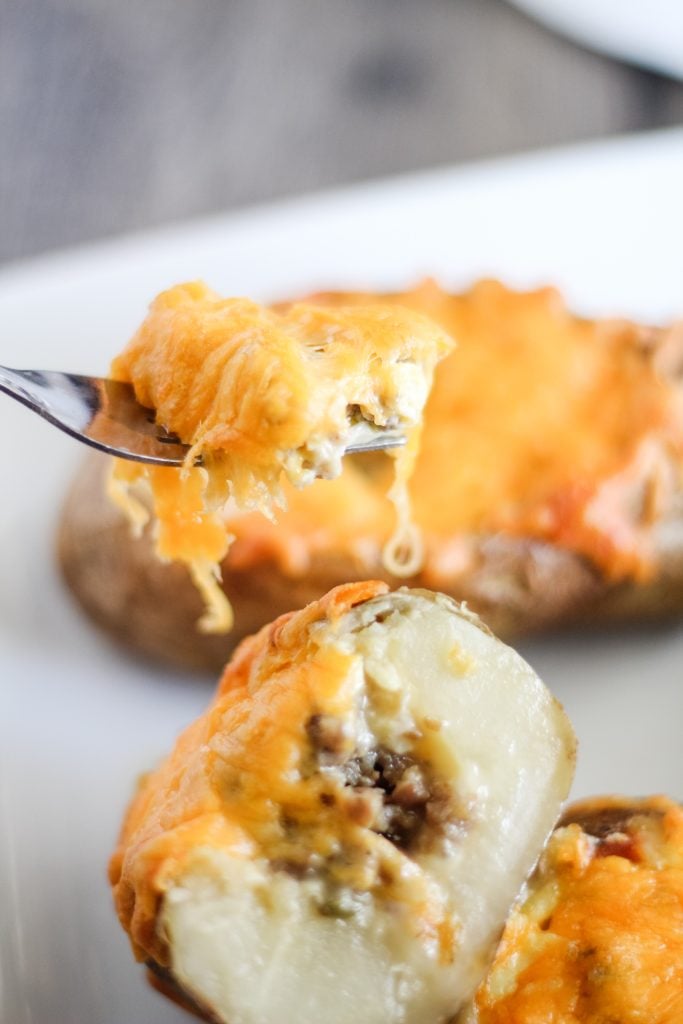 Other Ways To Enjoy Twice Baked Potatoes
A play on the classic twice baked potatoes, our breakfast version features a hearty potato 'bowl' with perfectly crisped skin.
These twice baked breakfast potatoes filled with whipped scrambled eggs and our favorite brand of cooked, crumbled sausage, and finally is topped off with a crisp cheddar crust.
With a complete breakfast in every bite and gourmet flavor baked right in, it's everything this busy Mama was looking for and then some.
Looking for other twice baked potato ideas?
Check these out:
If you've tried these SAUSAGE & EGG STUFFED, TWICE BAKED BREAKFAST POTATOES, or any other recipe on the site, let me know in the comment section how it turned out, we love hearing from our readers! You can also follow along with me on PINTEREST, FACEBOOK, and INSTAGRAM to see more amazing recipes and whatever else we've got going on!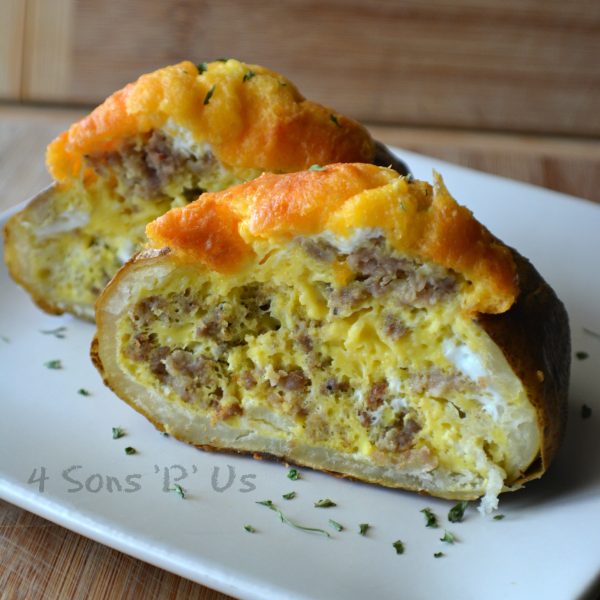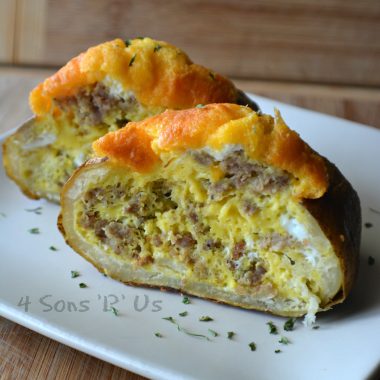 Sausage & Egg Stuffed, Twice Baked Breakfast Potatoes
A play on the classic twice baked potatoes, these are a full breakfast with gourmet flavor baked right into every bite.
Print
Pin
Rate
Ingredients
2

medium-large baking potatoes

baked and cooled

1/2

tbsp

olive oil

8

oz

mild Italian sausages

casings removed

3-4

eggs

at room temperature

1/3

cup

grated cheddar cheese

1-2

tbsp

whole milk

finely diced parsley

for garnish (optional)
Instructions
Cut a bit off the top of the potatoes to create and opening so that they can be hollowed out with a spoon. Gently scoop the flesh out, being careful not to scoop it too thin (you don't want to create any holes). If the potatoes are cold by now, put them back in the oven to warm up while it is preheating.

Heat 1/2 of the olive oil in a medium-large skillet, over high heat. Add the sausage and cook until browned, using a spoon or a sturdy spatula to break it up into pieces as it cooks.

Using the other half of the olive oil, brush the outsides/skins of the potatoes with it.

Divide the sausage evenly out between the potatoes and fill them with it.

In a large bowl, vigorously whisk together the eggs and the milk to thoroughly whip them together. You want them frothy. Evenly pour the scrambled egg into the potatoes, leaving a tiny bit of space at the top so that there's room for the egg to expand as it cooks without running all over. Sprinkle the cheese over the top of each prepared potato, then place them in the oven to bake at 350 degrees for 20 to 25 minutes. When a toothpick inserted in the middle comes out clean and the cheese on top is golden brown, they're done.

Remove from the oven and let the potatoes rest for 1-2 minutes. Sprinkle with parsley just before serving.
Notes
This recipe is for two, whole twice baked potatoes, but easily doubles (etc) if you need more or are feeding a larger crowd.
Nutrition
Calories:
722
kcal
|
Carbohydrates:
28
g
|
Protein:
35
g
|
Fat:
52
g
|
Saturated Fat:
19
g
|
Cholesterol:
352
mg
|
Sodium:
1064
mg
|
Potassium:
1276
mg
|
Fiber:
5
g
|
Sugar:
1
g
|
Vitamin A:
545
IU
|
Vitamin C:
27
mg
|
Calcium:
266
mg
|
Iron:
10
mg