I'm sure when you think of breakfast, or brunch for that matter, there are certain foods that obviously spring to mind. Like eggs. Or sausage. Or even potatoes (home-fries or hash browns anyone?). For us, as I'm sure for a lot of our readers too, these have almost become synonymous with the meal itself.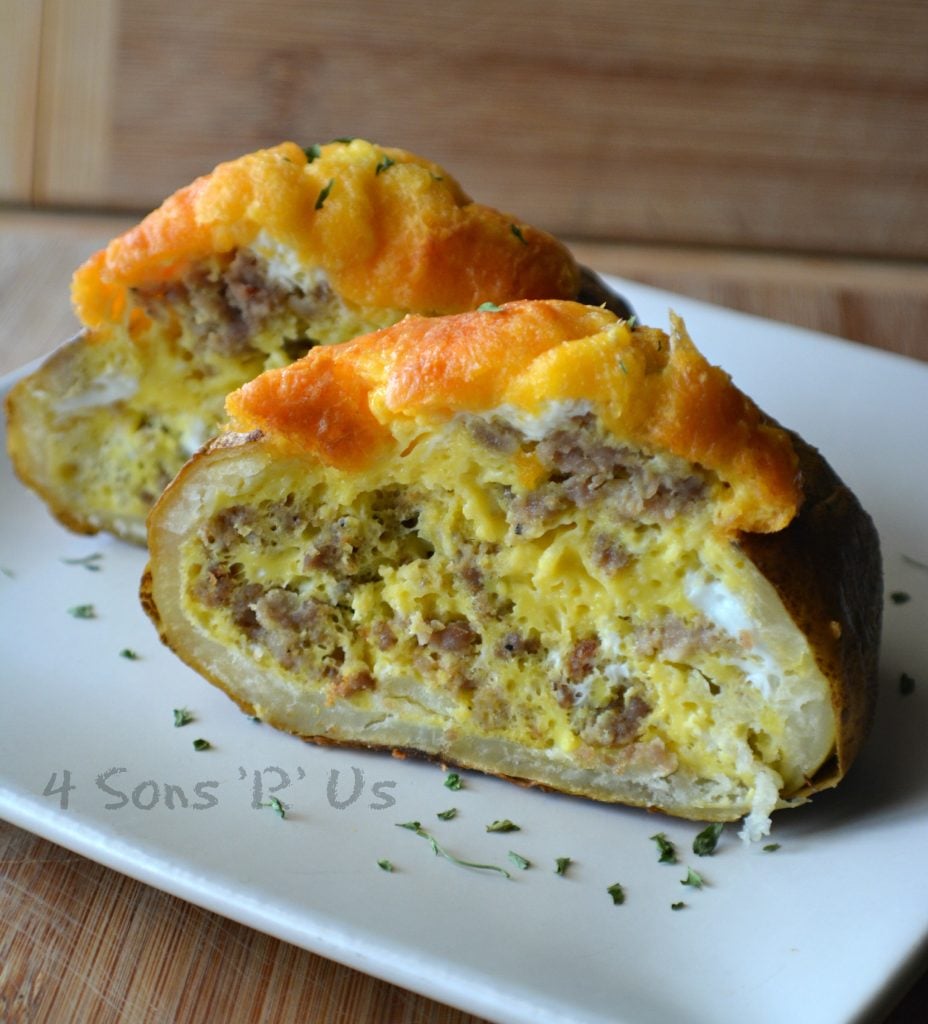 And while we usually serve them all together on the same plate, they inevitably all get mashed around together, and no bite is really complete without a forkful of all three. So as the innovative chef I am (heck, who am I kidding?), I mean the Mom who is sick of doing dishes by the weekend and would like to dirty up as few more as possible, I decided to skip the multiple skillets and just pot everything up together. And it is as perfect and breakfast/brunch friendly as I imagined it would be. If you're really on teh ball, you can even make it up ahead of time, like the night before, and just pop it in the oven in the morning.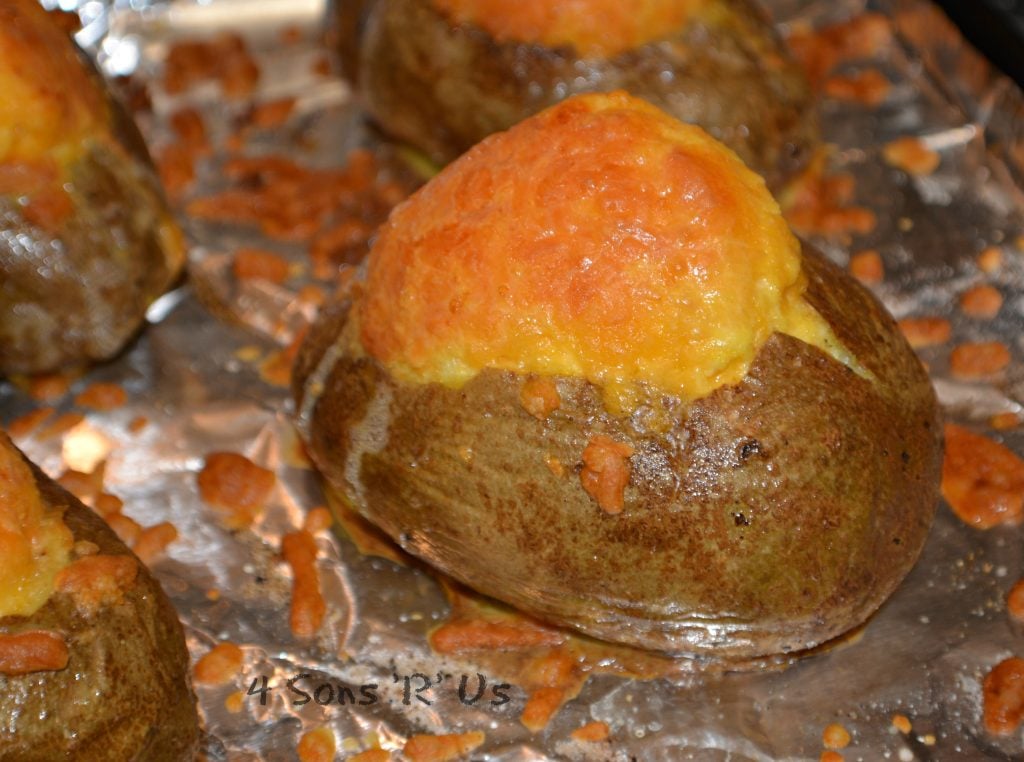 A play on the classic twice baked potatoes, our breakfast version features a hearty potato 'bowl' with perfectly crisped skin, that's filled with whipped scrambled eggs and our favorite brand of cooked, crumbled sausage, and finally is topped off with a crisp cheddar crust. With a complete breakfast in every bite and gourmet flavor baked right in, it's everything this Mama was looking for and then some.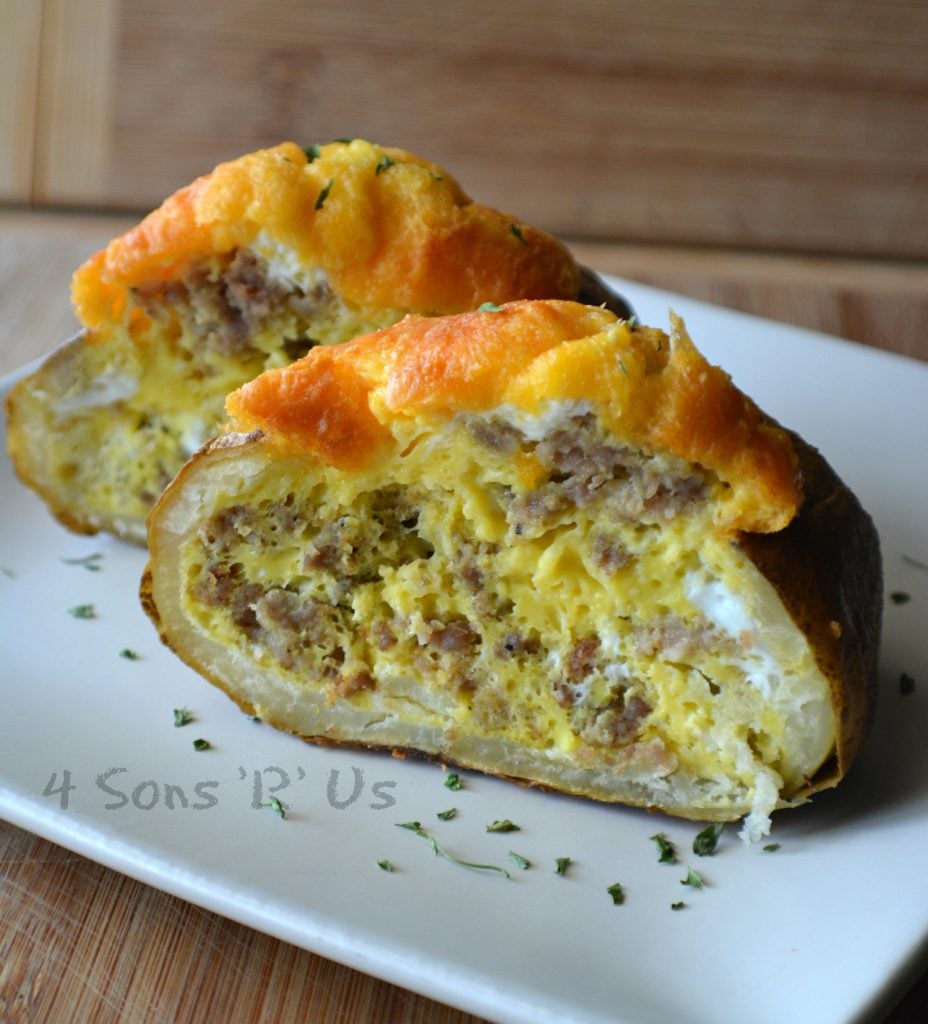 Sausage & Egg Stuffed, Twice Baked Breakfast Potatoes
2016-01-08 20:47:53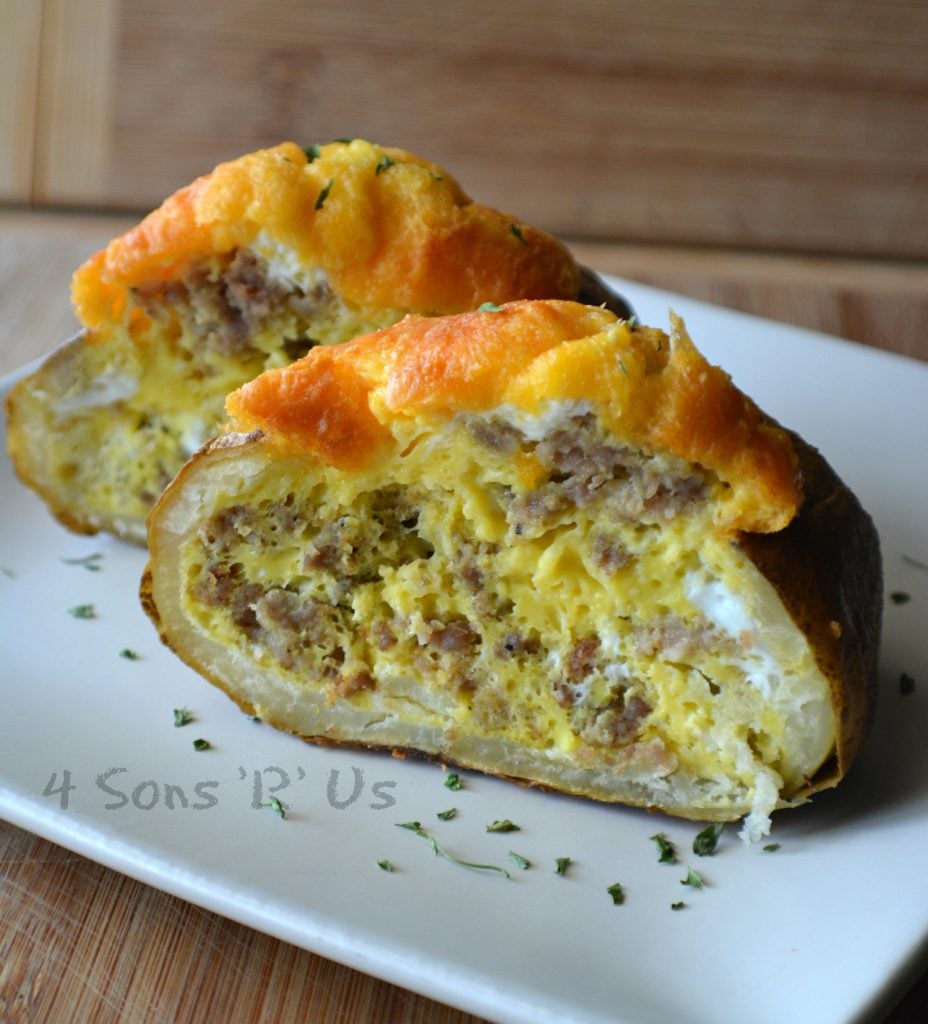 A play on the classic twice baked potatoes, these are a full breakfast with gourmet flavor baked right into every bite.
Ingredients
2 medium-large baking potatoes, baked and cooled
1/2 tbsp olive oil
8 oz mild Italian sausages, casings removed
3-4 eggs, at room temperature
1/3 cup grated cheddar cheese
1-2 tbsp whole milk
finely diced parsley, for garnish (optional)
Instructions
Cut a bit off the top of the potatoes to create and opening so that they can be hollowed out with a spoon. Gently scoop the flesh out, being careful not to scoop it too thin (you don't want to create any holes). If the potatoes are cold by now, put them back in the oven to warm up while it is preheating.
Heat 1/2 of the olive oil in a medium-large skillet, over high heat. Add the sausage and cook until browned, using a spoon or a sturdy spatula to break it up into pieces as it cooks.
Using the other half of the olive oil, brush the outsides/skins of the potatoes with it.
Divide the sausage evenly out between the potatoes and fill them with it.
In a large bowl, vigorously whisk together the eggs and the milk to thoroughly whip them together. You want them frothy. Evenly pour the scrambled egg into the potatoes, leaving a tiny bit of space at the top so that there's room for the egg to expand as it cooks without running all over. Sprinkle the cheese over the top of each prepared potato, then place them in the oven to bake at 350 degrees for 20 to 25 minutes. When a toothpick inserted in the middle comes out clean and the cheese on top is golden brown, they're done.
Remove from the oven and let the potatoes rest for 1-2 minutes. Sprinkle with parsley just before serving.
Notes
This recipe is for two, whole twice baked potatoes, but easily doubles (etc) if you need more or are feeding a larger crowd.
4 Sons 'R' Us https://4sonrus.com/
Like this recipe? Check out these other great ideas for potatoes: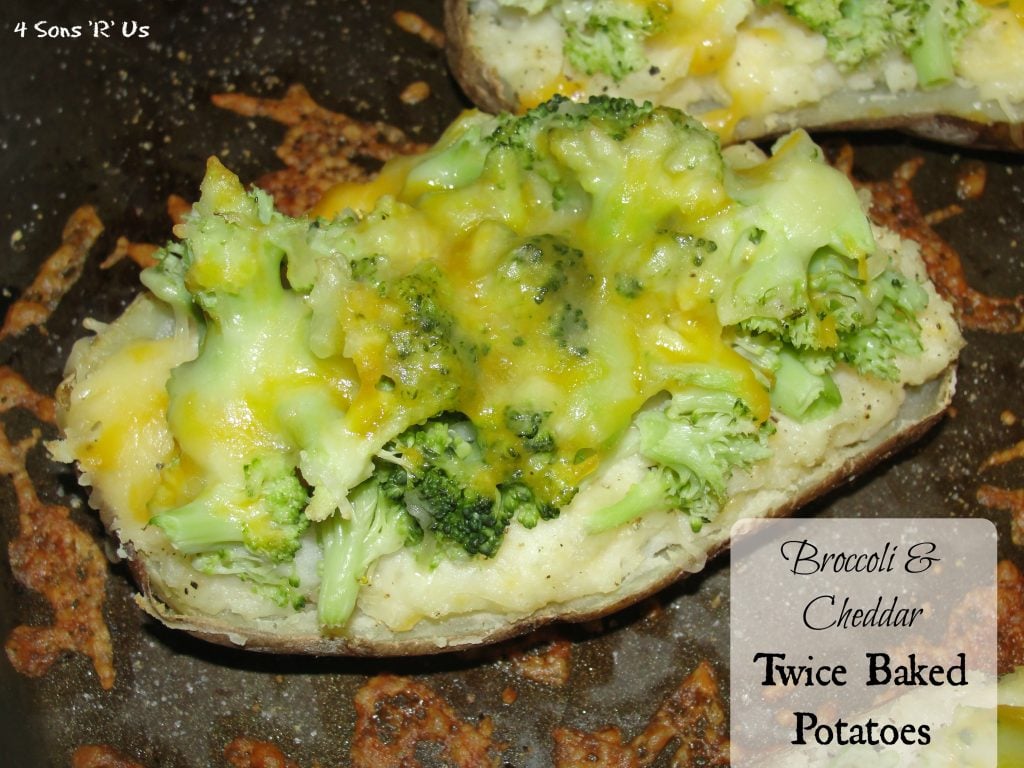 Broccoli & Cheddar Twice Baked Potatoes