Cheese & broccoli are a classic combination that make any dish just a bit more magical. Take your baked potatoes to the next level by turning them into broccoli & cheddar twice baked potatoes. Quick and easy, this meatless meal is a family favorite that's perfect to serve for lunch or dinner.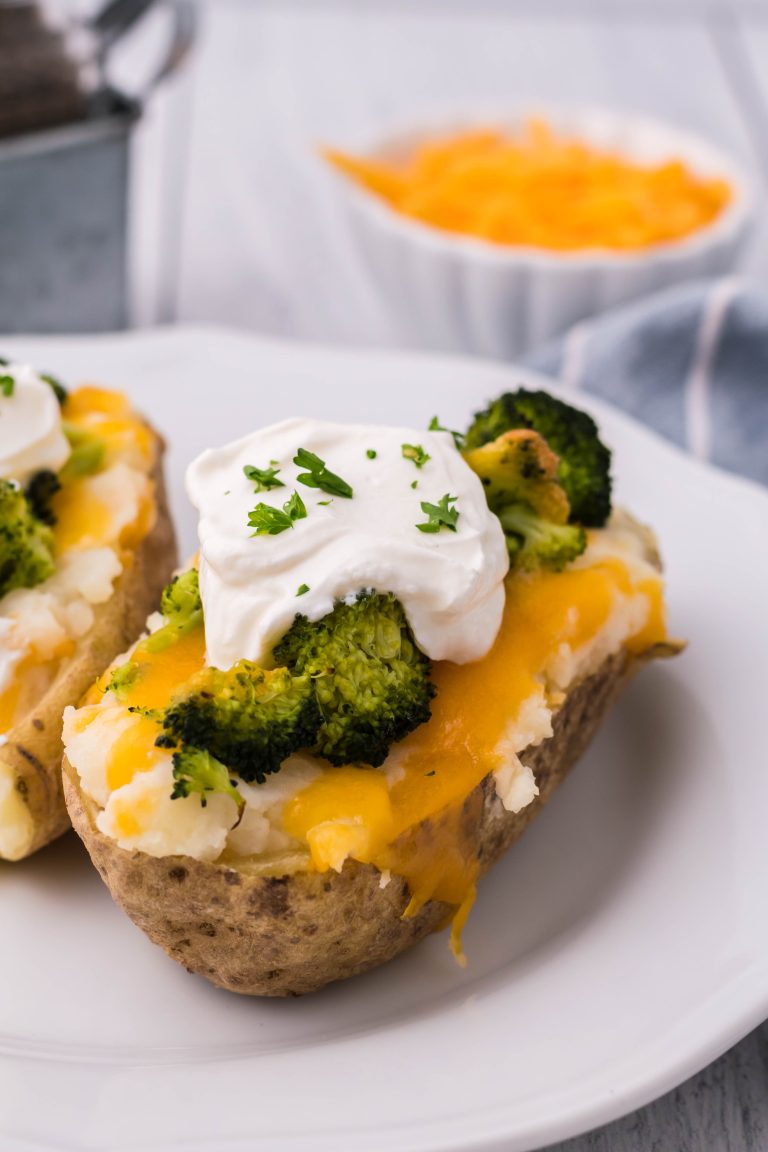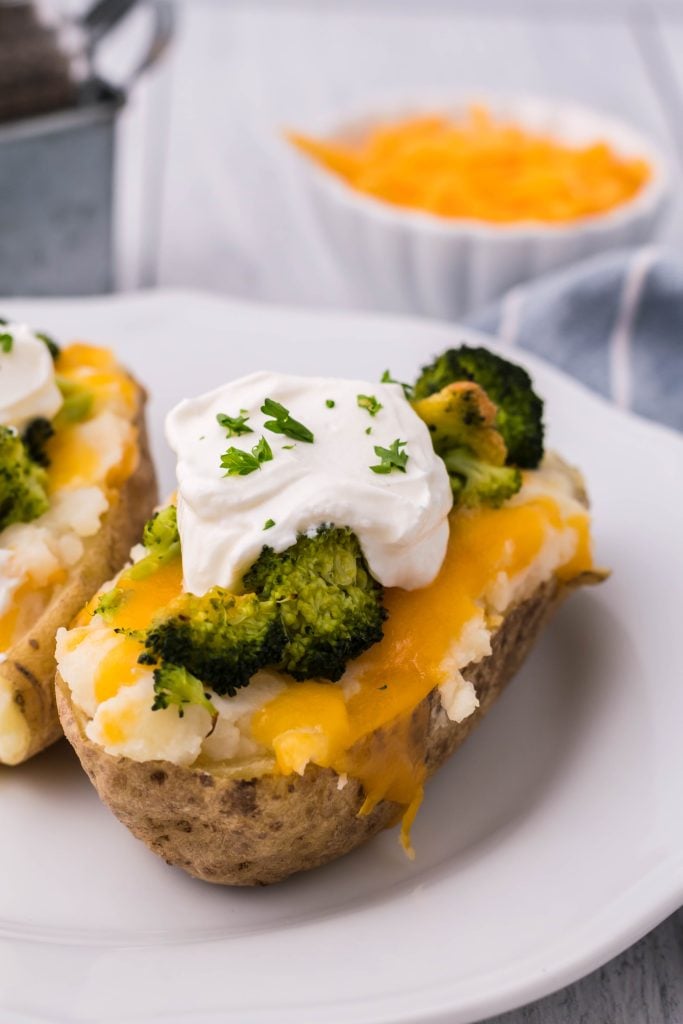 As pretty much any parent of multiple kids can attest, not everyone likes the same thing.
In fact, each kid almost always wants something different. Even if it's just for 'different's sake.
This is why I love simple suppers that are easily customizable.
I'll never be a short order cook, but I don't mind a simple set up that lets everybody add toppings of their choice.
This is why baked potato suppers are ideal for me.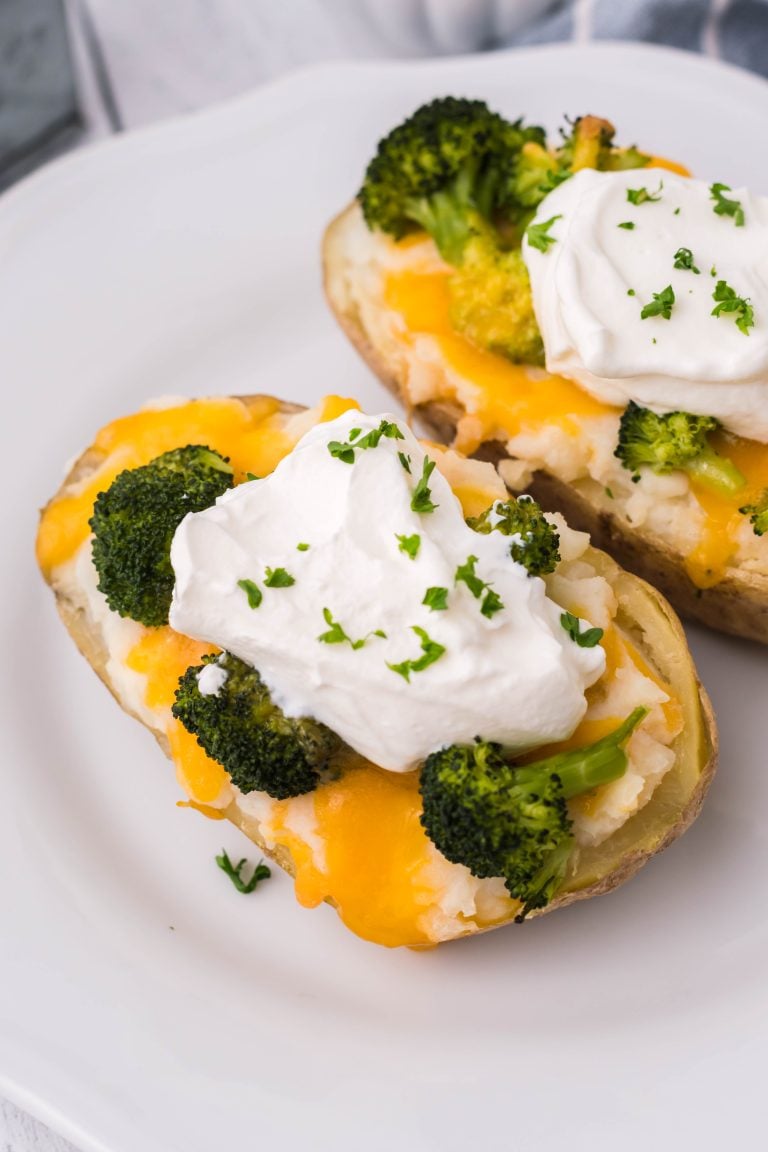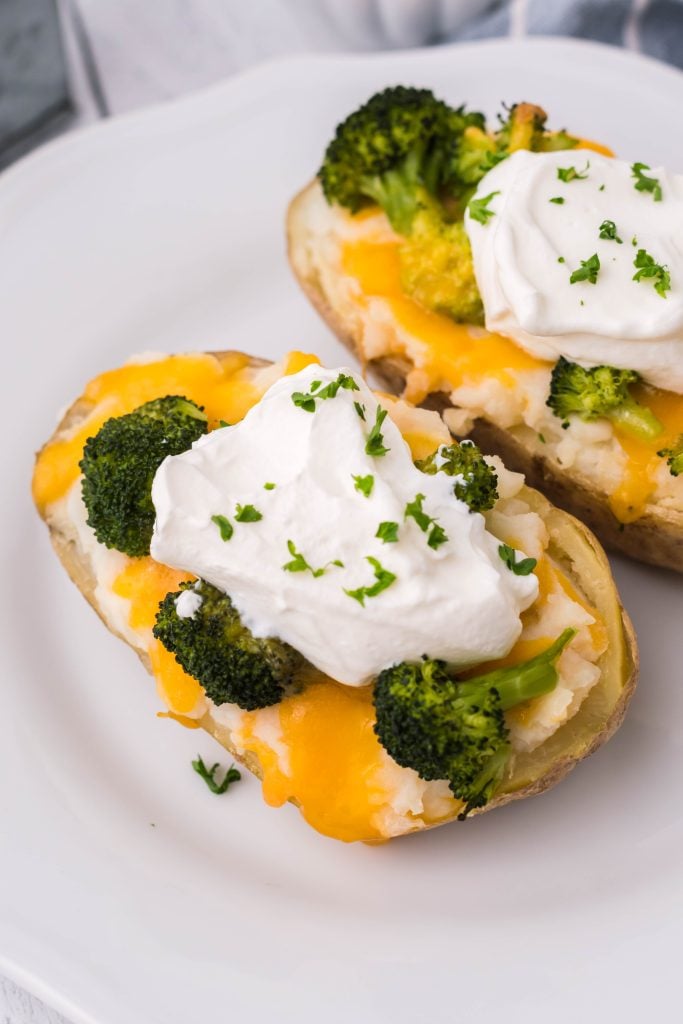 I love all the flavors in a 'loaded' baked potato, and so do my kids.
It even gives me the opportunity to add in veggies that the sons' won't immediately complain about. Broccoli being the number one contender.
Any combination of broccoli and cheddar is always a hit here, especially when it's accompanied by something extra crispy.
So I decided to run with it, changing things up a little bit and giving our baked potato dinner a healthier spin.
The crispy crust on these broccoli & cheddar twice baked potatoes made for the most satisfying crunch ratio. And my kids are all about texture.
Why Are They Called Twice Baked Potatoes?
A twice baked potato is quite literally what it sounds like.
A potato that's baked twice.
The first bake is to actually cook, or roast, the potato so that it's tender and cooked through.
The second baking occurs after the potato has been stuffed with whatever cheesy potato filling you desire.
It literally elevates the humble baked potato, and takes it to new heights.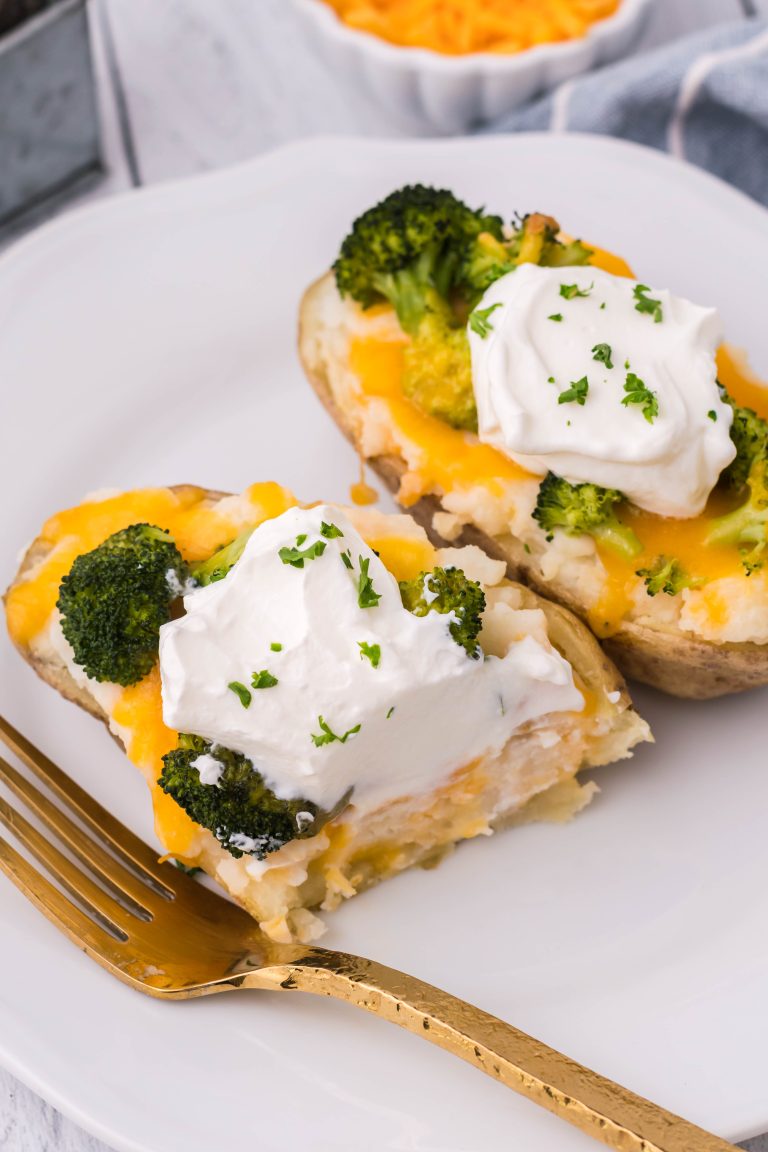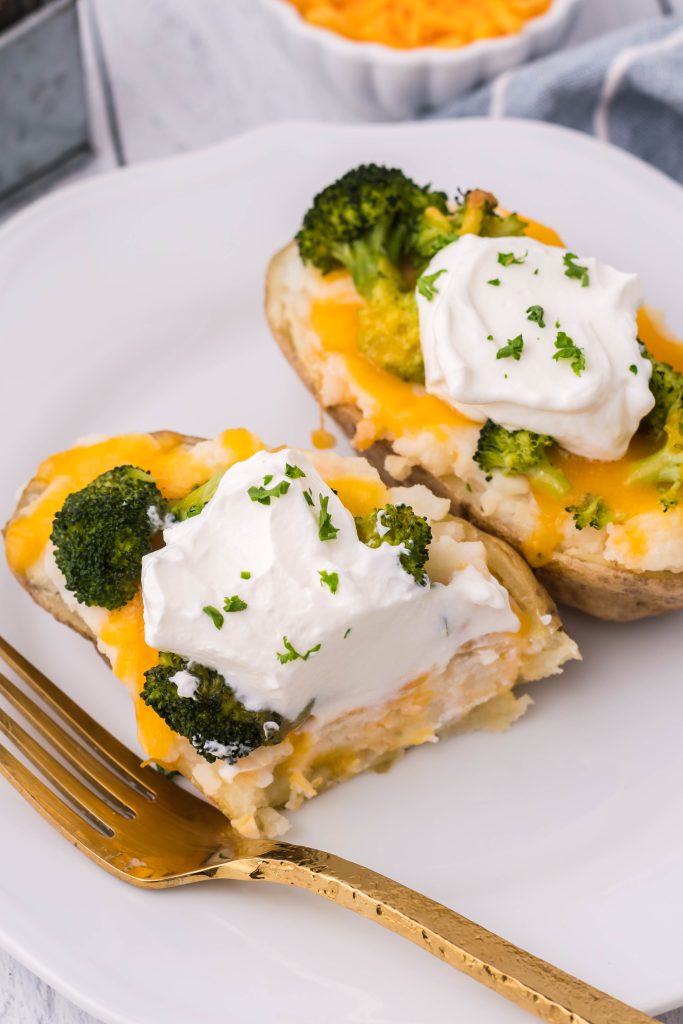 What's The Best Type Of Potato To Use For Baked Potatoes?
Honestly, you can use any potato and bake them in the oven to create 'baked potatoes'.
However, as with everything else in life- there are some varieties that just work better than others.
If you have the luxury of choosing, russet potatoes are the way to go.
They have thick skins that crisp up nicely during baking, making them the perfect vessels for stuffing later on.
If russet's aren't an option, I'd suggest using Yukon gold potatoes instead.
Of course, sweet potatoes will always work too.
Ingredients Needed
russet potatoes – Yukon gold potatoes or sweet potatoes will work as a substitute
broccoli florets – these can be freshly cut of the stalk or already prepared
milk – the milk will help bind the potato stuffing mixture together. You can use half & half if you don't have milk on hand.
Greek yogurt – It gives the stuffed filling a creamy, fluffy texture. Sour cream, or even plain yogurt make acceptable substitutions
cheddar cheese – freshly shredded cheese works best, but if convenience is key there's nothing wrong with using the pre-packaged kind
salt & pepper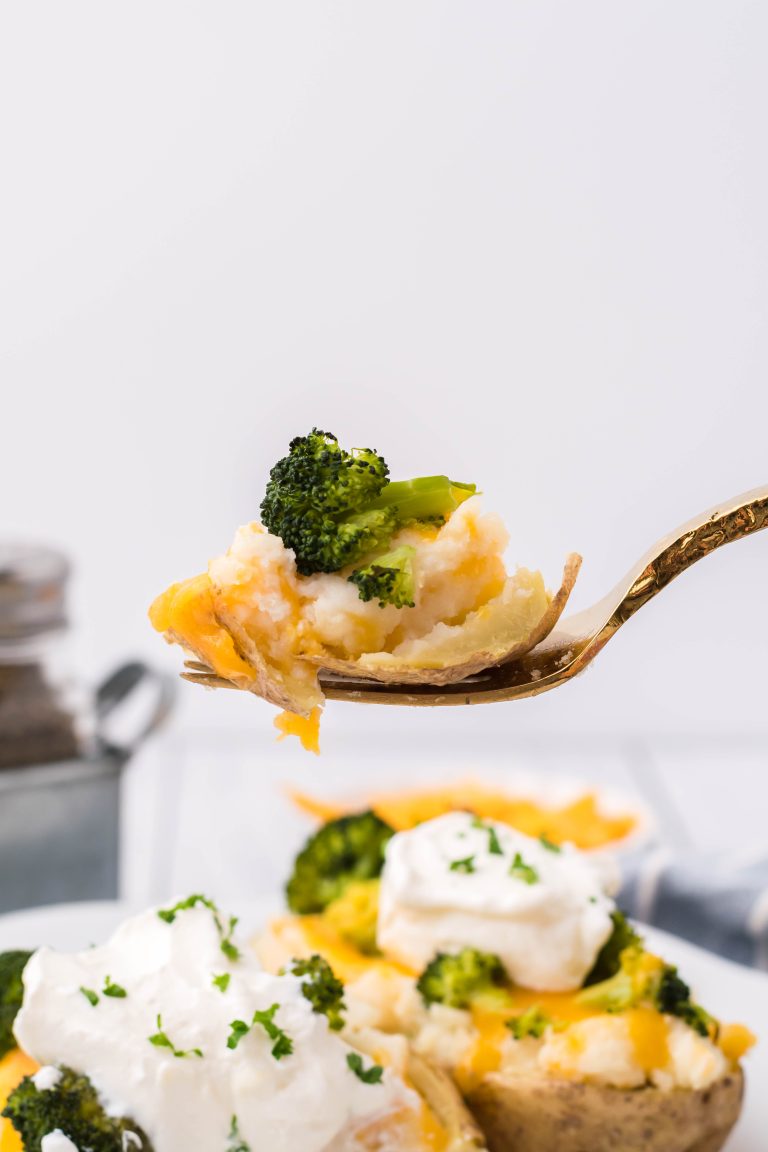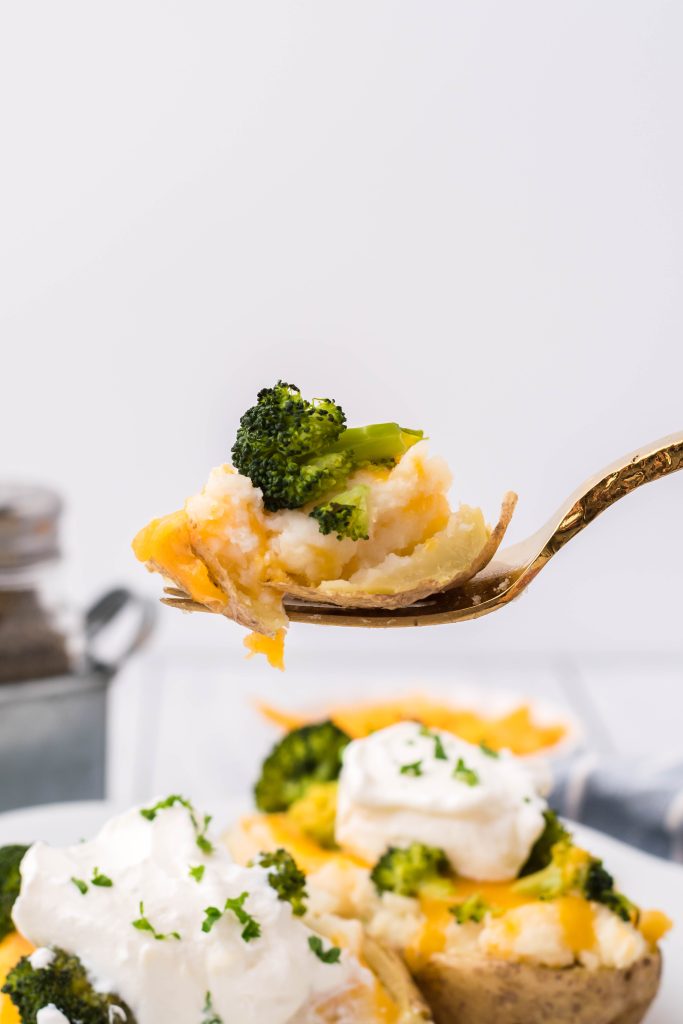 How To Make
Did I mention that these Broccoli & Cheddar Twice Baked Potatoes are actually a relatively healthy dish?
No? I might have forgotten to share that with the boys. Accidentally, on purpose.
It's just another point in their favor though, along with how easy they are to throw together.
Potatoes are root vegetables, so even the cleanest looking one is gonna be dirty. Start by washing and gently scrubbing your potatoes.
Pat them dry with paper towels.
Next, take a sturdy fork and pierce the cleaned potatoes evenly all over with the tines of said fork.
Potatoes also hold a lot of water, so pricking them before baking gives the steam a place to escape.
If you skipped this step, the potatoes could explode in the oven while baking.
Bake the prepared potatoes for 1 hour in the oven at 425 degrees.
Remove the cooked spuds from the oven, and set them aside to cool.
While the potatoes bake in the oven, the broccoli needs to be steamed.
You can do this in a saucepan or in the microwave. Either method works.
Just remember, it will cook again in the oven during the second bake so don't over cook the broccoli.
Remove the steamed broccoli from it's cooking vessel with a slotted spoon, and transfer it to a waiting dish. Set is aside to cool.
Once the potatoes have cooled enough to safely handle, carefully use a knife to cut them in half lengthwise.
Using a spoon, scoop the tender flesh out from the potato halves and into a waiting mixing bowl.
Be careful not to scrape out too much. You want to leave a nice 1/4″ shell.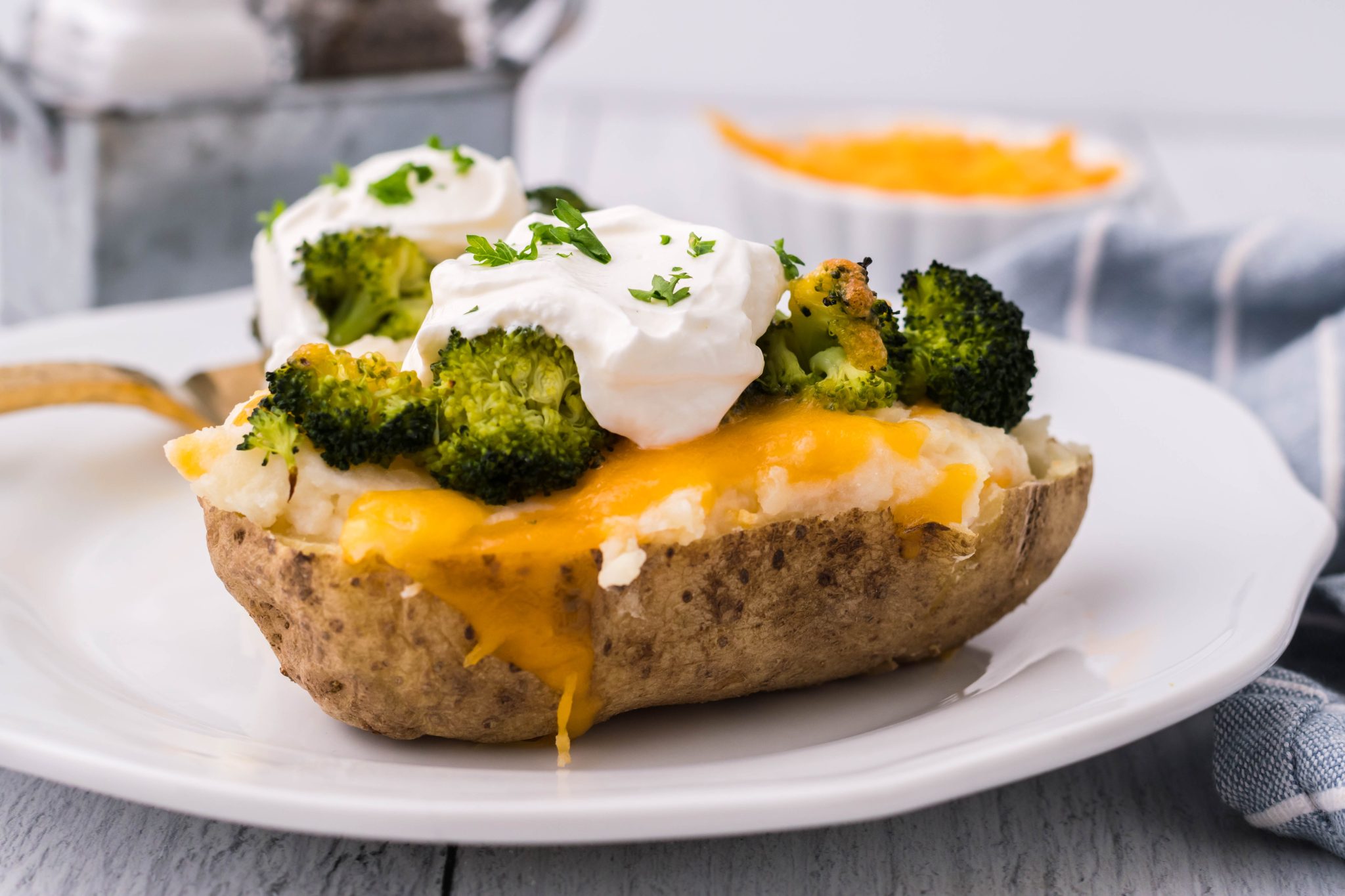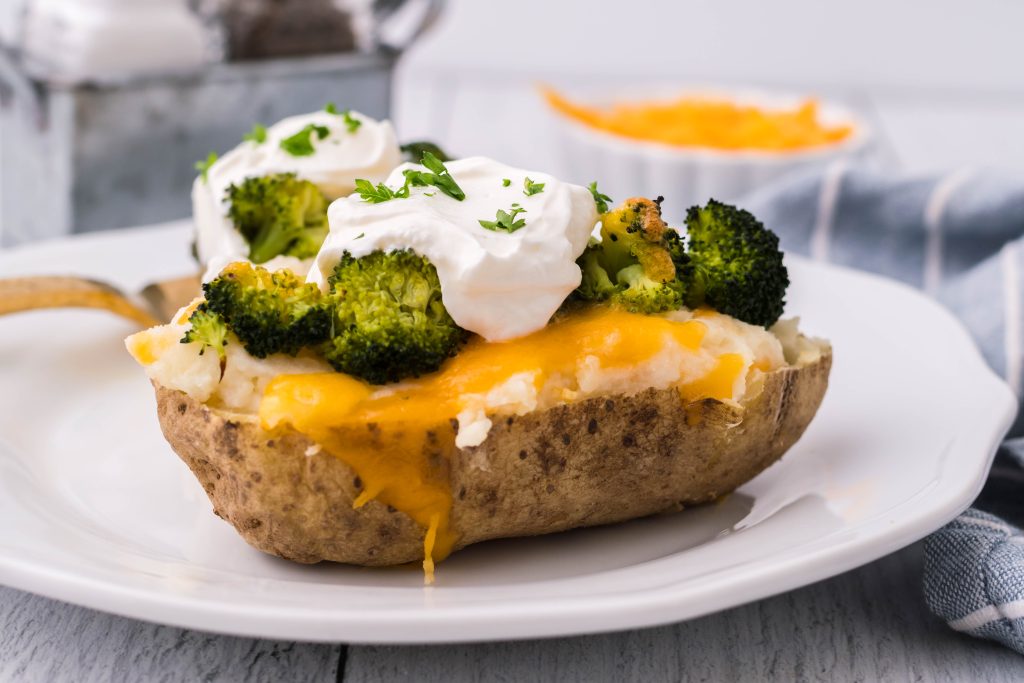 Transfer each potato skin 'shell' to a waiting baking sheet, and continue until all have been prepped. Set aside.
Use a sturdy potato masher and mash the tender potato centers in the mixing bowl.
Depending on the texture you want, you have options.
The potato masher is my preferred method, and it will yield a chunkier texture.
If texture isn't your thing, use a hand blender to whip it into a smoother consistency.
Add the milk & yogurt, mashing again until the mixture's smooth. Season the filling mixture with salt & pepper, to taste.
Fold in half of the shredded cheddar cheese, just until evenly incorporated.
Spoon the filling mixture back into the baked potato shells, divided out evenly among them.
Top the filled potatoes with the cooked broccoli, and then sprinkle the rest of the cheese evenly out overtop.
Bake the broccoli & cheddar twice baked potatoes at 400 degrees for 5-10 minutes, or until the potatoes are hot throughout and the cheese has melted.
If you'd prefer not to use your kitchen oven for this last step, you can heat them and melt the cheese in the microwave.
However, I recommend the oven because it better maintains the crispy potato skin and gives the cheese a nice crust as it melts.
Can These Be Made Ahead Of Time?
Yes, absolutely!
I love making a batch of these and freezing them. It's so easy to pull one out of the freezer as needed for a nice hot lunch for one.
To freeze them, follow the directions as instructed but stop before baking them a second time.
When you top the filled potatoes with broccoli and shredded cheddar, wrap each individual potato in syran wrap, and then transfer them to a large zip-locking freezer bag.
Store the potatoes in the freezer for up to 3 months.
When ready to eat, remove the desired amount of potatoes from the freezer and unwrap them.
Add them to a baking sheet, and bake them at 400 degrees for 30 minutes. No need to thaw them first!
Alternatively, you can microwave your unwrapped potato(es) for 2-3 minutes until heated through.
Just be sure to remove any and all syran wrap before cooking.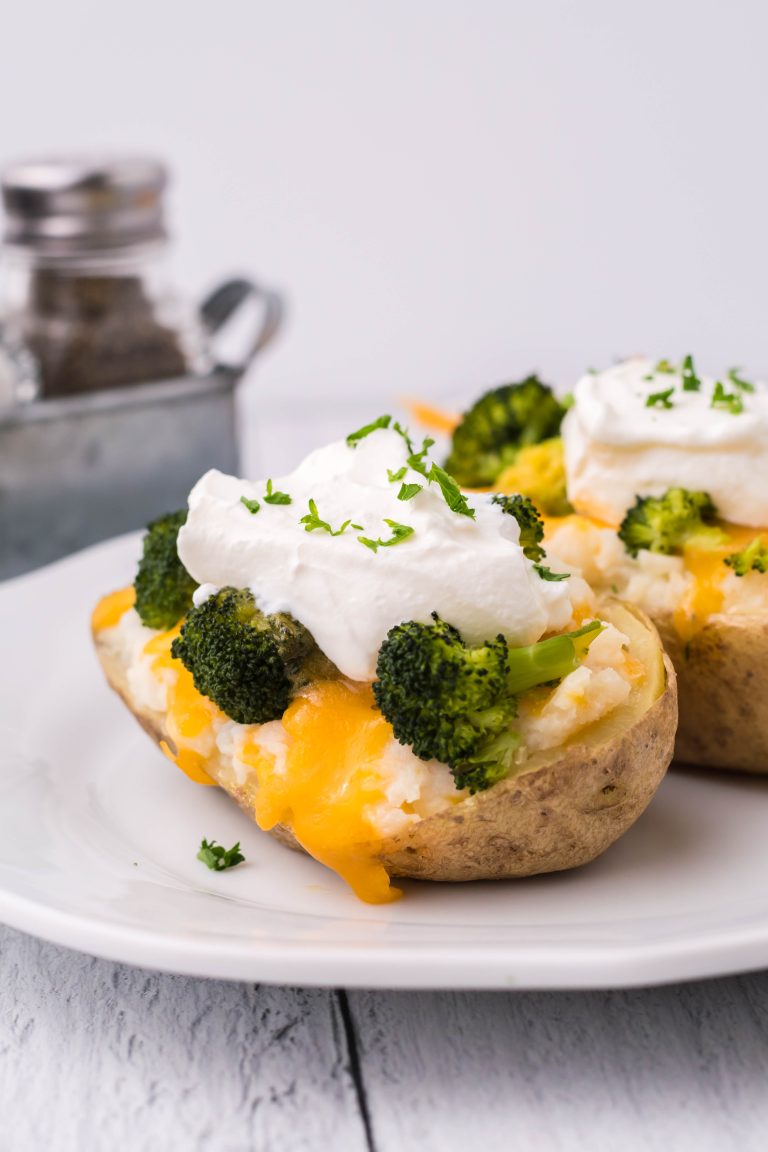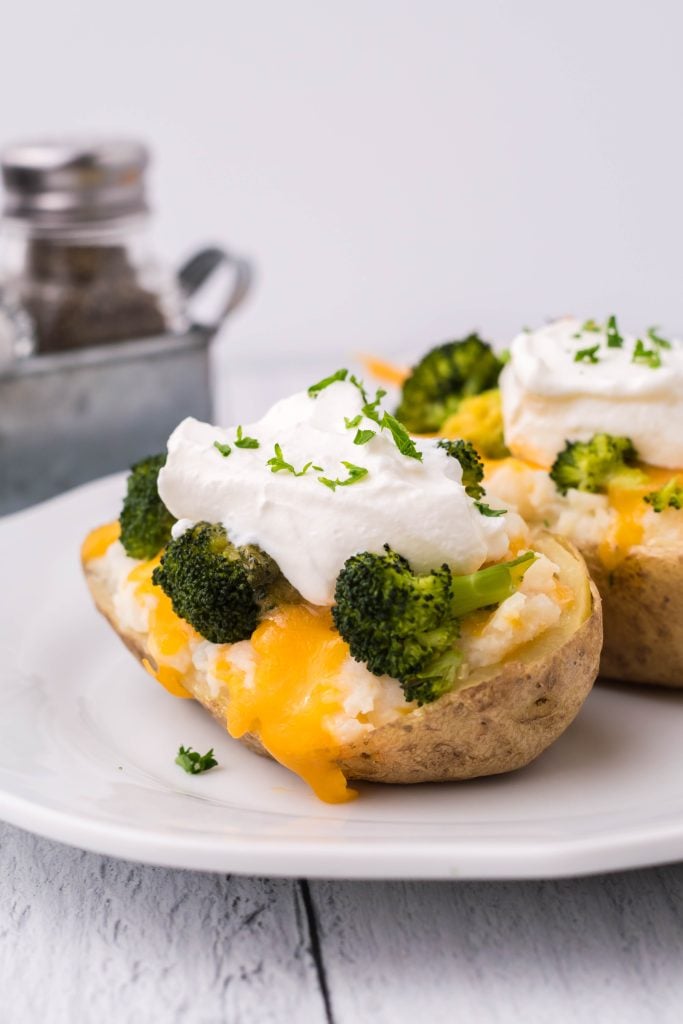 Other Twice Baked Potato Recipes To Try
Whether you choose to serve them for lunch or dinner, these cheesy potatoes make for a complete, meatless meal.
Without that 'it's something good for you' vegetable adage hanging over their heads, kids dig into these broccoli & cheddar twice baked potatoes.
You're going to enjoy watching them devour every bite!
Looking for more twice baked potato inspiration?
Here's a few of our favorites:
If you have a smoker, I highly recommend giving these Smoked Loaded Twice Baked Potatoes a taste too!
If you've tried these BROCCOLI & CHEDDAR TWICE BAKED POTATOES, or any other recipe on my site, let me know in the comment section how it turned out, we love hearing from our readers! You can also follow along with me on PINTEREST, FACEBOOK, and INSTAGRAM to see more amazing recipes and whatever else we've got going on!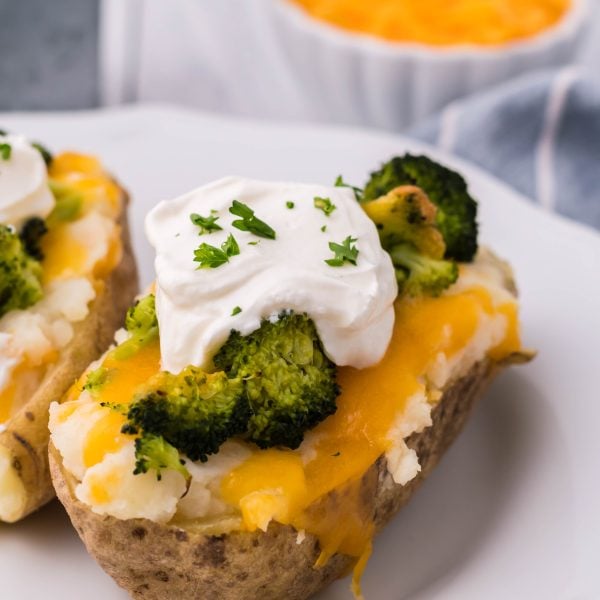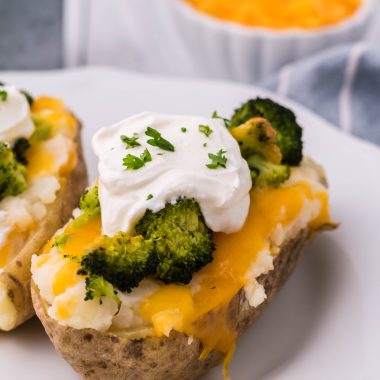 Broccoli & Cheddar Twice Baked Potatoes
Cheese & broccoli are a classic combination that make any dish just a bit more magical. Take your baked potatoes to the next level by turning them into broccoli & cheddar twice baked potatoes. Quick and easy, this meatless meal is a family favorite that's perfect to serve for lunch or dinner.
Print
Pin
Rate
Ingredients
4

medium russet potatoes

washed and dried

salt and pepper

to taste

1 1/2

cups

broccoli florets

chopped

1/2

cup

skim milk

1/2

cup

greek yogurt

1

cup

shredded cheddar cheese
Instructions
Pierce the cleaned potatoes several times with a fork. Bake for 1 hour in oven at 425 degrees. Optionally, you could instead place them in the microwave and use your baked potato setting until the potatoes are cooked through, turning half way. However, in my opinion, cooking them in the oven the entire time give them more a crispier skin when finished.

Meanwhile, in a medium saucepan, add broccoli to a little salted water and cook, covered for about 3 minutes. Remove the broccoli with a slotted spoon and set aside.

Let the potatoes cool enough to comfortably handle them. Cut the potatoes in half lengthwise. Scoop the flesh out into a large bowl, leaving a ¼" shell. Place the potato shells on a baking sheet.

Mash the flesh with a potato masher or puree with a hand blender. Add the milk, yogurt, and salt, mash until smooth. Fold in half of the shredded cheddar (and chives if desired).

Spoon the potato mixture back into the shells. Top with the cooked broccoli and remaining cheese on top.

Bake at 400 degrees for 5-10 minutes, or until heated through and the cheese is melted. (You can also microwave it for a few minutes if you prefer not to use the oven)
Notes
To Freeze: Follow directions above but do not bake a second time. Instead, wrap in saran wrap and place in a gallon freezer bag. To serve: Bake at 400 degrees for 30 minutes or microwave for 2-3 minutes or until heated through.
Nutrition
Calories:
159
kcal
|
Carbohydrates:
22
g
|
Protein:
8
g
|
Fat:
5
g
|
Saturated Fat:
3
g
|
Trans Fat:
1
g
|
Cholesterol:
16
mg
|
Sodium:
110
mg
|
Potassium:
553
mg
|
Fiber:
2
g
|
Sugar:
2
g
|
Vitamin A:
281
IU
|
Vitamin C:
21
mg
|
Calcium:
156
mg
|
Iron:
1
mg
recipe adapted from SkinnyTaste