Are you as big a fan of the classic Asian-American dish as we are? Give it a fun new spin with a big old bowl full of our Chinese Beef & Broccoli Soup. It's the take out, fake out dish you've never had and didn't know was missing in your life!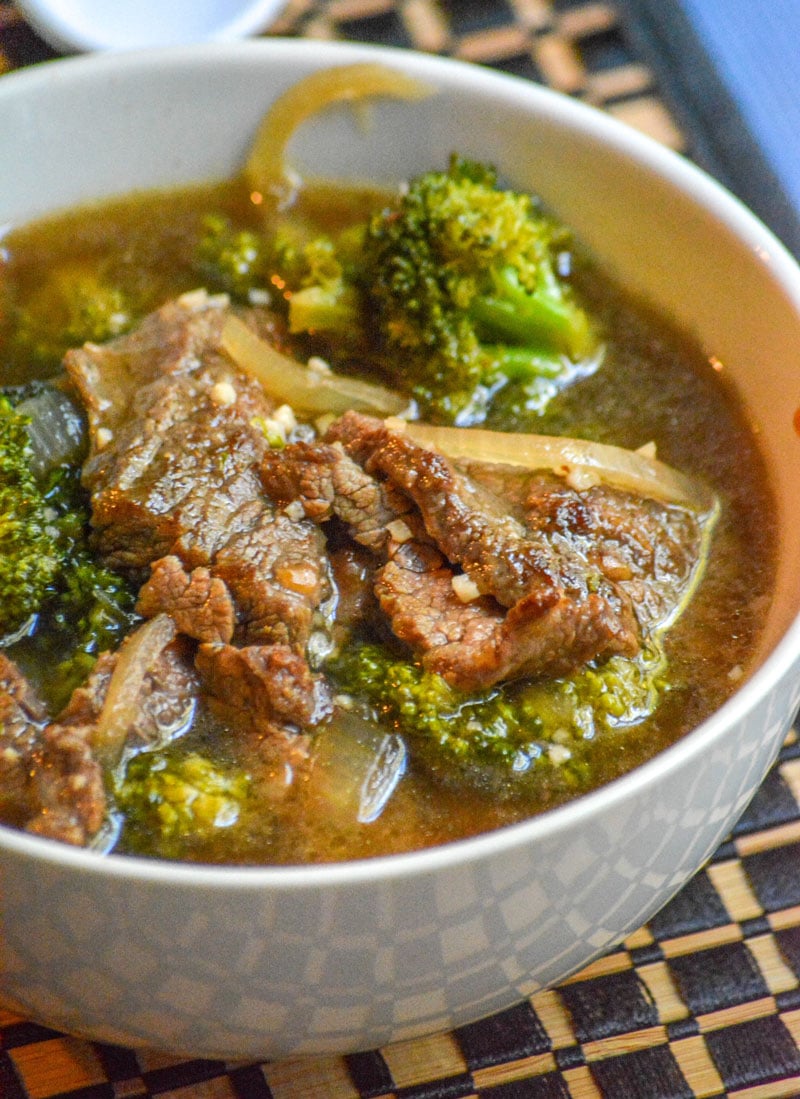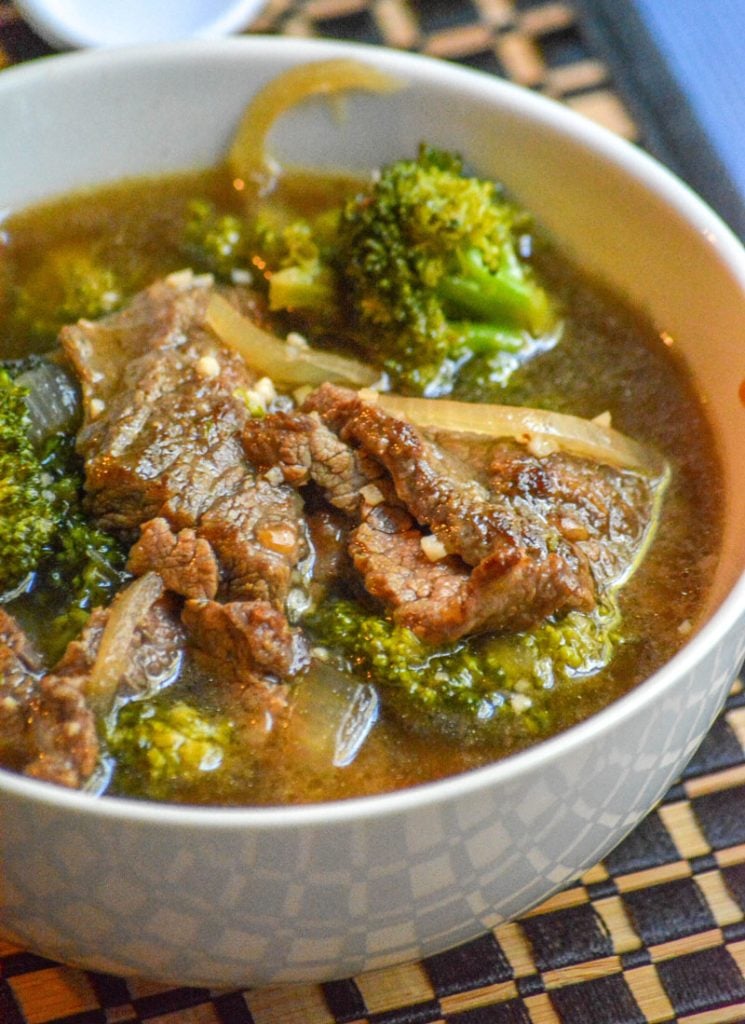 One New Year has come for us, 2019 is here and going strong- and Chinese New Year is right around the corner. New year, new beginnings, new tastes to try- to combine, to sample, to savor.
I have a deep affinity for all special occasions, and any excuse to try new things.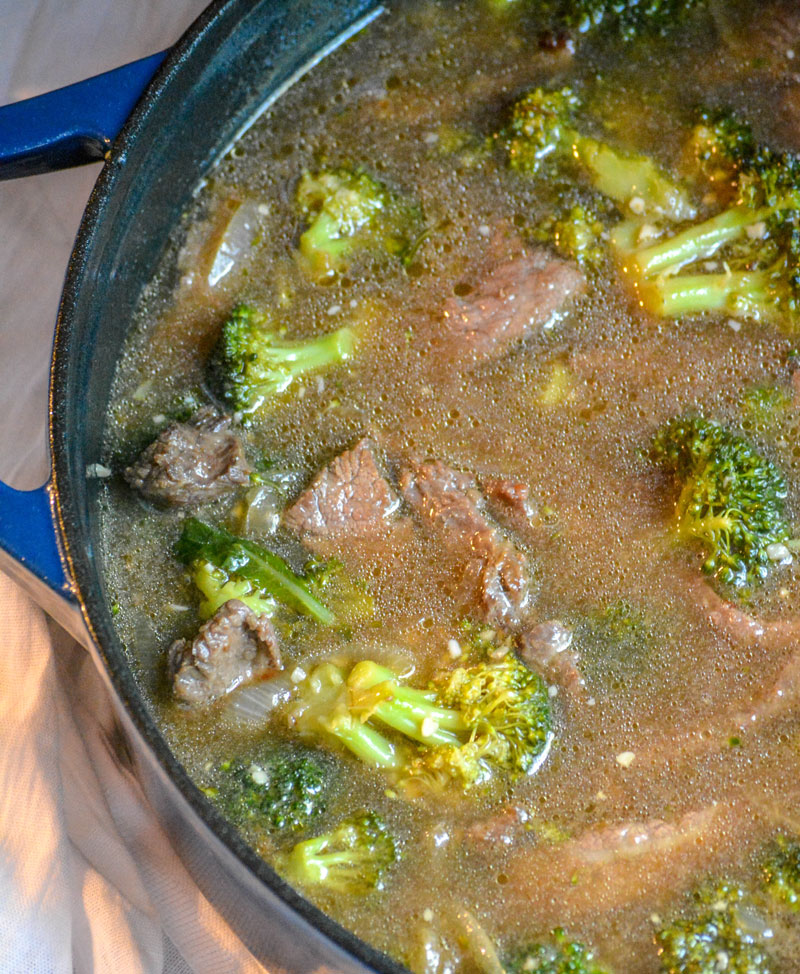 Hands down, my favorite Chinese take out dish of all time? Beef & Broccoli. It's my go-to order, one where I feel pretty secure no matter where I am that it will be pretty dang delish.
Beef & broccoli is arguably up there on the 'healthier' end of things where the take out menu's concerned. It's basic elements remain the same though. Luckily.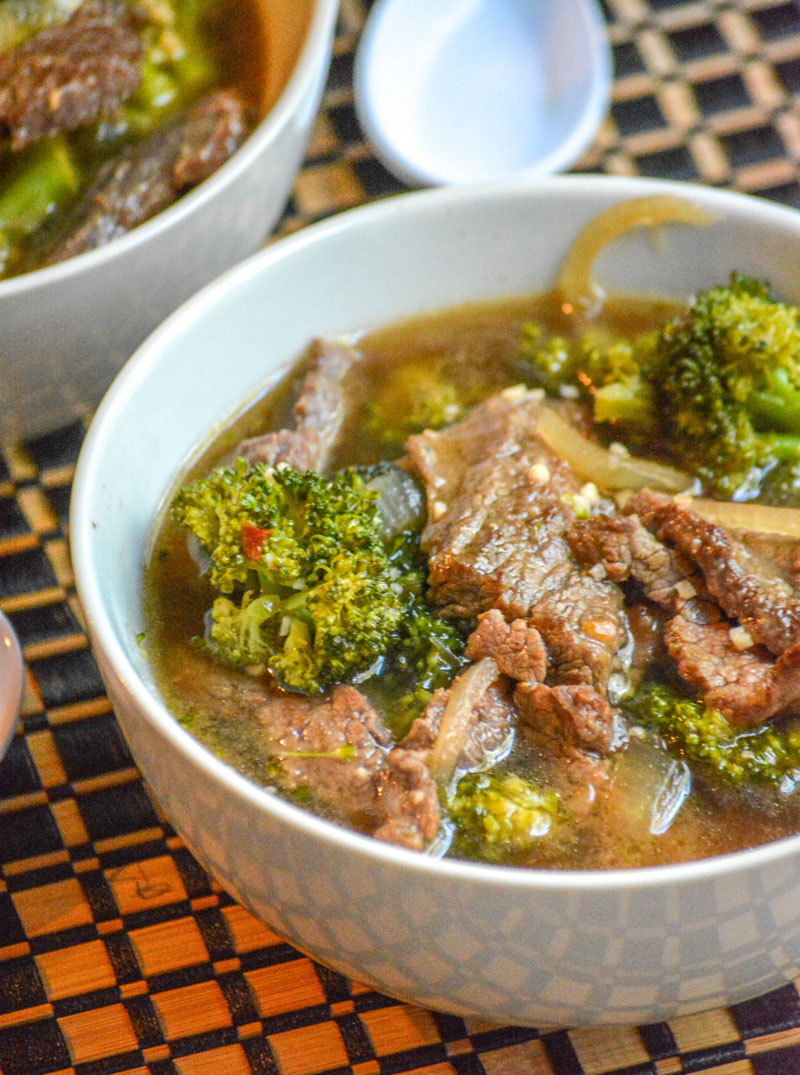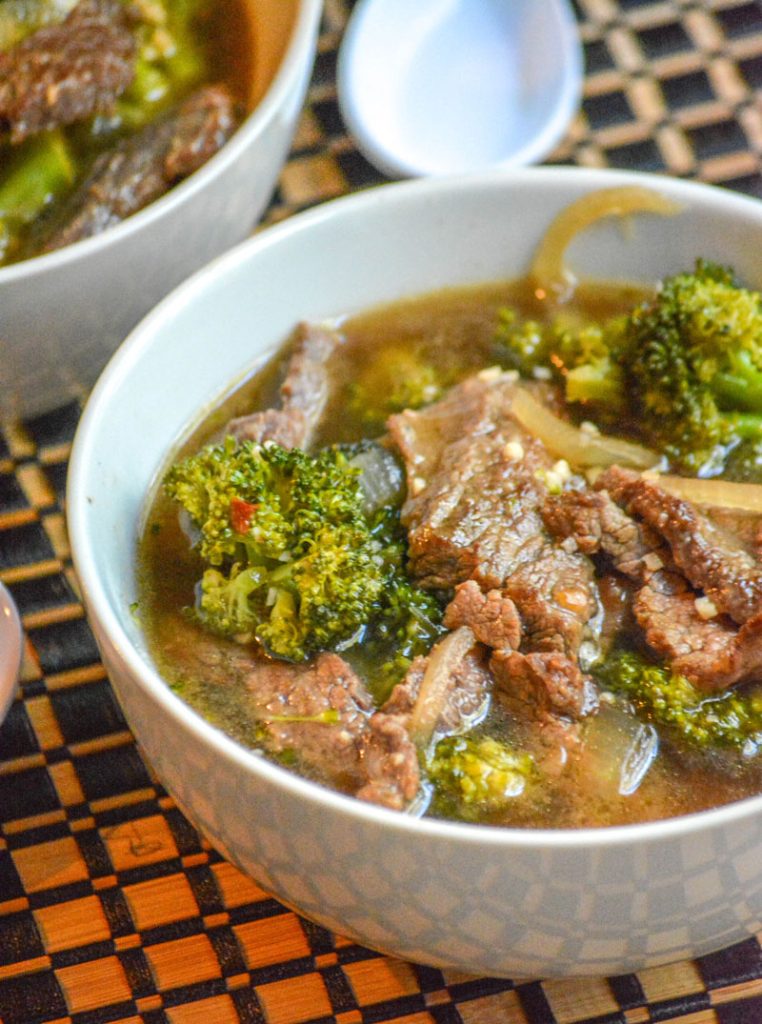 Tender strips of juicy beef are seasoned & seared, combined with perfectly cooked broccoli- a little bit of crunch left despite the softness-, and stirred into a rich, savory brown sauce.
Sounds like Heaven in a take out container. But would you believe me if I told you that it could be, would be, able to get even better than that?!
My friends, I'm here to tell you that with a new brothy twist- that's exactly what happened with the creation of this Chinese Beef & Broccoli Soup.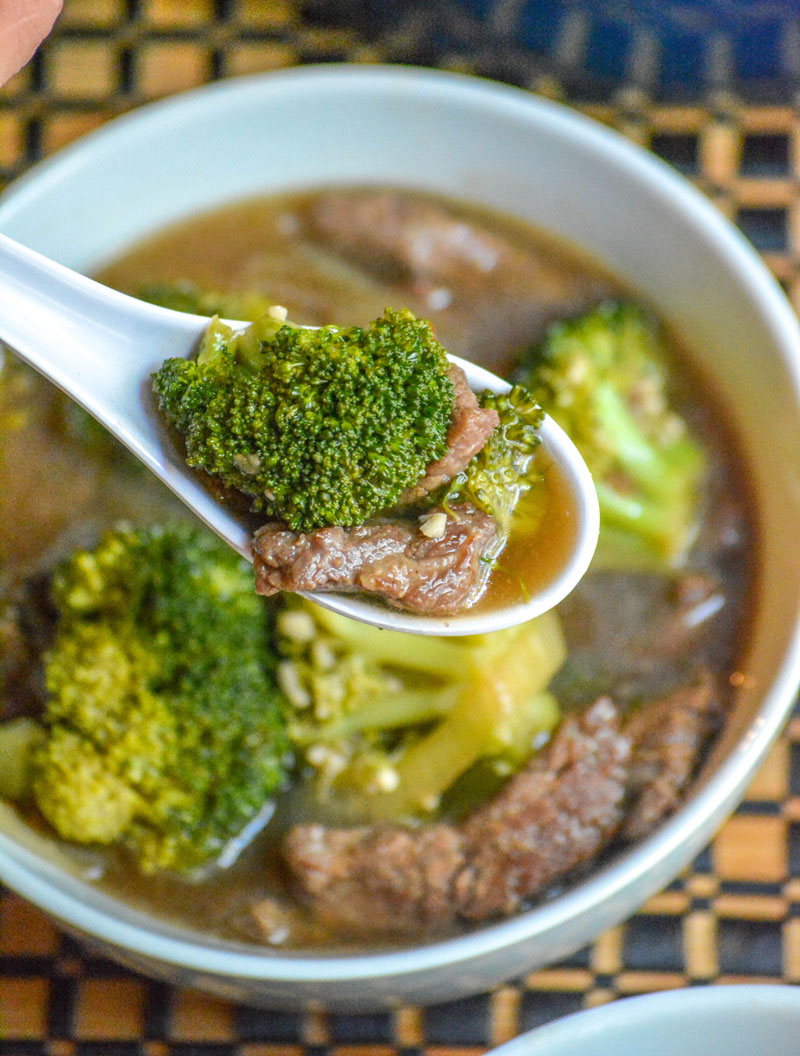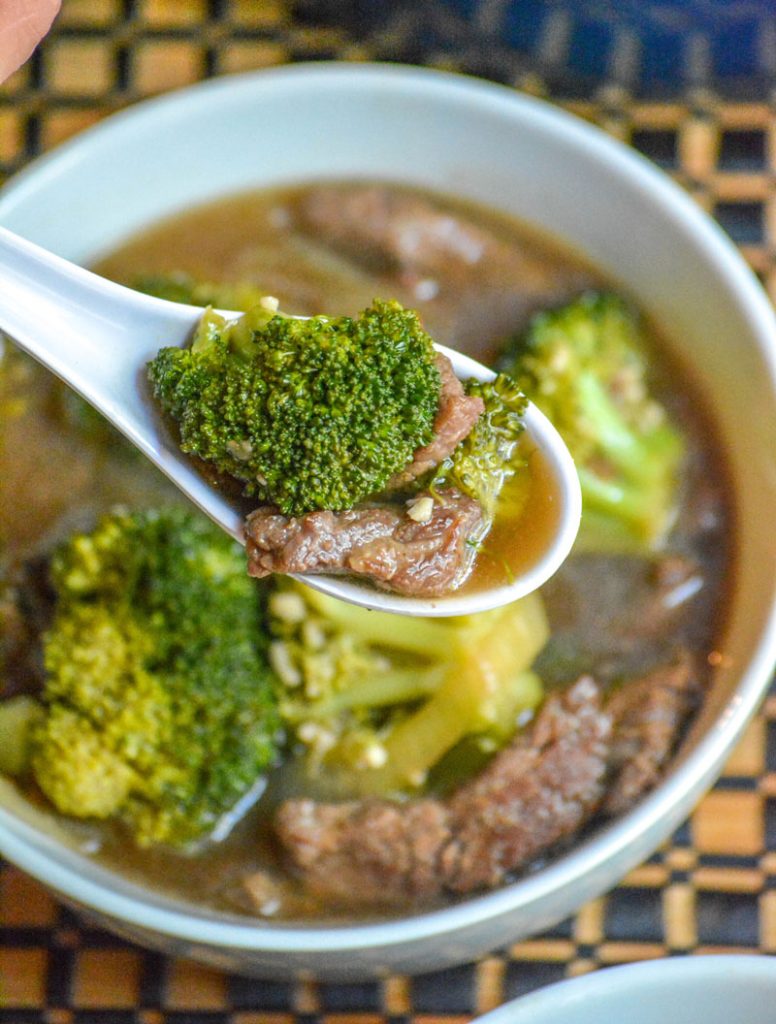 I purposefully keep an eye out at my local grocery stores for then particular cuts of beef are put on sale, or even on clearance. Flank steaks are one of them.
They're the perfect cut for using in my favorite Chinese take out recipes. I just freeze them once I get home, and pop out & defrost when needed.
For this Chinese Beef & Broccoli Soup we want thin strips of steak about 1/8th of an inch in width, and about 2-3 inches long.
As with successfully cutting any steak so that it's tender and not tough when cooked, make sure to cut against the grain.
Those tender strips of flank or skirt steak are then seared in olive oil until barely cooked- but incredibly tender- and transferred to a waiting dish where they're covered and continue cooking with their own heat and rich juices.
Strips of crisp white onion and tangy garlic saute briefly, then a small amount of beef broth is added to deglaze the pan.
Those beautiful browned bits that stick to the bottom when searing the meat? Those are flavor nuggets we do not want to leave behind. Some ginger and salt are added for seasoning.
We've kept the seasonings simple in this recipe, but don't skimp or leave any out. While they are simple, each one is key to getting a rich flavorful broth that mirrors the taste of the brown sauce in it's takeout counterpart.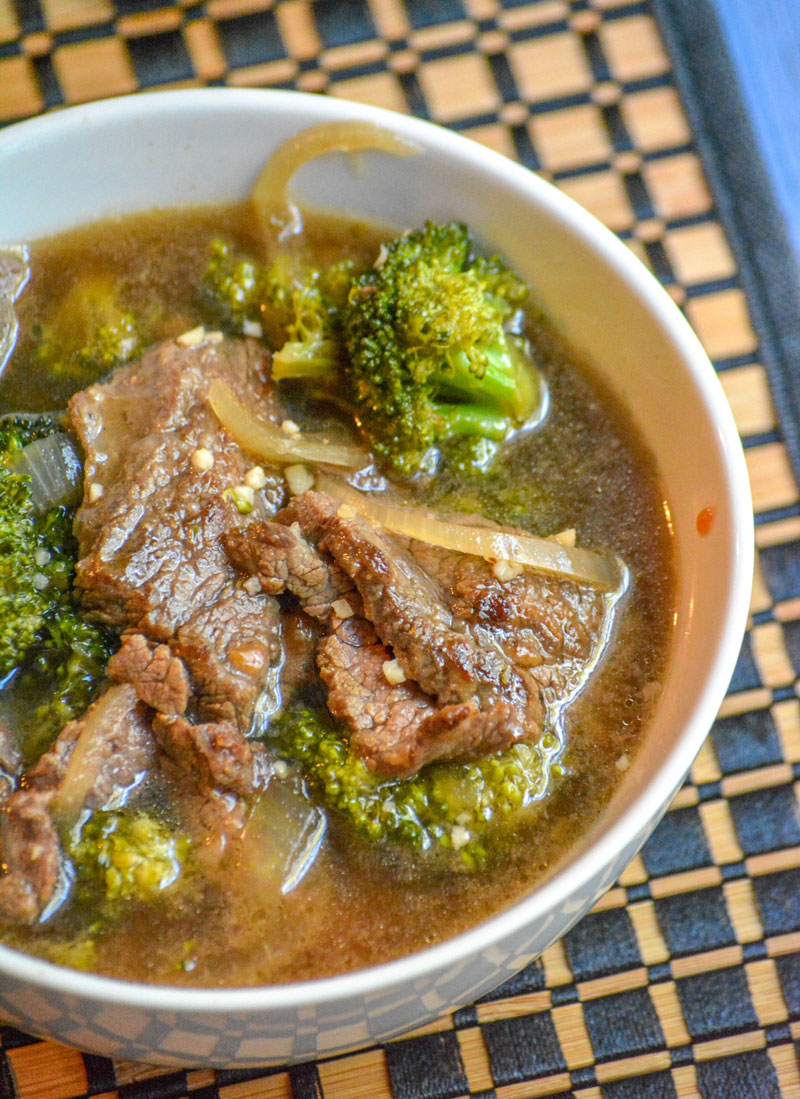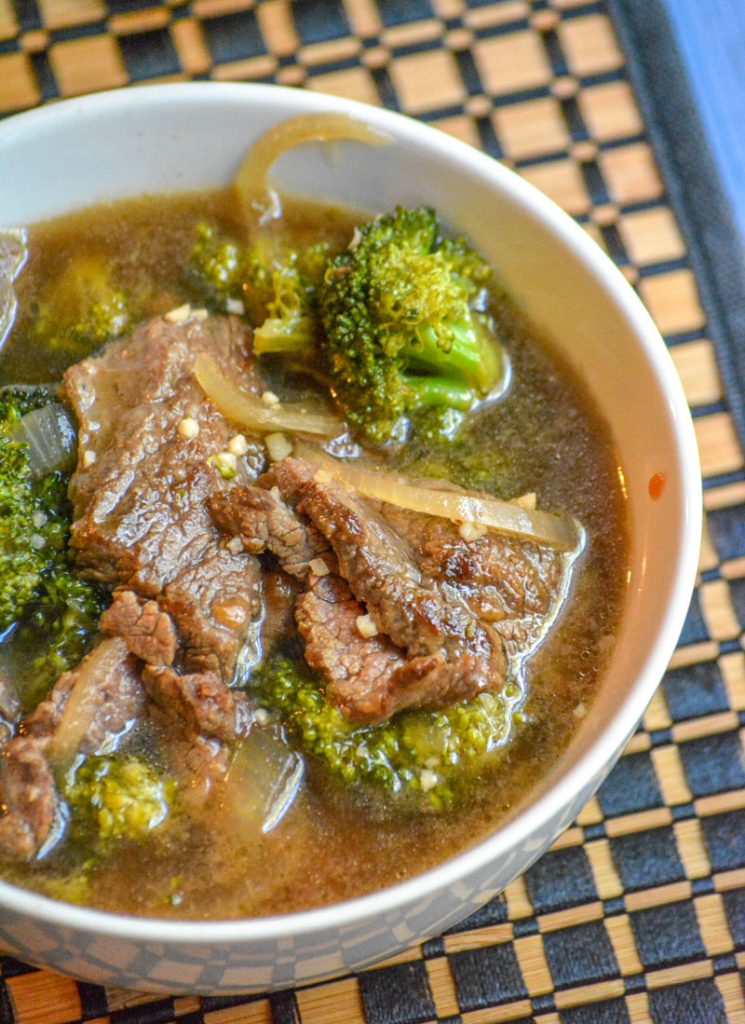 Now we're going to stir in the rest of the broth, and the broccoli florets, and bring this whole pot of soup to a rolling boil. Once we're boiling away, stir in the oyster sauce and the chili paste.
I would recommend only adding one tablespoon initially, taste testing, and then deciding on adding the second tablespoon.
Trust me on this tid bit, because this paste is spicy! We're looking for it to add a slight undercurrent of slice, not a kick in the pants.
We're gonna continue to simmer this soup, but only for two minutes or so.
We want that perfect broccoli, the gold standard of any decent beef & broccoli. Slightly soft, definitely cooked, but still crisp- all at the same time.
The soup's done at this point, so uncover that meat and stir it and any juices in that dish back into the pot. Serve it right away for maximum flavor and effect.
A Couple Quick Notes About This Beef & Broccoli Soup Recipe:
I enjoy this soup as is, but my kids have an affinity for white rice. They love it with cooked white rice stirred in. I wouldn't recommend adding it to the pot, as it won't keep well for any possible leftovers. Instead, we add 1/3 cup to each bowl when served.
The soup's best made with steak as suggested, but ground beef does work too. If you want to use ground beef, I would suggest using a leaner version. Then add it to the pot with the oil, season with the cornstarch and pepper, stirring to incorporate. Once mostly cooked through, stir in the soy sauce, and leave the beef in the pot once done- continuing with the rest of the recipe as instructed.
Wondering if you can sub stock for broth? You can, but this recipe naturally infuses itself with flavor and salt- so I'd suggest sticking with broth if it's an option, and saving the stock for a different dish that requires braising.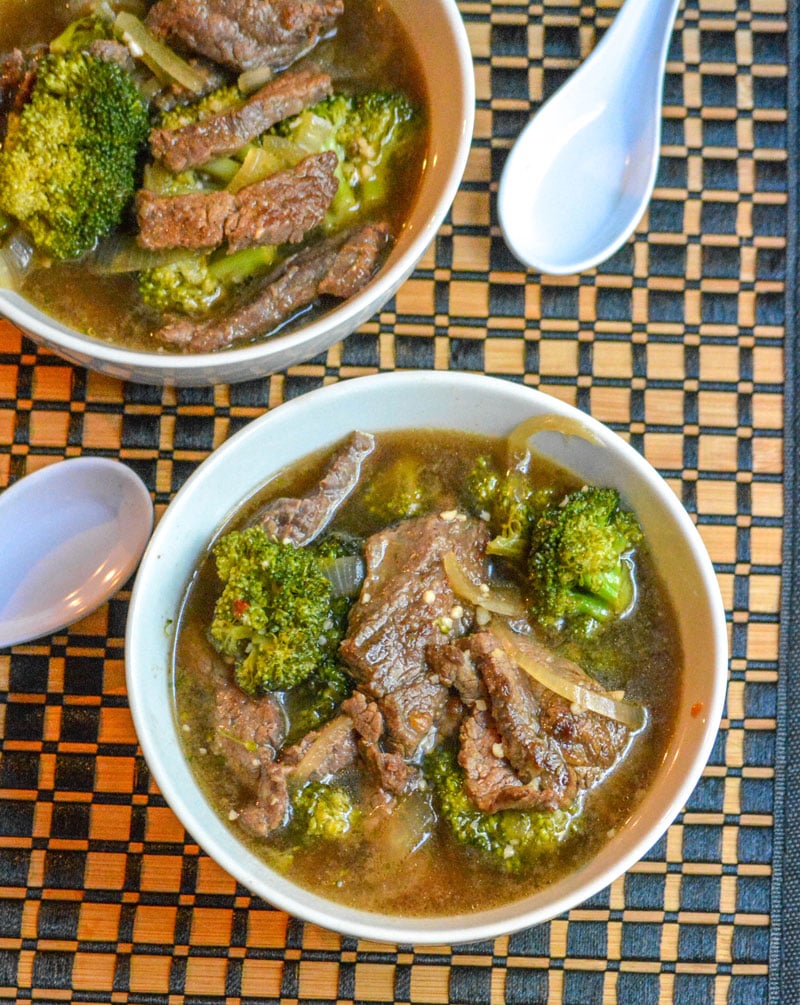 Surprise yourself, and fake out your taste buds, with a big bowl of this amazing Chinese Beef & Broccoli Soup. It tastes just like the real thing, but in a soup bowl. It's the yummiest surprise!
Other Asian Hybrid Recipes You Might Also Enjoy: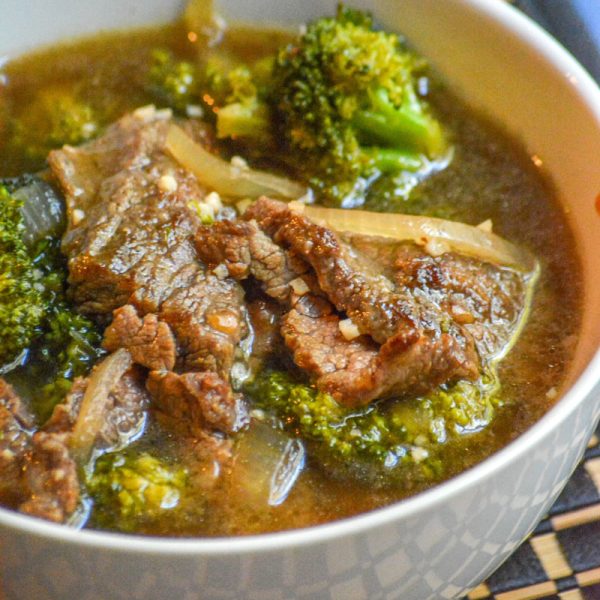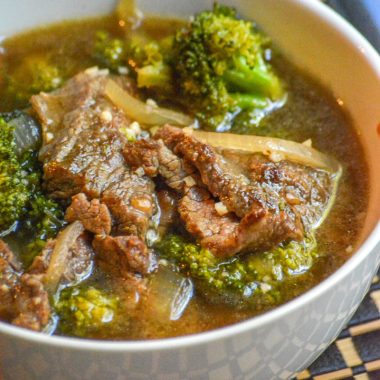 Chinese Beef & Broccoli Soup
The classic flavors of the beloved Chinese take out dish, we've given this dish a fun new twist by turning it into rich, savory soup.
Print
Pin
Rate
Ingredients
1 1/2-2

lbs

flank steak, thinly sliced, against the grain, into strips

2

tbsp

corn starch

freshly cracked black pepper, to taste

1/4

cup

soy sauce

1 1/2

cup

thinly sliced strips of white onion

6

tsp

minced garlic

heaping 1/4

tsp

ground ginger

3

tbsp

olive oil, divided

salt

8

cups

beef broth

4-5

cups

fresh broccoli florets

1/4

cup

oyster sauce

1-2

tbsp

chili paste
Instructions
In a large mixing bowl, add the steak strips seasoning liberally with freshly cracked back pepper. Add in the corn starch and soy sauce, tossing to combine. Cover the mixture and let it marinate for 10-15 minutes.

Heat a dutch oven, or other sturdy soup pot, over medium high heat. Add half of the olive oil. Once the oil's hot, which won't take long, add half of the prepared steak, spreading it out in a single layer. Sear the meat for 45 seconds to a minute without stirring.

Flip all of the meat and cook for another 30 seconds, until it's barely cooked but very tender. Transfer the meat to a clean plate, including any juices, and cover with foil. Repeat these steps with the second half of the uncooked steak.

Keeping the pot over medium high heat, add in the onion and garlic. Stir in a half cup of beef broth, and season with the ginger and salt, to taste. Use the broth and a sturdy spoon to deglaze the pan, scraping up all the flavorful browned bits stuck to the bottom.

Stir in the rest of the beef broth and the broccoli florets, turning the heat up to high to bring the soup to a boil.

Once the soup's boiling, stir in the oyster sauce and chili paste. I'd taste test before adding the second tablespoon, especially if you aren't familiar with cooking with it because it is spicy.

Let it cook for 2 minutes- until the broccoli's just softened, but still crisp. Adjust salt & pepper, if needed.

Remove the pot from heat, stirring in the cooked meat and any juices. Serve & enjoy!
Nutrition
Calories:
305
kcal
|
Carbohydrates:
14
g
|
Protein:
32
g
|
Fat:
14
g
|
Saturated Fat:
4
g
|
Cholesterol:
68
mg
|
Sodium:
2078
mg
|
Potassium:
852
mg
|
Fiber:
2
g
|
Sugar:
3
g
|
Vitamin A:
378
IU
|
Vitamin C:
58
mg
|
Calcium:
91
mg
|
Iron:
3
mg