Creamy tender twice baked potatoes are stuffed with lump crab and cheddar cheese for the ultimate party treat. Easier than they sound, these cheesy crab stuffed potatoes also make an indulgent meal all by themselves.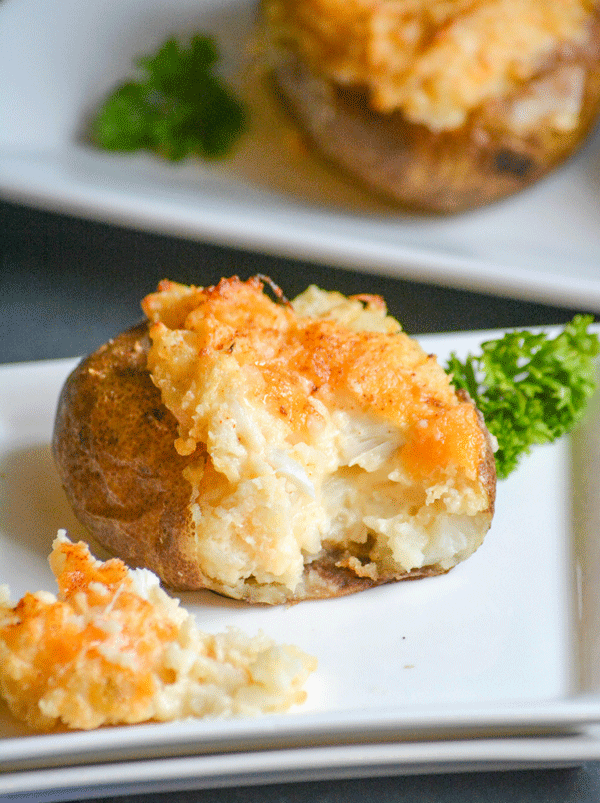 Seafood can be such a touchy subject. It seems like people always rest firmly in one of two camps.
Love it or hate it, with no in between.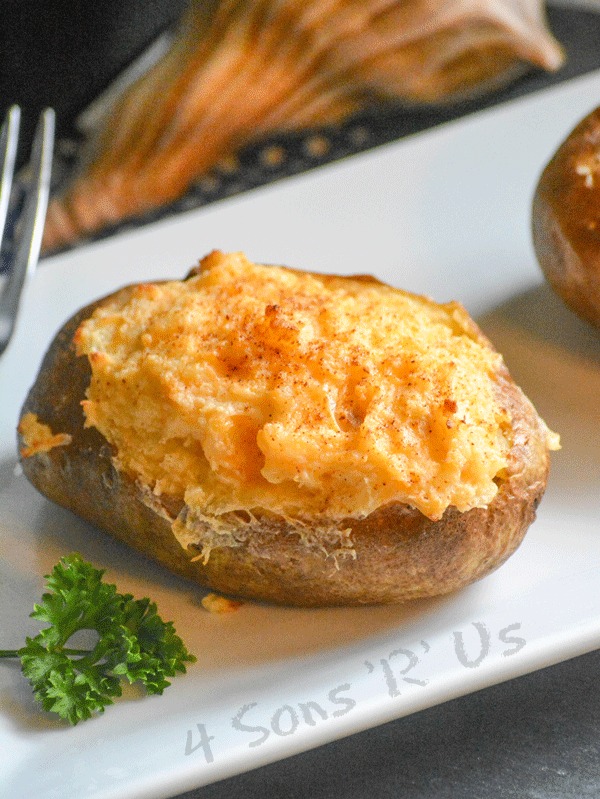 My husband and I, oddly, do find ourselves waffling in that in between limbo camp.
We love some seafood. Specific things and types. We're pretty picky, and oddly enough it's the one area I'm ok with us AND my boys being picky in too.
Other's we staunchly oppose. Like we tried you once, and once was enough– for life. No hard feelings though. Really.
To each their own.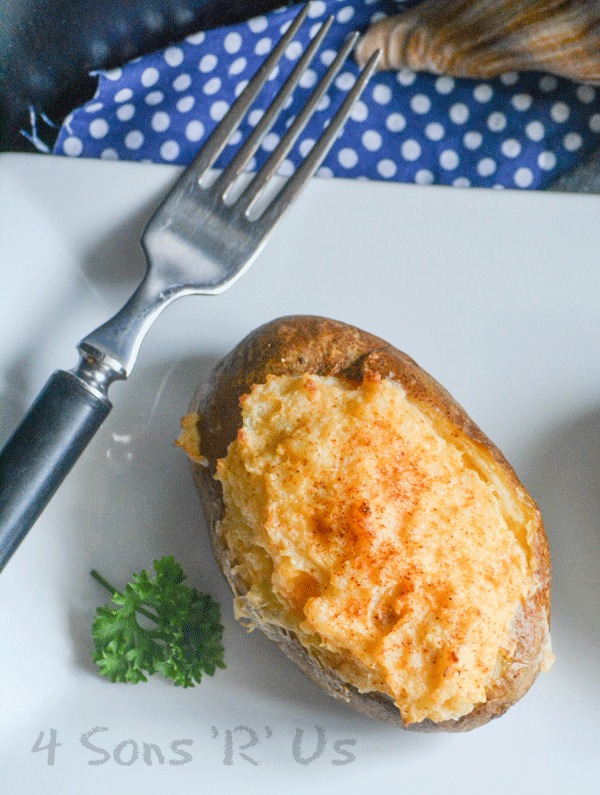 One thing we can all unanimously agree on though? Crab.
Best thing to ever come out of, errr rather I should say crawl out of, the sea.
Crab cakes, those are an obvious heck yes. Any special anniversary dinner has to include them.
We've found many ways to incorporate them into other 'less' special occasions too.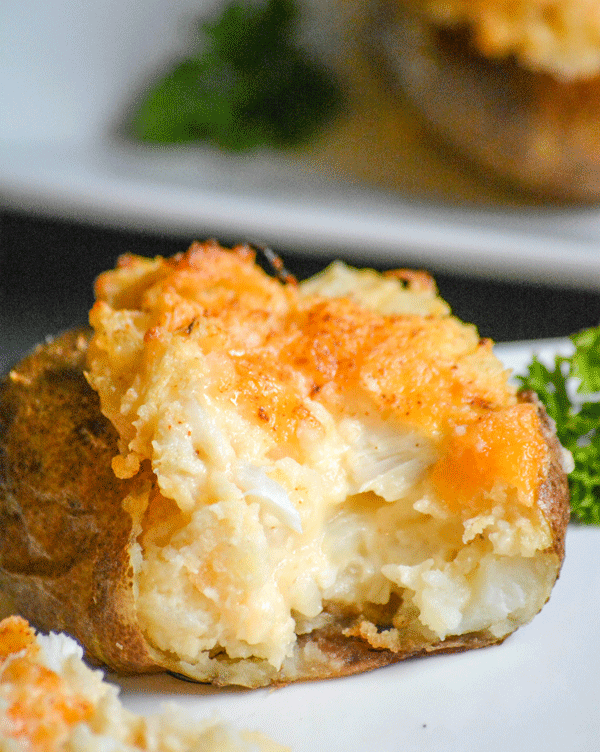 Why? Because a lil crab meat can make any meal better. And any occasion, too– barring an allergy, which we always remember to check for.
Crab Rangoon for appetizers for game days or family gatherings are always a hit. Don't feel like making the little pillow-y purses of greatness, Crab Rangoon Dip with Wonton Chips may be more your style.
A good Crab Stuffed Deviled Egg has graced many of our tables at Thanksgiving & Easter. And for those everyday nights where we need to scratch our fishy itch (ok, in hindsight, that doesn't sound so great- hopefully you get my point), we adore our recipe for Seafood Pot Pie.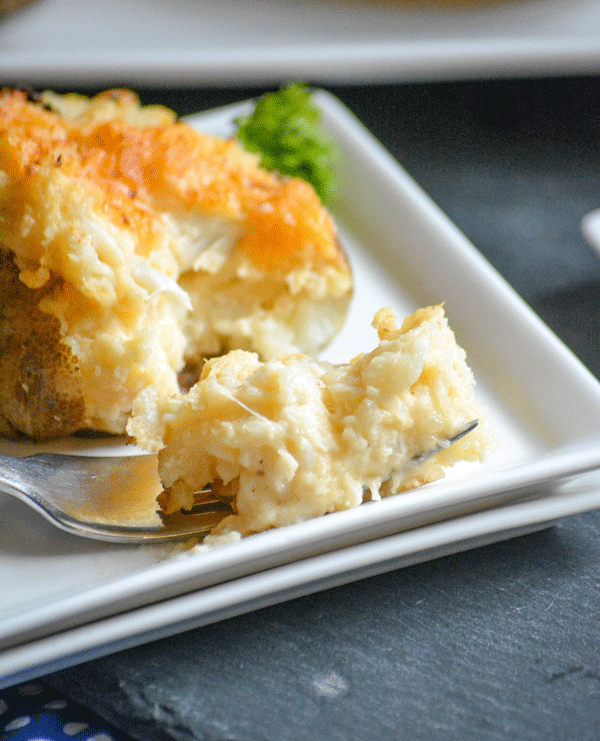 Another thing I love? Because tonight I'm all about some good ol' fashioned comfort food– my mama's twice baked potatoes.
One of the earliest table foods I remember sampling was mashed potatoes. The apple didn't fall far from the tree with my own sons. My point being, each generation has made it a point to instill a solid love of all things creamy, cheesy, and potato in their palette-related repertoire.
Annnnnd today we're bringing you a tasty treat that combines the two into the world's most savory experiment gone oh-so right. Twice Baked Crab Stuffed Potatoes.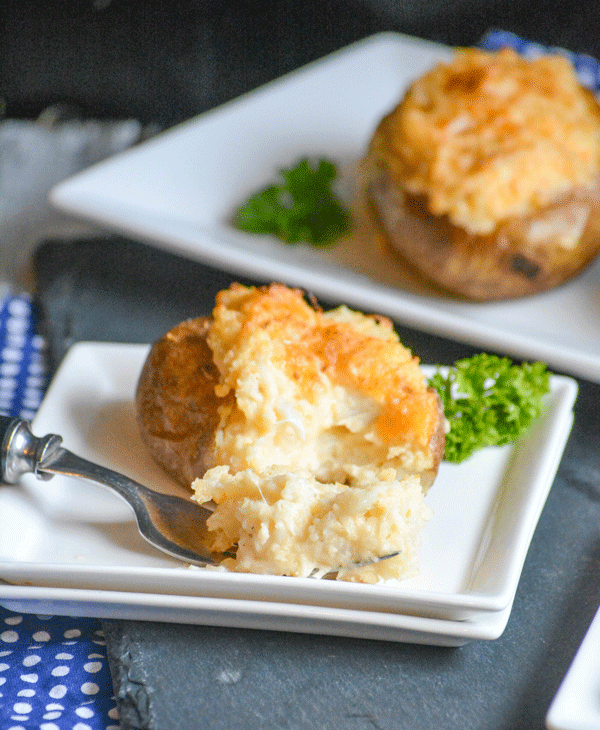 Crisp on the outside, these potato skins are stuffed with a delectable mixture of lump crab meat, cheese, whipped mashed potatoes. Seasoned to scrumptious-ness, Twice Baked Crab Stuffed Potatoes are the perfect way to serve your seafood and eat it too.
If you know someone who's on the fence about crab, serve them this. It will most likely lead them to the seafood side. If it doesn't, be there friend anyway, and hoard all that yum for yourself!
If you've tried these TWICE BAKED CRAB STUFFED POTATOES, or any other recipe on the site, let me know in the comment section how it turned out, we love hearing from our readers! You can also follow along with me on PINTEREST, FACEBOOK, and INSTAGRAM to see more amazing recipes and whatever else we've got going on!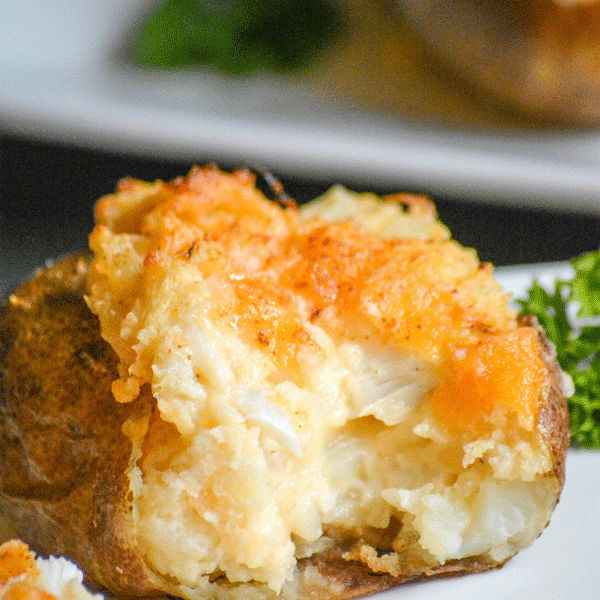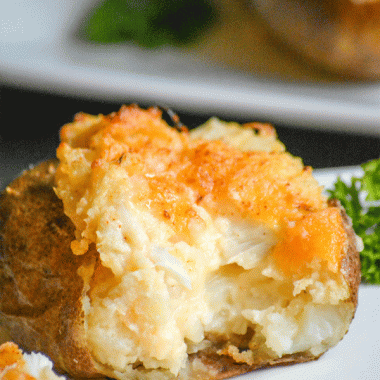 Twice Baked Crab Stuffed Potatoes
Twice baked potatoes, these are stuffed with crab meat & cheese, for the ultimate seafood and creamy potato treat. They make an indulgent side dish perfect for pairing with juicy steak or other grilled meats, but are also an indulgent entree all by themselves.
Print
Pin
Rate
Ingredients
4

large russet potatoes: scrubbed, washed, and with holes poked throughout

2

tbsp

cream cheese, softened

1/2

stick

butter, softened

salt & pepper, to taste

1/4

tsp

Cajun seasoning

2

tsp

dried onion

1/3

cup

cream

1

cup

shredded cheddar cheese

1/2 lb fresh or 2 cans, drained

crab meat

smoked paprika, to garnish
Instructions
Place the potatoes on a baking sheet, and bake at 450 degrees for 45 minutes, or until a butter knife inserted in the center proves they're tender.

Slice the top off of each potato, and discard. Scoop out the pulp, leaving a 'shell' of potato on the inside of each to prevent leaks, into a mixing bowl. Set the shelled potatoes aside to finish cooling.

In the bowl of a stand mixer, whip together the potato pulp,

cream cheese, butter, salt, pepper, Cajun seasoning, and onion until creamed together. Add just enough cream, to make sure it's a smooth mixture. Fold in the crab meat.

Scoop the mixture evenly into each potato, until the mixture's gone. Sprinkle each potato with the smoked paprika.

Bake the stuffed potatoes, at 400 degrees, for another 15 minutes.

Remove the potatoes from the oven. Let them rest for 2-3 minutes before serving.
Nutrition
Calories:
486
kcal
|
Carbohydrates:
42
g
|
Protein:
13
g
|
Fat:
31
g
|
Saturated Fat:
19
g
|
Cholesterol:
95
mg
|
Sodium:
324
mg
|
Potassium:
981
mg
|
Fiber:
3
g
|
Sugar:
3
g
|
Vitamin A:
1087
IU
|
Vitamin C:
14
mg
|
Calcium:
261
mg
|
Iron:
2
mg
Other Recipes With Crab You Might Also Enjoy: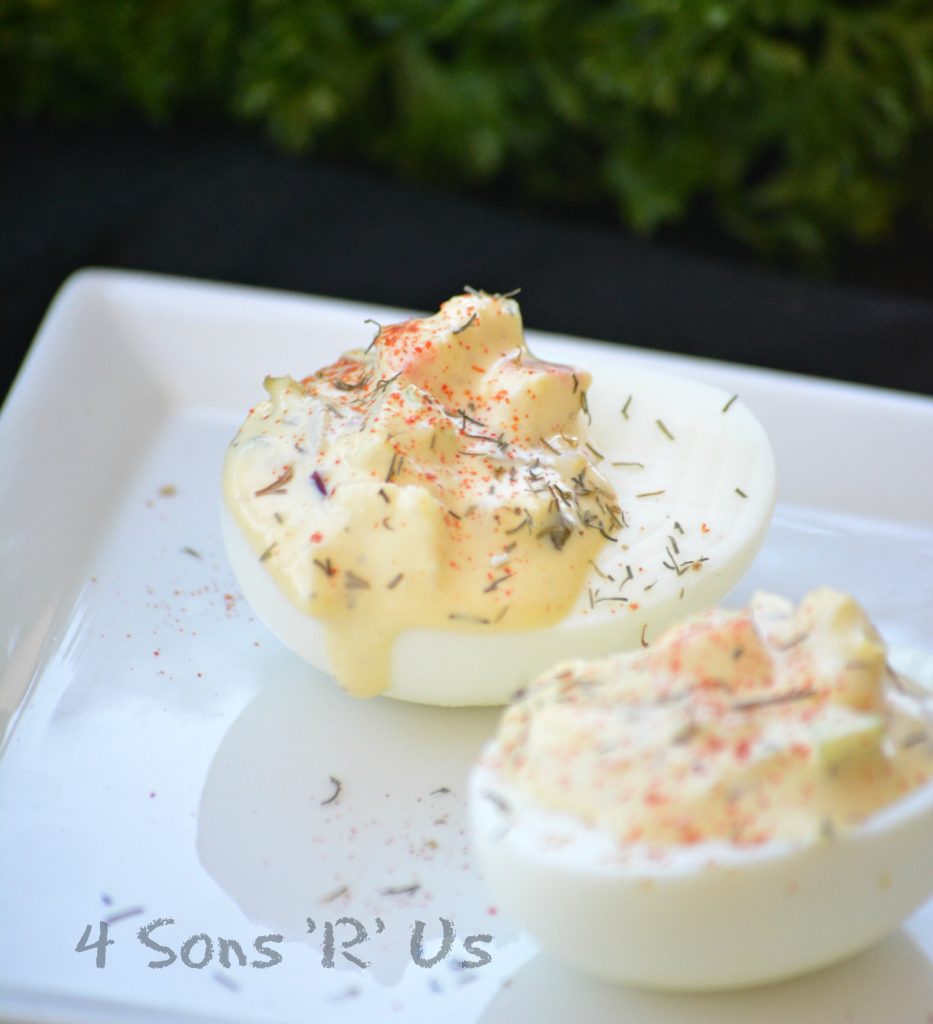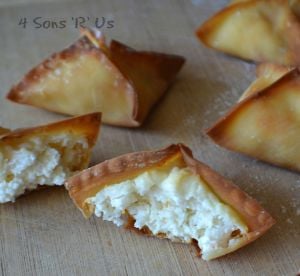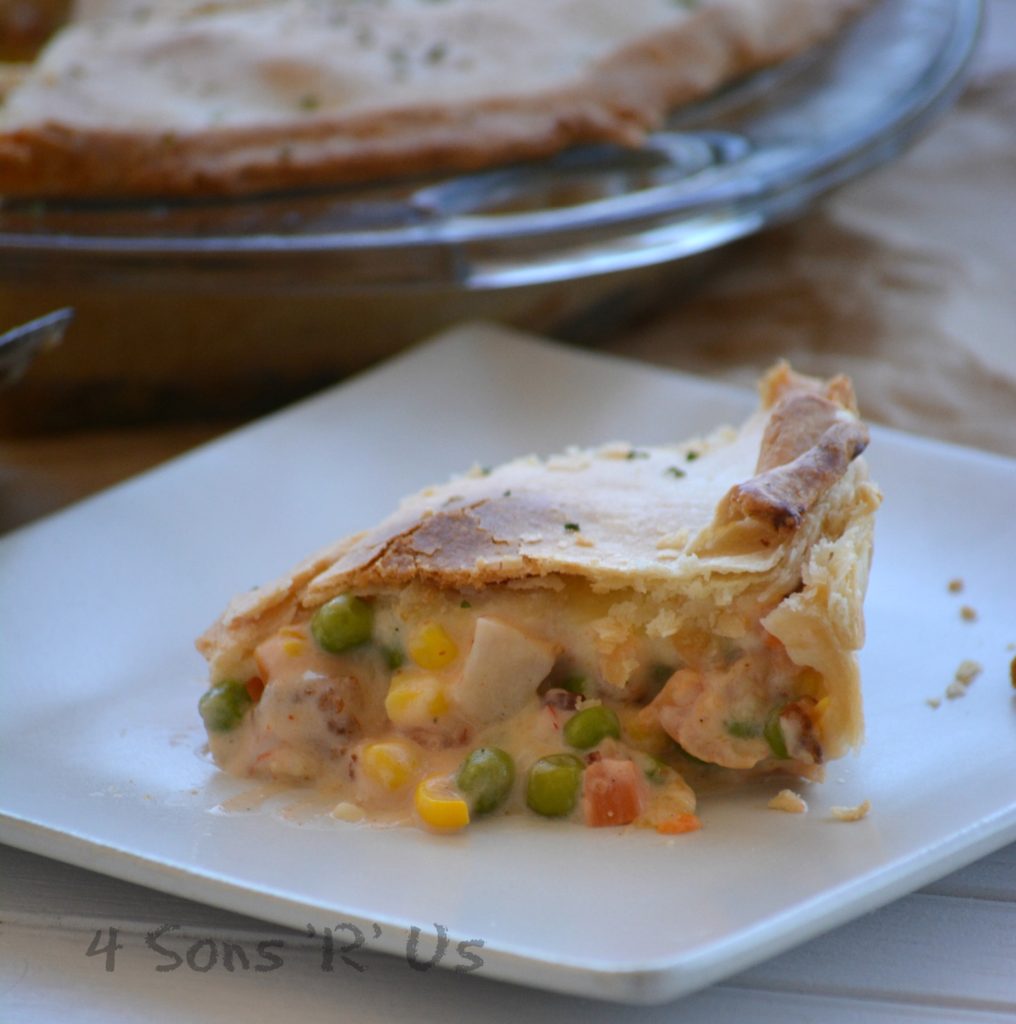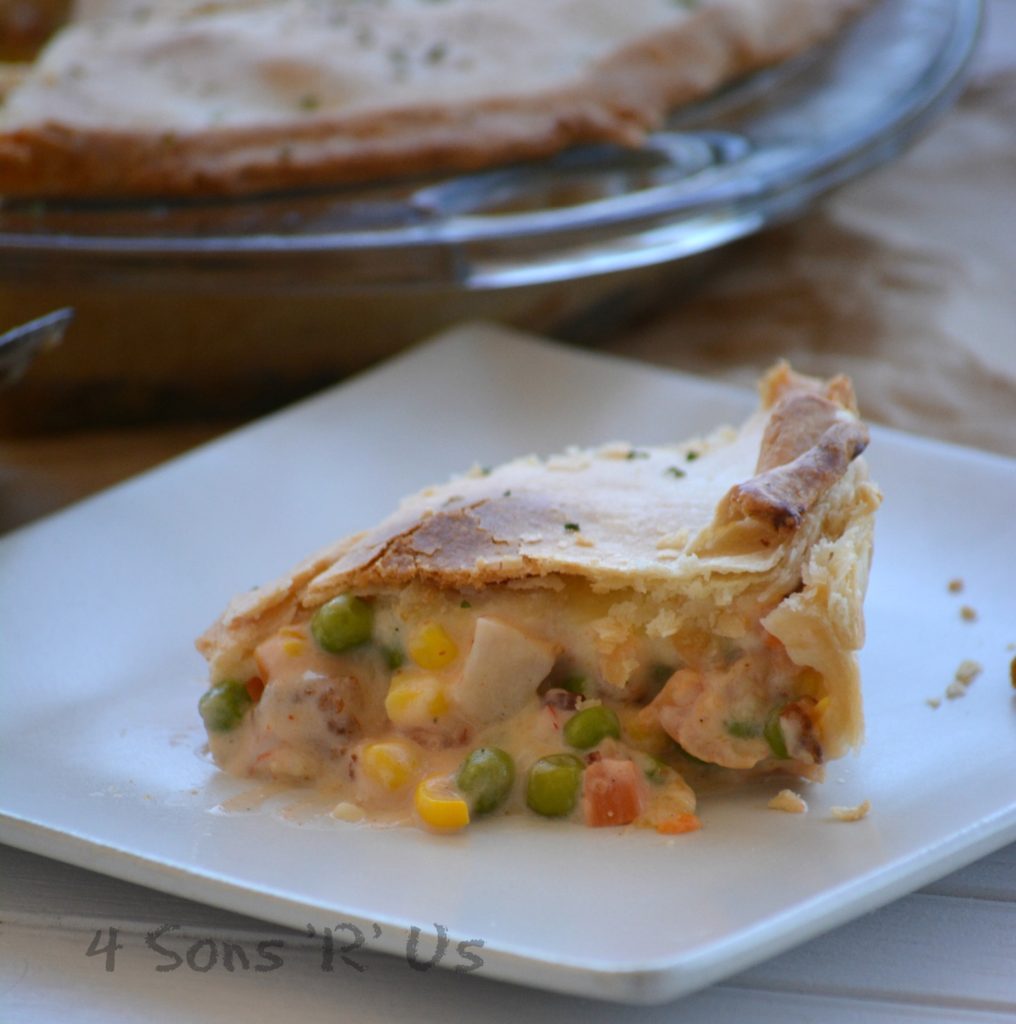 Crab Rangoon Dip With Wonton Chips