Sandwiches are essential any time of the year. Make these sausage alfredo stuffed French bread sandwiches for a cozy meal when the temperatures drop. They're real comfort food sandwiches with cheesy Italian sausage & fresh spinach in a rich alfredo sauce stuffed between two layers of crusty Italian bread.
Do you ever take a trip down memory lane and thank the good Lord that the early 2000's were over a decade ago and can't believe you ever embraced those questionable fashion trends?
Like using your Dad's old neck tie as a belt, or those chunky hair highlights, aka zebra head? Yeah.
Sometimes updates are a good thing.
Speaking of updates, if you've wondered where we've been the past two weeks, or why things have been a bit wonky around here recently, updates.
We've made some changes, and there will be more formatting changes rolling out in the next few weeks, but bare with us- it will be worth it, I promise.
And starting today, we're back.
And what better way to announce our return than by updating one of our fan's favorites?
Remember our original Stuffed French Bread, or even the Swiss Mushroom Stuffed French Bread? Let me introduce you to Sausage Alfredo Stuffed French Bread.
This is a quick & easy, under 30 minute meal, that's really hot-sandwich perfection.
Crisp on the outside (I like my bread with a good crusty crunch), with a hearty filling that's bursting at the seams with cozy flavor comfort. We even added in some spinach to make it a wee bit more nutritious.
I said 'wee', as in a teensy bit. But I make no apologies, and for those with pickier eaters, or anyone like the youngest son who likes to take one look at something and stick his nose up in the air, it's a great way to sneak it in.
Other Stuffed Sandwich Ideas
If you've tried these SAUSAGE ALFREDO STUFFED FRENCH BREAD SANDWICHES, or any other recipe on the site, let me know in the comment section how it turned out, we love hearing from our readers! You can also follow along with me on PINTEREST, FACEBOOK, and INSTAGRAM to see more amazing recipes and whatever else we've got going on!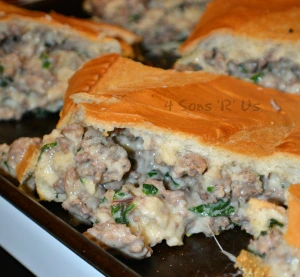 Sausage Alfredo Stuffed French Bread Sandwiches
This recipe makes for the ultimate sub sandwich. Skip the cold cuts and go for a creamy, cheesy stuffed alfredo sauce laden sausage filling instead. It's the ultimate in comfort food- perfect for holiday lunches or game day gatherings.
Print
Pin
Rate
Ingredients
1

loaf of your favorite French bread

1

lb

sweet Italian sausage

1/2

of a white medium onion

diced

1

clove

garlic

minced

1

cup

coarsely chopped

fresh spinach

1

cup

of your favorite Alfredo sauce

1

cup

shredded mozzarella cheese
Instructions
In a large skillet over medium heat, brown the sausage with the onions. Add in the garlic when it's almost completely cooked. Drain and return the meat to the skillet.

While the sausage is cooking, slice the loaf of bread in half horizontally, and tear out the soft bread in the middle. Rip it into small pieces and place it on a plate or a bowl, and set aside. Place the bottom half of the loaf on a baking sheet.

When the sausage is cooked through, add in the spinach and cook, stirring occasionally, until the spinach is wilted, about 1-2 minutes. Stir in the sauce and slow the meat mixture to heat through.

Add the torn bread bits to the meat mixture and stir it all together. Spread this mixture out evenly in the bottom half of the loaf/trough, evenly sprinkle the shredded cheese overtop, and then cap the sandwich off with the top half of the bread. Bake at 350 degrees for 10-15 minutes or until the cheese is melted. Remove the sandwich from the oven, and let it 'rest' for 5 minutes before slicing and serving, so that the meat and cheese 'set' and don't just ooze on out.
Nutrition
Calories:
590
kcal
|
Carbohydrates:
41
g
|
Protein:
24
g
|
Fat:
36
g
|
Saturated Fat:
15
g
|
Cholesterol:
99
mg
|
Sodium:
1294
mg
|
Potassium:
332
mg
|
Fiber:
2
g
|
Sugar:
3
g
|
Vitamin A:
595
IU
|
Vitamin C:
4
mg
|
Calcium:
144
mg
|
Iron:
4
mg