Skip the delivery or carry out option, and get all the flavor you're craving in an easy one dish dinner. This one pot pizza pasta recipe checks all the boxes. It's easy to throw together in a single pot, making for a budget friendly dinner the kids will love that doesn't make a mess.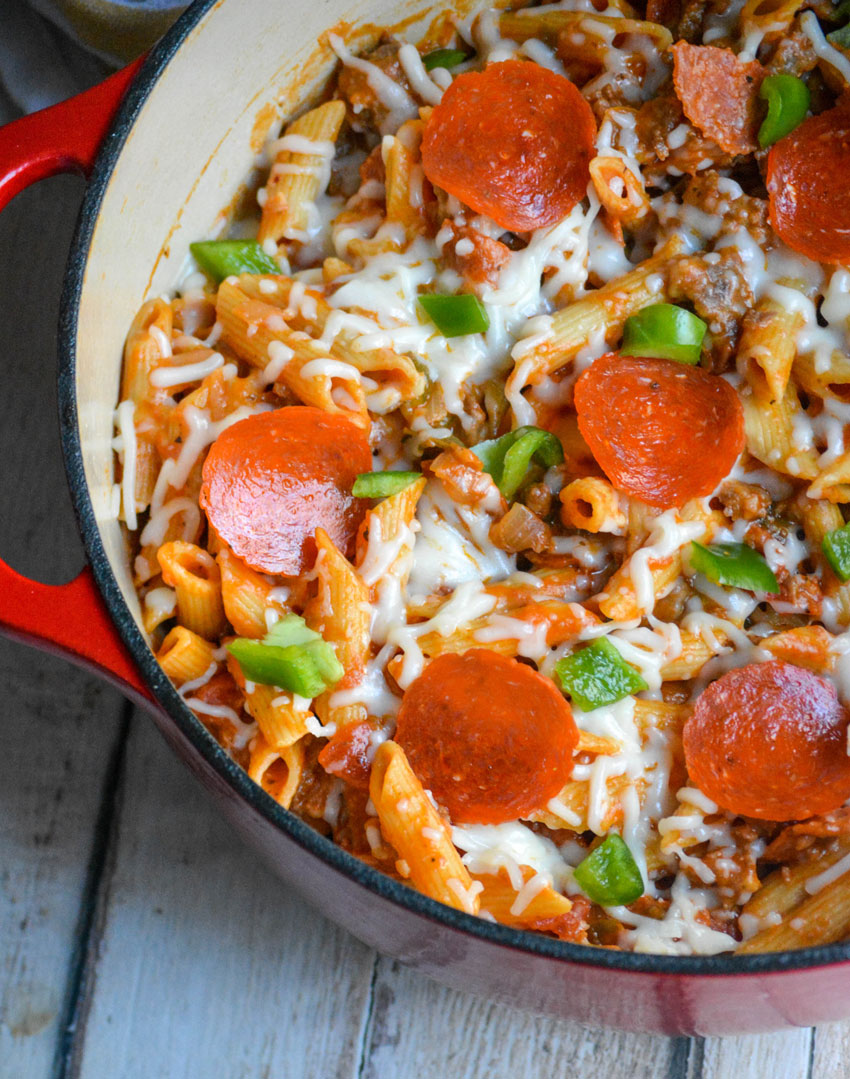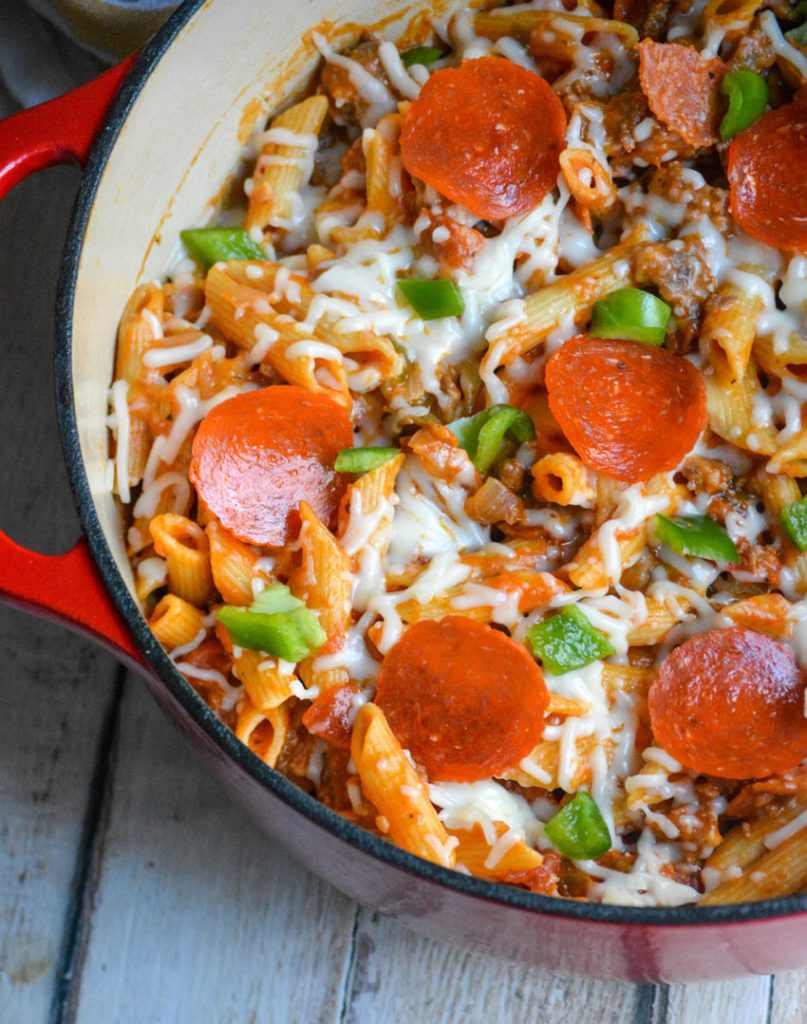 Over the years I've learned I can't ask the sons to spot clean the living room or to clean in general without supervision. Otherwise everything ends up in the toy box.
Day old, dirty socks, sippy cups, Dad's tools, remotes, candy wrappers. You name it, if I can't find it and they've cleaned recently, it's in the toy box.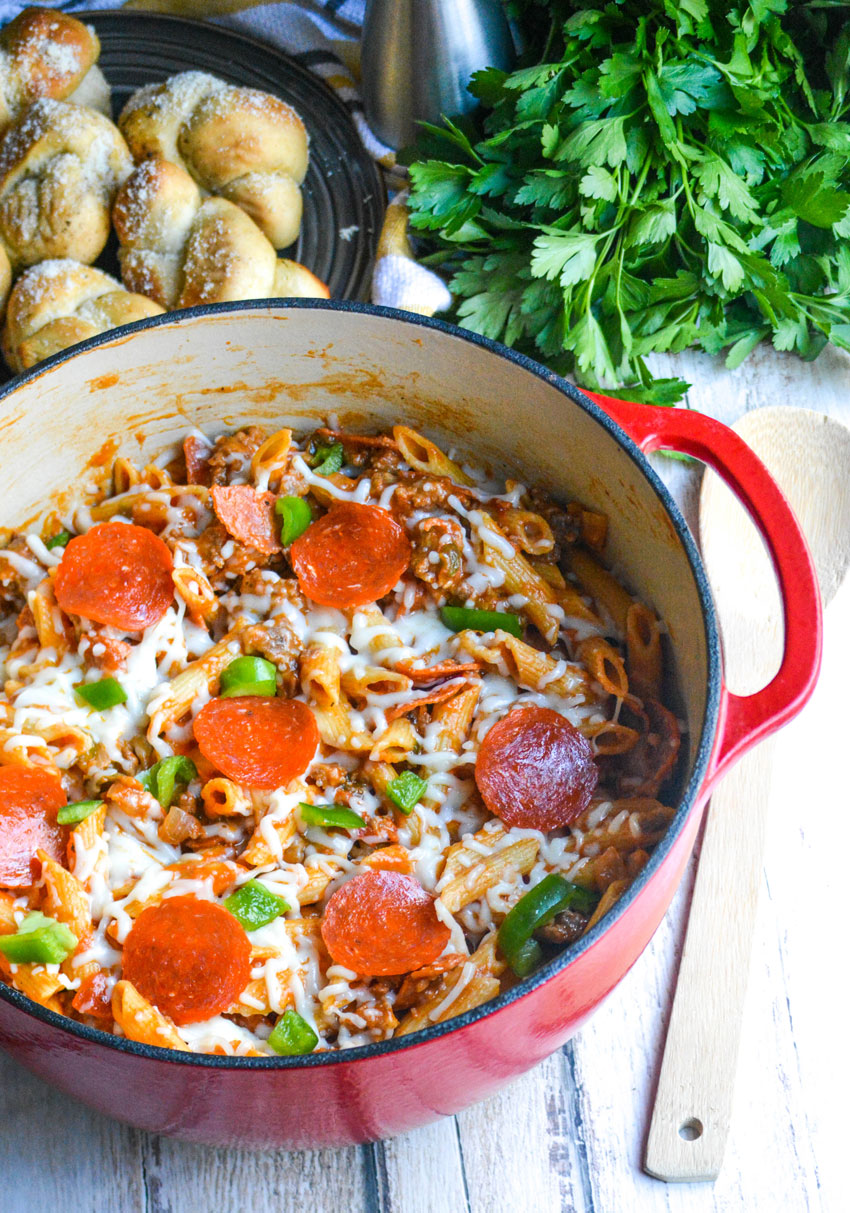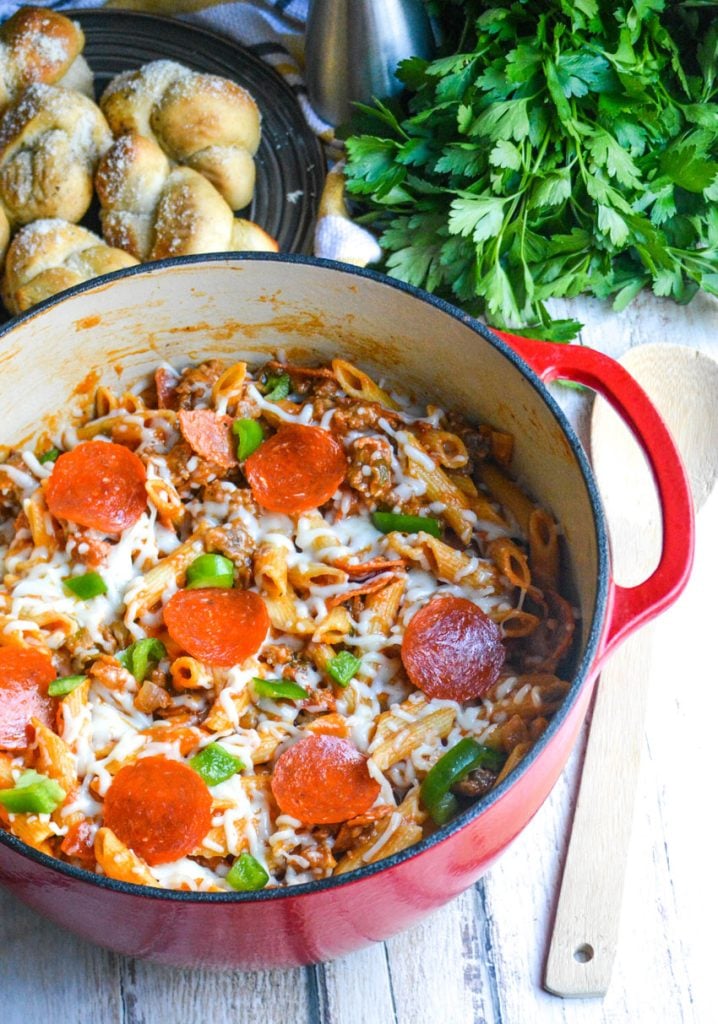 While it's frustrating to no end, I do understand the urge.
Shoot, even as an adult I have the urge to do things as simply as possible.
Their motivator for doing the bare minimum to get by? Usually, the great outdoors is calling their name, or their video games.
Mine? Supply and demand.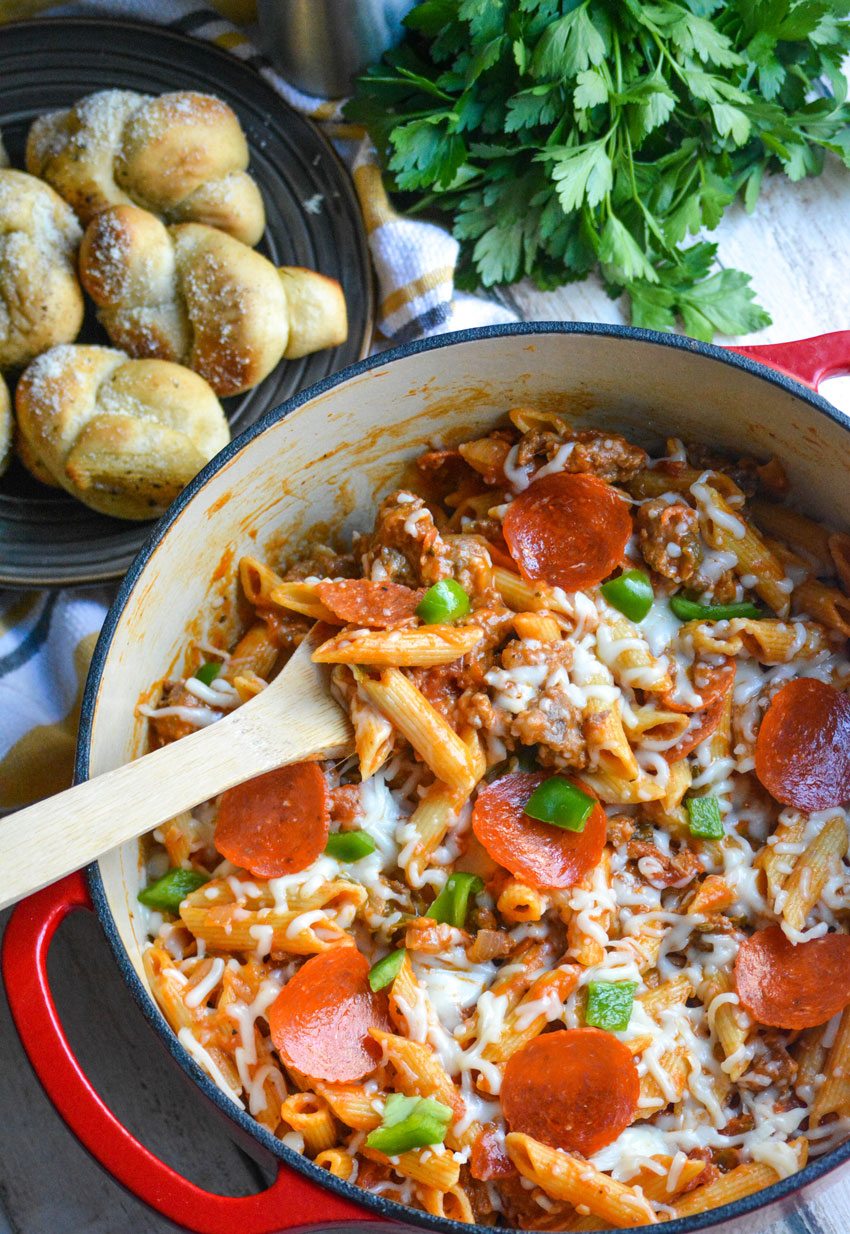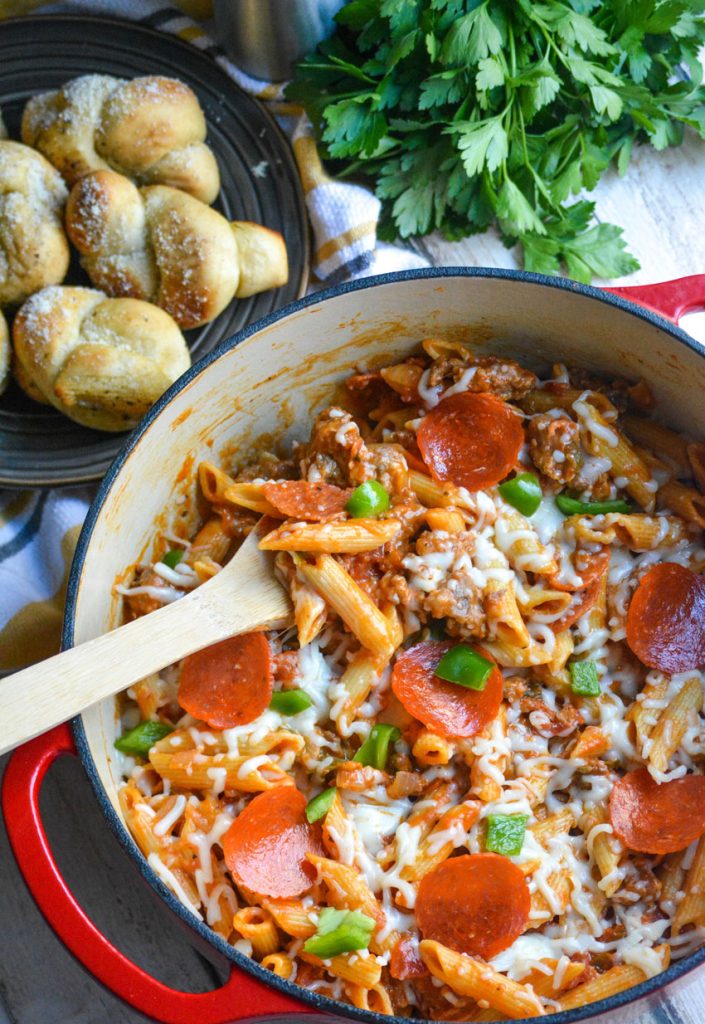 Some days there are just too many things needing my attention, and there's only one of me with a limited number of hours in the day.
Enter the wonderful world of one pot meals. I simply cannot express the love I have for them.
The pleasure I get from knowing I literally just threw a bunch of stuff into a pot and it turned into a delicious meal everyone loves is addicting.
I just can't keep it all to myself. I've got to share the love, or in this case, the recipe.
Be careful though, the one pot meal craze is contagious!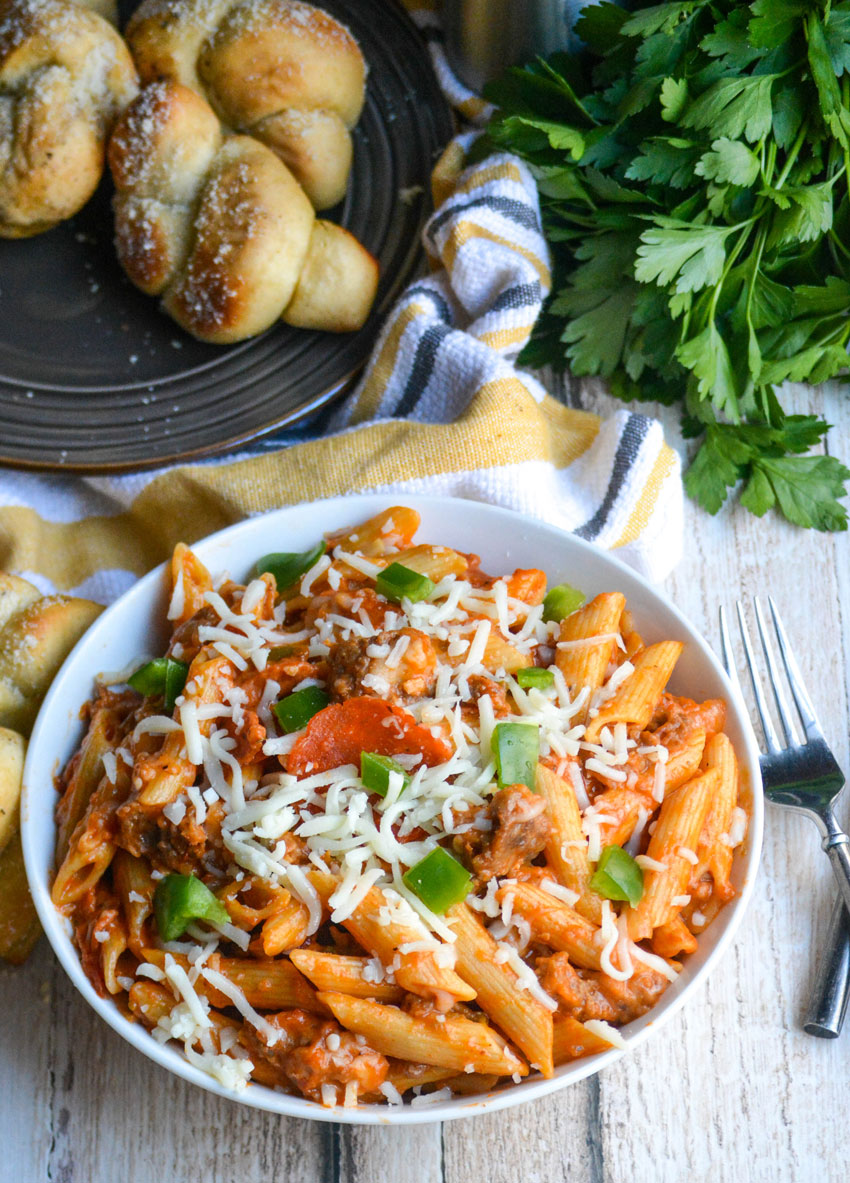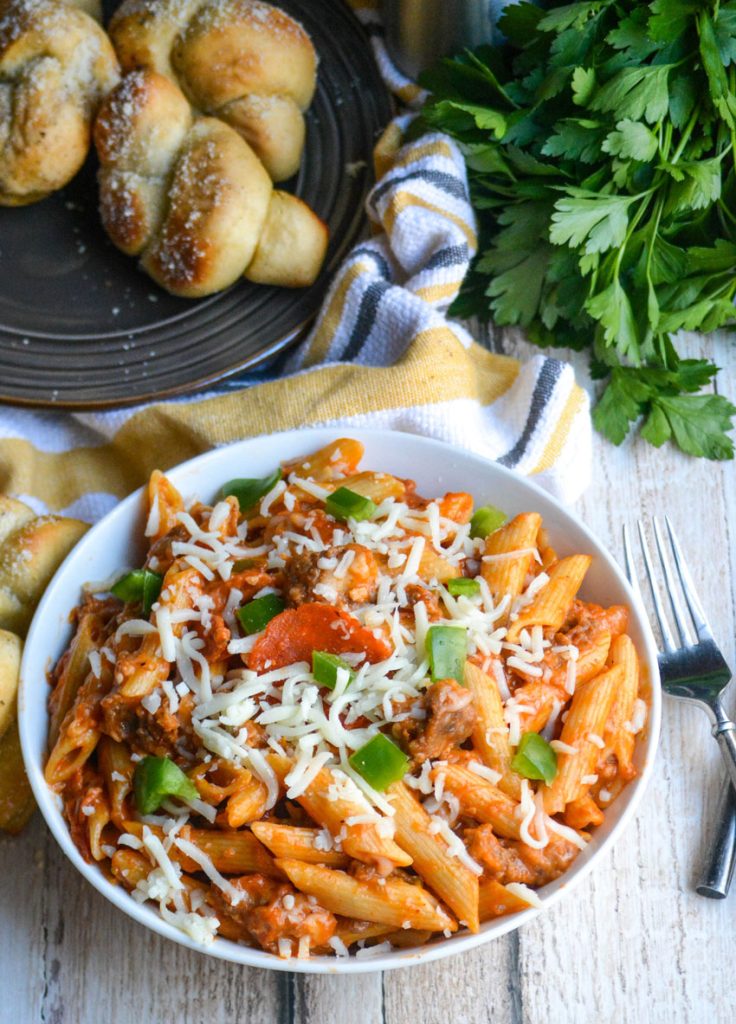 Making An Easy Pizza Pasta- A Basic Recipe How To
First you'll need a sturdy pot. Of course you can use a large soup pot, but I find my Dutch oven to be best. It's cast iron so the heat distributes evenly, and the enamel keeps everything from sticking.
Heat the olive oil, and when hot add the pepper and onions to the pot. Stir them to coat, and let the saute until tender. This will take about five minutes.
Then stir in the minced garlic, and let the mixture cook one more minute. No more and no less. The reasoning being you want the garlic to become less bitter, but it can also burn quickly. It's a fine line.
Add the sausage & pepperoni to the pot, and cook breaking up the sausage as it cooks until the sausage is cooked through. The sausage is cooked through when there's no more pink to see about it.
Now's the time to add the rest of the main ingredients to the mix- so stir in the pasta, broth, pizza sauce, tomato sauce, water, and seasonings.
Give the whole thing a very good stir to make sure it's all evenly mixed. Then turn the heat up on the stove and bring the mixture to a rolling boil.
Reduce the heat, until a slow simmer is reached. Give it a good stir, cover the pot, and let it cook for roughly 15 minutes.
Stir it at least once during the cooking period so the pasta doesn't stick to the pot. This is especially important if you aren't using a non-stick, or enameled pot.
Once the pasta's tender, remove the whole pot from heat.
If you're using a Dutch oven- it's important to remember it will retain heat and continue cooking even after removing from the heat. In this case, once al dente- remove.
Stir all the mozzarella cheese into the soup pot until mixed. Cover, and let the mixture sit for five minutes to thicken and absorb excess liquid.
Spoon the one pot pizza pasta into bowls or onto plates. Garnish with diced green peppers, extra mozzarella or shredded Parmesan, and serve!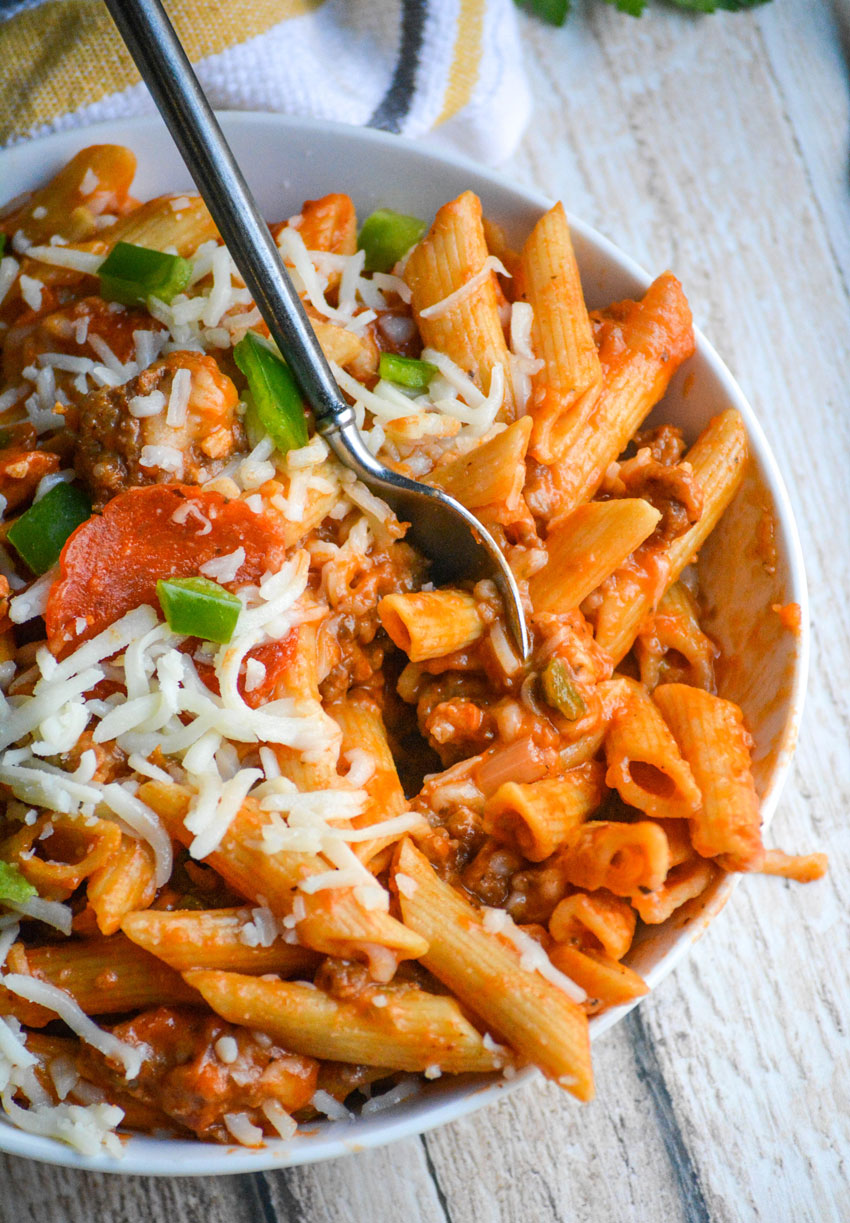 Other One Pot Meal Ideas To Try
If you've tried this ONE POT PIZZA PASTA, or any other recipe on my site, let me know in the comment section how it turned out, we love hearing from our readers! You can also follow along with me on PINTEREST, FACEBOOK, and INSTAGRAM to see more amazing recipes and whatever else we've got going on!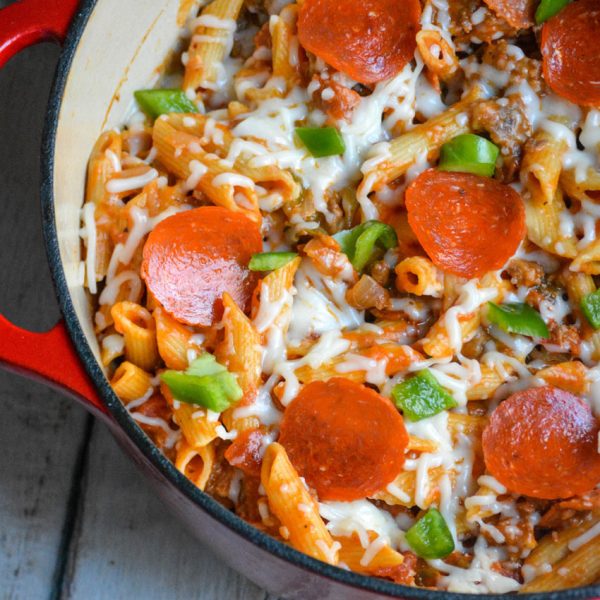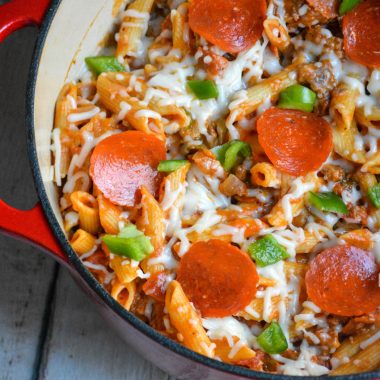 One Pot Pizza Pasta
This one pot pizza pasta features all the traditional flavors. It's an easy to throw together dinner in a single pot, making for a budget friendly meal the kids will love that doesn't make a mess.
Print
Pin
Rate
Ingredients
1 5

oz

package pepperoni

1

pound

Italian sausage

1

cup

diced onion

1

cup

diced green peppers

1

Tbsp

Minced Garlic

1

Tbsp

Italian Seasoning

1

10 oz

jar pizza sauce + 1 jar water

1

2 oz

can tomato paste

2

cups

beef broth

3

cups

small

dry pasta (penne, wheels, macaroni, etc.)

2

cups

shredded mozzarella cheese
Instructions
In a 5 quart pot, heat 2 Tbsp olive oil. Add onions and peppers and saute until soft, about five minutes. Add garlic and saute one minute.

Add Italian sausage and pepperoni and cook until sausage is no longer pink.

Add pasta, beef broth, tomato paste, pizza sauce, water and seasonings. Stir and bring to a boil.

Cover and simmer for 15 minutes or until pasta is tender, stirring at least once, .

Remove from heat and stir in mozzarella cheese, reserving 1/4 cup for sprinkling on the top. Replace the cover and let sit for five minutes. Garnish with diced green peppers and shredded Parmesan, if desired.
Nutrition
Calories:
496
kcal
|
Carbohydrates:
23
g
|
Protein:
24
g
|
Fat:
34
g
|
Saturated Fat:
13
g
|
Cholesterol:
88
mg
|
Sodium:
1344
mg
|
Potassium:
471
mg
|
Fiber:
2
g
|
Sugar:
3
g
|
Vitamin A:
384
IU
|
Vitamin C:
11
mg
|
Calcium:
191
mg
|
Iron:
2
mg
recipe originally from Yellow Bliss Road
recipe originally posted February 21, 2014