Looking for a recipe to feed a crowd? One that's equally hearty and frugal to boot? Cheeseburger Stuffed French Bread sandwiches are the perfect thing. To give a fun new twist to an old classic party staple, we've deconstructed and reassembled the bacon cheeseburger. I never thought a cheeseburger could really be improved upon using traditional toppings and ingredients, but one bite of this will blow anyone away.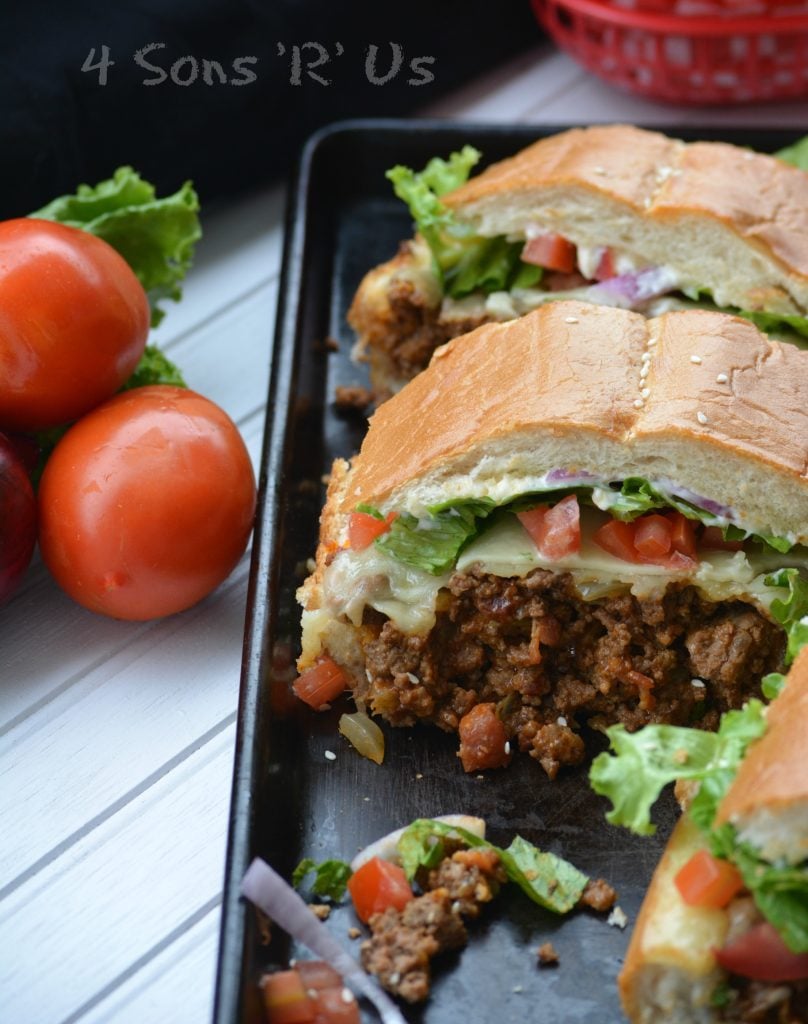 We waited with baited breath, almost bouncing in our seats with anticipation.
Everyone kept their eyes trained on the door waiting for her to make her debut.
Well, except for those times we'd glance at our watches counting down the minutes until the ceremony would start.
At 7:30 on the dot the doors in the back of the room were opened wide and after a minute or two, there she was.
She looked beautiful, radiant even.
Head held high, shoulders back, she was the perfect picture of poise when she walked down the aisle and across the stage to accept her diploma.
I had tears in my eyes while I watched my baby sister graduate from college.
She'd done it.
She'd graduated from university with a degree from the school of business, mangna cum laude, with honors.
As the youngest son said, "She's finally a grown up now."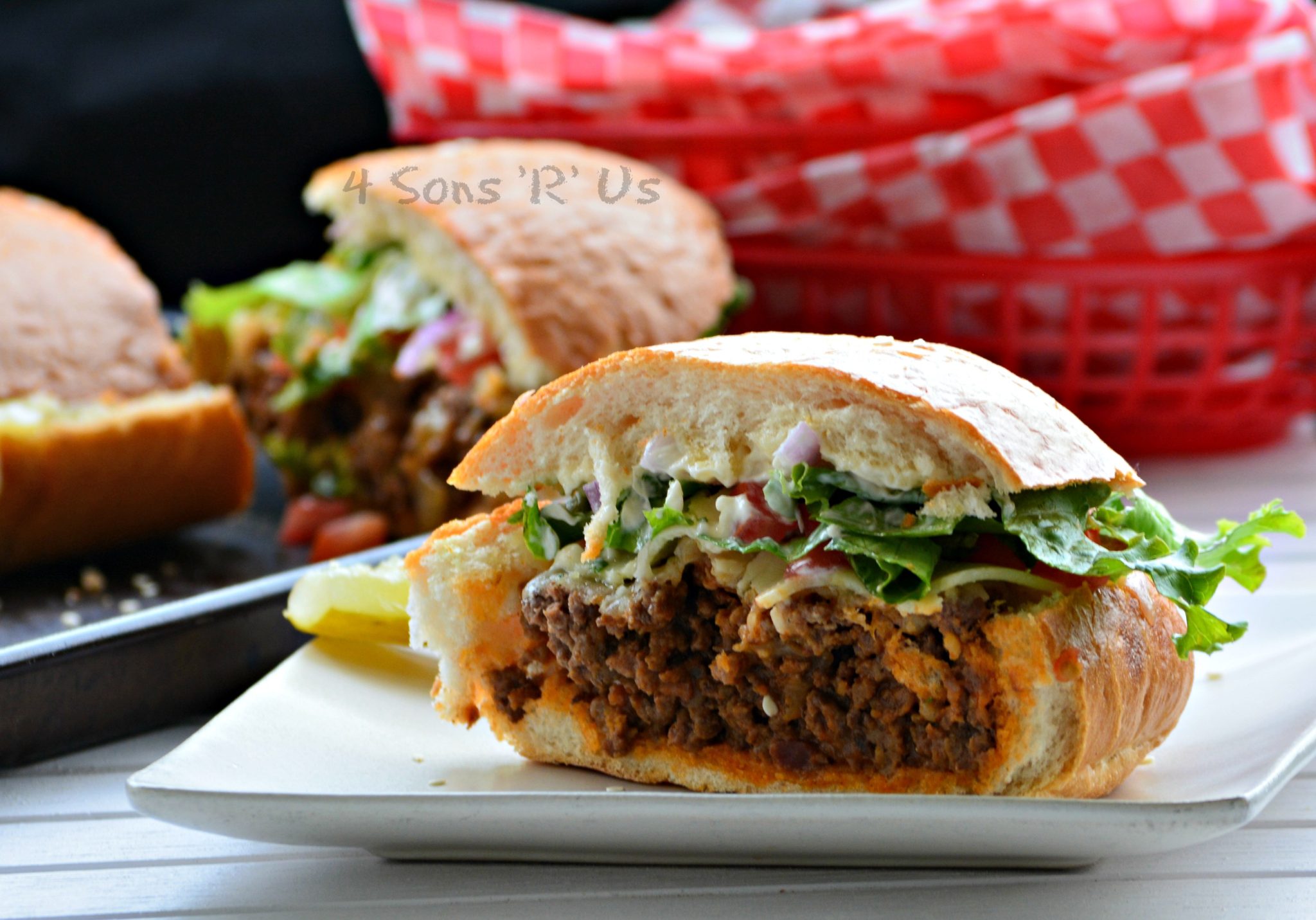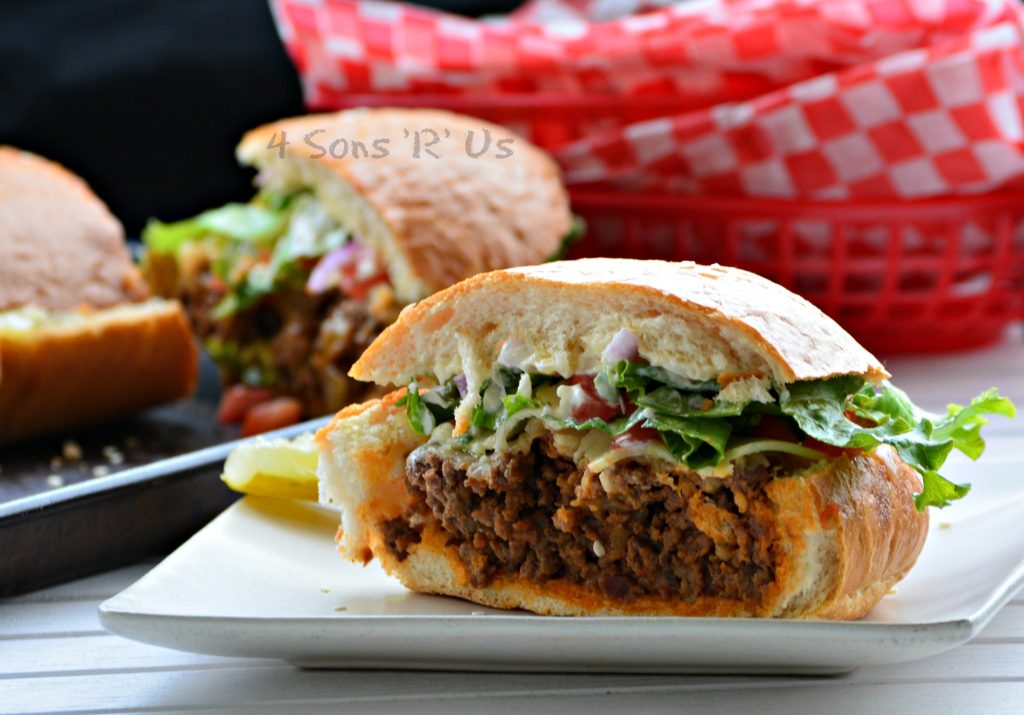 It may not be the 'big' day most women look forward to, but it was one of the big days of her life, and I wouldn't have missed seeing her walk across that stage for the world.
While it may take a few days to sink in before the real world and job hunting sinks in, but for now her possibilities are endless.
And an event like that whole-heartedly deserves a celebration– which meant a party was in order.
Our parties typically center around family and food and this one was no different.
It was a gorgeous day, perfect for recognizing the gorgeous grad.
Paper plates loaded down with backyard style finger foods, the kids kicking soccer balls around, and listening to my sister sharing anecdotes from her favorite classes and professors.
It was perfect.
Other Fun Ways To Use French Bread: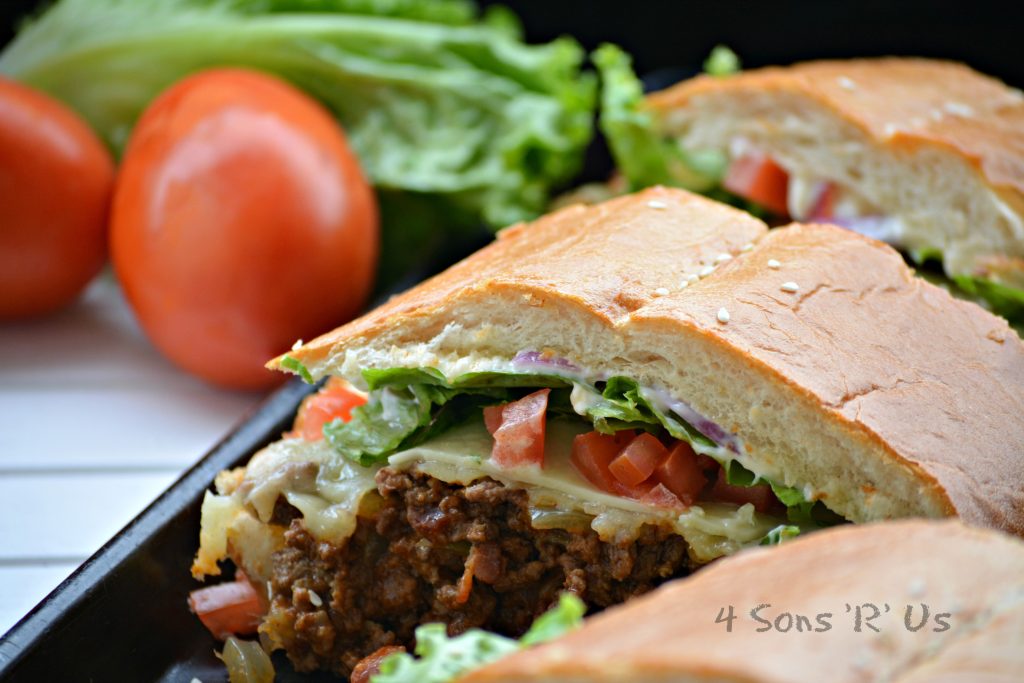 While I realize burgers are a traditional party food, I like to do something a little bit different when preparing to feed a crowd.
These Bacon Cheeseburger Stuffed French Bread Sandwiches are especially nice since there's no assembly required.
Just grab one and head on over to load up your plate with your favorite sides.
The toppings are easily customizable and these sandwiches are heartier than a typical boring burger.
A savory bacon hamburger mixture is stuffed into a hollowed out french bread boat. It's piled high with our favorite classic burger toppings, like thin strips of onion, juicy diced tomatoes, melted cheese, and crisp fresh lettuce.
This is a sandwich that's meant to make a statement, making it the perfect sandwich to party with.
It's a special sandwich for a special someone on their special day, whatever the event might be.
Other Cheeseburger Recipes You Might Also Enjoy:
If you've tried these BACON CHEESEBURGER STUFFED FRENCH BREAD SANDWICHES, or any other recipe on the site, let me know in the comment section how it turned out, we love hearing from our readers! You can also follow along with me on PINTEREST, FACEBOOK, and INSTAGRAM to see more amazing recipes and whatever else we've got going on!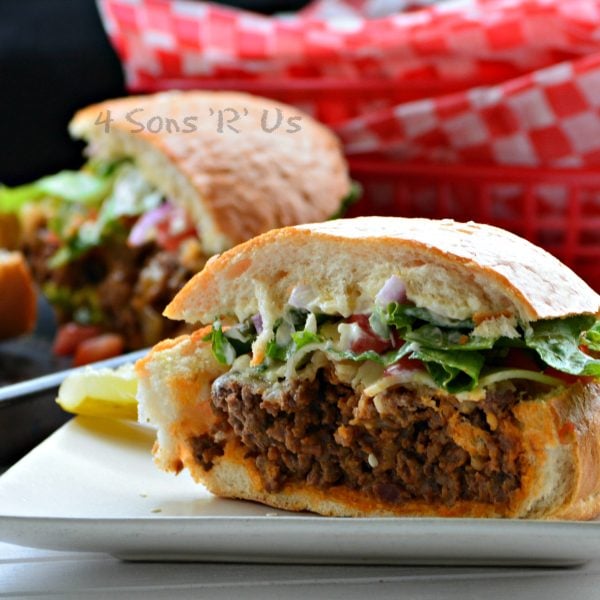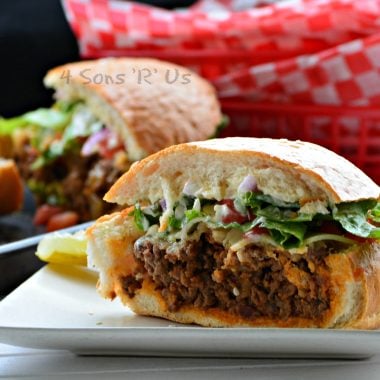 Bacon Cheeseburger Stuffed French Bread Sandwiches
A savory bacon and hamburger meat mixture is served in a crispy french bread boat and topped with melted cheese, thinly sliced onion strips, juicy diced tomatoes, and crisp fresh lettuce.
Print
Pin
Rate
Ingredients
1

lb

lean ground beef

1/4

cup

diced white onion

3

strips crisp-cooked bacon

excess grease removed, and crumbled

1 10 3/4

oz

can of condensed tomato soup

1

tbsp

barbecue sauce

1/2

tsp

Worcestershire sauce

1/2

tsp

garlic powder

pinch

of seasoning salt

pinch

of black pepper

1/8

tsp

onion powder

1/4

tsp

spicy brown mustard

1

full size loaf of French bread

a plain Italian loaf can be substituted

2

tbsp

butter

softened

5-6

slices

of thickly sliced cheese

pictured we used white American, but cheddar, Pepper jack, and even provolone would all work well
Additional Toppings
shredded lettuce

diced tomatoes

crisp slices of bacon

thinly sliced red onion strips

mayonnaise
Instructions
In a large skillet, saute the ground beef and onion together until the ground beef's cooked through and the onion is soft. Strain the meat and onions to remove grease, then return to the skillet. Stir in the crumbled bacon and continue to cook the meat mixture for an additional minute or two.

Stir in the soup, sauces, and spices until evenly incorporated. Let the mixture simmer for 8-10 minutes, stirring occasionally.

While the mixture simmers, slice the top third off of bread, and pull out pieces of bread in the middle of the bottom of the loaf forming a trench to hollow out bottom half of loaf, being careful not to thin it out too much so it doesn't 'leak' when filled. Set aside the discarded bread-- it can be stored to use as stuffing, or in meatloaves and meatballs.

Spread the butter out over the bottom of the 'top' piece of the loaf.

Transfer the hollowed out bottom piece to a flat baking sheet and put it in the oven under the broiler just until it's lightly browned.

Remove the toasted loaf from the oven and fill it with the warm meat mixture. Spread the cheese slices out evenly overtop. It's ok if they overlap some!

Place buttered top next to it, face up, on the baking sheet. Transfer the loaf back into the oven. Bake at 350 degrees, checking occasionally so the top toasts but doesn't burn, for 10-15 minutes-- until the cheese is melted and the meat mixture's heated through.

Top the melted cheese with toppings of choice. We listed our favorites in the ingredients, but this meal is made for mixing it up, so get creative!

Spread a thin layer of mayo onto the bottom of the toasted top slice. Put the top on the loaf, and use a serrated knife to slice the prepared loaf into sandwiches, about 3-4" wide each, or smaller 'strips' for appetizer/party-sized slices.
Nutrition
Calories:
482
kcal
|
Carbohydrates:
48
g
|
Protein:
32
g
|
Fat:
18
g
|
Saturated Fat:
9
g
|
Cholesterol:
82
mg
|
Sodium:
866
mg
|
Potassium:
714
mg
|
Fiber:
2
g
|
Sugar:
8
g
|
Vitamin A:
515
IU
|
Vitamin C:
7.7
mg
|
Calcium:
217
mg
|
Iron:
4.8
mg