In need of the perfect appetizer for parties and potlucks this Fall? Our Pumpkin Shaped Tex Mex Cheese Ball is as easy on the eyes as it is the palate. Serve it at any Holiday gathering for a fun new spin on the classic savory, spreadable snack.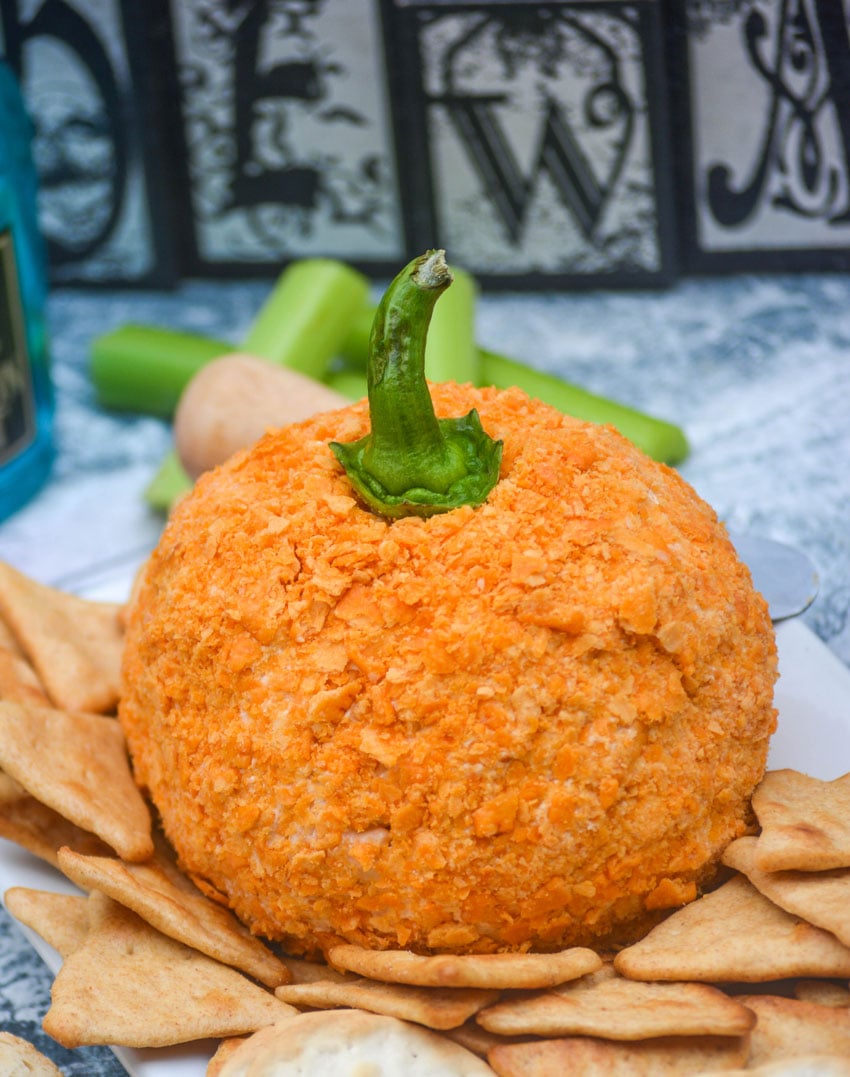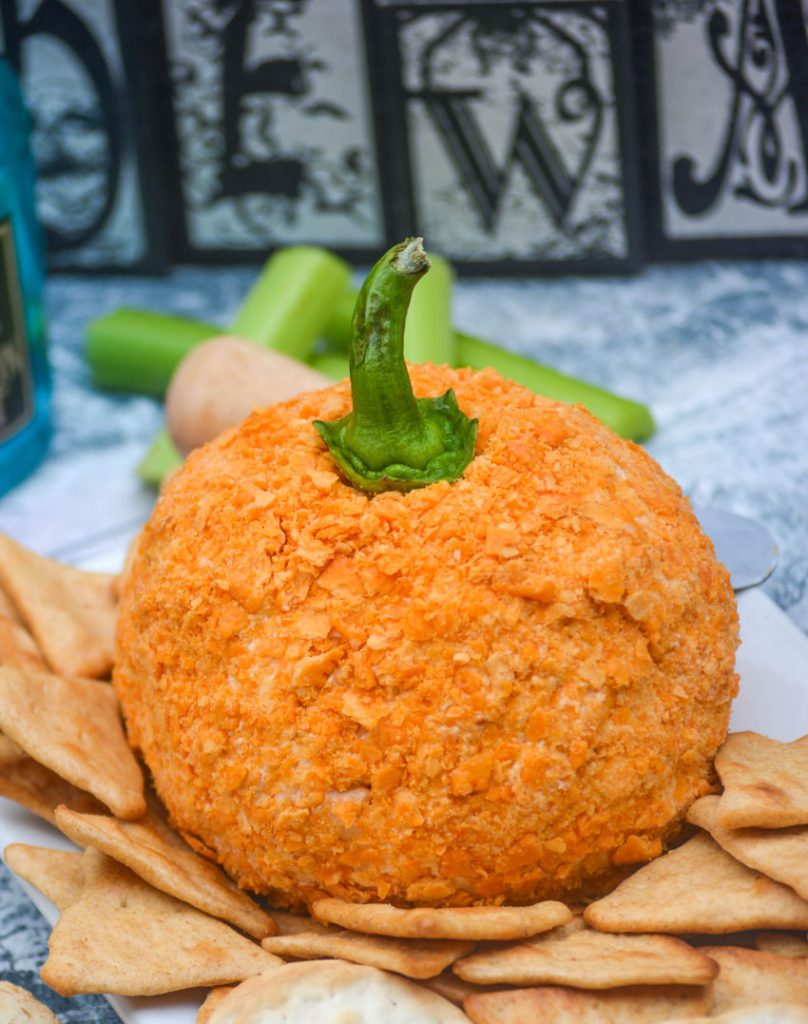 Pumpkins are a staple of the Fall season. Whether it's Halloween or Thanksgiving, they're at virtually every gathering. We've been known to still enjoy a good pumpkin dessert all the way up until Christmas too.
We've often shared our love of all things cozy, comfy, and pumpkin-laden. From delicious desserts like our pumpkin spice earthquake cake or our vanilla pumpkin pudding cake bread, and even a delicious drink like our Instant Pot pumpkin spice latte.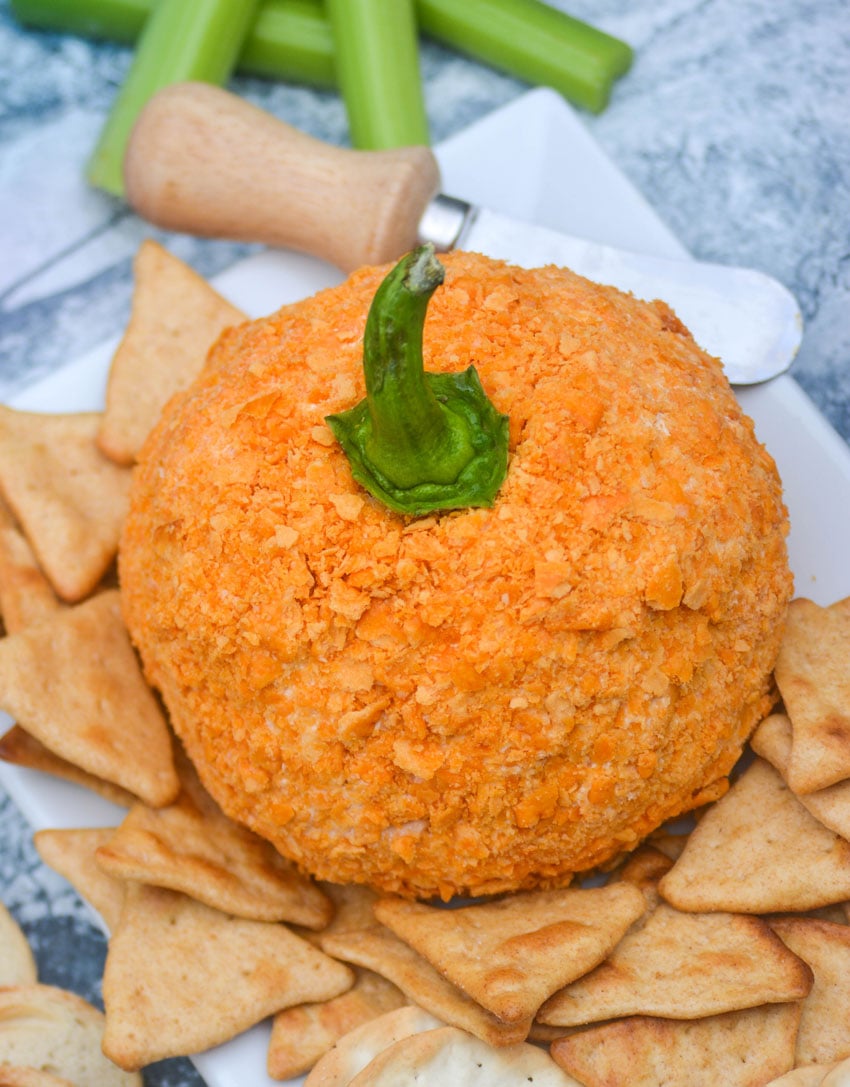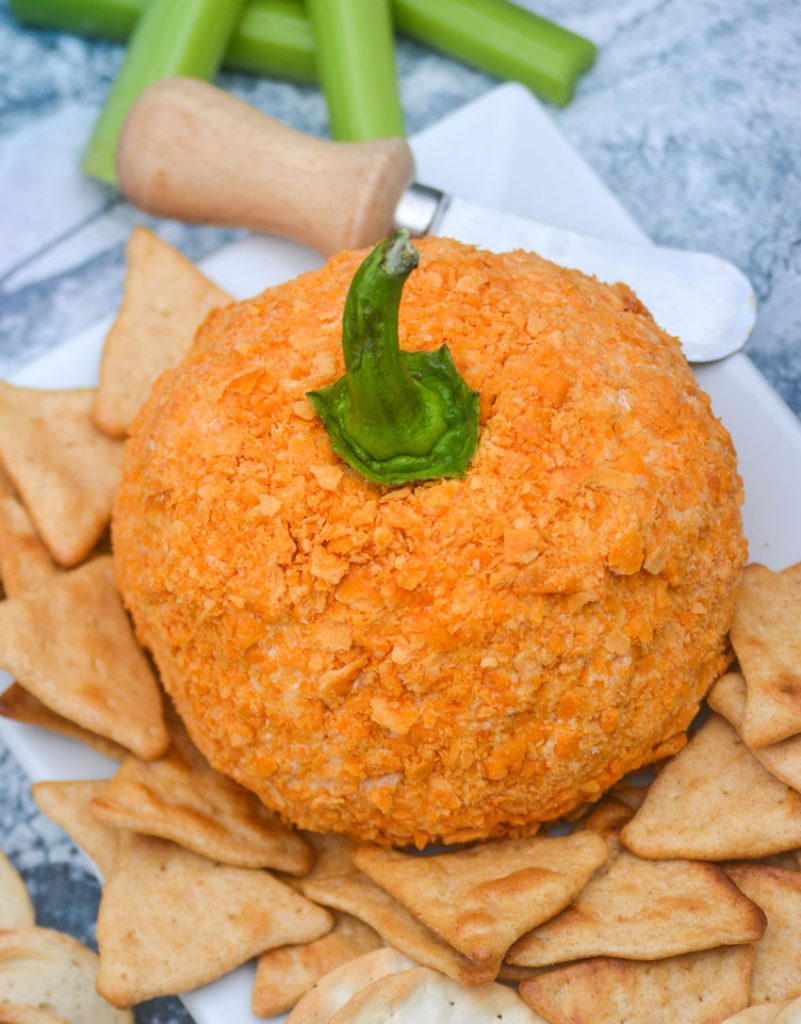 Sometimes though, I feel like just because pumpkin flavor tends to take center stage I miss out on other things that could be just as fun.
If you haven't been following along with us, I've made it my mission to make a cheese ball for pretty much every themed occasion. Christmas, check- we've done a Christmas Tree & a Snow man.
Valentine's Day, yep we've got a red velvet heart shaped dessert cheese ball. Easter- we've got a cute little bunny butt version.
And for Fall, we even have an M&M Apple Caramel Cheese Ball. Cheese balls for all of life's occasion's y'all! This year wasn't gonna be any different, but I wanted something different. Not necessarily just featuring Fall flavors, but one that looked the part.
It still had to serve as a tasty appetizer guests would love though too. What flavors would work with that idea? Naturally, the result was a pumpkin-shaped Tex Mex flavored cheese ball.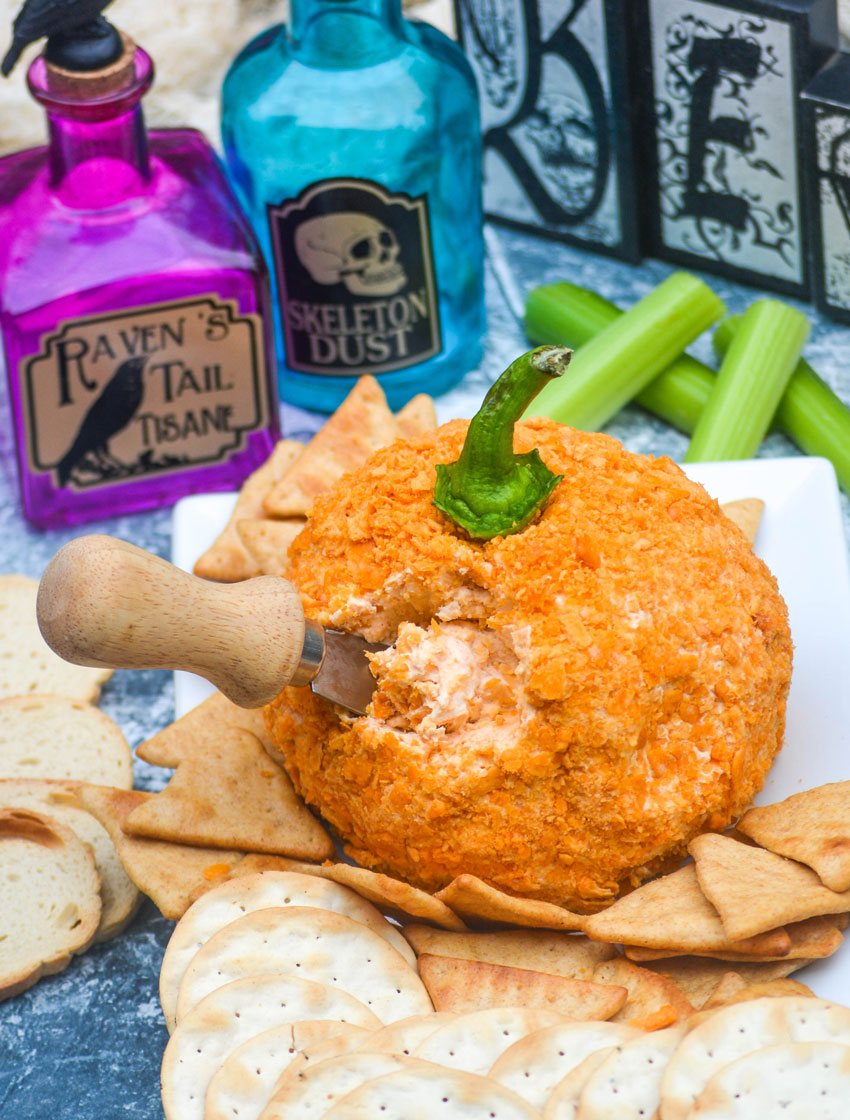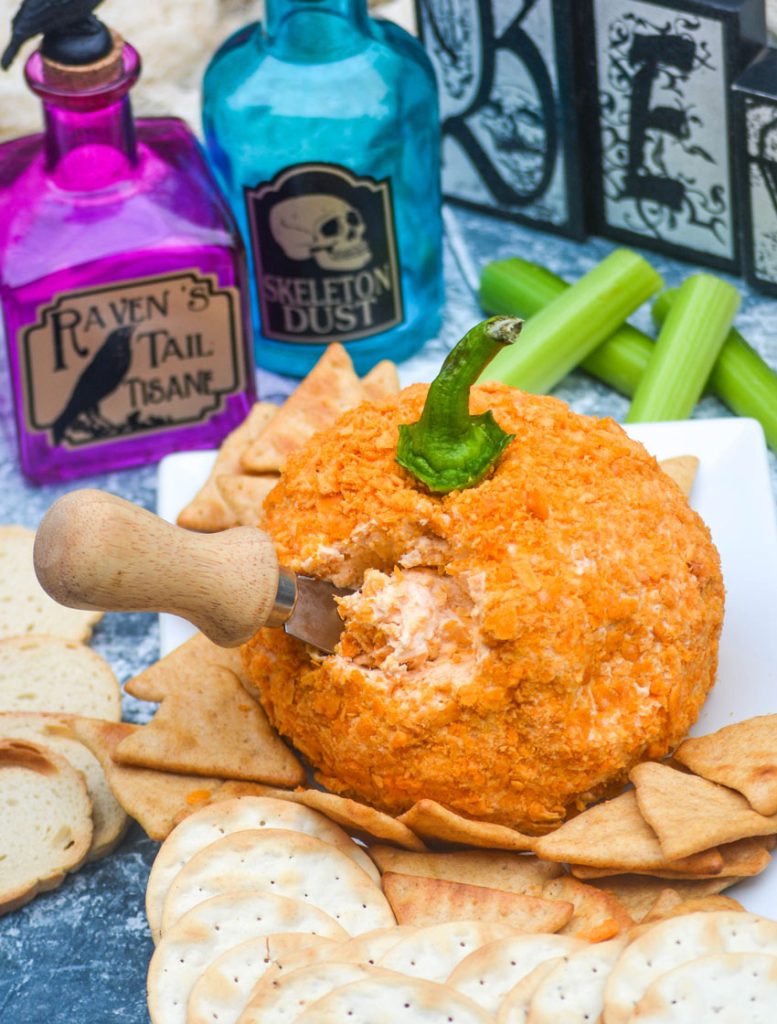 What Exactly Is A Traditional Cheese Ball?
While this recipe isn't exactly your traditional cheese ball, despite it's fun appearance- it actually doesn't stray that far off base flavor-wise.
A traditional cheese ball is a cream cheese based mixture with another shredded cheese, flavorings & seasoning mixed in. Once combined, the mixture's shaped loosely into a small/medium sized ball, rolled in nuts, and refrigerated until firm.
It's one of the oldest party staples. It's always a hit, and it's so much fun to adapt to different themes. It's also easy to adapt to different flavor profiles. With a cream cheese base, the possibilities are virtually endless.
Pick a shredded cheese you love, add it in and find some seasonings or a flavor combination that goes with both. Bam. Done.
The same goes for the outer crust, nuts are no longer a must.
How To Make A Tex Mex Flavored Cheese Ball:
Once you've settled on your flavor profile, it's easy to dive on in. Tex Mex anything is always a hit at parties, although that seven layer dip might be a bit played out at this point. A Tex Mex flavored cheese ball is the perfect reinvention.
Even better? It only needs a handful of ingredients:
cream cheese
shredded cheddar cheese
enchilada sauce
taco seasoning
Got all those things on hand? Great, we're in business! Let's do this thing. Let's make an easy Tex Mex cheeseball!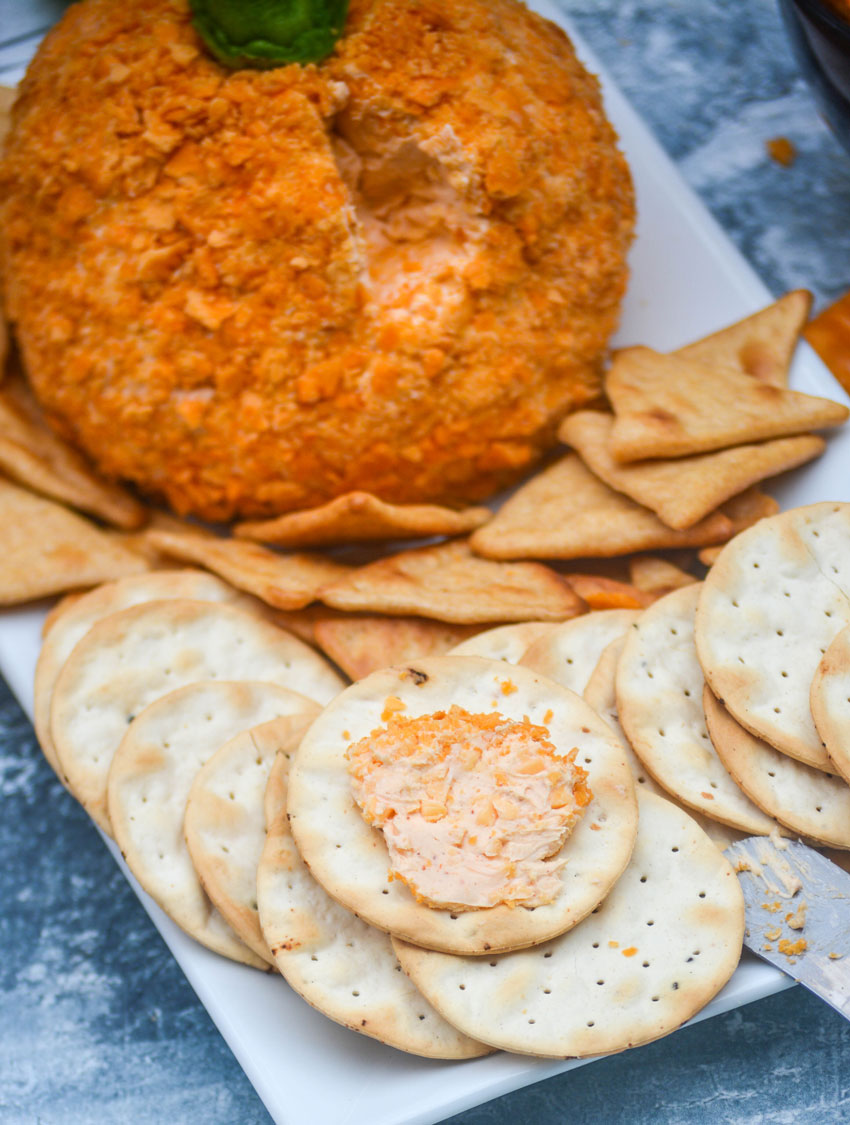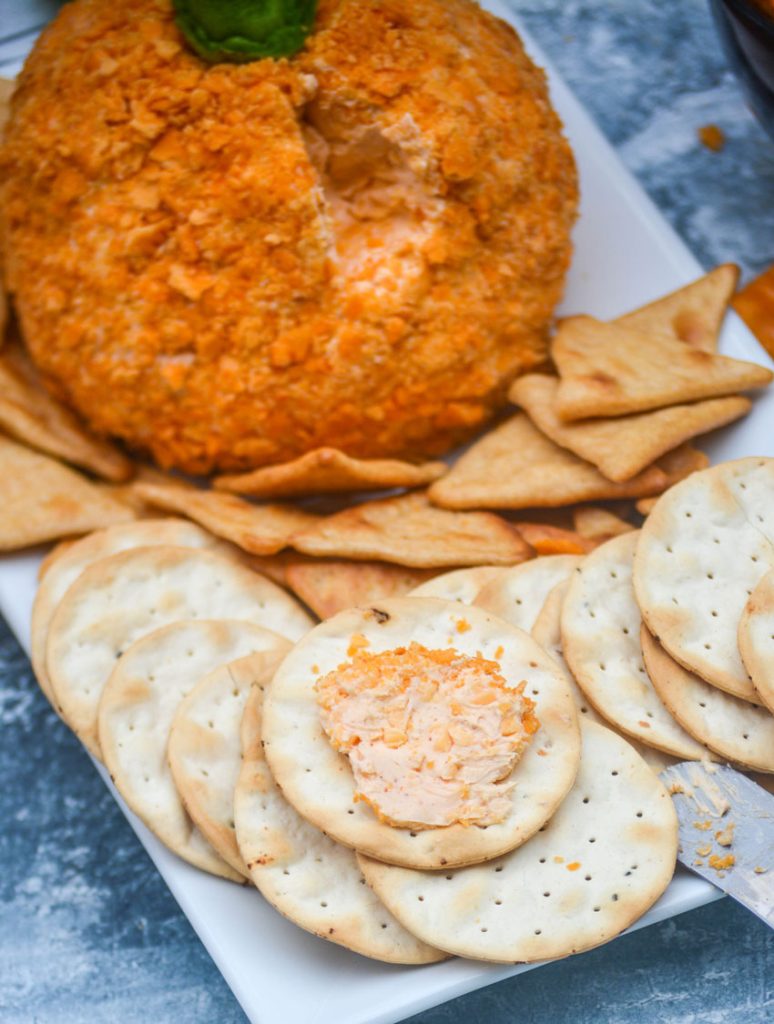 To actually make the cheese ball, you start with the cream cheese & the shredded cheese. Hopefully your cream cheese is already softened to room temperature. Softened cream cheese is essential for the basis of an evenly mixed cheese ball.
How To Soften A Block Of Cream Cheese At The Last Minute:
However, if you're anything like me it's entirely likely that you forgot to set it out ahead of time. Oh no! How can you soften cream cheese at the last second? It's simple with a little hack I learned.
You can actually use your microwave to quickly soften a block of cream cheese. Unwrap the block completely (foil and microwaves do not get along), and place the cream cheese on a microwave safe plate.
Microwave an 8 ounce block of cream cheese for 15 seconds, adding an extra 10 seconds for every additional 8 ounces. So for this recipe, I'd microwave for 25 seconds, check, and microwave an additional 10 seconds if it still really needs it for both bars to be properly softened.
Once softened combined the cream cheese and the shredded cheddar in a mixing bowl. Stir them together until smooth and the cheddar is evenly mixed throughout.
Now it's time to season the cheese ball. For this recipe, and to give it a Tex Mex feel, we're using a couple tablespoons of red enchilada sauce and taco seasoning.
We're only using three tablespoons of the sauce because we need the mixture to be flavorful, but also to still firm up enough to be a cheeseball and retain it's shape at room temp.
If you want to spice it up a bit, you could add a half teaspoon of cumin to the mix.
Forming A Pumpkin Shaped Cheese Ball, Step By Step:
Once all of the ingredients are mixed together and it's smooth with everything evenly incorporated- it's time to actually form your cheese ball.
Start by spreading a sheet of plastic wrap out flat over a clean counter top. Using a big spoon or spatula, scoop as much of the cheeseball mixture up as possible and drop it down dead center on the plastic wrap. It will resemble a giant dollop. Scoop any excess cheese mixture on top.
Start with one side of the plastic wrap, and fold that end over top of the cheese ball. Then repeat with the other half. Wrap the sides around to seal the ball.
Using your hands, gently form it into a ball like shape. Well, as much of a ball as you can get. It doesn't have to perfect, and pumpkins are rarely every 100 % round in nature either.
Refrigerate the cheese ball for an hour and a half. Transfer it to the freezer for thirty minutes. You can skip the freezer step, but I highly recommend it as it makes the cheese ball more malleable. It's easier to work with, without risk of melting just from the heat of your hands.
Unwrap the cheese ball and roll it in the crushed crackers. You may have to turn it and roll it a couple times for an even coating. You may also need to press the crushed crackers into the cheese ball in patches, again for an even coating.
That's pretty much it. Gently press the stem of a green pepper into the center of the top of the ball, and your pumpkin shaped tex mex cheese ball is ready to serve.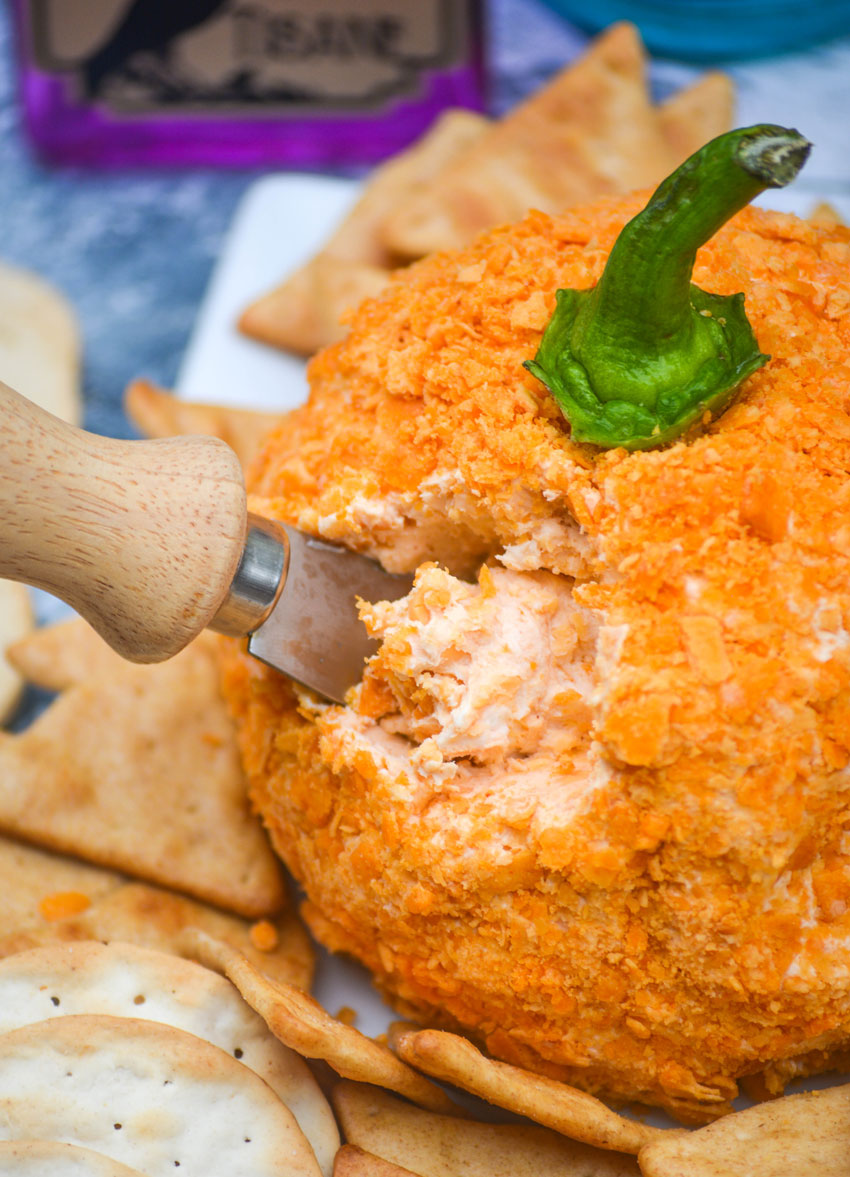 How Do You Serve A Cheese Ball? What To Set Out With it:
While there's many different options, especially depending on the flavor of your cheese ball- at the end of the day your cheesy appetizer's only going to be as good as the options you choose to serve with it.
Crackers are an obvious solution, a real classic, and I do recommend setting some out with it. We used a mix of buttery crackers & wafer style with this recipe. Another option is melba toasts and even pita chip crackers.
Both of those are on the sturdier side which helps them stand up to a thicker, spreadable dip without breaking. It also helps add variety & option, which everyone at a party loves.
In keeping with the Tex Mex theme, tortilla chips go great when served with this. I would recommend a thicker brand, or even homemade ones due to their sturdier nature. Pretzel chips also work really well with this appetizer.
Don't pick just one or two. Serve these cheese ball on a platter and spread out a variety of options for spreading and dipping. It will make a pretty presentation for guests, and be super easy to throw together for you.
TIPS & TRICKS For Making A Pumpkin Themed Tex Mex Cheese Ball:
Don't want to use regular cream cheese? Reduced fat, Greek yogurt, and Neufchatel versions are all easy substitutions in this recipe.
Like the Tex Mex theme, but not feeling the cheddar cheese? Shredded Monterrey Jack, Colby Jack, & even Pepper Jack are all equally tasty options.
All enchilada sauces are not created the same, but you can use either the red or green version in this cheese ball recipe.
Don't like cheez it crackers? Crushed cheddar gold fish, or nacho cheese flavored doritos both work and will still give your pumpkin a perfect orange outer-coating.
Like a little spice in your dishes? You can add in some well drained, diced green chilies for an extra infusion of flavor and a little bit more kick.
Whether you choose to stick to the original recipe, or change things up a bit to your own tastes- this pumpkin shaped tex mex cheese ball will be a great addition to any Fall gathering, including Thanksgiving, where pumpkin is in season.
Other Fun Fall-Themed Appetizers You May Also Want To Serve:
If you've tried this PUMPKIN SHAPED TEX MEX CHEESE BALL, or any other recipe on my site, let me know in the comment section how it turned out, we love hearing from our readers! You can also follow along with me on PINTEREST, FACEBOOK, and INSTAGRAM to see more amazing recipes and whatever else we've got going on!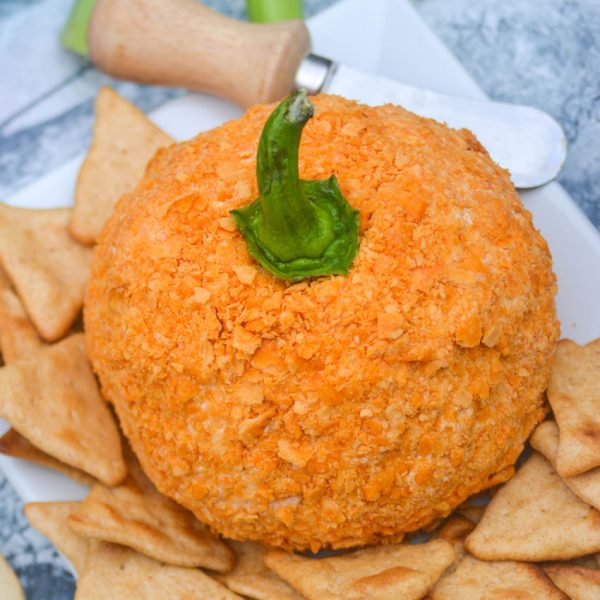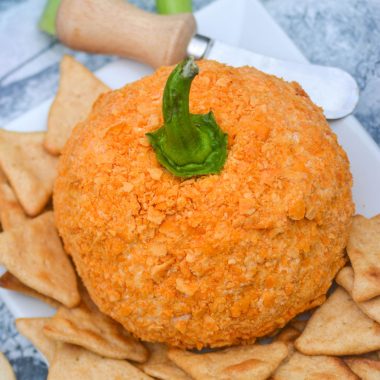 Pumpkin Shaped Tex Mex Cheese Ball
This pumpkin themed cheese ball is a savory appetizer perfect for Fall gatherings. It's cheese-based, but infused with Tex Mex flavors. Perfectly spreadable, it was made for sharing & a fantastic appetizer.
Print
Pin
Rate
Ingredients
16

oz

cream cheese

softened

2

cups

finely shredded cheddar cheese

3

tbsp

red enchilada sauce

1 1/4

tsp

taco seasoning

2

cups

original chees it crackers

finely crushed

the stem of a

green pepper
Instructions
In a mixing bowl, add the softened cream cheese & the shredded cheddar. Mix them together until the mixture's smooth & evenly combined.

Add the enchilada sauce and taco seasoning to the cheese mixture, again stirring until evenly incorporated into the mixture.

Lay a sheet of cling wrap out flat over a clean counter top. Scoop the cheese mixture out and onto the center of the piece of plastic wrap in a giant dollop.

Fold the plastic wrap over the cheese mixture, wrapping it to seal. Using your hands, gently shape the mixture into a ball. It doesn't have to be perfect, pumpkins rarely are.

Transfer the mixture to the refrigerate for an hour and a half. Transfer the chilled cheese ball to the freezer for 30 minutes.

When ready to serve, pour the crushed crackers onto a flat plate. Remove the cheese ball from the freezer, carefully pulling away the plastic wrap.

Roll the cheese ball in the cracker crumbs to completely cover the outsides. Use your hands to gently press in the crumbs in any spots where necessary.

Press the bell pepper stem gently into the top center of the cheese ball.

Transfer the cheese ball to a serving platter. Place crackers, and any other dipping items, including a spreader on the serving tray fanned out around the cheese ball.

Serve immediately, and enjoy!
Nutrition
Calories:
390.68
kcal
|
Carbohydrates:
28.38
g
|
Protein:
10.93
g
|
Fat:
25.75
g
|
Saturated Fat:
12.58
g
|
Cholesterol:
74.5
mg
|
Sodium:
599.77
mg
|
Potassium:
70.62
mg
|
Fiber:
1.38
g
|
Sugar:
1.56
g
|
Vitamin A:
721.01
IU
|
Vitamin C:
0.07
mg
|
Calcium:
225.39
mg
|
Iron:
0.29
mg