Looking for an easy winter themed dessert to take to a holiday party or gathering? This snowman themed dessert cheese ball comes together in a snap. With white chocolate, sweetened cream cheese, and coconut flakes, this snowman cheese ball is as delicious as it is adorable and makes for a perfect centerpiece for your holiday dessert spread.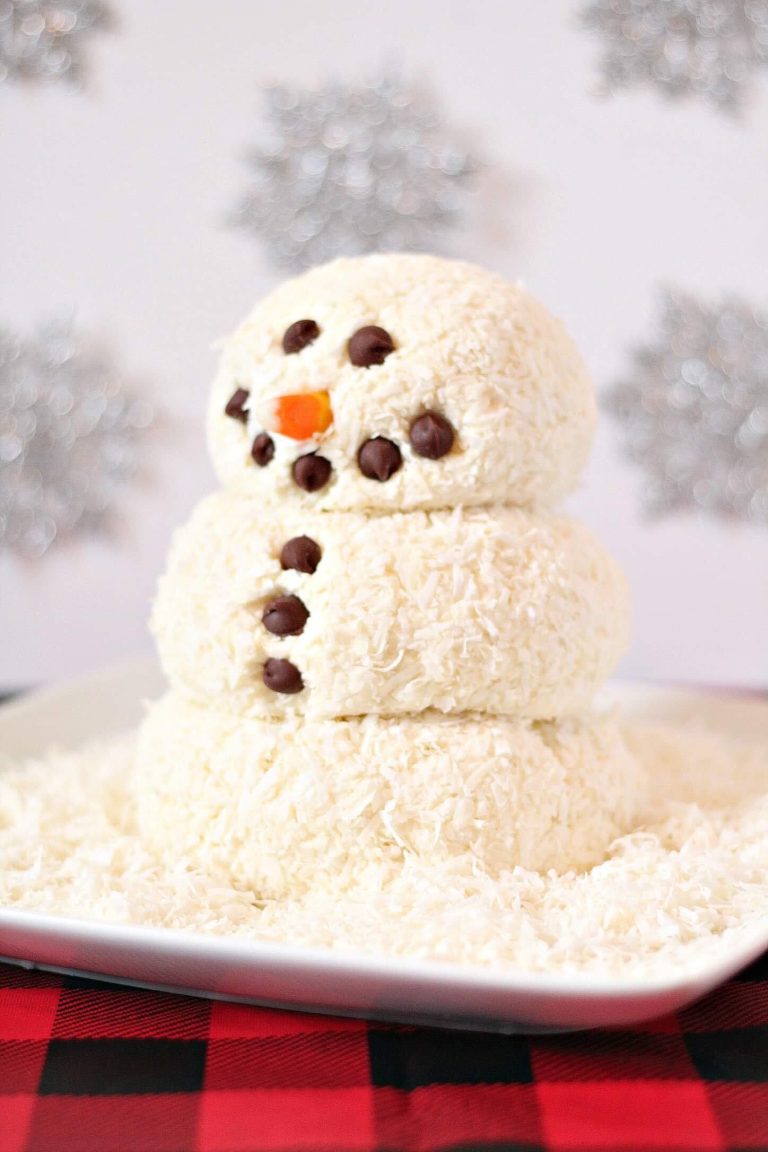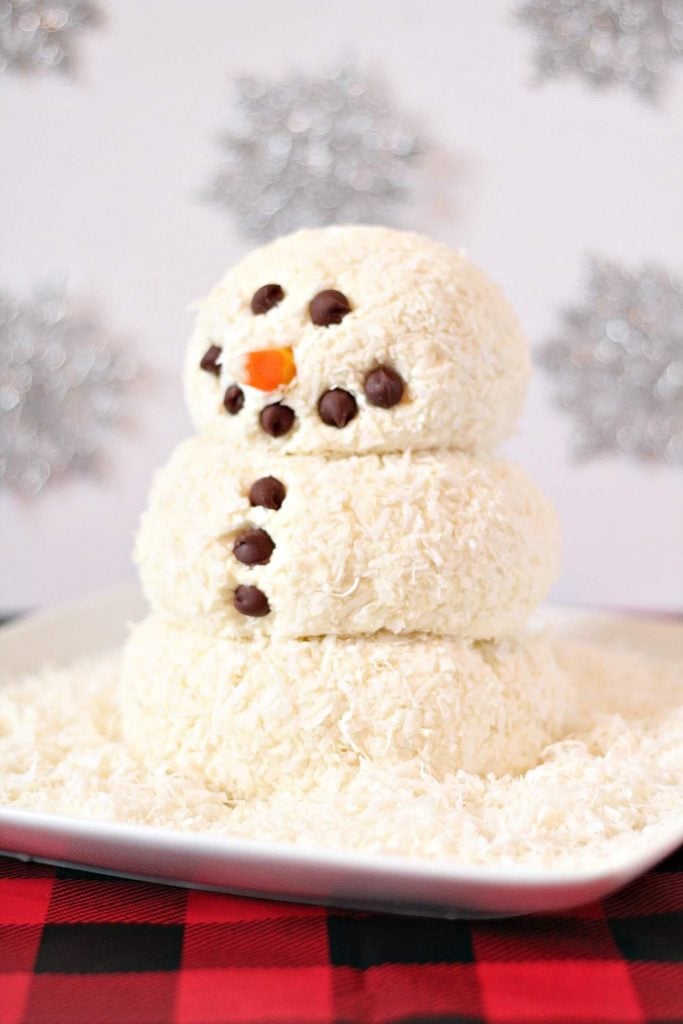 The holidays and snow just go together don't they? Even if you live somewhere warm, I bet you've dreamed of a white Christmas too or watched Frosty the Snowman on tv either as a kid or with your kids.
Or something along those lines.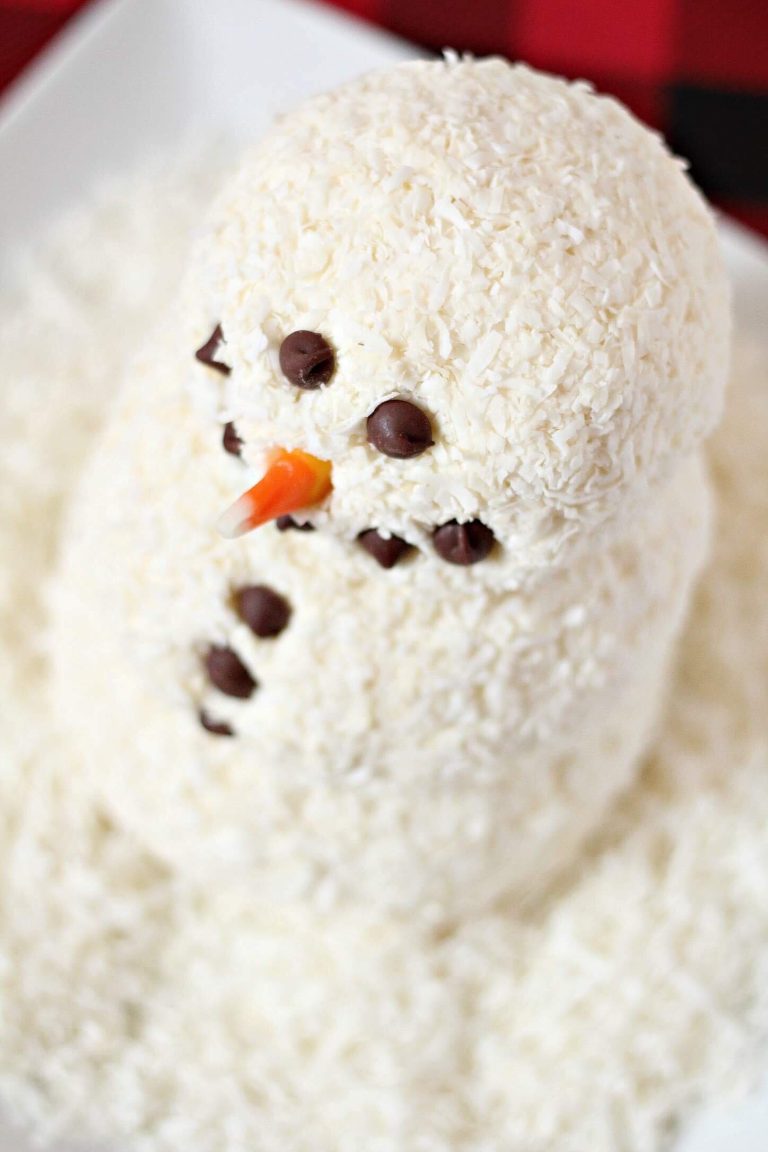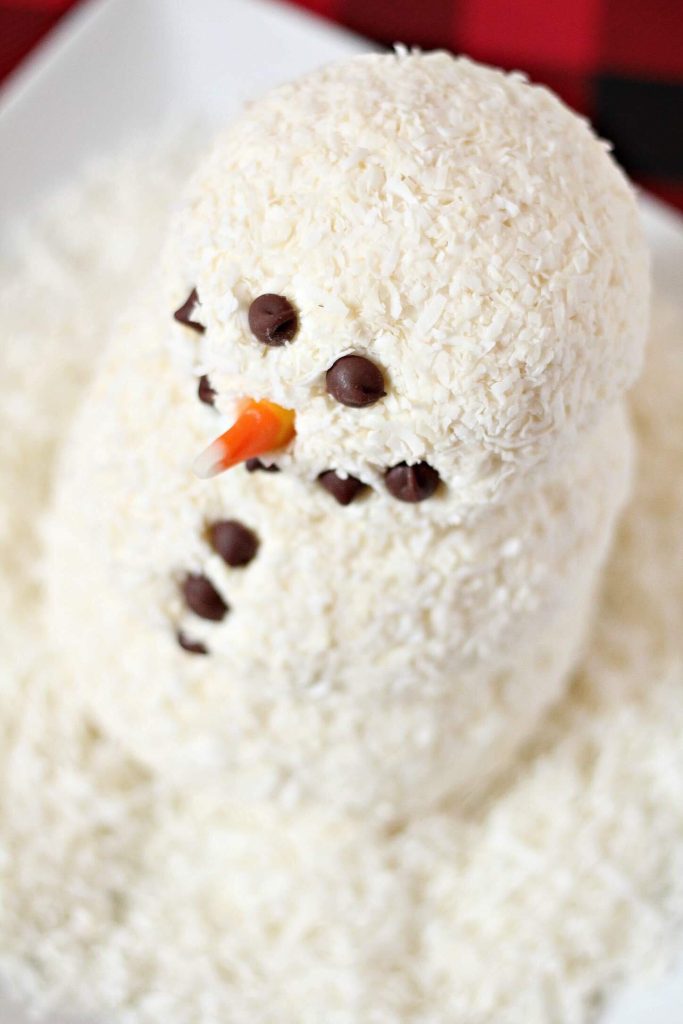 With this snowman themed dessert cheese ball, you can cash in on the holiday snow idea and bring some of the white stuff to table. Can you hear Bing Crosby and Jimmy Durante singing away in approval?
Because if you can't have a white Christmas where you build a snowman outside, the next best thing is obviously building a snowman out of cheese for dessert.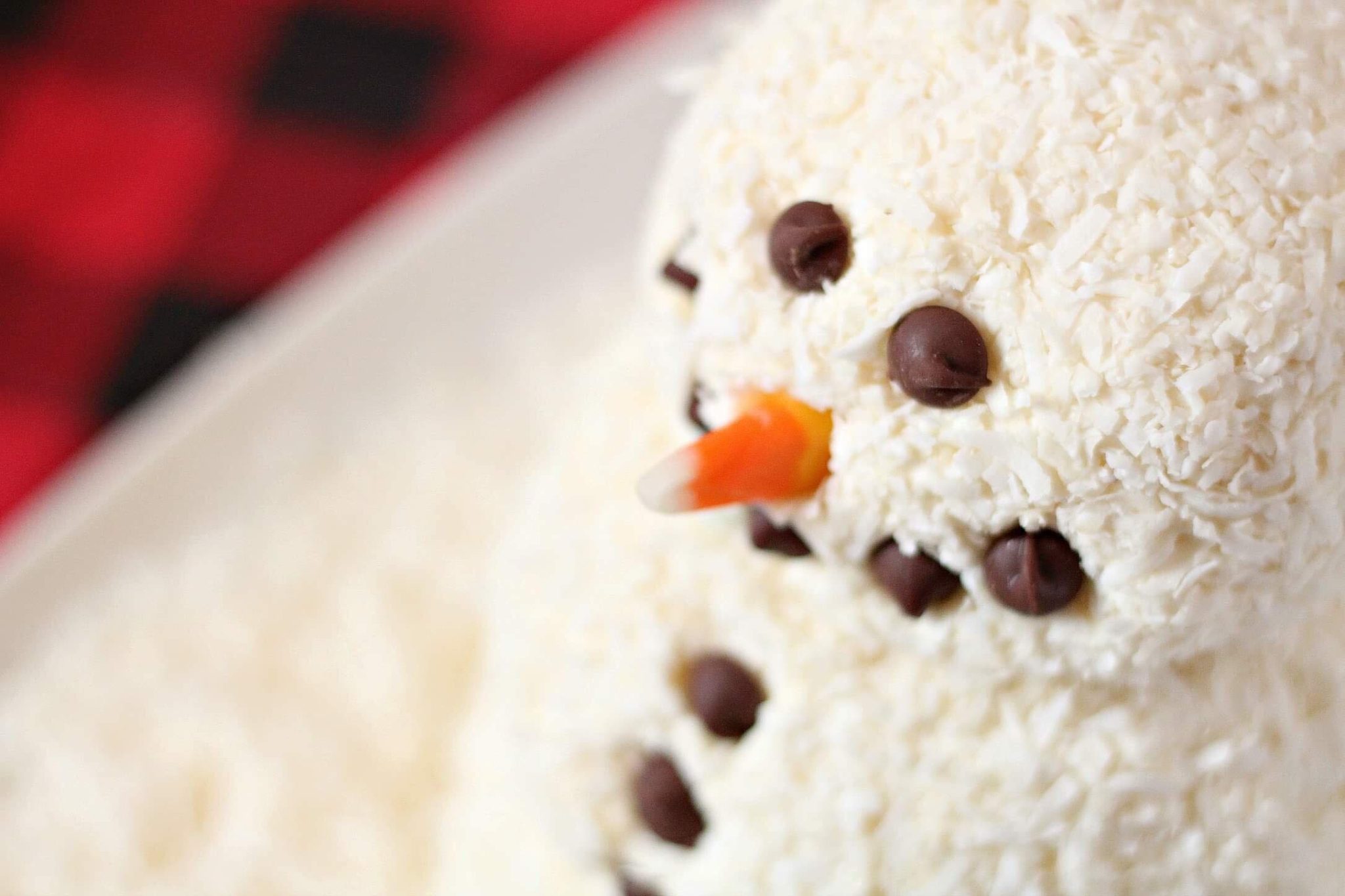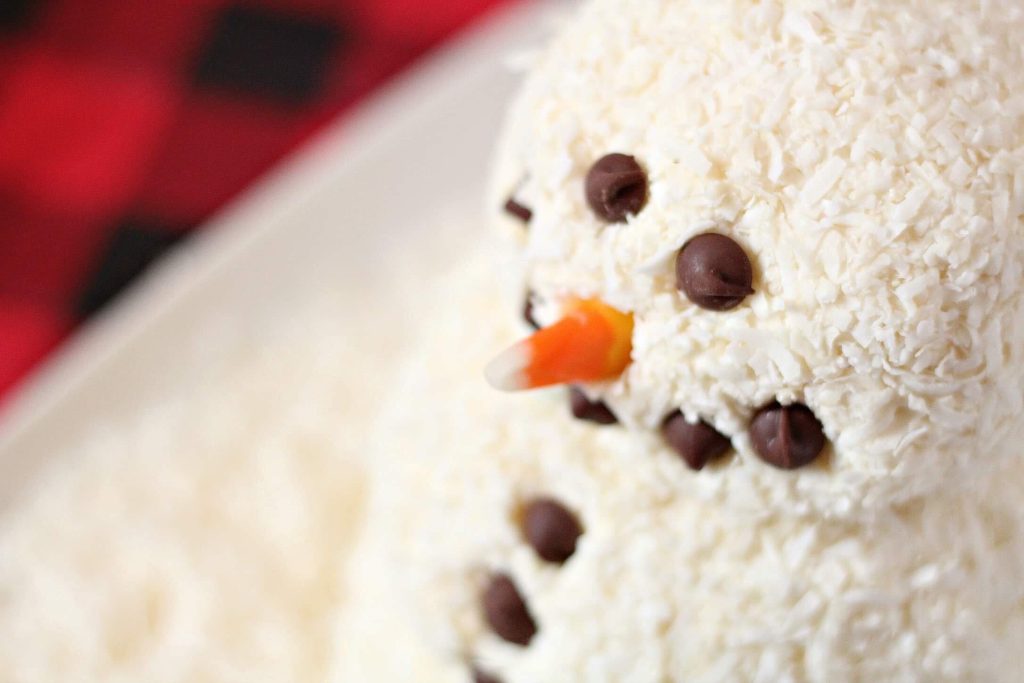 And not only is this holiday cheese ball, a snowman made out of cheese, but look at how adorable he is with his chocolate chip and candy corn face and chocolate chip buttons. This frozen fella would be a hit at any parties with kids and my boys, especially my youngest two definitely approved.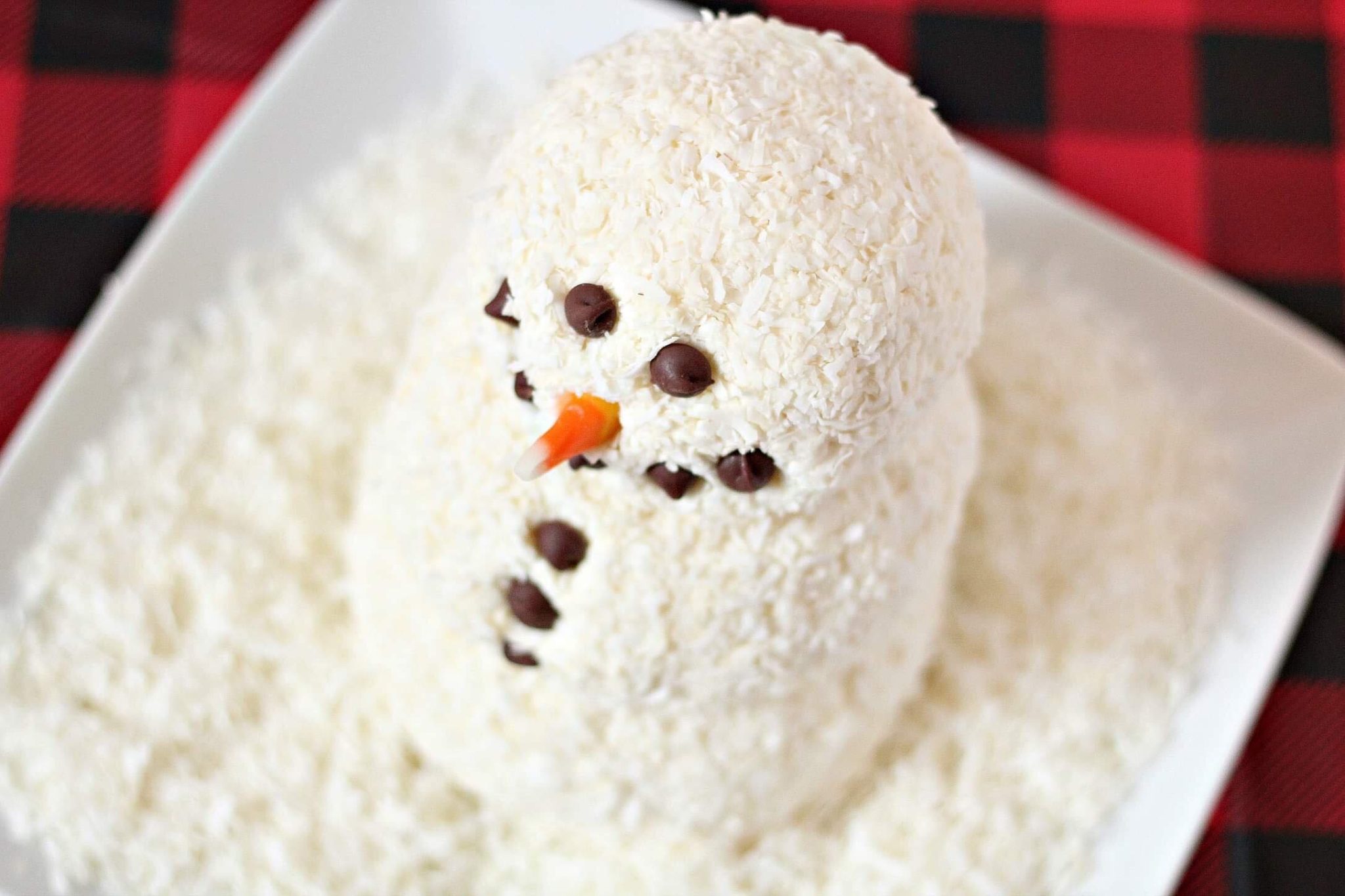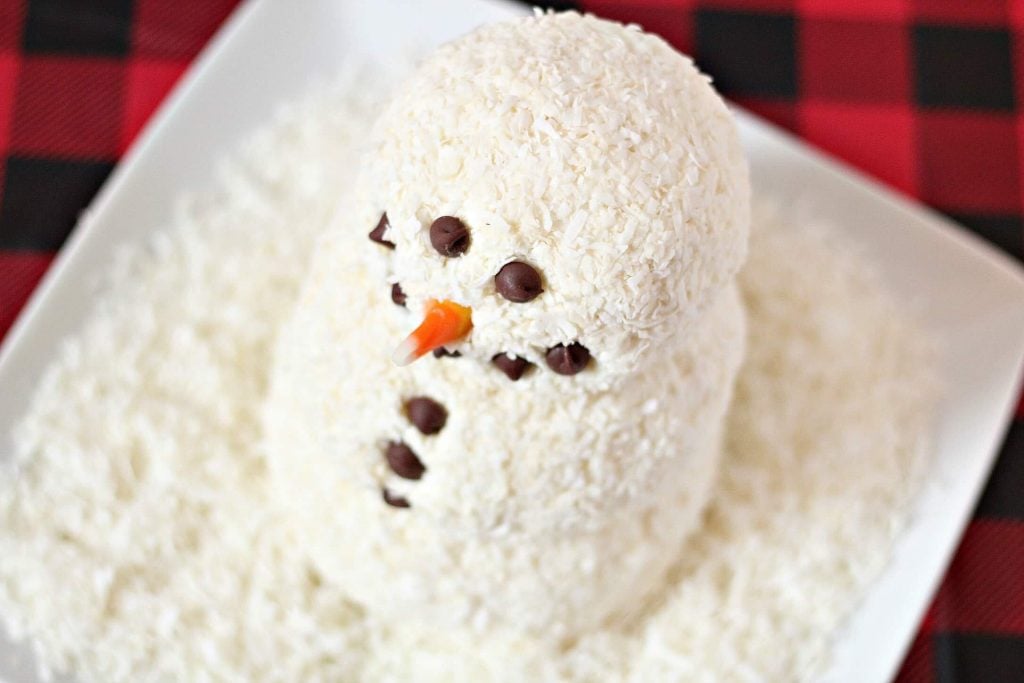 Don't let the cuteness intimidate you though. This snowman cheese ball is so easy to make. Much easier than bundling the kids up to make a snowman outside.
To make this snowman themed dessert cheese ball, put the cream cheese, butter, sugars, and white chocolate chips in a big mixing bowl. Stir until the ingredients are all well combined. To make it easier to mix the butter and cream cheese, let them sit out on the counter to come to soften up a bit prior to mixing. Then when all the ingredients are well combined, cover the bowl and pop it in the fridge.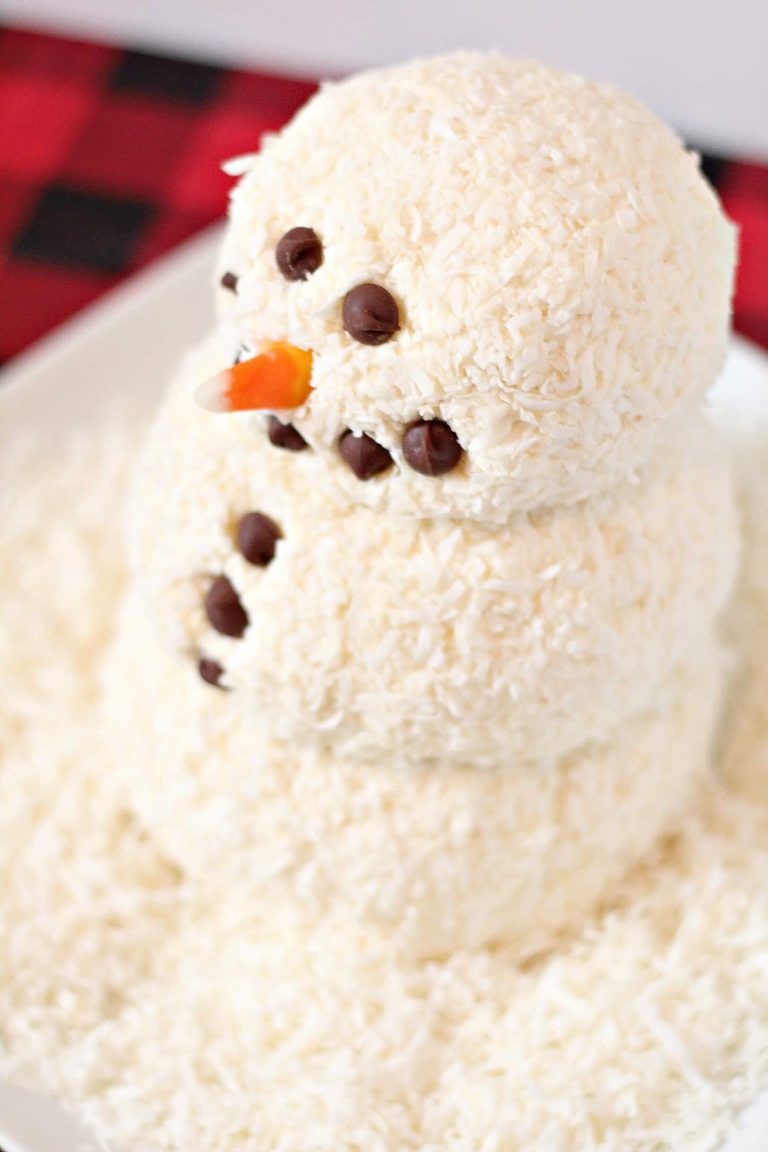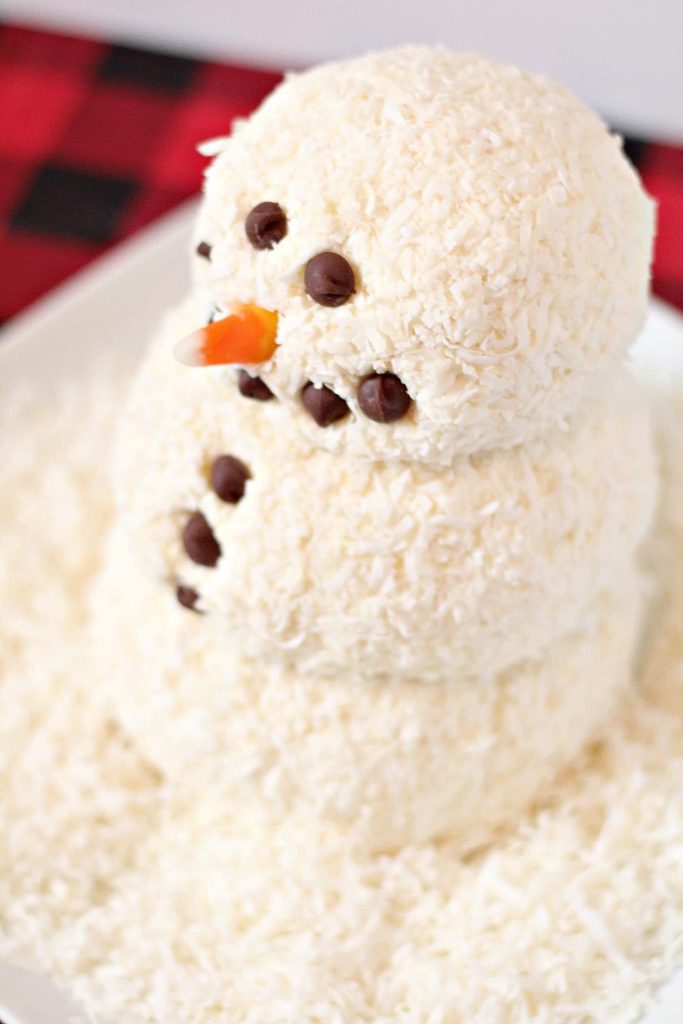 After the ingredients chill for an hour or so, divide the mixture into three unequal portions. You want a small portion, medium portion, and large portion. Roll each portion into a ball shape and then roll those balls into shredded coconut.
After you have the three coconut covered cheese balls, you can build your snowman. Put the large ball on a plate for the bottom of the snowman. Then place the medium one in the middle and the small one on top for the head. Then give your snowman a face and buttons using chocolate chips and a piece of candy corn for the nose. Finish the snowman off by pouring the rest of the coconut out around the snowman.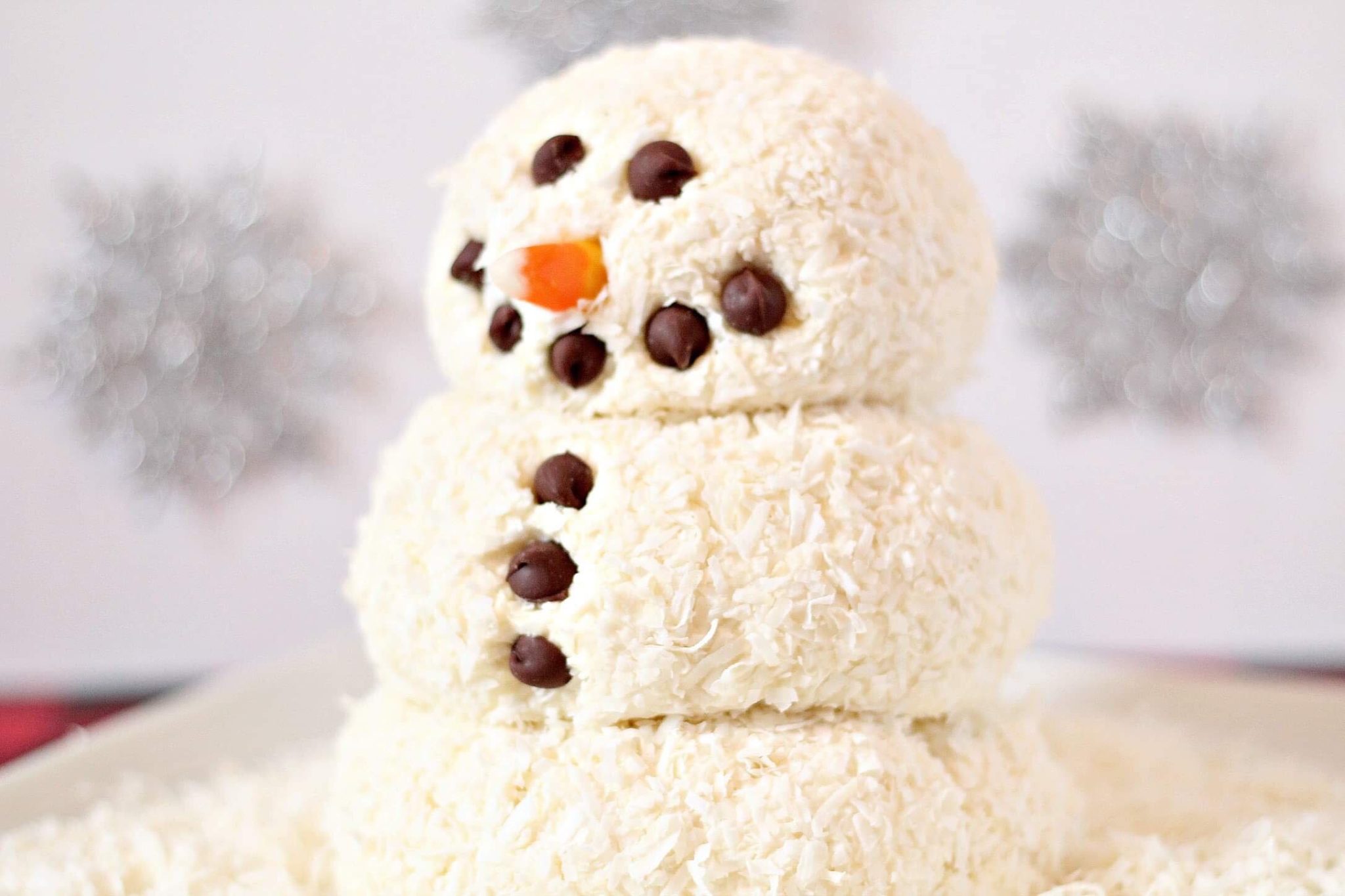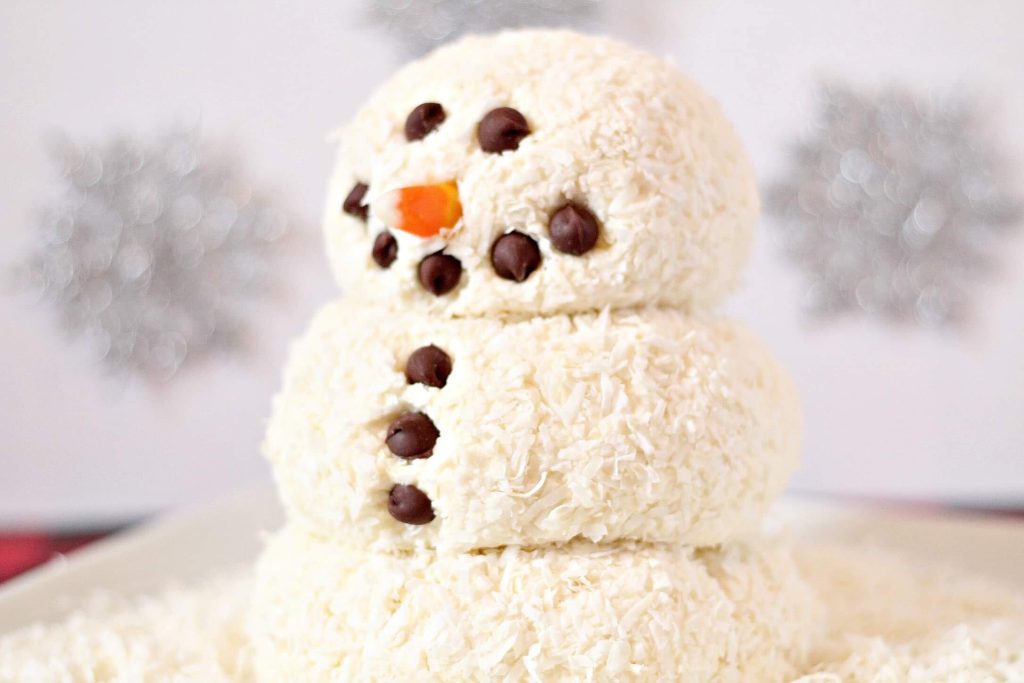 Then serve with graham crackers, fresh fruit, or your favorite cookie or wafer for dipping. Another great dipper? Pieces of sugar or waffle cones. And watch everyone enjoy this festive dessert while Bing croons away softly in the background.
Other Recipes You Might Also Enjoy:
M&M Caramel Apple Cheeseball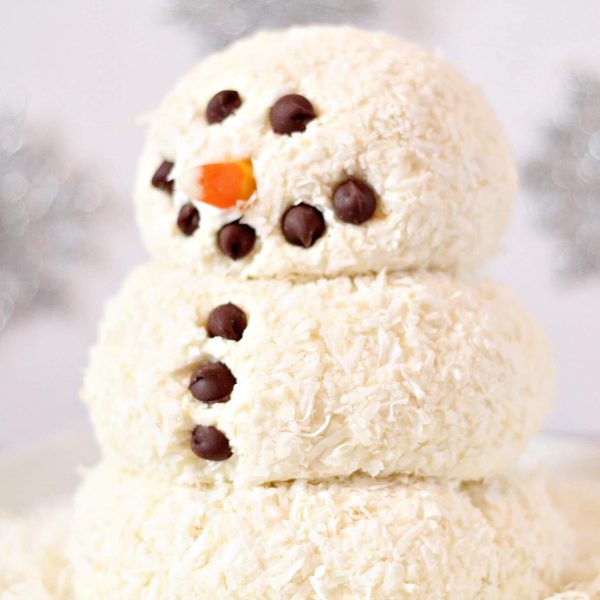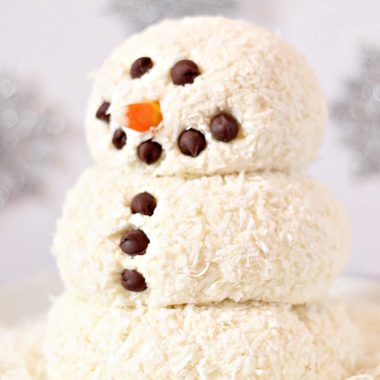 Ingredients
3 - 4

8 oz. packages of Cream Cheese (depending on how large you want your snowman

2

sticks of Butter

1/4

cup

of Powdered Sugar

1/4

cup

of Brown Sugar

1

cup

of White Chocolate Chips

2

bags of Coconut

10

Chocolate Chips

1

Candy Corn

Vanilla Waffers

for serving

Graham Crackers

for serving
Instructions
Place cream cheese, butter, powdered sugar, brown sugar and white chocolate chips in a large mixing bowl.

Blend all ingredients well.

Place in fridge for one hour, to become firm.

Take mixture and roll into 3 separate balls ( one small, medium, and large ).

Dump one bag of coconut out and roll each ball in coconut.

Stack them on on top of the other.

Make eyes, nose, and mouth, with your candy corn and chocolate chips.

Dump remaining bag of coconut on your plate around your snowman.

Serve and ENJOY!