Everyone loves a slice of pumpkin pie topped with whipped cream as a tasty treat to end the holiday meal. We say why not begin it the same way?! This savory appetizer looks just like a classic piece of the traditional pie. These Cheese & Cracker Pumpkin Pie Bites are the perfect finger food to tide guests over while they anxiously anticipate the main meal and (of course) dessert!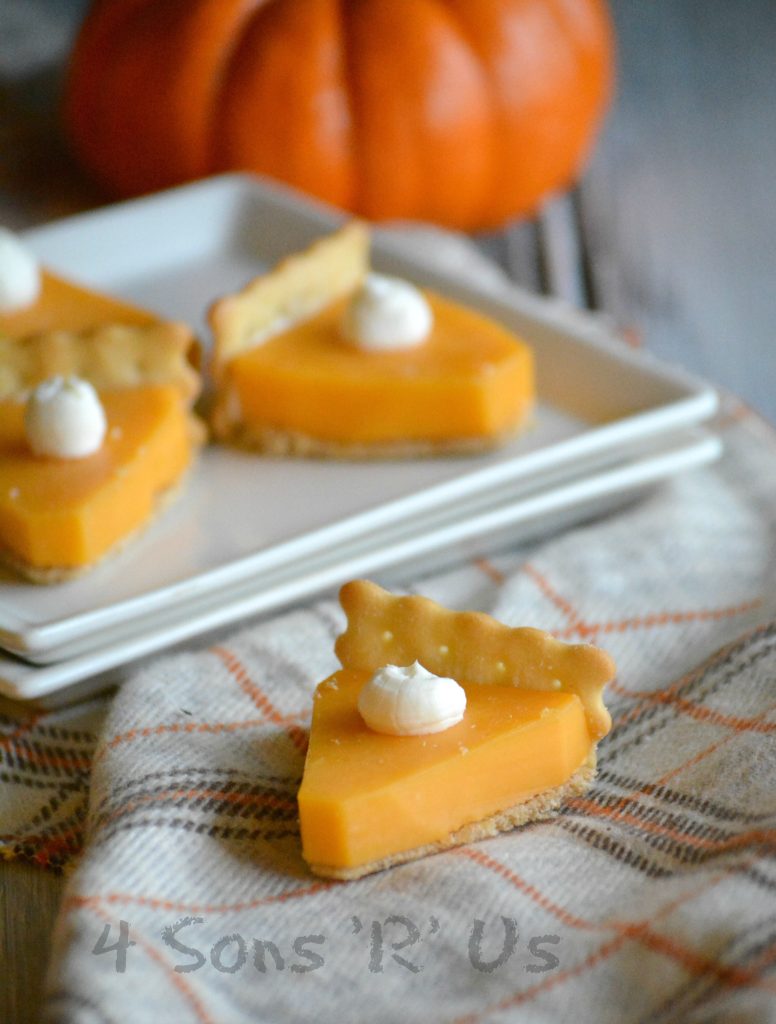 Thanksgiving is right around the corner. If your kids are like mine– they're already having turkey and stuffing dreams galore and badgering you about what's going to be on this years menu.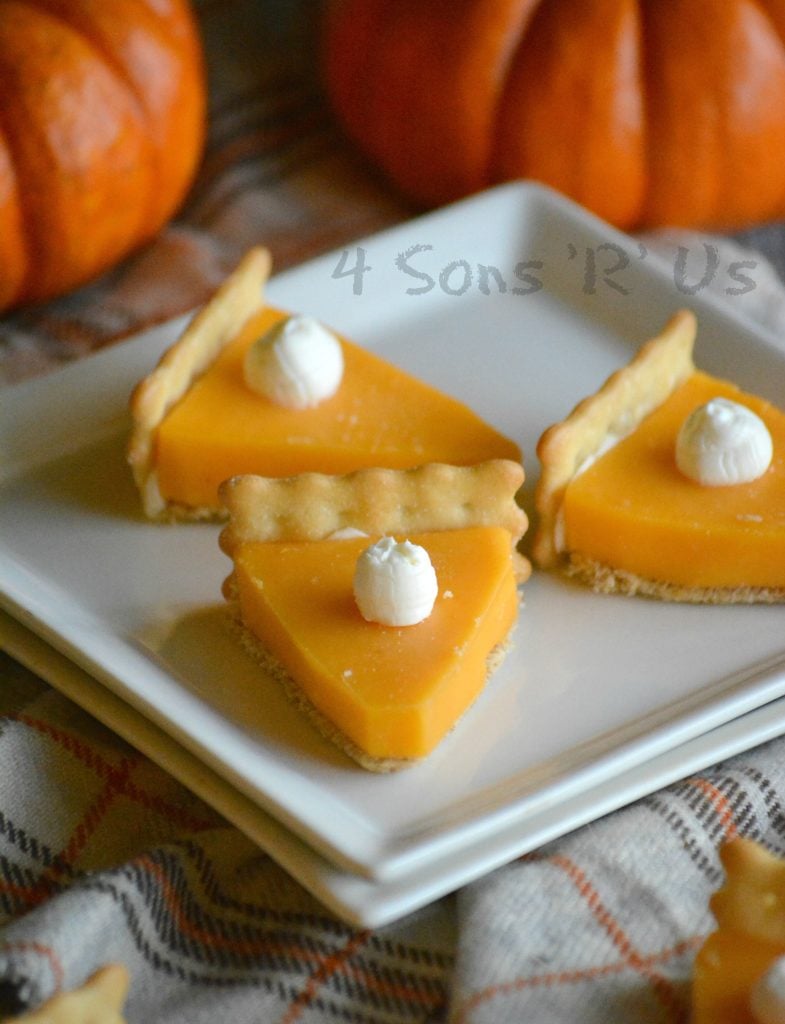 If you're also like us you may be wondering why they're asking since we usually have the same things year after year.
This is true, BUT the kids also know that every year Mom makes at least one *new* dessert and a few fun appetizers to tide everyone over while we wait for the main meal.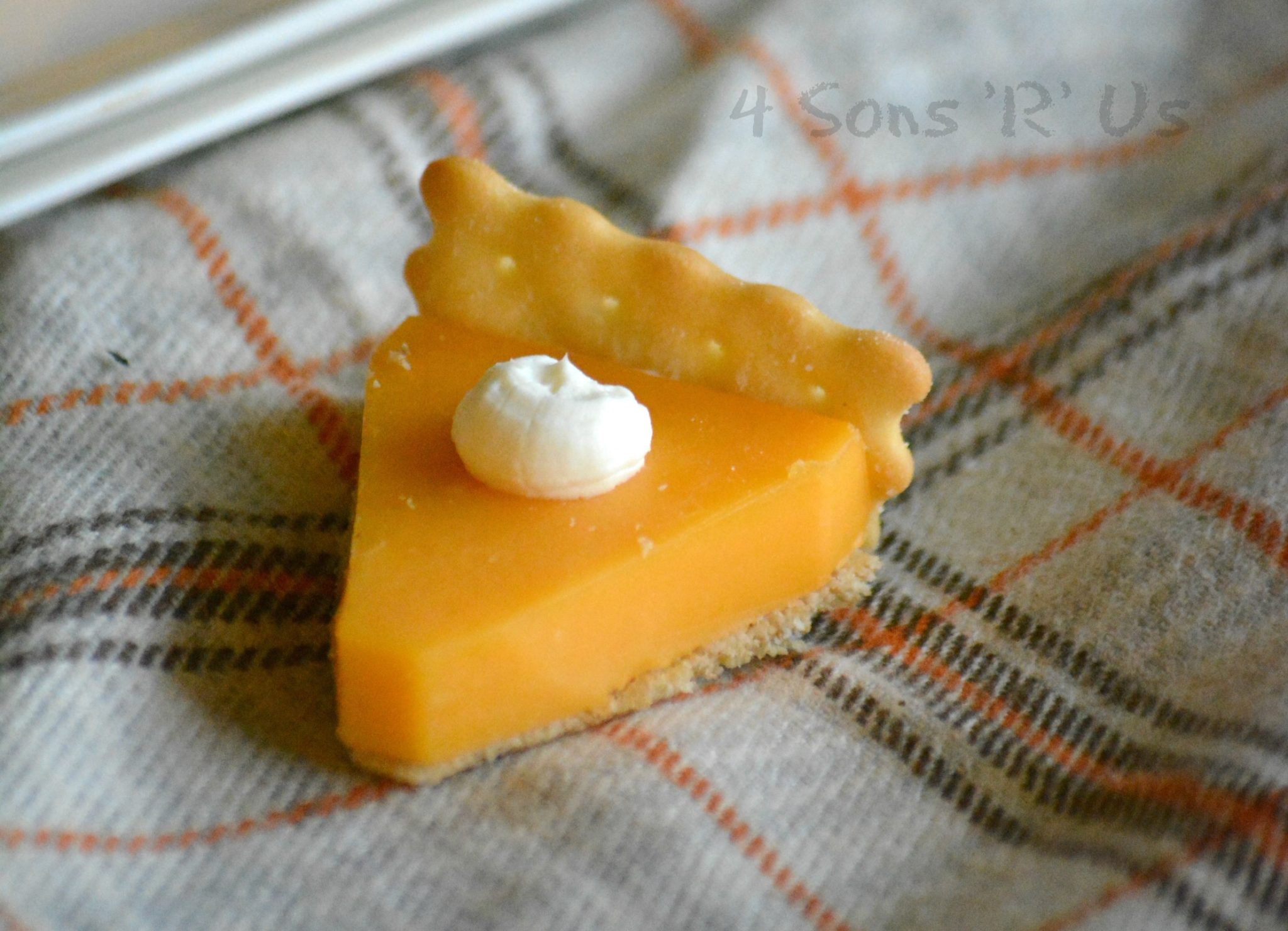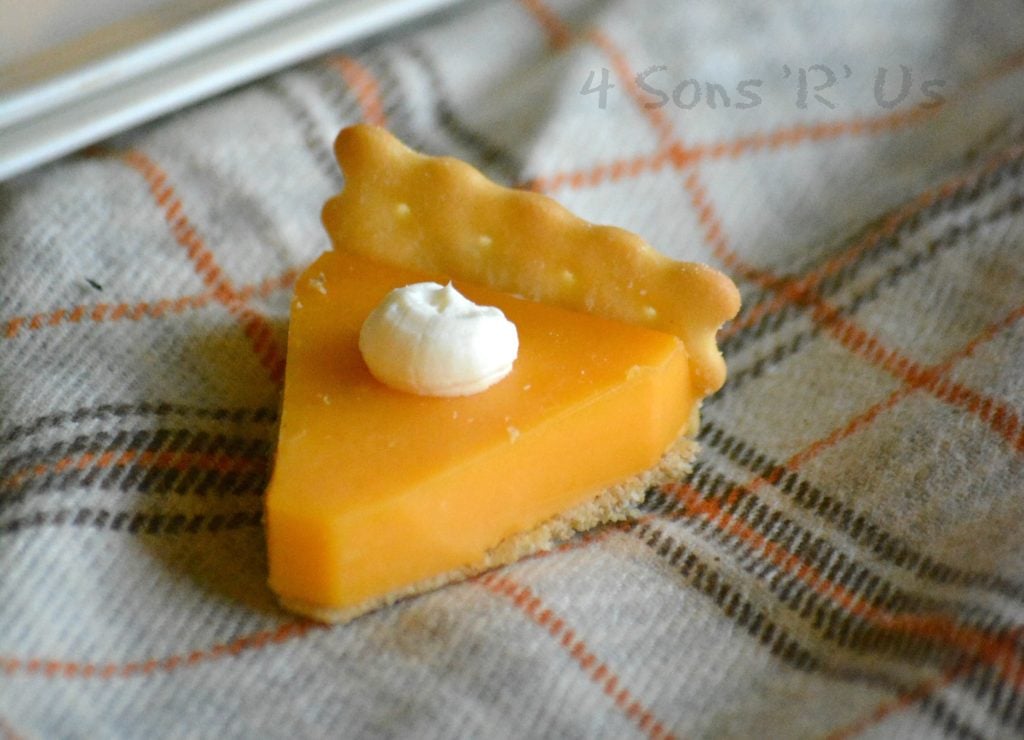 Last year I made these yummy little Cheese & Cracker Pumpkin Pie Bites that were a hit with everyone.
When something so simple gets a tickle out of almost everyone, it's meant to be a repeating recipe.
Fun finger food that embraces the season? What's not to love!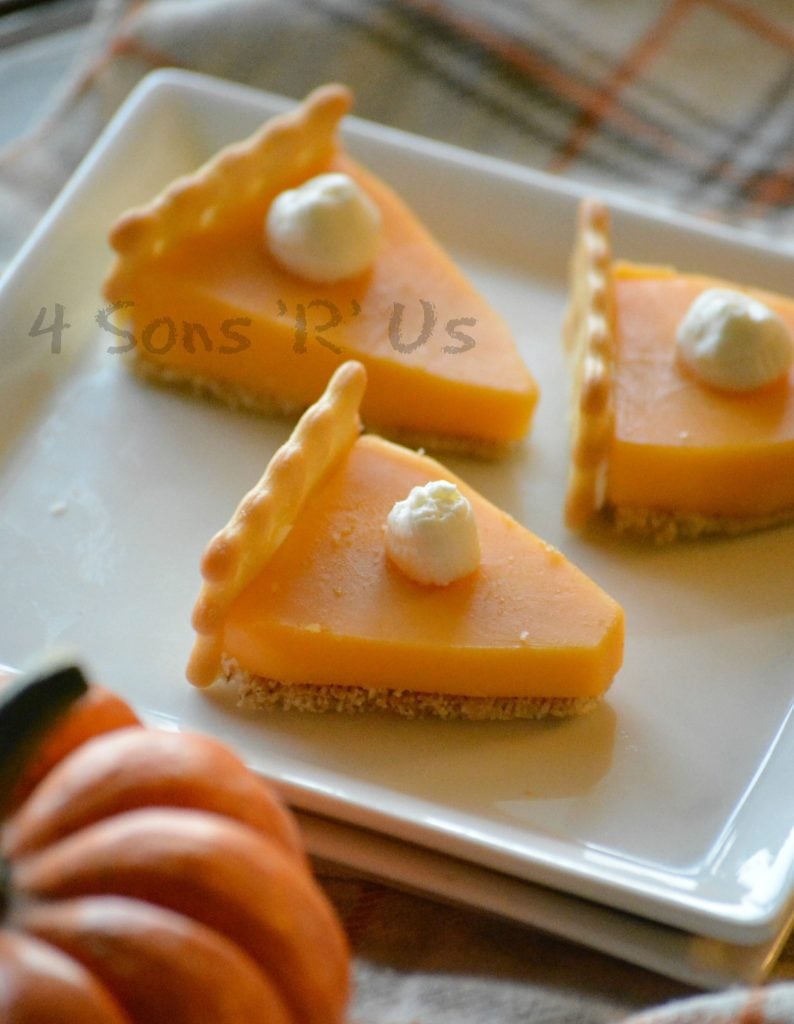 Triangle shaped Triscuits and Chicken In A Biskit crackers are topped with a thick slice of sharp cheddar cheese. A dollop of whipped cream cheese on top, and you've got a fun, festive cheese and cracker snack that gets everyone in the mood for the rest of the big day.
Something to munch on while Mom, Grandma, and all the Aunts are in the kitchen finishing things up– these Cheese & Cracker Pumpkin Pie Bites will give you something fun to munch on without taking away your appetite.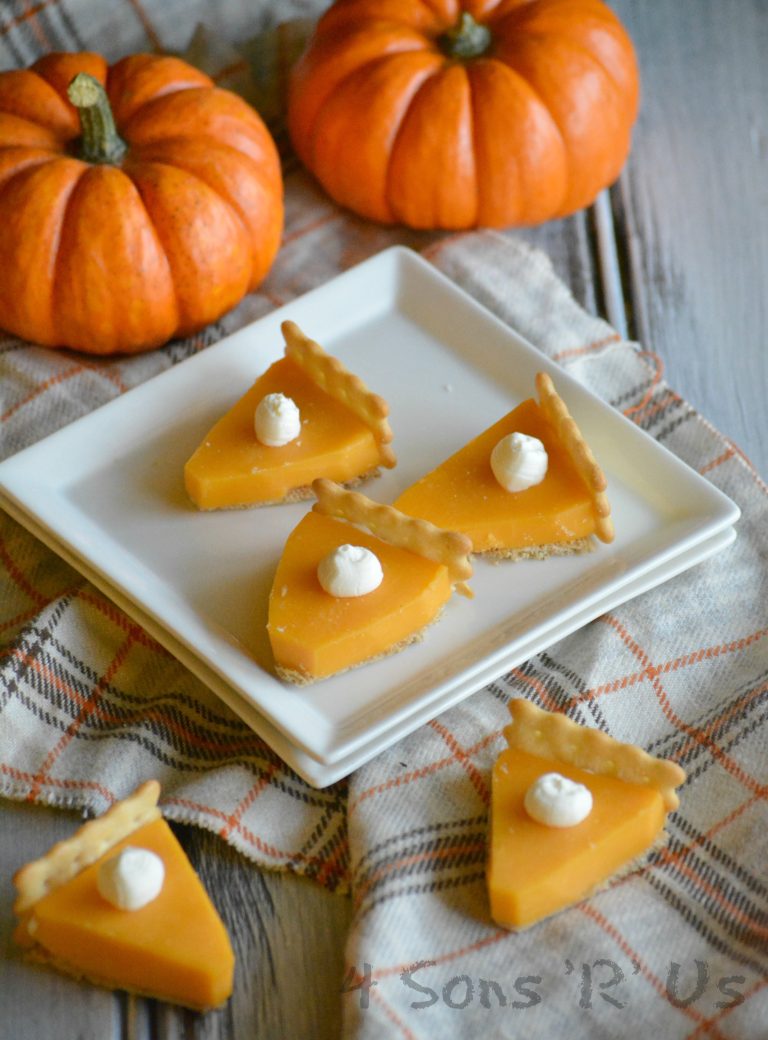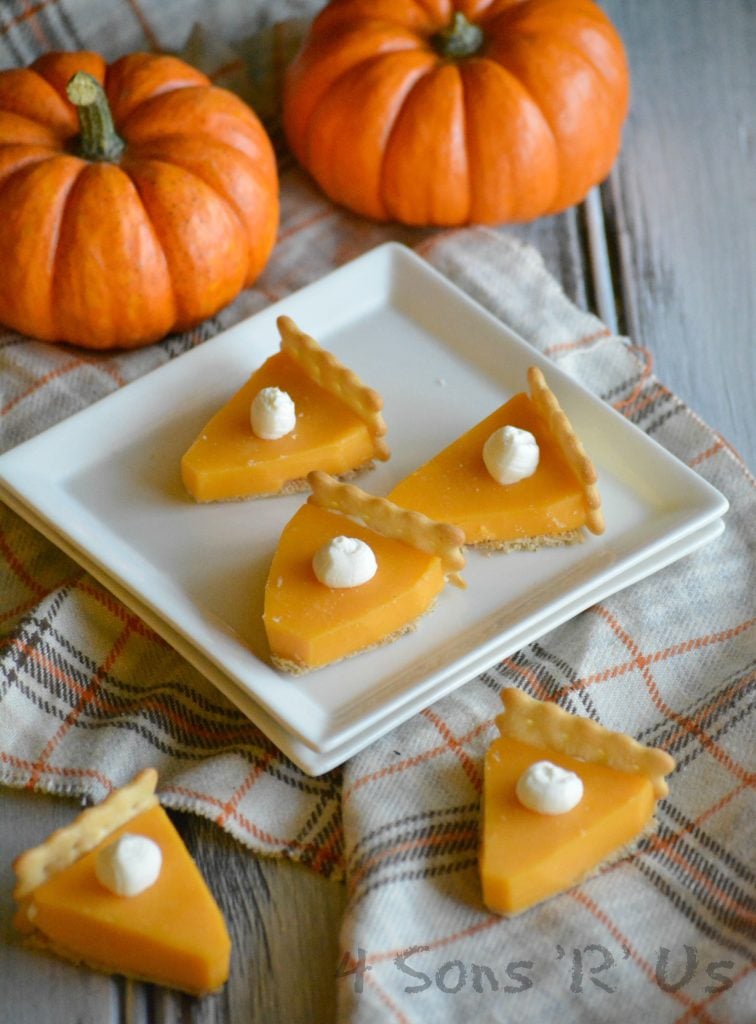 If you've tried these CHEESE & CRACKER PUMPKIN PIE BITES, or any other recipe on the site, let me know in the comment section how it turned out, we love hearing from our readers! You can also follow along with me on PINTEREST, FACEBOOK, and INSTAGRAM to see more amazing recipes and whatever else we've got going on!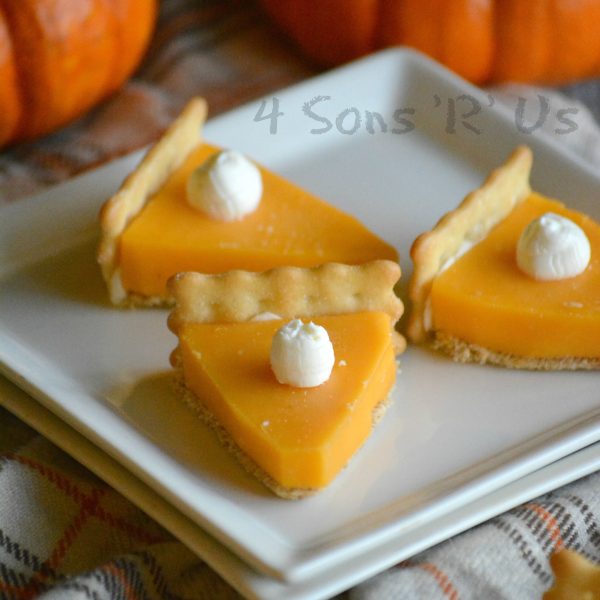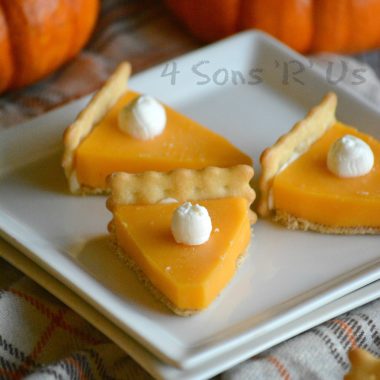 Cheese & Cracker Pumpkin Pie Bites
A yummy appetizer that looks like your favorite holiday dessert, but is actually a fun and festive savory finger food to tide guest over until the main meal.Cheddar cheese
Print
Pin
Rate
Ingredients
Cheddar cheese

Triscuit Thin Crisps

Chicken in a Biskit crackers

Whipped cream cheese
Instructions
Slice your preferred brand of cheddar cheese into thick wedges, slightly smaller but no bigger than your Triscuit crackers. Top the Triscuits with the cut cheddar wedges.

Transfer the cream cheese to a sturdy ziplocking sandwich bag.

Here comes the hardest part of this easy recipe: you need to cut off about 1/3 of the Chicken in a Biskit cracker-- without breaking the remaining big portion. We broke at least for while doing this (but out of a much larger numbeand it's best to make sure to use even pressure and make a quick, clean cut.

Snip off a small corner of the bag on one side. Use the cream cheese to squirt a strip of 'glue' onto the bottom of the prepared Chicken In A Biskit crackers. Gently press those crackers flat against the back of the cheddar topped Tricsuits to form the pie 'crust'.

Plate the crackers however you'd like. Top with a dollop of cream cheese, squeezed from the ziplocking bag so that it looks like whipped cream.

Refrigerate until ready to serve, but no more than an hour or the cheese will start to harden.