A fluffy stack of pancakes is one of the greatest comfort foods to sink a fork into, but add some pizza toppings? You've got a batch of savory Pizza Pancakes anyone would love to dig into- breakfast, lunch, or dinner!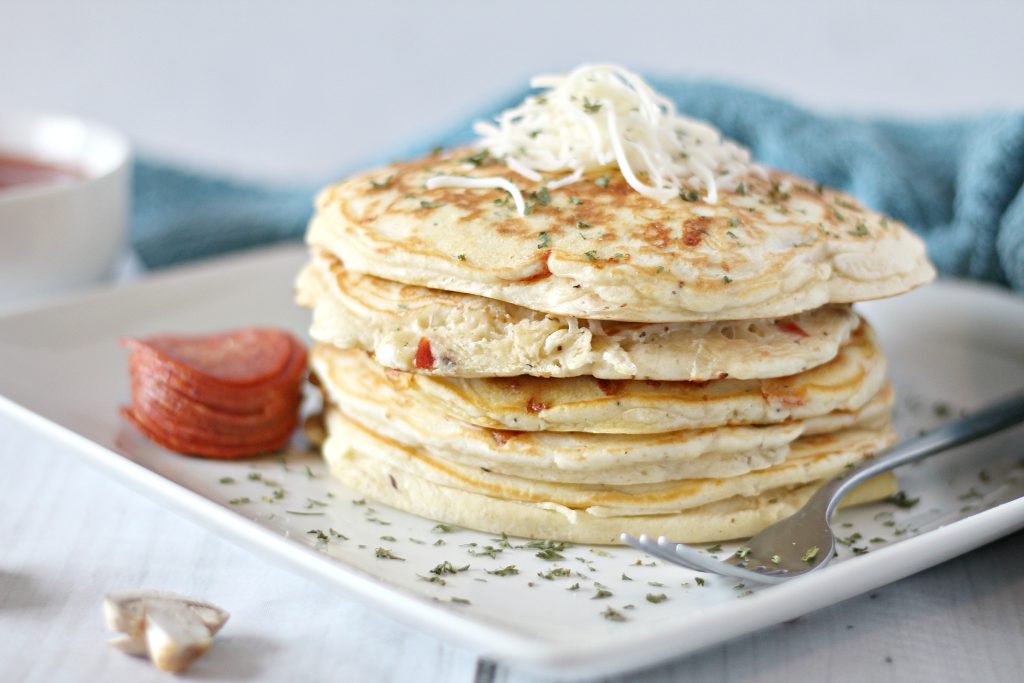 Do your kids love pancakes? Mine sure do. Coincidentally, pancakes were also one of the first things we taught them how to help us, and help themselves, make. When I heard 'pizza pancakes' I was intrigued. When I saw the recipe, I was inspired! All 4 Sons got in on the action.
This delicious little hybrid was a fun new twist and a real treat for the kids. Pizza pancakes and it's cast of characters are now set for a recurring role on our family's dinnertime menu.
So what do you actually need to make these pizza pancakes?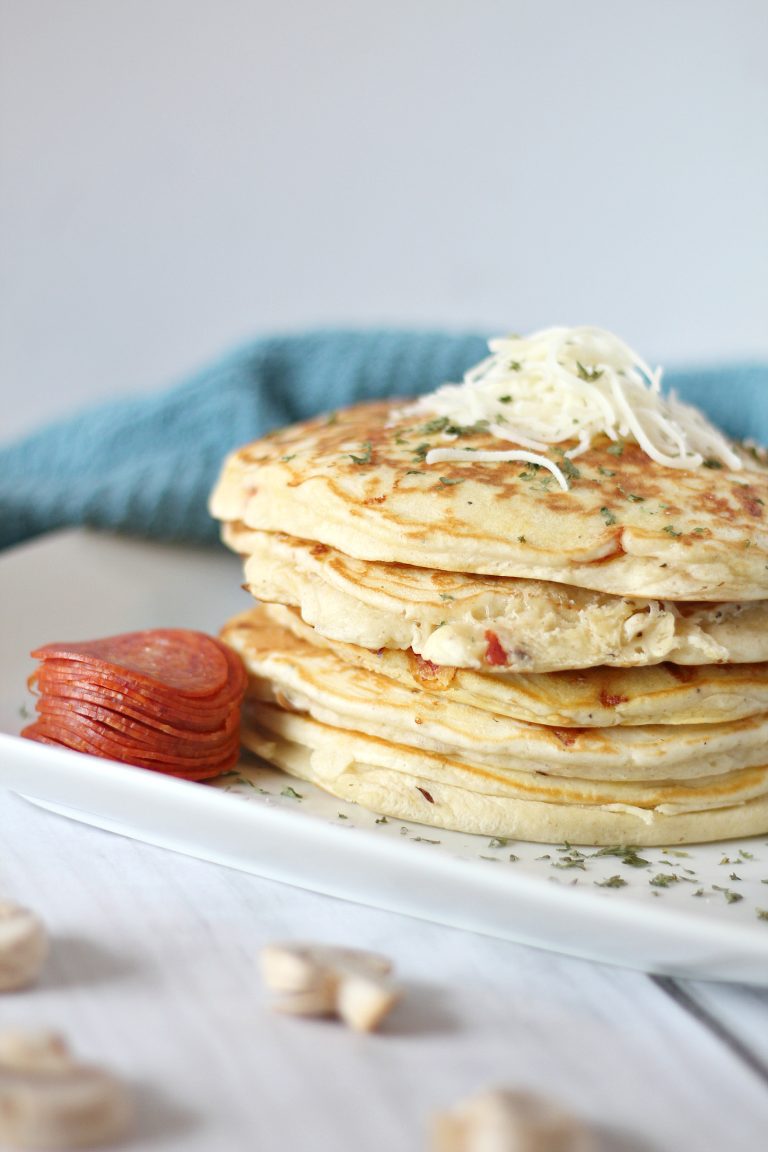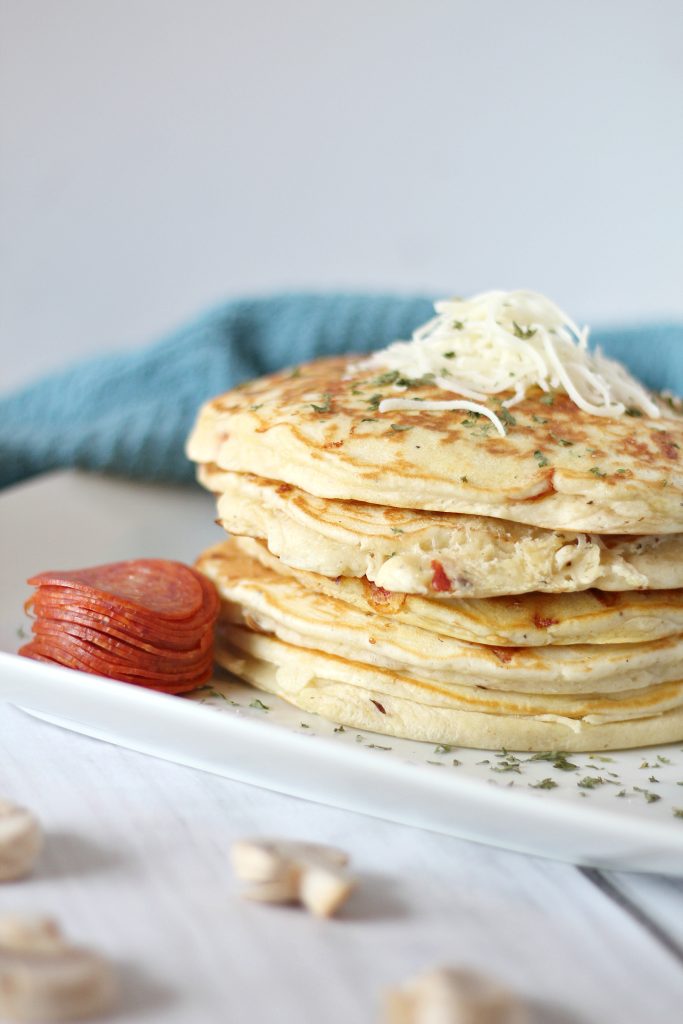 What Ingredients Do You Need:
Bisquick
Italian Seasoning
Crushed red pepper flakes
Eggs
Milk
Shredded mozzarella cheese
Pepperoni
Sausage
Mushrooms
Pizza Sauce
Parmesan Cheese
The ingredients list is fairly simple, and also includes things kept in most stocked pantries and refrigerators. Another reason I love this, because it's one of those easy recipes I can count on when I haven't planned anything at all for supper.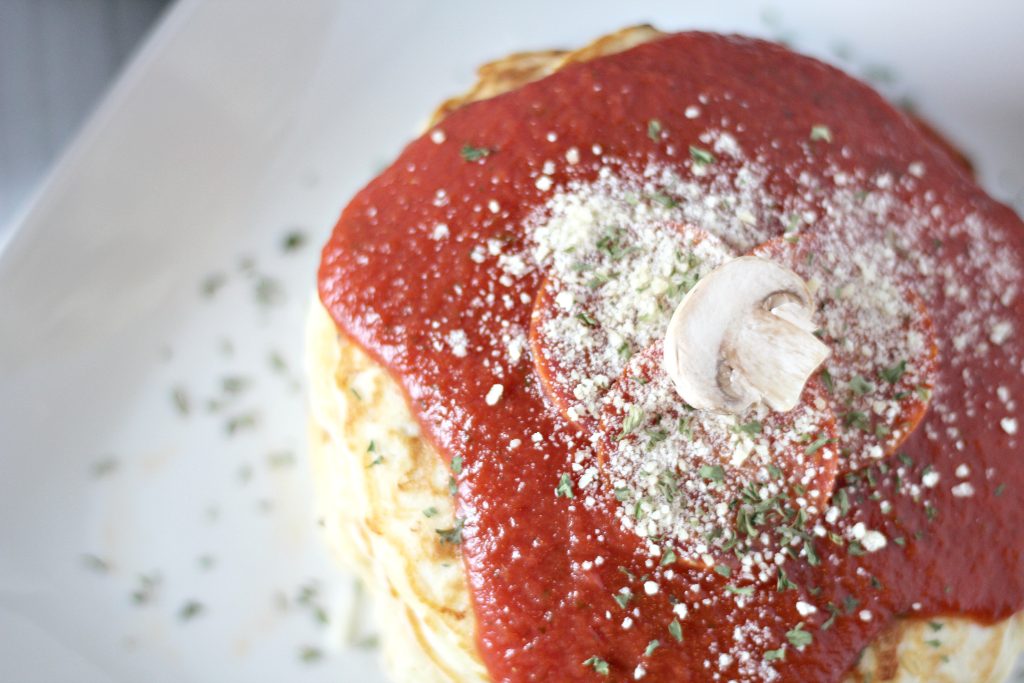 I also love that this recipe is easily customizable. You can swap the sausage for ground beef if that's your preference. Have a preferred type of sauce, use your favorite.
Not a fan of mushrooms? Leave them out. Do you prefer peppers and onions instead? Throw those in. The list goes on. These Pizza Pancakes are very substitute friendly!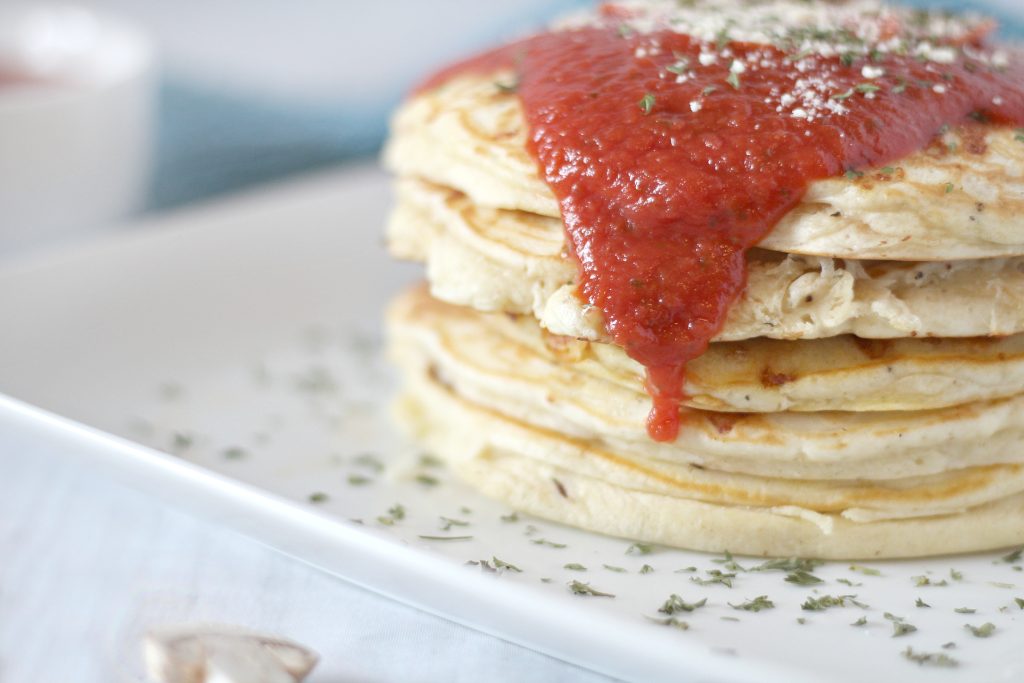 So how do you actually make these savory pizza pancakes? It's simple; we'll walk you through it.
In a large mixing bowl, add the bisquick baking mix, Italian seasonings, and crushed red pepper flakes. Use a fork to whisk them together until evenly combined. In a separate mixing bowl, add the eggs & milk. Whisk together until the eggs are beaten and the mixture's smooth.
Make a small well in the dry ingredients, pour the wet mixture into the divot. Mix everything together until the batter's just combined. Don't under mix, but also don't over mix. You'll know when it's ready. Fold in the cheese & pizza toppings you're using, just until evenly incorporated.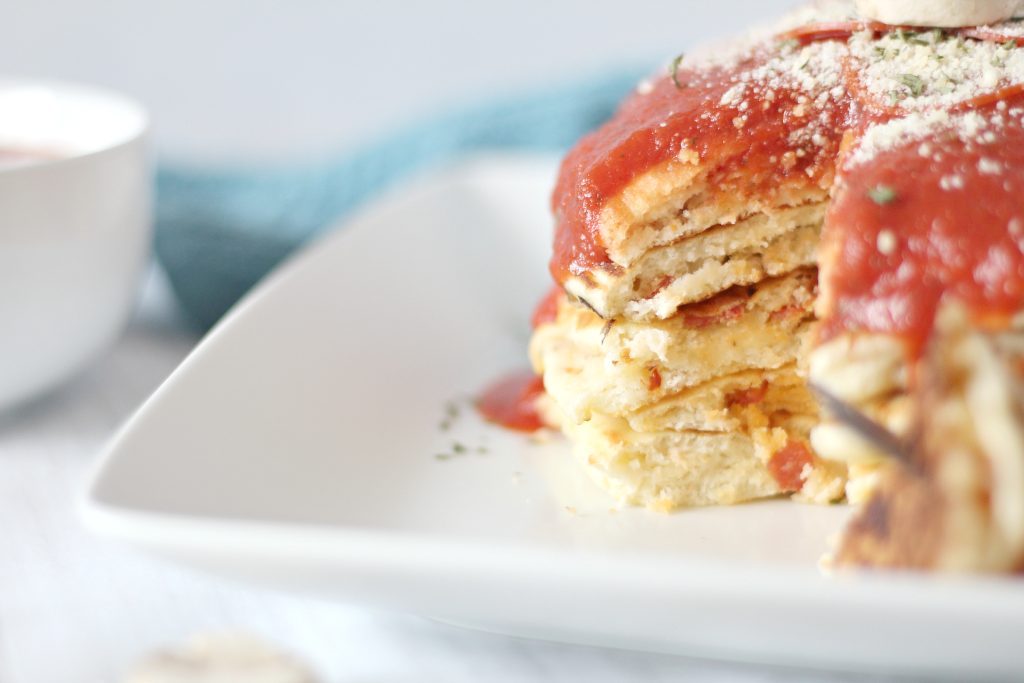 Working in 1/4 cup fulls, pour the batter out on to a hot, lightly greased griddle. Let the pancakes cook until bubbles form on top. Use a spatula with a sharp edge to flip, and continue cooking until the pancake's underside is also lightly golden brown.
Serve the pancakes in stacks of 3-4 topped with a ladle-full of warmed pizza sauce, and a healthy sprinkle of freshly grated Parmesan cheese. You can also used the grated, canned kind in a pinch. It won't hurt the flavor, at all. It's just a matter of convenience and preference.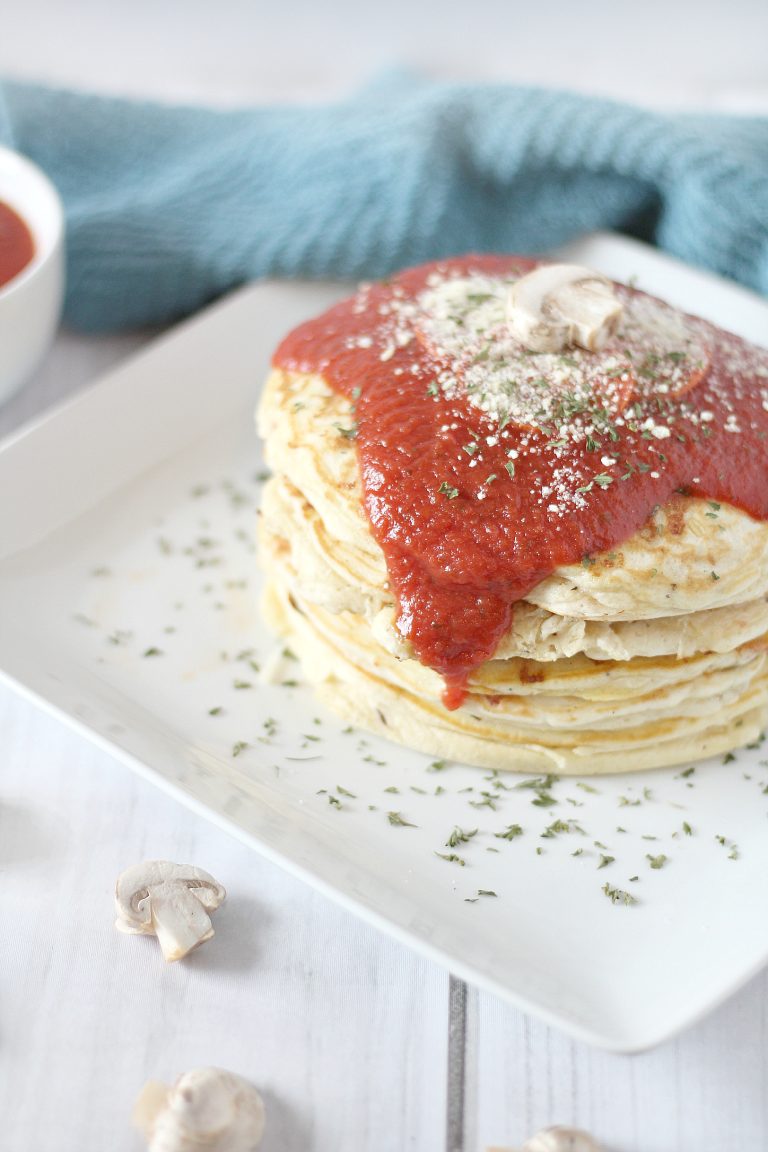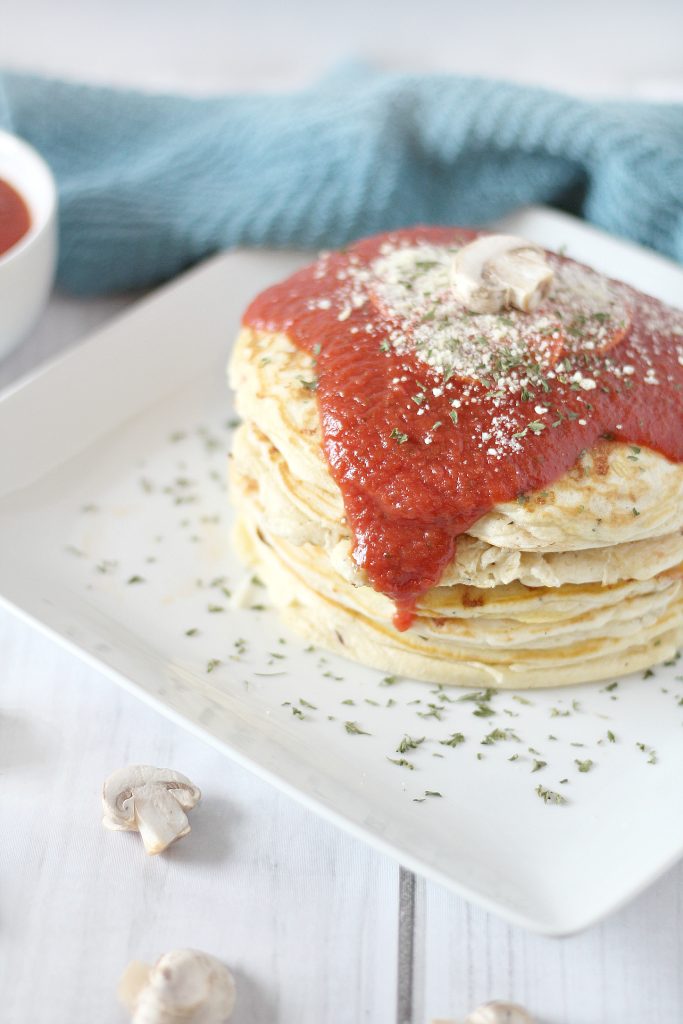 All the flavors of your favorite pizza get together with soft, fluffy pancakes to combine into one savory dish. Topped with sauce, cheese, and stuffed full of your favorite toppings these pizza pancakes make dinner fun in the most delicious new way.
Other Pizza Themed Recipes To Enjoy:
Ingredients
2

cups

Bisquick

2

tsp

Italian seasoning

1/4

tsp

crushed red pepper flakes

2

eggs

1

cup

milk

1 1/2

cup

shredded mozzarella cheese

1/2

cup

pepperoni

diced

1

cup

sausage

cooked and crumbled

1/4

cup

mushrooms

sliced (optional)

pizza sauce

warmed

Parmesan cheese

shredded or grated
Instructions
In a large bowl combine the biscuit mix, Italian seasoning and red pepper flakes. Combine eggs and milk.

Stir the wet ingrediets into the dry ingredients until just moistened. Fold in the cheese, pepperoni, sausage and mushrooms, if using.

Pour batter by 1/4 cup-fuls onto a lightly greased hot griddle. Turn when bubbles form on top and continue cooking until the seconds side is golden brown.

Serve with warmed pizza sauce and Parmesan cheese.