This easy homemade pizza dough comes together with just a few simple ingredients. This tender homemade pizza dough is foolproof, every time, with basic ingredients and easy to follow instructions. l walk you through everything you need to know on how to make homemade pizza crust so you'll be a pizza crust pro.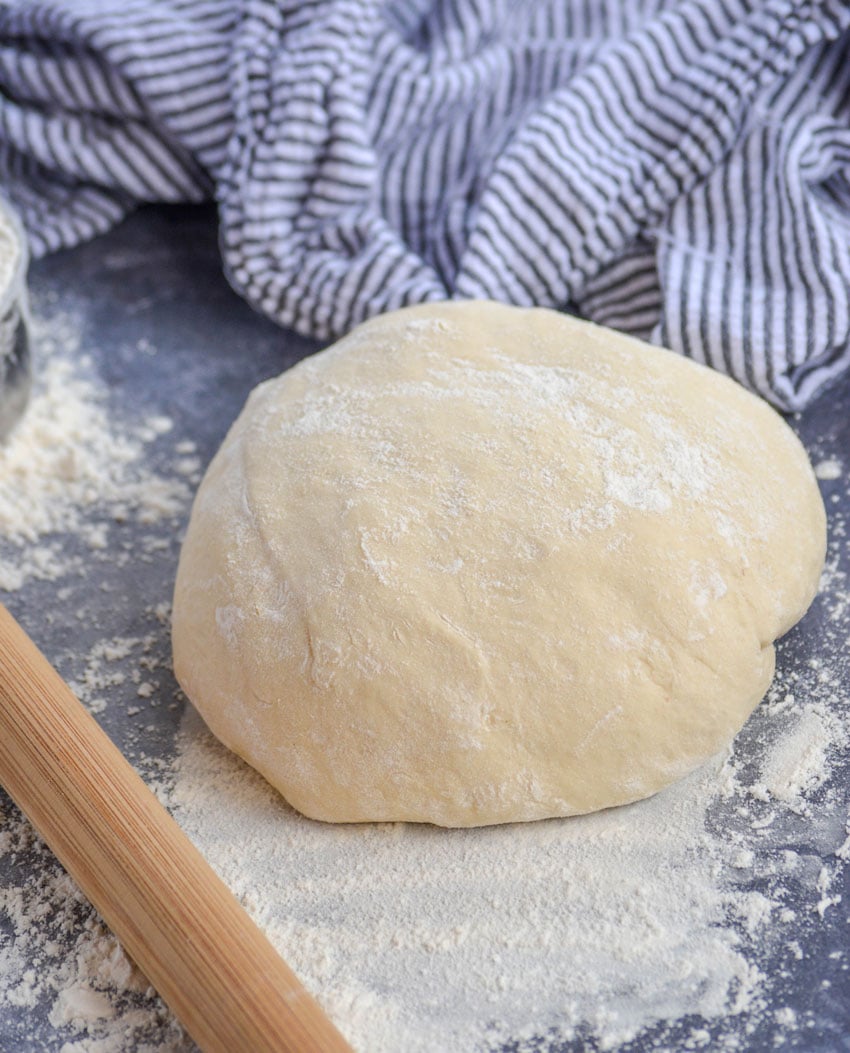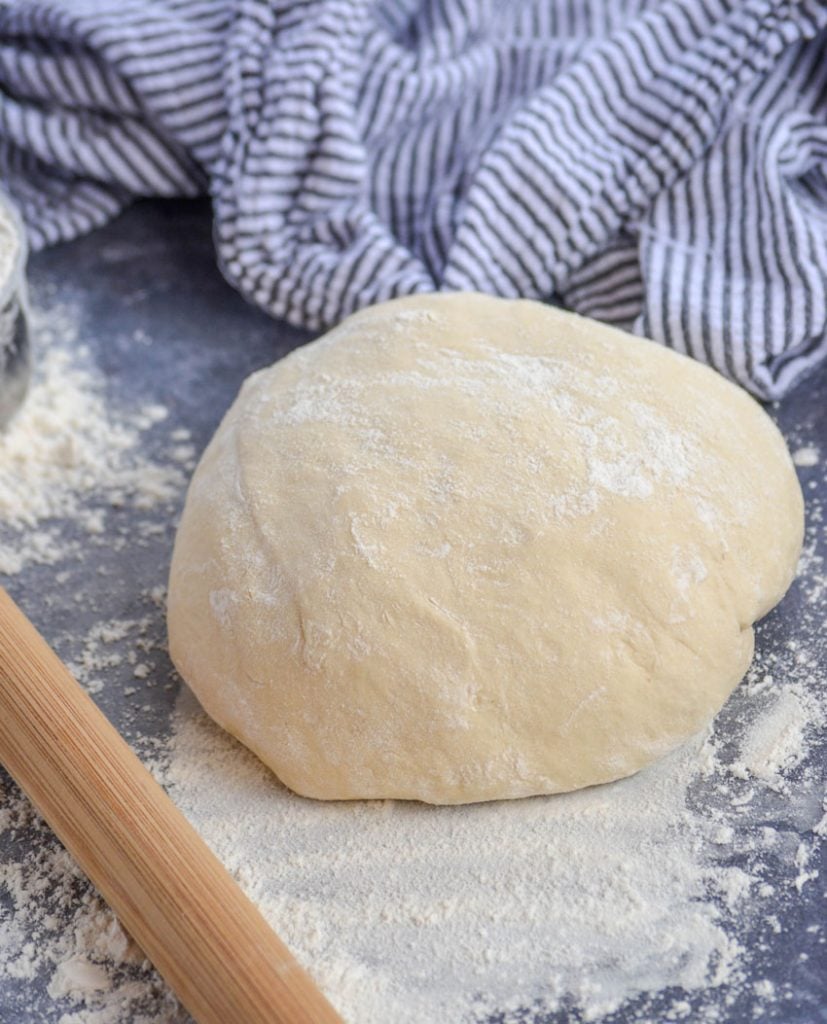 My entire childhood I remember looking forward to Wednesday nights because it was 'pizza night'.
We had Church every Wednesday evening. We needed a quick dinner, and Grandma would just whip up a crust and pop a pizza in the oven.
Everything Grandma made was from scratch, so it was crusty, carbohydrate heaven!
Now, years later, my kids look forward to our own pizza nights.
We pay homage to Grandma every time by using her trusty recipe for easy homemade pizza dough and it's a recipe I'm passing down to my own sons.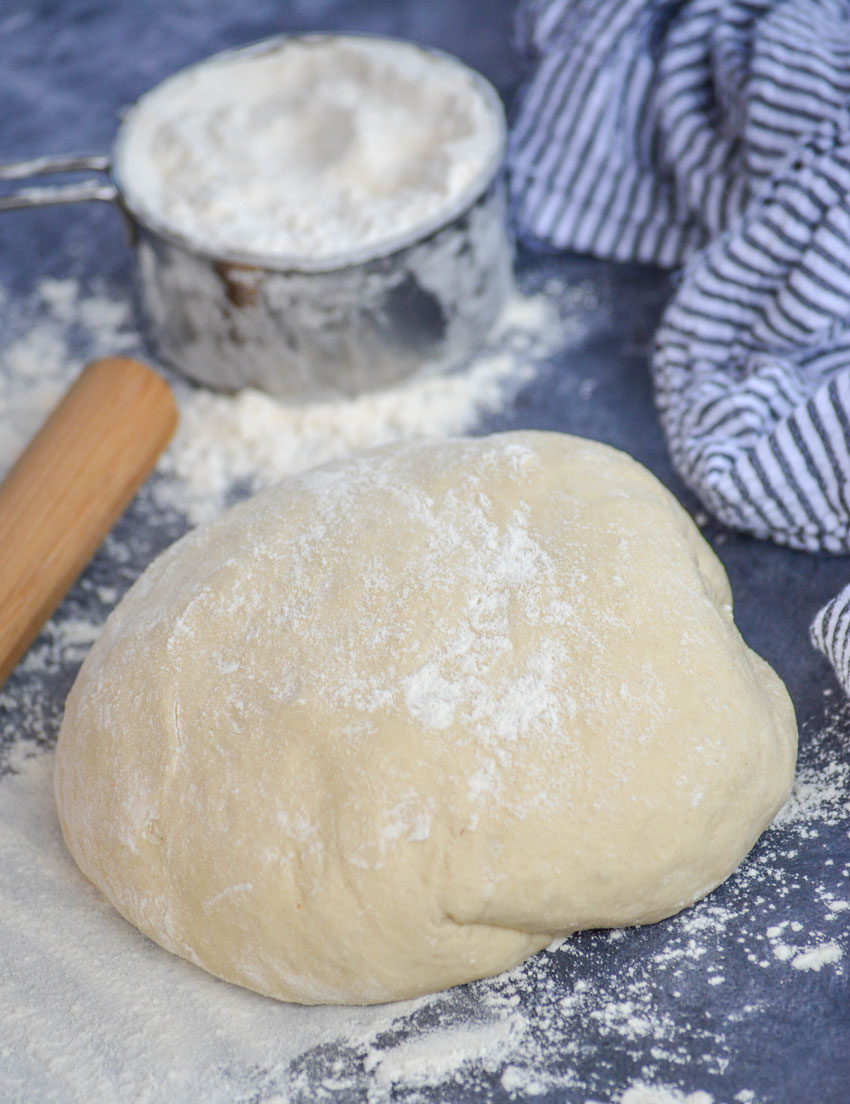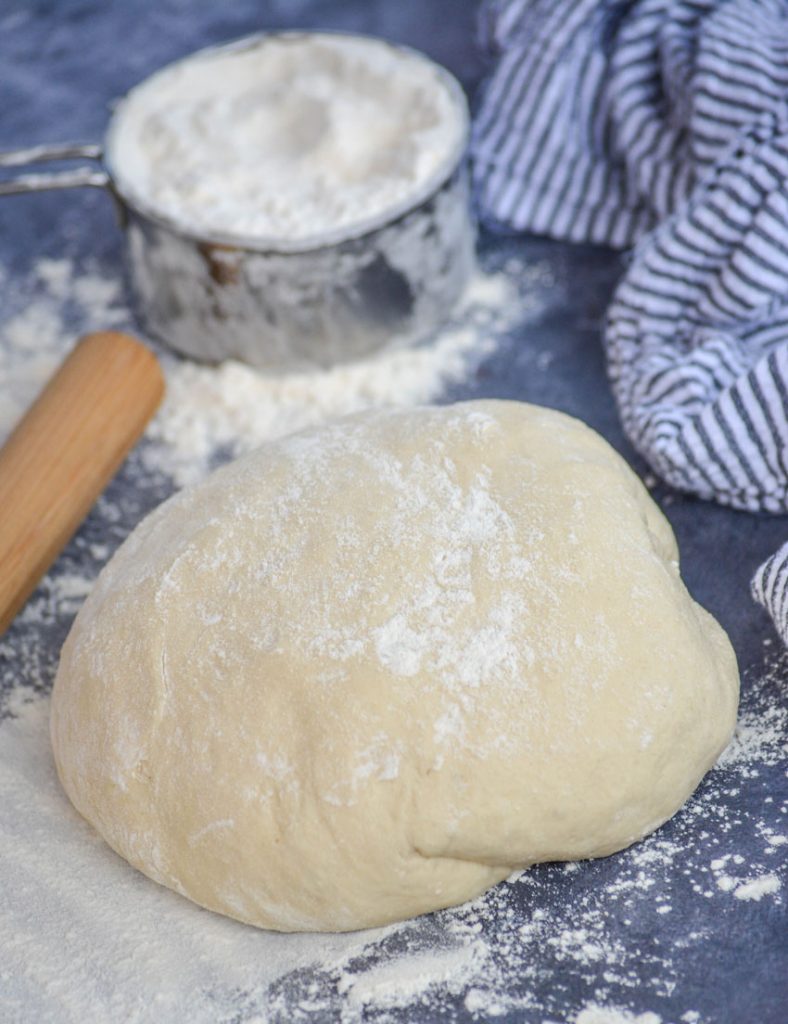 Our easy homemade pizza dough bakes up into the perfect crust. It also freezes well.
Don't have time on a busy weeknight to whip up the dough, let it rise, the whole deal? No worries.
This a great Sunday afternoon activity. Get the kids involved. Ours have always loved squeezing & kneading the dough.
Then freeze it, per the instructions, and pop it out when needed during the week. Boom, you've got fresh homemade pizza even on a tight schedule.
Bye bye, delivery!
This version makes enough dough for two pizzas.
I usually make one pizza for dinner the day I make my dough and then store the other dough ball in the freezer. When I'm ready to use it, I simply let it thaw in the fridge beforehand.
WARNING: Baking pizza on your own crust will ruin store bought pizza for you and your kids will beg you for it constantly! Baker beware.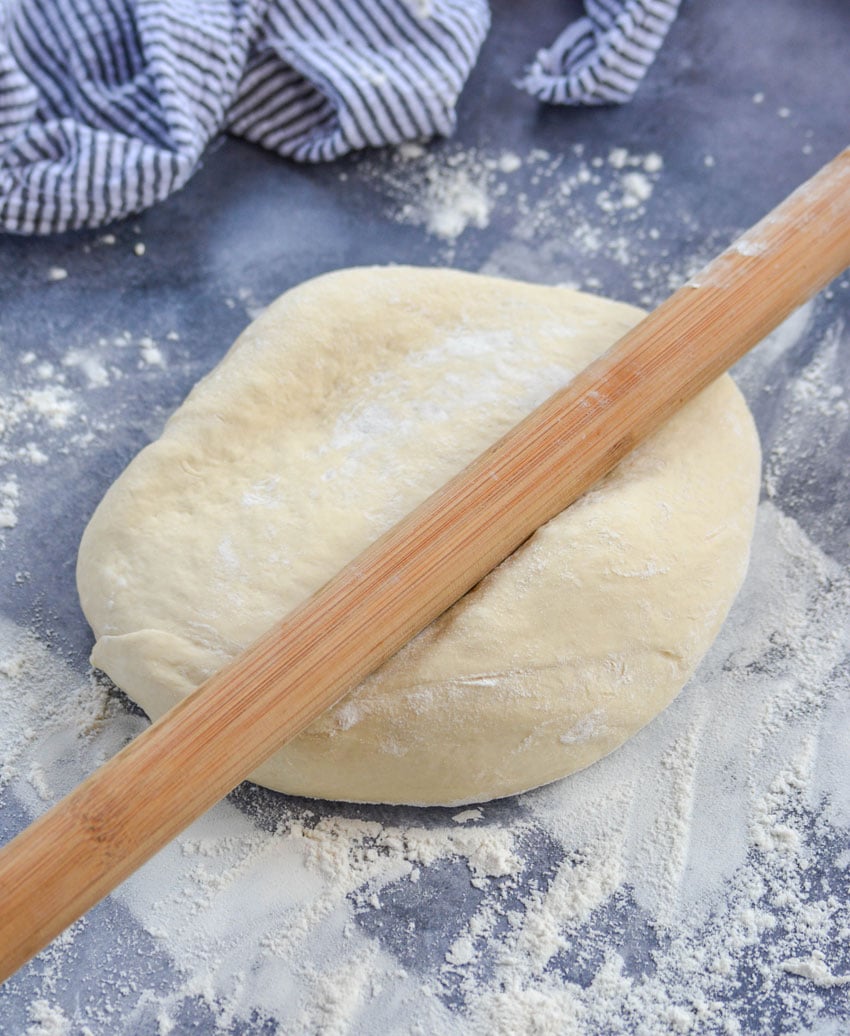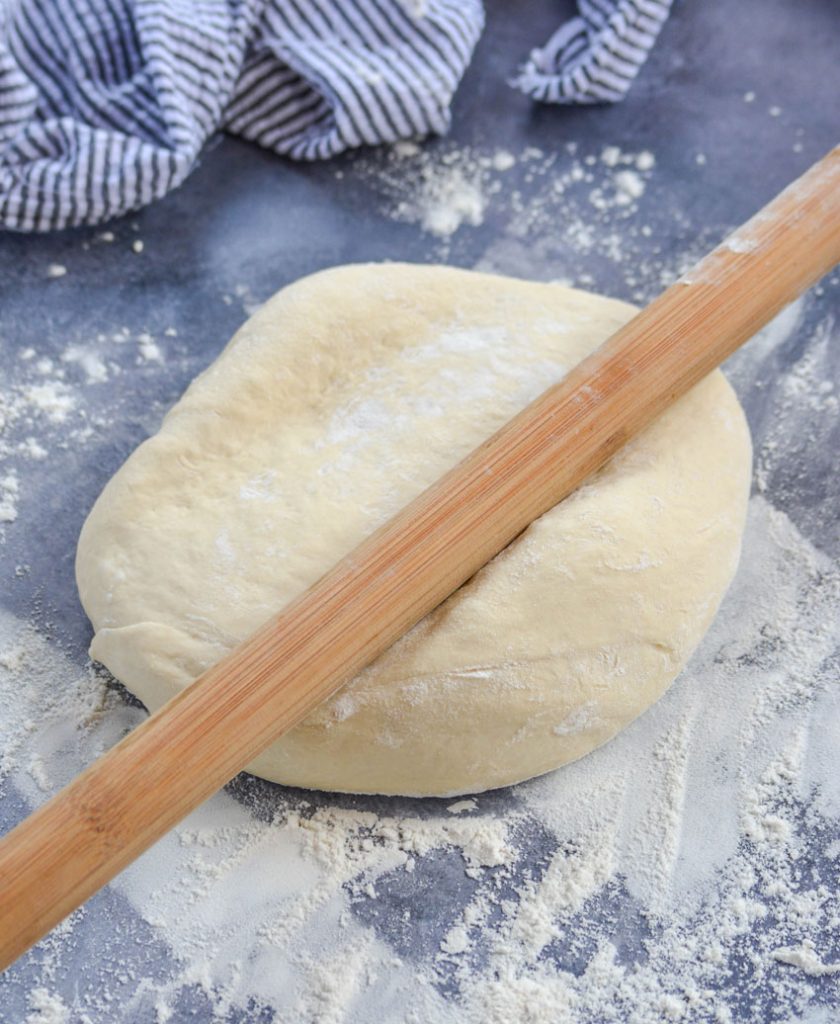 Ingredients You Need:
warm water
yeast
extra virgin olive oil
bread flour
salt
While the list of ingredients is short and sweet, each ingredient is important. Let's break it down.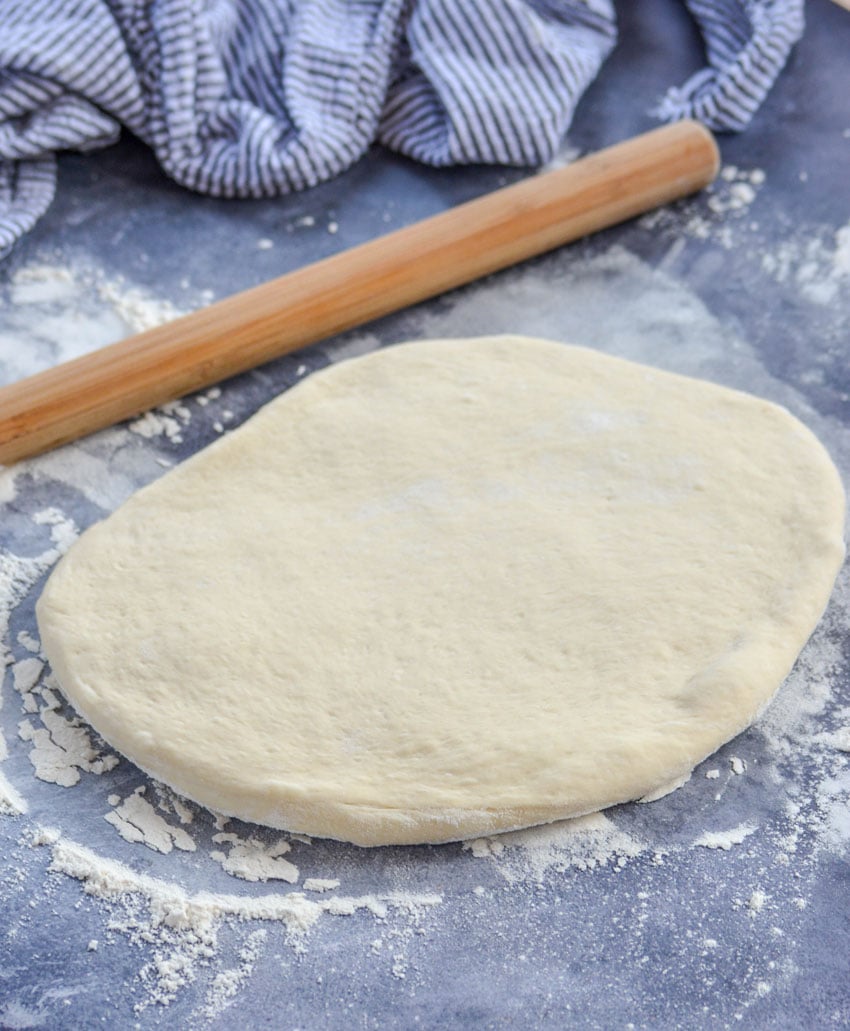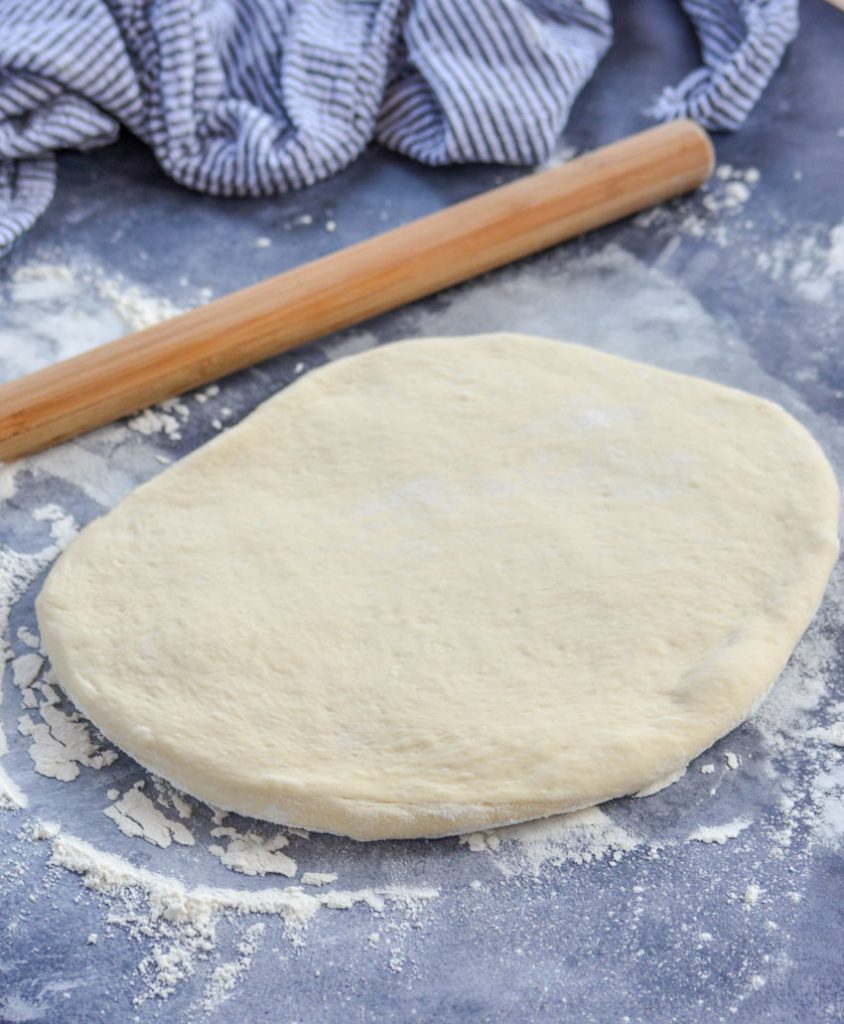 Yeast
Yeast makes the dough rise. You need just the right amount of yeast and kind of yeast. There are several kinds of yeast and for this easy homemade pizza dough, you will want to use active dry yeast.
This kind of yeast contains dormant cells that keep at room temperature for several months. When you use active dry yeast, you have to rehydrate it first by soaking it in warm water. If it foams, you know the yeast is still alive and will make your dough rise nicely.
Warm Water
Warm water is the second ingredient you need. You want the water to be around 105 degrees Fahrenheit so it will feel warm to the touch. Be careful not to use water that is too warm or too cool. If your water is under about 70 degrees, it may not wake the yeast back up.
If the water is too warm the yeast can get damaged. Water above 120 degrees will kill active dry yeast. If your yeast doesn't get activated because the water is too cold or dies because the water is too hot, then your dough won't rise.
Extra Virgin Olive Oil
Next up we have extra virgin olive oil. This ingredient has many purposes in the dough. It will give the dough some flavor and also help grease the dough. This lubrication will help make the dough easier to roll or stretch out.
Bread Flour
The next major ingredient is bread flour. Do not sub all purpose flour for bread flour. While you might think all flours are created equal, there are some difference.
The big difference? How much gluten is in the flour.
Gluten is a buzzword these days. Everyone is talking about it. However, what you need to know for our pizza dough purposes is that gluten is a protein that gives this dough its elastic texture and allows it to stretch.
All purpose flour, which is the bag of flour most everyone has in their kitchen, is a mix of both high gluten and lower gluten flours. It has a gluten content of between 10 and 12 percent.
Bread flour, on the other hand, has more gluten. It will contain between 12 and 14 percent gluten.
The higher gluten content will give you a chewier dough.
Salt
Lastly, you've got salt. Don't skip the salt, even if you're watching your sodium content.
The salt isn't just for taste, although this dough will taste flat without it. It actually helps to strengthen the gluten and regulate the yeast.
Meaning skipping the salt can result in a less than optimal texture for your dough.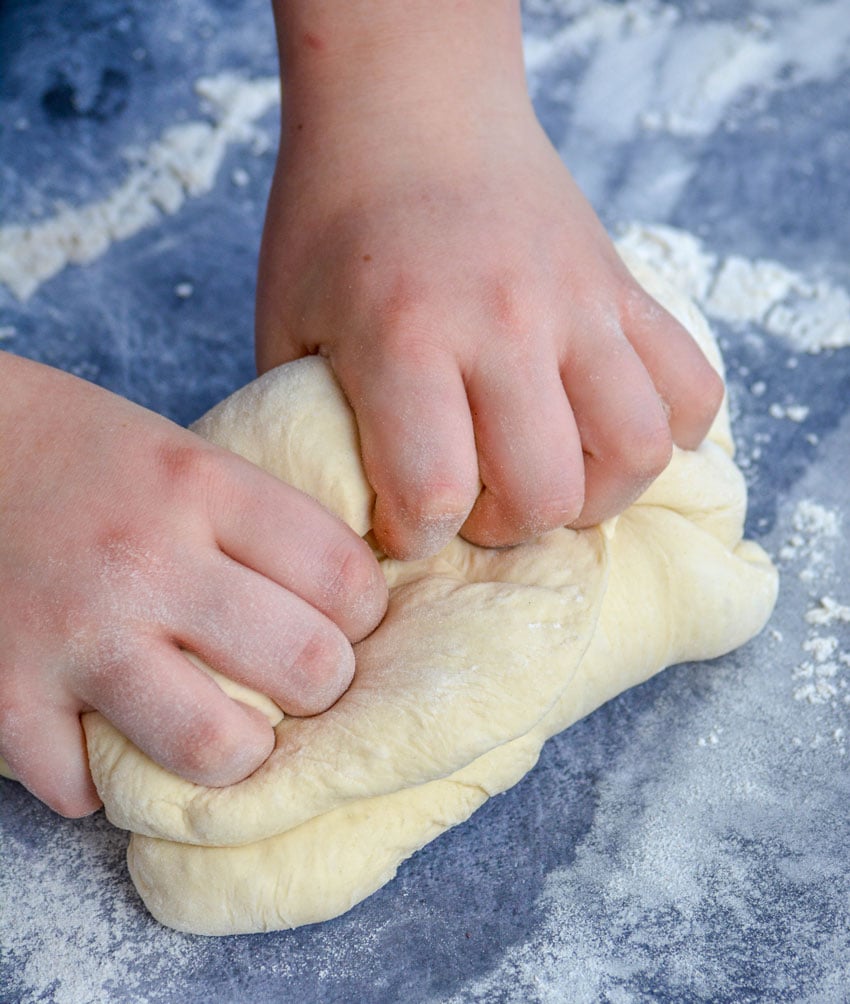 How to Make Homemade Pizza Dough
To get started, add the warm water to a small bowl. Stir in the yeast until dissolved.
Let the mixture stand while the yeast proofs, about 5 minutes. Next add the flour and the salt to the bowl of a stand mixture. Quickly stir the two together to evenly incorporate.
Fit the stand with the dough hook, and add in the remaining ingredients slowly. Let the dough hook pull the mixture until it comes together and a cohesive mass forms.
Continue to let the mixer run, kneading the dough for 3-5 minutes, or until the dough becomes smooth and elastic. It will still be sticky though.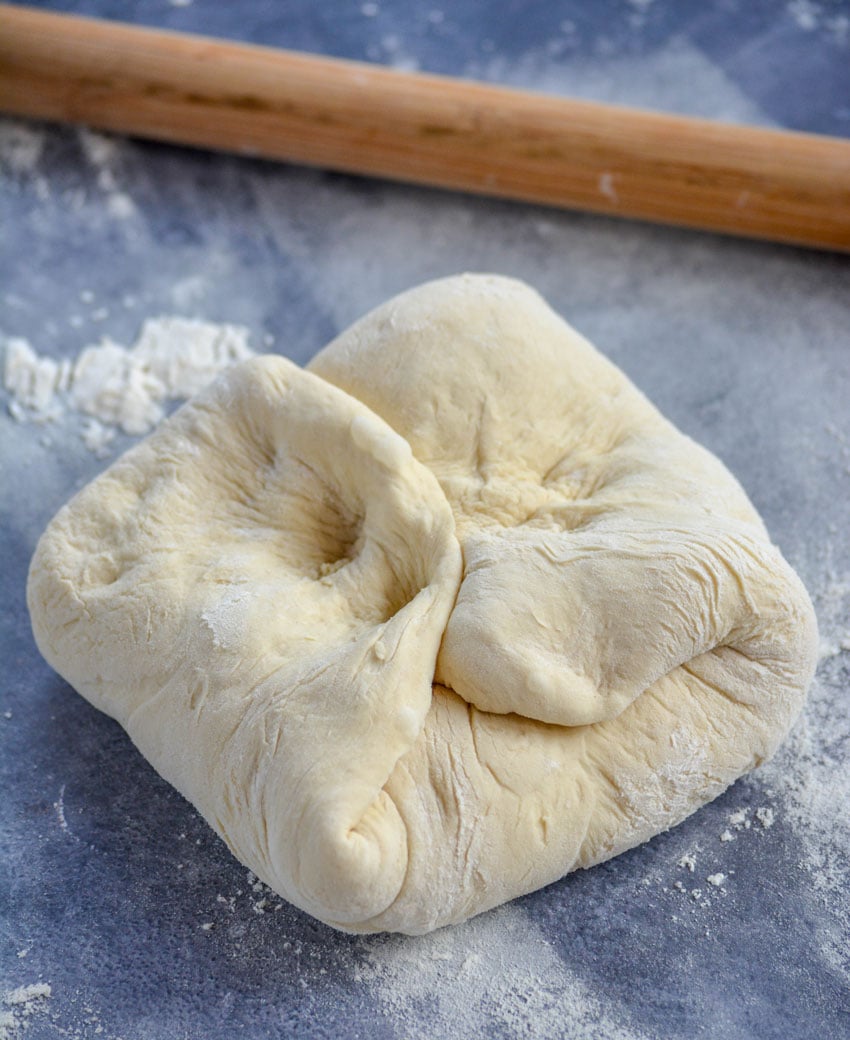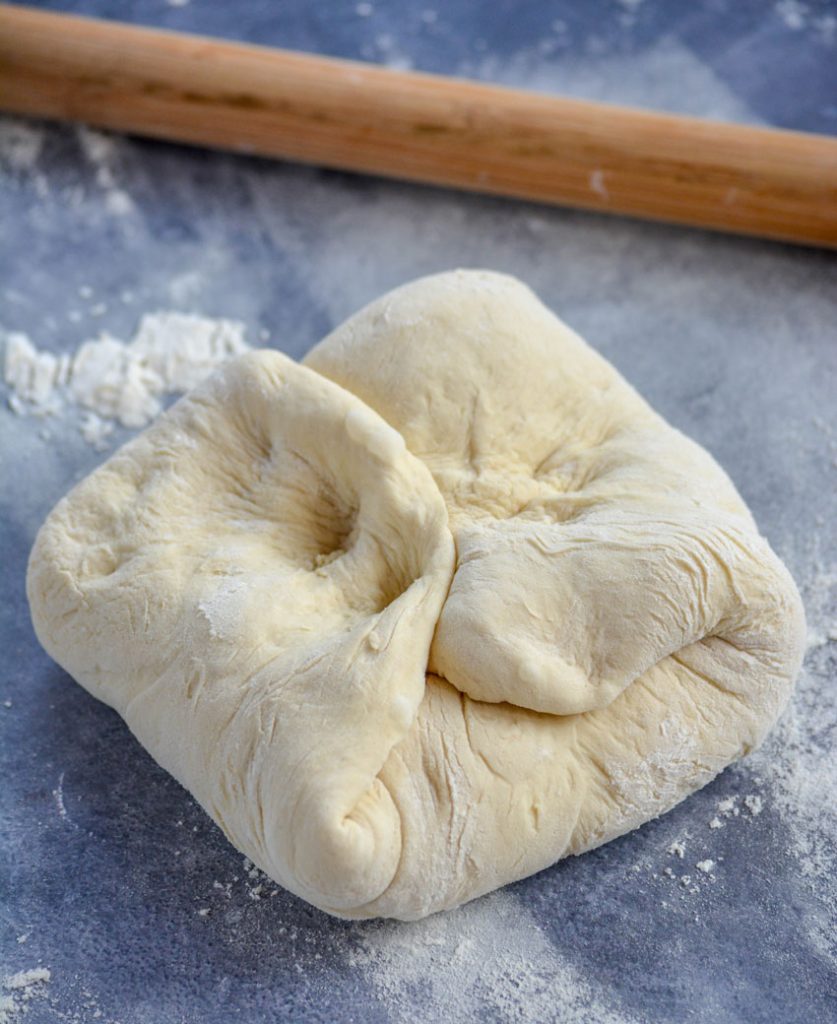 Pour a tiny bit of olive oil into a large mixing bowl, using your hand rub it all around to completely coat the inside of the bowl in a thin sheen.
Working quickly, remove the dough ball from the mixing bowl, quickly form it into a ball and add it to the prepped bowl.
Cover the bowl with a damp cloth. Let the dough rest and rise for an hour, hour and a half- until it's roughly doubled in size.
Remove the cloth, and poke the dough with a finger to deflate. The dough will be sticky still.
Flour your hands, and flour a clean flat work surface. Turn the dough out onto it. Divide the dough into two equal pieces. Roll each piece into a smooth ball.
Cover them again with a clean, damp cloth and let them rest for ten minutes.
At this point you're ready to use your dough, or freeze it for another day. If using, roll the dough out and transfer it onto a non stick pizza pan of your choosing.
Top the pizza with your favorite sauce, cheese, and extras- then bake it for 18-20 minutes.
Until the crust has risen and is golden brown on the edges with the cheese browning perfectly in spots.
Tips & Tricks for Making Homemade Pizza Dough:
Make sure your yeast is fresh, otherwise despite your best efforts the recipe won't turn out. If your yeast comes in a glass jar, seal the lid tightly between each use and store in the fridge or the freezer. I get the bulk bag at Costco and add it to a large mason jar and store in the freezer. It's always yielded the best result for me.
Make sure the water is between 70 and 120 degrees Fahrenheit or the yeast won't activate properly or it will die.
Always mix the dough more rather than less.It is difficult to over mix pizza dough. Mixing it develops the gluten in the dough, which gives the dough its chewy, slightly fluffy texture. If you don't mix it enough the dough will be denser.
This dough wasn't meant for just pizza alone. It can be used in any recipe calling for pizza dough- such as calzones, stromboli, etc.
Simpler than you'd think, and a great way to get the whole family into the kitchen- save Grandma's easy homemade pizza dough recipe to your own family's recipe box today.
Other Recipes To Use Pizza Dough In:
If you've tried this EASY HOMEMADE PIZZA DOUGH, or any other recipe on my site, let me know in the comment section how it turned out, we love hearing from our readers! You can also follow along with me on PINTEREST, FACEBOOK, and INSTAGRAM to see more amazing recipes and whatever else we've got going on!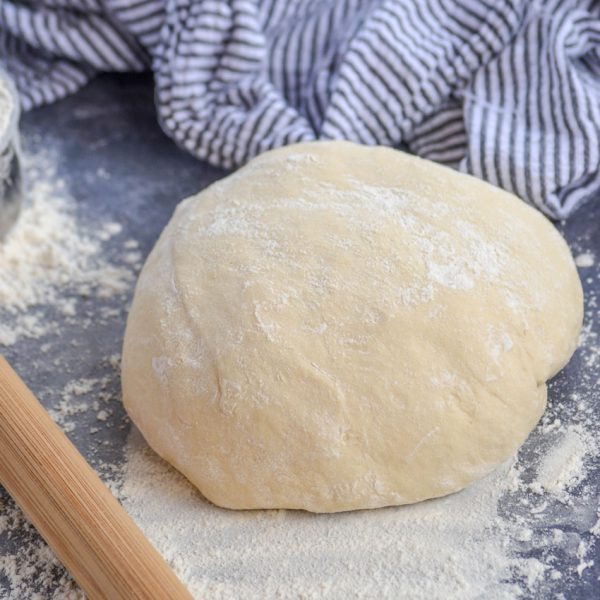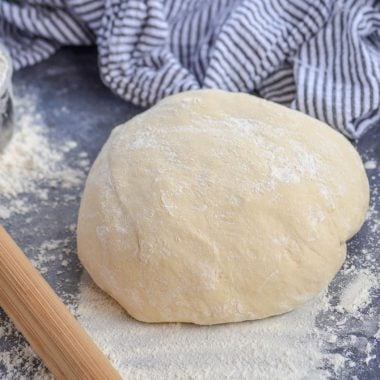 Easy Homemade Pizza Dough
Skip the trip to the store, and whip up Grandma's recipe for easy homemade pizza dough. It's light, airy crust that is easy to work with, and bakes up perfectly every single time.
Print
Pin
Rate
Ingredients
1/2

cup

warm water

2 1/4

tsp.

yeast

or 1 packet

1 1/4

cups

water

room temperature

2

tbsp

extra virgin olive oil

4

cups

bread flour

plus more for dusting

1 1/2

tsp

salt

olive oil or non-stick cooking spray for greasing the bowl
Instructions
Measure the warm water into a bowl. Add yeast and let stand until the yeast dissolves and bubbles up, about 5 minutes. Add the room temperature water and olive oil and stir to combine.

Add flour and salt to the bowl of a stand mixer and stir until the dry ingredients are combined. Slowly add the liquid ingredients and stir until a cohesive mass forms. Using the dough hook, let the mixer knead until the dough is smooth and elastic. Stop the mixer when the dough starts to pull away from the sides and form a cohesive ball. As best you can form the dough into a ball, put it in a deep, well oiled bowl, and cover with a damp cloth or plastic wrap. Let the dough rise until doubled in size, about 1 1/2-2 hours.

Press the dough to deflate it, remove from the bowl, and turn onto a lightly floured work surface or countertop. Divide the dough into two equal pieces.

Pre-eat oven to 400 degrees. Form pieces of dough into smooth, round balls and cover with a damp cloth. Let the dough relax for ten minutes.

Working with one dough ball and keeping the other covered, shape the dough, and transfer to a non-stick pizza pan of your choice. Top as desired. Bake for 18-20 minutes or until the crust edges are golden brown and the cheese is golden brown in spots. Repeat with remaining ball of dough or freeze* for later use.
Notes
*If freezing the dough make sure you wrap the dough ball in plastic wrap before putting it in a freezer bag. Before freezing stops the yeast process, the bread will continue to expand some. It WILL pop through the plastic wrap, but the extra layer will prevent it from busting the freezer bag and offer you an extra layer of protection to prevent freezer burn. This dough tastes just as good after freezing as it does fresh.
Nutrition
Calories:
1044
kcal
|
Carbohydrates:
183
g
|
Protein:
32
g
|
Fat:
18
g
|
Saturated Fat:
2
g
|
Sodium:
1763
mg
|
Potassium:
302
mg
|
Fiber:
7
g
|
Calcium:
38
mg
|
Iron:
2.4
mg