Do you love a sweet, caramelized Pineapple Upside Down Cake? What about a tried and true light, fluffy sugar cookie? Combine the two into one perfectly portioned dessert with these quick & easy Pineapple Upside Down Sugar Cookie Cakes.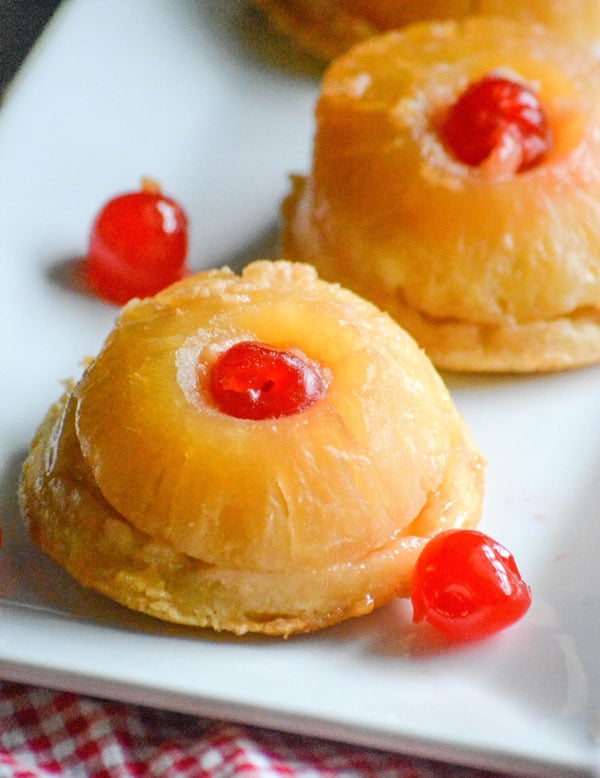 You'd think with the youngest son being # 4 in our lineup of kids, I'd have remembered some things.
Like the questions.
So many questions, everything is prefaced with a 'why?'. And the obsessions.
Oh, the things they love.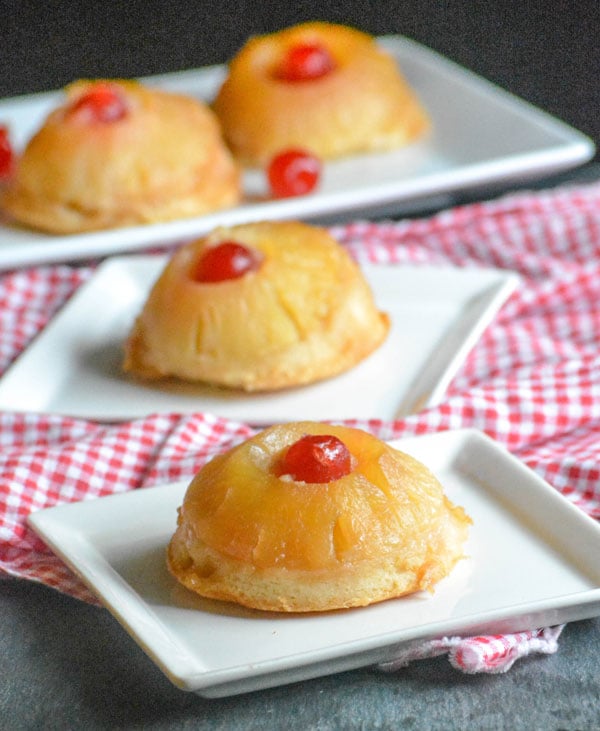 On his Daddy's side, the son's almost 100 % Italian.
My sides more of an amalgamation, a nice way of saying that culturally and genetically from me he inherited a mixed bag of DNA.
So it was really cool this year, when he came home with his study guide for Ancient Rome.
Here I was thinking it'd be a great opportunity to talk about his heritage, and a reason for him to be excited for this test.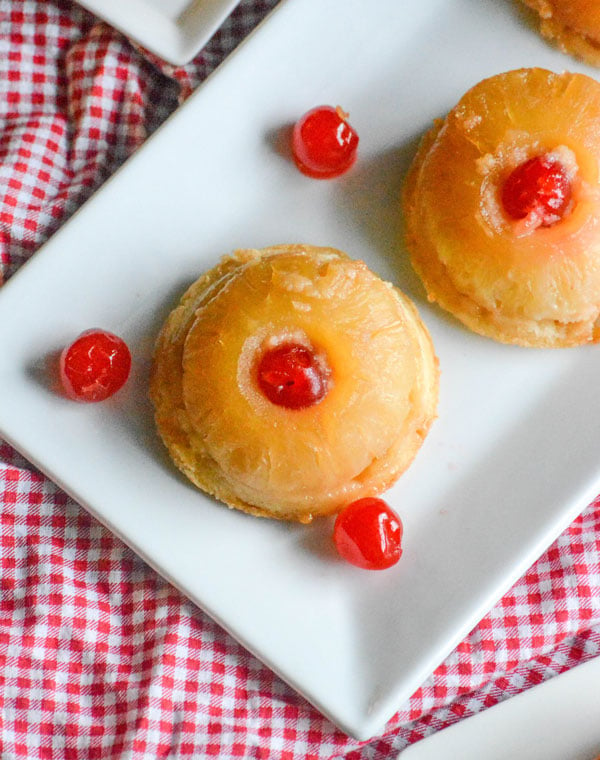 The only cultural/historical icon my kid is obsessed with- in the entirety of Italy- is the Leaning Tower of Pisa.
Seriously, for the first week it was the answer to ever single question I quizzed on architecture, or anything remotely in that vein.
I was ready to pull my hair out.
Luckily, this week they took a field trip to a local museum with a visiting exhibit on the subject.
What a book couldn't do to open his eyes, actually seeing artifacts and kinda living history finally did.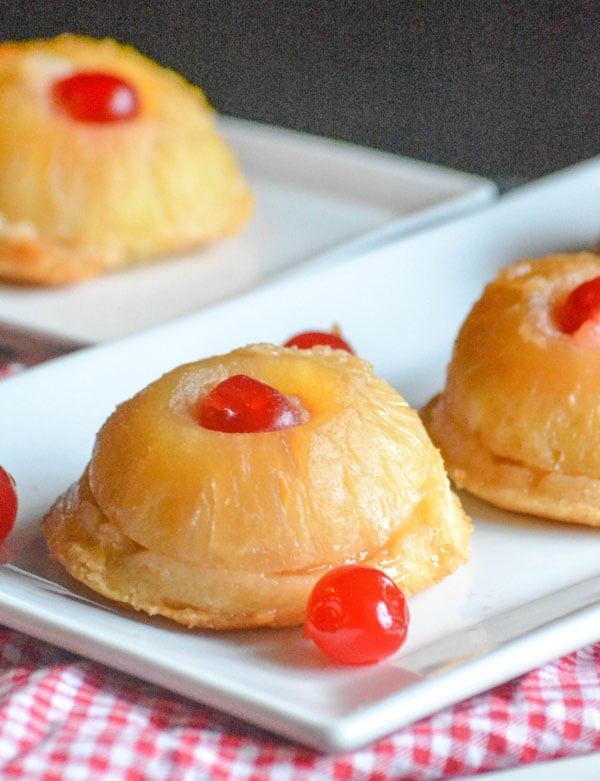 Granted tonight, when I asked him to give me one of Rome's most famous buildings, he did look me dead in the face and say 'The Leaning Tower of Pisa'.
It only lasted two seconds before he busted out in a fit of giggles, and said The Colosseum in between fits and breaths.
I couldn't help but laugh too, at that point. He is pretty damn funny.
Also, he couldn't wait to tell his Nonna what he'd learned and even began asking questions about his 'Italian-ness'- as he calls it.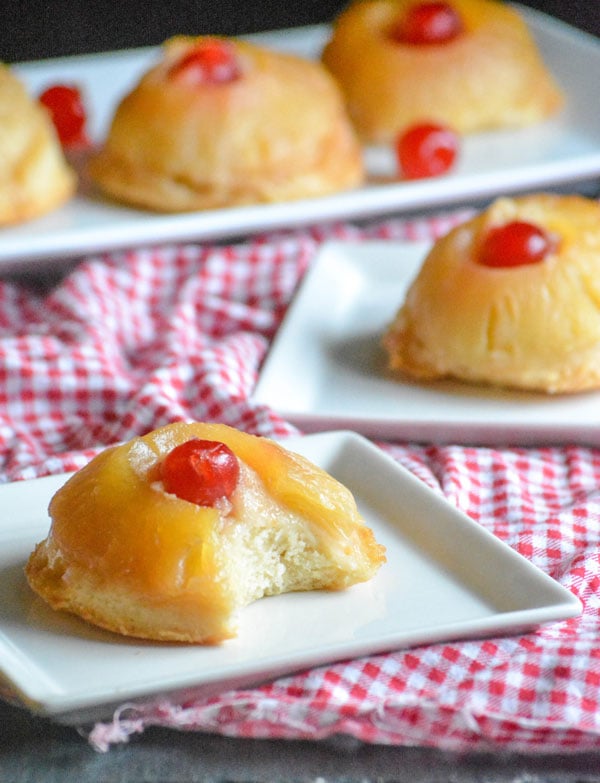 So these sugary sweet Pineapple Upside Down Sugar Cookie Cakes aren't remotely Italian, but they are as unforgettable as today's field trip.
I'm pretty obsessed with them too. Maybe not as much as our youngest and Pisa, but just about.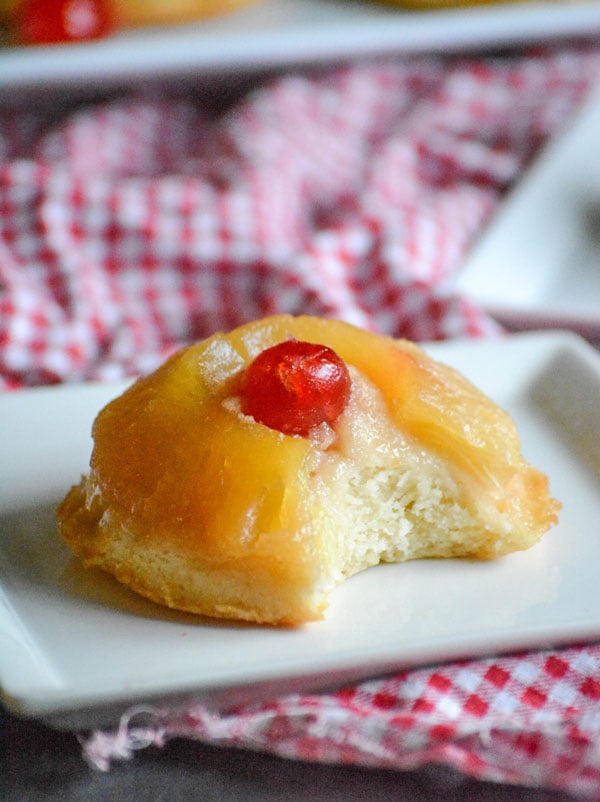 Pineapple Upside Down Sugar Cookie Cakes are the ultimate sticky, finger lickin', feel good dessert anytime of the year.
A soft, fluffy sugar cookie base is topped with a brown sugar sweetened, caramelized slice of pineapple with a bright, cheery maraschino cherry on top.
It may not be heritage related, or a family heirloom recipe, but it is a cookie for the ages.
Other Pineapple Treats You Might Also Enjoy:
If you've tried these PINEAPPLE UPSIDE DOWN SUGAR COOKIE CAKES, or any other recipe on the site, let me know in the comment section how it turned out, we love hearing from our readers! You can also follow along with me on PINTEREST, FACEBOOK, and INSTAGRAM to see more amazing recipes and whatever else we've got going on!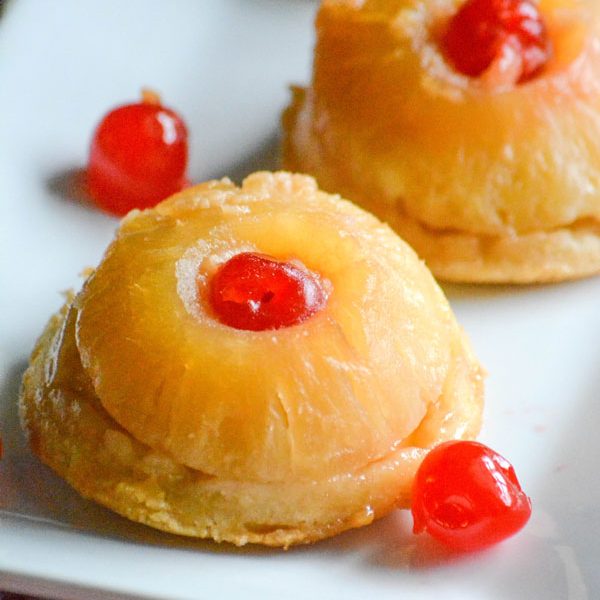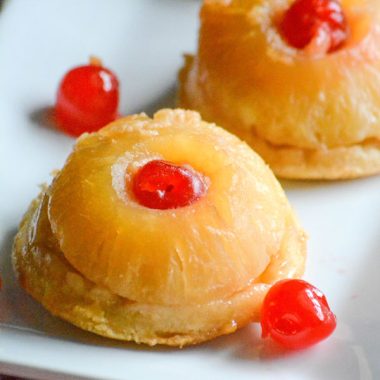 Pineapple Upside Down Sugar Cookie Cakes
A fluffy sugar cookie base is topped with yummy slices of caramelized pineapple with a sweet maraschino cherry on top making for a perfect handheld Summer dessert!
Print
Pin
Rate
Ingredients
2

sticks

butter, softened

1 1/2

cups

sugar

2

eggs

2

tsp

vanilla extract

1/2

cup

sour cream

3

cups

flour

1

tsp

baking powder

1

tsp

cornstarch

1/2

tsp

salt

12

slices

canned pineapple

12

maraschino cherries

1/2

cup

butter, melted

1

packed cup

light brown sugar
Instructions
To the bowl of a stand mixer, add the butter and sugar. Cream together until fluffy.

Add the eggs, extract, and sour cream mixing until evenly combined.

In a medium mixing bowl, add the flour, baking powder, cornstarch, and salt. Using a fork, stir together until evenly combined. While mixing on low speed, add these dry ingredients to the wet, slowly, just until you've added it all and the dough's just combined.

In another small mixing bowl, stir together the melted butter & brown sugar until evenly combined.

Lightly spray a cupcake pan with non stick spray. Add a tablespoon of the brown sugar mixture to the bottom of each cavity. Spread it slightly to cover the bottom. Add the pineapple slice on top of the brown sugar and the cherry in the center of the pineapple.

Add about 3 tablespoons of dough to each cavity, using a spatula or the back of a spoon to flatten/spread it out evenly.

Bake the cookies at 350 degrees for 25 minutes, or until the edges are golden brown and the brown sugar is bubbling up the sides. Remove the pan from the oven, and let rest for 10 minutes.

One by one, turn the cookies out onto a wax paper covered surface. If a pineapple slice sticks to the pan, just pick it up and reposition it onto the cookie cake.

Let the cookie cakes cool completely before serving & enjoying!
Nutrition
Calories:
557
kcal
|
Carbohydrates:
78
g
|
Protein:
5
g
|
Fat:
26
g
|
Saturated Fat:
16
g
|
Trans Fat:
1
g
|
Cholesterol:
93
mg
|
Sodium:
324
mg
|
Potassium:
194
mg
|
Fiber:
2
g
|
Sugar:
53
g
|
Vitamin A:
837
IU
|
Vitamin C:
5
mg
|
Calcium:
68
mg
|
Iron:
2
mg