Peach basil chicken salad is the chicken salad recipe you need in your life this summer. Bursting with sweet ripe peaches and summer basil, this twist on traditional recipes is a fresh change that makes lunch a delightful treat.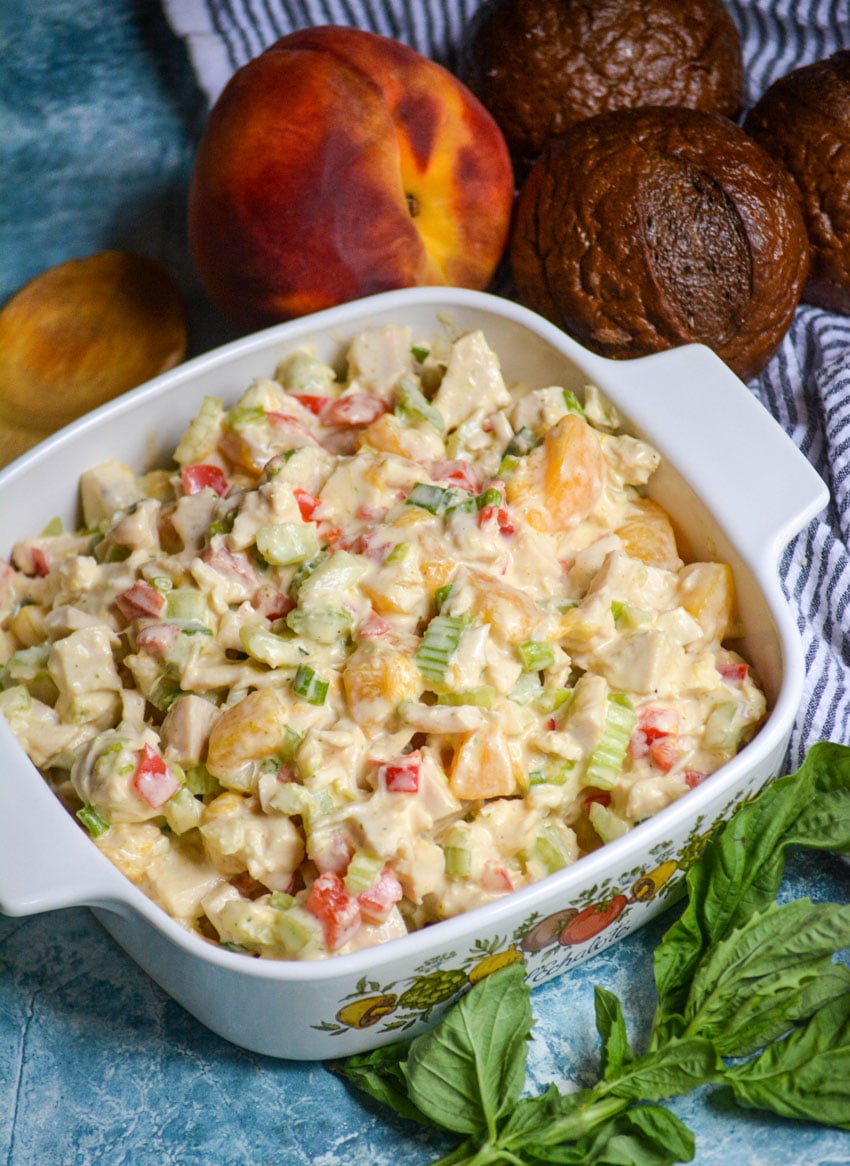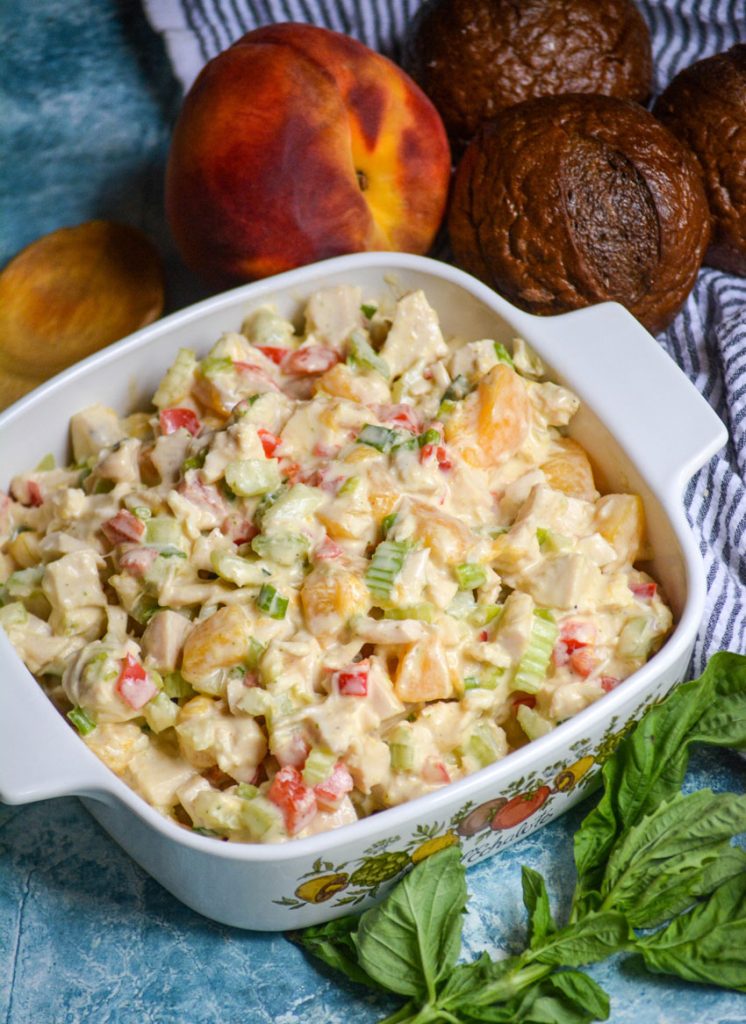 Chicken salad is one of our favorite lunches.
We almost always have some variety on hand.
I like to switch up the recipe I use to keep things fresh. And that is exactly what this variation is.
lt's a lunch boredom buster and it's a delicious way to use all the garden basil.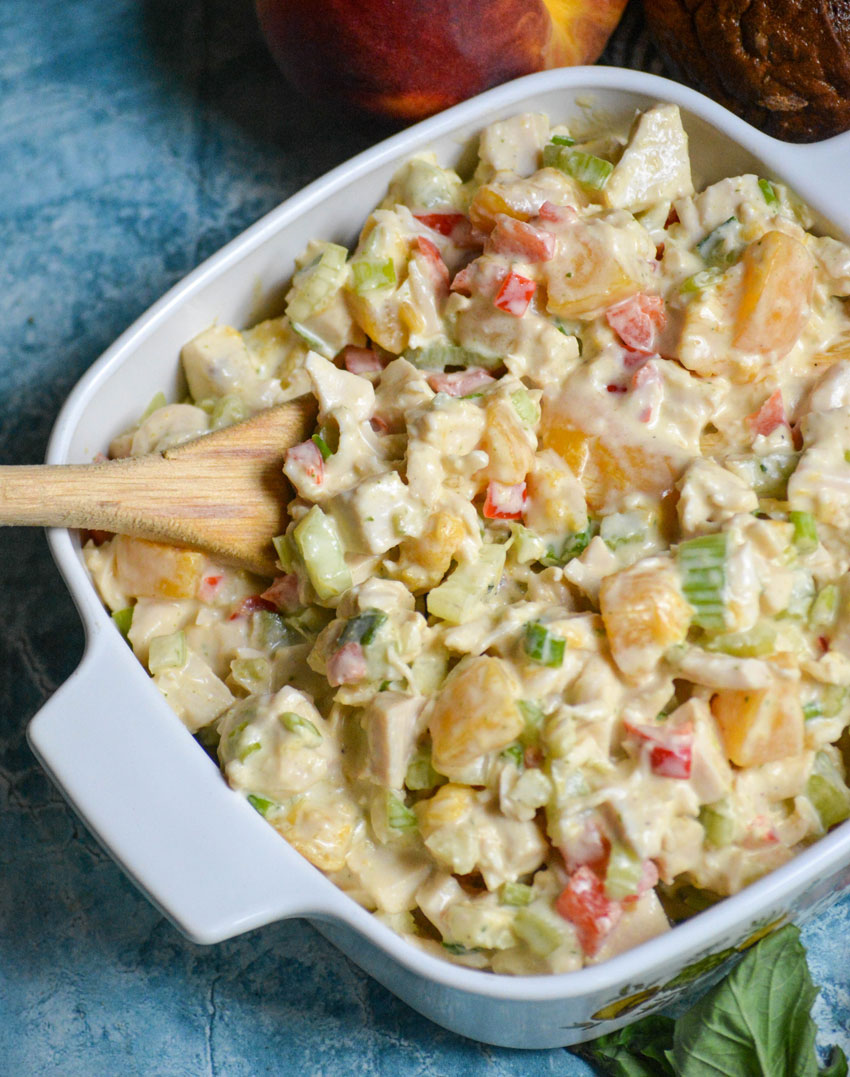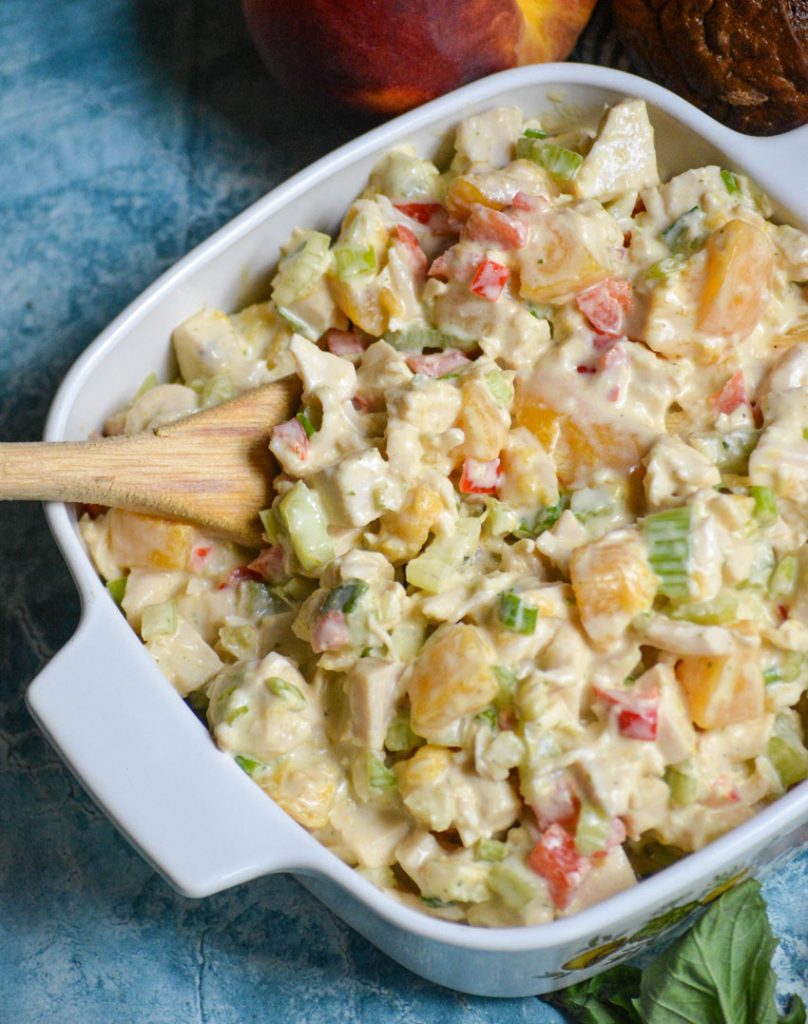 Tons of Texture and Flavor
The best chicken salad recipes nail the combination of crunchy veggies, tender chicken and creamy dressing.
This recipe gives you pieces of tender rotisserie chicken, soft but slightly firm peaches, and loads of crunch from sliced celery, green onion and bell pepper.
Not only do those ingredients add lots of texture but they give the salad itself a ton of sweet and savory flavor.
Plus the creamy dressing is a sweet, tangy mix of ripe peaches, fresh basil, bright lemon juice, tart vinegar, fruity olive oil, spices and mayo.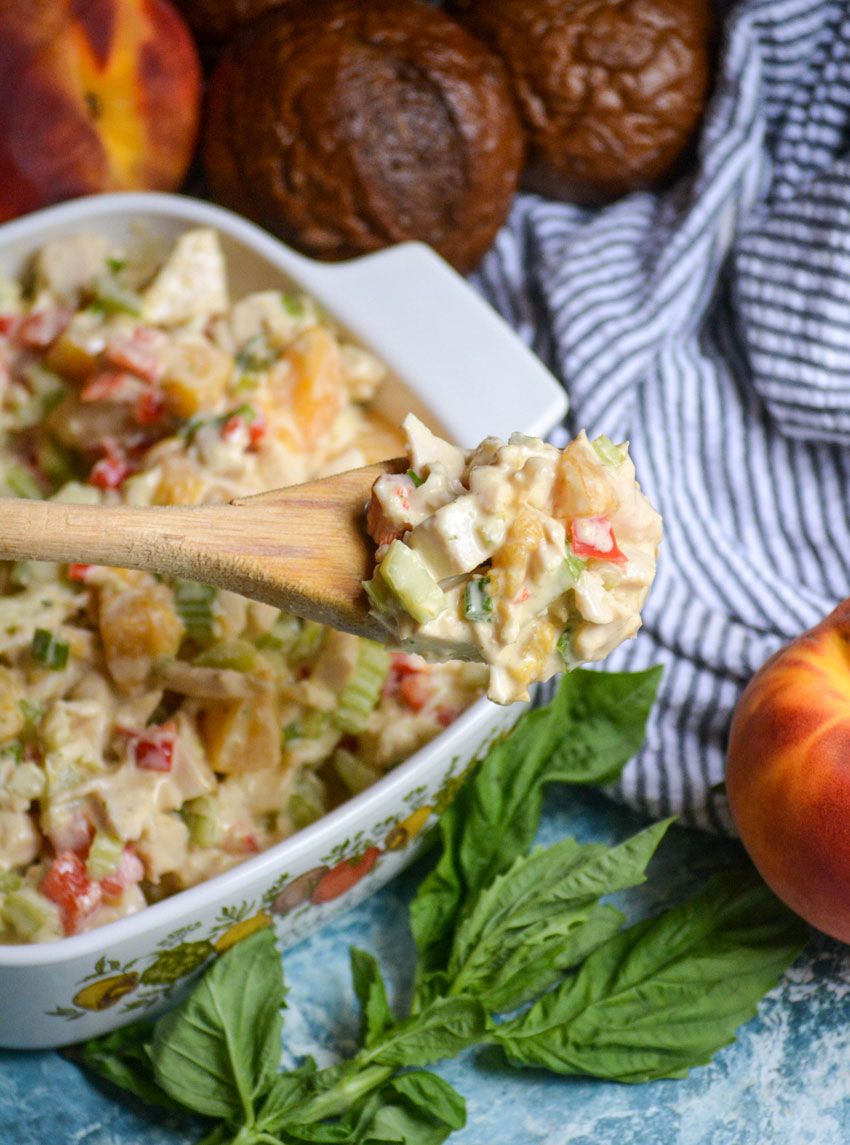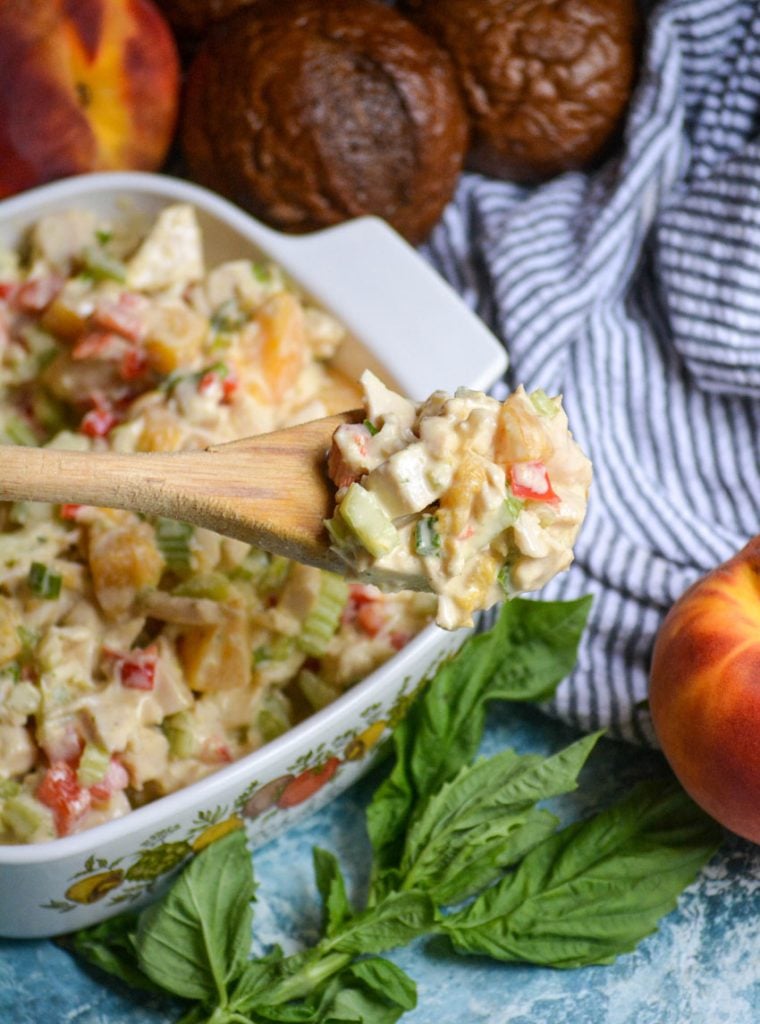 How to Make
Like most recipes for chicken salad, this variation is very easy to make.
Start by making the salad.
To do this, add all the chopped salad ingredients to a bowl and toss them to combine. Then set them aside while you make the dressing.
To make the dressing, add all the ingredients into a blender and blend on high until the mixture is pureed.
Pour the dressing over the salad mixture and then toss it together until everything is evenly coated.
Then cover the bowl with plastic wrap and refrigerate overnight. Serve on bread, rolls or lettuce and enjoy.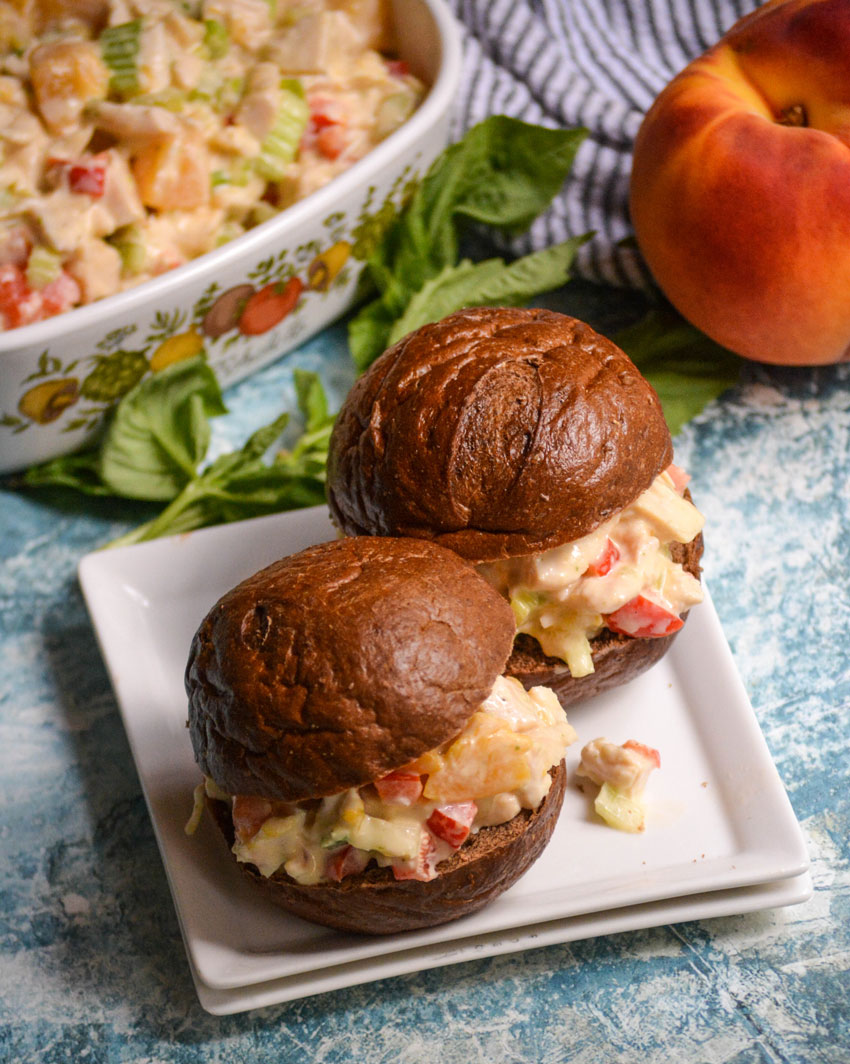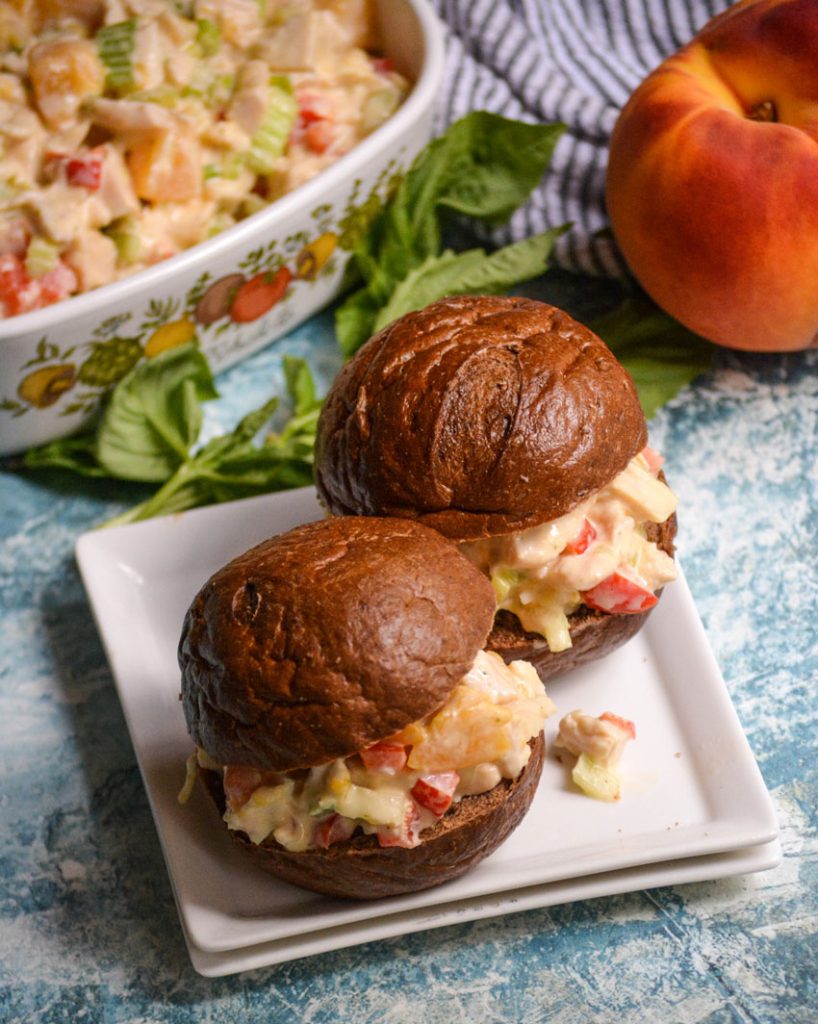 Can I Use Canned Peaches or Is Fresh Best?
This truly a Summer chicken salad recipe- the time of year both fresh vine ripened peaches and fragrant basil leaves are both in abundance.
If you can find or pick fresh peaches, I highly recommend them for this recipe. Check a local orchard or farmer's market if you can't find them at your grocer's.
Fresh peaches are firmer than canned, meaning they hold up better for storing & leftovers. They also have a better texture.
However, I know they may not be readily available for everyone especially depending on location.
You can substitute canned peaches, but try to find ones that aren't soaked in overly sweet syrup.
Also, make sure they're allowed to drain well before using in the recipe.
This is already a 'dressed' chicken salad, meaning it's not as firm as a solely mayo based one.
Too much extra syrup from the canned fruit will just make it soupy and the actual dressing will break down.
Can I Substitute Dried Basil?
Basil is a great seasoning ingredient to have on hand, and I always make sure to keep the dried version stocked in my spice cabinet.
That being said, I would not try using it in place of the fresh leaves in this chicken salad recipe.
It's not always easy to get the ratios right when substituting dried herbs for fresh. Store bought dried herbs are often bland, especially when compared to their fresh counterparts.
No matter how many times we tried substituting dried basil for fresh, it just didn't deliver the flavor you need in this peach basil combination.
We grow our own basil in the Spring and Summer months, but if that isn't an option you can usually find fresh leaves in your market's produce section.
Try to find Italian basil- it will just say basil on the package, instead of it's Thai cousin.
Thai Basil VS. Sweet Italian Basil
While sweet basil can generally be substituted for Thai basil in any given recipe, the same isn't the case the other way around.
Italian basil, also known as sweet basil, has a sweet pepper-y taste that perfectly compliments the sweet peaches and savory notes in this chicken salad.
Thai basil is more of a savory leaf. It smells (and tastes) faintly of anise and has a slightly spicy, licorice like after taste.
Since this basil is being blended into a sweet dressing, and not into the salad as a tossed ingredient, I definitely recommend sticking with the traditional sweet basil for this particular recipe.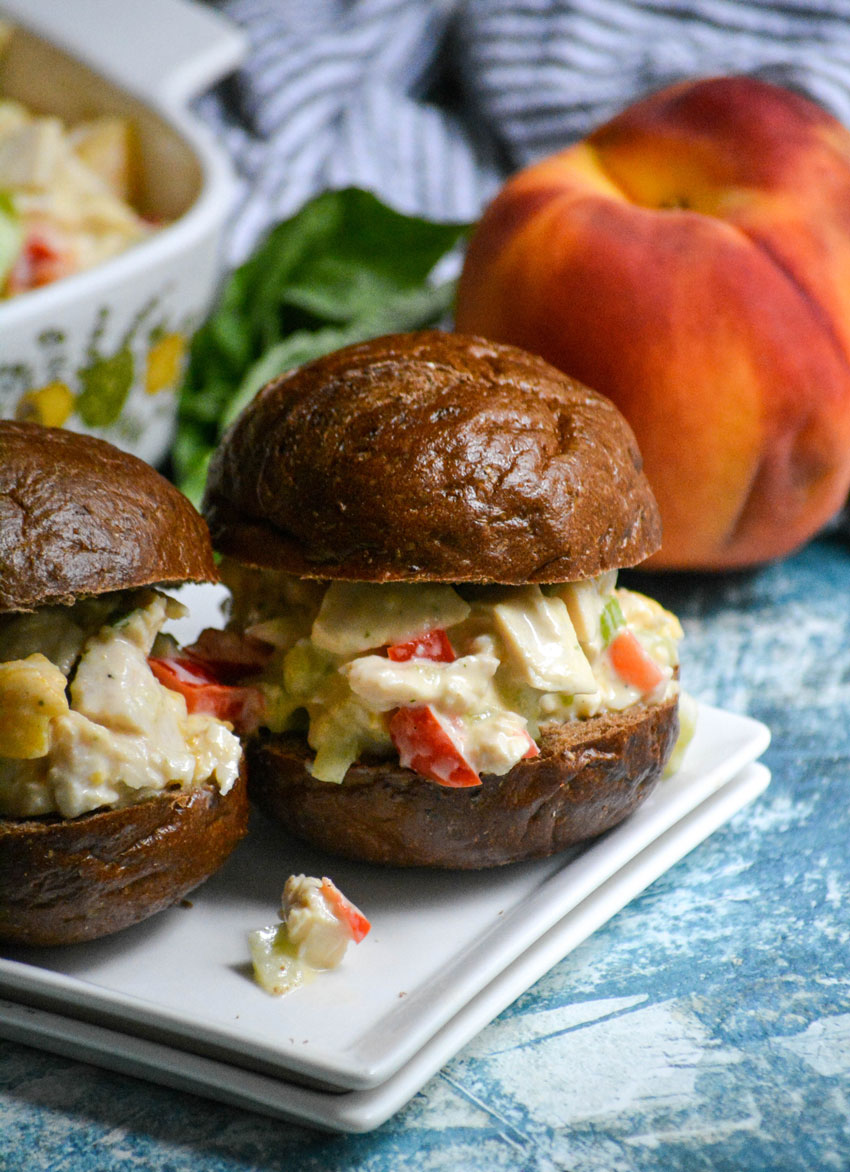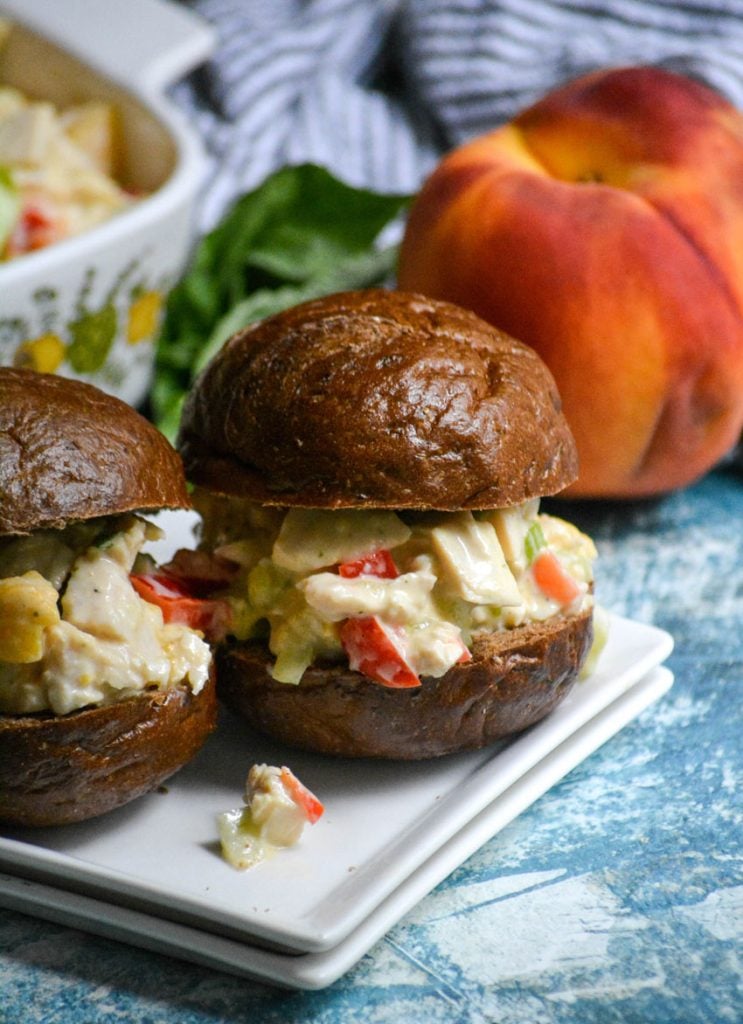 How Long Does This Last?
Store the prepared peach basil chicken salad recipe, covered. in the fridge and it will last for 3 to 5 days.
If you want to make it ahead of time, but won't be ready to serve it in the 3 day window, then toss the chicken salad ingredients together and store then in an airtight container in the fridge.
Blend together the dressing as instructed, and store it separately in another air tight container in the refrigerator.
When ready to serve, simply toss the two together in a mixing bowl until evenly combined.
What's The Best Way To Serve This Chicken Salad?
I love, love, love chicken salad. So much so that I will happily dig into a bowl full with nothing more than a spoon.
Not everyone shares in my simplicity though. Most people prefer it served sandwich style for a hearty lunch or light supper.
I love serving this on slider rolls for a light supper with simple sides. Pumpernickel and sweet Hawaiian are some of my favorite options.
For a full sized sandwich we typically opt for toasted slices of sour dough. It's sturdy enough to hold up to a juicy sandwich filling without getting soggy in the time it takes for you to enjoy.
You can always opt for an even simpler suggestion, and serve it as an appetizer or snack when paired with buttery club, pita style, or pretzel crackers.
Depending on your dietary needs, you can even kick the bread/carbs altogether.
To make this low carb, serve it in lettuce leaves- wrap style.
Tips and Tricks
Don't have rotisserie chicken? Any neutral baked or grilled chicken will work.
Make sure you let the salad rest in the fridge before serving it. The resting time allows the flavors of the salad to meld together and develop.
Use mayonnaise and not mayonnaise dressing for the best flavor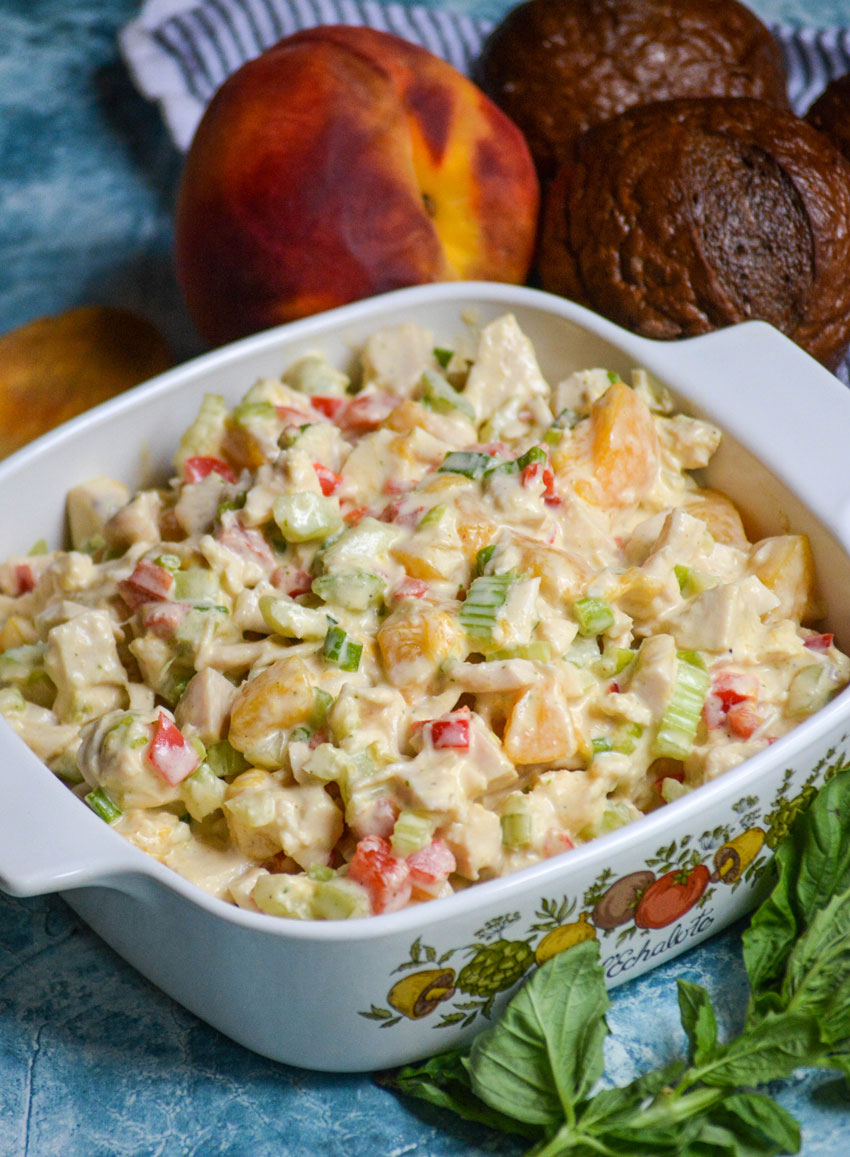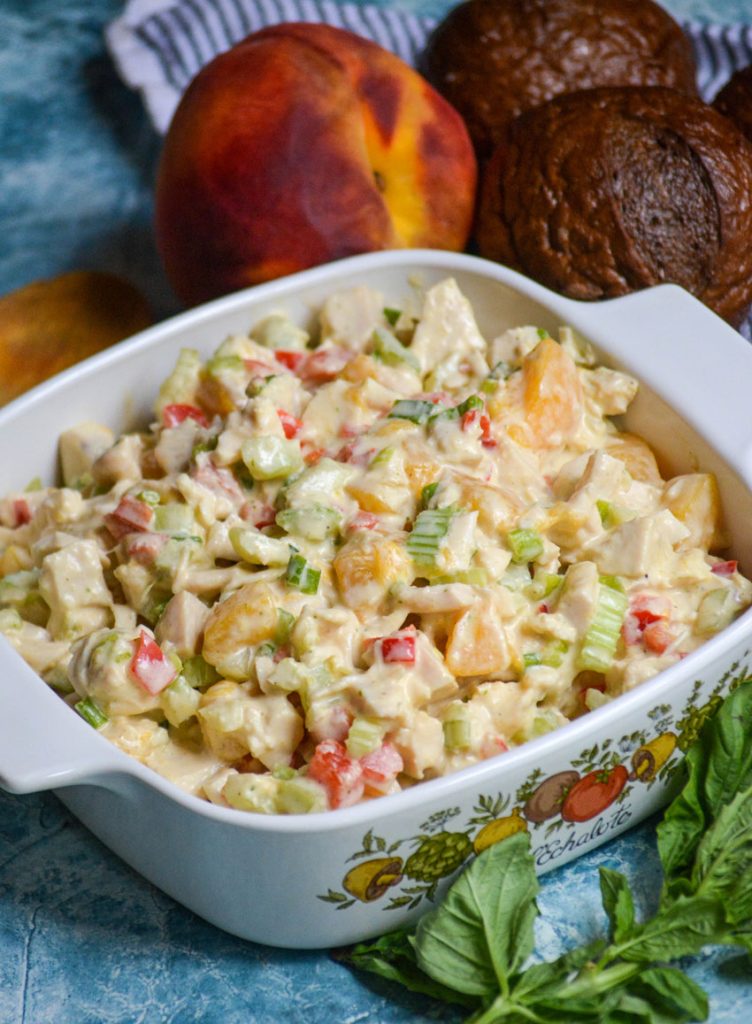 Looking for other chicken salad recipes? Try these!
Everyone has heard of apples in their chicken salad, and those are great for Fall but not for Spring & especially Summer.
This peach basil chicken salad brightens up summer lunches with fresh seasonal flavors. Make it today to bust your lunch rut.
Looking for other chicken salad recipes? Try these:
If you've tried this PEACH BASIL CHICKEN SALAD, or any other recipe on my site, let me know in the comment section how it turned out, we love hearing from our readers! You can also follow along with me on PINTEREST, FACEBOOK, and INSTAGRAM to see more amazing recipes and whatever else we've got going on!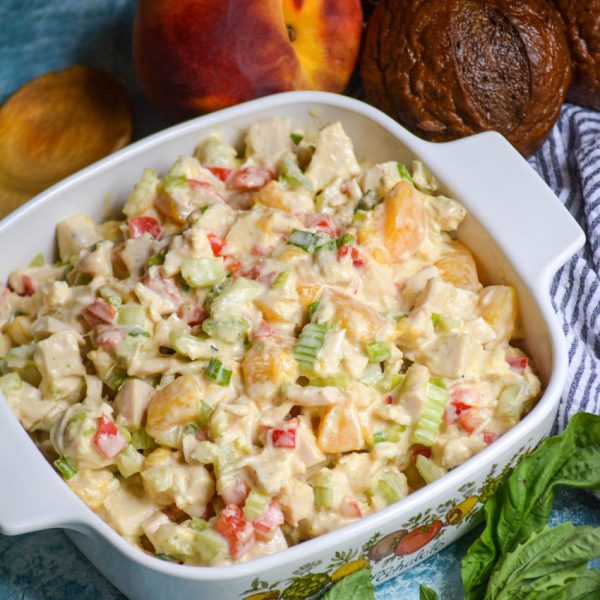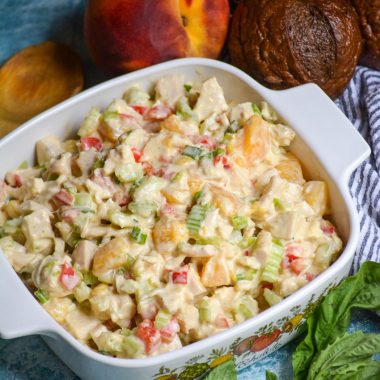 Peach Basil Chicken Salad
Peach basil chicken salad is the chicken salad recipe you need in your life this summer. Bursting with sweet ripe peaches and summer basil, this twist on traditional recipes is a fresh change that makes lunch a delightful treat.
Print
Pin
Rate
Ingredients
For The Chicken Salad
3

cups

chopped rotisserie chicken

2

ripe

peaches

peeled & diced

3

ribs

celery

thinly sliced

1/2

bunch

green onion

thinly sliced

1/2

cup

diced red bell pepper
For The Dressing
1

ripe

peach

peeled & quartered

2

tbsp

lemon juice

1/2

tbsp

chopped fresh basil

1

tbsp

extra virgin olive oil

2 1/2

tbsp

vinegar

pinch

tarragon

1/2

tsp

salt

1/2

tsp

celery seed

2

tsp

sugar

1/4

tsp

freshly ground black pepper

1/3

cup

mayonnaise
Instructions
To Make The Salad
Add the chicken, peaches, celery, green onion, and red pepper to a large mixing bowl.

Toss to evenly combine. Set aside.
To Make The Dressing
Add all of the ingredients to a blender.

Blend on high speed until the mixture's pureed.

Pour this dressing out over the salad ingredients. Stirring until everything's well coated & evenly mixed.

Cover the mixing bowl with cling wrap, and refrigerate the chicken salad overnight.

Serve on sandwich bread, rolls, lettuce leaves, or with crackers.