This pepperoni pizza baked gnocchi puts all the delicious flavors from your favorite pepperoni pizza into a cozy gnocchi bake. This baked gnocchi recipe is hearty comforting favorite that your whole family will love. It's the perfect dinner to feed a crowd on the busiest of nights.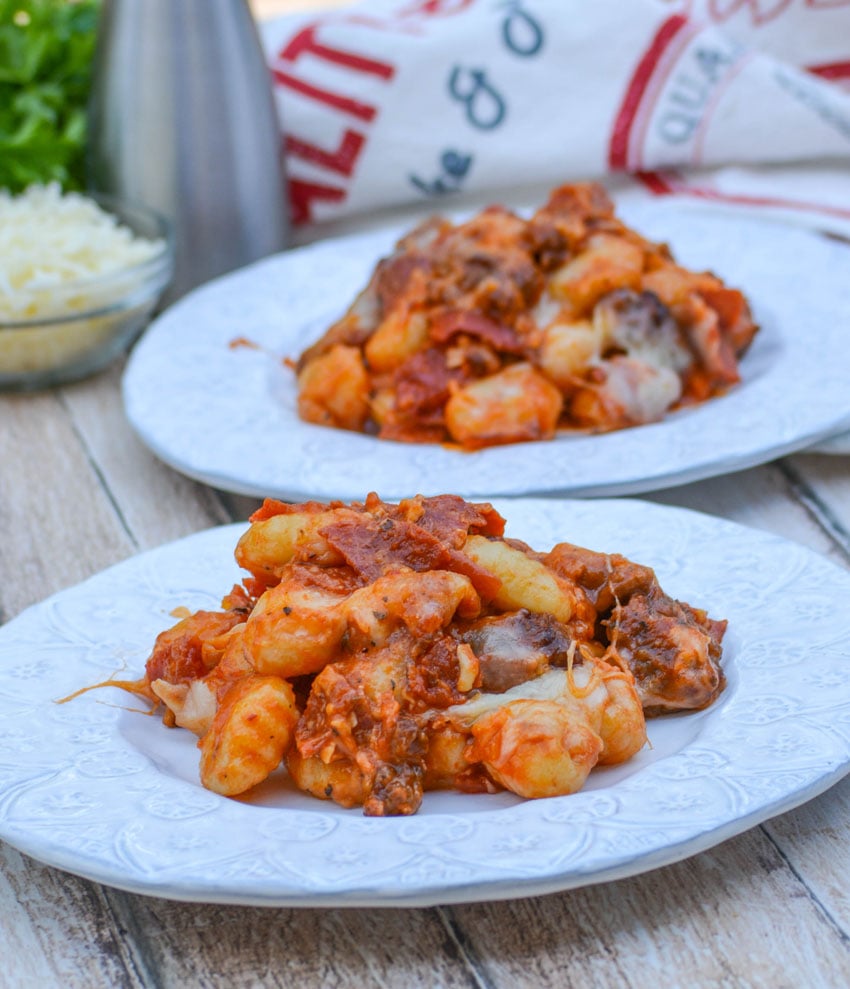 I love making quick baked pasta dishes. While I make them year round since my hungry boys love cheesy pasta bakes, I really love them once the weather gets colder because they are the perfect cozy comfort food dishes especially this loaded pepperoni pizza baked gnocchi.
This gnocchi bake is even heartier and more comforting than most baked pasta dishes.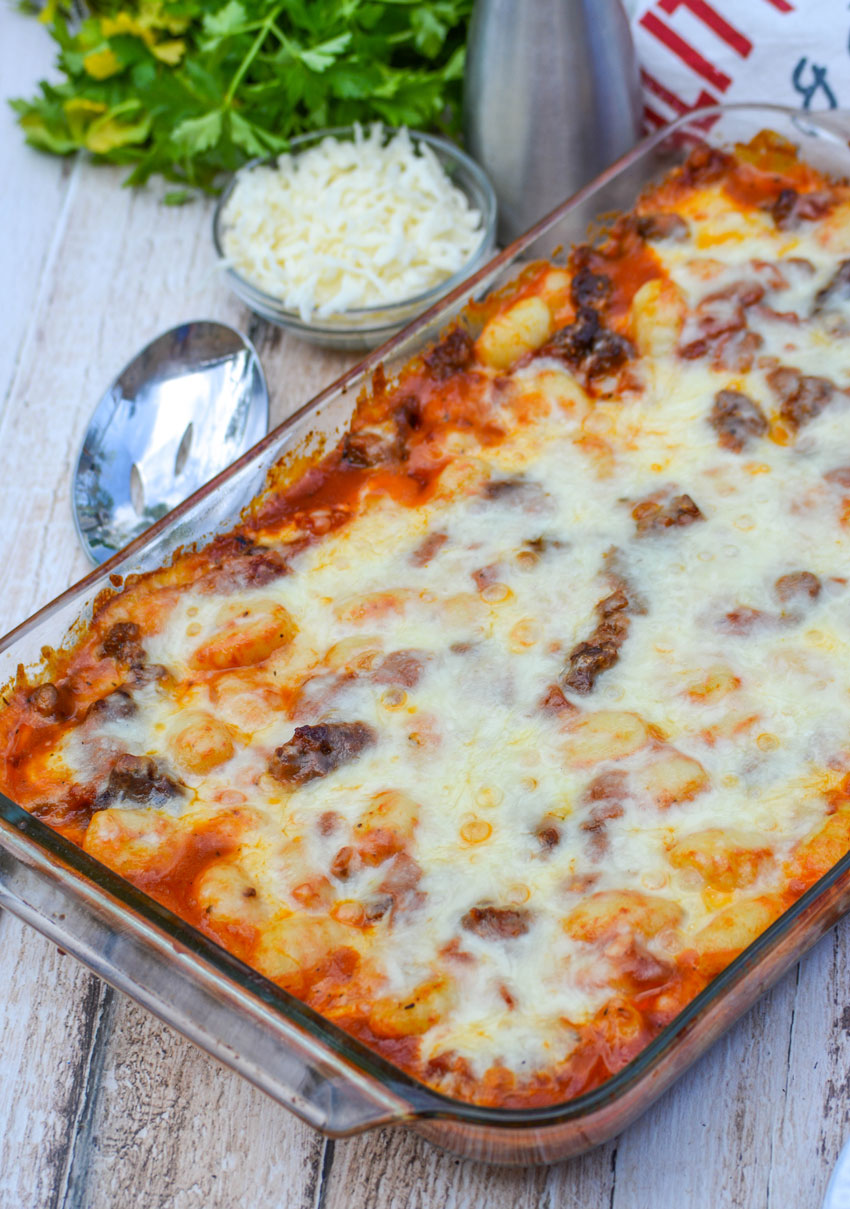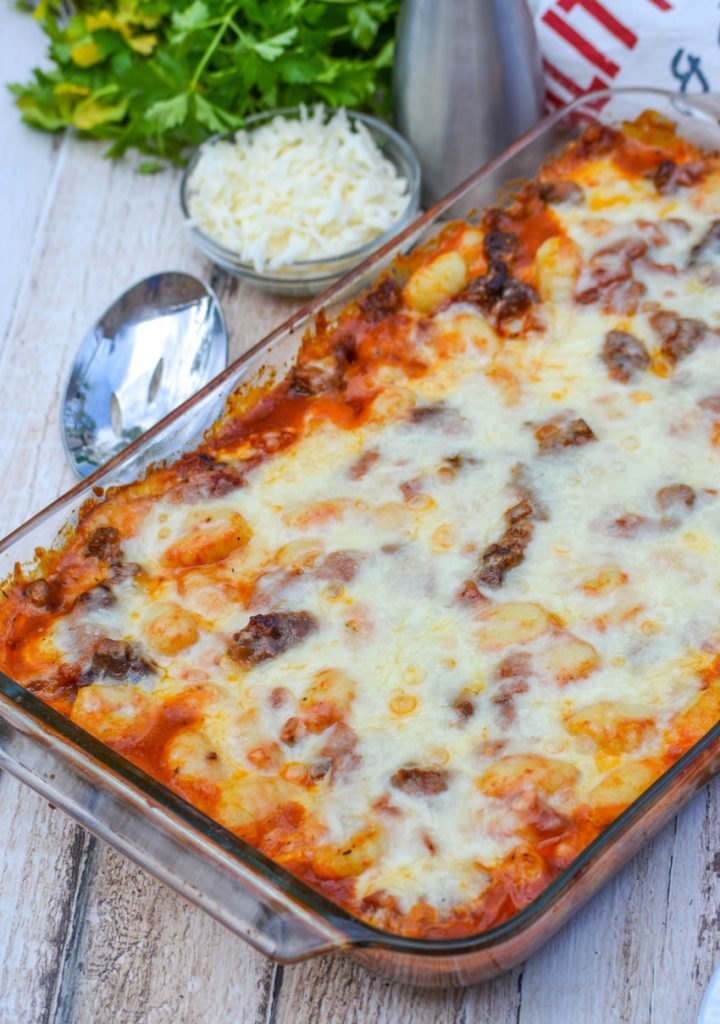 What is Gnocchi? Little Dumplings of Heaven
Part of what makes this pepperoni pizza bake so delicious is that instead of using pizza crust or pasta as a base for the bake, I use gnocchi.
Have you ever had gnocchi? Gnocchi is a thicker pasta that's sort of a fluffy Italian dumpling made from a mixture of potatoes and flour. They are absolutely delicious.
It's like mashed potatoes but in pasta form. The make the perfect base for so many baked pasta dishes like this baked gnocchi with bacon. They are also to die for in mac and cheese.
For this pepperoni pizza gnocchi bake, I'm adding so many other textures and flavors to the little dumplings with pepperoni slices, ground sausage, mushrooms, olives and of course, sauce and cheese.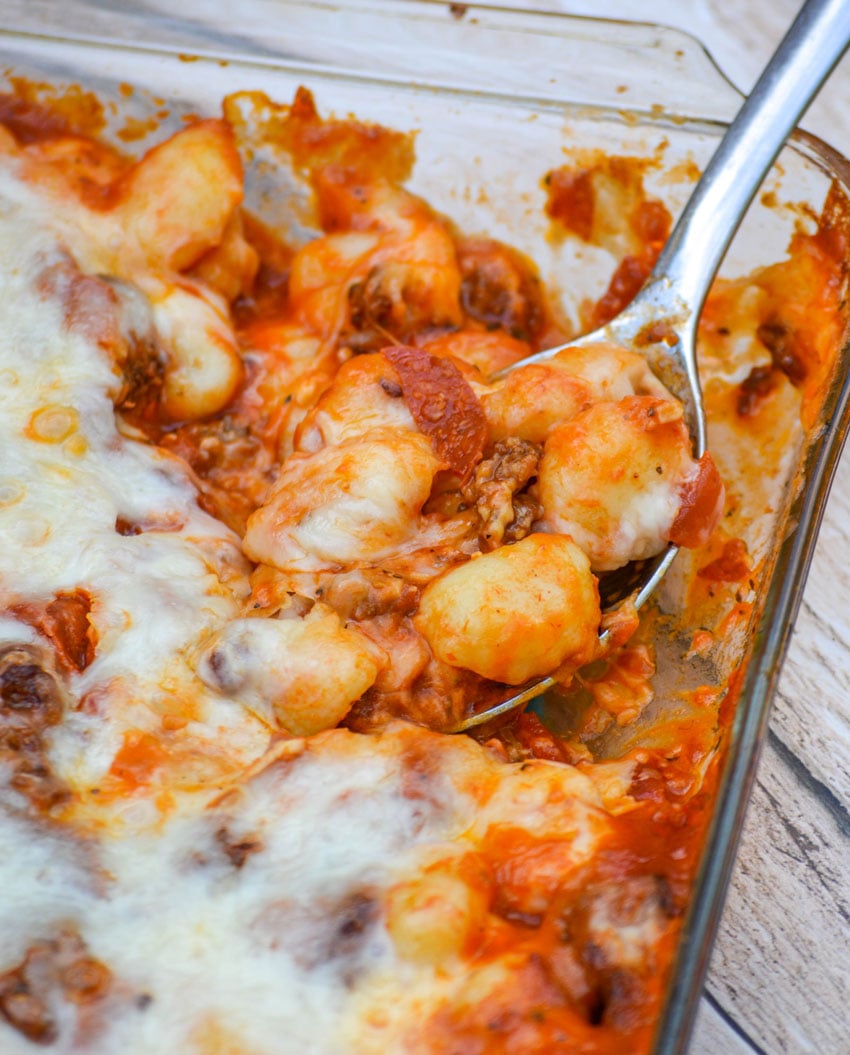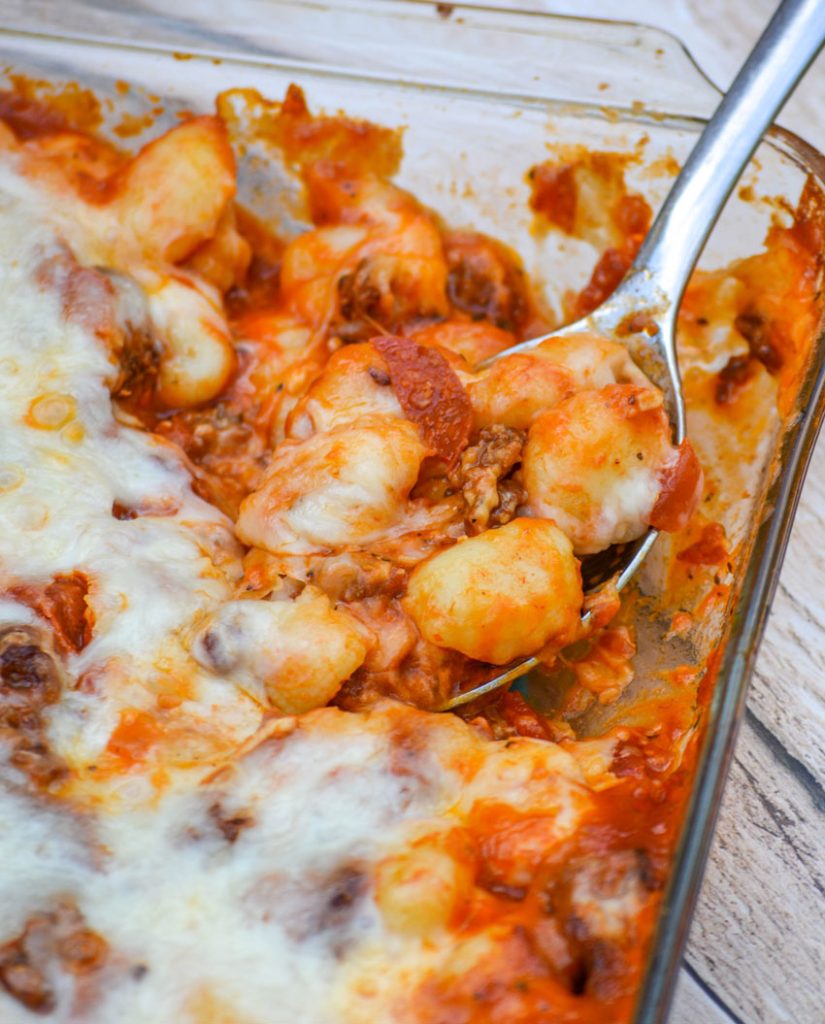 Making this Easy Loaded Pepperoni Pizza Baked Gnocchi
To make this baked gnocchi recipe, start by cooking your ground sausage in a large skillet, crumbling it as you go. Crumble up your sausage as you cook it.
While some recipes are better with large chunks of meat in them, I tend to break my sausage up more finely for this dish. Like I would if it was ground beef. It just means things blend together better with a bit of meat ensured in every bite.
Once it's cooked through so it's no longer pink, drain the sausage. Then cook the gnocchi according to the directions on the package.
Most gnocchi cooks in just a couple of minutes and will float to the top when it's done. I recommend reading the recommended cook time on the package, but the float test is typically my go to indicator that the gnocchi's ready.
Once the gnocchi is done, drain your gnocchi completely of water and add it to the skillet with the sausage.
After you add your gnocchi to the pan with the sausage, stir in the pepperoni, olives & mushrooms (if using), half of the cheese, and sauce. Give it a stir to mix it up well. Then pour the whole skillet into a 9×13 baking dish and cover it tightly with aluminum foil.
Don't have any foil? Or you can't use your casserole dish for some reason? You can also transfer the mixture to a dutch oven, put the lid on, and bake as instructed- at 400 for 15 minutes.
Finish it by uncovering the gnocchi bake and sprinkling on the remaining cheese and Italian seasonings. Then put it back into the oven and let it bake until the cheese on top is melted and bubbly.
It's a beautiful sight to see, and just as yummy to enjoy! However, as with a lot of our saucy & cheesier dishes I do recommend a brief wait period to let everything rest and set before serving.
This allows the sauce to thicken slightly and the cheese to set up so it isn't so melted it's runny. Everything will still be the perfect temperature to enjoy when ladled onto plates.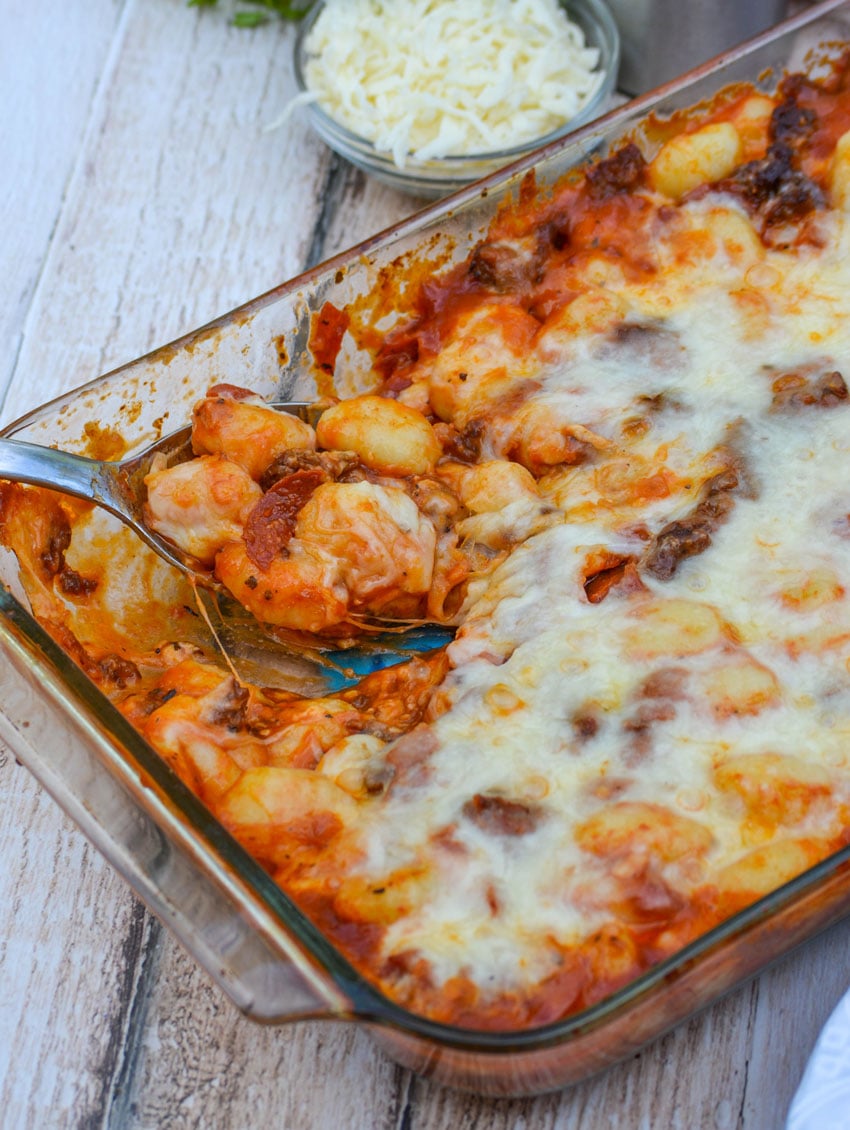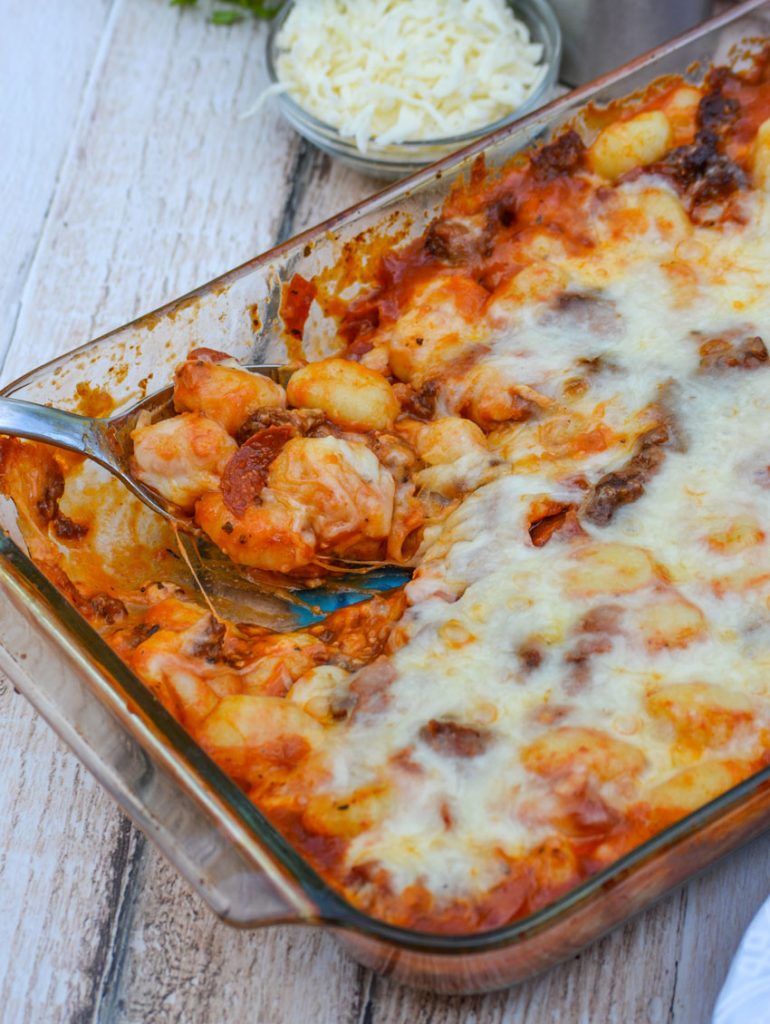 Tips and Tricks for Making the Yummiest Loaded Pepperoni Pizza Baked Gnocchi
This gnocchi bake is very easy to make but you can follow a couple of tips and tricks to set you up for dinner success:
You could substitute homemade marinara sauce instead of jarred sauce. However, jarred sauce works well- just make sure to use your favorite brand.
Don't like olives? No big deal. You can omit them if you prefer. The same is true for the mushrooms.
Feel free to get creative with your veggies. If you don't like olives or mushrooms, you could substitute in peppers and onions instead or really whatever you like. Feel free to give it the 'supreme pizza' makeover.
Don't forget to let the gnocchi bake rest before you serve it.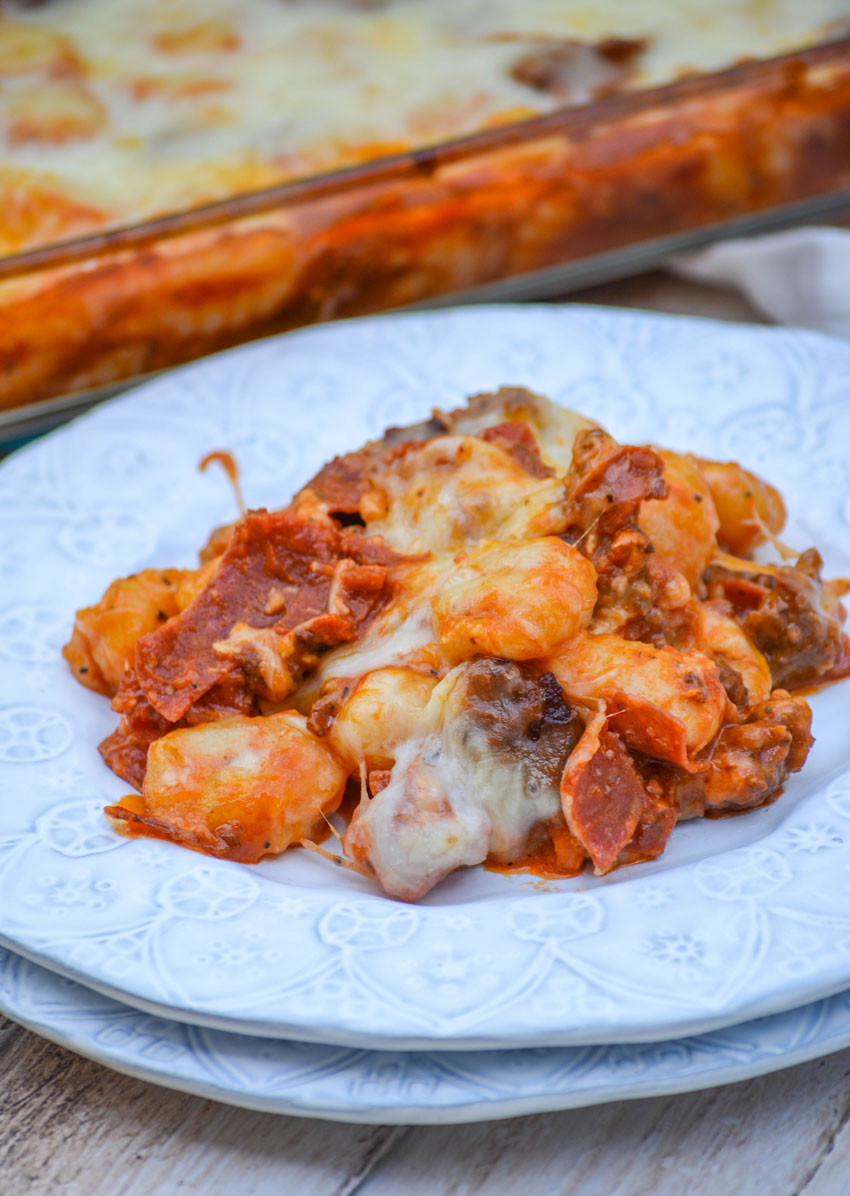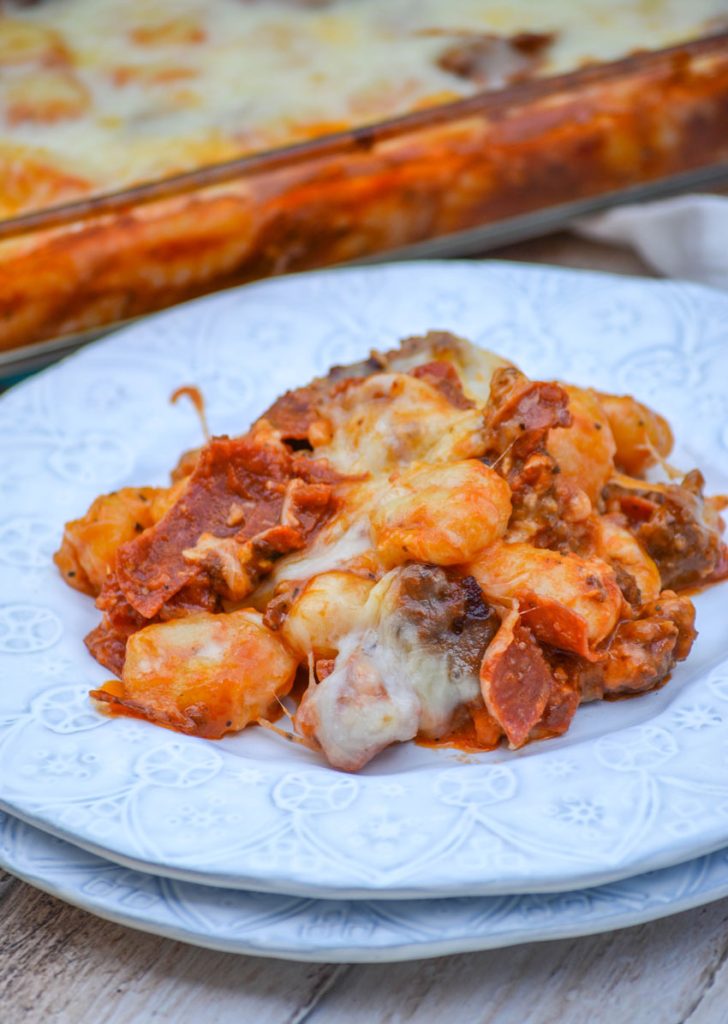 Another reason I love casseroles and bakes? They're often almost stand alone meals all to themselves. While 20 year old me wouldn't have given a second thought to enjoying a bowl full of this for supper and calling it a day, the mom in me a decade + later advises against that.
The family needs all this calorie rich, cozy comfort food balanced out with something I can justify as moderately healthy.
If this pepperoni baked pizza gnocchi is on the menu, I guarantee you there's fresh crusty bread to go with it. Whether it's our crusty Dutch oven bread, or our fool proof 30 minute baguettes. Both are easy for any level of baker to whip up with success. Both are perfect for sopping up any stray sauce left on plates.
That's still carbs on carbs, we still need something healthy right? And I've still got to keep it simple. That's every busy weeknight's theme for me. My obvious go to would be a simple side salad with leafy greens that's lighter or toppings drizzled with a zesty vinagrette. Luckily, the sons' all love salad.
If veggies are more your thing, then I'd suggest pairing this with some simple green beans- fresh or from a can will both work. Steamed broccoli is also another great choice that pairs perfectly.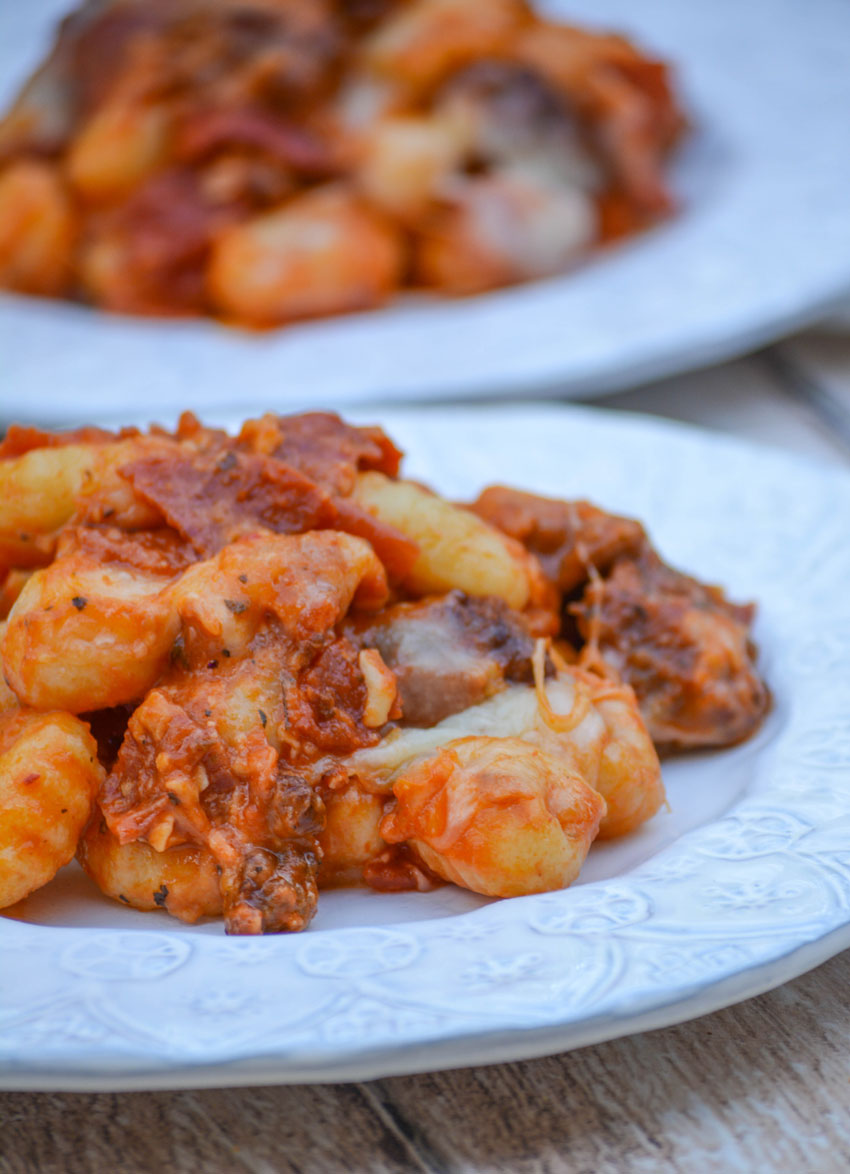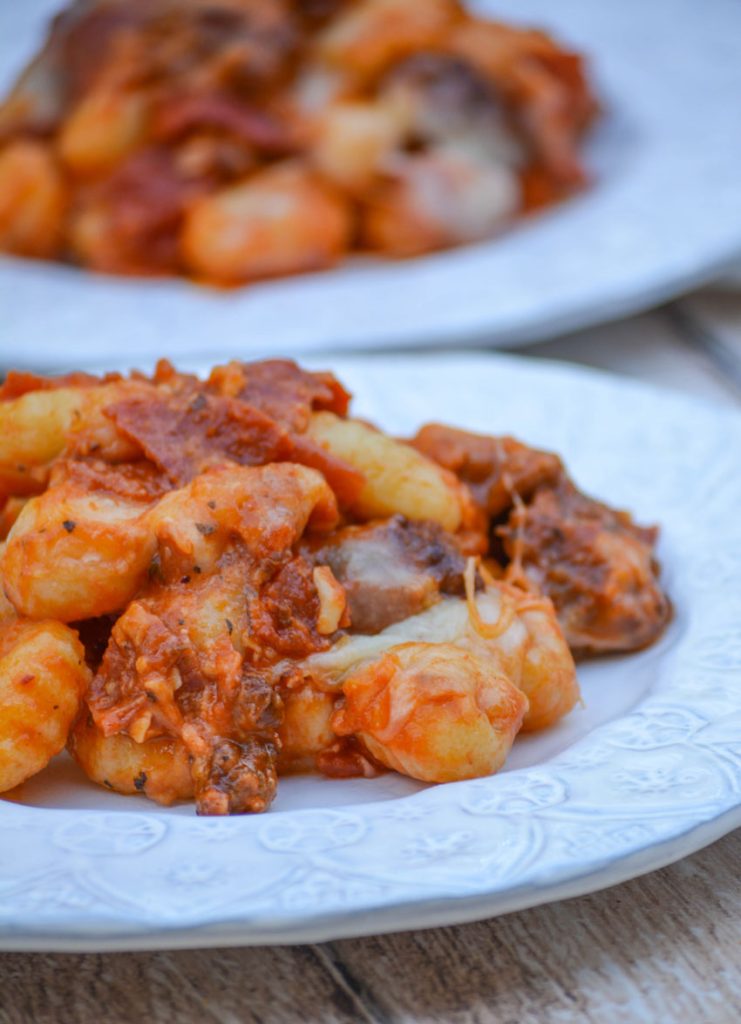 This loaded pepperoni pizza baked gnocchi will blow everyone away at the dinner table and leave everyone begging for seconds of this flavorful dish.
Like This Baked Gnocchi? Give One Of These Other Pizza-Themed Dishes A Try:
If you've tried this PEPPERONI PIZZA BAKED GNOCCHI, or any other recipe on my site, let me know in the comment section how it turned out, we love hearing from our readers! You can also follow along with me on PINTEREST, FACEBOOK, and INSTAGRAM to see more amazing recipes and whatever else we've got going on!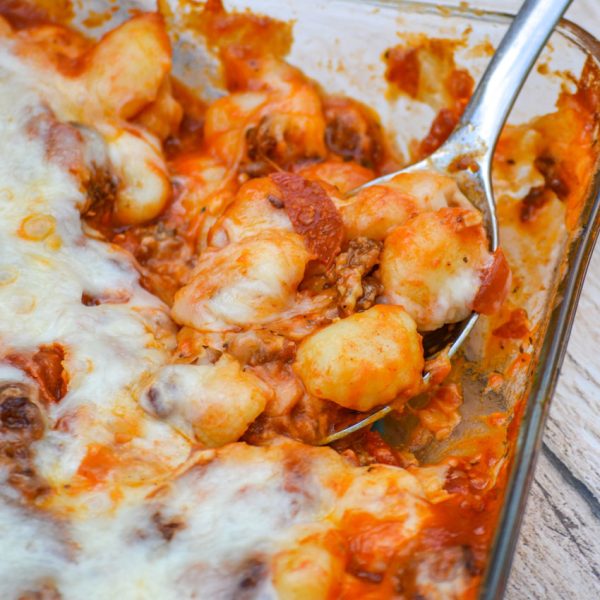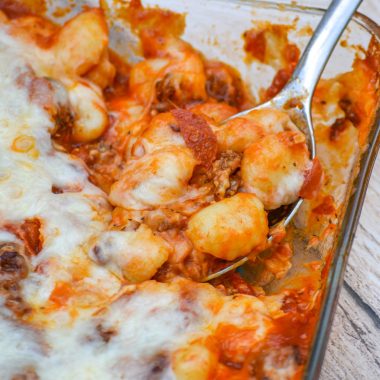 Loaded Pepperoni Pizza Baked Gnocchi
This cheesy dinner bake is a one stop casserole that takes classic pepperoni pizza flavors, skips the crust, and combines it with fluffy potato gnocchi instead. It's perfect for busy weeknights, and feeding a crowd.
Print
Pin
Rate
Ingredients
2

1 lb pkgs

potato gnocchi

1

lb

ground pork sausage

1

4 oz pkg

pepperoni

roughly chopped + more for topping

1

4 oz can

sliced mushrooms

optional

1

4 oz can

sliced black olives

optional

1

24 oz jar

marinara sauce

2

cups

shredded mozzarella cheese

divided

Italian seasoning
Instructions
In a large skillet cook the sausage, crumbling as it cooks, until well done and no more pink remains. Strain the sausage to remove any excess grease. Return the sausage to the skillet, and set aside.

Cook the gnocchi according to the package instructions. Drain the gnocchi and transfer the cooked dumplings to the skillet with the cooked meat.

Add the chopped pepperoni to the skillet, mushrooms & olives (if using), sauce, and half of the shredded mozzarella to the skillet. Stir everything together until evenly combined.

Lightly spray a 9x13" baking dish with non stick cooking spray. Transfer the pizza mixture to the casserole dish.

Cover the dish tightly with foil, and bake at 400 degrees for 15 minutes. Remove the dish from the oven, remove the foil.

Sprinkle the remaining cheese evenly out over the top of the dish. Top with pepperoni slices, and a pinch of Italian seasoning. Return the dish to the oven, and bake an additional 20 minutes or until the cheese is melted & bubbly.

Remove the dish from the oven, and let it rest for a full 5 minutes before scooping onto plates & serving.
Nutrition
Calories:
343
kcal
|
Carbohydrates:
1
g
|
Protein:
20
g
|
Fat:
28
g
|
Saturated Fat:
12
g
|
Cholesterol:
84
mg
|
Sodium:
720
mg
|
Potassium:
216
mg
|
Sugar:
1
g
|
Vitamin A:
309
IU
|
Vitamin C:
1
mg
|
Calcium:
195
mg
|
Iron:
1
mg