Calling all pizza lovers! Don't have dough or the time to make it, but craving a good supreme pizza for dinner? With all your favorite toppings, and the convenience of being made all in one pot– 'Tastes Just Like' Pizza Soup is the hearty meal that fits the bill.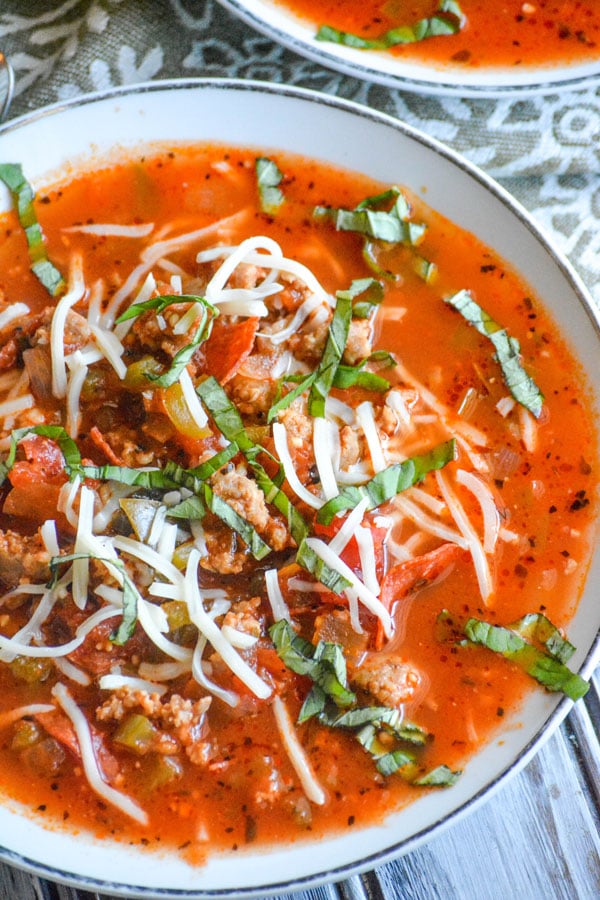 On the heels of Thanksgiving ( and our Tryptophan carbohydrate-induced post coma ) we needed something light, but still packing that flavor punch.
We couldn't stomach more than one course (shoot one whole meal seemed a struggle) so soup seemed to fit the bill perfectly.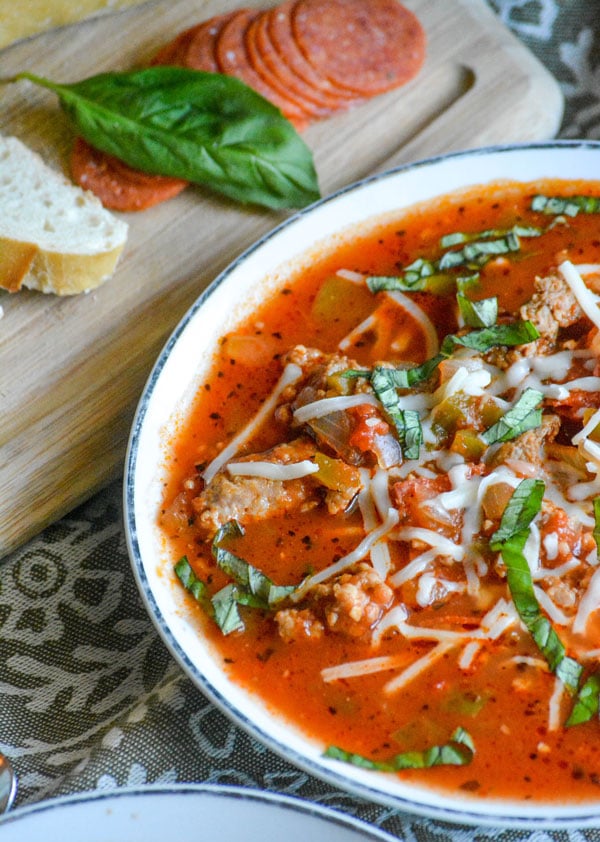 And not just any soup, but pizza soup.
A soup that's a soup but still really not a soup since it encapsulates one of our most beloved dishes (and all its flavors) in one dish, without all those dastardly carbs.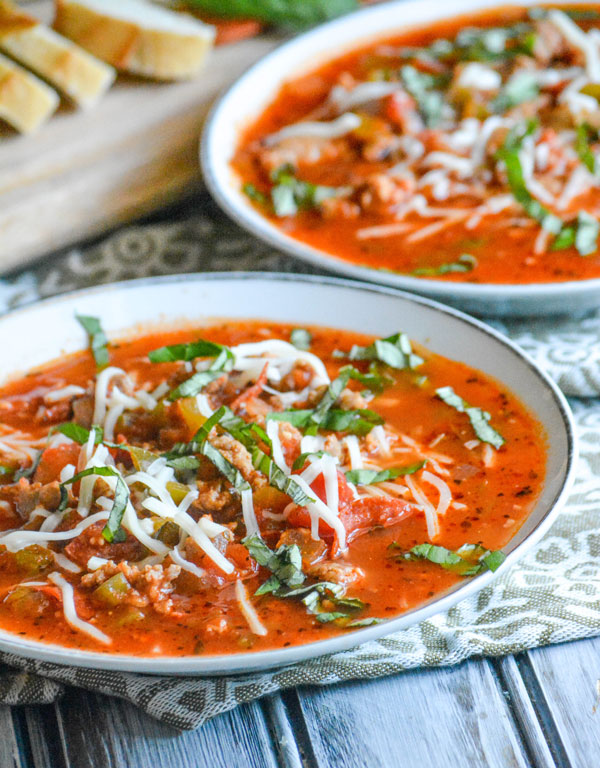 Who needs to hibernate in a carb coma two days in a row?
Am I right, or am I right?
Wellll, right as I may be- rest assured, it's happened around here a time or two (or few). But I'm in a mind to change that, if I can, starting with this here 'Tastes Just Like' Pizza Soup.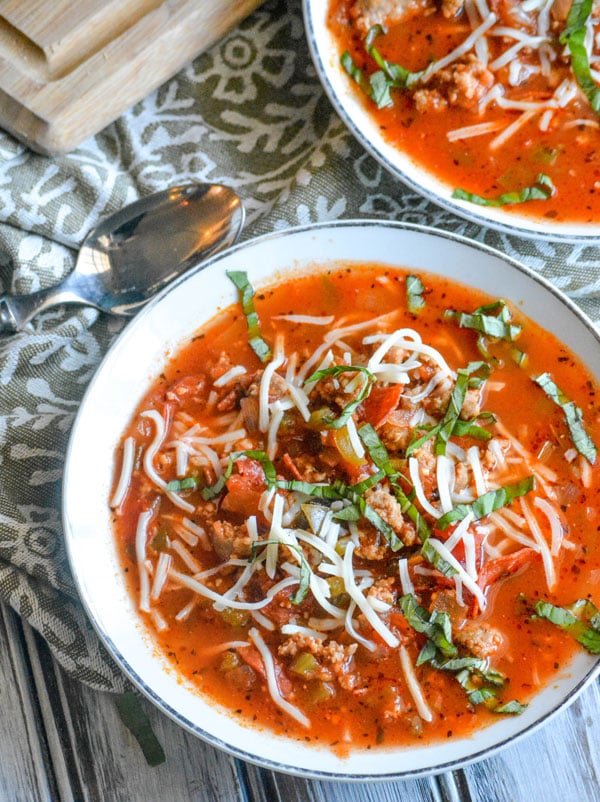 We've found most people frown at the name, but after one taste they get it. It really does taste just like pizza, but better for you.
And who can't get behind that?!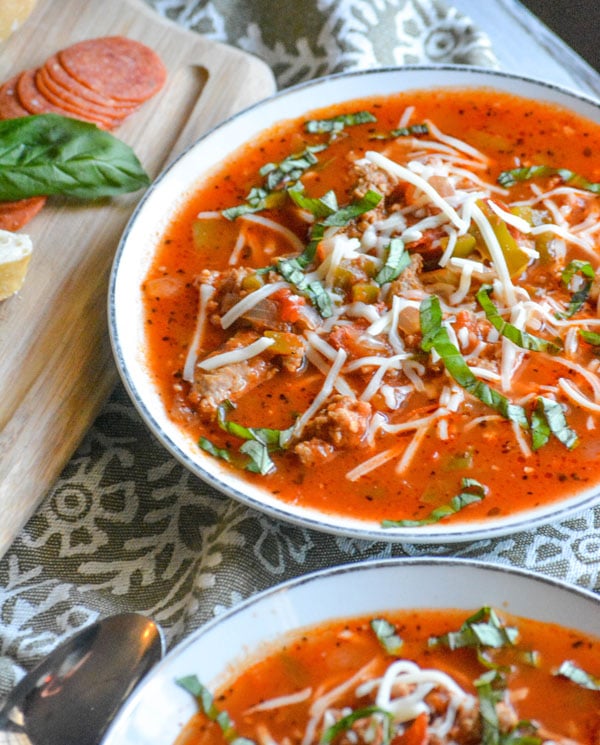 A hearty soup, this 'Tastes Just Like' Pizza Soup is exactly what the name implies. It's quick & easy, coming together in a single pot, and features fan favorite toppings.
Chunks of sweet Italian sausage, onions, green peppers, and mushrooms are stirred into a savory marinara based broth. Topped with shredded mozzarella and fresh basil, you won't even miss the crust.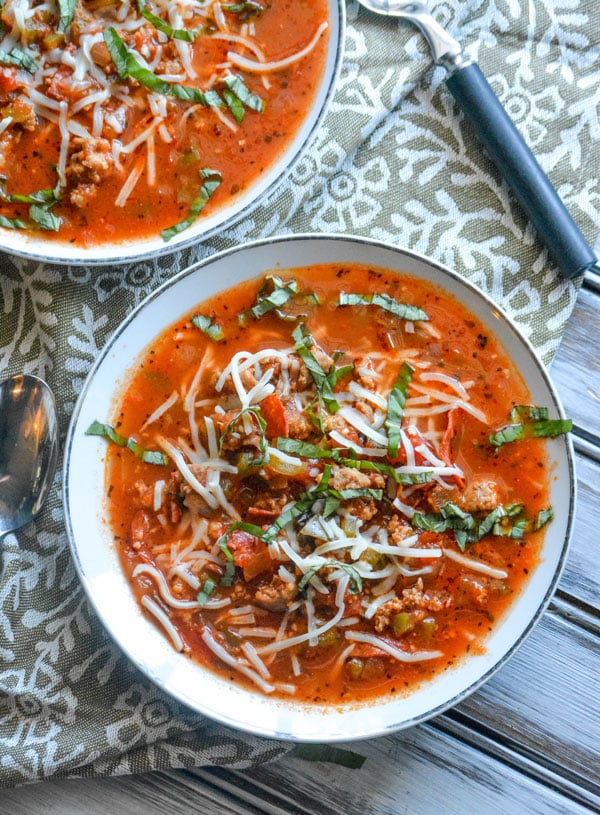 Just in case you do though, you can serve it with garlic sticks or a crusty baguette.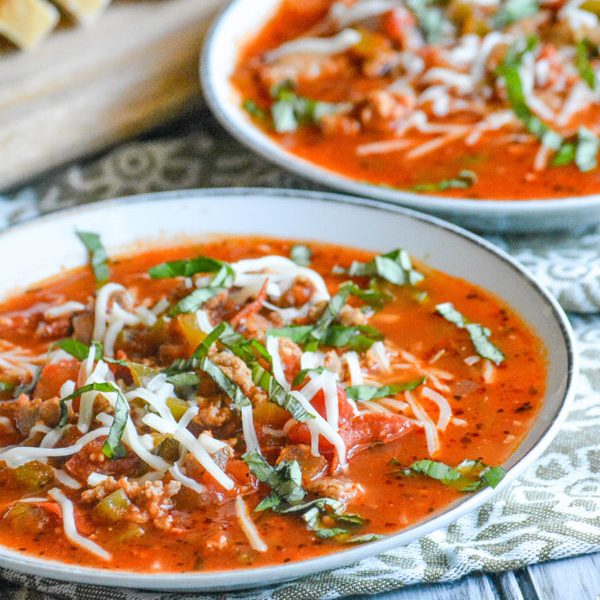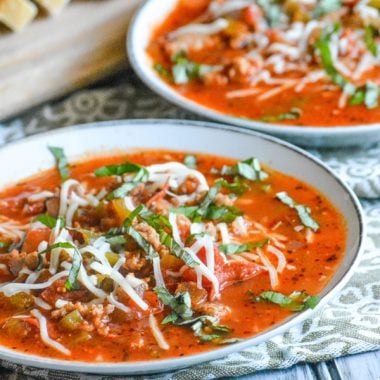 'Tastes Just Like' Pizza Soup
A hearty soup that embraces all the flavors you love in a traditional pizza.
Print
Pin
Rate
Ingredients
1/4

cup

extra virgin olive oil

1

large onion

chopped

2

green bell peppers

seeded and chopped

8

oz.

fresh

washed, sliced baby bell mushrooms (optional)

3

large garlic cloves

minced

1

lb.

Italian sausage

browned and drained

4

cups

chicken broth

2

24 oz

jars of marinara sauce or spaghetti sauce

1/4

tsp

crushed red pepper flakes

4

oz.

sliced pepperoni

quartered (or use mini pepperonis)

shredded mozzarella cheese

fresh basil

roughly chopped or chiffonade
Instructions
In a large skillet heat the olive oil. When the oil is hot, add in the prepared veggies and saute until they're tender and slightly browned. Add the minced garlic during the last minute or two of cooking time. Transfer the veggies to a large pot.

Brown the sausage in the same skillet and drain it well after cooking, then add it to the soup pot along with the stock, sauce, red pepper flakes and most of the pepperoni, saving a few to use as garnishes.

Bring the soup to a boil and then reduce the heat to a gentle simmer. Cover the soup pot with the cover slightly askew so some of the steam can escape while it cooks. Simmer, stirring frequently, for 20 to 30 minutes.

Ladle the hot into bowls.

Top each bowl with some of the Mozzarella, a few slices of pepperoni and a little basil. Let the bowls rest for just a few minutes before serving.

Serve with garlic bread or breadsticks.
Pictures Updated 10/12/2017