This three cheese chicken and rotini pasta casserole is a cheesy pasta bake that makes a full meal out of macaroni and cheese. This easy pasta casserole will please the whole family with its creamy cheese sauce and tender chicken.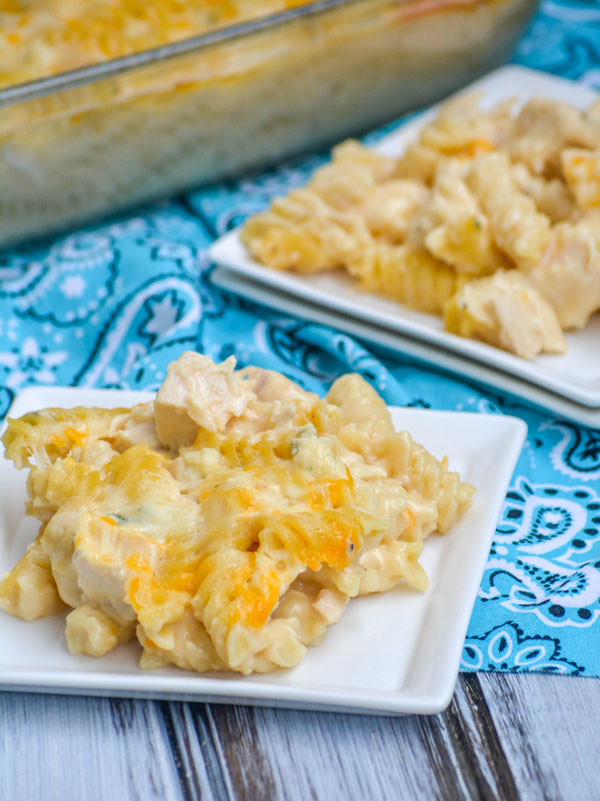 Sometimes I wish I could just feed my family mac and cheese and call it a day. I just want us all to dive into a bowl of cheesy, pasta goodness and have that be dinner.
Well, I would do that more, but mom guilt inevitably gets me. I feel like I need to feed them a little more substance than just plain mac and cheese. I do have a family full of growing, extremely hungry boys after all.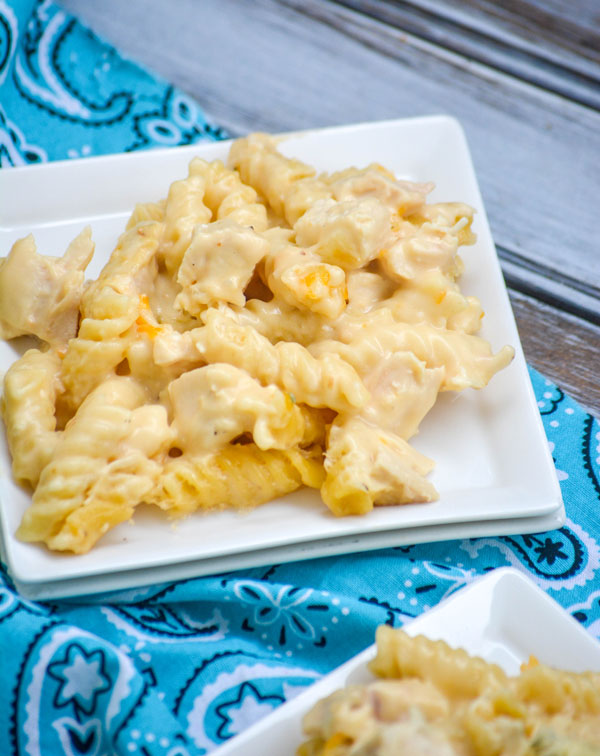 That's where this three cheese chicken and rotini pasta casserole comes in. It's basically a macaroni and cheese bake but with a shot of filling protein from shredded chicken. I'm happy. And they are happy and full for longer than five minutes after I serve this up.
I'm even happier because getting this meal prepped and on the table is so easy. You just cook the pasta and pour it into a prepared casserole dish. While the pasta is cooking, you put together your cheese sauce. Cheese sauce is one of those things that so many people think might be hard to do, but it's actually very simple.
In a large sauce pan, just melt some butter in a skillet over medium to medium low heat. While the butter is melting, add in the garlic and let it cook until just fragrant. Don't let it get brown or it will get bitter. Then add the flour to the butter and keep stirring. Stirring is the secret. Don't stop stirring until the butter and flour turn a light golden color and have the consistency of paste.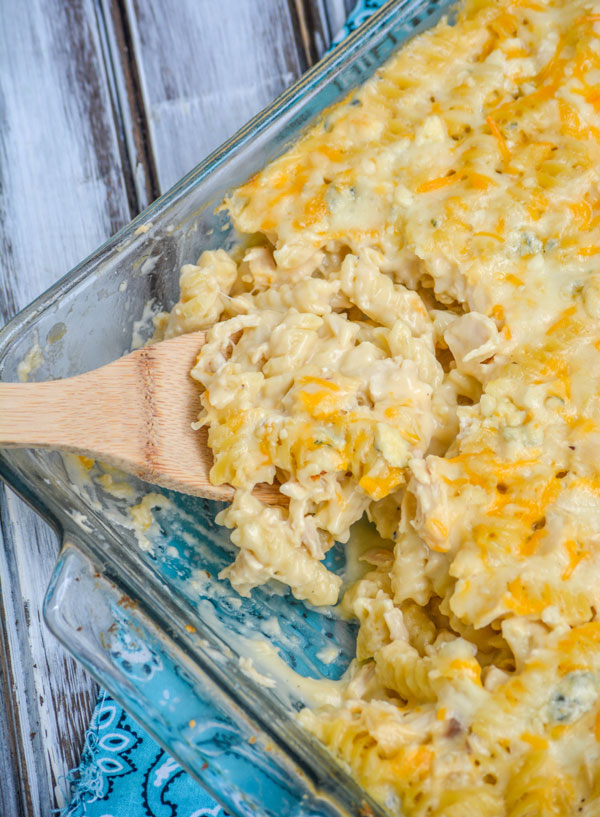 When you get the butter flour roux to this point, stir in the half and half. Again keep stirring until the roux is totally incorporated into the half and half. Cook the mixture until it simmers and thickens slightly. Then remove it from the heat and stir in the cheese. And this is really where the magic of this dish happens. You have creamy mozzarella that melts so beautifully giving this pasta that super creamy consistency. Then you have a bit of sharpness and flavor from the cheddar and a bit more sharpness and saltiness from the Parmesan.
All of this cheesy goodness gets poured over the pasta. Then before you bake this dish, toss in the shredded chicken. And if your kids are really picky about veggies, you could sneak some veggies like green chiles or even some finely chopped broccoli or cauliflower into this dish at this point. Then, if you want, sprinkle on more cheese to top it before you bake it.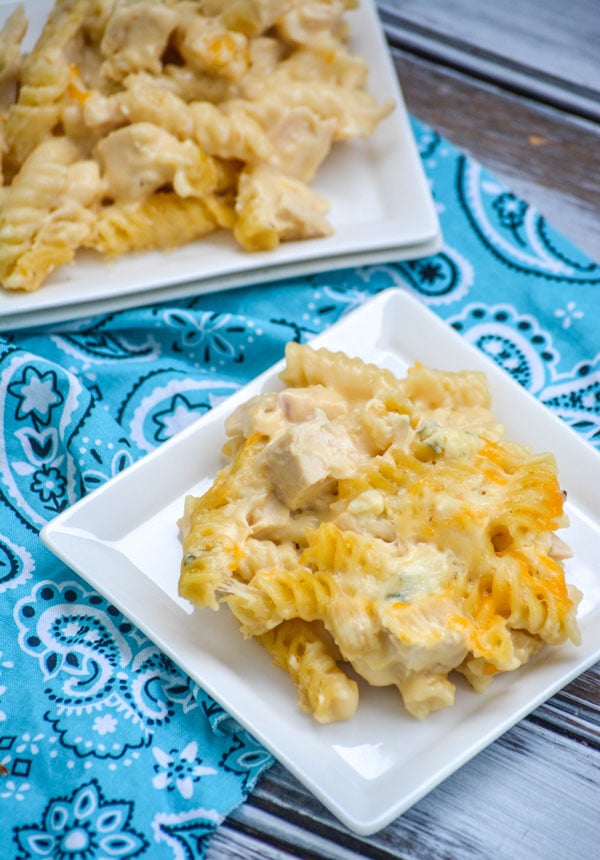 While it bakes, this three cheese chicken and rotini pasta casserole will get all bubbly and golden. When it comes out of the oven, the whole family won't be able to get enough of this cheesy, delicious pasta bake.
Other Simple Bakes To Make & Enjoy: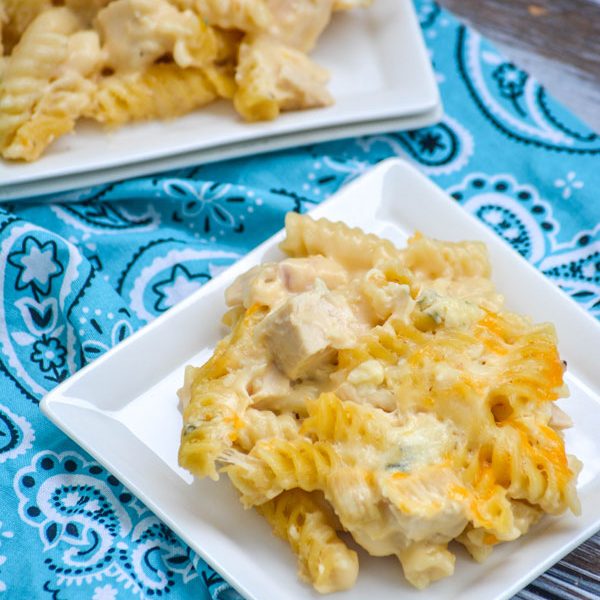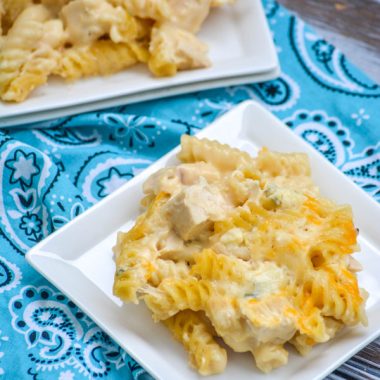 Three Cheese Chicken & Rotini Pasta Casserole
Chunks of chopped rotisserie chicken and tender rotini pasta noodles are baked in a rich three cheese blended sauce for a hot, bubbly casserole for the whole family to enjoy.
Print
Pin
Rate
Ingredients
8

oz

dry rotini pasta

3

tbsp

butter

1 1/2

tsp

minced garlic

1/4

cup

flour

freshly ground black pepper, to taste

2

cups

half & half (or whole milk)

1

cup

shredded cheddar cheese

1

cup

shredded mozzarella cheese

1/4

cup

shredded Parmesan cheese

2-3

cups

chopped rotisserie chicken
Instructions
Spray an 11x7" casserole dish with non stick cooking spray, and set aside.

Cook the pasta according to the package instructions. Drain, run under cold water to stop cooking, and set aside.

In a large skillet, over medium heat, melt the butter. Stir in the garlic cooking just until fragrant, about 30-45 seconds. Don't over cook and let the garlic burn or turn bitter.

Whisk in the flour and pepper until smooth, and cook until the mixture's bubbling. Whisk in the half & half, a little at a time, until completely incorporated and simmer until the sauce is smooth and slightly thickened. Remove the skillet from heat.

Stir in 3/4 cups of both the cheddar and mozzarella cheeses, and the Parmesan cheese, whisking until completely melted and the cheese sauce is smooth.

Add the pasta & chicken to the sauce, stirring gently until everything's evenly combined and generously coated in the cheese sauce.

Spread the mixture out evenly into the prepared casserole dish. Sprinkle the remaining cheese evenly out overtop. You can be a little generous and add a bit extra for added cheese effect.

Bake the dish at 350 degrees for 25-30 minutes, or until the dish's bubbly throughout and the cheeses are melted and golden brown at the edges. Let rest for 2-3 minutes before scooping and serving.
Notes
Want to get your kids to eat their veggies and like them too? You can easily hide some in this cheesy casserole. We've also added diced green chiles with great results.
You don't have to stick to the cheeses as written. Feel free to change them up and play around with your favorites. Same goes for the pasta shape. Don't have rotini in the pantry? Use what you've got on hand instead!