Mornings can be stressful, but breakfast doesn't have to be. With these easily made-ahead sweet sausage & pancake muffins on the menu there's no reason to worry. One bite, and everyone will be happy!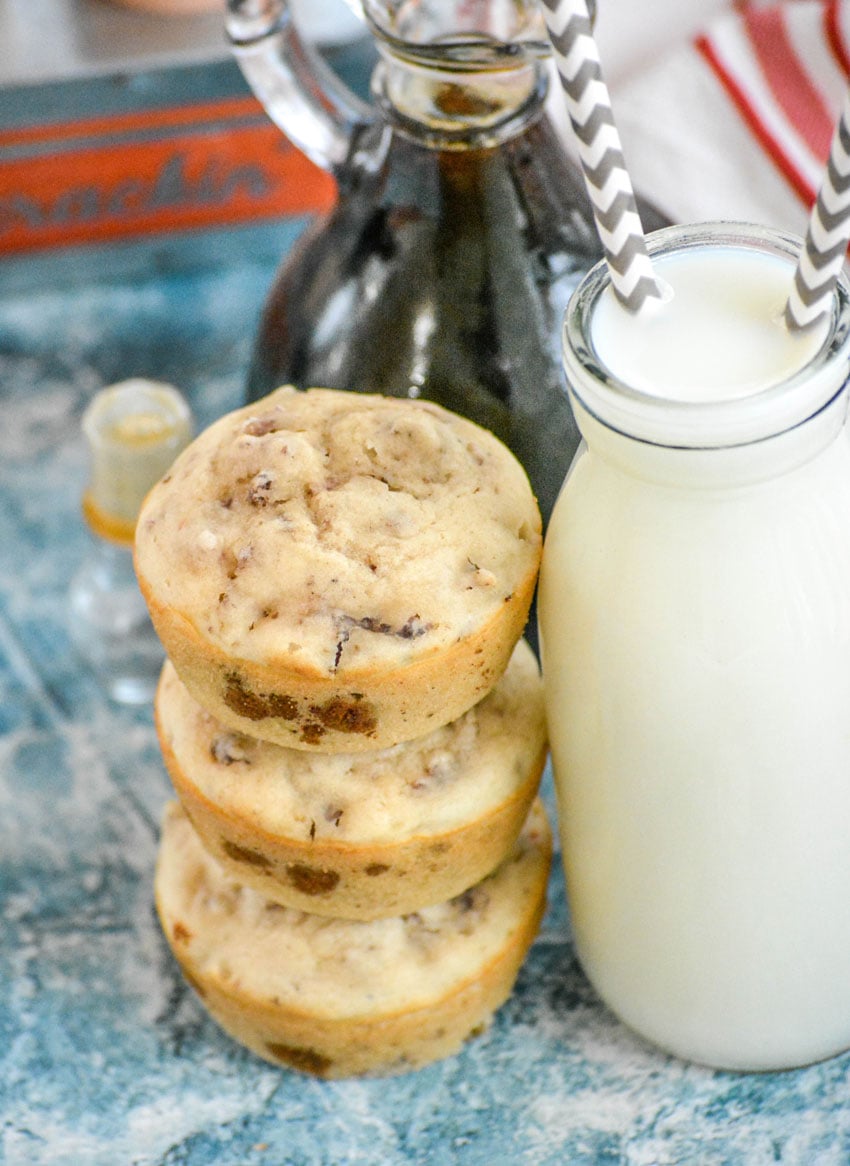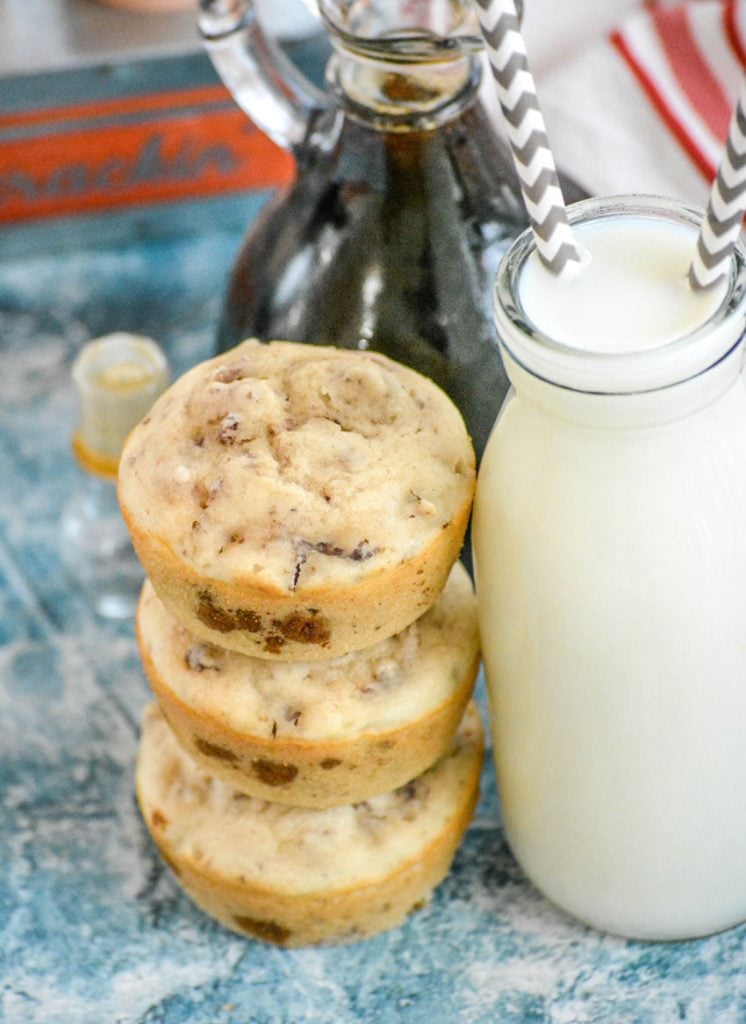 I'm not stranger to breakfast, but I will admit it's my weakness. I am not a morning person by any means. It's a well established precedent in our marriage. That is firmly the husband's department.
He goes all out on the weekends when he's home from work. Omelets, hash browns, biscuits & gravy, the works! He does it all.
Well that leaves Monday through Friday up to me, and I'll admit- it's a much less fancy affair. My offerings aren't nearly as elaborate, or labor intensive.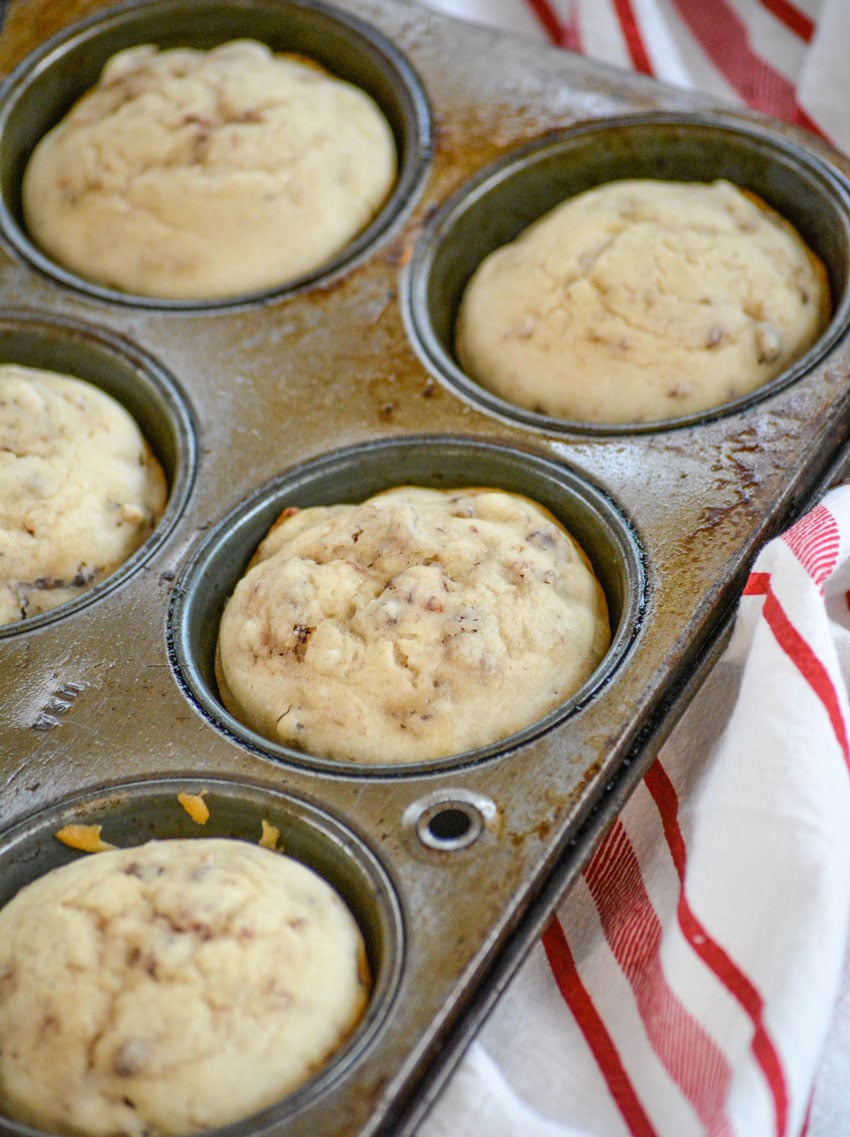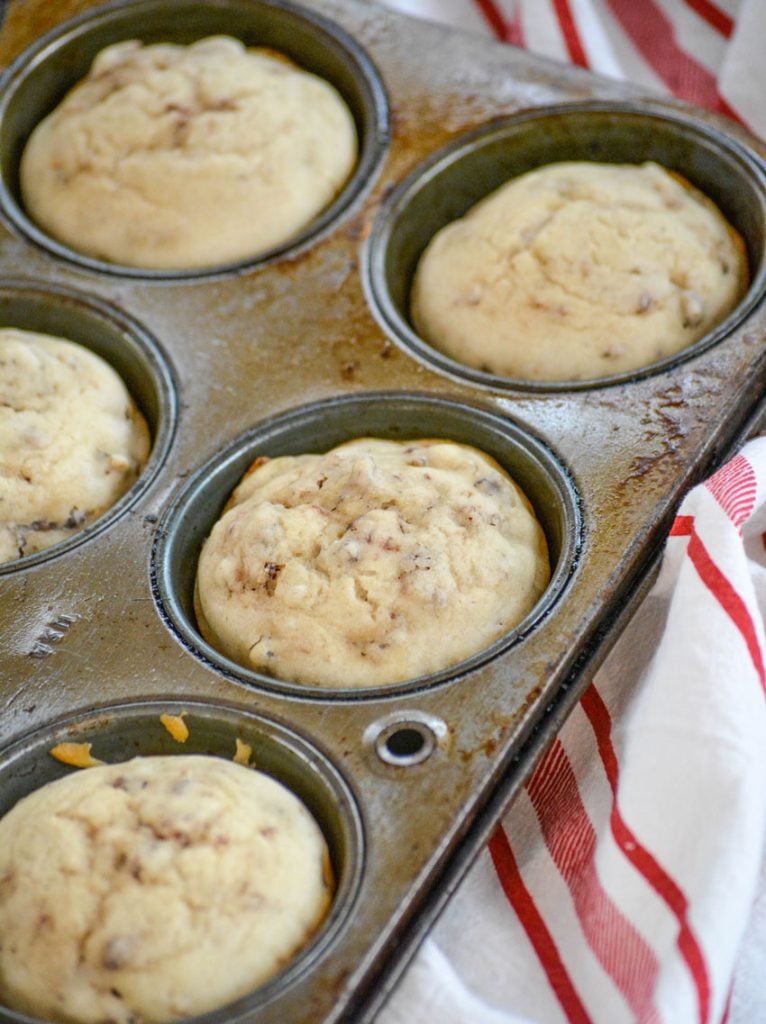 Normally, my kids are offered a cool spread of 3-4 different box cereals to choose from. The milk's cold. So's the OJ. There's also yogurt and the occasional frozen pancake or waffle lurking in the deep freezer. Sad, I know. It is what it is, and the kids don't usually complain.
However, I often find myself feeling bad about my AM choices and wanting to do better.
Time has proven that absolutely nothing is going to make me, or mold me into, a morning person- but if I can make things ahead of time… well then it's a whole new ball game for me!
Grab & go breakfast items I can make ahead of time have become my new bread & butter! When the house is quiet on Sunday night, I go to work and can whip up a whole weeks' worth of breakfasts for my boys.
It could be maple sausage breakfast sliders, breakfast burritos, or even apple cheesecake breakfast quesadillas- they love them all. I love them too. I mean they're delicious as all get out, and they make my mornings so much easier.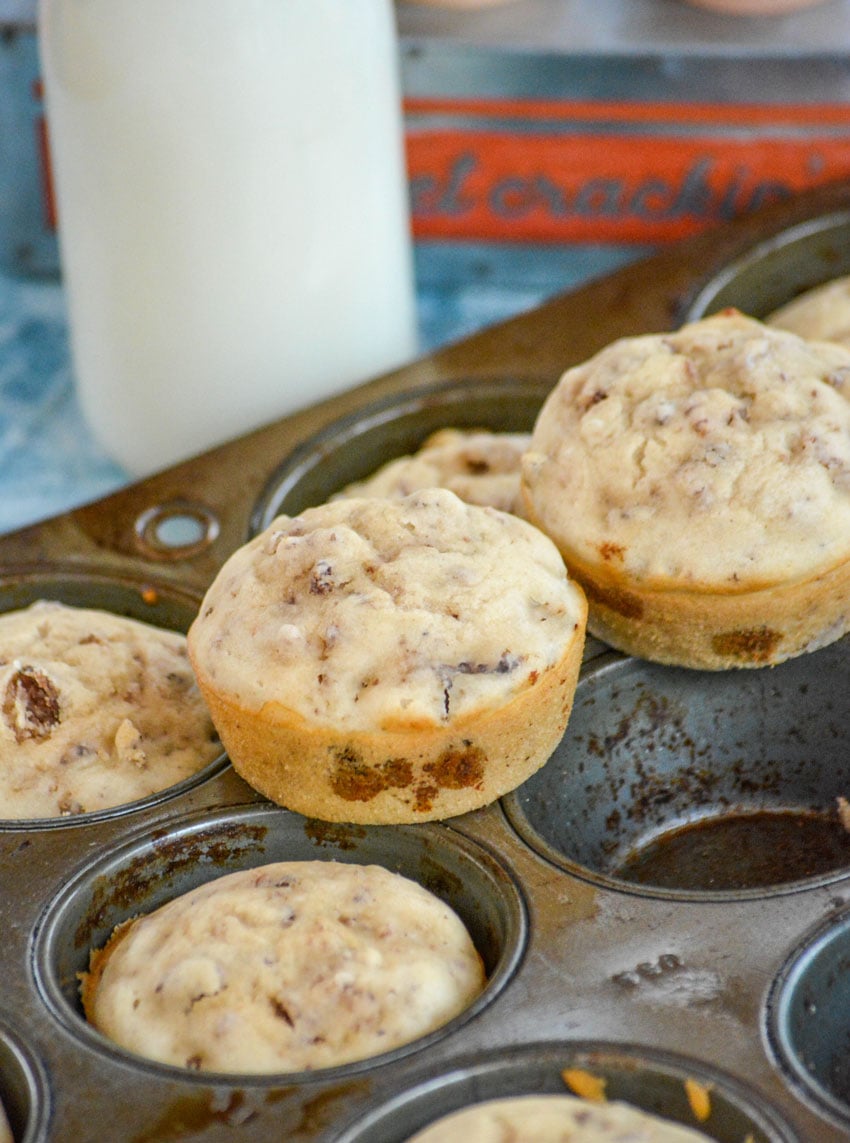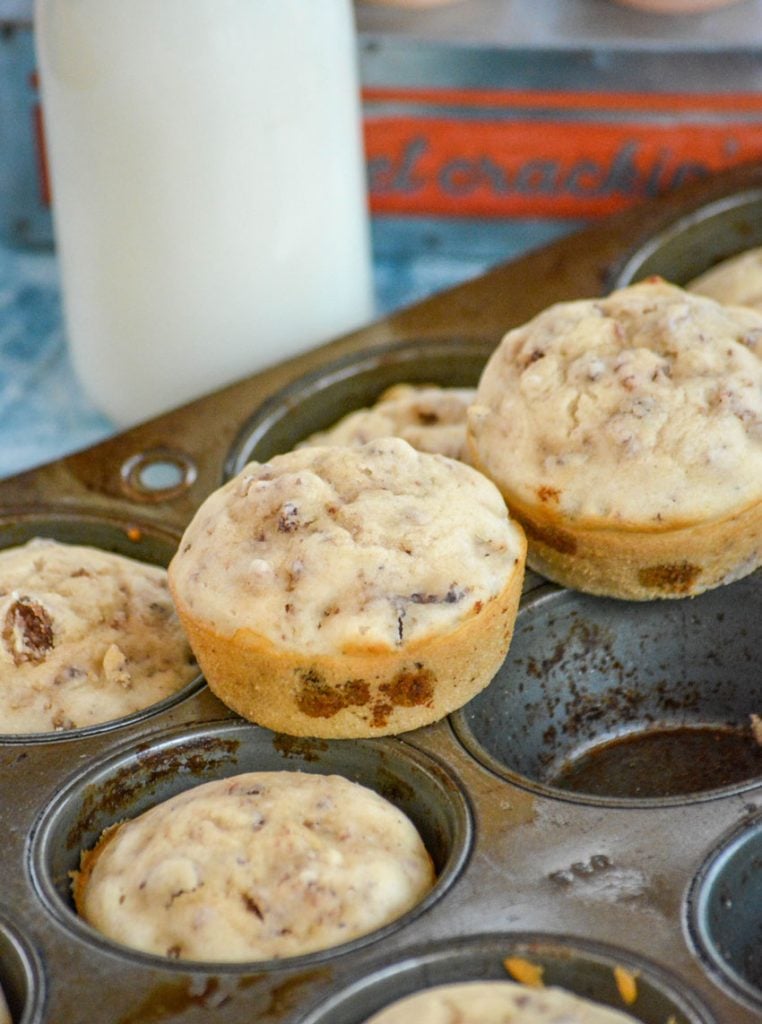 That's where these Sweet Sausage & Pancake Muffins come into play. They're literally perfect! You can whip up a batch the night before, and have them ready to grab & go the next morning. That's what I'm talking about y'all.
How To Make Easy Sausage Pancake Breakfast Muffins:
Don't bake? Never had success flipping your own pancakes before? Then these pancake muffins are for you. They're so easy to whip up that everyone can enjoy success with this recipe.
First you're going to cook a half a pound of breakfast sausage. The ground kind that you find in the pork section of the grocery store.
Brand doesn't really matter, although I tend to shoot for one of the name brands that's on sale. The reason being, when the sausage is cooked through & the fat's all rendered there tends to be more meat left behind.
Cook the sausage in a skillet on the stove top, until it's nicely browned with some crispy bits. Transfer the sausage to a strainer and let any and all excess grease drain away. This step is important since we want the muffins to set up and not be grease laden. Set the drained meat aside.
The next step is to add the pancake mix to a large mixing bowl and whisk it together with the water to form a batter. Again the kind of pancake mix isn't really important as long as it's the quick mix kind where you add water and go.
Once whisked together the batter will almost assuredly still be a tad lumpy. Don't worry, and don't drive yourself crazy trying to whip those lumps out. They will cook out just fine on their own in the oven.
Fold the sausage into the batter, just until evenly combined.
Lightly spray a 12 count muffin tin with non stick cooking spray, and fill each tin with batter up to 3/4's of the way full. The muffins will puff up when they cook, so we want to avoid overfilling and any over flow.
Bake the pancake muffins at 350 degrees for 15-20 minutes, or until they're cooked through. If you aren't sure if the muffins are cooked through, insert a toothpick into the center of one of the denser ones. If the toothpick comes out clean, then you know they're done.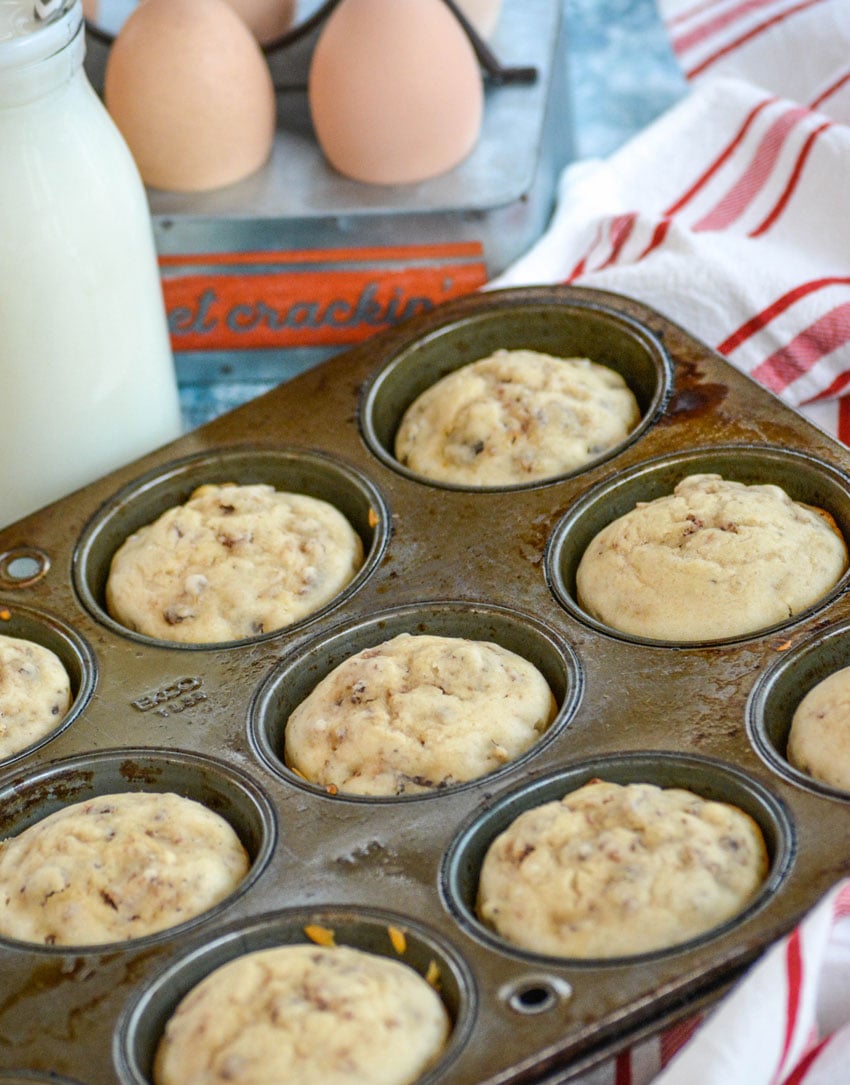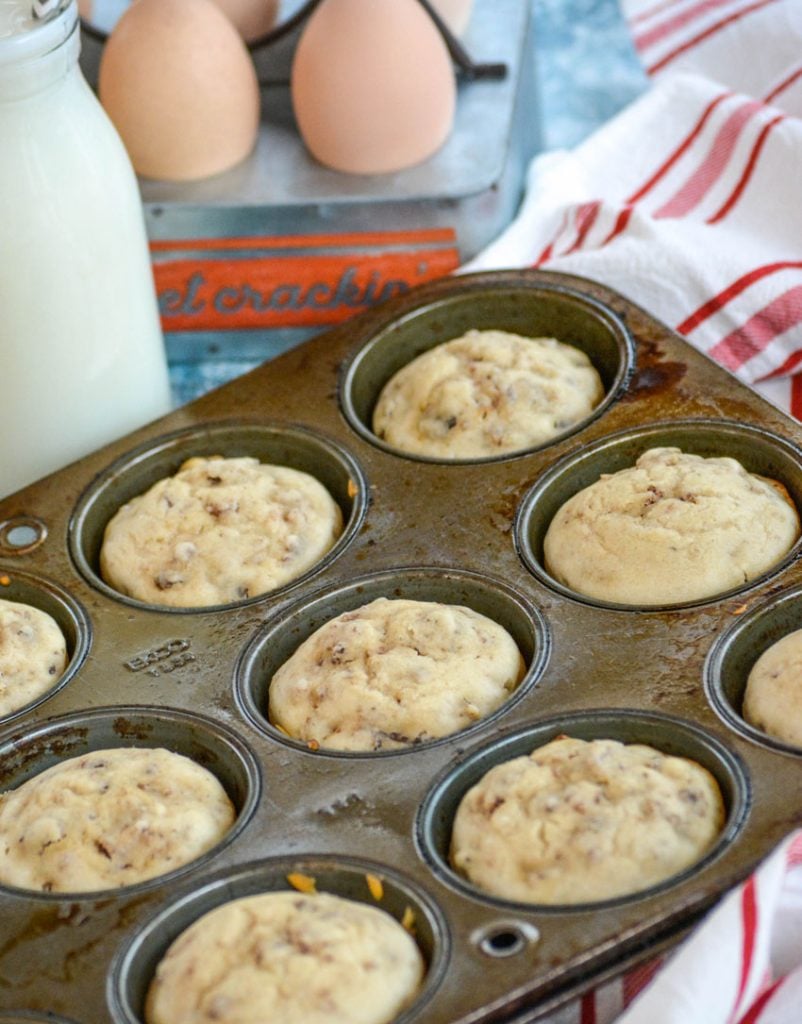 That's pretty much it. Now it's time to let the muffins rest and cool. While you can remove the muffins from the pan as soon as they're done, I don't actually recommend that.
Piping hot muffins straight from the oven are deliciously crumbly, but also prone to pulling apart. Letting them cool a bit first helps them firm up.
Once cool you can run a butter knife gently around the outer edges to 'release' the muffins. Then pluck each one out and transfer to a serving plate, or prepare them to freeze for later.
Freezing Sausage & Pancake Muffins- They Make A Perfect Grab & Go Breakfast:
I will purposely bake a double batch of these yummy breakfast muffins on the weekend with the intent of freezing them, just so I have breakfast ready to go on busy mornings.
It's even easier than a bowl of cereal, and I feel somewhat accomplished. Plus the kids think it's awesome when they have a 'sweet treat' that's acceptable to eat before heading off to school.
Cover a baking tray with parchment paper and line the (completely cooled) muffins onto it. Place the tray flat in your freezer for an hour. This short freeze will prevent any sticking when transferring them to store long term.
You can transfer all of them to a large zip-locking bag, removing excess air as you seal it tight. OR you can add one or two to sandwich bags for portions, and then transfer those to a zip-locking bag for easier access when in a hurry.
These freeze perfectly for up to three months, when sealed and stored properly. To heat & eat, take out one or two and heat them for 35-45 seconds before serving.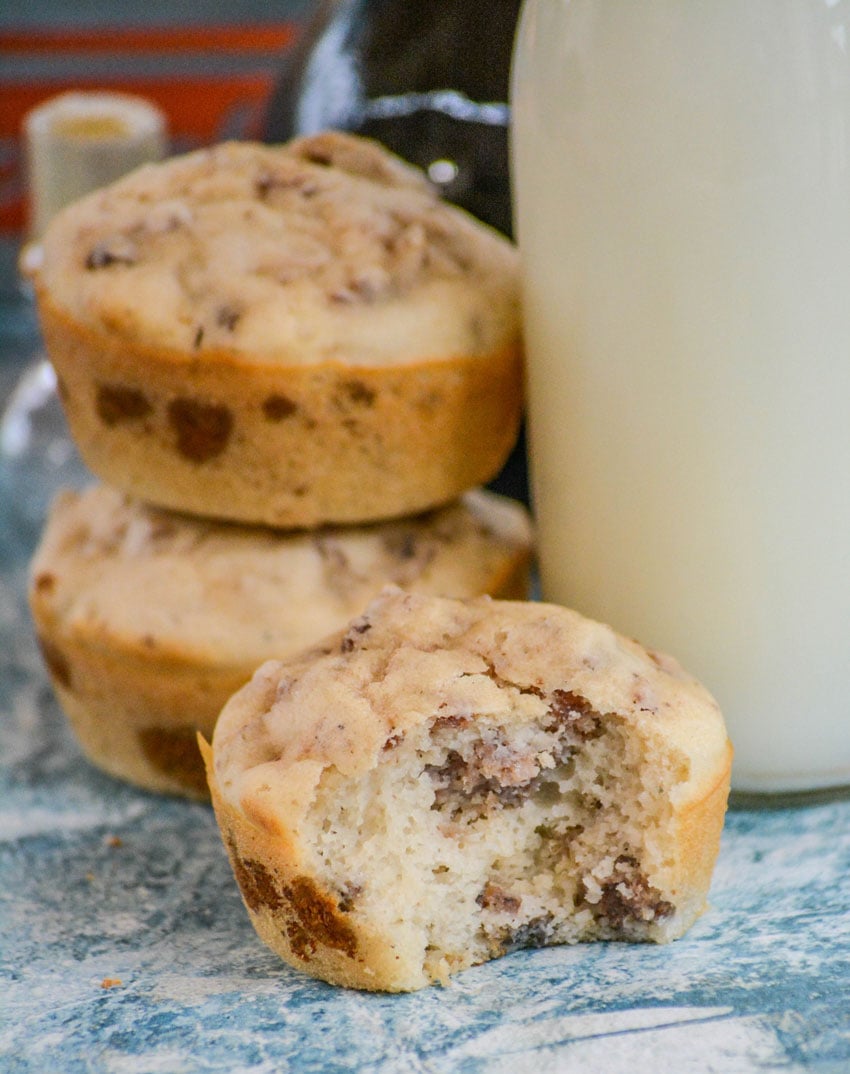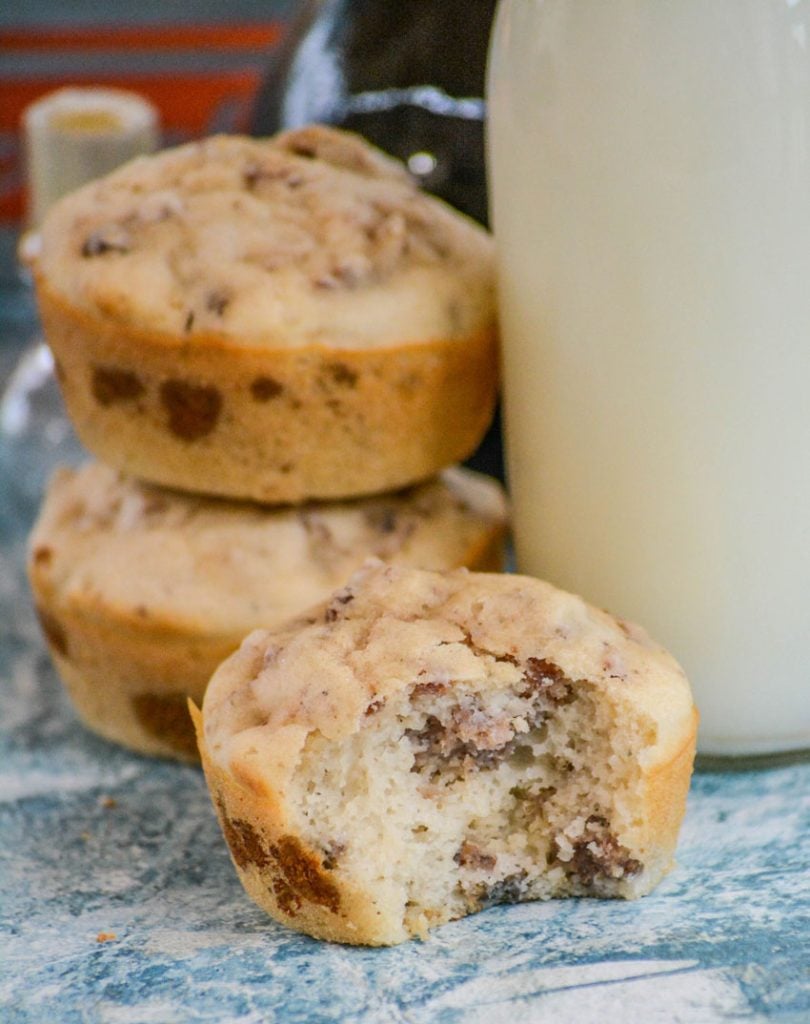 TIPS & TRICKS For Making These Breakfast Pancake Muffins:
Don't like ground breakfast sausage? You can substitute cooked link sausage, just make sure they're thinly sliced into coins before incorporating into the batter.
If you don't have maple flavored emulsion, that's ok. I like using emulsions because they give a more intense flavor, but extracts work great too. You can substitute 2 teaspoons of maple extract if desired.
If you want to avoid any and all extracts all together, use a maple flavored sausage instead.
These muffins are delicious all on their own, but maple syrup or regular pancake syrup are both delicious for dunking or drizzling.
Get breakfast out of the way and be ahead of the game on busy mornings by whipping up a batch of these tasty sweet sausage & pancake muffins on the weekend. Save a bit of your sanity, savor your coffee, and let the kids get their own breakfast ready!
Other Grab & Go Breakfast Ideas To Try:
If you've tried this SWEET SAUSAGE & PANCAKE MUFFINS, or any other recipe on my site, let me know in the comment section how it turned out, we love hearing from our readers! You can also follow along with me on PINTEREST, FACEBOOK, and INSTAGRAM to see more amazing recipes and whatever else we've got going on!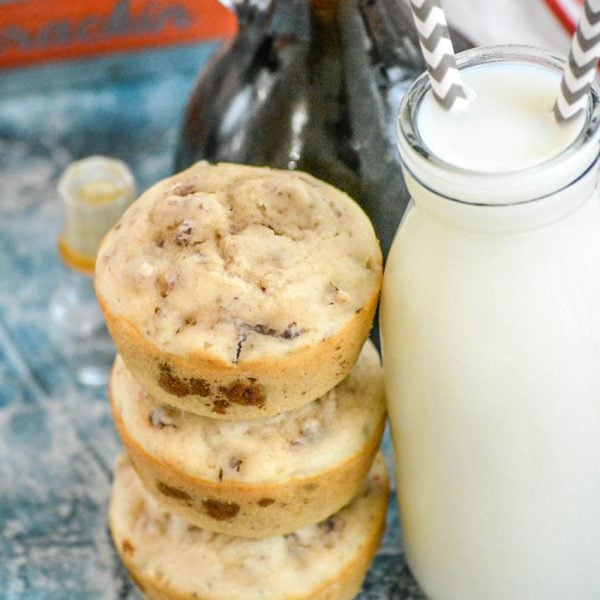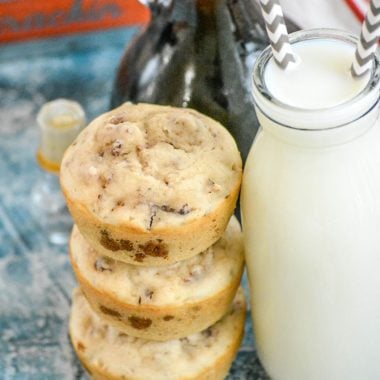 Ingredients
1/2

lb

breakfast sausage

cooked, crumbled, strained of grease

2

cups

pancake mix

1 1/2

cup

water

1/4

tsp

maple flavored emulsion

maple syrup

for serving
Instructions
In a large mixing bowl, whisk together the pancake mix and the water to form a batter. Lumps are ok.

Add the maple flavored emulsion and whisk just until combined.

Add the sausage to the mixing, stirring just until incorporated.

Lightly spray a 12 count muffin tin with non stick cooking spray.

Fill each well 3/4 of the way with the batter.

Bake the pancake muffins at 350 degrees for 15-20 minutes, or until a toothpick inserted in the center comes out clean.

Let the muffins rest and cool slightly before popping them out of the muffin tin.

Serve the muffins warm with syrup for dipping.
Nutrition
Calories:
209
kcal
|
Carbohydrates:
13
g
|
Protein:
9
g
|
Fat:
13
g
|
Saturated Fat:
4
g
|
Cholesterol:
58
mg
|
Sodium:
462
mg
|
Potassium:
180
mg
|
Fiber:
1
g
|
Vitamin A:
137
IU
|
Vitamin C:
1
mg
|
Calcium:
98
mg
|
Iron:
1
mg