Pork can be a hard thing to cook & get just right, but when it's done in the pressure cooker- it's fool proof. These Instant Pot pork chops & gravy are infused with rich flavor and create their own thick brown gravy throughout the process. They're now our family's go to recipe!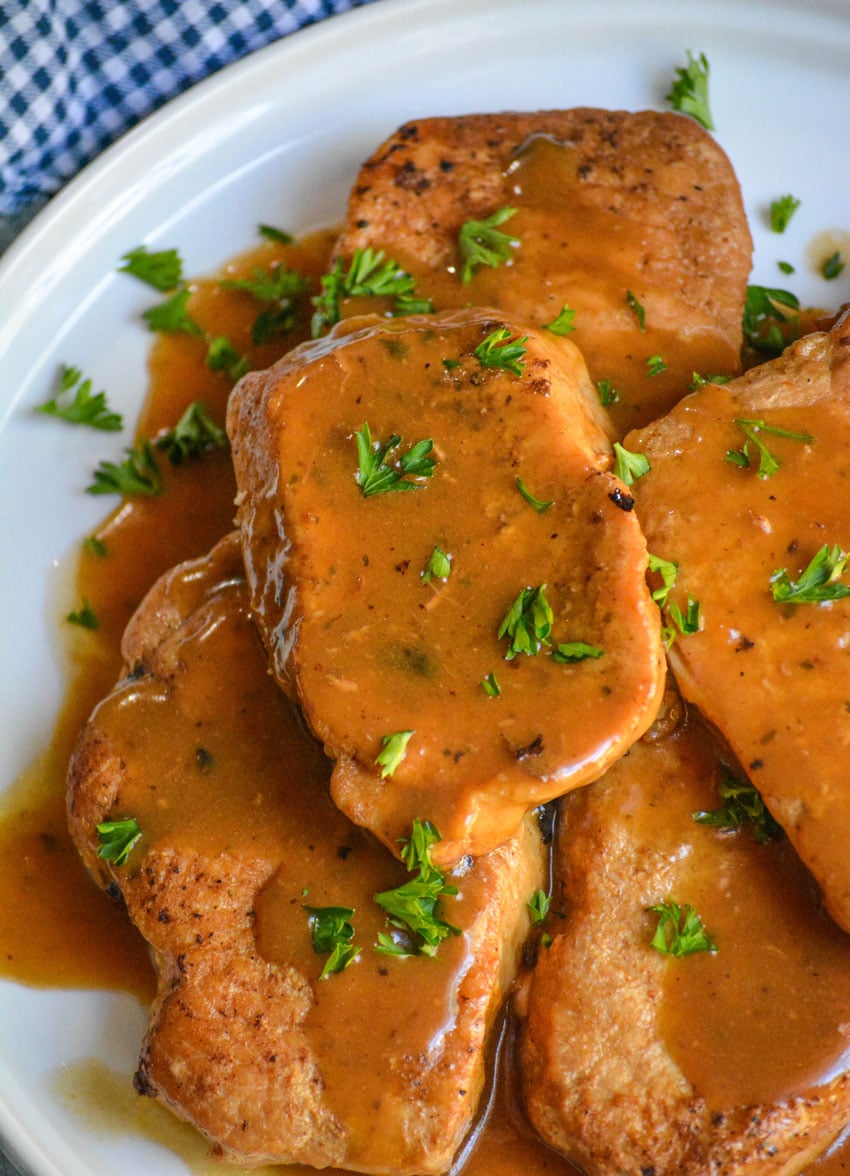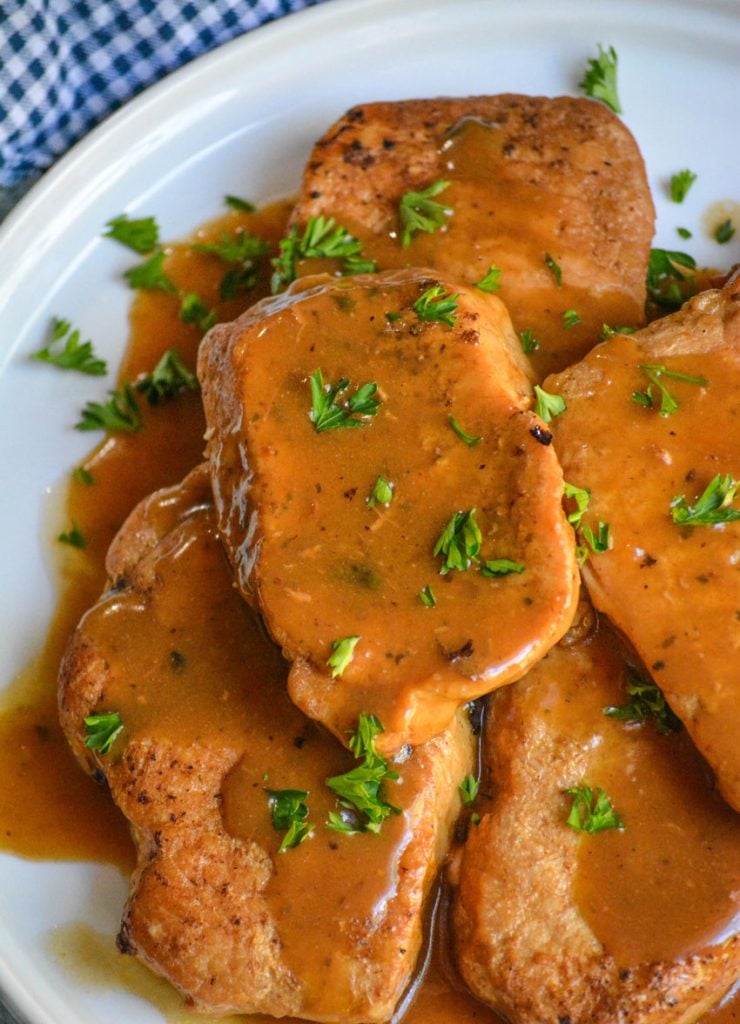 I feel like pork chops get a bad wrap. Like just because they have the word pork in them. In no way are they cutlets made of bacon or anything.
Pork chops in and of themselves aren't any worse than chicken cutlets. They're delicious. Any they're not inherently bad for anyone's diet.
We love using them in a variety of recipes, like these crispy baked Italian Ranch pork chops or even these herbed chops slathered in mushroom gravy.
You seriously cannot go wrong with a good pork chop. And maybe that's where we should start. What makes a good pork chop after all?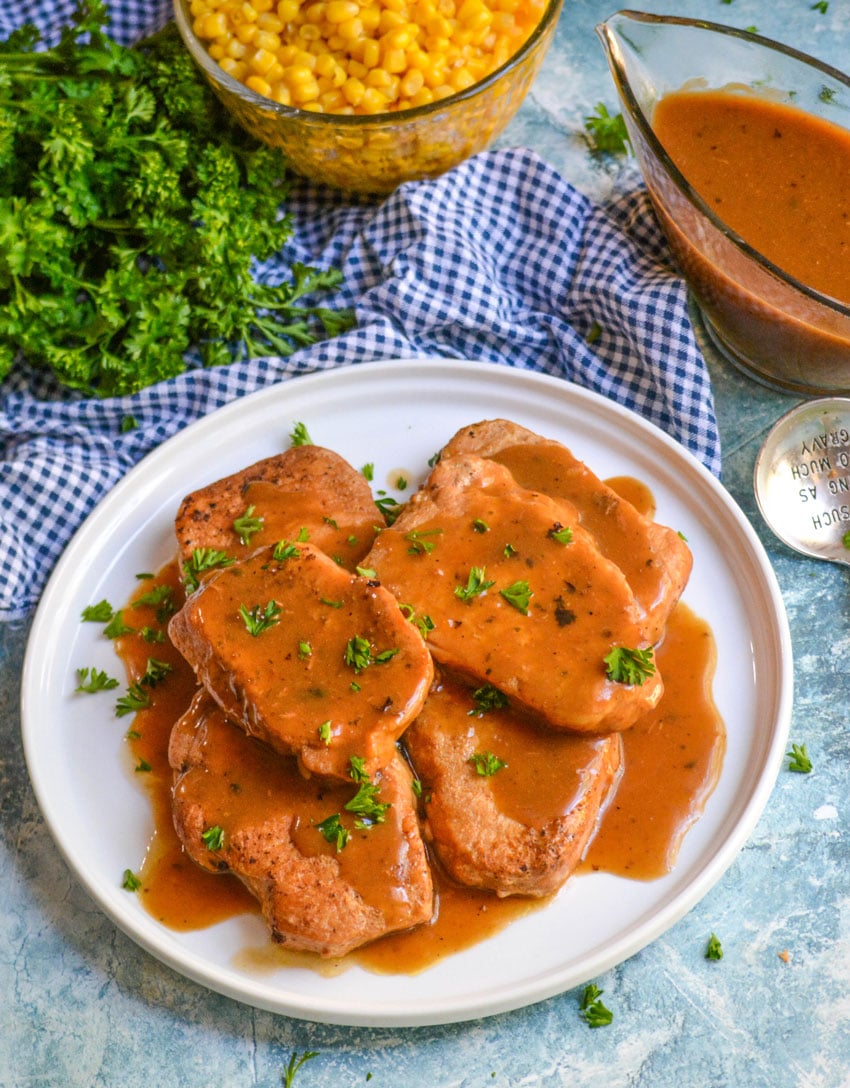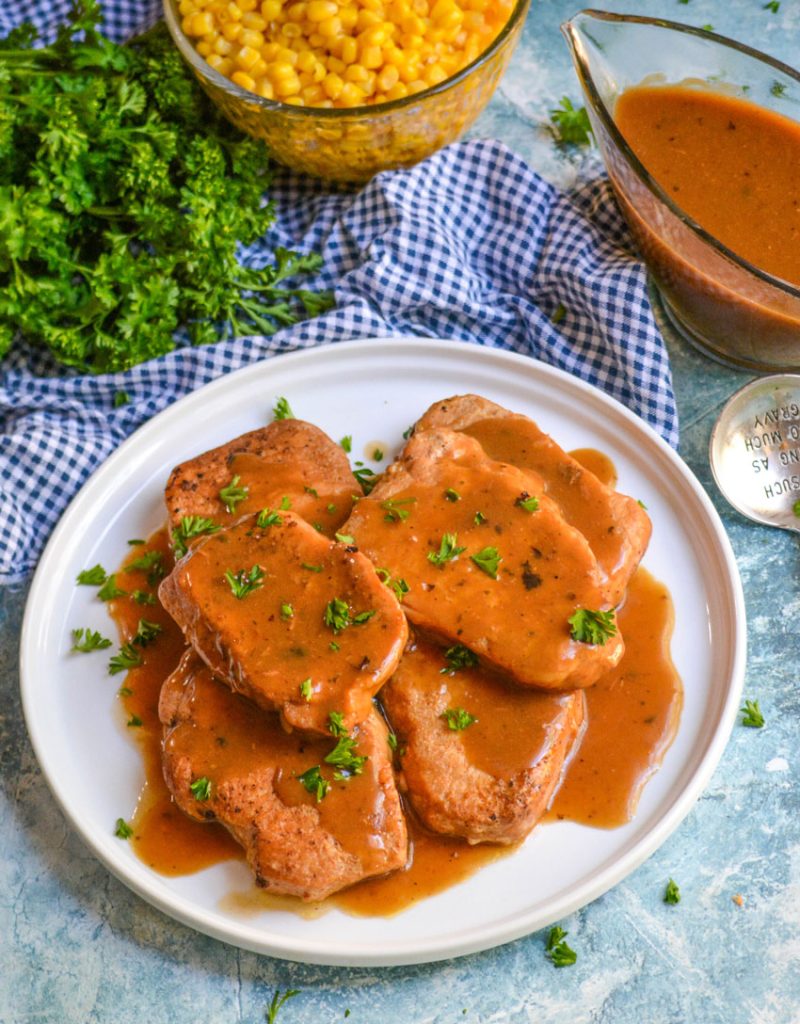 We tend to spring for boneless pork chops, but there's nothing wrong with the bone-in version. I just like short cuts, like less effort to enjoy my meat and more meat overall in my serving. If the butcher can do half of that work for me? Well then that's money & time saved for me.
Boneless chops can be slightly more in price, but not much honestly. Even knowing it's only cents on the dollar, I tend to watch for when the boneless pork chops go on sale and stock up then. Pork chops store very well in the freezer.
Pork chops though in general can be very fickle to work with. They're naturally a very thin, muscular cut of meat (great for being lean), but making them prone to over cooking & overall toughness. Nobody wants that in a good chop!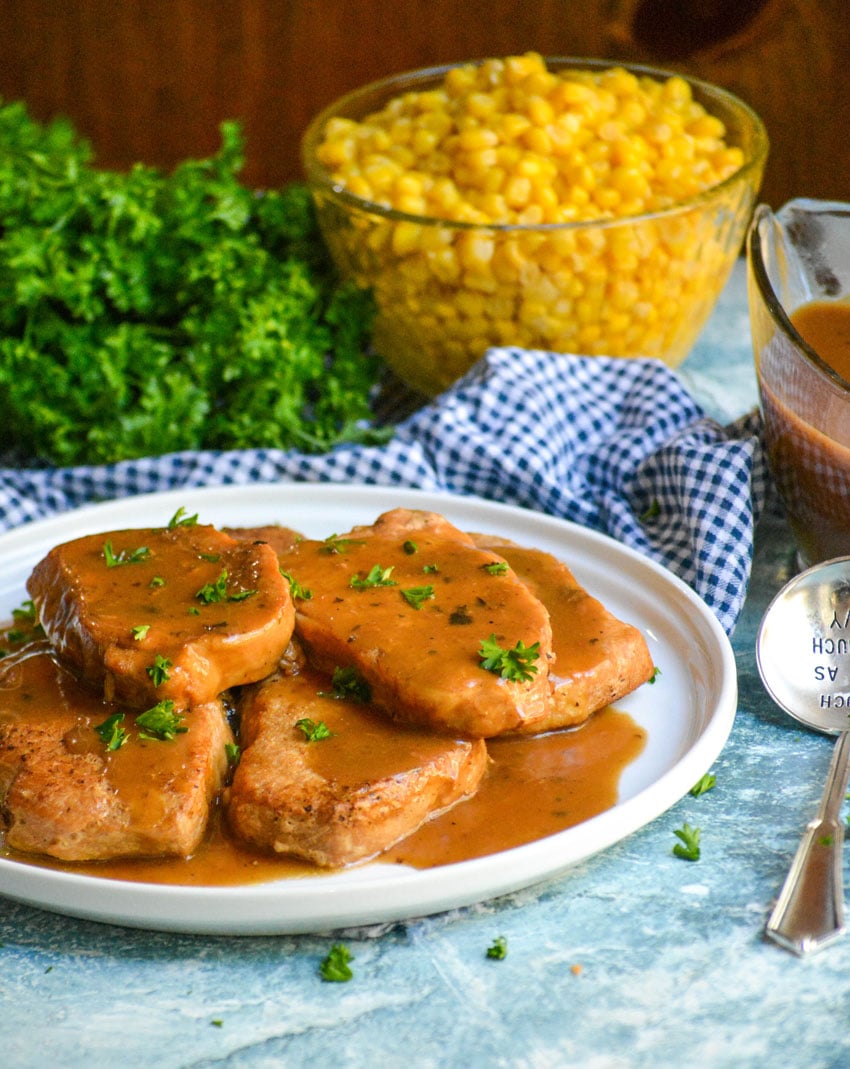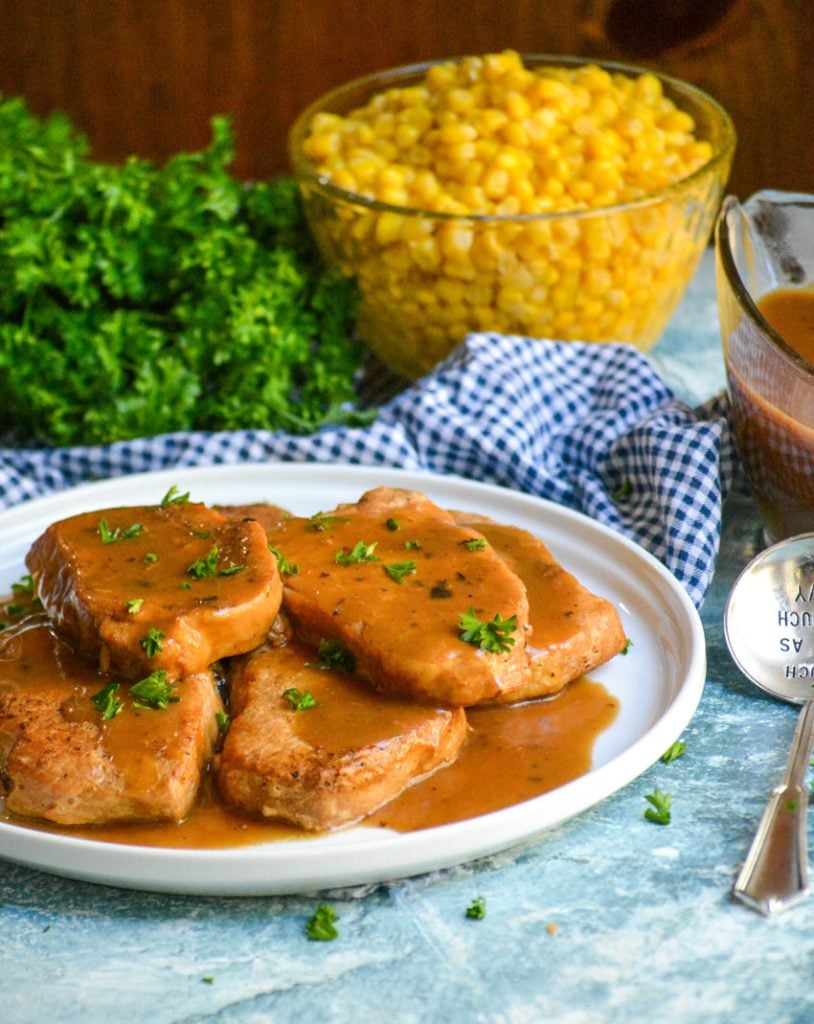 You can obviously tenderize them by beating them thinner with a meat mallet. However, then you run into making pork cutlets. Not a bad thing, but not as filling or as hearty as a thick chop.
Another infamous way to tenderize them is giving them a bath in an acid based marinade. It works. It works great. But when I'm having a busy night, marinades are not on my agenda at all.
I need to be able to pull them out of the freezer and turn them into something absolutely delicious that doesn't have my running through a bunch of recipe steps.
This is where my pressure cooker comes in so handy, and more specifically these Instant Pot pork chops & gravy.
Again because pork chops are such a lean quick cooking meat they're easily prone to over cooking. By themselves they cook quickly with minimal effort. When added to a recipe things can get tricky.
Whatever the cooking method, pork chops even when cooked only moments too long can become tough & chewy. Not appetizing at all. This is specifically why I love making them in the Instant Pot.
They come out perfectly every time. And because they're infused with steam & flavor- every bite is fork tender.
Even better? This recipe gives you rich, tender chops that cook in there own brown gravy!
How To Make Tender Pork Chops In The Instant Pot
I don't ever wash my meat. I know some people swear by it, but it wasn't done in my Southern kitchen growing up & I've since discovered both the CDC & the USDA warm against it.
However the meat does need to go into the pressure cooker dry. Use paper towels to pat each pork chop removing any excess liquid or moisture. Then season your chops as instructed.
Add olive oil to the Instant Pot insert, and press the saute button. The oil will heat up quickly since the element is right under it. Don't let it heat too long as olive oil tends to smoke and burn quicker than some other cooking oils.
Working in batches, add 2-3 pork chops to the pot and allow them to sear on each side. This should take about 2-3 minutes per side.
The best sear will be achieved when not moving the pork chops for the first minute. Use tongs to flip them.
Don't cook them longer trying to cook them through. They will finish cooking as the recipe progresses. Remove the nicely browned chops from the pot and transfer them to a waiting plate. Repeat with the remaining pork chops until they're all seared.
Hit the cancel button to turn off the pot, pour in some of the broth, and stir the mixture scraping the bottom of the pot with a heavy spoon to de-glaze. Whisk in the rest of the broth the seasoning packets, and soup until the mixture's smooth.
Return the pork chops to the pot, and close the lid. Make sure the vent is set in the sealed position, and cook on manual pressure for eight minutes.
Once cooked, let the pot natural pressure release for ten minutes. Careful to avoid the escaping hot steam, vent the pot to allow it to all escape. Remove the lid, and use a pair of clean tongs to remove the chops from the pot. Transfer them to a serving platter, and set aside.
Whisk cornstarch & water together to form a slurry, then whisk this into the thin gravy in the pot. Press the saute button and continue whisking the mixture until the gravy thickens & boils. Turn the pot off.
Ladle the gravy evenly out over the still warm chops to serve them. You can top them with fresh parsley leaves, if desired, for a little bit of green and a pretty presentation.
Instant Pot pork chops & gravy are super easy to do, and make a perfect dinner for the whole family to cozy up to anytime of the year.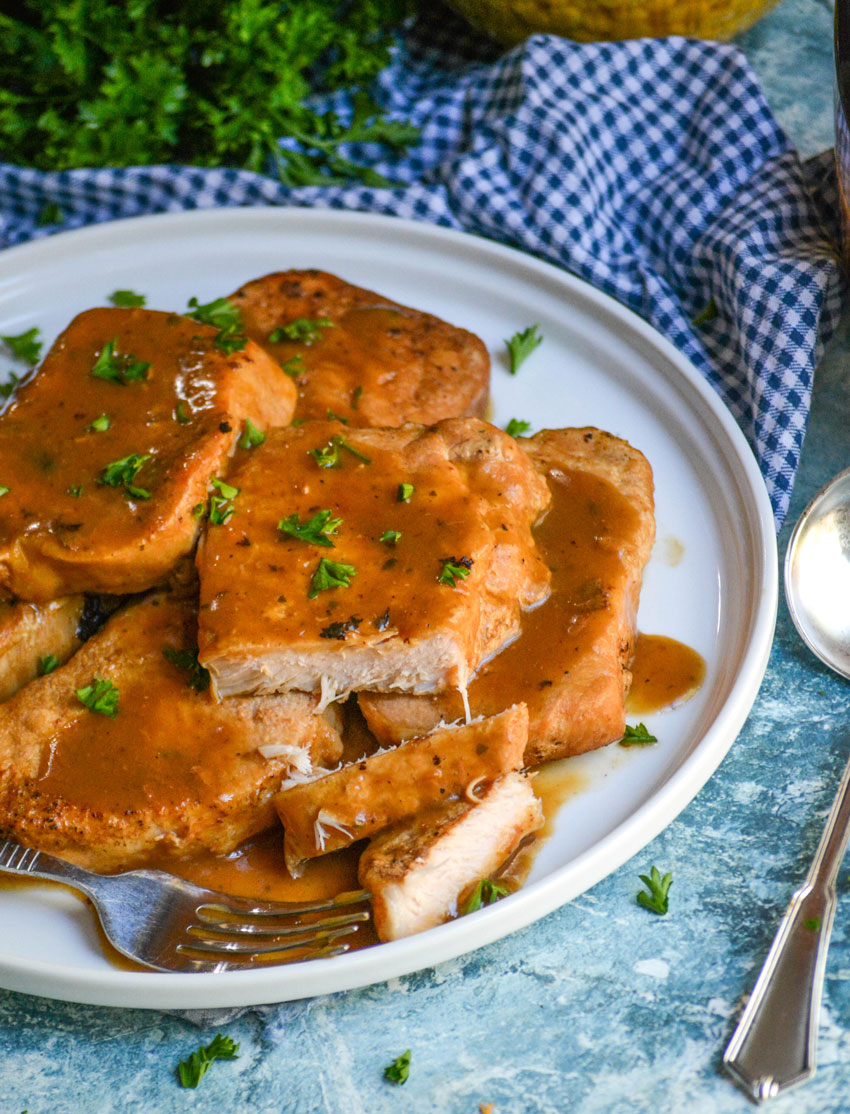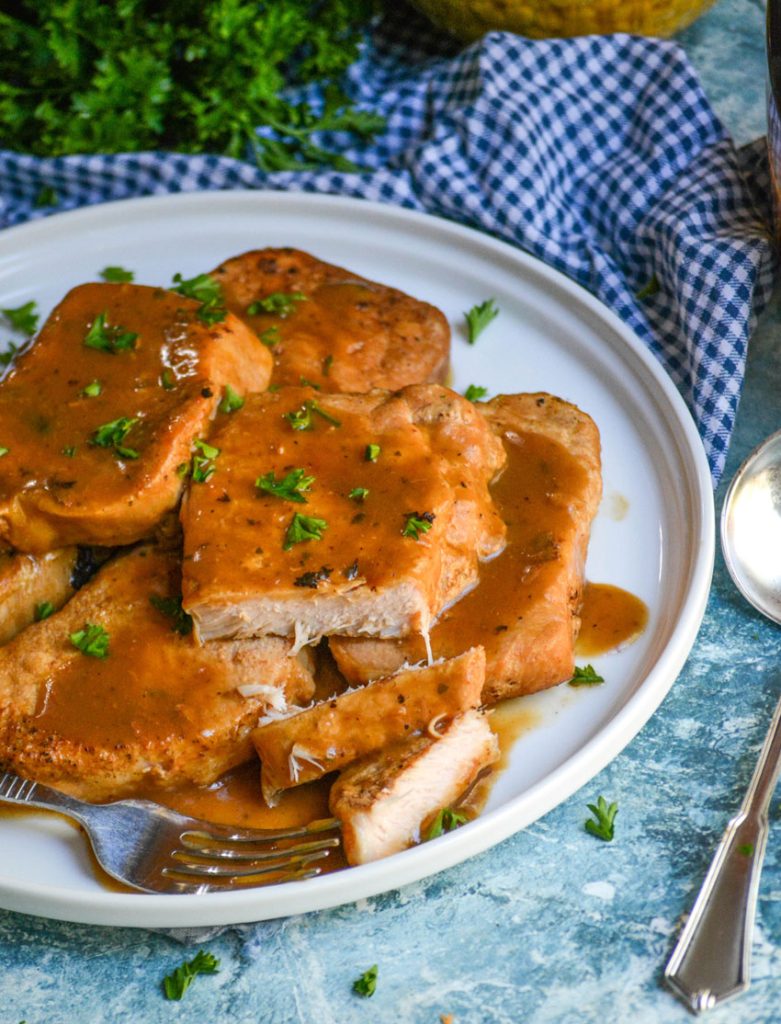 TIPS & TRICKS for making these Instant Pot Pork Chops
Don't want to use pork chops? While I highly recommend trying them first, chicken thighs work perfectly as a substitute.
The recipe calls for cream of chicken soup. If you don't have that on hand cream of mushroom, golden mushroom, or even beefy mushroom condensed soups will all work in it's place.
If you want an over the top gravy, add some minced garlic to the pot. It does just the trick.
Pork gravy, chicken, or beef gravy packets will all work just fine as a sub for the brown gravy one listed in the recipe.
Want to make a heartier gravy? Stir in a (drained) can of sliced mushrooms
For a complete meal, we like to serve these pork chops & gravy with mashed potatoes or rice. Both are a great way to savor every last bit of gravy. A thick slice of hearty bread works too in the carb department.
To round it out serve them with a healthy green vegetable- like broccoli or green beans. Peas are also yummy. And if you need a little bit more you can always add a simple side salad.
Other Pork Chop Recipes To Try:
If you've tried these INSTANT POT PORK CHOPS AND GRAVY, or any other recipe on the site, let me know in the comment section how it turned out, we love hearing from our readers! You can also follow along with me on PINTEREST, FACEBOOK, and INSTAGRAM to see more amazing recipes and whatever else we've got going on!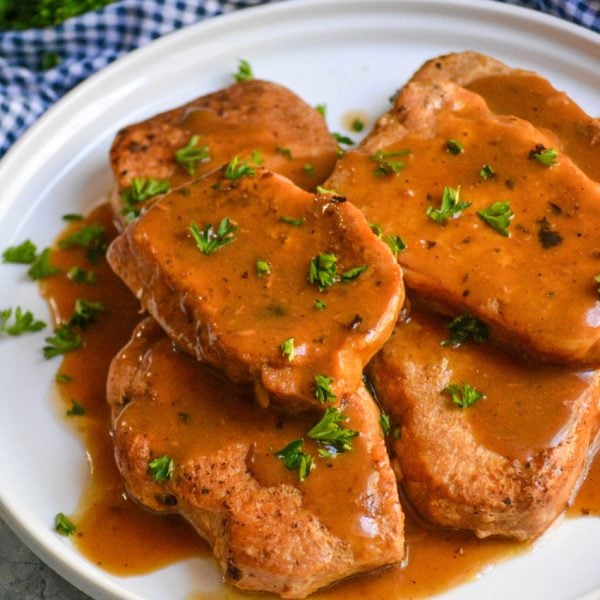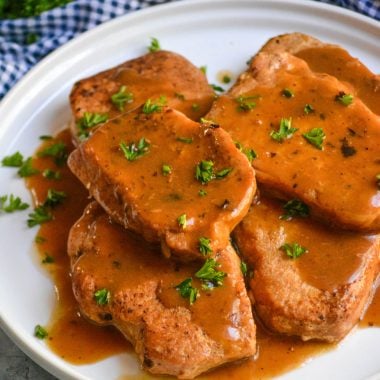 Instant Pot Pork Chops with Gravy
Pork chops are either perfect, or dry as a bone. Making them in the Instant Pot results in moist juicy fall apart chops every time. Even better? They cook in and make their own delicious savory brown gravy!
Print
Pin
Rate
Ingredients
6

boneless pork chops

1

tbsp

extra virgin olive oil

seasoned salt

to taste

1/2

tsp

garlic powder

freshly ground black pepper

to taste

1

packet

ranch dressing mix

1

packet

brown gravy mix

1

10.5 oz can

cream of chicken soup

2

cups

beef broth

2

tbsp

cornstarch

2

tbsp

water
Instructions
Pat the pork chops dry with paper towels. Season each chop with the seasoned salt, garlic powder, and freshly cracked black pepper.

Press the saute button on the Instant Pot, and pour in the olive oil. Wait a second for it to heat up (this will happen quickly), and add the pork chops to the pot.

Sear the pork chops on each side, about 2-3 minutes each, just until nicely browned outside. Do not overcook them- they'll finish cooking later.

Using tongs, transfer the seared pork chops to a waiting plate. Set aside.

Pour some of the beef broth into the pot, and use a sturdy spoon to stir & scrap the bottom- deglazing as you go. Hit the cancel button to turn the pot off.

Add the ranch mix, gravy mix, soup, and the rest of the broth to the pot. Whisk it all together until evenly incorporated. Return the chops to the pot.

Add the lid to the Instant Pot, turning to close, and make sure the valve is set to seal.

Cook the chops on manual pressure for 8 minutes. Let them natural pressure release for 10 minutes. Then carefully turn the valve to vent, releasing the remaining steam.

Transfer the cooked pork chops to a serving platter. Set aside.

Whisk the cornstarch and water together in a small bowl to form a slurry. Whisk this mixture into the liquid in the pot, until evenly combined.

Press the saute button and whisk the gravy until it bubbles and thickens. Turn the pot off.

Ladle the gravy over the still warm pork chops to serve. Garnish with fresh parsley leaves, if desired.
Nutrition
Calories:
258
kcal
|
Carbohydrates:
5
g
|
Protein:
30
g
|
Fat:
12
g
|
Saturated Fat:
4
g
|
Cholesterol:
90
mg
|
Sodium:
715
mg
|
Potassium:
543
mg
|
Sugar:
1
g
|
Calcium:
14
mg
|
Iron:
1
mg