Chicken isn't the only thing that pairs beautifully with a savory Marsala wine sauce. In this rendition, pork chops are the star of the show. This dish may sound fancy, but Pork Marsala with Mushrooms & Shallots is easy enough for any cook, and a sure-fire gourmet meal.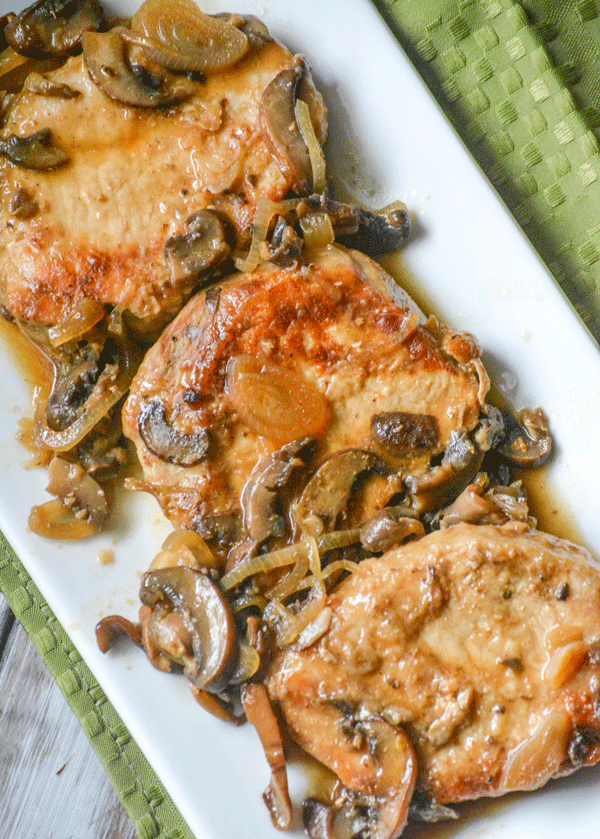 While I love my grill, and it gets a good work out in the Summer months, it's not the begin all, end all.
I know burgers and dogs are common, and they're a frequent flyer on our main menu in the warmer months, I don't forget about other meats we love.
Namely pork chops.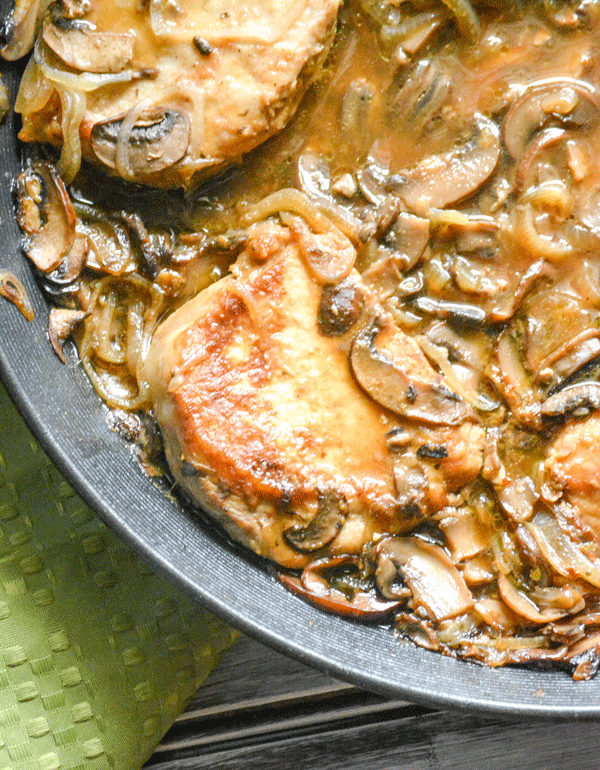 Grilled pork is great, but that doesn't mean I won't still make a stove top meal with it. Doesn't matter how hot it is, in or out, when it comes to making some of my favorite renditions.
My FIL has always made a mean, simple Chicken Marsala that will leave you begging for seconds, even thirds. I've tried, and will keep on trying, but I've yet to master his family recipe.
I'm still gonna keep plugging away though, because I plan to bring it to you one day.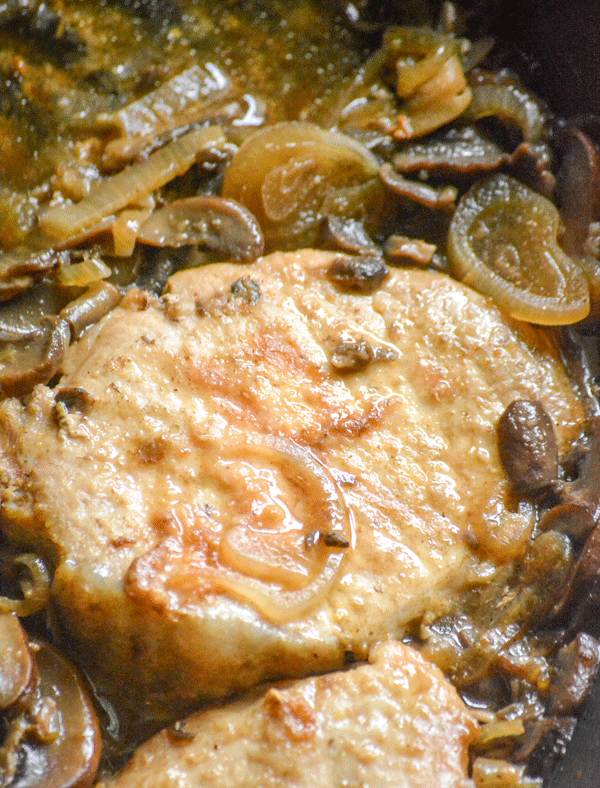 I can't never have those same flavors again though. It's something I crave.
So I set out to find a ways to find neutral territory. Not exactly what I'd originally intended, but still something incredible and delicious.
This recipe for Pork Marsala with Mushrooms & Shallots? It was exactly the happy medium I was looking for. And something new and unexpected that we won't ever forget.
In fact, it's gonna be a regular on our recipe menu, even when I finally figure out my father in laws secrets!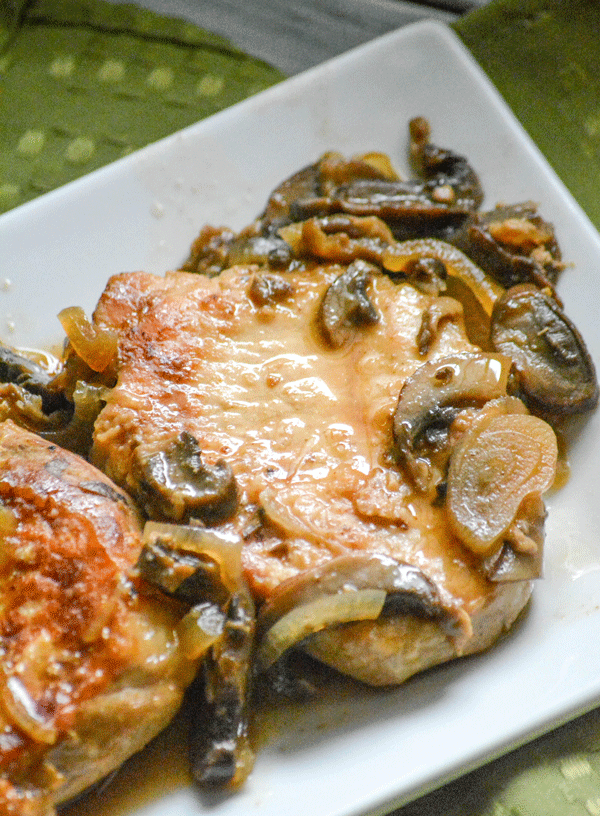 Because my FIL was so tight-lipped about the family recipe for so long, I did some digging. He's since shared with me his recipe- guess I had to pass the 12 year mark?
I am going to share with you a little bit that I learned about the history of the dish though, stuff even my Italian husband was shocked and impressed to learn. He's grown up eating it.
No one is quite sure exactly where chicken marsala originated from, but the port in Italy now known as Marsala has Arabic origins. It got it's name then around the falling tide of the Roman empire, being called the port of Allah," or "Mars-el-Allah." The name stuck in that Sicilian region.
The dish was born from there, but still it's origins aren't so simple.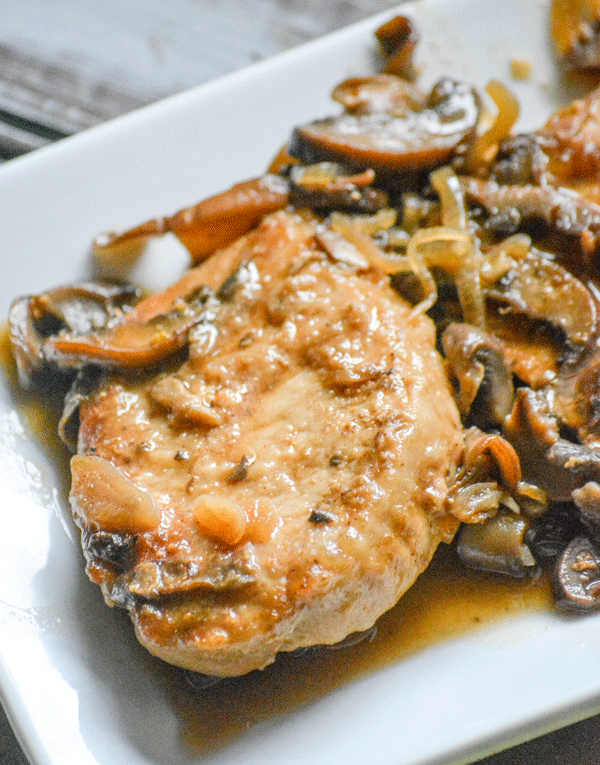 Around the same time, French chefs were heavily moved into Italy for the nobility. From that pairing this amazing dish seems to have arisen.
While some people prefer that their marsala meat be simply braised, the traditional way to fix it is to dredge it in flour, cook in the skillet, remove the meat, and then create the sauce.
With that in mind, I took my own hand at making the iconic dish with this yummy recipe for Pork Marsala with Mushrooms & Shallots.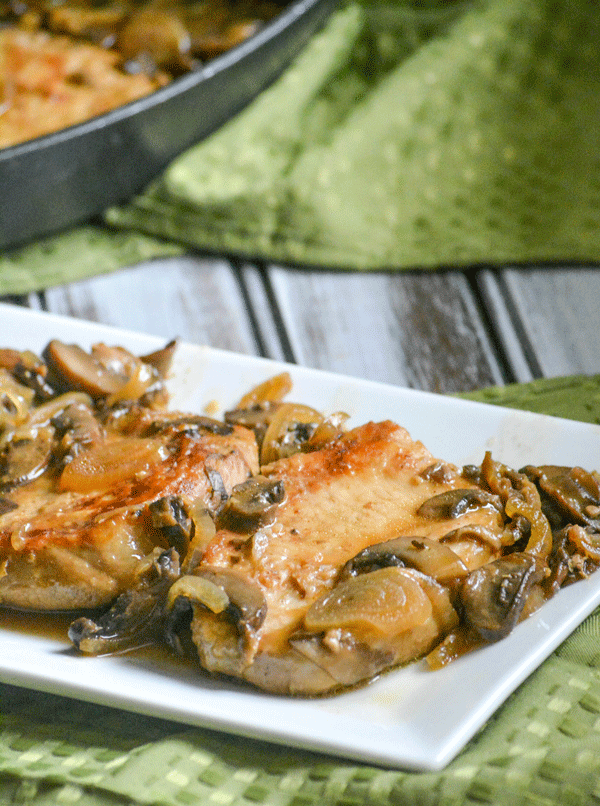 A relatively easy skillet dinner, these pork chops are meant to be made by anyone and everyone.
Lightly fried, tender chops are swimming in a sweet, savory Marsala wine and butter sauce with tender mushrooms and shallots to go hand in hand with every bite.
It's a gourmet meal, on a budget, in every single bite.
Other Pork Chop Recipes You Might Also Enjoy
These pork chops are bathed in a savory, yet simple sauce- making them an easy and delicious meal any night of the week.
Looking for other easy pork chop recipes? Check these out:
If you've tried this PORK MARSALA WITH MUSHROOMS & SHALLOTS, or any other recipe on my site, let me know in the comment section how it turned out, we love hearing from our readers! You can also follow along with me on PINTEREST, FACEBOOK, and INSTAGRAM to see more amazing recipes and whatever else we've got going on!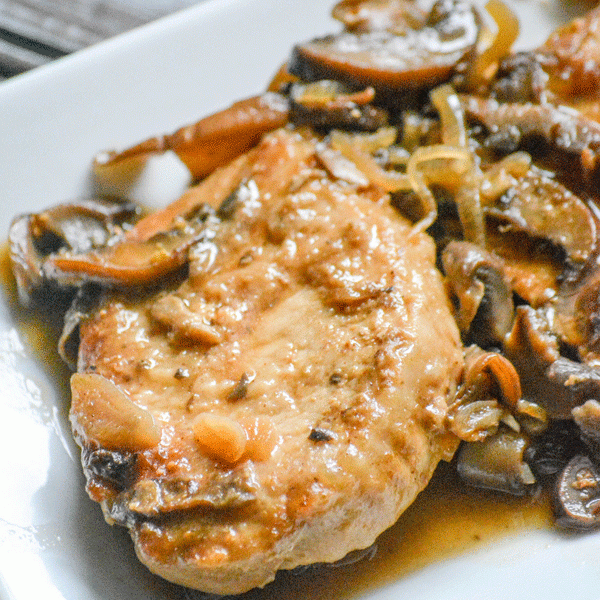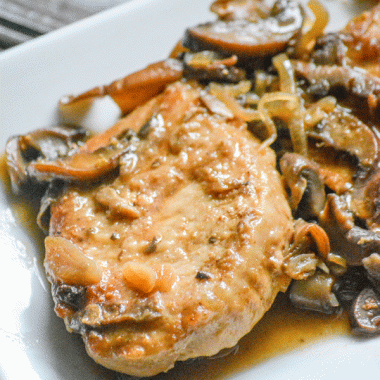 Pork Marsala with Mushrooms & Shallots
A tender pan seared pork chop is cooked in it's own juices with mushrooms & shallots for flavoring, creating a natural caramelized gravy.
Print
Pin
Rate
Ingredients
1

lb

boneless cut pork chops

2

shallots

thinly sliced

3

cloves

garlic, minced

8-12

oz

sliced baby bella mushrooms

1/2

cup

Marsala wine

1/2

cup

chicken broth

2

tbsp

olive oil

2

tbsp

butter

1/3

cup

flour

1

tsp

garlic powder

salt & pepper, to taste

fresh thyme leaves

Dijon mustard
Instructions
To a shallow plate, add the flour, garlic, and salt & pepper. Use a fork to evenly mix.

Dredge the pieces of pork in the flour mixture, liberally coating all sides. Use your fingers to press the mixture in, if needed. Shake off any excess, and transfer to a clean surface until needed.

Add the butter & oil to a large skillet, and melt over medium high heat. Once melted, let the skillet get hot and smoky, then add the battered pork to the skillet.

Let the pork chops cook until golden brown. Flip the chops, cooking until the other side is also golden brown.

Lower the heat to medium low, add the mushrooms, shallots, and garlic. Stirring to evenly combine.

Add the wine and broth, stirring to combine and scrape up the bits on the bottom of the pan, until combined.

Stir in the fresh thyme leaves, cover, and let the mixture simmer for 5-8 minutes.

Stir in the mustard, and let the mixture simmer for another 2-3 minutes, uncovered. When the sauce has thickened to a gravy-like consistency, it's done.

Remove the skillet from heat. Serve the pork chops over a bed of rice, with sauce and mushrooms spooned over top.
Nutrition
Calories:
395
kcal
|
Carbohydrates:
16
g
|
Protein:
27
g
|
Fat:
21
g
|
Saturated Fat:
7
g
|
Cholesterol:
91
mg
|
Sodium:
220
mg
|
Potassium:
758
mg
|
Fiber:
1
g
|
Sugar:
3
g
|
Vitamin A:
175
IU
|
Vitamin C:
2.7
mg
|
Calcium:
22
mg
|
Iron:
1.4
mg