Skip store bought eggnog this holiday season and make your own homemade eggnog on the stove top. This easy nonalcoholic eggnog recipe yields the creamiest, richest eggnog you can imagine. It's the perfect drink for any holiday occasion!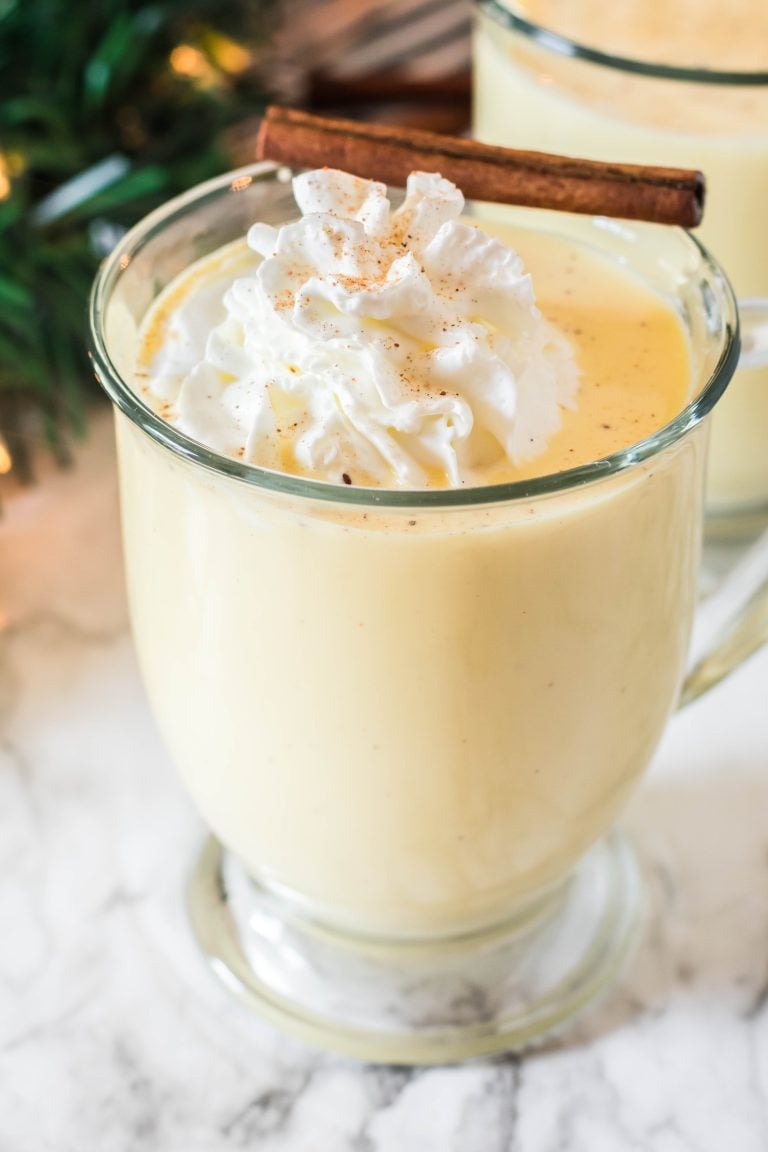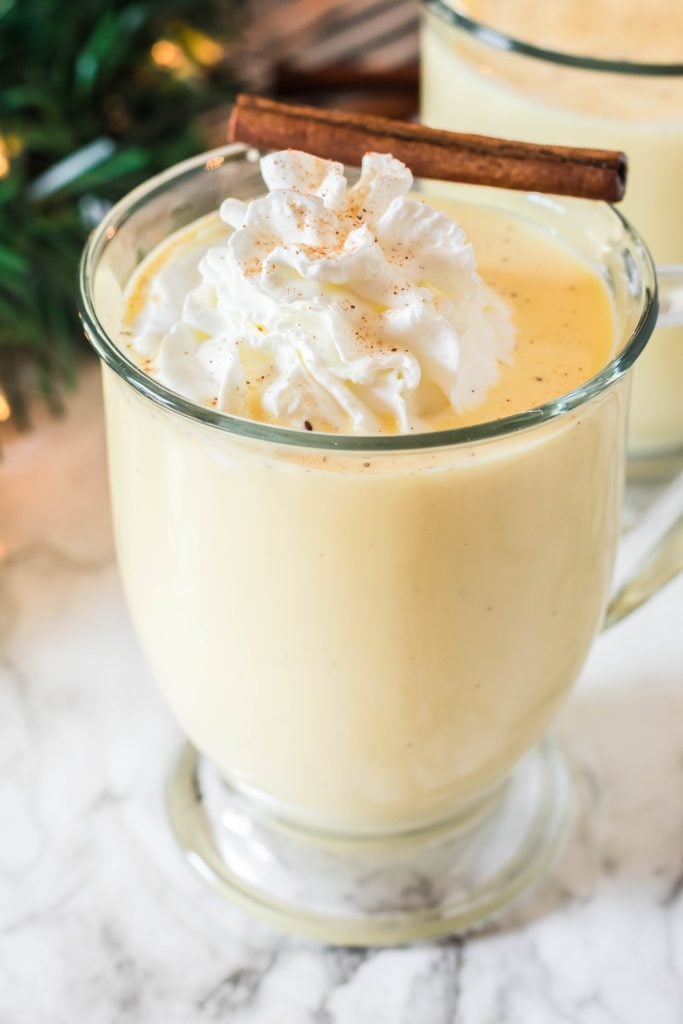 No drink says the holiday season quite like eggnog. But, I'll be honest, premade eggnog is not my favorite. It lacks the extra special richness that homemade eggnog has.
And honestly, making homemade eggnog on the stove top is not hard at all and worth the effort of making it yourself.
What is eggnog?
Are you familiar with eggnog? People are hotly divided on this beverage and a lot of people aren't entirely sure what eggnog is. Like the name of the drink suggests, this creamy Christmas beverage does in fact have eggs in it.
Traditionally eggnog is a chilled creamy, milk based drink that is egg-xtra rich because it has eggs in it. The drink has the festive flavors of cinnamon, nutmeg and vanilla. Often times, it is served spiked.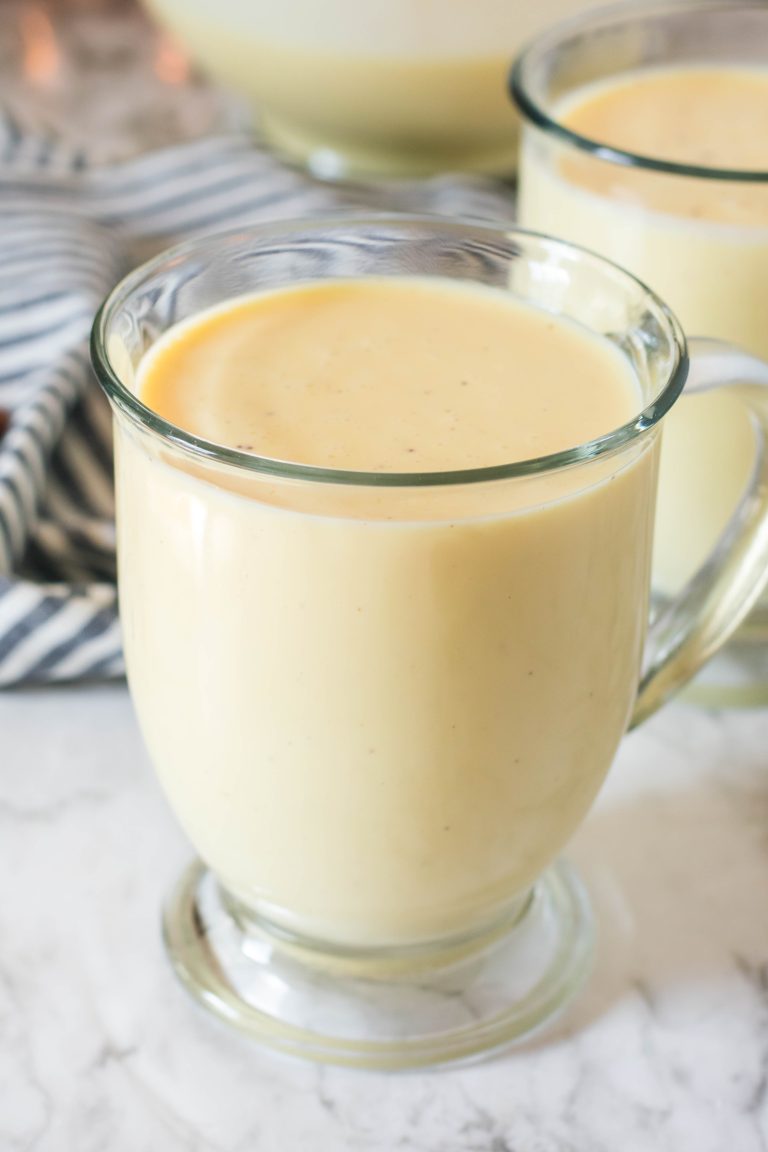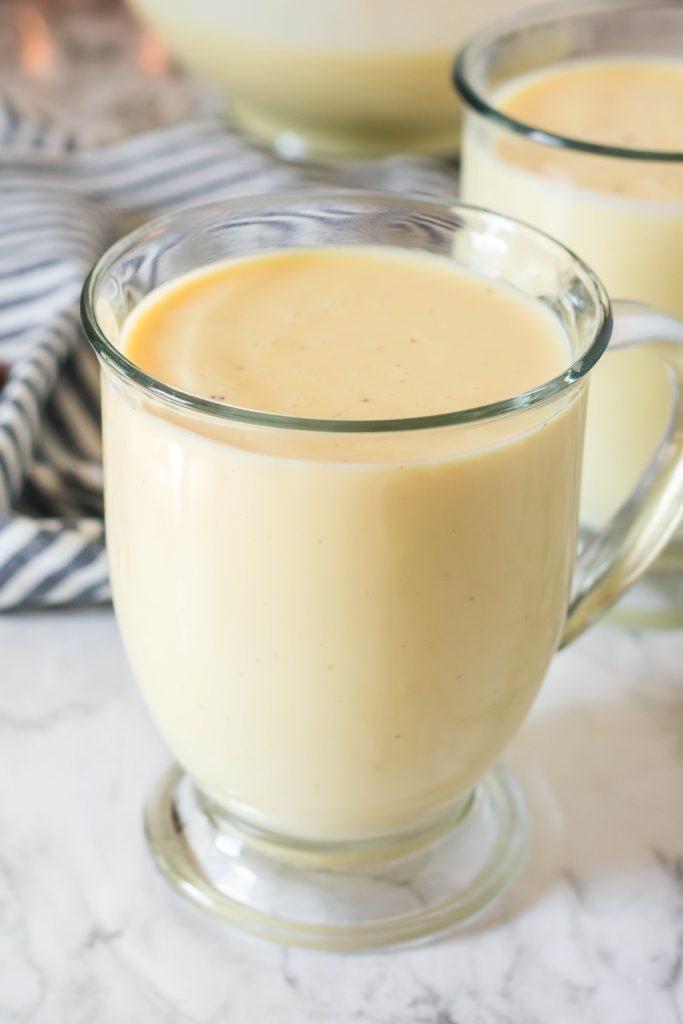 But what about the eggs? Can I drink raw eggs? Homemade Eggnog on the Stove Top to the Rescue!
There's no need to worry about drinking raw eggs with my homemade eggnog. I heat the eggnog mixture until it reaches 160.
The Incredible Egg notes that pasteurized eggs, the kind available in most grocery stores, are heated to 140 to kill any bacteria. However it notes that an egg product that's been diluted with liquid like custard or, in this case, eggnog needs to be cooked until it reaches 160 to destroy all the bacteria.
Plus heating the egg mixture to this point allows the mixture to thicken and reach peak creamy texture.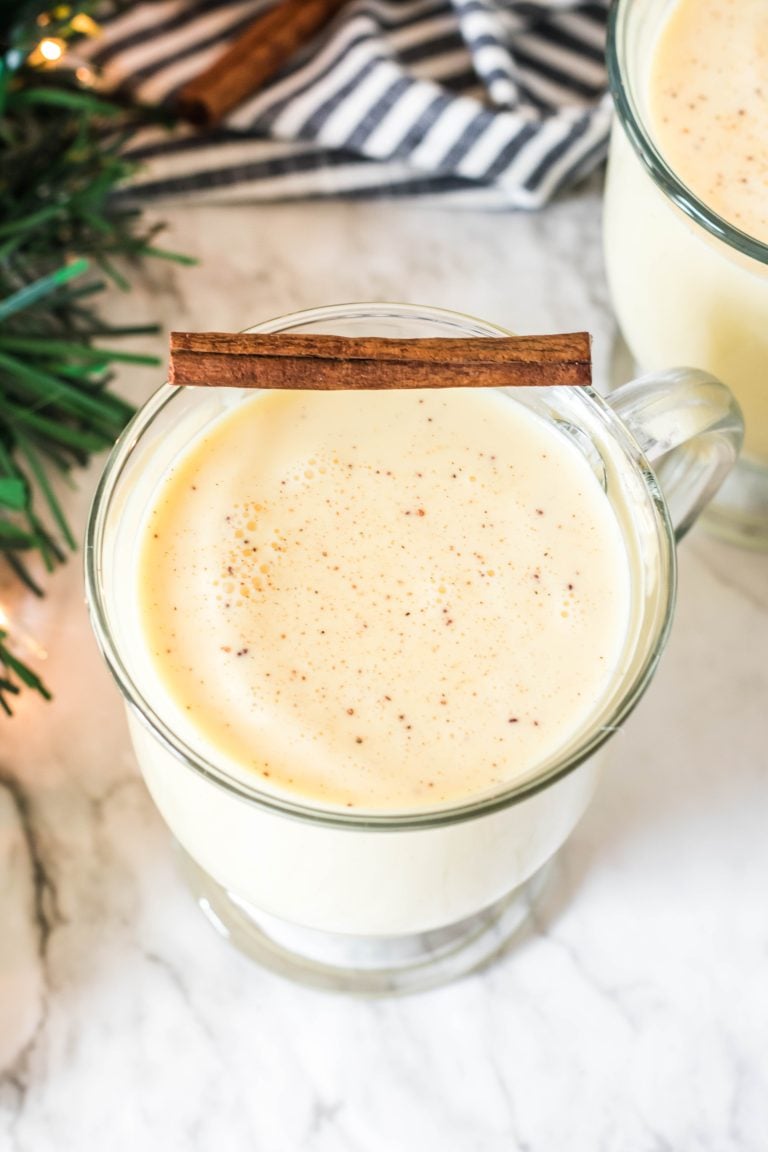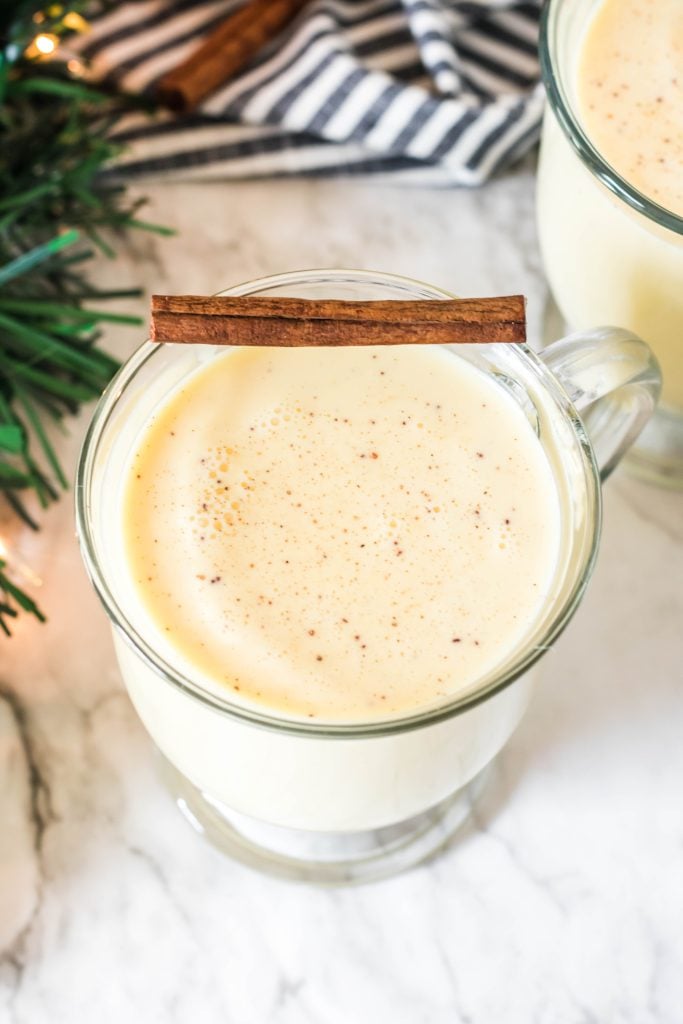 How to Make Homemade Eggnog on the Stove Top
Making homemade eggnog on the stove top is not hard but it does require a bit of patience. The end result is 100 % worth it though. Let's break it down.
To make homemade eggnog, start by adding your milk, cream, cinnamon, nutmeg and salt over medium heat until it comes to a boil. Once the milk mixture boils, remove it from the heat.
Then whisk the egg yolks and sugar together in a separate bowl until they are light and fluffy.
Then temper the eggs by adding 1 tablespoon of the warm cream mixture to the eggs while whisking the mixture constantly. This allows the eggs to come up to temperature without scrambling. Do this until all the liquid is incorporated into the eggs. Don't rush this!
Once the cream is thoroughly mixed into the egg mixture. pour the mixture back into the saucepan.
Heat it over medium low heat while you whisk constantly. Do this until the eggnog thickens and reaches 160 degrees. Then you can remove it from the heat and whisk in your vanilla.
All that's left? Refrigerating for 2 hours or until the eggnog is nice and cool. It will thicken slightly as it cools, but still retain it's sippable creamy texture.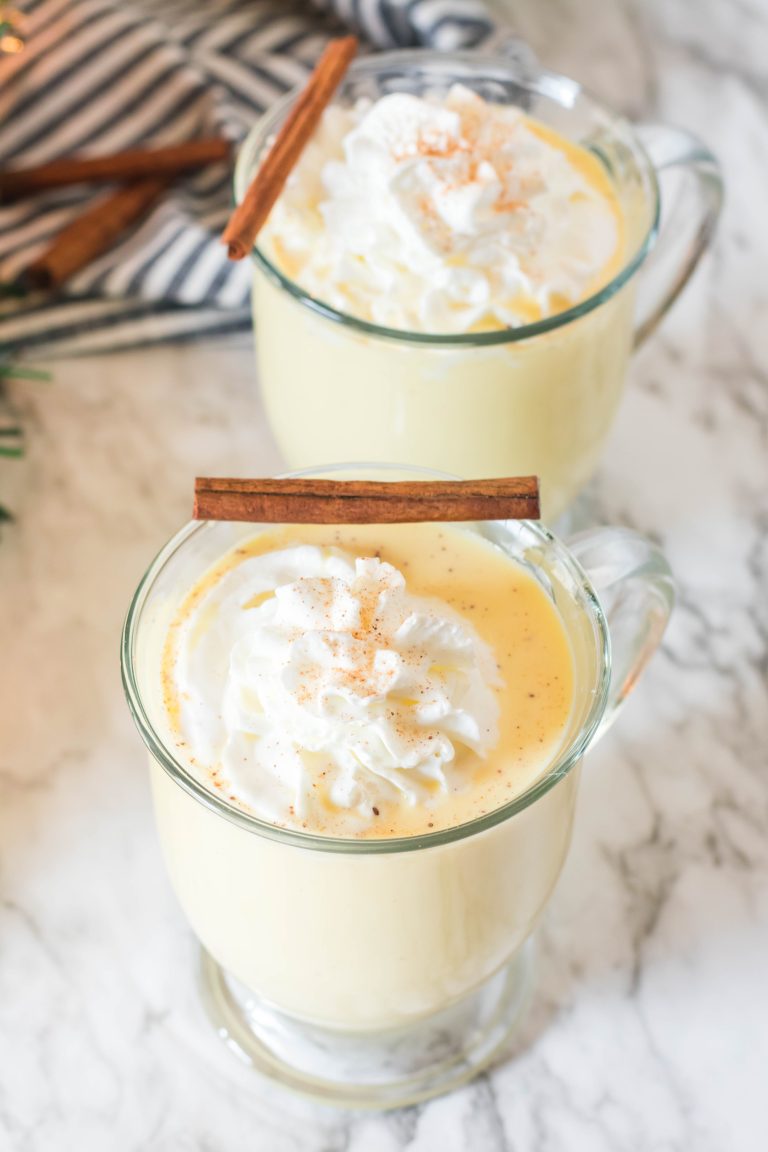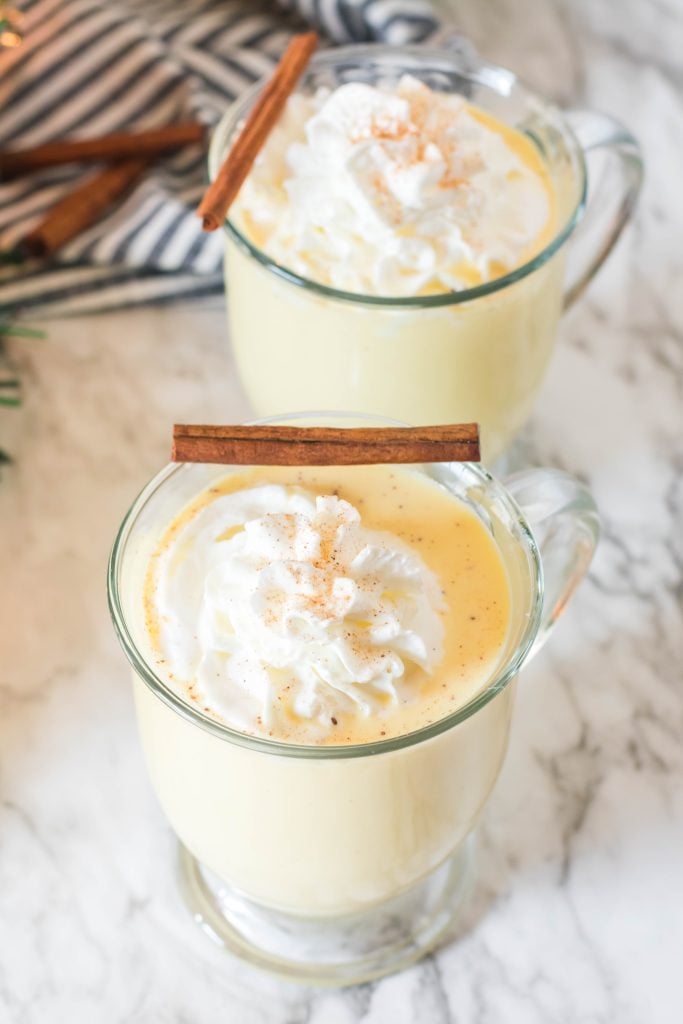 Making This Eggnog Recipe In The Instant Pot
While I love this recipe, and enjoy making it on the stove top- sometimes the Instant Pot is just so much more convenient.
I realize I'm probably not alone in that, especially during the holidays when the oven & stove are both heavily in use. So I tested this eggnog recipe in my pressure cooker this weekend, and it was a success. Just as easy as on the stove top!
Add all of the ingredients as instructed for steps 1-8 of the recipe to the bowl of your pressure cooker, just as instructed for the stove top. Press the saute button and set it to low pressure.
Whisk the mixture constantly, watching the temperature and cooking until it reaches 160 degrees. Immediately turn off the pot, and proceed with step 10 of the recipe ad written.
How do I spike my eggnog?
As written, this recipe is for nonalcoholic eggnog, but if you want to get a little extra festive this holiday season you can certainly spike it.
You can add a combination of liquors to your eggnog. Brandy, rum, whisky, and bourbon all make good choices!
Use whatever you, or your guests, like to make a Christmas cocktail to really suit your tastes.
You can spike the whole batch, or pour the eggnog into glasses and add a shot of liquor to each individual one. This helps make it a bit more customizable.
Other Holiday Drinks You Might Enjoy
You will love my homemade eggnog so much, you'll want to make a big batch to last you all holiday season!
But if you're still looking for another holiday drink to serve at your holiday party, try these:
If you've tried this easy HOMEMADE EGGNOG ON THE STOVE TOP recipe, or any other recipe on my site, let me know in the comment section how it turned out, we love hearing from our readers! You can also follow along with me on PINTEREST, FACEBOOK, and INSTAGRAM to see more amazing recipes and whatever else we've got going on!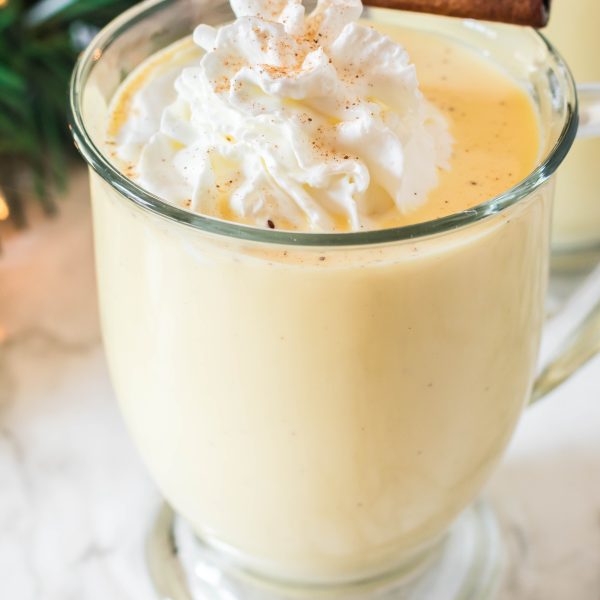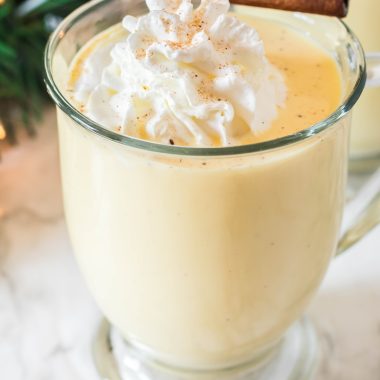 Homemade Eggnog On The Stove Top
Creamy, sippable eggnog is easier than you'd think to make from scratch at home. Skip the store bought stuff that's often so thick you can't take more than a couple sips and whip up a batch of this stop top version to serve at your next Holiday party.
Print
Pin
Rate
Ingredients
1

cup

milk

½

cup

heavy whipping cream

1

cinnamon stick

½

teaspoon

nutmeg

1/8

teaspoon

salt

3

egg yolks

¼

cup

sugar

1

teaspoon

vanilla extract
Instructions
In a medium saucepan, add milk, cream, cinnamon stick, nutmeg, and salt. Heat over

medium heat until boiling then remove from heat.

In a medium bowl, whisk egg yolks and sugar until light and fluffy.

Temper the eggs by adding about 1 tablespoon of the warm cream mixture to the eggs

while whisking constantly. Continue to slowly add the cream into the egg mixture until all is

combined. Move really slow with this step.

Once the cream is completely combined with the eggs, pour back into the saucepan and

heat over medium-low heat whisking constantly until the eggnog is thickened or reaches

about 160 degrees F.

Remove from heat and add in vanilla extract and whisk well.

Refrigerate for at least two hours or until chilled.

Serve with whipped cream and cinnamon
Nutrition
Calories:
476
kcal
|
Carbohydrates:
35
g
|
Protein:
9
g
|
Fat:
33
g
|
Saturated Fat:
19
g
|
Cholesterol:
387
mg
|
Sodium:
234
mg
|
Potassium:
235
mg
|
Fiber:
1
g
|
Sugar:
32
g
|
Vitamin A:
1462
IU
|
Calcium:
229
mg
|
Iron:
1
mg