These Quick & Easy Homemade Pretzel Dogs are simply delish. Your favorite hot dogs are bundled up in buttery salted pretzel buns, making them a portable, dippable fun finger food perfect for game day appetizers, lunches, and even a hearty snack.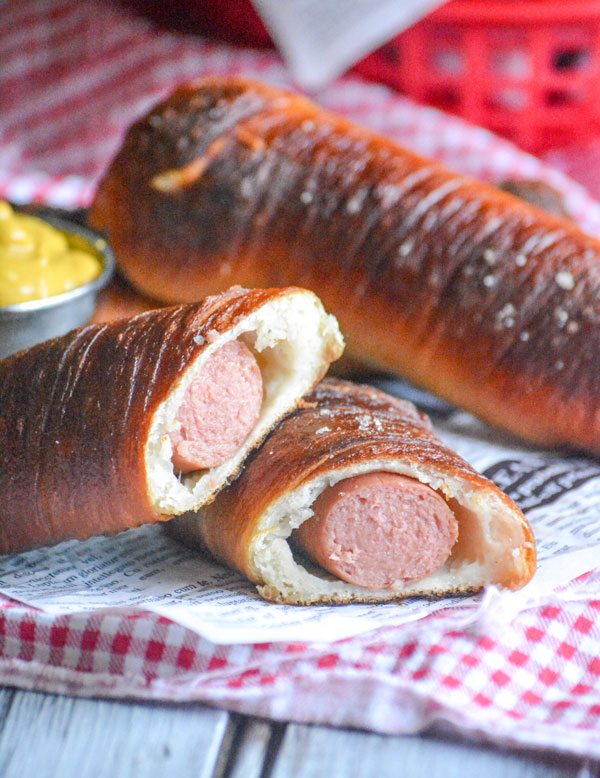 I know anyone who's spent any significant time around kids can agree, they say some funny things.
Little gems that you'll remember, talk about & laugh about, for years to come.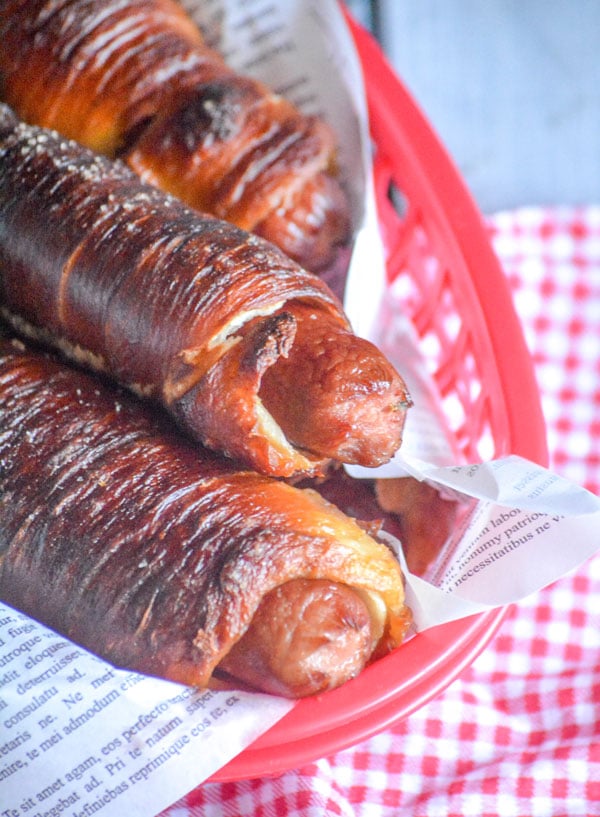 I still remember and my Mom still laugh's about some of my own from 30 years ago. Because of my forgetful personality, when the sons' were young I bought & started a leather bound journal just for recording these and the context in which they came about.
One of my all time favorite funnies would be the first time one of the boys saw a female pig. Obviously, as a mammal Mama she had udders. Unbeknownst to my little children, this was entirely normal and just indicated mothering. They excitedly exclaimed, "Look Mom, it's a milk-pig!" I snort-laughed and almost died from not being able to catch my breath.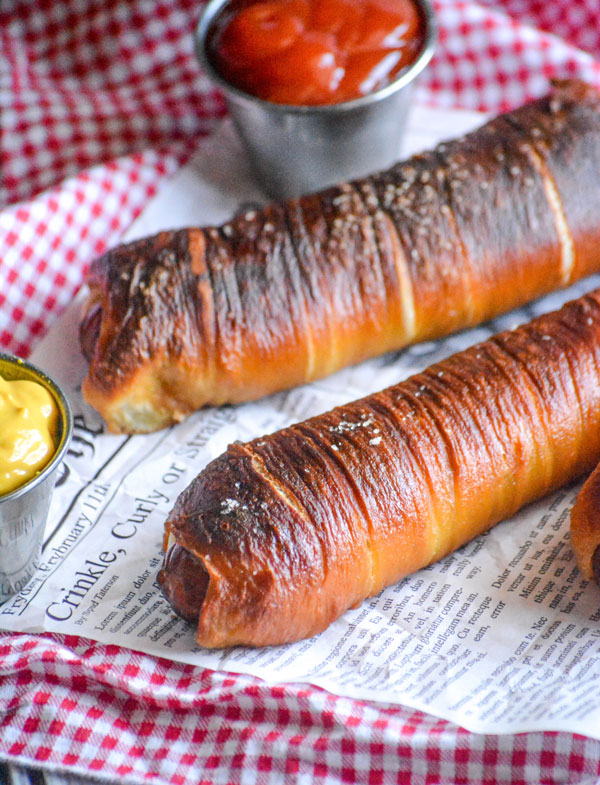 Fast forward to today when we gathered up the youngest son (now 8) to go run errands and do our weekly shop. Our kid was pissed when he had to get in the car (excuse the language). Like, I've never seen him so silently angry.
We were all like what's wrong? What's the big deal? We do this every Sunday. He was all, it's the end of the world- now I won't get to plant my coconut seed. My husband and I just looked at each other in confusion, because what the heck is a coconut seed.
My child, naturally, rolled his eyed and looked at us like we were morons, because who doesn't know what a coconut seed is?! All of a sudden he whips out, and shoves in our faces… a peach pit. Ta-Da- coconut seed!
He threw that thing on the ground like it was on fire when his Daddy laughingly, but kindly, told him what it was and that someone had probably spit it out. And he got a little teary at bed time tonight, mourning the loss of the coconut he'd never get to grow.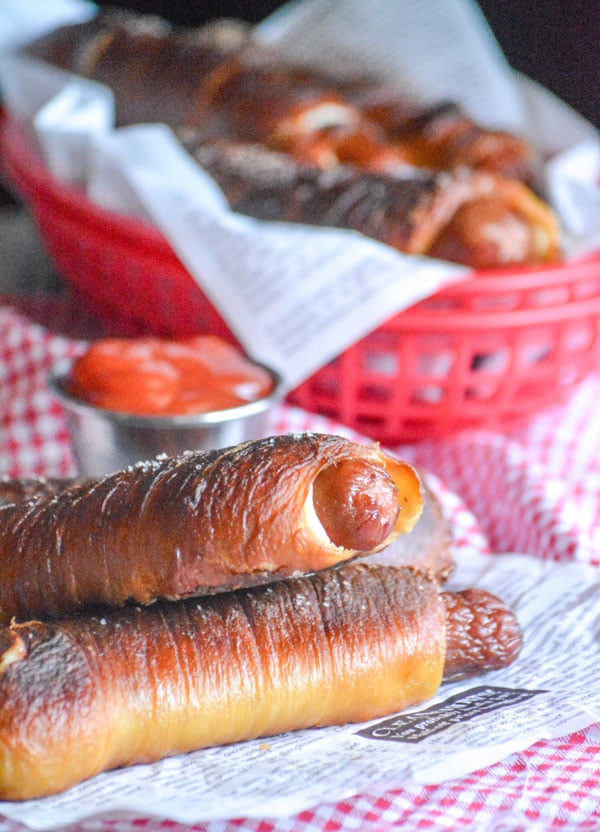 Ahhh, to be that young again and to make those kinds of memories. It did make a fun little addition to the family journal though.
Luckily, I am able to share another memorable moment with the sons' when we get in the kitchen and cook together. One of their favorite things they've learned to make are these Quick & Easy Homemade Pretzel Dogs.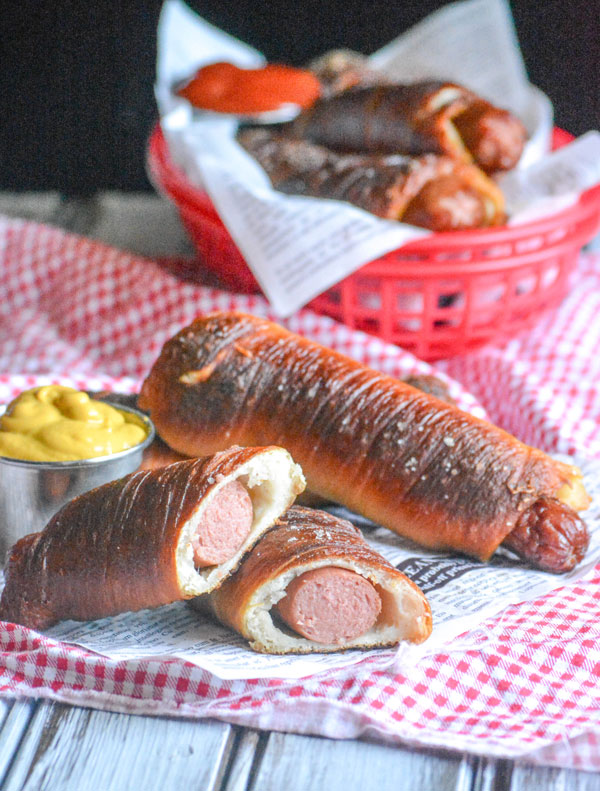 Buttery, toasted buns encase your favorite hot dogs in these perfect, portable handheld lunch. Kids love that they're dippable, or as my boys say- dunkable. Ketchup, mustard, even cheese sauce- all go great with this simple pretzel hot dog hybrid.
Get in the kitchen with your own kids, and make some memories with these Quick & Easy Homemade Pretzel Dogs.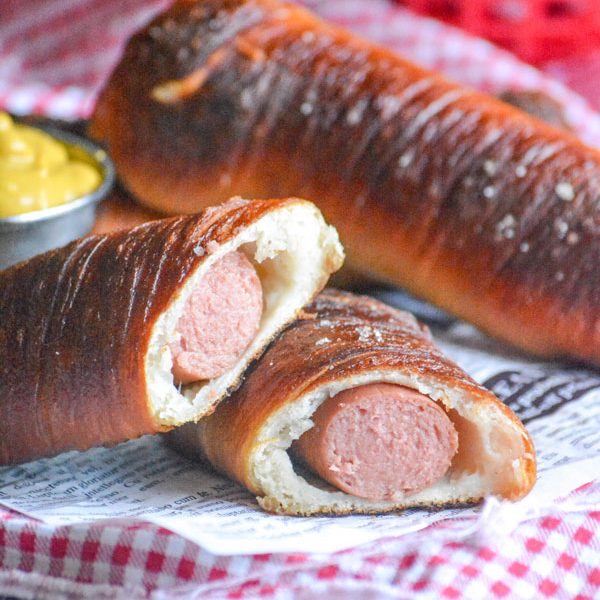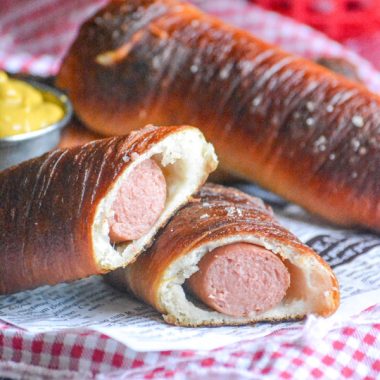 Quick & Easy Homemade Pretzel Dogs
Salted, buttery hot dog stuffed pretzel buns make perfect finger food for lunches, snacks, and parties.
Print
Pin
Rate
Ingredients
1 1/2

cups

warm water

1

tbsp

sugar

2

tsp

salt

1

pkg active dry yeast

4 1/2

cups

flour

1/4

cup

butter

melted

oil

10

cups

water

2/3

cup

baking soda

2

tbsp

butter

melted

coarse sea salt

for garnish

8

quality

large hot dogs- like Nathans
Instructions
In a large mixing bowl, stir together the water, yeast, and sugar. Let the mixture sit for 5 minutes, undisturbed, or until it's started to foam on top.

Stir in the flour, butter, and salt. Mix until evenly combined. Knead the dough, about 5 minutes, until it's soft and pliable. The dough should be sticky, but not enough so that it's impossible to remove from your fingers. Add more flour only if needed.

Lightly oil a large mixing bowl. Add the dough to the bowl, cover, and let rise for an hour in a warm place- or until doubled in size.

In a large pot, stir together the water and baking soda and bring the mixture to a rolling boil. In the meantime, punch down the dough and transfer it to a lightly floured counter top. Divide the dough into 8-10 equal pieces.

Roll each piece of dough out into a long rope, a little under 2' long. Beginning at one end, wrap the dough tightly around the hot dog, pinching the ends to seal it together. Place the wrapped hot dog on a lightly oiled sheet or parchment paper on a baking pan. Repeat until all the hot dogs are wrapped.

Working in batches of 2-3, add the dogs to the boiling water and let them cook for 30 seconds. Remove them with a slotted spoon and return them to the pan. Repeat until all dogs have been boiled.

Brush them with melted butter and sprinkle salt over top. Bake the pretzel dogs at 450 degrees for 12-14 minutes, or until the dough's a dark golden brown. Let the pretzel dogs rest for 5 minutes before serving with your favorite sauce.