A quick & easy version of the traditional dish, this Quick & Easy Greek Yogurt Chicken Curry is simple, but bursting with flavor. Served over a bed of rice and topped with chopped nuts, a sprinkle of fresh cilantro, and served with fresh naan bread on the side- it's the whole meal in a single bowl.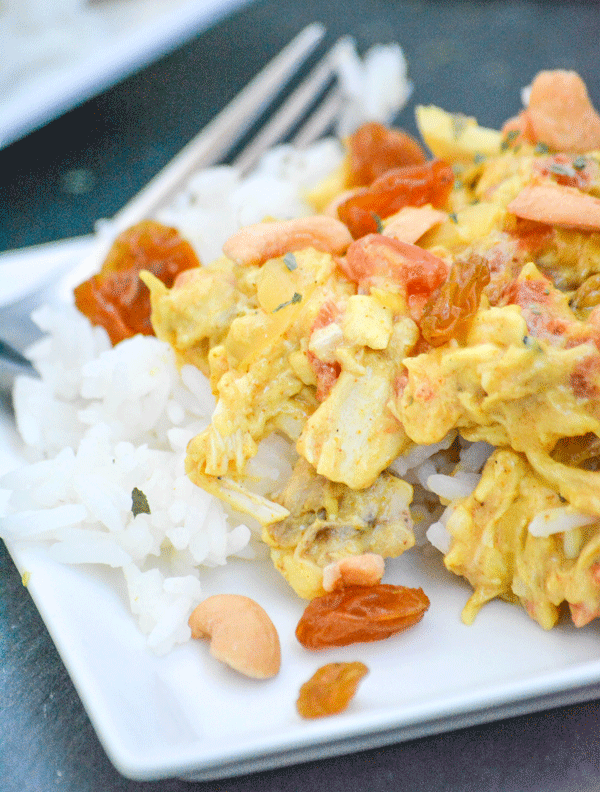 There are so many different foods I love. So. many. foods. Especially foreign foods. And foreign spices. Like curry, especially curry.
I didn't even know I liked curry until after I started dating my husband, and I happened to be visiting for dinner on a night my FIL was making his own version of chicken curry.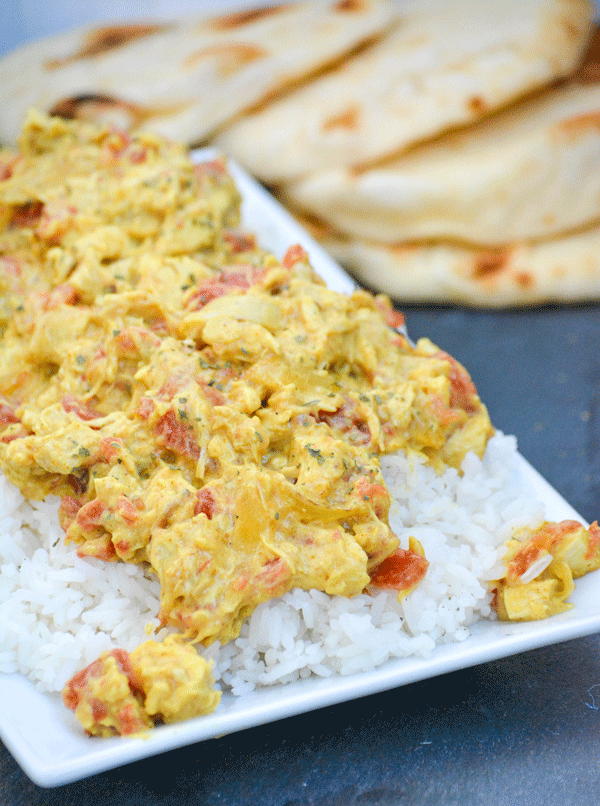 One whiff of the smell wafting out of that kitchen, and I was a total gonner. Done. Hooked. I had to have some, and it was totally love at first bite- and every bite after that if I'm being completely honest.
It was a beautiful blend of deep spices that made magic in one pot. So needless to say, I had to make my own version.
Still I wanted to find a way to lighten it up a bit even making it a bit creamier, without adding actual cream and calories.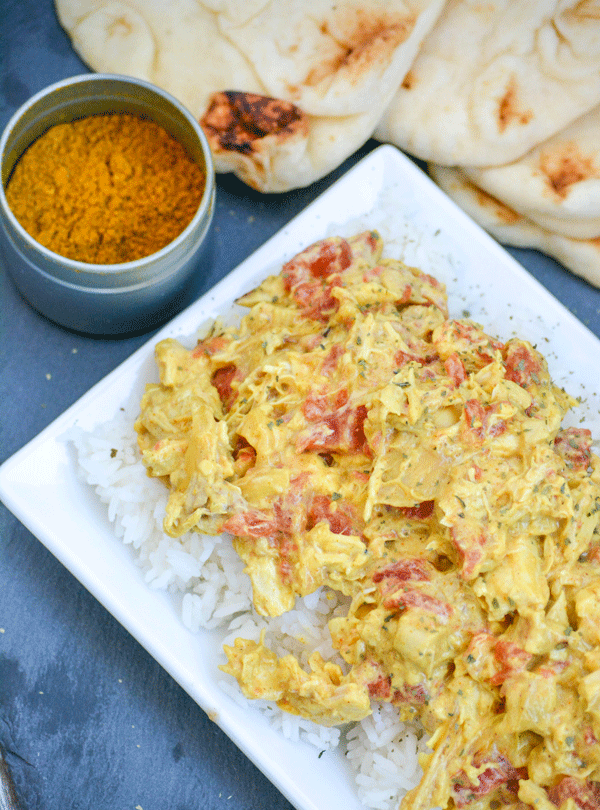 Let me introduce you to my beautiful, edible brain-child- Quick & Easy Greek Yogurt Chicken Curry.
Let me stop ya right there, no this is not a traditional Indian curry. In no way shape or form was I going for traditional or adhering to regional styles. This is completely my own spin on the classic.
Traditionally, an Indian curry doesn't even necessarily include meat- many Hindu don't eat meat for religious reasons, and instead go a vegetarian route.
Yummy, but I intentionally planned this dish with chicken at the heart of it.
Traditional curries also often include a bevvy of deep spices, like garam masala, cinnamon, even ginger. I kept this dish's spice profile much simpler, which will make it more comfortable for people with milder palates- like mine.
Curry is often all about your personal taste, so you can't go wrong by experimenting a bit on your own if you're feeling adventurous.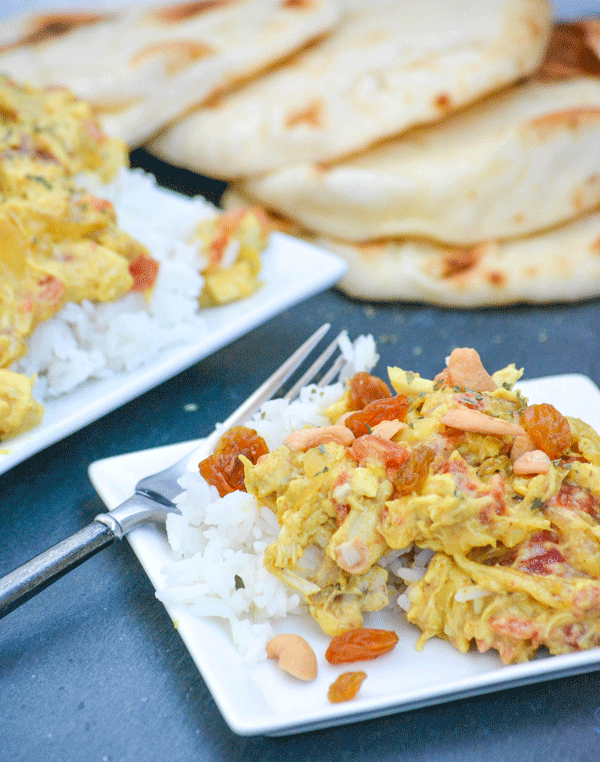 In keeping with my simplified goal, I used chopped rotisserie chicken and sauteed yellow onions, tossed in a creamy sauce made of yogurt & half and half (instead of actual heavy whipping cream).
The sauce itself is seasoned liberally with yellow curry powder, a pinch of turmeric, salt & pepper.
For extra protein, and for taste, I used Greek yogurt- but regular plain yogurt would also work well.
Also, full fat coconut milk would be an easy and delicious alternative to the half and half if you're avoiding cow's milk.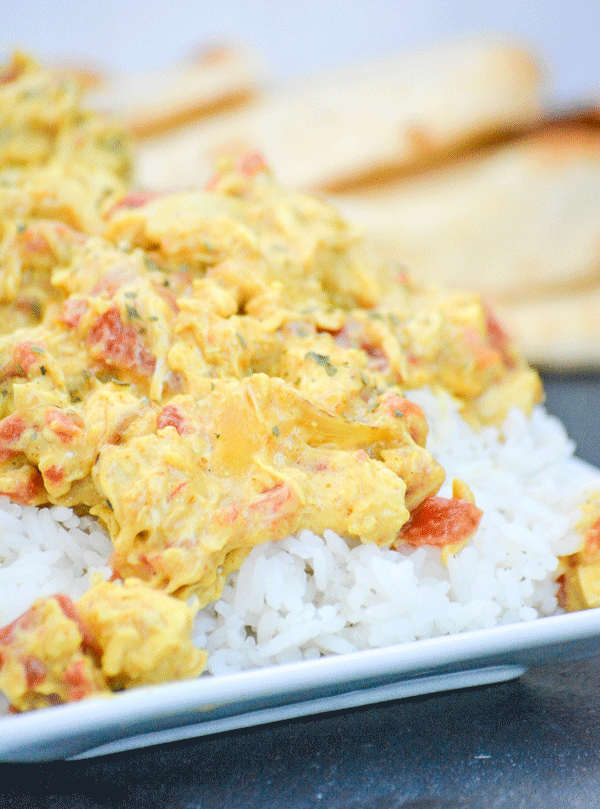 Stirred together with finely chopped diced tomatoes and golden raisins, the sauce is heated until bubbling and all of the ingredients have had a chance to blend together beautifully.
Bowls are filled with rice, and each is generously topped with a ladle full of this Quick & Easy Greek Yogurt Chicken Curry.
Sprinkled with freshly chopped cilantro leaves and some chopped cashews, it's a complete meal in a single serving bowl.
Other Recipes To Check Out Before You Go:
If you've tried this QUICK & EASY GREEK YOGURT CHICKEN CURRY, or any other recipe on the site, let me know in the comment section how it turned out, we love hearing from our readers! You can also follow along with me on PINTEREST, FACEBOOK, and INSTAGRAM to see more amazing recipes and whatever else we've got going on!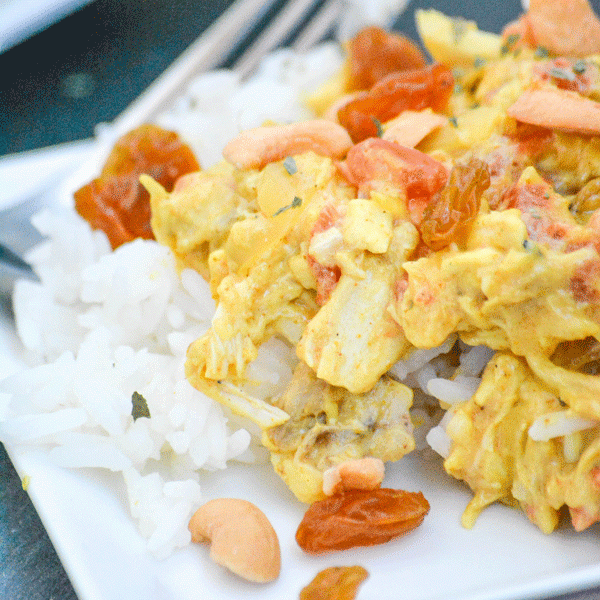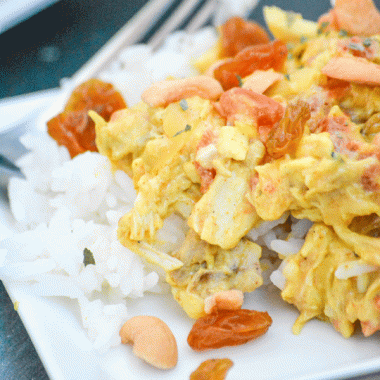 Quick & Easy Greek Yogurt Chicken Curry
A quick & easy, milder version of the traditional dish this chicken curry is made in a hurry and a perfect dinner when served over a bed of basmati or jasmine rice.
Print
Pin
Rate
Ingredients
meat from one rotisserie chicken, roughly chopped

1 1/2

cups

basmati or jasmine rice, cooked according to package directions

1 1/2

tbsp

olive oil

1

yellow onion

diced

1 1/2-2

tbsp

yellow curry powder

1/4

tsp

garlic powder

pinch

red pepper flakes, optional

1/2

cup

plain Greek yogurt

3/4

cup

half and half, or full fat coconut milk

salt & pepper, to taste

1

14.5 oz can

diced tomatoes, drained, and cut into tiny pieces (kitchen shears in the can does the trick)

1/3-1/2

cup

golden raisins

chopped cashews

1/4

cup

cilantro leaves, washed, then finely chopped (for garnish)
Instructions
Cook the rice according to the package directions. Set aside, covered & stirring occasionally to prevent sticking.

In a large skillet, over medium low heat, add the oil. When hot stir in the onions, continue cooking & stirring occasionally until sauteed.

Stir in the curry powder, garlic, and red pepper flakes (if using), and continue cooking for 1 minute.

Stir in the yogurt until evenly combined. Stir in the half & half, or coconut milk, until evenly combined. Bring the mixture to a simmer, and continue cooking for an additional 3-5 minutes-stirring occasionally. Season with salt & pepper, to taste. Stir in the tomatoes & raisins, and remove the skillet from heat.

Divide the rice into six different bowls, or into a single large serving dish, and ladle the chicken curry evenly out over top. Sprinkle the cashews evenly out over top and then with the cilantro leaves, and serve immediately.
Nutrition
Calories:
161
kcal
|
Carbohydrates:
20
g
|
Protein:
4
g
|
Fat:
7
g
|
Saturated Fat:
3
g
|
Cholesterol:
12
mg
|
Sodium:
23
mg
|
Potassium:
160
mg
|
Fiber:
1
g
|
Sugar:
5
g
|
Vitamin A:
167
IU
|
Vitamin C:
1
mg
|
Calcium:
65
mg
|
Iron:
1
mg