Move on over traditional chicken salad, because this Crunchy Chinese Chicken Salad is everything you've ever dreamed of. It marries flavor, texture, and gives it an Asian twist that is undeniable and quite additive. It's a sure fire hit at any get together this Summer.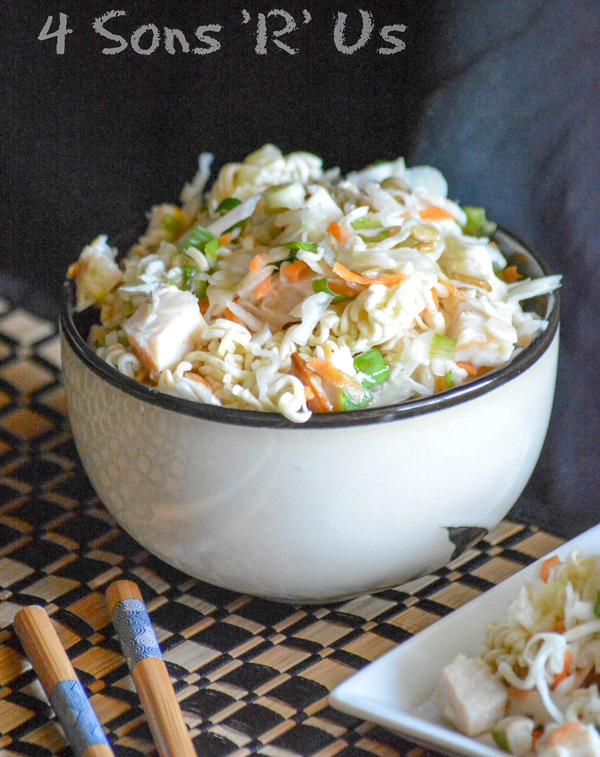 I vividly remember the first time I was introduced to ramen-style noodles. It was in 8th grade.
Hanging out at a friend's house after school, she was hungry and asked if I wanted a snack too. Umm, duh. When did I turn down food?? Never, being the obvious answer.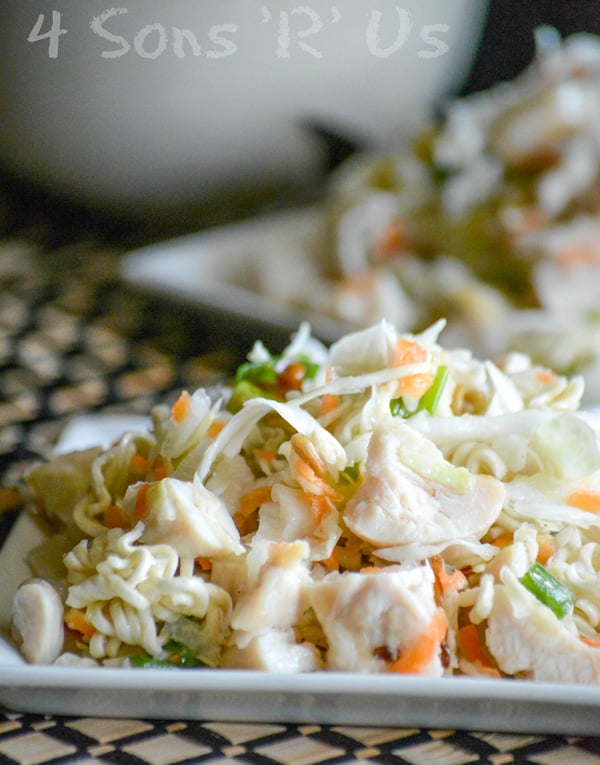 Curiously, I watched her make them. It seemed simple enough– some pasta cooking in a small pot of water. A seasoning packet to toss it with when it was done and drained.
Little did I know that some kind of mystical voo doo magic would occur during those time lapsed 3-5 minutes. Because when I first twirled my fork through a noodl-y bowl and sampled a bite, my teenage mind was blown.
Instantly. I was hooked. That stuff, in my opinion, should have been used in chore currency.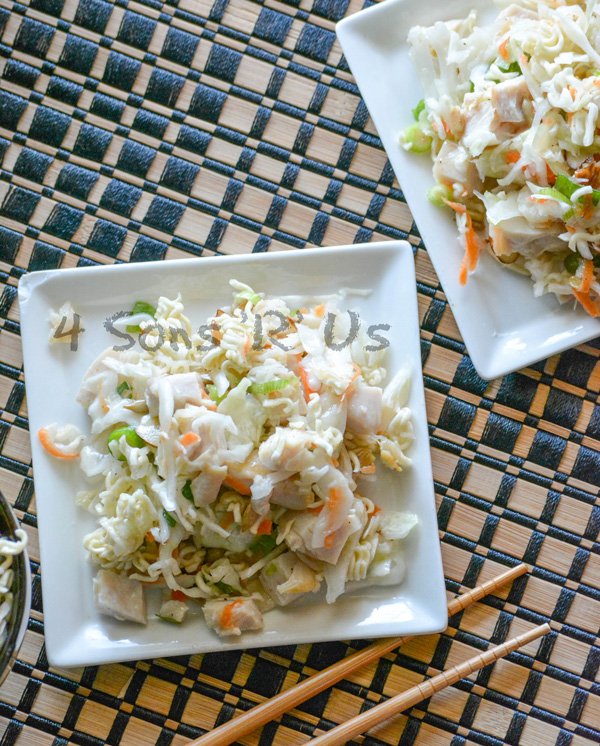 I mean it. I would have worked for those little suckers. Clean the bathroom? Vacuum and clean out the family car? Whatever other chores were already on my weekly to-do list.
Getting my Mom to actually buy them and keep a few stocked each week? That probably (in all fairness to my mother whom I love very much– It's important to note I said probably) would've silenced all complaints and teenage grumblings.
Eventually she caved, and would buy a few packs each month. Mostly because we were heavily involved in activities, especially sports and could use to boost and quickness was key.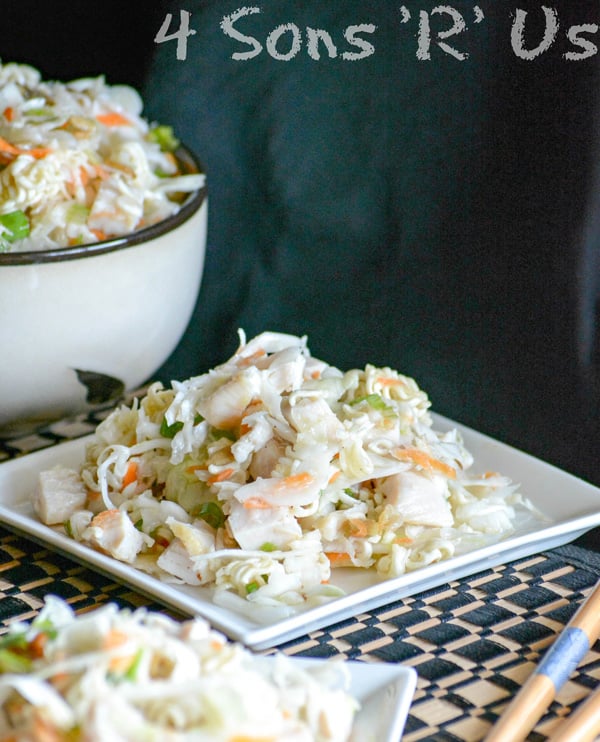 Here we are over a decade later and my own teens are little noodle lover's too. I do keep them in stock, I just try to steer clear of using them as meal substitutes.
That doesn't mean though, that they don't make great additions to totally tasty meals. Because they do. They're obviously shelf-stable so they're perfect for stocking the pantry with.
So we always have them on hand when we're frying up one of our favorite Asian dishes and stirring them right on in.
In this case, we left them raw and they added them raw and toss them into our Crunchy Chinese Chicken Salad.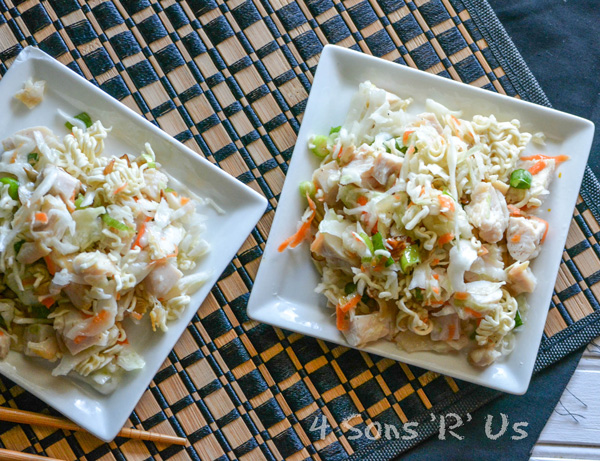 Our Crunchy Chinese Chicken Salad offers a perfect blend of sweet and savory. Combined with a crisp cabbage and carrots mix, it's tossed with crunchy ramen noodles, chopped rotisserie chicken, and a simple Asian vinaigrette. It's simple. It's quick.
It's a perfect marriage of flavor and texture, and it's too good not to share. For supper at the family table, lunchtime with co-workers, or take a big batch to your next potluck or backyard barbecue. No one will be disappointed.
If you've tried this CRUNCHY CHINESE CHICKEN SALAD, or any other recipe on my site, let me know in the comment section how it turned out, we love hearing from our readers! You can also follow along with me on PINTEREST, FACEBOOK, and INSTAGRAM to see more amazing recipes and whatever else we've got going on!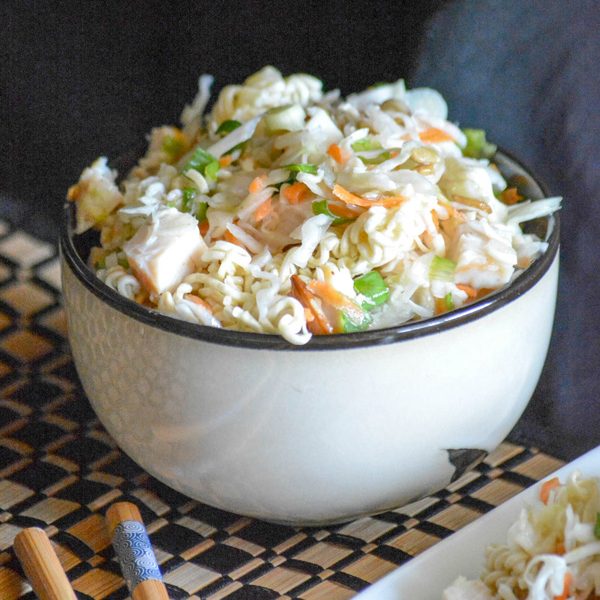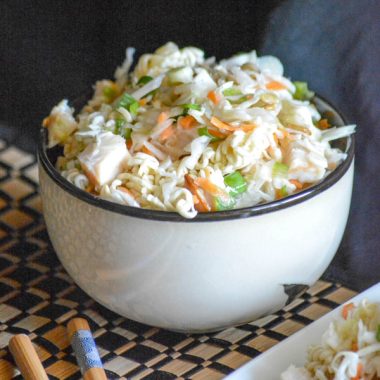 Crunchy Chinese Chicken Salad
A quick and easy, Asian-flavored chicken salad-- it's sweet, a little bit savory, and with a bit of crunch thrown in for texture.
Print
Pin
Rate
Ingredients
For The Chicken Salad
2-3

cups

cooked, chopped chicken breasts or rotisserie chicen

2

bags

shredded cabbage and carrot coleslaw blend

1

bunch

green onions, roughly chopped or thinly sliced, depending on preference

1

small pkg

slivered almonds, optional

3

tbsp

sunflower seeds

2

pkgs

ramen noodles, any flavor- seasoning packet discarded
For The Asian Vinaigrette
3/4

cup

canola oil

4 1/2

tbsp

rice wine vinegar

4 1/2

tbsp

sugar

2

tsp

salt

1

tsp

pepper

1

tsp

sesame oil
Instructions
To Make The Asian Vinaigrette
Blend all of the ingredients together, set aside until ready to use.
To Assemble The Salad
In a large mixing bowl, toss together the coleslaw mix, onions, chicken, and sunflower seeds.

Break the ramen blocks into small chunks. Add them into the salad mixture, tossing until evenly combined/dispersed.

Pour in the dressing, and stir everything well until evenly coated and dispersed.

Serve as is, or chill twenty minutes before serving. It's yummy either way.
Notes
If not serving right away, reserve the crushed noodles and dressing and mix when ready to serve. Otherwise, everything may be soggy.