Crispy crab rangoon are a Chinese American take out classic. This easy appetizer is done in just 20 minutes from start to finish. Whip up a batch whenever the mood strikes without ever picking up the phone or the take out menu.
We love these little appetizers, especially since we discovered that they can be deep fried or baked, giving us some options- convenience and calorie-wise.
Best of all? We can get all the same flavors we love from our favorite take out, but whipped up at home in under 30 minutes, and that's a generous estimate– in reality it's more like 20 minutes.
This is everything you've ever imagined in an incredibly creamy crab filling that you can easily seal up into a triangle (or square) of delicious wonton wrapper casing.
The finished crispy wontons are loaded with cream cheesy crab goodness that's sure to be an irresistible hit at any dinner or dinner party. The real secret though is in the details: what you need & how to make these easy crab rangoon though.
These little fried 'dumplings' are an American 'Chinese' take out favorite.
They're stuffed with a mixture of cream cheese and flaky crab meat. Real or imitation meat both work just fine, depending on your inclination and your budget.
You only need a handful of ingredients to make these too! Wonton wrappers, crab meat, a bit of powdered sugar, cream cheese, and a pinch of salt- that's it.
Having trouble finding wonton wrappers? In the regular grocery store they're not in the Asian aisle. They're fresh, and have to be refrigerated. They're typically in the refrigerate produce section.
They're not egg roll wrappers either, which are too large, the package will specifically read wonton wrappers. Make sure they're the square kind. The circular variety won't work well in this recipe as it's harder to seal with the pinch method and you don't want all the filling to seep out during frying.
You don't have to use the powdered sugar, but I highly recommend it. It adds the perfect hint of sweetness to the cream cheese which is part of the classic flavor that really sets this unique Asian-American takeout appetizer so special.
There's never a wrong time to throw together a batch of these crab rangoon, but there are times that absolutely call for it! We often make our favorite take out dishes at home, pair it with a big batch of our yummy fried rice recipe, and make it a whole meal.
Serve Crab Rangoon With These Other Chinese Takeout Favorites:
Whip up a batch of this easy crab rangoon recipe whenever the mood strikes, without every having to leave home or pay the high delivery prices.
Other Asian Appetizers To Try: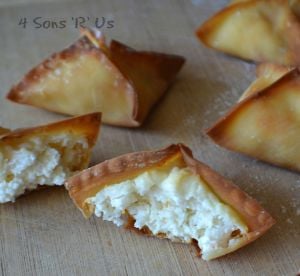 Crab Rangoon
Crab rangoon are a favorite Chinese take out appetizer. With this easy homemade version you can whip up a batch whenever the mood strikes. They're crispy fried wonton shells are filled with a creamy blend of cream cheese & crab meat.
Print
Pin
Rate
Ingredients
1

block

8 oz, cream cheese, softened

2

oz

crab meat or 2 sticks imitation crab meat

finely diced

1

tbsp

confectioners sugar

pinch

of salt

20

wonton wrappers

Oil

for deep frying
Instructions
Mix all the cream cheese, crab meat, sugar, and salt in a bowl, stirring to evenly incorporate.

Place about 1 tablespoon of the cream cheese filling in the middle of a wonton wrapper. Dab some water on the outer edges of the wonton wrapper and fold the two ends of the wrapper together.

Fold the other two ends to make a tiny parcel pictured below. Pinch to seal tight and make sure that there is no leakage.

Heat up a pot of oil for deep-frying and fry the crab rangoon until golden brown.

Dish out with a strainer or slotted spoon, draining the excess oil by laying the crab rangoon on a dish lined with paper towels.

Let the crab rangoon cools down a bit before serving them with sweet and sour sauce.
Notes
Do not serve the fried crab rangoon immediately. The filling will still be piping hot and this could result in being burned when biting in. Let them rest a few minutes so that they're still warm, but safe to eat.
Need a sauce to make it dippable? These pair perfectly with a good sweet and sour sauce.
Nutrition
Calories:
75
kcal
|
Carbohydrates:
11
g
|
Protein:
6
g
|
Fat:
1
g
|
Saturated Fat:
1
g
|
Cholesterol:
6
mg
|
Sodium:
292
mg
|
Potassium:
87
mg
|
Fiber:
1
g
|
Sugar:
2
g
|
Vitamin A:
12
IU
|
Vitamin C:
1
mg
|
Calcium:
89
mg
|
Iron:
1
mg